Best Payroll Software With Mobile App (3 Options)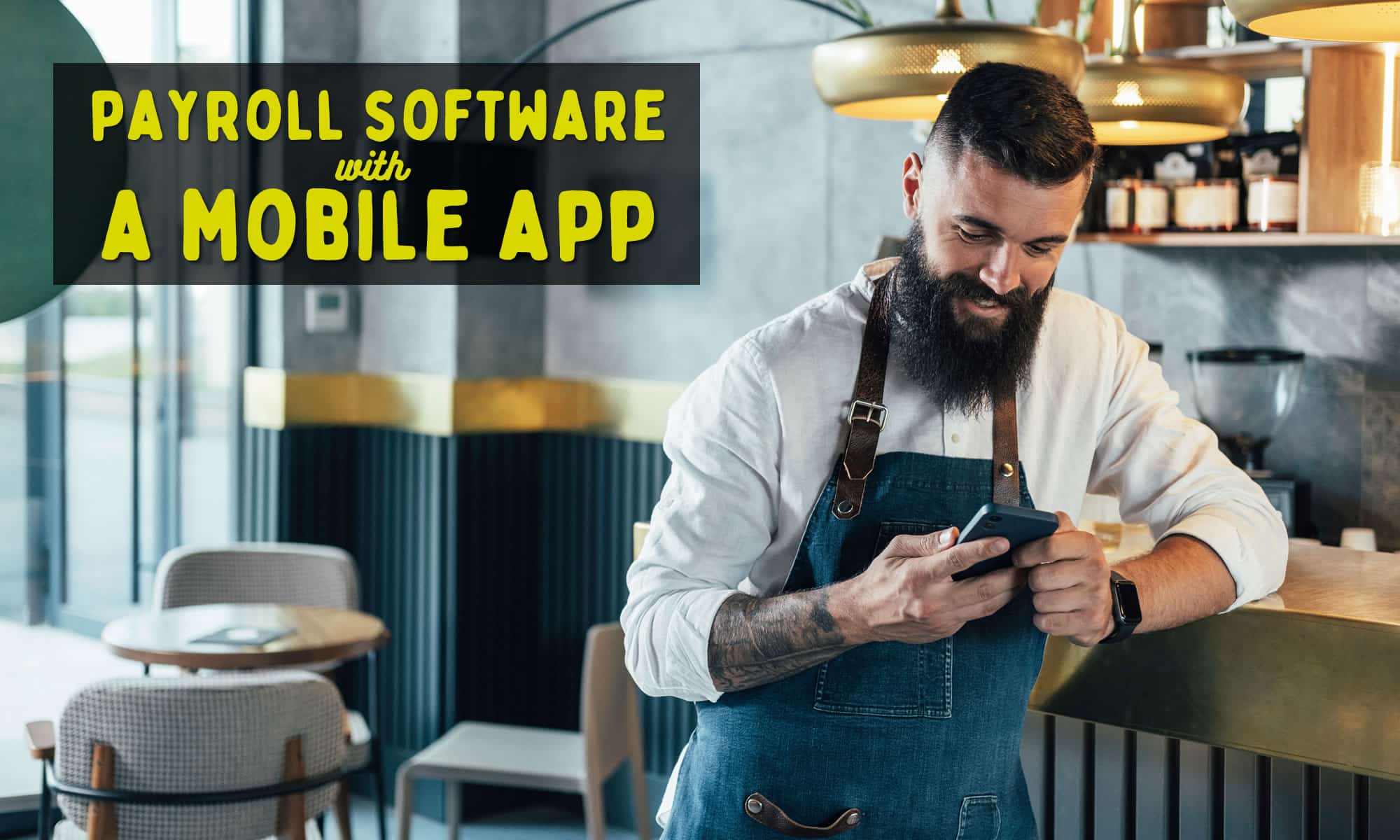 If you are looking for the best payroll software with a mobile app, consider Buddy Punch.
Here are just some of the key benefits of Buddy Punch's platform:
Automate your payroll tax submissions and transactions.
Handle payroll remotely, anytime and anywhere.
Eliminate the need for any third-party integrations.
Direct deposit gives employees quick access to money on payday.
Offer employee self-service for greater individual autonomy.
Both small business owners and leaders at larger enterprises can benefit from a payroll processing solution that comes with an iOS and Android app.
Buddy Punch stands out as a must-have platform offering numerous payroll options, although there are other payroll software solutions available for small businesses.
These solutions provide key features designed to centralize payroll data and streamline critical processes.
Bid farewell to the endless software integrations that hamper workflows.
You can embrace an all-in-one automated system that simplifies the payroll process.
Best Payroll Software With Mobile App
1. Buddy Punch
Buddy Punch's full-service payroll system can track the following for teams:
Group Life Term
Reimbursements
Non-Hourly Regular
Paycheck Tips
Bonuses
Commissions
Cash Tips
Severance
Buddy Punch is not just another payroll platform.
The app's intuitive design makes running payroll a breeze, allowing you to execute online payroll in just a few clicks.
While its foundational strength lies in payroll, it doesn't stop there.
Buddy Punch is loaded with HR features that position it as an indispensable app for small businesses.
Besides its primary features and functionalities, here are some of the standout benefits of using Buddy Punch as a time tracking and payroll solution:
GPS tracking lets you see precisely where employees are clocking in and out.
Time card approval becomes straightforward, speeding up the process.
Use the integrated calendar to manage and track time-off requests.
Always be in the know about which employees are clocking in and out.
Get real-time insights to oversee employee overtime.
How Buddy Punch's Payroll Platform Works
Buddy Punch provides stakeholders with seamless access to comprehensive payroll and employee data, accompanied by detailed payroll reports.
By aggregating employee information, the platform supports swift, precise, and informed decision-making.
Empower Employees With Self-Service Options
Buddy Punch offers an employee portal designed to enhance the overall employee experience and reduce HR administrative tasks.
With the self-service feature, employees can input their own details and easily access pay stubs, W2s, and 1099 forms whenever needed.
Streamline HR Operations with Automated Tools
Grant your team increased autonomy, allowing them more control over their hours and access to essential payroll documents.
With this feature, the dependency on management for payroll requests diminishes, fostering a more efficient system.
Tailored Payroll & Time Tracking Solutions With Buddy Punch
Buddy Punch proves to be an invaluable asset in managing the workforce.
Team members are given significant flexibility over how they choose to clock in and out.
They can use their mobile device to log work hours with ease.
Team leaders can then track employee work hours in real-time using the mobile payroll and time tracking app.
If you are interested in learning more about our payroll features, take a browse through the useful resources on our website.
These resources will enable you to unlock plenty of value from Buddy Punch.
If you have any further questions, our support team is always ready to assist you.
You can book a one-on-one personalized demo here.
Buddy Punch Is The Best Payroll Management App For Small Businesses & Large Enterprises
Here are some links to useful information on some of Buddy Punch's most popular features:
Buddy Punch's Online Reviews
The user reviews are glowing! As of the writing date, Buddy Punch has 4.8 out of 5 stars and 865 reviews on Capterra.
Below, we'll list just a few reviews that speak to Buddy Punch's ease of use and great customer support service. (Click here to explore the full list of reviews.)
"Customer service is exceptional and quick. Admin is very easy and user friendly."
Click here to read the full review.
"Cannot say enough about their support. Even if the product was not as amazing as it is, I would highly recommend Buddy Punch due to the unbelievable support!"
Click here to read the full review.
"I like the ease of use and flexibility of Buddy Punch. You can add features you want and don't have to be bogged down with what you don't want to use. Some sites have way too much. I wanted simple!"
Click here to read the full review.
"It is user-friendly. I am new to the company and new to using Buddy Punch and it was easy to use as a beginner. I have never encountered any problems with it as well."
Click here to read the full review.
Try Buddy Punch for Free
If you feel that Buddy Punch might be the right fit for your business, sign up for a free trial. You can also book a one-on-one demo, or view a pre-recorded demo video.
2. When I Work
When I Work is a cloud-based timesheet management software solution that stands out for its competitive pricing and easy onboarding process.
This platform streamlines payroll management by enabling employees to quickly log their time and instantly submit entries for payroll processing.
HR managers especially value the efficiency it brings to their payroll services.
At the time of writing, When I Work has a total of 1,038 reviews on Capterra, with an average of 4.5 out of 5 stars. When I Work comes with a range of useful functionalities:
"When I Work helped us so much in scheduling our employees for multiple job sites. It had all the features we needed for scheduling employees, requesting time off, time clock, and integrated with ADP for payroll. We love using When I Work."
Click here to read the full review.
3. TimeCamp
TimeCamp is a comprehensive time tracking and payroll platform that boasts features like invoicing and progress monitoring.
It offers insights into the time employees spend on individual tasks.
Beyond just timesheet approvals and attendance tracking, TimeCamp delivers a full suite of tools for efficient workforce management.
At the time of writing, TimeCamp has a total of 588 reviews on Capterra, with an average of 4.7 out of 5 stars. TimeCamp comes packed with a range of useful features:
"There are different ways to input your tracked time. You can register your tasks in real time or you can input it per day or week. This allows all of our employees the flexibility of tracking the way they want to. TimeCamp's UI is also very intuitive, which makes the tool very easy to use"
Click here to read the full review.
Try Buddy Punch for Free
If you feel that Buddy Punch could be the right fit for your business, sign up for a free trial. You can also book a one-on-one demo, or view a pre-recorded demo video.
You May Also Like…