4 Best Absence Management Software in 2023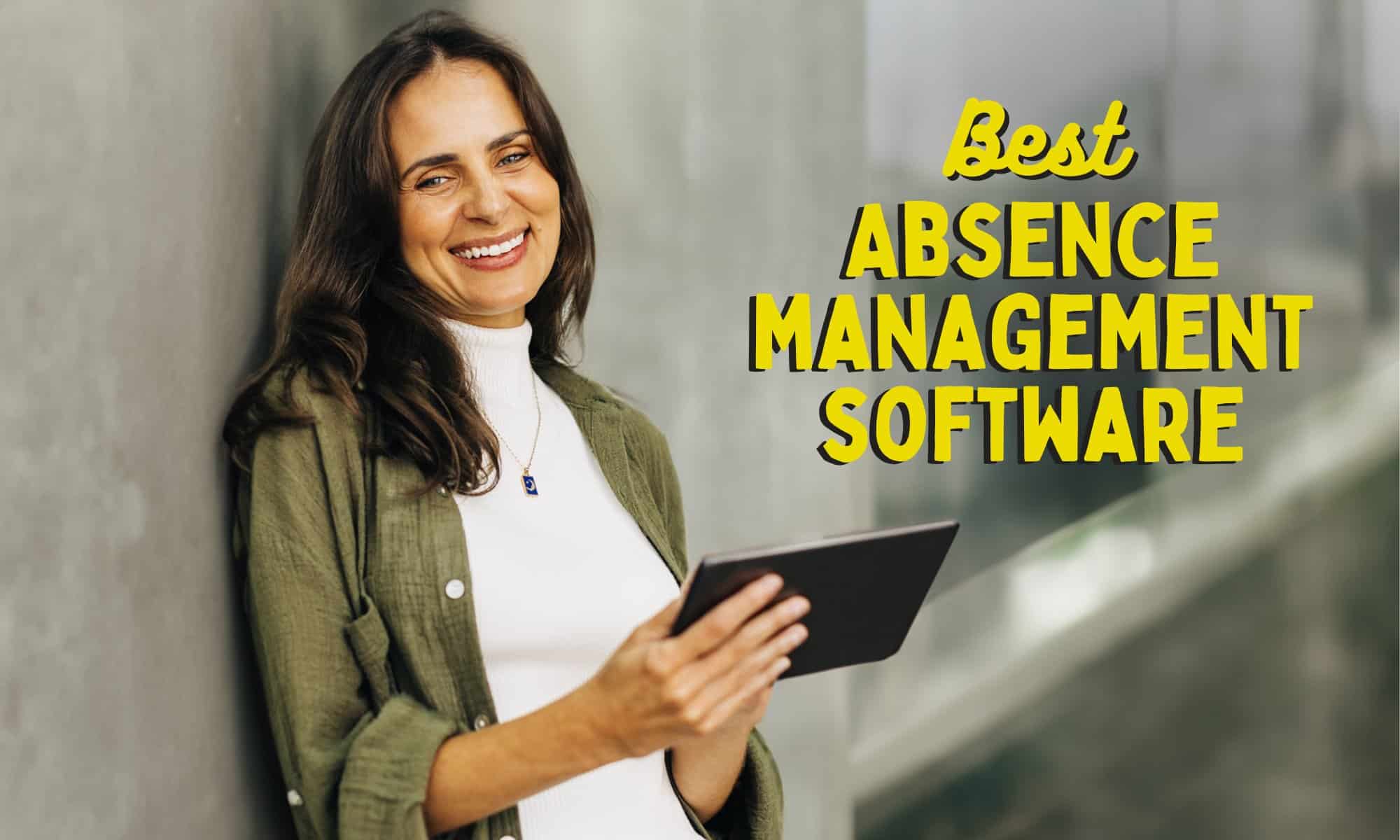 When searching for a cloud-based absence management software for your team, you want, at the bare minimum, software that lets you:
Maintain a record of your team's absence balances throughout the year, such as PTO, unpaid time, sick time, parental leave, etc.


Automate how much time off can be accrued for different employees (such as salaried vs freelancers).


Establish a team absence calendar, allowing everyone to view scheduled time off easily.


Simplify the process of submitting and approving leave requests for your employees and managers.


Customize your team's work calendar, including adding blackout dates when certain staff members cannot take a holiday.
These are the fundamental absence management features you should look for. But, generally you can find software that offers these key features, plus more. For example, let's look at our software, Buddy Punch.
Buddy Punch is an absence management software that provides all the benefits listed above, but is also time tracking software that facilitates daily clock in and clock out for employees while allowing them to monitor their hours worked. This feature becomes invaluable if you plan to grant PTO time based on hours worked.
Buddy Punch is also a scheduling software and payroll system, so you don't need to toggle between multiple screens to track PTO and issue payment. (You can also integrate Buddy Punch with your current payroll system.)
In this post, we'll explore the best absence management software, starting with our own tool, Buddy Punch. We also cover alternatives that are more full-fledged HR platforms for larger enterprise level teams.
1. Buddy Punch
The Best Overall Absence Management Software (and Time Tracking System)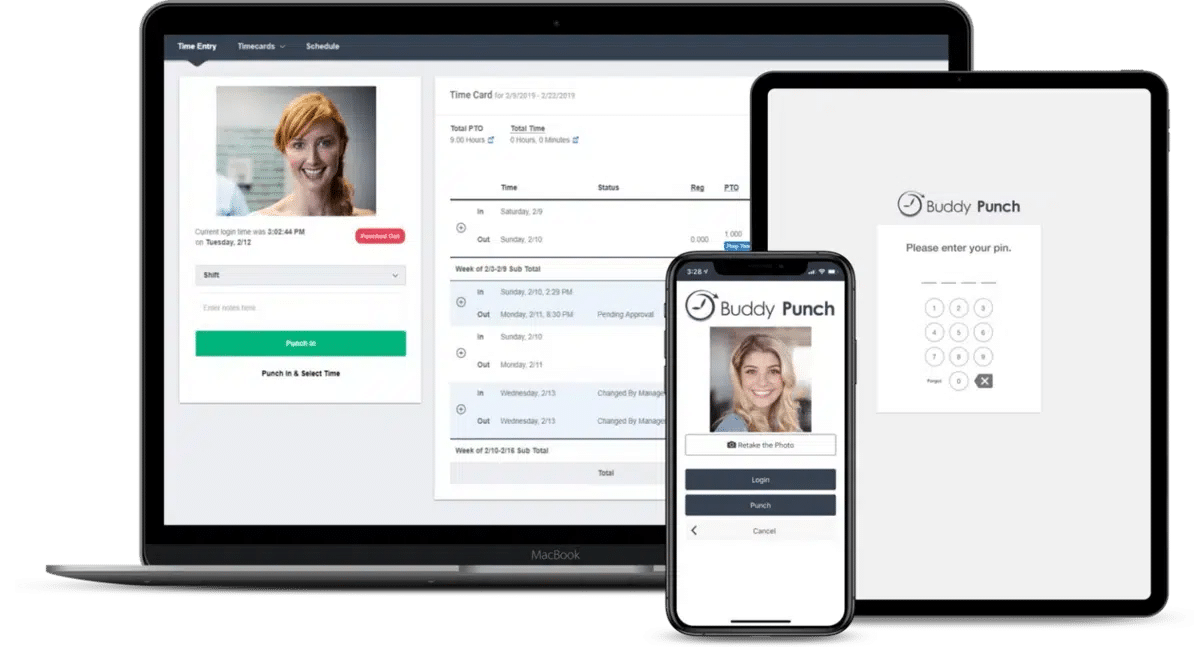 Buddy Punch is an all-in-one leave management software that tracks absenteeism (keeping accurate data on how much leave your employees take), lets you customize leave types, and makes it simple for your team to request days off and for you to approve their requests.
Plus, it also has features for writing schedules, employee time tracking, and payroll management. We will delve into these features later in the post, but first let's focus on how Buddy Punch simplifies employee leave management.
Here's a closer look at what we'll cover first:
Setting up leave and absence balances: Learn how to establish and maintain accurate balances for your team members.


Configuring blackout dates: Discover how to define blackout dates to ensure certain periods are off-limits for absence requests.


Streamlining leave requests: Explore how Buddy Punch facilitates an easy process for team members to submit their absence requests.


Customizing leave approval: Find out how to tailor the approval process to match your specific workflow and requirements.


Viewing and analyzing time off reports: Gain insights into the robust reporting capabilities of Buddy Punch, enabling you to monitor and analyze absence data effectively.
Setting Up Accrual Rules for Leave Management
Establishing precise absence management begins with configuring time off balances for your employees. The distribution of these balances can be tailored according to your preferences. You can allocate absence balances in a lump sum or allow them to accrue gradually over the course of the year.
With Buddy Punch, you can establish customized rules for each employee. For example, you can allocate more vacation days to senior staff members than part-time employees or exclude contractors from accruing PTO. This level of customization ensures that leave management aligns with your specific requirements and facilitates a seamless process.
With Buddy Punch, you can set up absence policies and PTO accrual based on the following:
Hours worked
Completed pay periods
Work anniversaries
You can also set up rules allowing unused vacation time to roll over to the next year or pay period.
Here's a look at how the process works:
Setting Up Different Types of Absence

Buddy Punch is set up with several default absence types, including:
Holiday
Personal
Sick leave
You can modify or delete these types of leave whenever you want. You can also specify if leave requests are paid or unpaid. We even have the options for you to designate work-from-home days on your PTO calendar.
Factoring in the Family Medical Leave Act (FMLA)
It's important to note when managing employee absences that employers need to comply with the FMLA. Federal law provides eligible employees with job-protected leave for specific family and medical reasons.
The FMLA allows employees to take up to 12 weeks of unpaid leave within a 12-month period for various qualifying reasons.
Under the FMLA, eligible employees can take leave for the following reasons:
Birth and care of a newborn child
Adoption or foster care placement of a child
Caring for a spouse, child, or parent with a serious health condition
Dealing with the employee's own serious health condition that makes them unable to perform their job
Certain circumstances related to a family member's military service including deployment or injury
The FMLA requires covered employers to maintain the employee's health benefits during the leave period and guarantees the right to return to the same or an equivalent position after the leave.
The FMLA applies to private-sector employers with 50 or more employees and certain public-sector employers.
Specific provisions and requirements of the FMLA can vary, and states will have their own requirements. So, it's advisable to consult the official regulations or seek legal guidance to ensure compliance with the FMLA.
But, when you use absence management software, you get a clear and accurate record of when someone has started and stopped their leave. This helps you make sure that your company is complying with all FMLA regulations.
Setting Up Blackout Dates for Absence Management
When overseeing employee absence management, you don't want gaps in shift coverage. This is particularly crucial in industries like retail or restaurants, where a full staff is required to handle increased demand during holidays and peak periods. Without a good tracking system in place, you run the risk of giving too many people the same day off, resulting in coverage issues.
With Buddy Punch, you can establish blackout dates where employees are restricted from requesting leave around key sales days. You can effectively manage staff availability and maintain adequate coverage by implementing blackout dates.
Here's a brief overview of how you can configure blackout dates using Buddy Punch:
1. In the Buddy Punch dashboard, go to the settings and click "Time Off."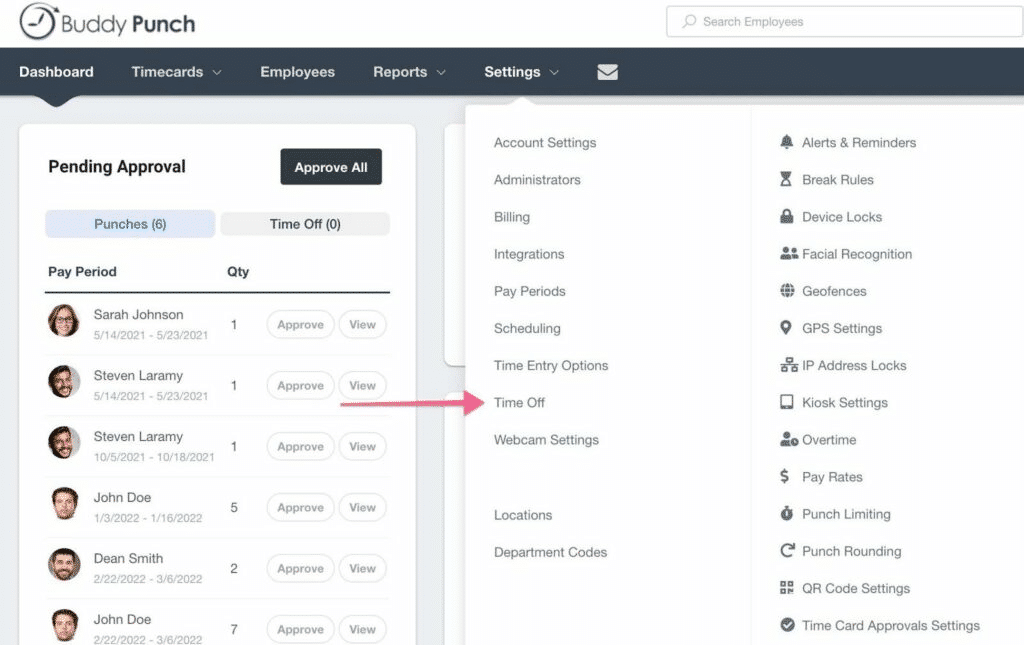 2. Next, scroll down to "Blackout Dates" and click "Add a New Blackout Date." Any existing blackout dates will also show up here and can be edited.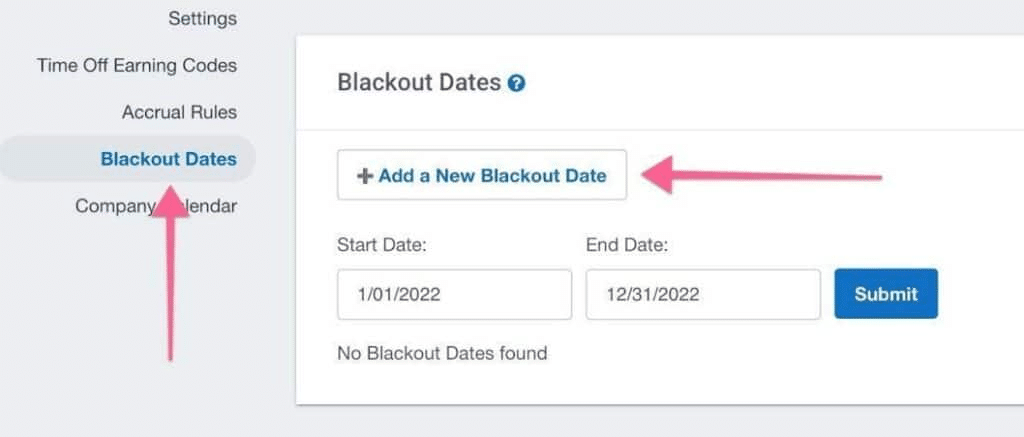 3. Finally, select the dates you wish to restrict. These can also be assigned to specific employees.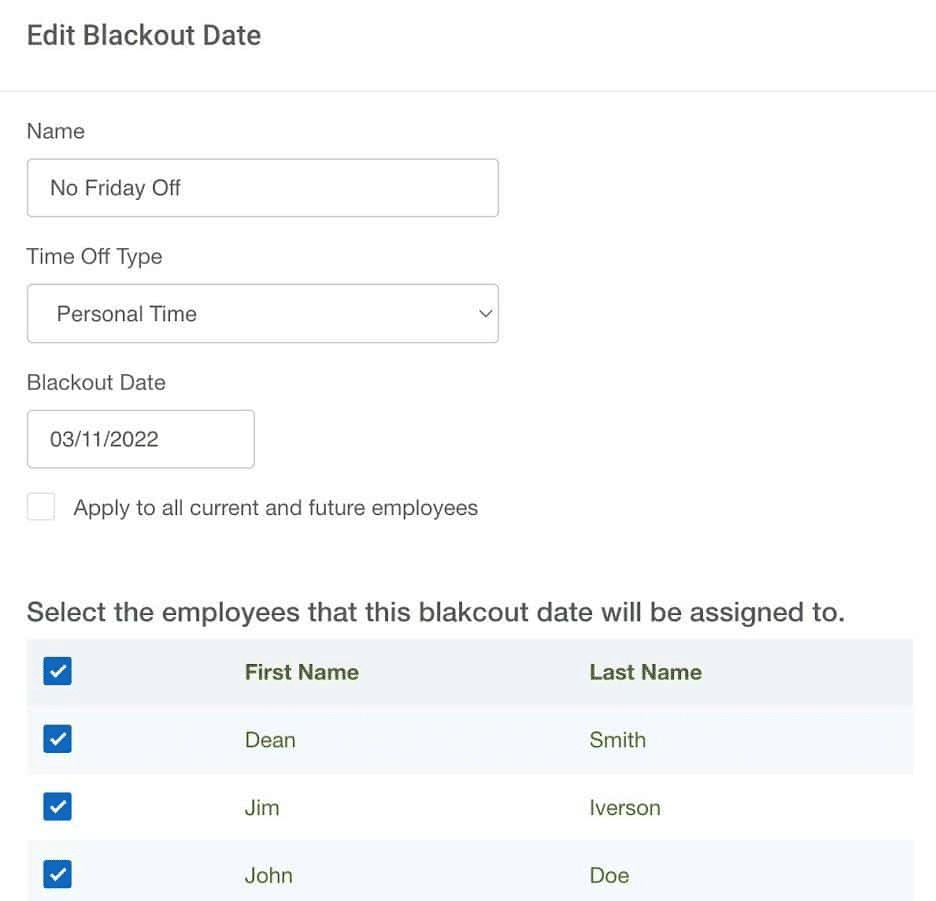 How Employees Can Request a Leave of Absence
Buddy Punch streamlines and simplifies the process for requesting a leave of absence, making it fast and effortless for both employees and managers. With just a few clicks, managers can promptly approve or deny requests, seamlessly syncing them with the company calendar. The employee's time off balance is automatically updated in real time.
1. Employees log on to the Buddy Punch website or app and click "Time Off Calendar."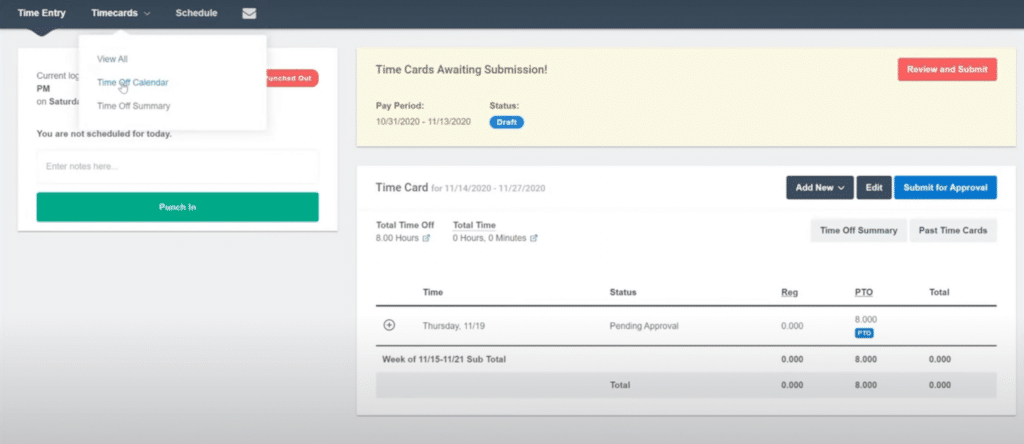 Remember, depending on your preferences, not all employees can see who has requested time off. We recommend sharing approved time off time company-wide to avoid miscommunication or confusion.
2. Next, staff need to select "Add Time Off."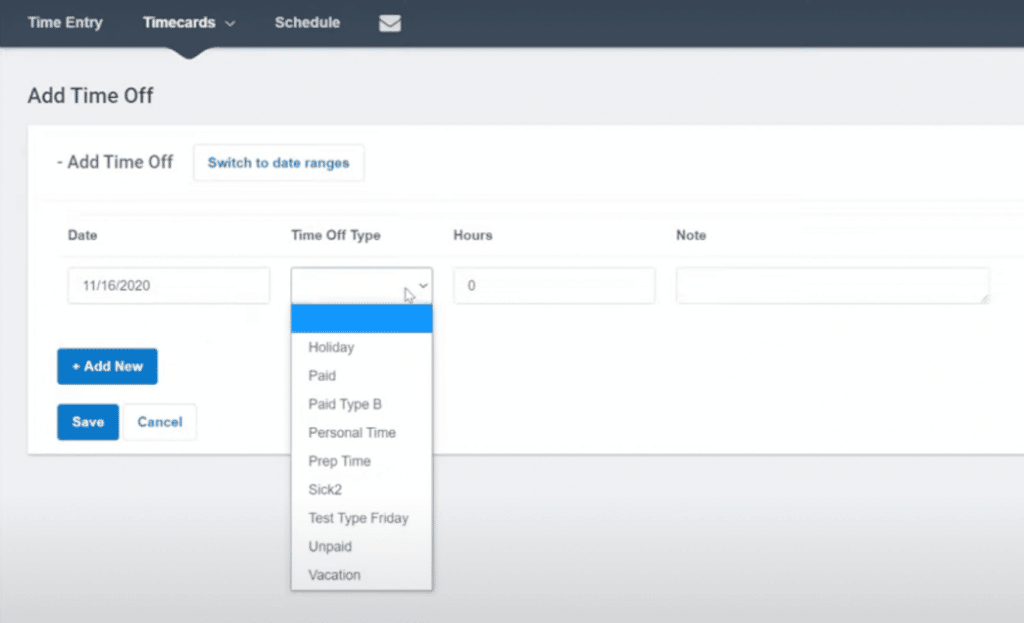 Employees then have the option to specify the following:
The type of time off such as holiday, vacation, personal time, or any other form of leave your business offers.
The number of hours they wish to take off if you choose to set up accrual rules by hours.
Add any additional notes, such as where they will be going on holiday, if/how they will be reachable, etc.
After making their selections, they just need to hit the "Save" button. If the request needs approval, the right person will get a notification (more on that process below). If the leave of absence does not need approval, it will automatically appear on the calendar.
How to Customize Approvals for Leave of Absences
You can set it up so that leave requests do or don't need your approval.
Here's a look at how you can set custom rules around leave of absence approval for specific employees.
1. Select an employee's profile once in the dashboard and click "Edit."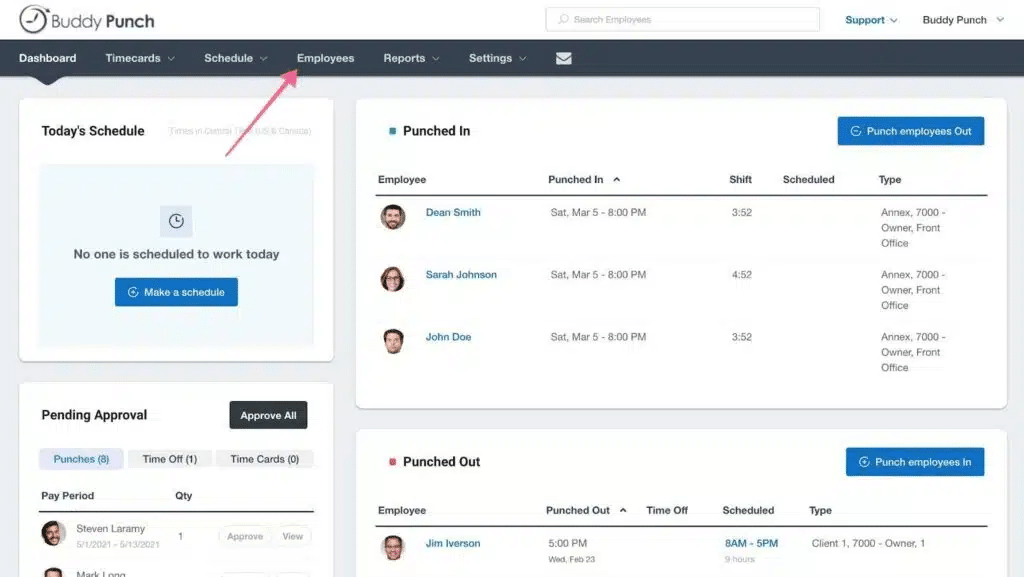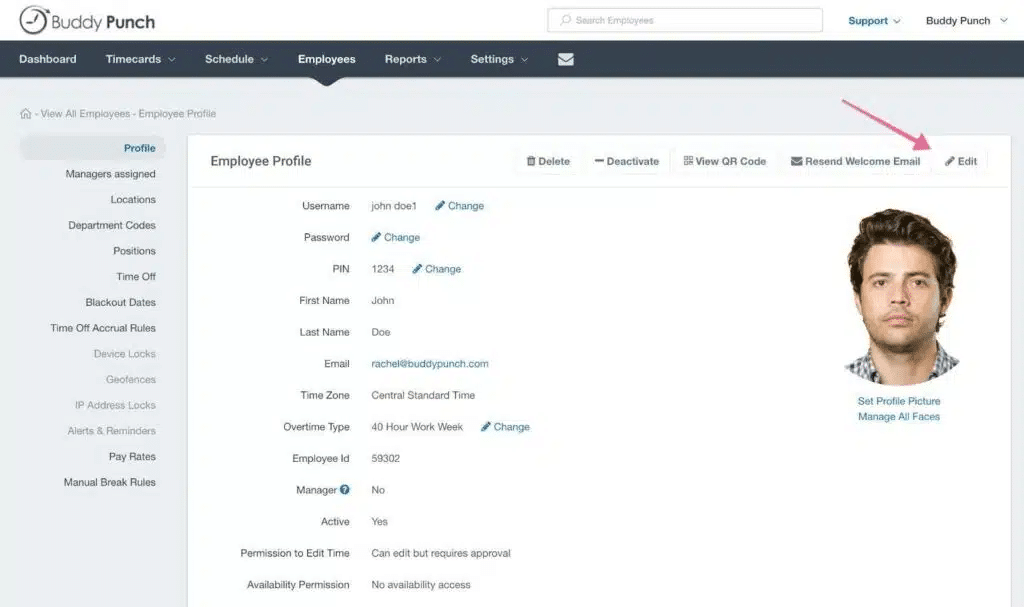 2. Next, check off the box that says "Requires approval for Time Off requests."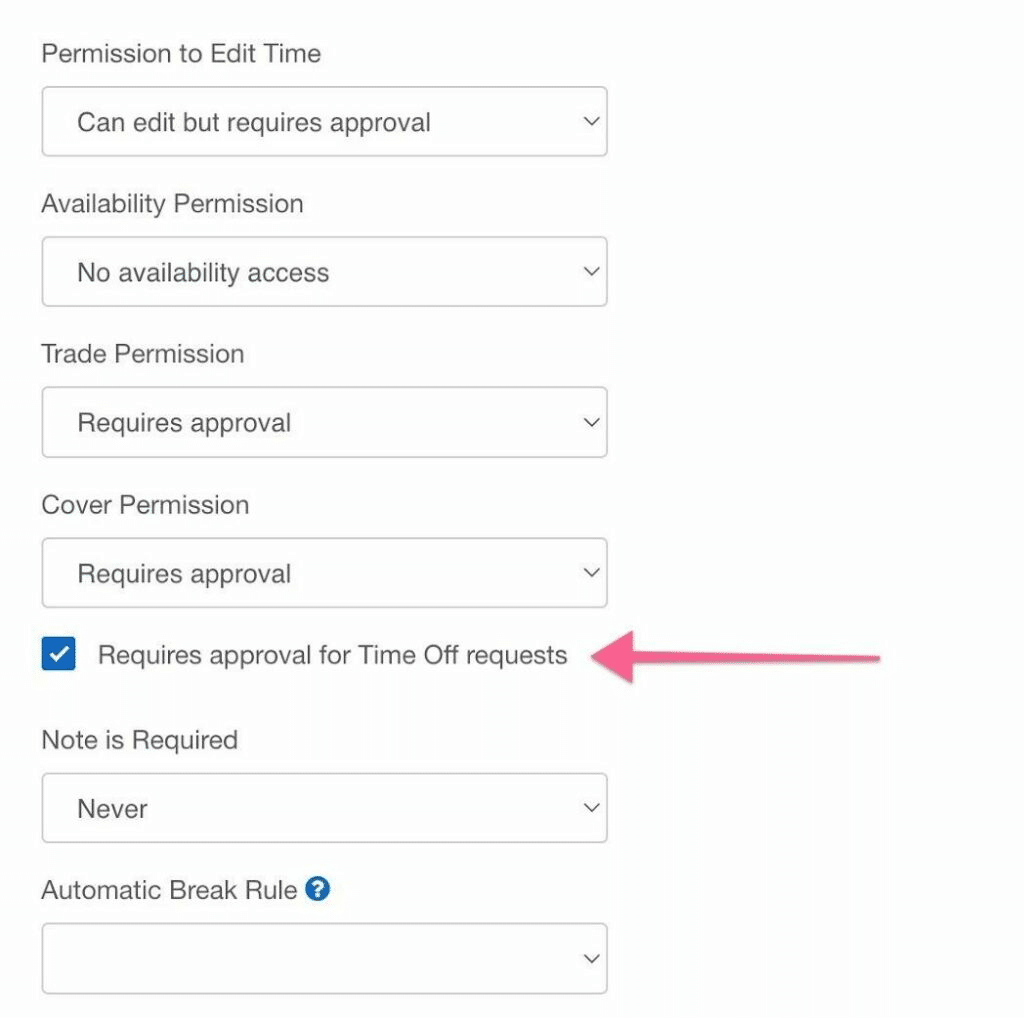 Once these settings are saved, approvers can receive email notifications when a new time off request is entered. This can help you and your team to respond to requests quickly, so employees aren't waiting too long to hear back.
Analyzing Leave of Absence Reports
With Buddy Punch's absence management software, you can generate reports to analyze leave balances, how much time will roll over (if you allow this), and how much time employees have left.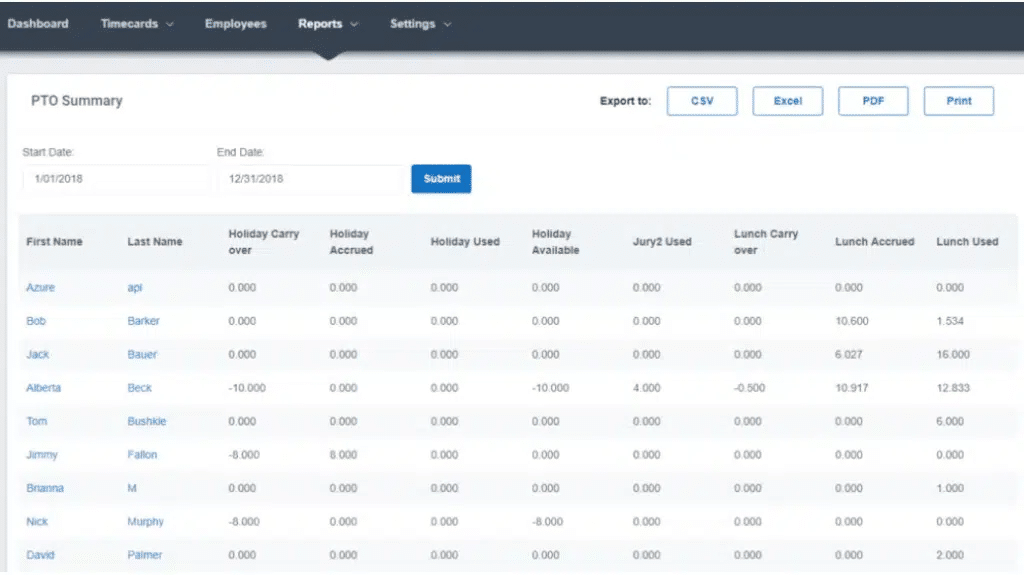 You can filter information by date, such as a specific payroll period, and it can be exported as an Excel or PDF anytime.
We've covered a lot of information for far, so to recap, with Buddy Punch, you can:
Edit leave of absence balances and accrual rules.
Make it easy for your staff to see how much time off they have left to use, check the team calendar, and put in a new leave of absence request.
Manage leave requests and have them approved automatically or with manager approval.
Create blackout dates on your time off calendar.
Bonus: Track Employee Time and Run Payroll with Buddy Punch
As we said at the beginning of this article, Buddy Punch offers more features than simple absence management.
You can also use Buddy Punch to:
Track time worked
Run payroll
And much more
Tracking Employee Time
Our time tracking options simplify the process of logging accurate and honest working hours for your team. Utilizing our time tracking features saves valuable time as there's no need for manual review, verification, data input, or analysis of employee timesheets.
Your team can conveniently track their work hours directly from their computers, tablets, or smartphones. Additionally, Buddy Punch offers several accountability features to ensure precise records, including:
4-digit pin clock in: Employees receive a personalized 4-digit pin to clock in and out, enhancing security and preventing unauthorized punches.


Facial recognition clock in: You can enable facial recognition, requiring employees to capture and upload a photo each time they clock in and out. This robust feature eliminates the risk of "buddy punching," where one employee clocks in for another.


IP address locking: You can implement IP address locking, making it mandatory for employees to clock in and out from a specific IP address, further enhancing accuracy and preventing misuse.


Geofencing: With geofencing, you can define a specific geographical area where employees must be present to clock in or out. This ensures that employees are physically located at the designated work site, promoting accountability.
These features reinforce the reliability and accuracy of your time records, ensuring transparency and efficiency in time tracking.
Running Payroll
In addition to absence management, you, or your HR managers, can run payroll through Buddy Punch. We've made it incredibly simple, requiring just four easy steps:
Review your employees' work hours and time off directly from your dashboard.


Sync employee time effortlessly with a few clicks.


Take a moment to review essential data for accuracy.


Click the submit button, and your team's pay is on the way.
Additionally, Buddy Punch provides access to various other valuable features that simplify the management process, including:
Employee self-service options that facilitate easy setup and management.
A mobile app available on iOS and Android.
Paperless paydays through secure direct deposits.
Automated payroll requests that streamline the process and save time.
Plus, Buddy Punch can track various business expenses beyond employee wages, including:
Group Life Term
Reimbursements
Paycheck Tips
Bonuses
Commissions
Cash Tips
Severance
If you already have a payroll system, Buddy Punch offers integration capabilities to work seamlessly with your current software. Alternatively, you can export payroll reports as an Excel file, providing flexibility and convenience in managing your payroll processes.
Other Great Buddy Punch Features
We've focused on how you can use Buddy Punch as an absence management software solution. But that's just scratching the surface of what we offer.
Scheduling: With our platform, you can create and distribute schedules in minutes, ensuring shifts are always covered and staff are up-to-date.
Overtime Calculations: Select from more than a dozen customizable overtime types to determine how each employee's overtime pay is calculated.
Project Tracking / Job Codes: Every Buddy Punch account comes with this workforce management tool. Save time and resources by quickly viewing employee information on your dashboard or through the app.
Multiple Punch and Login Options: With Buddy Punch, employees can physically punch in from a tablet or remotely with a 4-digit pin, QR Codes, facial recognition, or a username and password.
Time Card Approvals: Our Time Card Approvals feature lets your employees easily submit their timecards at the end of each pay period. Managers and administrators can accept or reject it with comments.
If it sounds like Buddy Punch is the right vacation tracker for your business, start a free trial or schedule a one-on-one demo.
Why Customers Love Buddy Punch

We think Buddy Punch is your business's most comprehensive absence management software. But, don't just take our word for it. We have 4.8 out of 5 stars on Capterra with nearly 900 reviews.
Here's why our customers love our absence management system:
"I enjoy being able to see my vacation hours, wellness hours, holiday pay and how many hours I have so I can plan on future vacations."

Read the full review here.
"Buddy Punch is great! The monthly scheduling feature and web/app time clock are both very easy to use, organized, and reliable."

Read the full review here.
"Buddy punch is excellent. The online time clock, you can edit your time, put time off in, check your hours, and approve your hours at the end of each pay period."

Read the full review here.
Other Absence Management Software Options
2. Breathe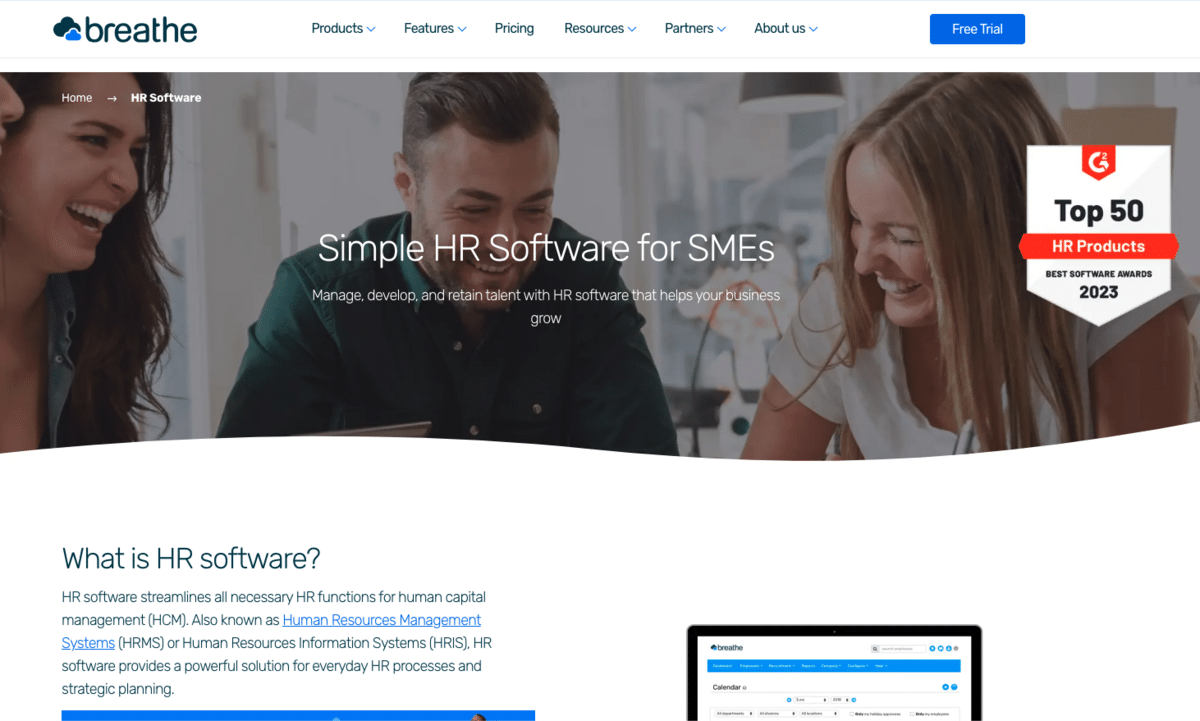 Breathe is an HR software solution that includes absence management. With Breathe, you can:
Create a staff holiday planner.
Run performance management.
Track employee hours.
Analyze salary forecasts.
At the time of writing, Breathe has 4.5 out of 5 stars on Capterra with 30+ reviews. It's important to note the core pricing for Breathe starts at about $13 per month but can go up based on the features you need.
3. PurelyHR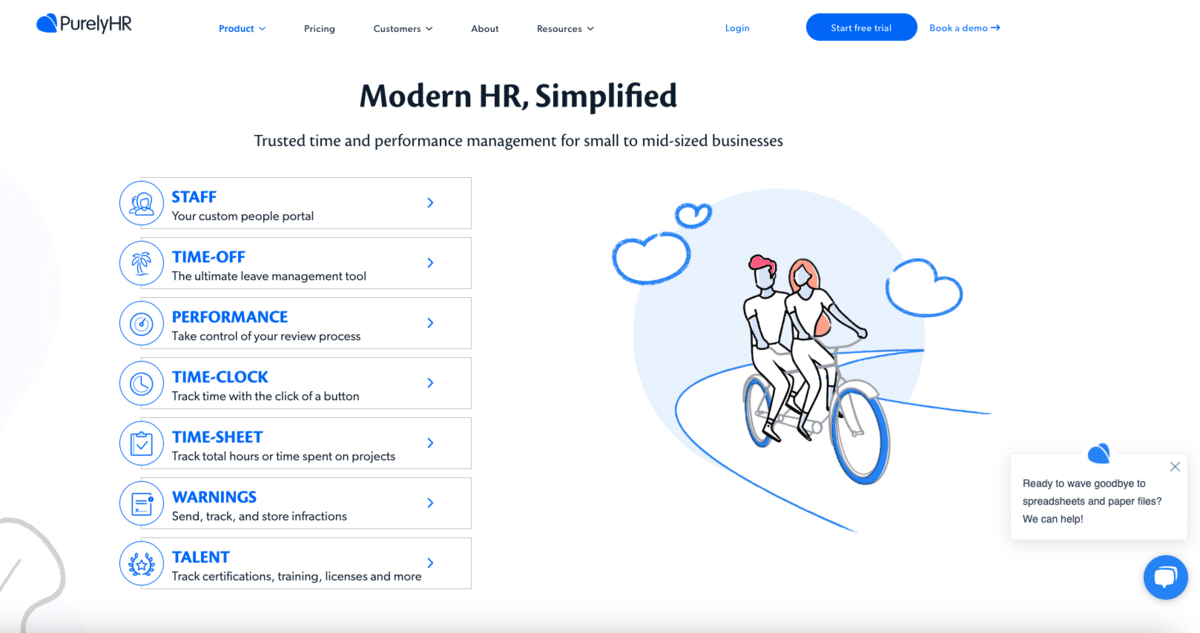 PurelyHR is another absence management software and human resources solution that offers a large suite of solutions, including:
Employee onboarding.
Performance and review management.
Manage employee certification and licenses.
Tracking hours worked.
As of writing PurelyHR has 4.5 out of 5 stars on Capterra with 300+ reviews.
4. TalentHR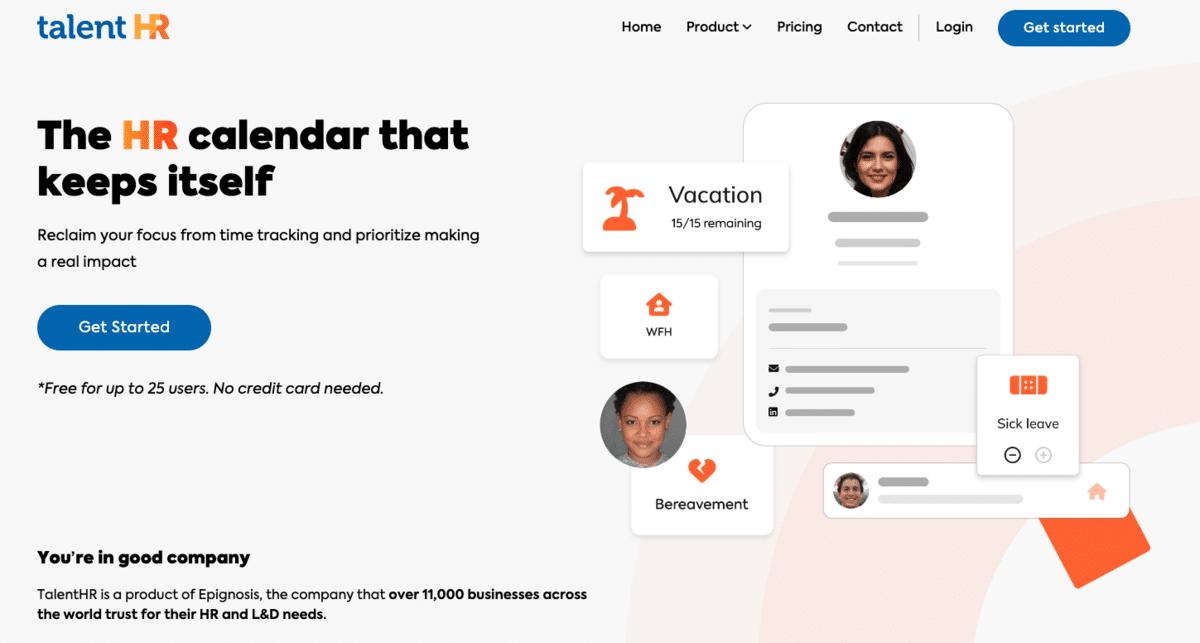 Lastly, TalentHR is a time off management solution that can:
Manage leave requests.
Manage your Org chart.
Track employee performance and absence trends.
Integrate with popular apps like Slack.
As of writing, TalentHR has 5 out of 5 stars on Capterra (but keep in mind that there are currently less than 10 reviews).
Learn More About Buddy Punch and Start a Free Trial
To learn more about Buddy Punch: