Online Timesheet Software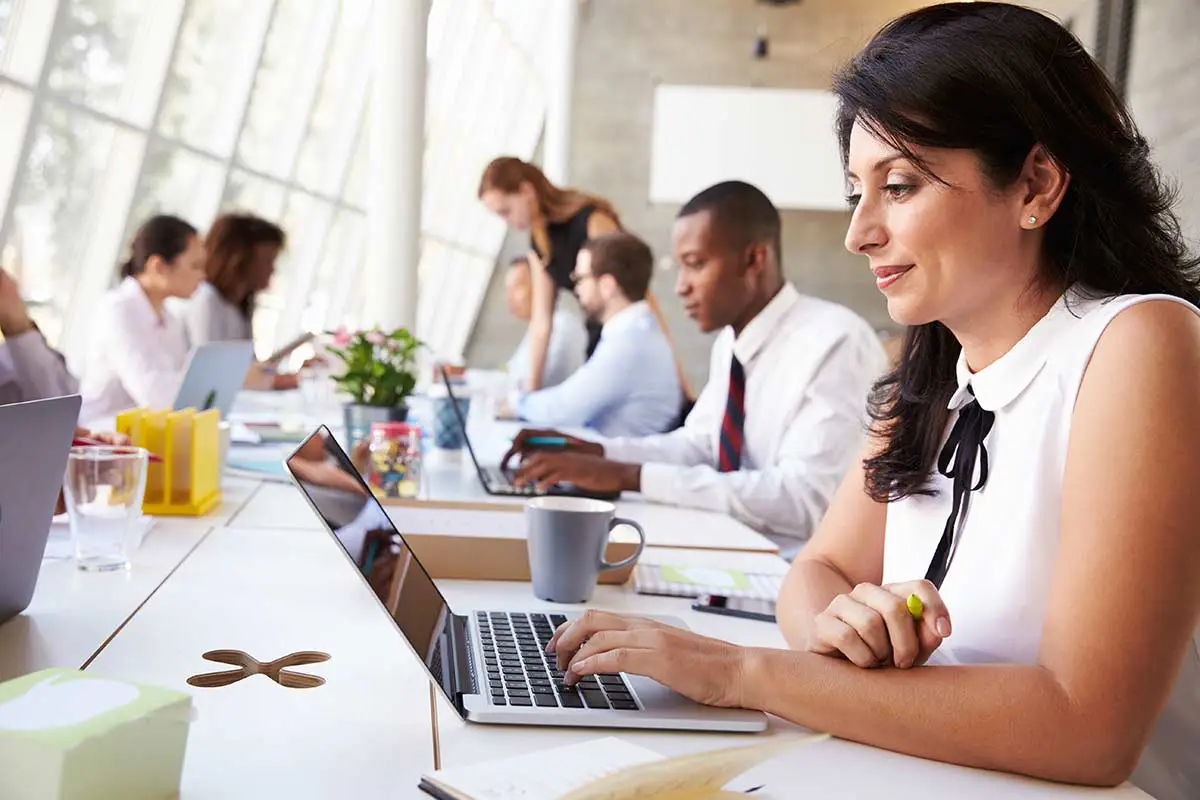 When it comes to business management, a timesheet is an essential tool. Managers and business owners must track billable time in order to know how much to charge a customer, evaluate whether revenue and results make for a good strategy, and calculate payroll. These are just a few areas where every business must manage and organize efficiently to succeed long-term.
Thanks to online systems for time tracking, tracking work time is now much easier than it used to be in the days of paper timesheets. With the help of an online timesheet app like Buddy Punch, managers and business owners can generate comprehensive work reports that include details such as team members' work hours, clock in/out times, PTO (paid time off) taken, and more.
In fact, the additional features that could be included in employee timesheet apps are so diverse that the hardest part of implementing one to streamline your time management and workflow is narrowing down your options. So let's see if we can't help you make an informed decision before you commit to a time tracker.
Categories of Timesheet Tools
There are two main categories timesheet tools can be put into. The first consists of simple time tracker apps that allow timekeeping and time tracking only. The second is an advanced solution for workforce management that combines time tracking and a variety of other useful tools, such as employee scheduling, payroll processing integrations, notifications, and more. We built Buddy Punch to fall into the second category, because we wanted to make sure we provided as many useful tools as possible to business owners. The only tradeoff is that we built in so many features that we couldn't make Buddy Punch a free timesheet app – we had to charge in order to manage upkeep for these options.
Based on your needs and preferences, you can either choose a simpler tool to just track time or go with an advanced management software that does most of the job for you. It all depends on the functions you need and the budget you have.
Choosing Your Employee Timesheet Software
Ultimately, the choice you make will depend on your preference, but more is always better than less when it comes to time tracking software. Sure, you want to avoid human error and cut down on time theft, but why not go for the software that includes multiple options that you can pick and choose at will, or make use of as your business expands over time?
Consider your many options with Buddy Punch:
GPS Location Tracking, Geofencing, and Facial Recognition work to completely eliminate time theft, even when your team members are on mobile devices.
Customizable Reports (that can be exported as Excel CSV spreadsheets or Adobe PDFs) give you a complete overview of what your employees do while on the clock and how it can be optimized.
Timesheet Approvals – Monthly, bi-weekly, or weekly timesheets, you and your administrators will be able to enable an option to review timesheets before they're approved, so you can make sure all clock in and clock out times are accurate for the records.
And more
Employee time tracking is an involved process. We wanted to make sure business owners had everything they could possibly need on that front.
Of course, there is also the matter of time and effectiveness. In the past, employees used to fill out printed timesheets and submit them to the employer for input. There were three outcomes of such systems, two of which are bad, and one very rare.
The rare case happens when the timesheets submitted by all employees are correct. This is basically impossible not just because time theft is common, but because of unintentional human error, too. In most cases, the employer is the one who suffers small losses, which with time turn into big ones. But, such systems can leave many unpaid hours for the employee, too.
That's exactly why timesheet tools have been widely accepted by both parties – employer and employee. Tracking time using automated software makes for an error-free system and accurate reports.
The days of managers using Excel timesheets filled in manually by employees or other managers is long gone. Now, it is much more affordable to purchase software like Buddy Punch than to do this manually – not just because it saves time, but because it saves money, too.
The Most Popular Timesheet Tools and Software
Naturally, you don't want to rush into making a decision. A couple of dollars monthly is far from a high price to pay to manage your business effortlessly without mistakes, but choosing the right software is essential.
To demonstrate why Buddy Punch is the best software you can find in terms of timesheet tracking, we've made a list of the most popular tools and software along with their features and offerings. Here is what you need to know.
Buddy Punch
For a while now, Buddy Punch has been the most widely used timesheet software, especially by small businesses. The reasons for this are affordability and versatility. The pricing of Buddy Punch is not just competitive compared to other popular tools for time tracking, it also eliminates base fees and is the same for everyone. This means that you don't have to choose between plans or worry about high the price will climb as you add employees. Buddy Punch is very affordable –you only have to pay $29 monthly for 9 users.
Why is Buddy Punch so special?
Buddy Punch comes with the standard features you will find in every other option in this list along with much more. In addition to the traditional timesheet tracking, time clock punch in and out, automated reports, schedules and mobile apps, this software offers some highly advanced features that can rarely be found anywhere else.
The combination of GPS tracking, QR code scanning, IP address locks and facial recognition system make for the most versatile timesheet software on the time tracking market.
Buddy Punch works on any device with an internet connection, including smartphones (iOS and Android), Desktops (Windows and Mac) and Tablets.
Harvest
Harvest is one of the most used timesheet tools by businesses. The interface is just as simple as that of Buddy Punch, while their set of features is only slightly smaller. This tool allows for accurate expense tracking and fast invoicing from any browser and device. There is a free plan for one person with 2 projects, a paid plan for one person with unlimited projects at a cost of $12 per month, and a Team plan at a cost of $12 per person per month.
This online timesheet software is more expensive than Buddy Punch, but it has the same free 14 day trial offer (no credit card required). Not many tools offer a free trial for that long.
Scoro
Scoro provides the user with every tool necessary for team collaboration, time tracking, billing, templates, and reports. Its attractive dashboard offers the usual features standard to time tracking tools, including time billing and tracking, real-time dashboard, reports on work, time, performance and finances, and invoicing. It also offers a wide range of integration options.
The pricing of Scoro starts at $22 per user per month, which is significantly higher than the pricing of Buddy Punch or Harvest.
Avaza
Avaza is available on any device and includes time tracking on the go. You can use it to create invoices and make time entries, get timesheets approved, and track expenses and billing. In addition to tracking, Avaza has several other project management and automation features.
One user can use Avaza for free for up to 5 projects. Above that, their paid plan is $9.95 per user per month.
Toggl
If you're a small business on a tight budget, you can make use of Toggl as a free time tracking tool. With less than 5 users, you can keep up with billable and non-billable hours, task management, project costing, and more – all for free. Toggl is an employee timesheet and time tracking software that integrates with many systems. If you already have several tools for tracking time and business organization, you can connect them for optimal performance.
The top features at Toggl are reports, offline tracking, unlimited projects with the paid plan, and a work timer. The free trial here lasts for 30 days, while the paid plan costs $9 per user per month.
Hubstaff
You will find Hubstaff on most lists for top time tracking software. This is a popular tool that offers integration capability with over 30 other tools, which means that you can connect it to almost any current tool you are using.
Hubstaff offers customizable reports, activity view and screenshot-taking options, automatic time tracking, manual time tracking, timesheets and payments, and Buddy Punch's most popular feature – GPS tracking. The tool lacks some of the popular features of Buddy Punch, but it still makes for a nice bargain. The prices start at $4.08 per user per month for the feature-limited plan and $8.25 per user per month for the all-inclusive plan. Their free trial lasts for 14 days.
ClickTime
Clicktime gives businesses complete control over their timesheets and project budgets. Its features include project profit and cost analysis, billing analysis, dynamic billing rates, stopwatch time tracking, online timesheets, billable time entries, and some less common features such as forecasting how long it will take to complete a task.
The interesting thing about ClickTime is, even though they have some very unique features, they do lack some of the popular features offered by other tools such as Hubstaff, Timesheets and Buddy Punch. Even so, their rates are much higher than most tools in this list – they start at $16 per user per month.
Replicon
Replicon is a software that provides timesheets and time tracking assistance, analytics for working hours logged, time clock, project budgeting, expense management, and multiple billing rates for employees. This tool is used by larger organizations due to its numerous features and well-designed interface.
This is one of the most robust tools in this list, but also one of the most expensive. The pricing for Replicon is $22 per user per month. They offer a trial period of 14 days.
Zoho Projects
Zoho Projects integrates with two other tools by the same company – Zoho Invoice and Zoho Books. This allows the users to not only track and calculate time but also send and create invoices.
Zoho Projects can be used to export and manage timesheet data, track billable hours, record the start and end of a task, bill clients and pay employees, and log time according to projects. Basically, it combines all the standard features of an advanced time tracking software.
There is a free plan offered by Zoho Projects that can be used for one individual. This plan is very limited in terms of features. If you want to purchase the paid plan, it is costly – $25 per user per month.
Paymo
Paymo is very simple to use due to the limited number of features, but it is quite popular among small teams and freelancers. The features offered here includes time tracking, user stats and performance tracking, and billing. There are both mobile and desktop apps available for this software.
The pricing of this tool used to be more affordable. With its popularity, the price has climbed to $9.56 per month per user for the Small Office category and $15.16 per user per month for the Large Office category.
Individual freelancers can use the Paymo apps for free.
Freckle
The goal of Freckle is to improve time tracking and export timesheets whenever necessary. The dashboard is very simple and allows users to run reports and categorize the employees. Users can also use Freckle to create invoices and bill customers for the work. There are Freckle mobile apps for Mac and iPhone as well as a web app.
Freckle works by using tags to navigate between tasks and track projects, which simplifies the time entry process.
The pricing of Freckle starts at $25 per month for five users. Additional users cost $10 per month each.
Tick
Tick offers timers, browser extensions and mobile apps, timecards, timesheets, billing and calculation features. The software can be integrated with all versions of Basecamp as well as QuickBooks. This makes it possible for the user to track time and send accurate invoices in real time.
If you choose this software and integrate it with QuickBooks, you can automate payroll and billing. The app allows you to track the time in a way that hits the budget for those who do value billing.
The software offers a free plan that combines several features and a paid plan that costs $10 per user per month. It is most popular with individuals or freelancers who want to gain more control over their time.
The free trial version lasts for 30 days.
Teamwork
Teamwork lets users estimate the time necessary to complete a task, and you can log time against this estimate. Using this tool, users can become more and more accurate in terms of estimates and adjust fees and budgets accordingly.
In addition to combining features similar to those of Buddy Punch, such as online time tracking, custom time reports, etc., Teamwork is one of the few tools you can use to make estimates on a specific project. For this function, the cost is $69 per month. There is also a free plan, but it is very limited compared with the array of features offered in the paid version.
TimeSheets
Timesheets is a very popular timesheet tool among those who want some simple organization of their business and employee management. The tool allows users track time using a timer or insert this data manually. In addition to this, users can get automated reports as well as manage payroll for each employee.
Its top features include request management, calendar editing, job costing, hourly time clock, expense tracking, and reporting. The tool is very popular among individual freelancers, who can access a free version. Businesses with multiple employees pay $9 per person per month.
Selecting an Effective Punch Clock & Timesheet System to Record Employee Hours and Track Project Time
Have you decided on the best punch clock and timesheet system to use to record employee hours? Visit this page to learn more about what Buddy Punch offers and how you can benefit from choosing the most affordable, effective time tracking system on the web.