11 Best Tsheets Alternatives (QuickBooks Time) in 2023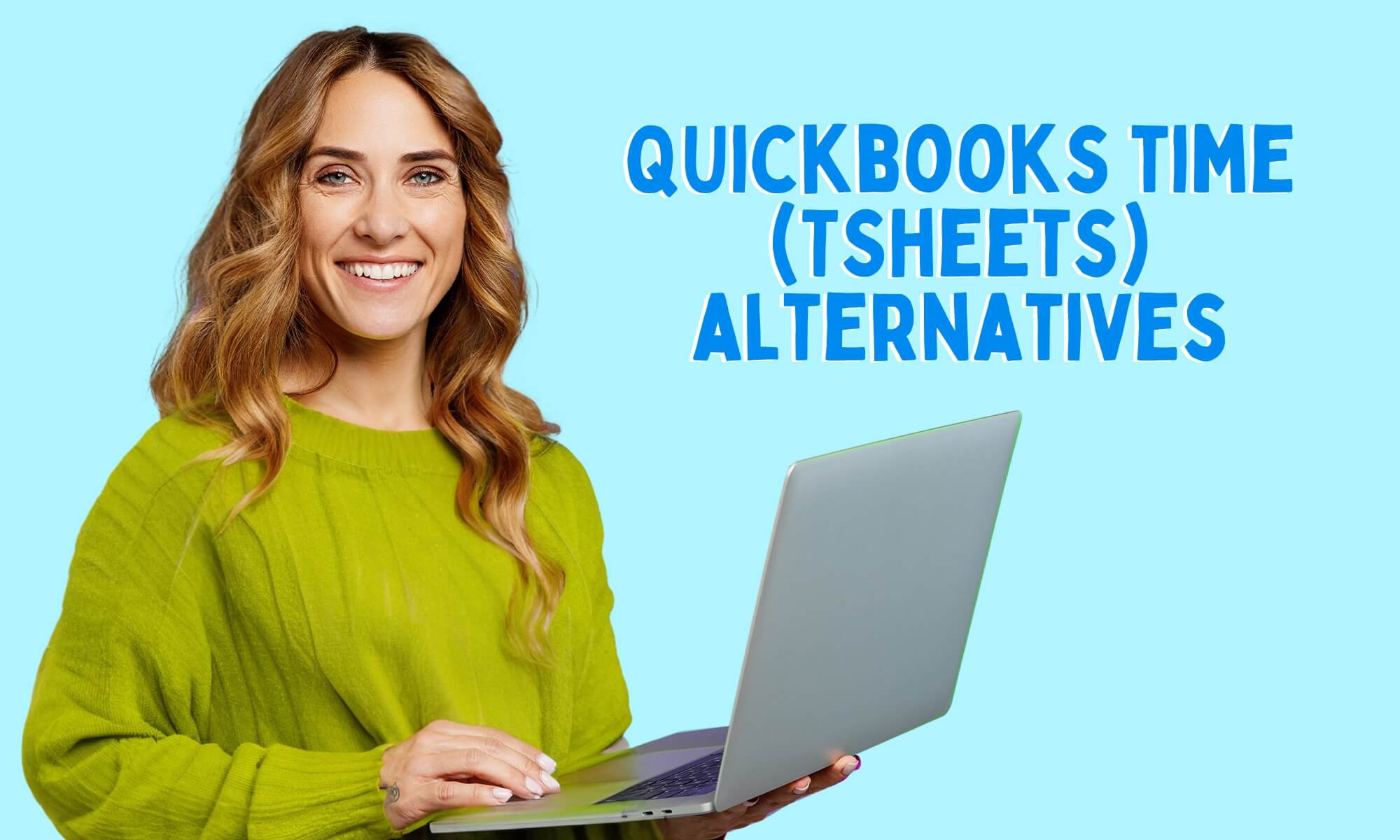 Tsheets, rebranded as QuickBooks Time after being acquired by Intuit, is a popular tool for tracking employee time and running payroll.
Whether you're a freelancer trying to track hours and send invoices, or someone running their own business with multiple locations, there are many instances where Tsheets/QuickBooks may not work for your specific needs.
In this post, we look at 11 of the best Tsheets (QuickBooks Time) alternatives. We focus on tools that are:
Easy to set up
Help you keep accurate time tracking records
Simplify your scheduling and payroll processes
Best Tsheets and QuickBooks Time Alternatives
1. Buddy Punch
Best Tsheets/QuickBooks Time Alternative for Small Businesses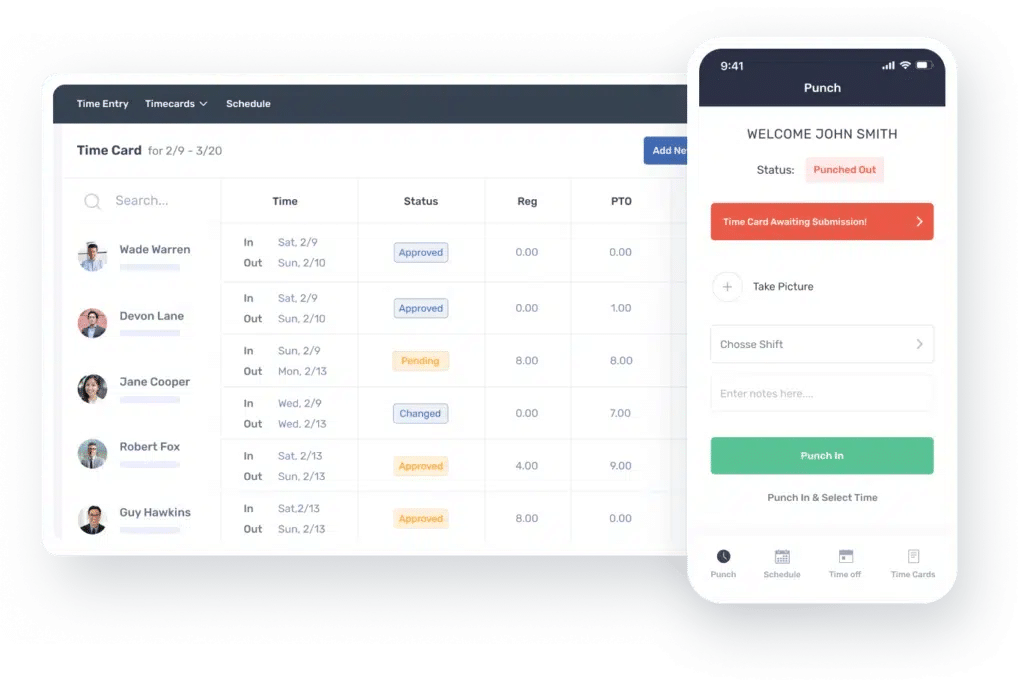 First up, let's look at Buddy Punch. Buddy Punch is our software, and one we're proud of — we made it to help small businesses and to solve the problems we ourselves were experiencing as business owners. With Buddy Punch, you get the tools you need to:
Keep accurate timesheets and records: Employees can log their work hours (something they can do directly from the Buddy Punch mobile app and desktop app). And, you get advanced time clock features like geofencing (limiting punches to specific locations), IP Address Locking (confining punches to designated devices or WiFi networks), punch rounding (preventing timecard manipulation), and more, guaranteeing accurate time records and payroll.
Streamline payroll administration: You can choose Buddy Punch as your all-in-one payroll provider, featuring key payroll functionalities such as paperless paydays, employee self-setup, and payroll tax filing. Alternatively, seamlessly integrate Buddy Punch with your existing payroll provider. Regardless of your preference, Buddy Punch streamlines your payroll processes, ensuring timely and precise compensation for your team.
Buddy Punch works for any type of small business, whether you're a small team with one location or you're managing a crew across multiple job sites. This is because Buddy Punch has versatile time clocks and payroll functionalities, such as:
Easy time tracking options: Employees can conveniently clock in and out from any device, be it a phone on our mobile app, tablet, or computer. Buddy Punch works with both iOS and Android devices.
Simple timecard editing: Managers and, if permitted, employees can effortlessly update and submit their timesheets from both desktop and mobile devices. To make changes, select the "Edit" option on an employee's timecard, where you can adjust the time or add breaks, then save your updates.
Real-time payroll and overtime calculations: Buddy Punch automatically knows the prevailing wage each employee is owed (including overtime) based on their job codes. Plus, Buddy Punch offers immediate insights into employee working hours. You can activate alerts for when staff approaches their daily or weekly hour limits. Plus, as discussed, you can either issue payroll directly from Buddy Punch or integrate Buddy Punch with your current payroll system (like Gusto or ADP).
If Buddy Punch sounds like the best option for your business, you can:
Or keep reading for a more in-depth review of Buddy Punch.
Intuitive and Easy-to-Use Interface for Employees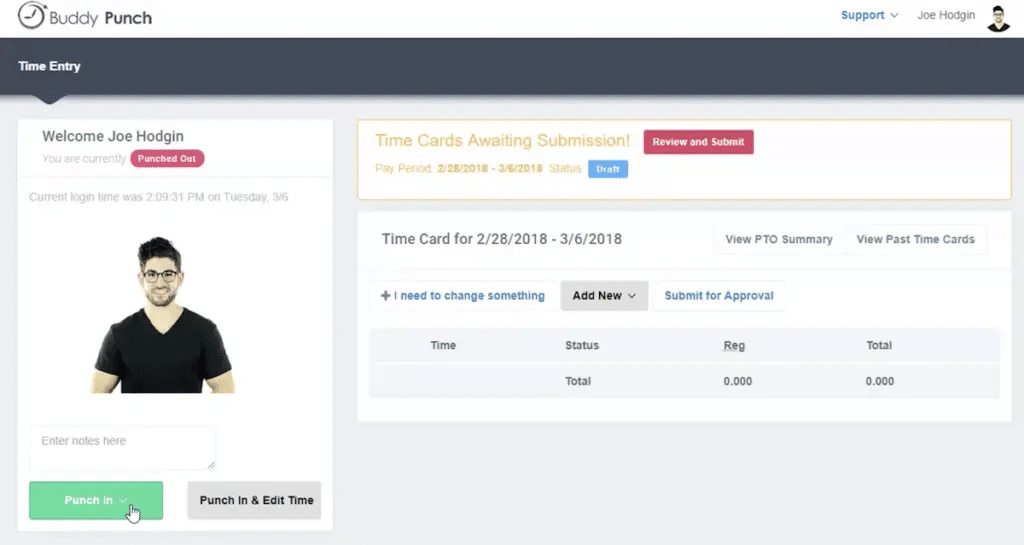 Our key goal when developing Buddy Punch was to create an intuitive and user-friendly interface. We designed a time tracking tool accessible to all employees, regardless of their tech proficiency, whether on iOS, Android, tablet, or the web. Here's a quick look at how much our customers love our user-friendly design: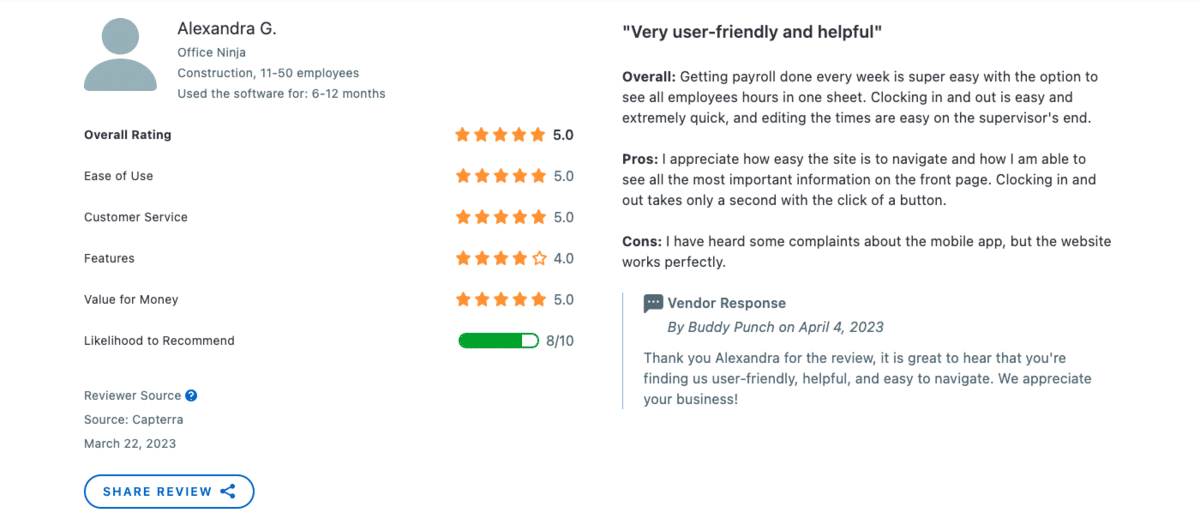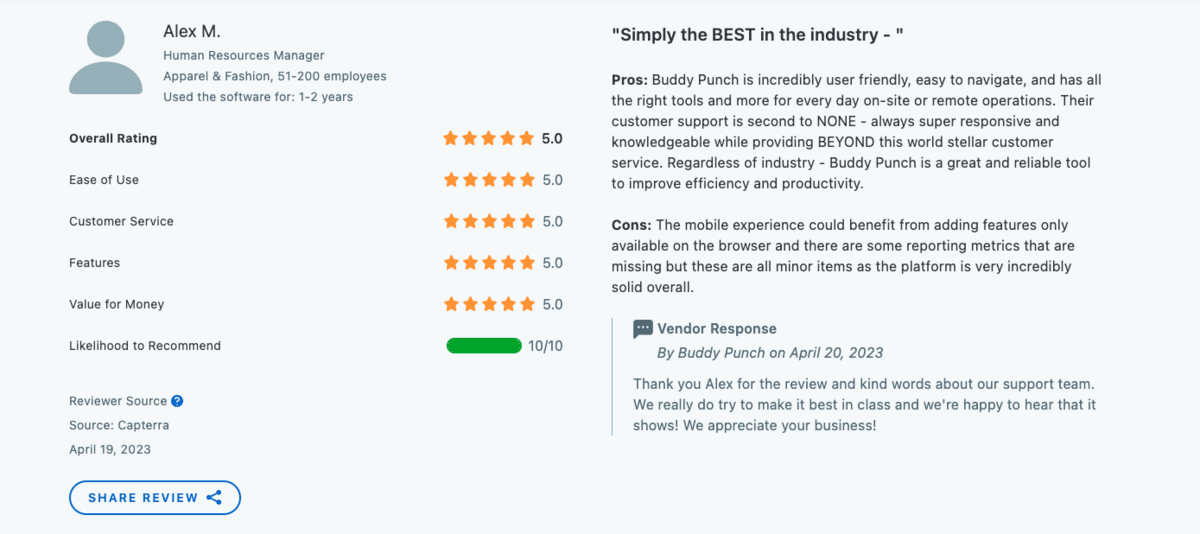 You can read more Buddy Punch reviews here on Capterra.
We've streamlined the interface for simplicity, minimized options, and color-coded them for clarity. They'll see three straightforward choices: 'Punch In,' 'Punch Out,' or view their current timecard.
The app is streamlined and still very functional and practical. Your employees can correct punch-in mistakes, request time off, submit timecards for approval, and more — all within the same platform.
Dedicated Customer Support
Our focus is on delivering top-tier customer support. We achieved this by centralizing all communications through our live chat feature on both the web and the app. We're proud to say our average response time during business hours is a speedy 54 seconds.
What sets Buddy Punch's customer support apart isn't just the rapid response time. Our live chat representatives are well-versed in the Buddy Punch platform and are trained to handle diverse challenges, no matter how complex. Unlike some companies where you might need to speak to multiple representatives, often with varying access levels, at Buddy Punch, one person can guide you through a solution for your challenge, simplifying the process. Here's a quick look at why our customers appreciate our dedicated support: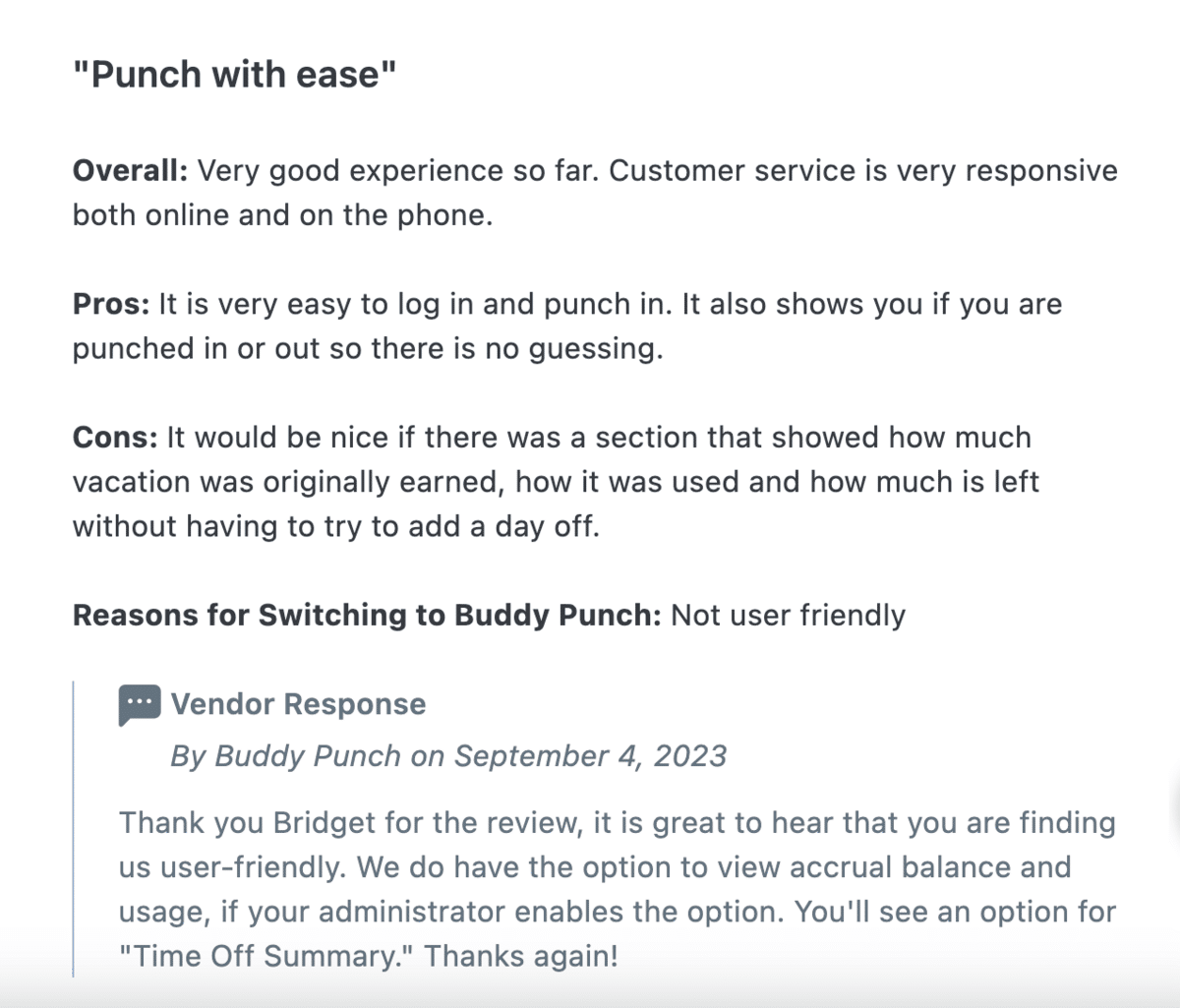 Team Accountability
Lack of team accountability wastes time and money, a common frustration in time tracking. Buddy Punch addresses this issue with the following features: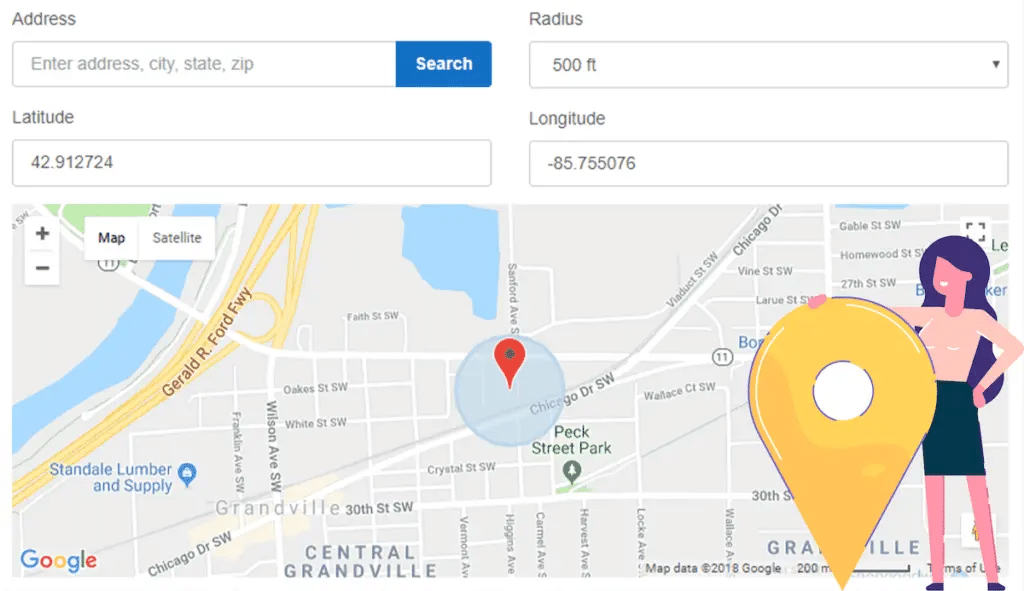 Buddy Punch's geofencing lets you set the punch-in/out zone. Simply pick a radius. If employees try to punch outside that radius, they'll get an error message. You can create multiple geofences, each with a unique job code for differentiation.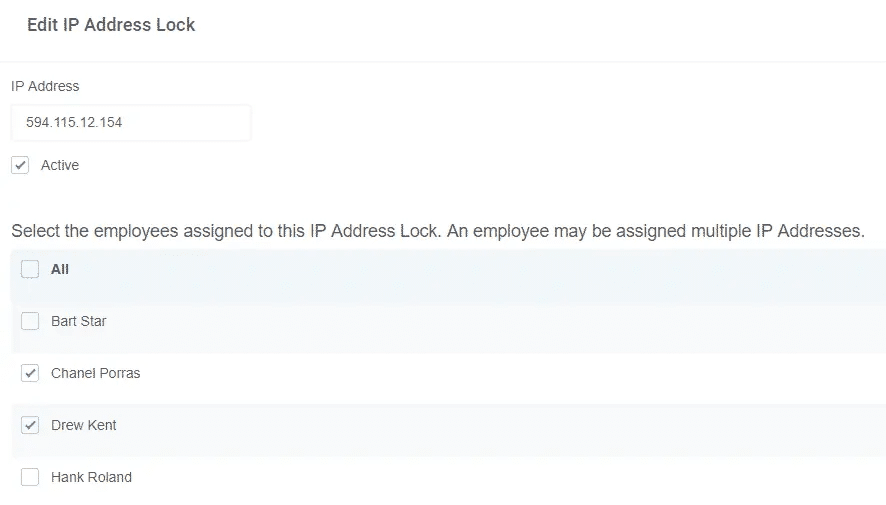 This feature lets you specify the allowed IP address for punching in and out. Just set the desired IP address; employees can only punch when connected.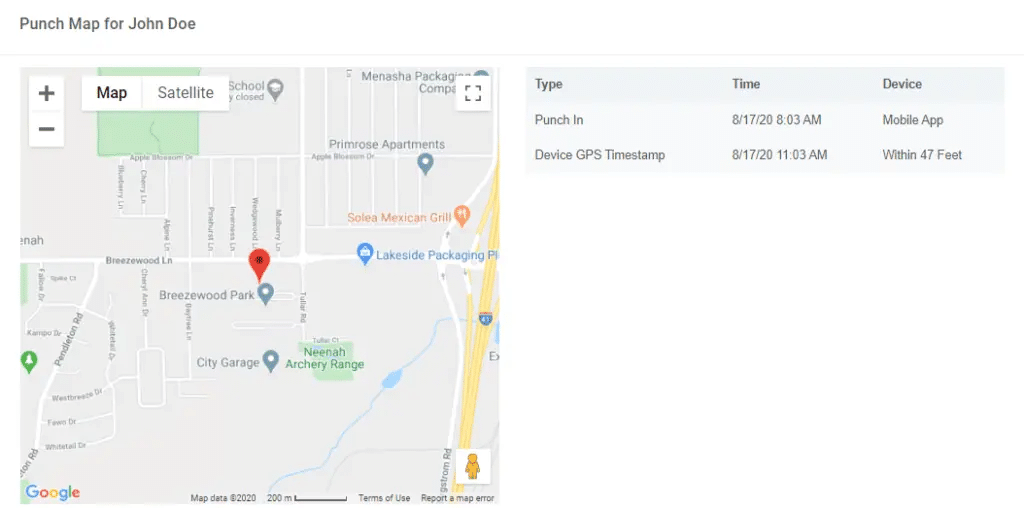 Our GPS technology tracks staff locations when they punch in and out, saving it on their timecard. Use the platform to review everyone's punches to ensure accuracy, especially beneficial for businesses with employees working at various sites, like construction crews.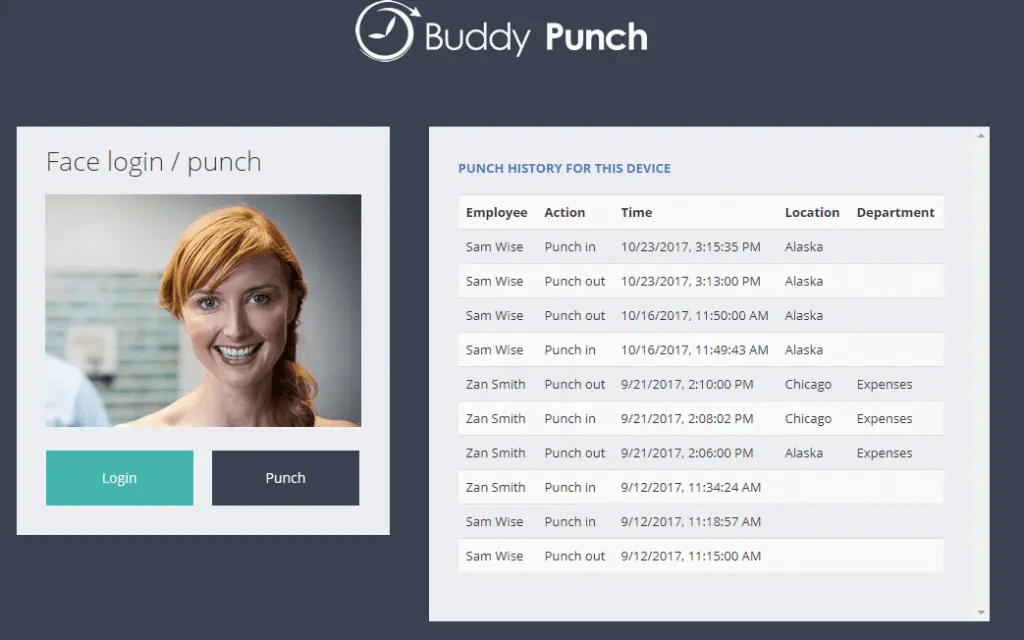 Buddy Punch's Facial Recognition feature adds yet another layer of accountability to your staff's punches. Buddy Punch will prompt your staff to scan their faces and verify it's them before they can clock in and clock out of work.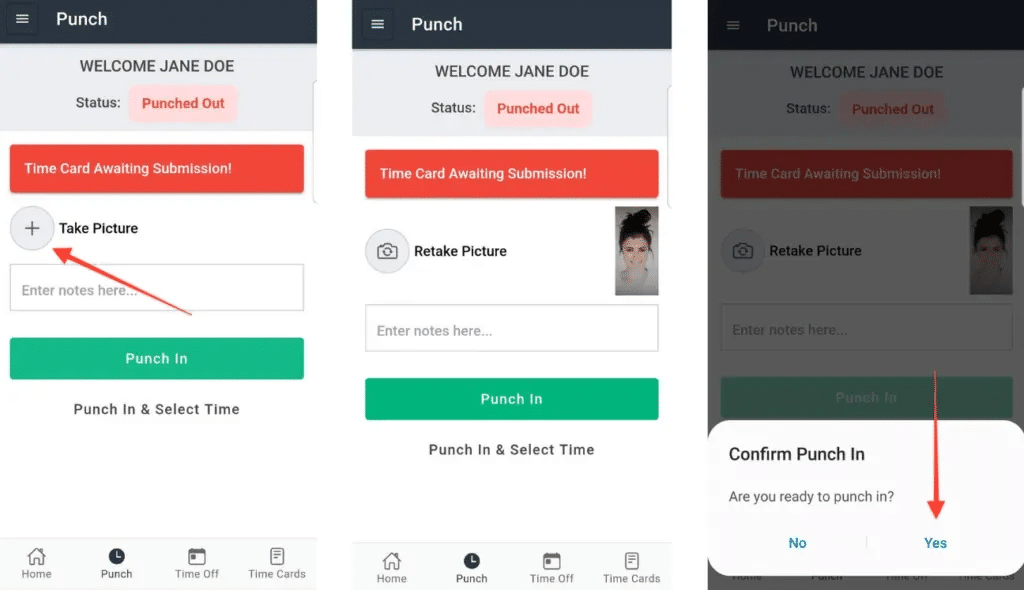 Like our Facial Recognition feature, Buddy Punch's Photos on Punch prompts staff to take pictures when clocking in and out. While these photos don't verify their faces, they're stored on their timecards. You can check all photos in our timesheet app to verify whether employees punched in and out personally or had someone else do it for them.
Streamlining Payroll with Buddy Punch
One of the reasons to have accurate time records is so you can run payroll quickly and efficiently, making sure your team gets paid the right amount and on time. If you're using two different systems to track time and run payroll, there's a greater chance for error. Your best bet is to use one platform that can do both. With Buddy Punch, you can say goodbye to wasting time and money on inaccurate or manual payroll processing. We offer the following payroll features:
Automatically calculate pay & overtime: Buddy Punch automatically knows the wage each employee is owed (including overtime) based on their job codes. You can set different job codes and rates for your seasonal workers versus your full-time team members. This ensures all team members are paid accurately and on time.
Fast payroll processing: You can choose between two-day and four-day payroll processing and even set up reminders to ensure payroll is submitted on time. Plus, your employees get a self-service login which they can use to set up direct deposit and pick their tax withholdings. You can also pay employees via check.
Track additional expenses: In addition to regular payroll, Buddy Punch lets you track other costs such as severance pay, cash tips, commissions, bonuses, and group term life.
Easy tax filings: We ensure your payroll taxes are filed automatically. We handle local, state, and federal taxes, plus multi-state registration.
However, if you'd like to stay with your current payroll provider or handle it manually, we support that too, with seamless integrations and payroll reports.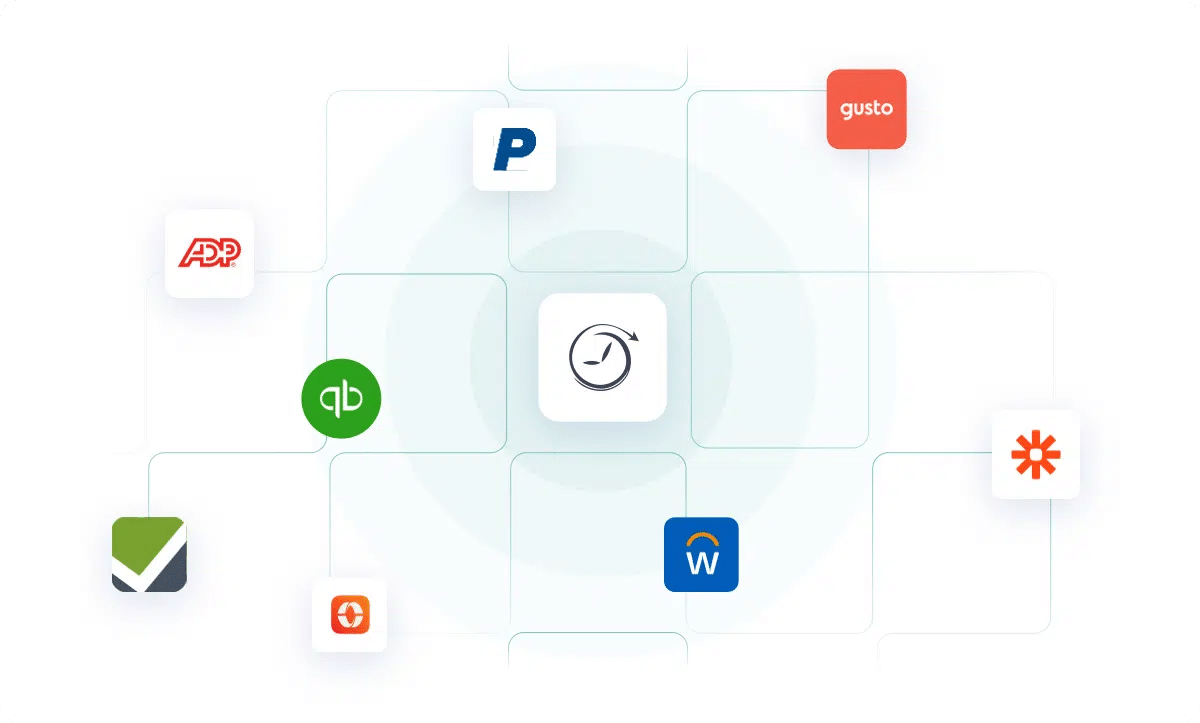 Buddy Punch integrates with all of the payroll providers above and more, which means you can automate almost any, if not all, of your payroll processing workflow. This makes payroll processing faster and more accurate.

Buddy Punch's Payroll Reports on Demand feature automatically calculates the data needed for payroll. You can export this data in Excel or CSV format, as shown in the screenshot. It's a faster and more accurate alternative to traditional methods, eliminating the need for manual review, input, verification, and analysis of timesheets every pay period.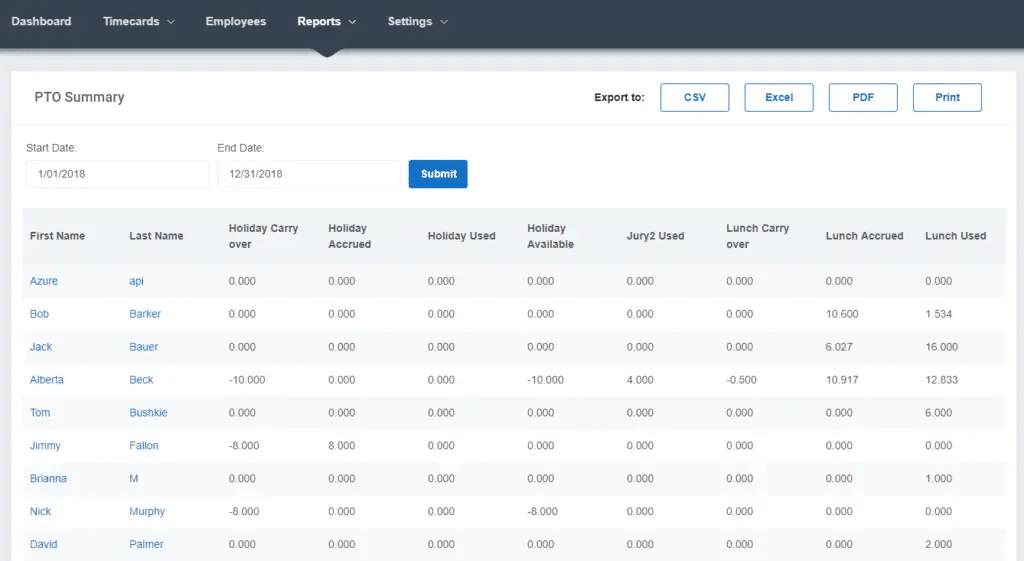 Our Time Off Tracking feature allows you to monitor all staff time off, whether paid or unpaid. You can track time off for all employees simultaneously or individually and export reports with the necessary information for your review and approval.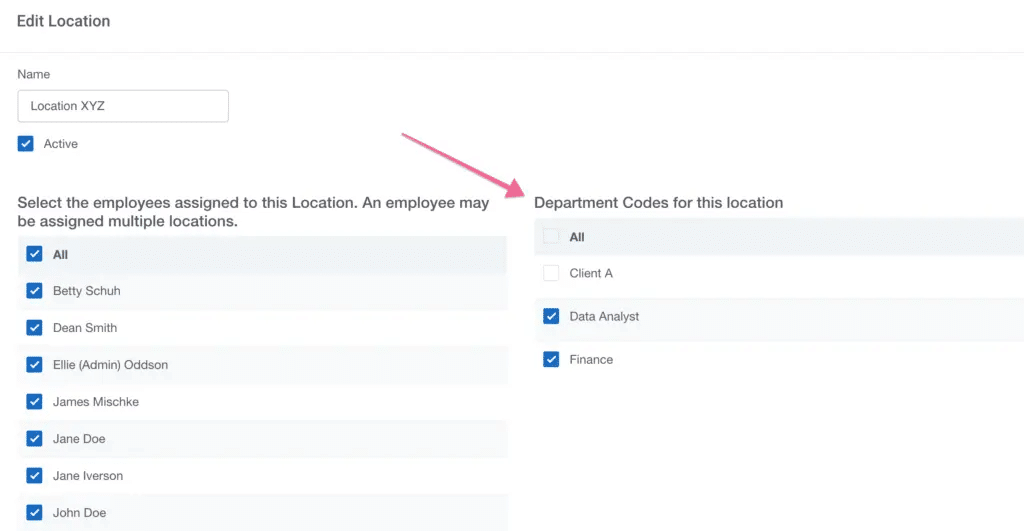 You can establish customized pay rates for various job roles and pay scales with Buddy Punch's job codes. This simplifies cost estimation, precise budgeting, and the quick generation of project reports for your review, all with just a few clicks.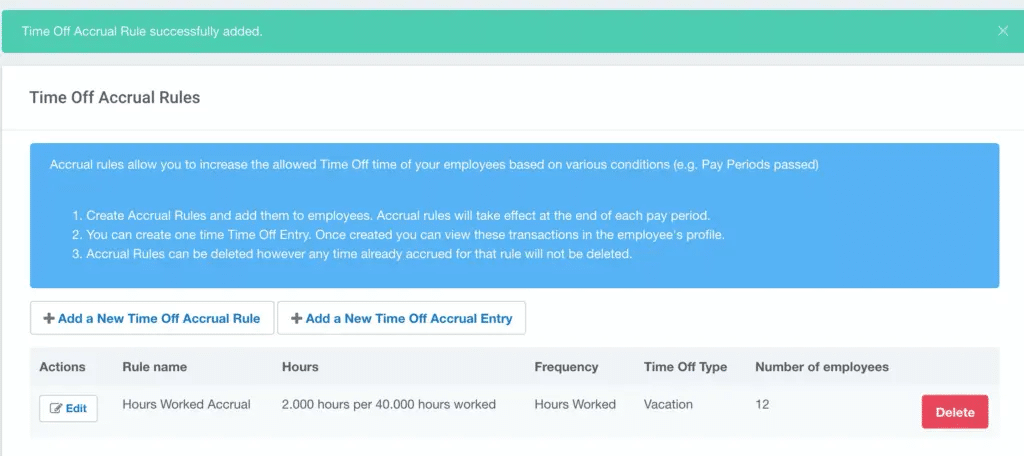 Finally, Buddy Punch provides an Accruals feature, allowing you to establish time off accrual rules based on hours worked or specific pay periods. Additionally, you can opt for annual time off accrual.
So far, we've covered a lot of ground. To recap, with Buddy Punch, you can:
Hold your team accountable for hours worked.
Streamline your payroll process with our existing integrations.
Generate instant payroll reports.
Utilize job codes.
Set up automatic PTO accruals.
Plus, Easy-to-Use Scheduling Software
This just scratches the surface of what Buddy Punch can do. Additional features include:
Scheduling: Easily create team schedules in minutes with our drag-and-drop feature. Employees can view their scheduled shifts at any time, and managers can send notifications with the click of a button.
Alerts and notifications: We offer several built-in notifications, whether that be an employee requesting a change to their timecard or if they clock in or clock out; you can stay in the know via email.
Quick timecard approvals: This feature requires employees to submit their timecard at the end of each pay period. Project managers and administrators can accept a time clock or reject it with comments during approval. This is an optional feature that can be toggled on or off.
Overtime monitoring: Overtime alerts can be set up to go to the employee, their manager, and the account administrator simultaneously. Our alerts will tell you if the employee is punched in or out and their total hours worked, helping you to avoid costly overtime.
And more: Discover all of our product features by clicking on the link.
Real Customer Reviews of Buddy Punch
We think Buddy Punch is the best Tsheets alternative. We have over 800 reviews and 4.8 out of 5 stars on Capterra, a popular software review site.
Here's a selection of reviews highlighting our dedicated customer support and why our customers love Buddy Punch. You can read all the reviews here.
"The best time clock we have ever had! The pros of Buddy Punch include ease of use, and if an employee does not punch out, we are notified. The Geofence is great."

Read the full review here.
"Overall, it makes inputting payroll very easy. I'm able to easily navigate to keep accurate time of all employees, and I also appreciate that I can clock employees in and out."

Read the full review here.
"Besides being easy to use, the Buddy Punch team is knowledgeable and can answer any question you might have about the software. Many of my employees are students with ever-changing schedules. Buddy Punch is easy to use, and you can change schedules weekly or even daily as things come up. Buddy Punch tracks the time the employee is logged in, so I don't have to."

Read the full review here.
Start Your Free Trial
If you'd like to explore Buddy Punch as a Tsheets alternative in greater depth, click the link below to start your free trial or request a demo:
2. Hubstaff
Best for Workforce Analytics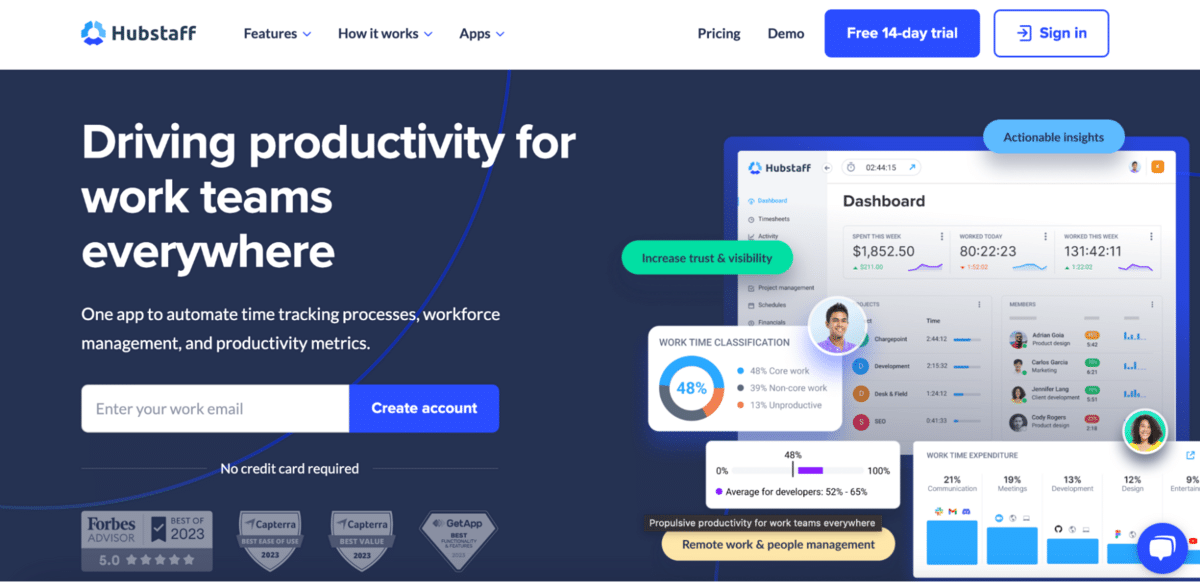 Hubstaff is a popular alternative to Tsheets for businesses of all sizes. Its user-friendly interface allows you to generate over 20 types of reports on workforce and project cost management. Other core features include:
Managing multiple remote teams
Online & offline indicator
Idle time customization
Budget & time limitation
Tracking time offline
Automatic payroll
At the time of this writing, pricing for Hubstaff starts at $4.99 per user per month with a minimum two-user requirement.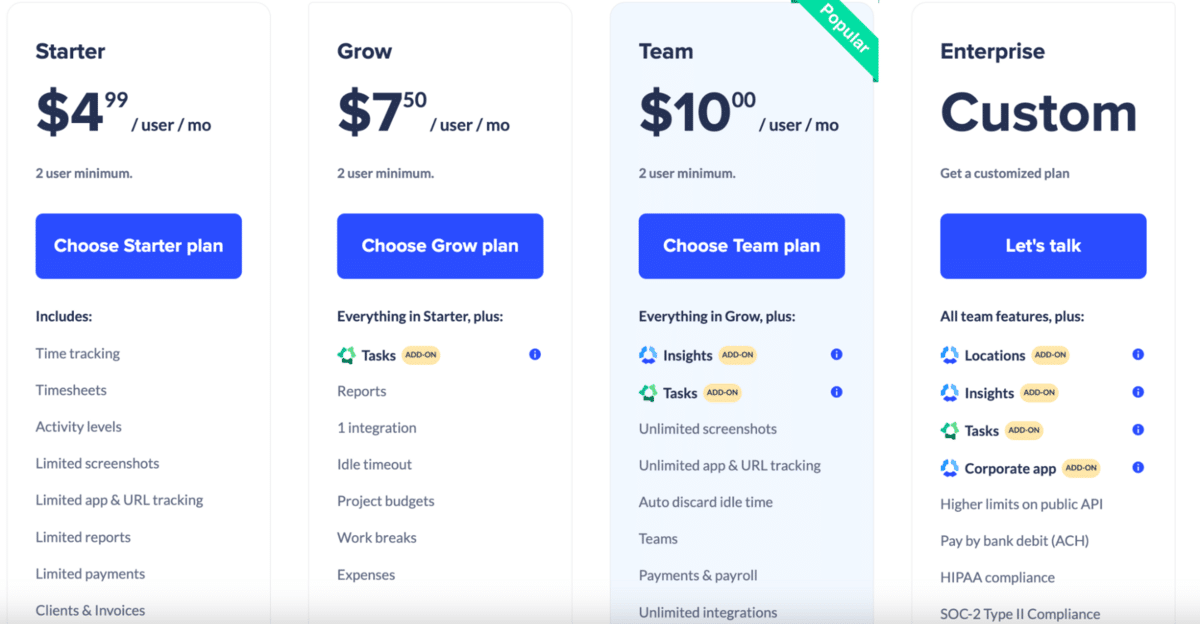 At the time of writing, Hubstaff has over 1,400 reviews on Capterra, averaging 4.6 out of 5 stars.
3. Time Doctor
Best for Agencies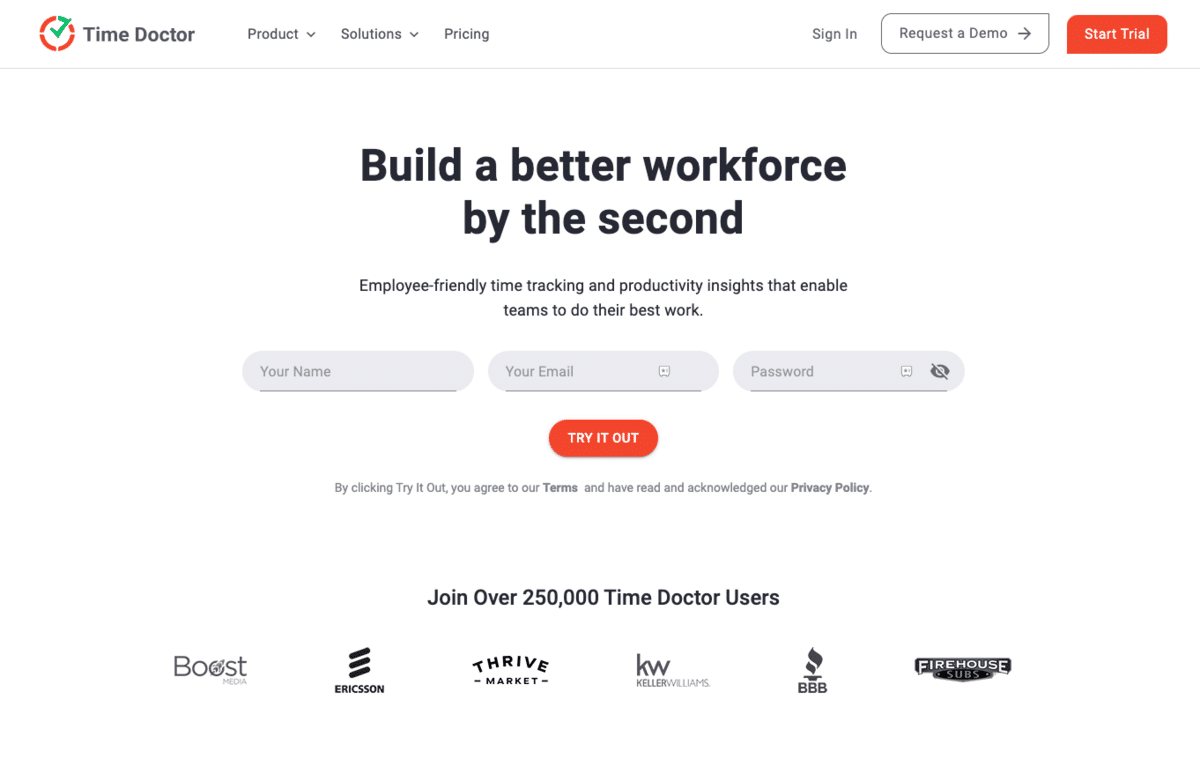 Time Doctor is another Tsheets and QuickBooks Time alternative that is a great option for agencies because the platform can help you take on more clients. With Time Doctor, you can get insights into your team's workloads, activities, and schedules with automated time tracking. Some core features include:
Time tracking
Employee productivity analysis
Employee monitoring
Payroll integrations
Browser extensions
A mobile app
Currently, pricing for Time Doctor starts at $5.90 per user per month.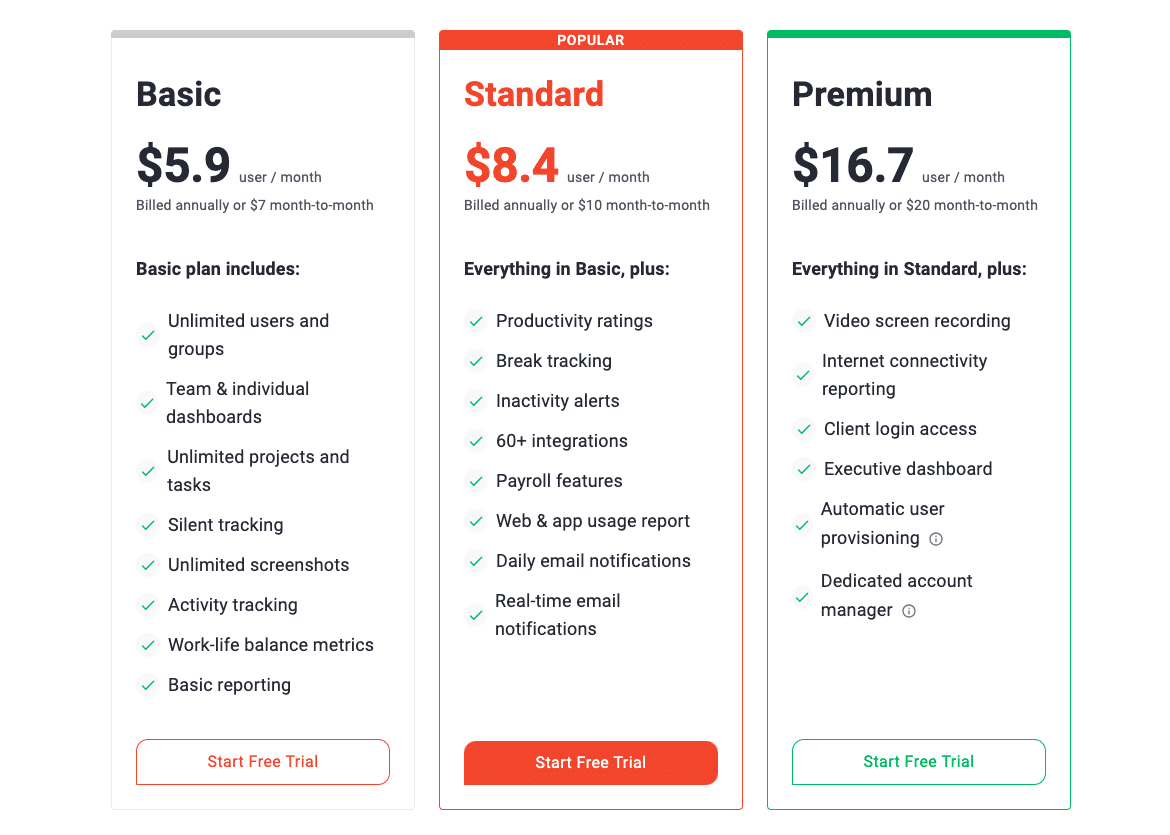 Time Doctor has 4.5 out of 5 stars on Capterra at the time of writing, with 500+ reviews.
4. TimeCamp
Best for Freelancers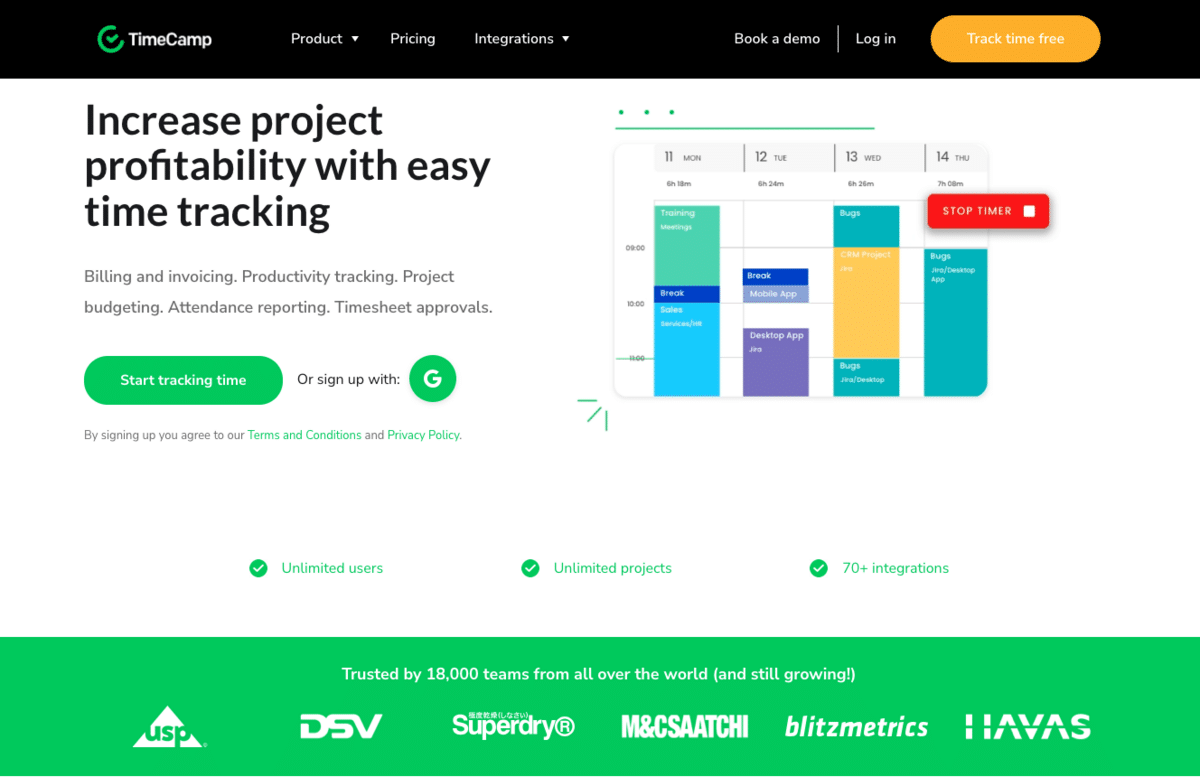 TimeCamp is a cloud-based time tracking system that is great for companies that utilize freelancers because it enables you to monitor billable employee hours, task progress, and project status. It also offers automated time tracking to track employee computer usage and productivity. Other core features include:
One-click time tracking
Mobile & desktop apps
Automated time tracking
Subtasks & notes
Income calculation
Timesheet approvals
TimeCamp offers a free plan. However, you'll need to upgrade to a paid plan to access more features like the ones mentioned above. At the time of writing, pricing for their starter plan begins at $2.99 per user per month.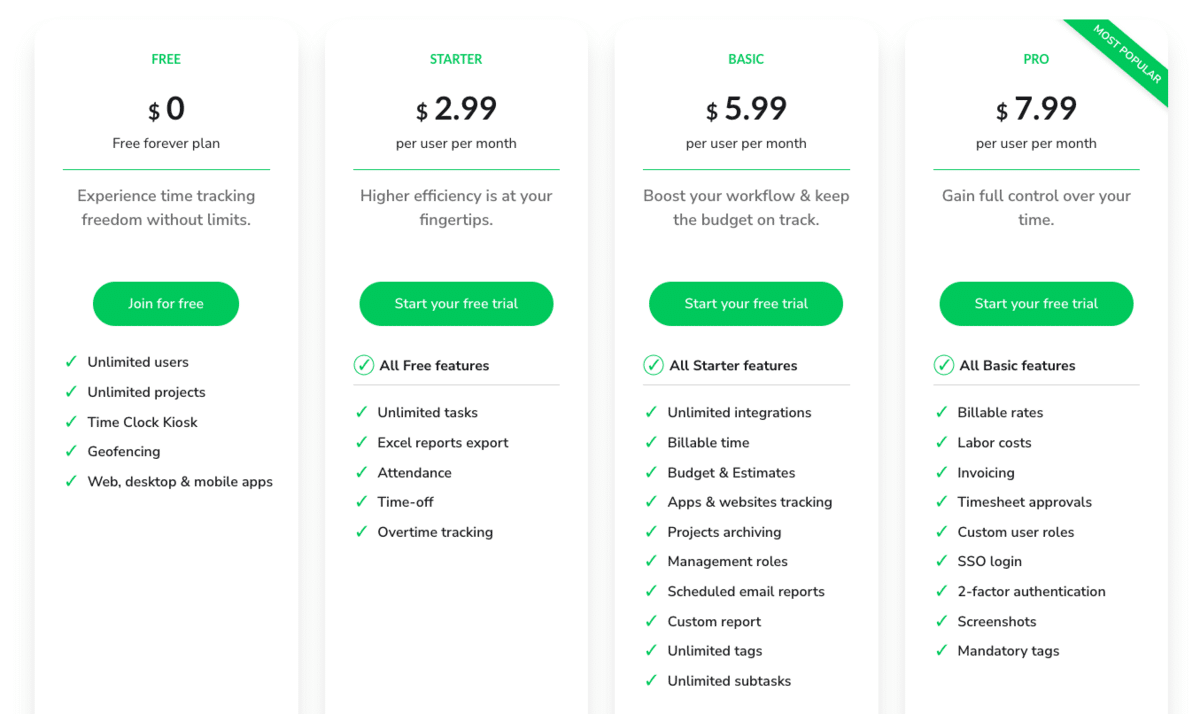 Currently, TimeCamp has 4.7 out of 5 stars on Capterra, with 500+ reviews.
5. DeskTime
Best for Team Management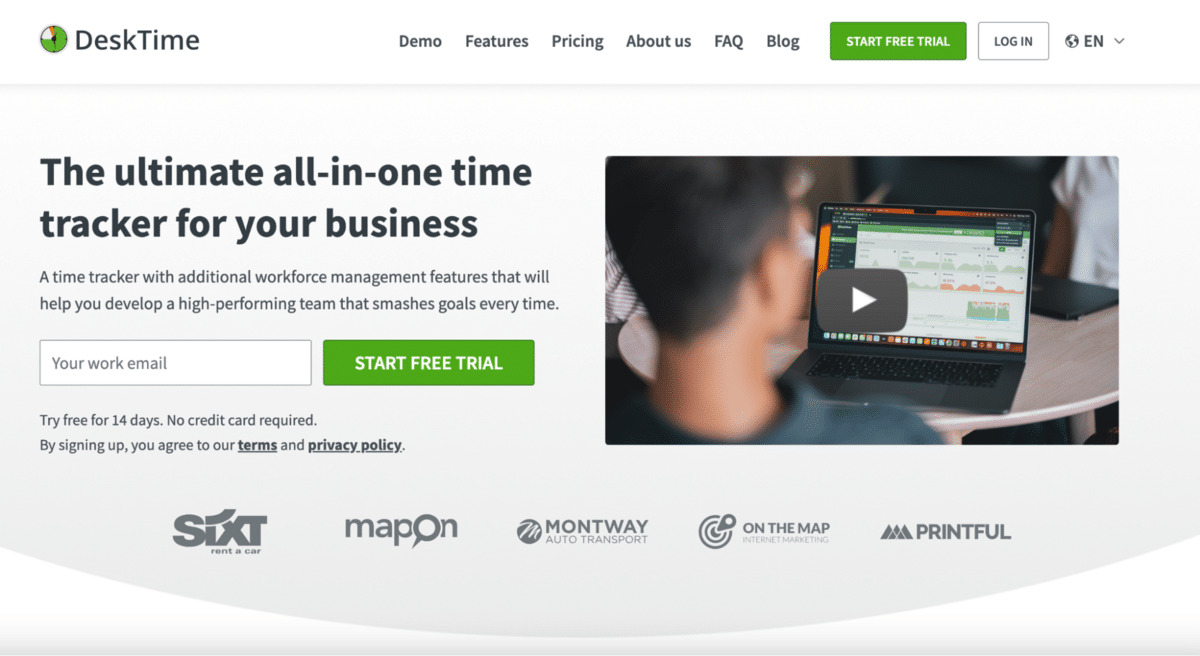 DeskTime is a comprehensive time tracking software compatible with desktop and mobile devices (Android & iPhone). It empowers employers to maintain productivity levels during work hours. It helps you keep team spirit high with features like break reminders to avoid burnout and automated shift organization. Other functionalities include:
Employee time visualization
Client billing
Automatic data entries
Mobile applications
Automatic time tracking
Company-based reporting
Currently, DeskTime's pricing plans start at $7 per user per month.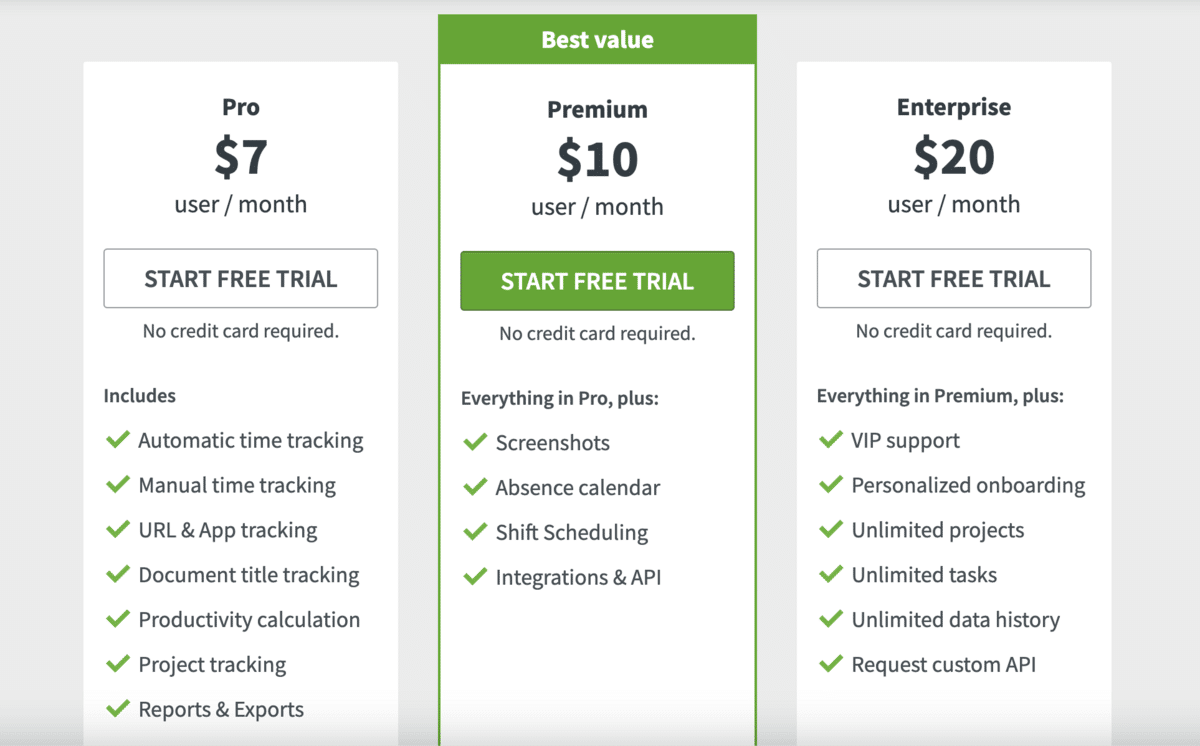 Currently, DeskTime has 4.5 out of 5 stars on Capterra with over 500 reviews.
6. TimeTracker
Best for Productivity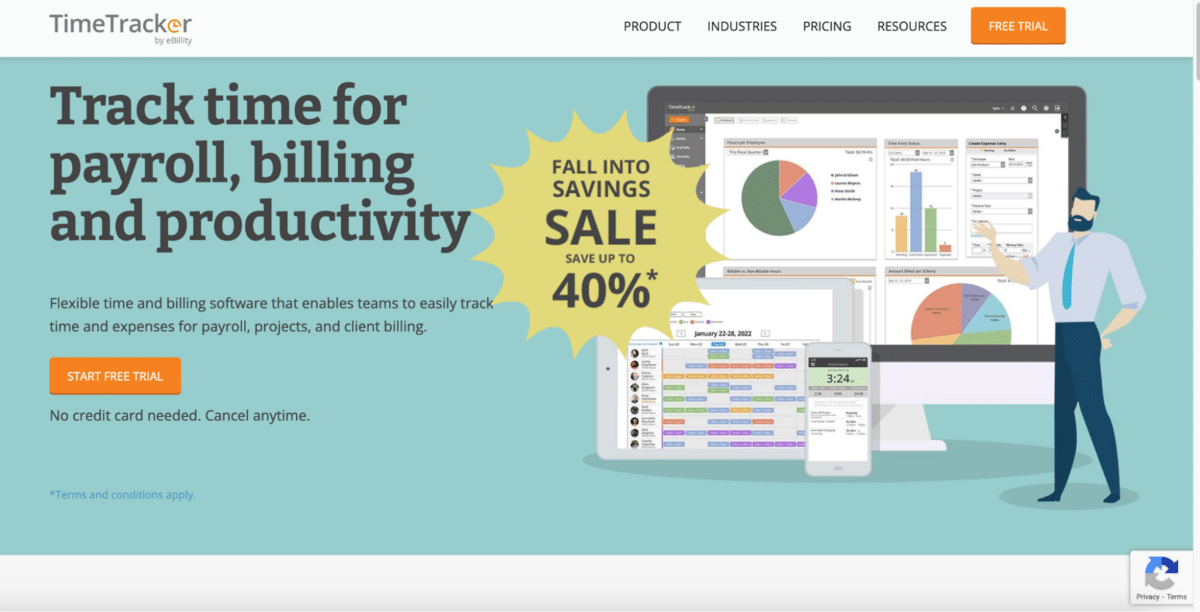 Ranked 6th among our top Tsheets alternatives, TimeTracker by eBillity excels in enhancing employee productivity. Its user-friendly interface simplifies time tracking for your workforce.
With TimeTracker, payroll processing becomes effortless as you can monitor project costs, paid breaks, and overtime. The software also seamlessly integrates with payroll providers like QuickBooks, streamlining the entire payroll process. Core features include:
Reminders & team messages
Monitoring employee time
Web-based & mobile available
Detailed reporting
Offline & online timer
As of writing, pricing for TimeTracker starts at $5.75 per user per month, but first-time users can get a discount.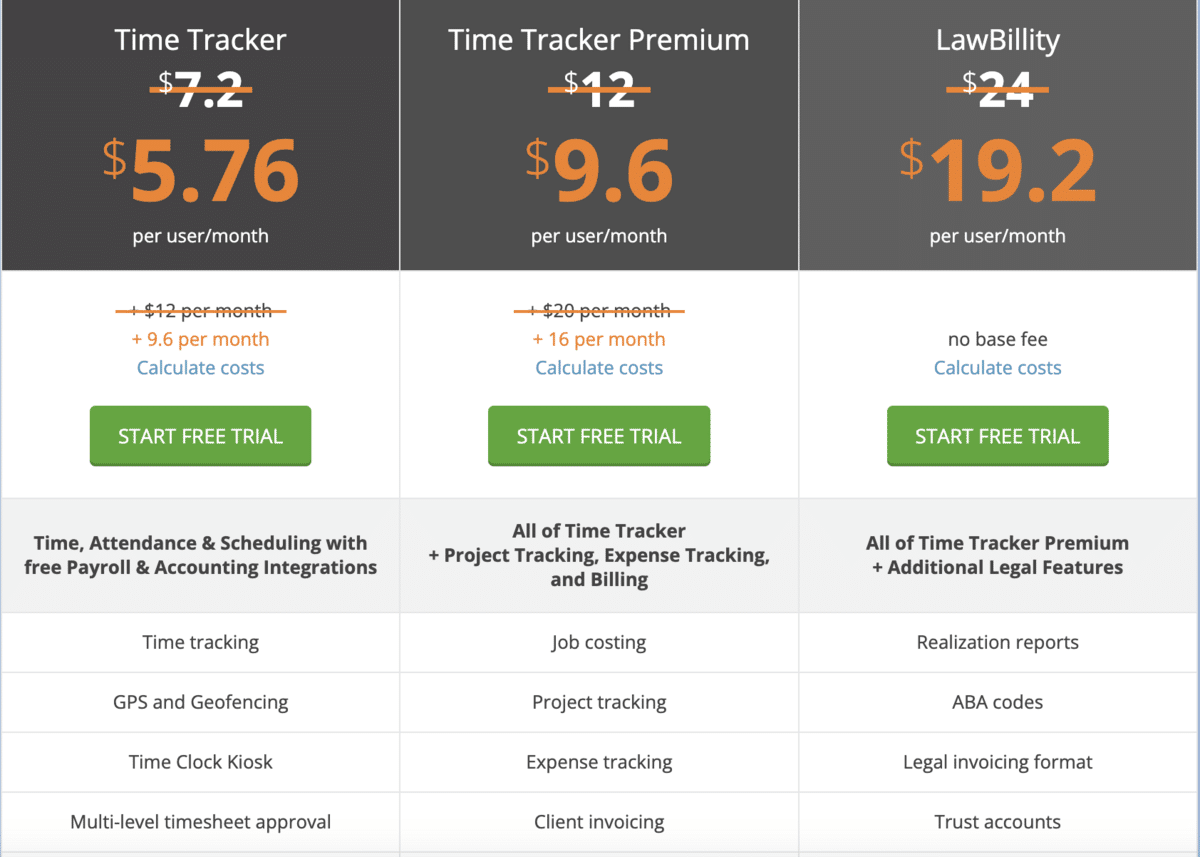 As of writing TimeTracker has 4.4 out of 5 stars on Capterra with over 2,900 reviews.
7. RescueTime
Best for Employee Monitoring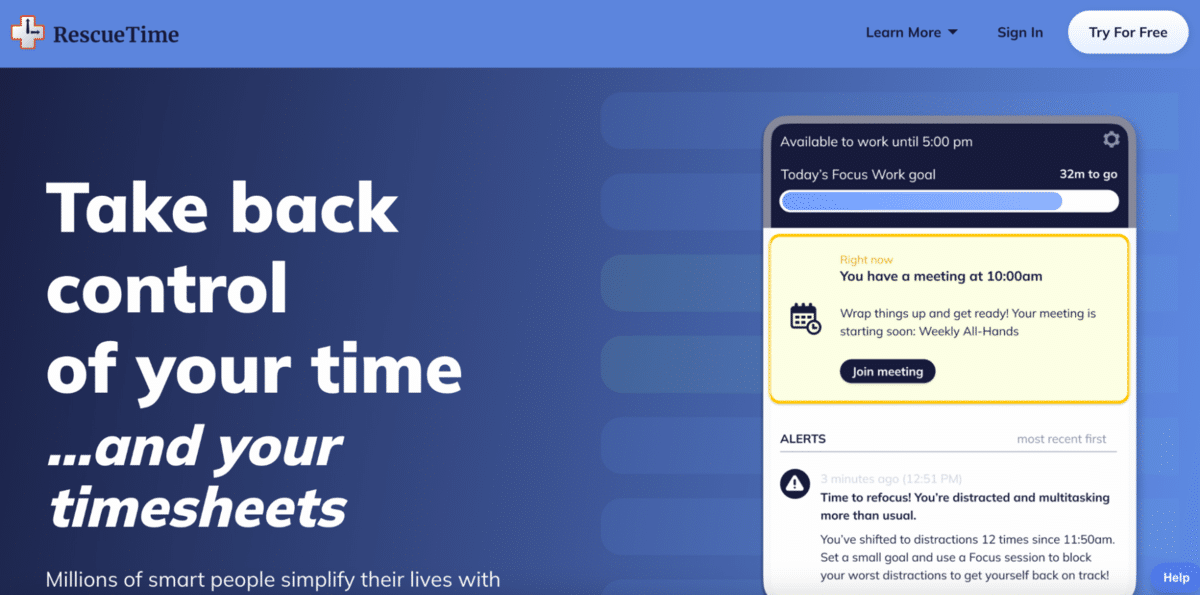 RescueTime is a productivity measurement solution that monitors computer usage. It efficiently tracks active windows, websites visited, computer activities, and program usage, providing insights into employee daily activities.
The software offers advanced capabilities, including break monitoring, phone call tracking, and the option to log meetings. To help maintain employee focus, RescueTime features on-screen reminders and a website blocking function. Other functions include:
Detailed reporting
Detailed filtering
Setting up daily goals
Productivity scoring
Blocking time-wasting sites
Tracking offline activity
They offer two service levels, RescueTime and RescueTime Classic. Currently, RescueTime starts at $12 per month.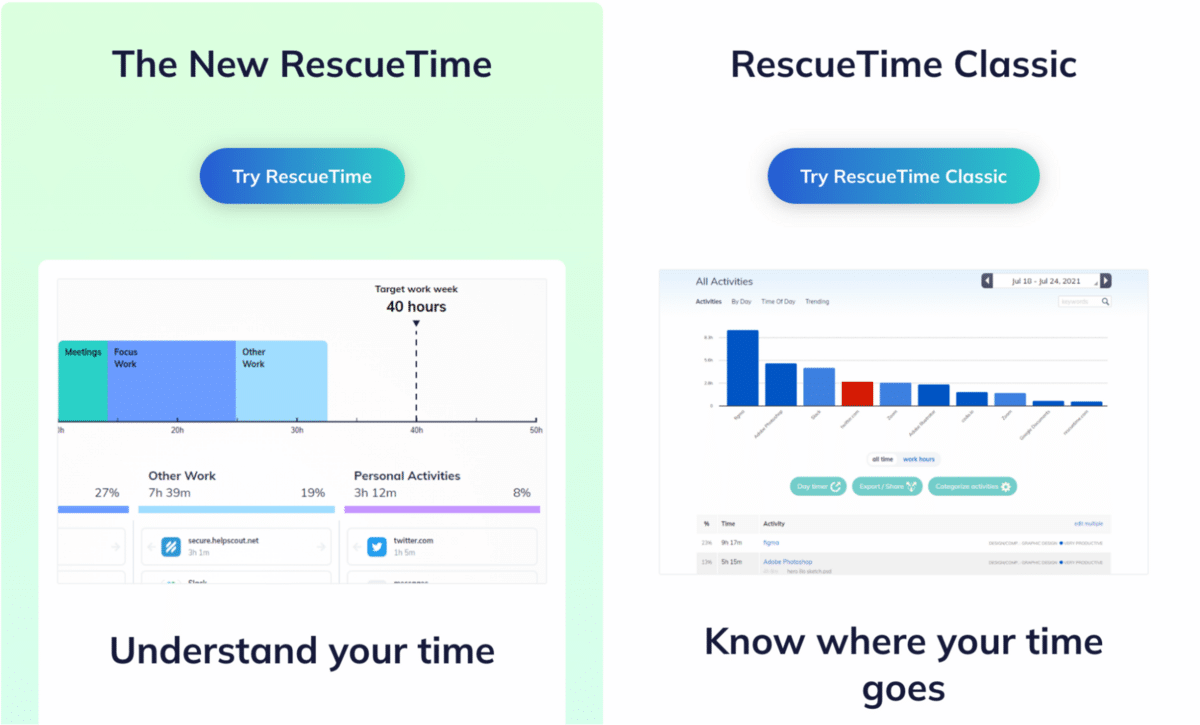 Right now, RescueTime has 4.6 out of 5 stars with over 100 reviews on Capterra.
8. Homebase
Best for Hourly Teams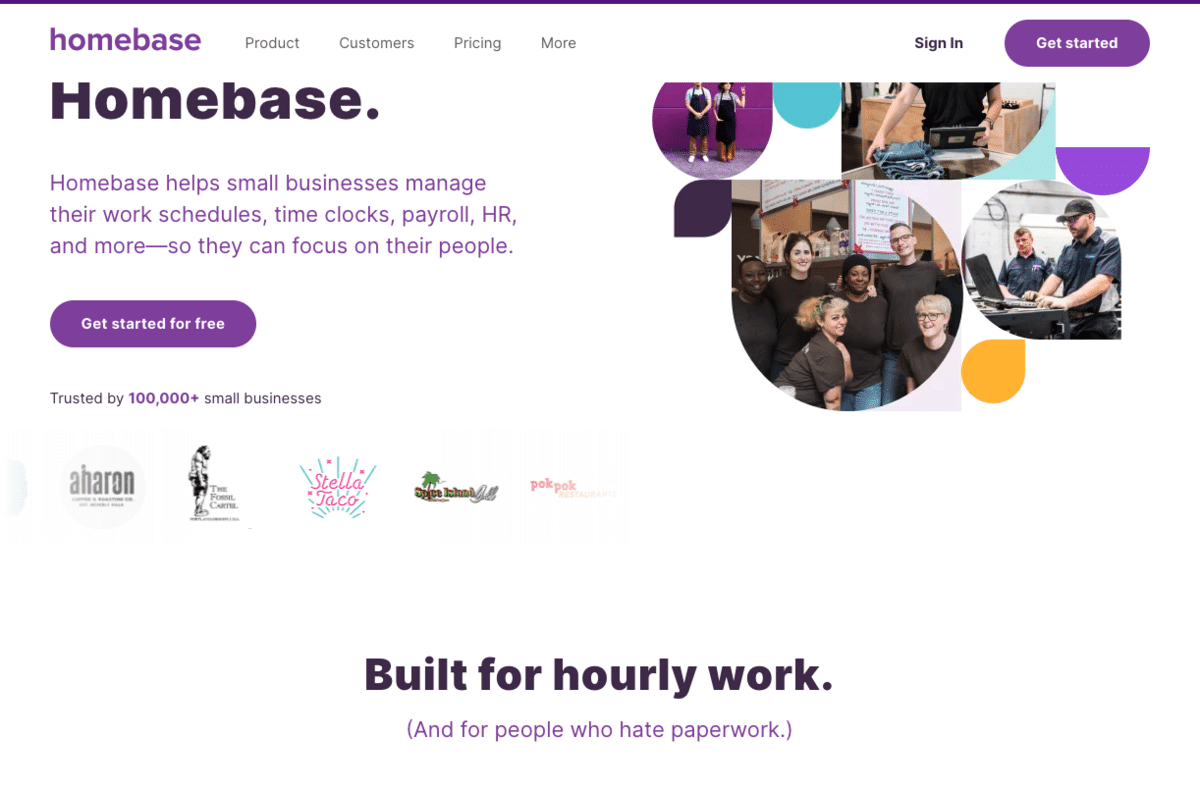 Homebase is a suitable time tracking solution for teams that work on an hourly basis. Its kiosk app allows multiple employees to check in from a single device, and the employee app empowers workers to track their hours conveniently on their mobile devices. Other features include:
Employee scheduling
Timecard management
Automated payroll
Job applicant tracking
Built-in employee messaging tools
POS integrations
Homebase offers a free basic plan, but other features may require an upgrade which currently can start at $20 per month.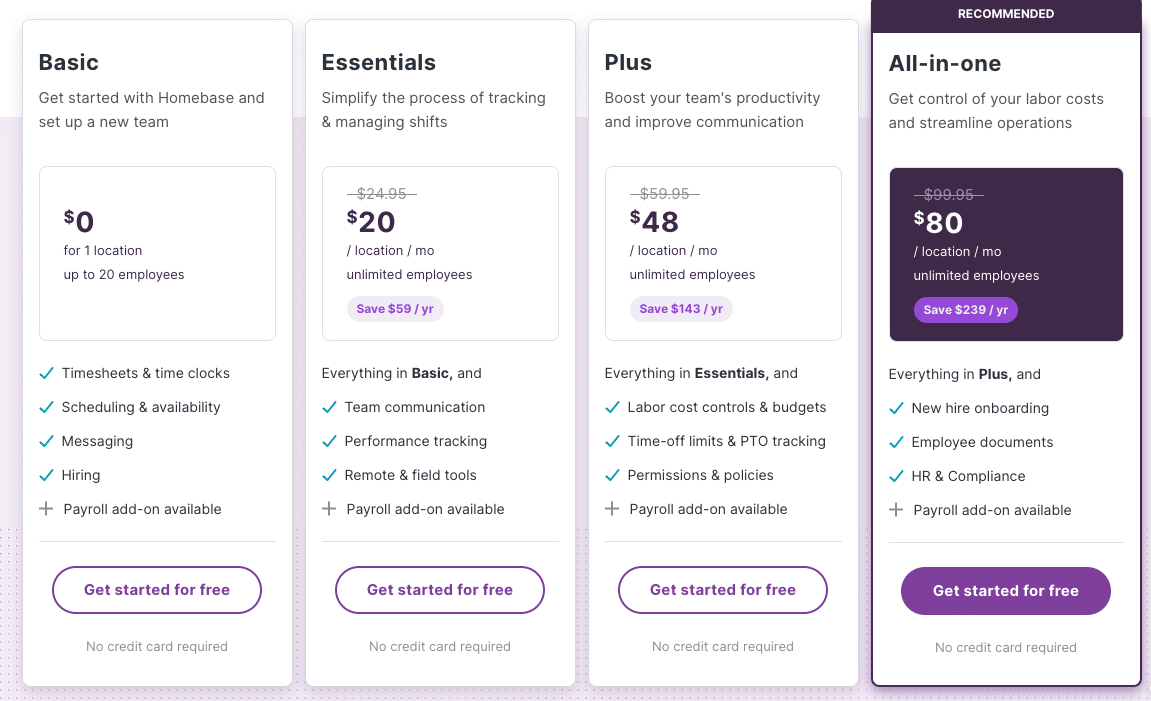 As of writing, Homebase has 4.6 out of 5 stars on Capterra with over 950 reviews.
9. Toggl
Best for Simple Time Tracking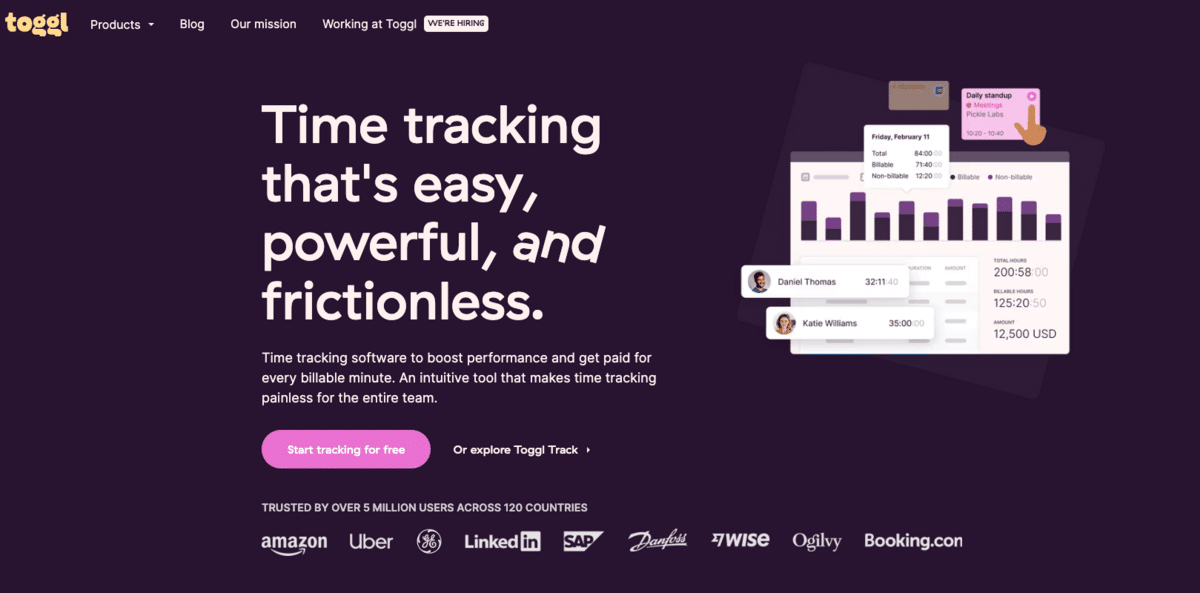 Toggl can be a useful Tsheets alternative for teams looking for simple time tracking features that aim to help teams increase their billable hours. They offer three different products, Toggl Track, for time tracking, Toggl Plan for team planning, and Toggl Hire for recruiting. Key features of Toggl Track include:
Exporting data based on users, tasks, or projects
A native calendar and integrations for project management tools
Separate tracking for billable and non-billable hours
Desktop and mobile app
Project budgeting
The ability to track time offline
Toggl offers a basic free plan that is limited to 5 users, paid plans currently start at $9 per user per month.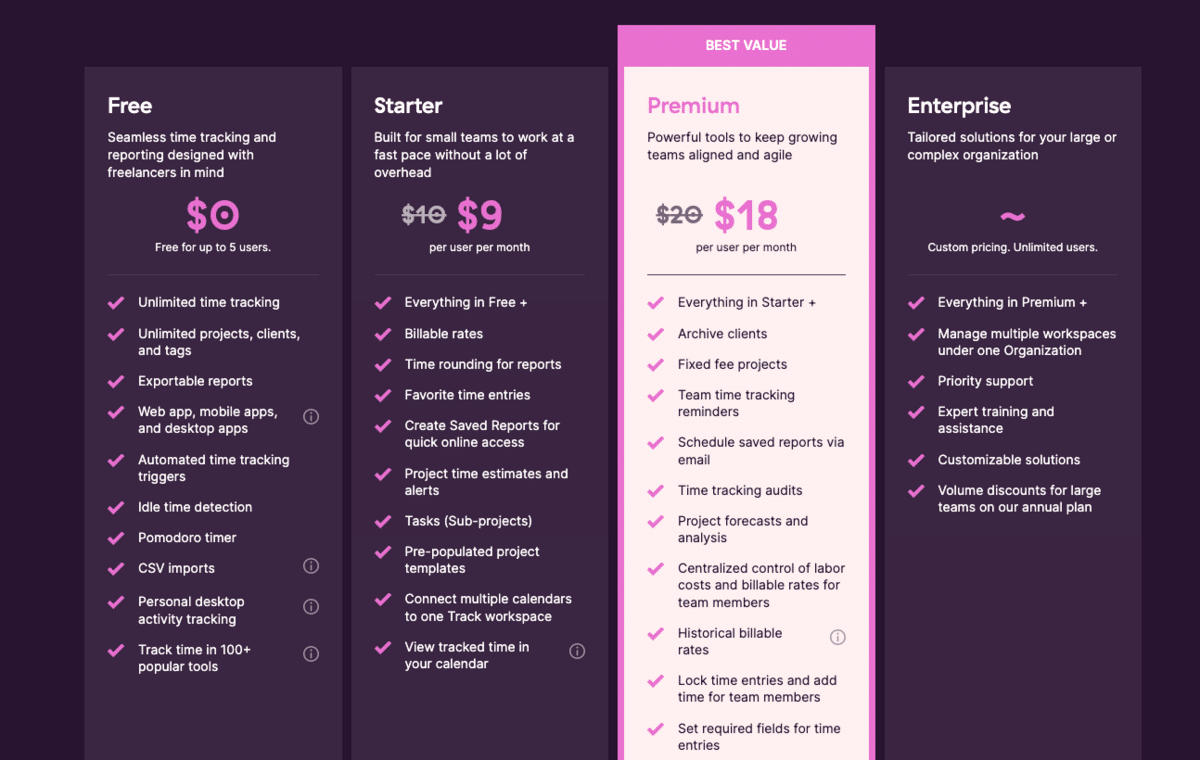 As of writing, Toggl has 4.7 out of 5 stars on Capterra.
10. Deputy
Best for Retailers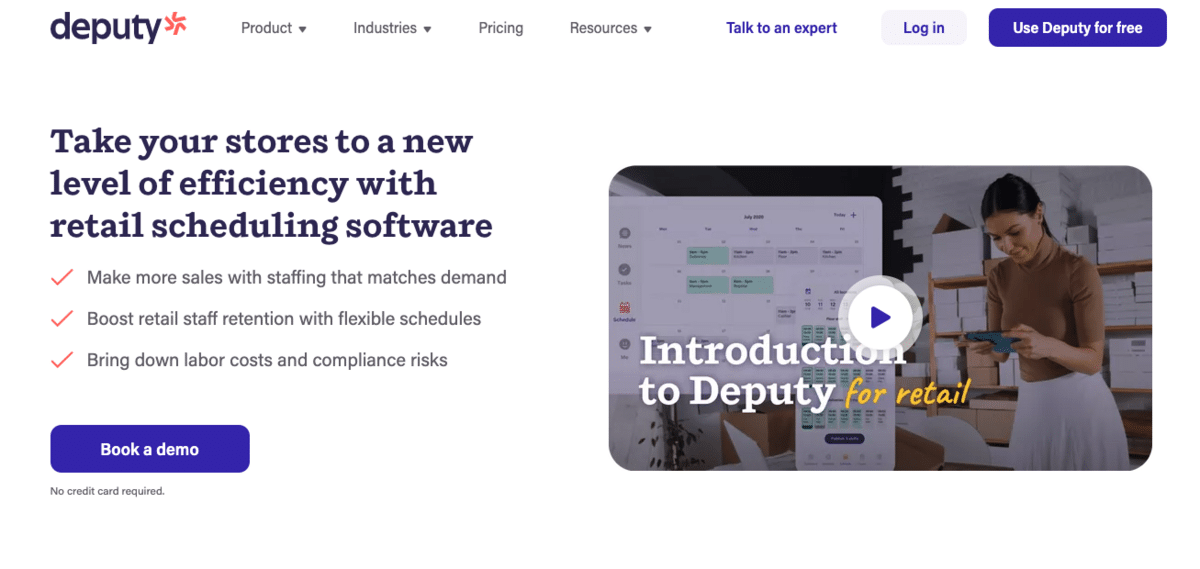 Deputy is a scheduling solution that specializes in certain industries, like retail. With deputy, retailers can make more sales with staffing that matches demand, boost retail staff retention with flexible schedules, and bring down labor costs and compliance risks with features like:
Making schedules compliant with fair workweek labor laws
Automated payroll calculations
Time clock app
Wage and hour compliance tracking
Shift swapping
Store demand forecasting
They offer a free plan that lets you schedule 100 shifts per month, but other features will require upgrading. Other plans currently start at $4.90 per user per month.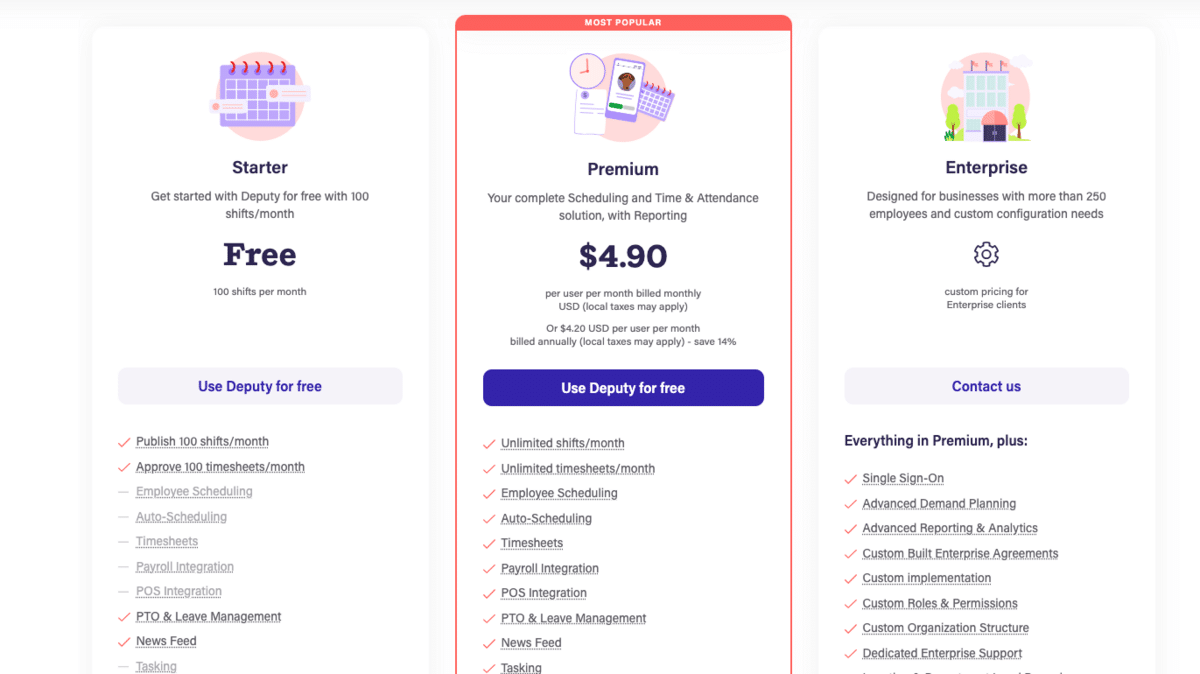 As of writing, Deputy has 4.6 out of 5 stars on Capterra with over 600 reviews.
11. BambooHR
Best for Enterprise Companies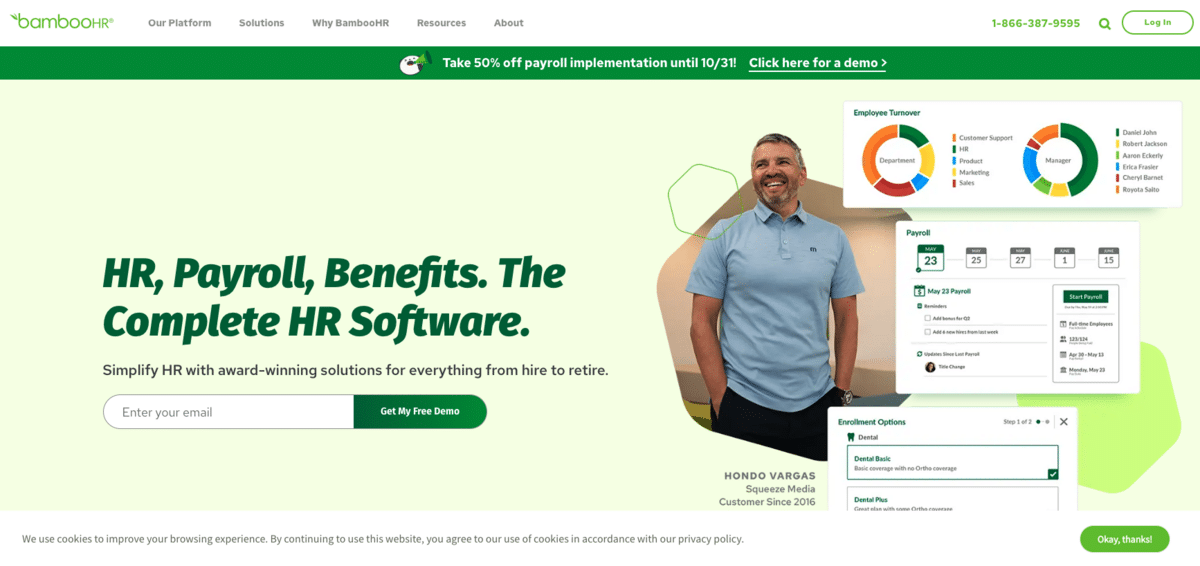 BambooHR is an all-in-one HR solution that lets large companies onboard employees, track hours, manage benefits, and track employee performance. Having all these options available in one platform makes it ideal for big corporations. Other features include:
HR data and reporting
PTO tracking
A marketplace of integrations, like Slack
Payroll management
Employee self-service tools
Employee satisfaction surveys
As of writing, BambooHR has several pricing tiers starting at $8.75 per user per month.
Currently, BambooHR has 4.6 out of 5 stars on Capterra with over 2,600 reviews.
Learn More About Buddy Punch and Start a Free Trial
If you'd like to explore Buddy Punch as a Tsheets alternative in greater depth, check out these links below:
FAQs
What's the Difference between Tsheets and QuickBooks Time?
QuickBooks Time and Tsheets are the same thing. Simply put, TSheets was rebranded as QuickBooks Time. But even though the name has changed, there were no changes to features or functionality.
What's the Difference between QuickBooks Time and QuickBooks Online?
QuickBooks Online is an online accounting system. It has four different plans, and lets companies get access to bookkeeping tools, send estimates, manage 1099s, automate invoices, manage projects, and more.
QuickBooks Time is a timekeeping system. Your business can use it to track employee time and attendance.
What Are the Best QuickBooks Time Alternatives?
There are many different alternatives to QuickBooks Time.

We recommend Buddy Punch, our time tracking and payroll software for small businesses.
You can use Buddy Punch to:
Write schedules
Have your employees clock in and out (from the ease of their phone, tablets, and computers)
Track time worked and time off
Issue payroll
This is why we recommend Buddy Punch as an alternative to QuickBooks Time. It's great for time tracking and payroll.