6 Deputy Alternatives & Similar Software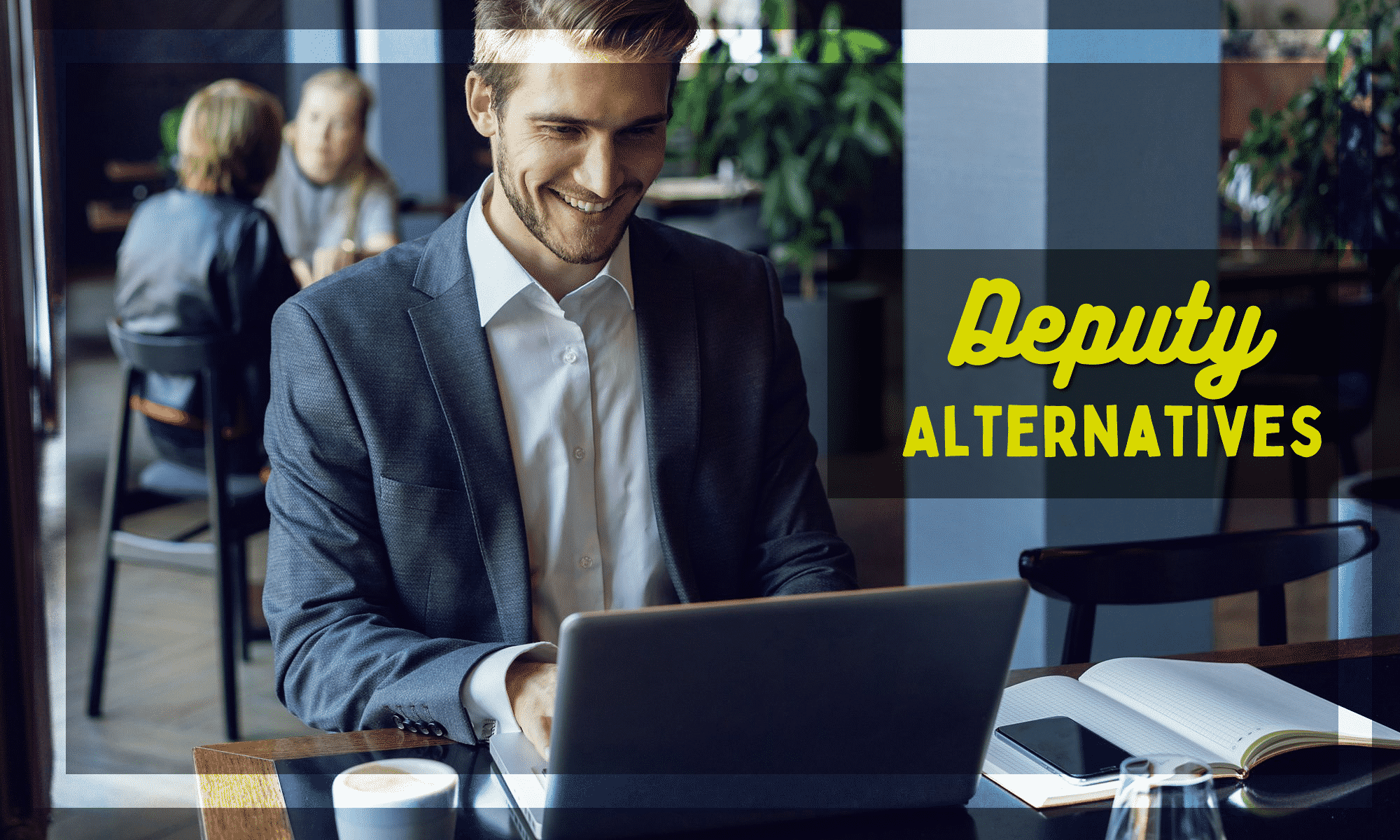 The problem with employee schedules
Operations managers, HR professionals and business owners all know the value of effective employee scheduling. Indeed, making sure the right people are in the right place at the right time is crucial if your business is to serve your customers, be productive, and ultimately succeed.
How Deputy employee scheduling software makes things easier.
All the time and effort used up on rectifying shift swaps, overscheduling, and not having enough staff to cover can make employee scheduling seem like an impossible task. That is why many businesses choose to use an employee scheduling solution with features like the ones Deputy offers in an attempt to make things run a little smoother. After all, Deputy integrates with POS software providers such as Xero, QuickBooks, ADP, Gusto, and more – in addition to offering auto-scheduling, demand forecasting, leave management, and shift swapping among many other useful features (visit deputy.com for more information).
That said, sometimes the Australia-based Deputy's functions don't meet every employers' wish list. A quick look at some Deputy Reviews shows that while people like to use deputy, some complained about unavailability of authentic responses from support, updates disabling staff scheduling options, and more. That said, even if Deputy worked perfectly all the time, it's still worth looking into upgrading software.
Our take is this: just because a time & attendance software lets you manage your team members adequately, doesn't mean you can't upgrade to one that can help manage your workplace optimally.
For those business owners that are looking for a Deputy competitor or a Deputy upgrade, we've listed 6 great employee scheduling software solutions below. Hopefully by the end of this post you'll have found the ideal tool for your management workflow.
Best Alternatives to Deputy
Hi, the folks at Buddy Punch here! We just wanted to make it clear that Buddy Punch is our product. We crafted it to solve our own employee scheduling issues and then realized it could help other businesses too. Indeed, we are so proud of our product that we'd like to invite you to try it for free here, so you can see just how much time and hassle it will save.
What happens when employees swap shifts and don't let you know about it, and then one doesn't turn up? Chaos! That's what. Not to mention all the stress of constantly wondering whether you have enough people to fill your open shifts this week. Then there is the dreaded overscheduling where you have plenty of work, but struggle to complete it because you just don't have the staff to cover!
Fortunately, Buddy Punch and its many key features are here to help you with all your employee engagement & scheduling woes.
We know the common issues encountered while looking for a workforce management software with a high ease of use because went through that battle ourselves. When we were a small business we stuck to using manual methods of shift scheduling and time tracking – relying on templates and spreadsheets to manage employee data & pay rates. The problem was that this left us open to time theft, as well as human error and inaccuracies. Once we grew to manage 20 team members at 3 different locations, we knew we had to upgrade if we wanted our staffing process to be optimal.
At first, we tried out quite a few different time tracking tools and found that they didn't fit what we were looking for. Then we decided to build our own.
Fast forward to today, with Buddy Punch helping managers and human resource teams streamline all things related to time tracking, employee scheduling, and payroll software. Below are just some of the ways Buddy Punch can drastically improve your performance management.
Using the scheduling software from Buddy Punch is a much more efficient process than having to manually manage schedules. (i.e. texting or emailing employees).
For a scheduling process that is far more efficient than calling, texting, or emailing employees Buddy Punch has easy to use drag-and-drop scheduling. Just pick the employee, the start and finish times, and the location, and drag and drop to build schedules. Then hit 'publish" and you're done!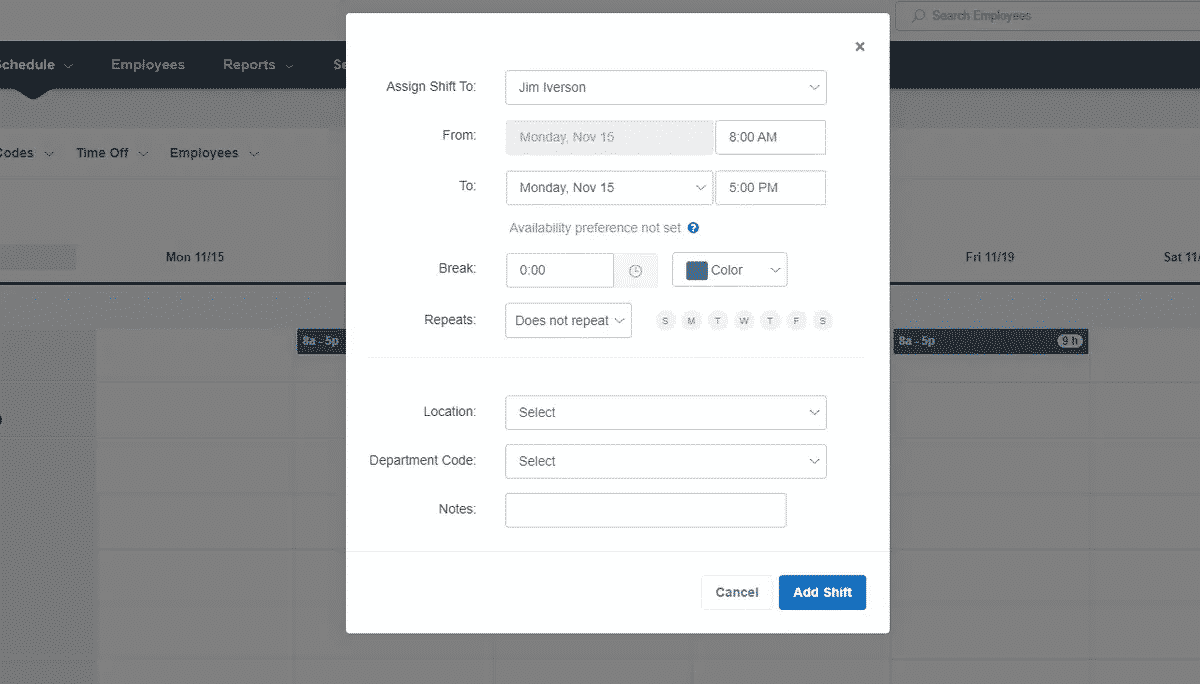 Once you publish or revise a schedule your employees will be notified. Since Buddy Punch isn't only web-based, they can even use the Buddy Punch mobile app to check and add their shifts to their own ICal or Google!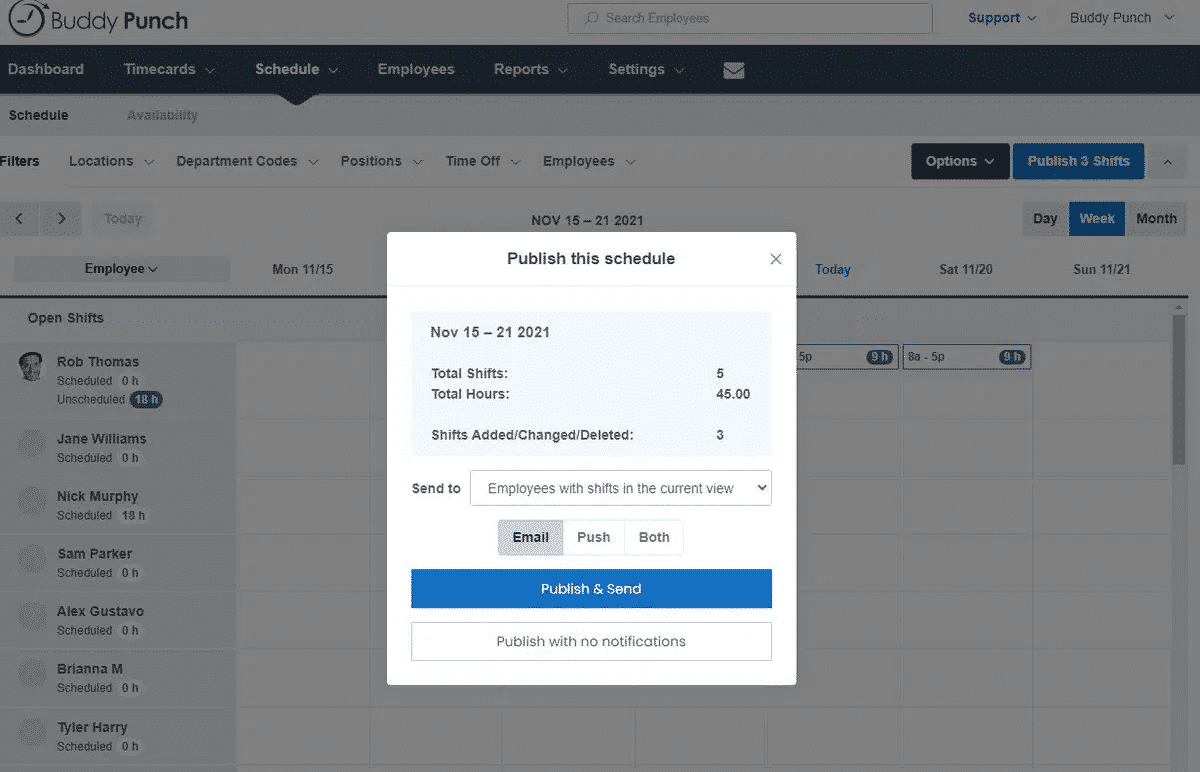 Another great feature of Buddy Punch that will help you with employee scheduling is repeating shifts. This allows you to add a shift once and then choose for how long it will repeat, allowing you to create schedules fast, and easily.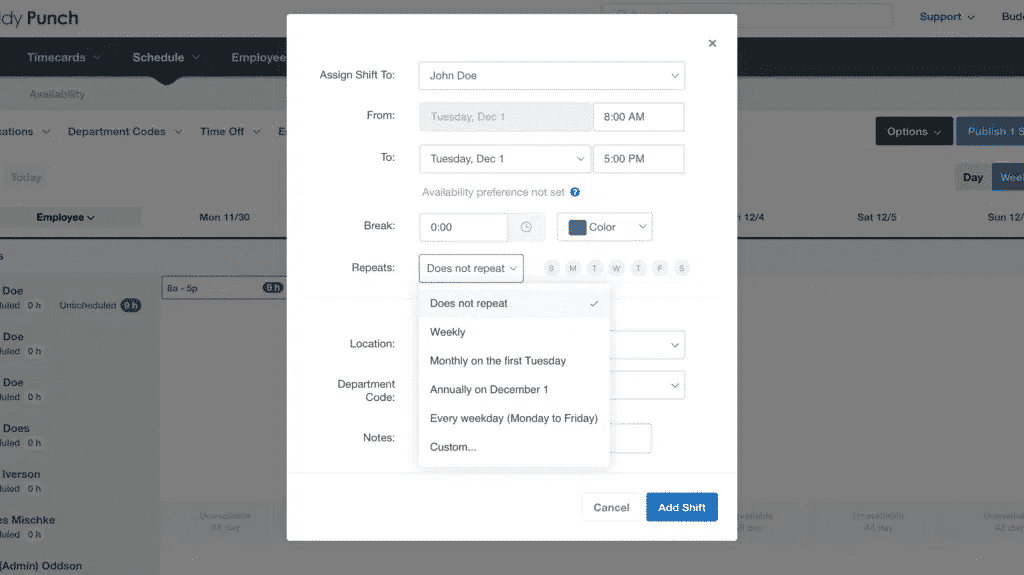 Imagine never having to ask about (and remember) employee availability again?! Well, that is precisely where Buddy Punch's employee scheduling software can help, as employees can use the mobile apps employee self service features and simply input their availability so you never book them for a shift they cannot make.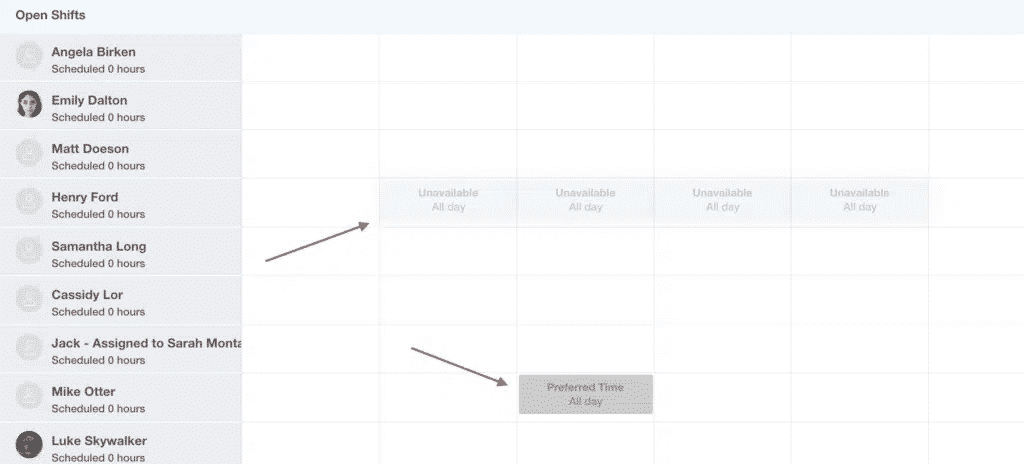 One of the biggest bugbears of any manager has to be when employees trade shifts! Especially when they don't bother telling you about it. However, with Buddy Punch's scheduling too, coworkers can easily swap or trade shifts with each other until their heart's content, while making sure you know about each and every trade too.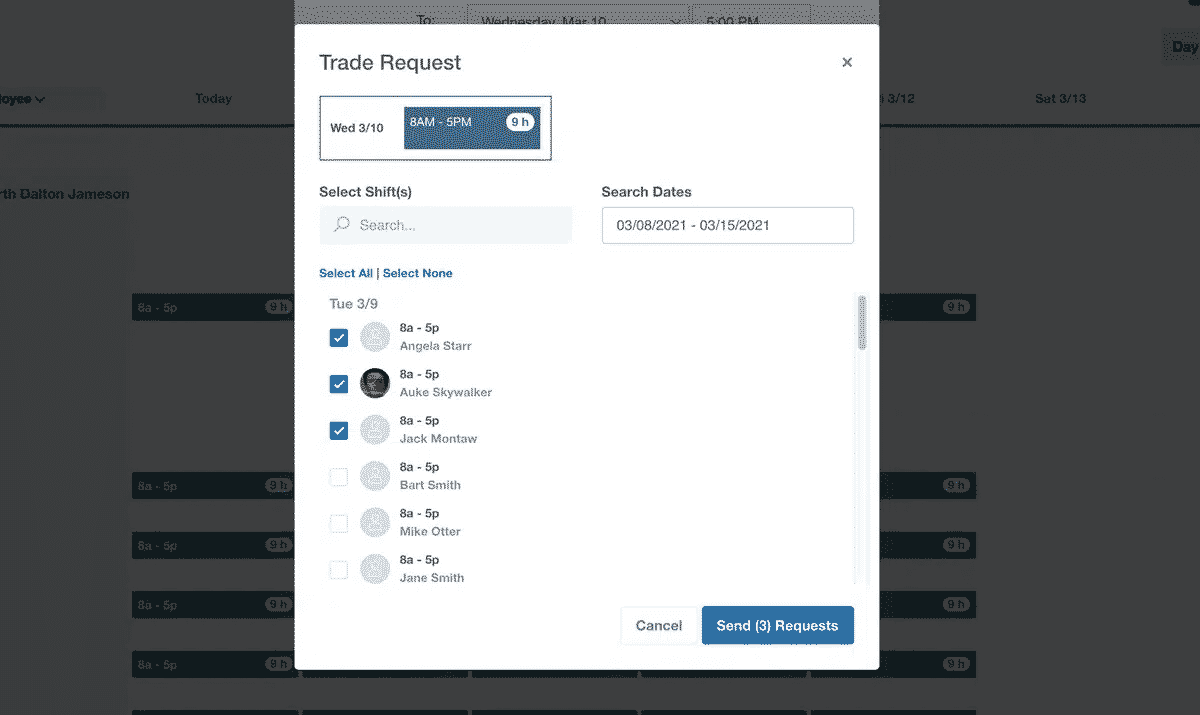 Buddy Punch will even send push notifications to your employees if they forget to clock in at the start of their shift, so everyone gets paid the right amount, every time!
Forgetful employees can be the bane of your life when it comes time to process payroll. Happily, Buddy Punch can send them automated reminders for all sorts of things from punching in and out to submitting their time card at the end of the week. You can even use Buddy Punch's scheduling alerts and automatic reminders to alert your managers about overtime and to get them to sign off their team's punch cards.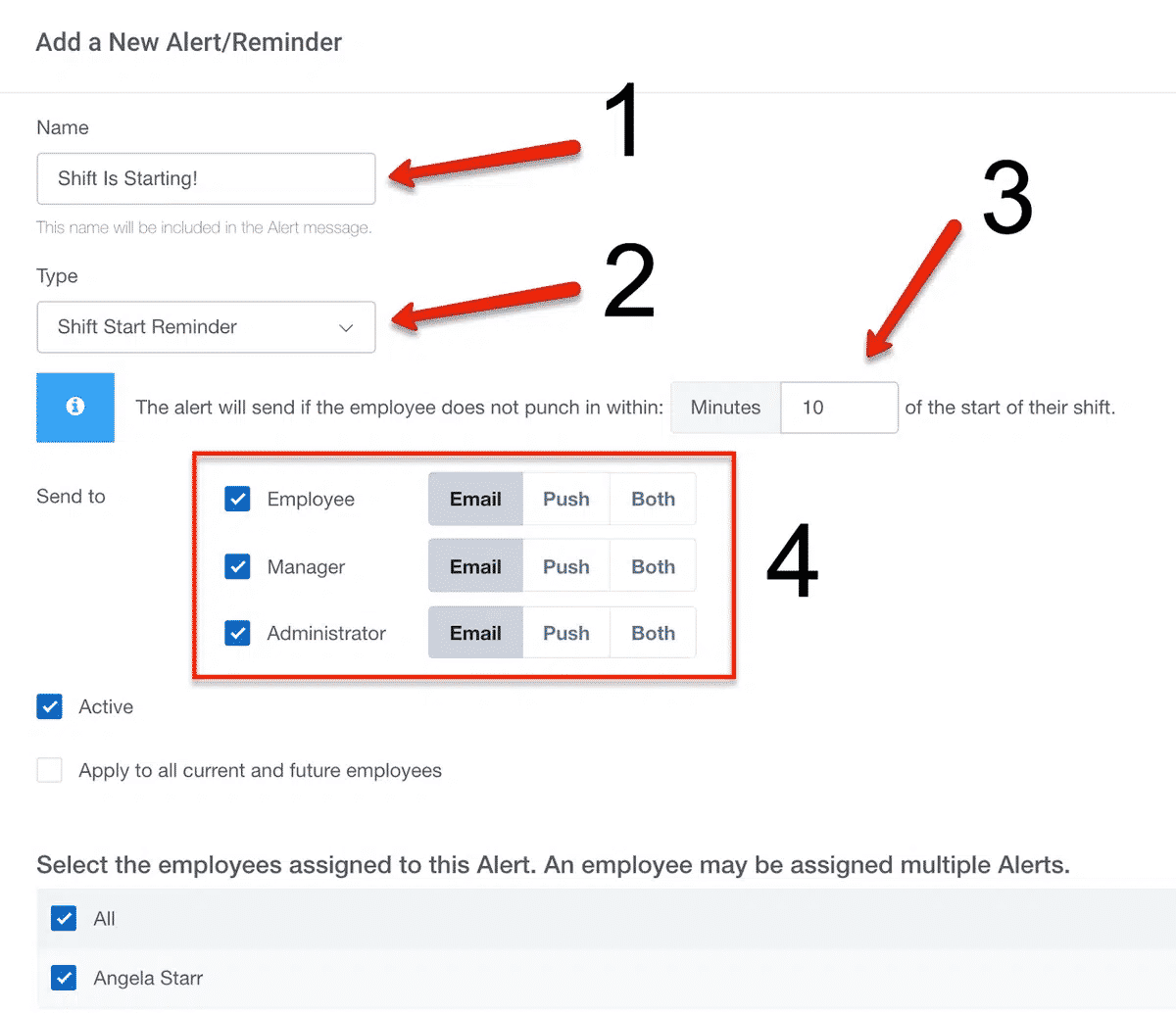 Time Off Tracking
One of the features we are most proud of here at Buddy Punch is Time Off Tracking. It can save you so much time! First of all, it automatically tracks and keeps a tally of all the days each employee has used, and how many they have left. They don't even have to ask you for the number as they can check it themselves in the mobile app.
Secondly, Time Off Tracking means it's easy for employees to request time off and easy for you to do absence management and deal with these requests both paid and unpaid. Yes, that's right, instead of relying on confusing Excel sheets, and a variety of team communication channels, all your employees have to do is put in a request using the mobile app, and you can check the schedule for that day and approve or deny accordingly. Once you have approved a request it will automatically be entered into the calendar, making it easy to prevent scheduling employees on when they are booked off, and granted too much leave at the same time.
Awarding your workers days off in lieu, or incentivizing them by allowing them to earn additional days is a great way to maintain productivity and morale. Unfortunately, doing all the calculations that come along with that can be confusing.
Fortunately, Buddy Punch employee scheduling software also allows you to set accrual rules. This means you can automate the accrual process, leaving you free to spend your time on other more important things.
Overtime need not have you working overtime anymore, with our calculation feature. You choose how you would like it to be calculated and then leave the rest to Buddy Punch. You can set different amounts for different employees, and keep track of who has earned what with ease with our reporting functions. Just set it and forget it!
Fast Customer Support Time
Here at Buddy Punch, we understand that your time is precious and that you need to get the task you are working on completed fast. That is why we offer super fast live chat with genuine experts. We even have a median first response time of 54 seconds, so in less than a minute we can connect you with someone that can help.
Intuitive Interface
Last, of all, a great reason to pick Buddy Punch for your employee scheduling is that we offer an intuitive interface. What this means is your staff will need very little training or support when using the mobile app, and you can get the whole system off the ground and running, quickly and easily.
Our help doc center is jam-packed full of articles on how to get the most out of Buddy Punch. We're always reachable via live chat to answer any questions you may have about our tools too. Feel free to drop us a line.
You can book a one-on-one personalized demo here.
Buddy Punch Offers Many Other Features
Buddy Punch is also chocked full of other features like:
Buddy Punch's Online Reviews
Right now Buddy Punch has 837 user reviews on Capterra and a rating of 4.8 out of 5 stars!

Below, you can see just a small portion of the reviews that describe how easy Buddy Punch is to use to boost productivity and profitability, and the great customer service we supply. (Click here to explore the full list of reviews.)

As several reviewers have noted, Buddy Punch is intuitive and easy to use for both employers and employees concerning scheduling.
" I am an Event Specialist with Deluvia Inc, they upgraded from emailing and faxing my timesheets into this system. They are out of state so this is a great way for them to keep up with my time while doing "Road Shows". I arrive at my location, open the app and sign in, my employers do require me to attach photos so I snap a photo of the storefront before entering. While there, I set up my samples and take a few photos of my presentation to attach when I clock out. I like that I can see my schedule, even though I already know my Road Shows are 11 days back to back for each demo. It takes out 39 minutes for my lunch and keeps up with my total hours so I can accurately calculate my check. They can leave messages after each shift end set of photos. I have seen a few where they wanted to see different angles or my face more throughout my presentations. I've also been told my samples looked yummy, I left messages and asked questions that were answered. This is a good app to have when your employer is out of your area."

Click here to read the full review.
"Always good, no issues. Pros: How accurate it is, I was able to view all my hours from present to past weeks"

Click here to read the full review.
"It is very convenient and easy to use. Pros: I can control my hours and see the changes that my supervisor does regarding my hours"

Click here to read the full review.
"My experience has been very positive! I initially started using this because I was questioning some times regarding a few jobs and once I implemented it, the time issues seemed to disappear.

This product was easy to use from day one and entering the employees took no time at all. Everything is easily accessible and you can check on employees to be sure they have arrived on time to their jobs."

Click here to read the full review.

Try Buddy Punch for Free
If you feel that Buddy Punch might be the right replacement for Deputy in your workplace, sign up for a free trial. You can also book a one-on-one demo, or view a pre-recorded demo video. Buddy Punch works on nay device with an internet connection, including Desktops, iOS and Android smartphones, and tablets.
If you are searching for employee scheduling software that will work as well as Deputy then why not give Paymo a try? Paymo offers a wide range of features designed to make scheduling faster and easier for all sizes of business.
Firstly, they offer easy scheduling on an aesthetically pleasing and uncomplicated to read visual timeline which makes getting an overview of your entire scheduling situation a breeze. Paymo also allows you to see both your project and your employee schedules on the very same timeline, meaning you can easily make sure you have enough staff to cover the task in hand and meet your deadlines.
Paymo also allows real-time scheduling by multiple managers, so your team can work together to come up with the most effective scheduling solutions. Lastly, Paymo, as well as being useful for employee scheduling offers a helpful time tracking tool. This allows you to offer mobile time clocks to your employees, and track their paid time with ease.

Paymo has a range of additional features and functions to explore, including:
Right now Paymo has 417 reviews on Capterra and a rating of 4.7 out of 5 stars!
"Paymo has been a lifesaver in many business management areas: project management, client management, time tracking, accounting. With built-in budgeting, time tracking, expense tracking, estimate calculations, professional invoicing and getting paid online (and on time!), different project 'views' (list, table, board for kanban, gantt), extensive filters, dashboard and insights, resource scheduling, live time reports, client portal – and all that in one app – it's a sanity saver! One of the things I also personally quite appreciate is the professional and clean look of the invoices (and how easy it is for clients to pay them online). With a click of a button, you can add the unbilled time/fees for a specific time period and/or projects to an invoice. Paymo does all that heavy admin stuff for you and it has saved me a lot of time! Cherry on the top: all invoice items are presented so neatly and professionally, so that my clients can see exactly everything I've worked on for them and what I'm billing them for, as well as how much time is tracked for each project and task. And Payoneer, in addition to PayPal/Stripe/Authorize.Net payment gateways is a big plus! It's brilliant. The moment I first tried it, I could immediately feel that Paymo is the tool designed for actual freelancers in mind, whether you work on a project basis, or a pay-as-you-go basis. It's not complex, and all the features it has are just *right*. Exactly what I need. And it's getting even better!"

Click here to read the full review.
One of the best deputy alternatives is the cloud-based Connecteam which also allows you to manage employee schedules in a simple and convenient manner. In particular, Connecteam allows you to clearly plan your business work schedule with drag and drop interfaces. It also saves you time and effort by providing premade templates for single days, full weeks, as well as reporting shifts.
The Connecteam employee scheduling software is also set up to allow you to stay in contact with your team, ensuring they have access to all the scheduling and employee information they will need on their shift. Finally, as the official website makes clear, Connecteam will even let you update your employees in real-time, which can help you manage differing needs in different areas of your business.

Connecteam has a range of additional features and functions to explore, including:
It's a great time clock software for Windows and Mac, and it also works with mobile and tablet devices, so is ideal for mobile workforces.
Right now Connecteam has 144 reviews on Capterra and a rating of 4.8 out of 5 stars!
"I love the team!! They took time to teach me how to schedule, and they worked me to find a price when I could not afford the membership that I needed."

Click here to read the full review.
Another of the best deputy alternatives is employee scheduling software known as When I Work. When I Work can scale across multiple locations and so cover the scheduling for your entire business. It also offers automated scheduling which means you can get all your week's shifts covered in just a few clicks. When I Work will even check that you have enough staff, and get them to confirm they have received their schedule, while avoiding human error and misunderstandings.
An added bonus to using When I Work's employee management software is that it also makes any mobile device into a time clock. Thereby letting you track time worked by your employees with ease (and knowing when they're wasting time on social media).

When I Work have a range of additional features and functions to explore, including:
It's a great timesheet software for desktop (Windows and Apple), and it also works with tablet and mobile devices.
Right now Buddy Punch has 921 reviews on Capterra and a rating of 4.5 out of 5 stars!
"It does what it is supposed to – enables us to schedule employees, notify them of their shifts, sends us a text when someone did not clock in or out."

Click here to read the full review.
OnTheClock is a great alternative to Deputy because it offers a range of features to assist you and your business with scheduling. You can use it to easily define shifts, and then copy these for multiple employees and dates, saving you a great deal of time.
OnTheClock also clearly shows how many hours each employee has been scheduled per week, so you can easily manage overtime, or fill extra shifts when needed. OnTheClock can even be used to keep track of the hours that employees with set schedules. All while saving you time.

OnTheClock offers various features and functionality, some of which include:
It's a great employee time tracking software for PC (Windows) and Mac, and it also works with mobile and tablet devices.
Right now Buddy Punch has 505 reviews on Capterra and a rating of 4.7 out of 5 stars!
"It provides many different ways of keeping track of employees. It is user friendly for our employees and does not require high skill in computers. It provides accurate information on the time of keeping control of overtime, vacation hours, sick and personal time. It will let you know who is in, and out at any time of the day. It also lets you see where they are punching in, and what computer they did it. It's not expensive, and it will let you add the company Logo in the employee "punch in" website."

Click here to read the full review.
If you are thinking of using Deputy to manage your employee scheduling, Hubstaff is an alternative you may also wish to consider as it allows you to make time-off requests, scheduling, and shift management very simple with a drag and drop interface.
Hubstaff is ideal for small businesses as it allows you to keep track of labor costs by setting limits and making sure that the right staff are assigned to the right tasks. You can even connect Hubstaff to your Google Calendar.
Additionally, like many other of the employee scheduling software mentioned in this post, Hubstaff also offers an easy to use time clock that your staff can work on with little training.

Hubstaff has a range of additional features and functions to explore, including
It's a great clock in and clock out software for computers (Microsoft Windows and Mac OS), and it also works with mobile and tablet devices (e.g., iPad).
Right now Buddy Punch has 1240 reviews on Capterra and a rating of 4.6 out of 5 stars!
"Random screen capture every 10 minutes that allows managers to check if employees are focused on their intended tasks – lets you track running time to the second that can also be used to determine pay. – you can track overall running time with preset time periods or set your own – forgot to time in? dont fret! you can edit this and leave a note to state your reason so managers can review and approve or reject the changes – has a mini time window that allows users to check how much time is running without closing any windows – works great with Mac and Windows – Different parameters used to measure productivity – color coded productivity – can view daily, weekly, and monthly productivity rate – easy to use interface – set tasks, projects, invoices, calendar schedules, admin can limit user access – easy to use dashboard with graphs of productivity."

Click here to read the full review.
Runner-up apps include Sling and Homebase.
Try Buddy Punch for Free
If you feel that Buddy Punch could be the right fit for your business, sign up for a free trial. You can also book a one-on-one demo, or view a pre-recorded demo video.

You May Also Like…