8 Best Payroll Timesheet Software in 2023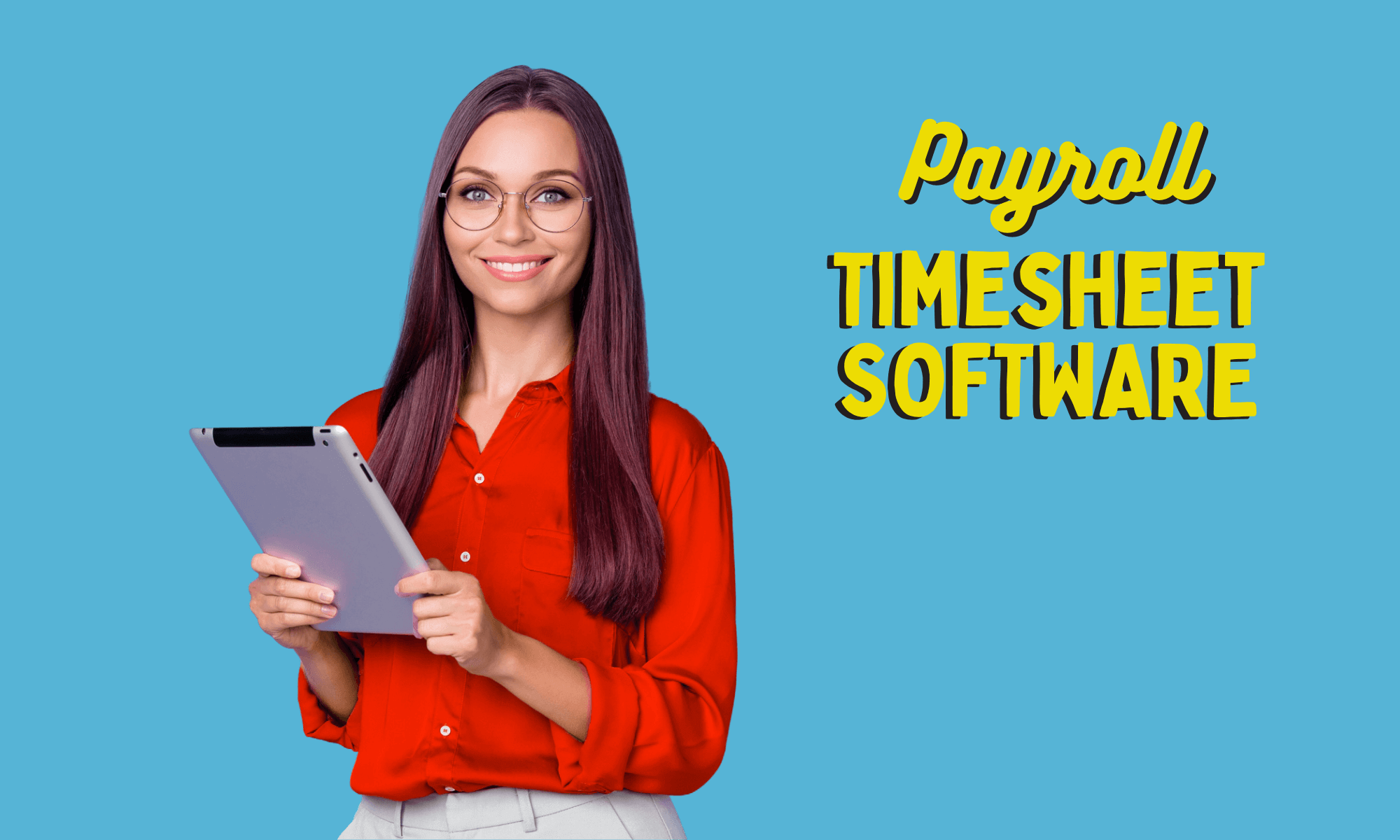 When looking for the best payroll timesheet software, you want a tool that streamlines time tracking and payroll into one platform.
Combining both payroll and time tracking into one application helps you avoid common issues, such as:
The hassle of exporting timesheets into your payroll provider (no more dealing with Excel files, Microsoft templates, or even physical timecards).


Potentially making mistakes in data transfer. When it comes to payroll, keystroke errors can get expensive and can even put you at risk of being non-compliant with state or federal law.


Wasted time and money on fixing timesheets and payroll mistakes.


Finally, you are paying for two different platforms when you could just be using one.
In this post, we dive into how the best payroll timesheet software can help you optimize your payroll process by eliminating the time-consuming manual data transfer and toggling between multiple platforms.
Specifically, we look at 8 payroll timesheet software options.
Payroll Timesheet Software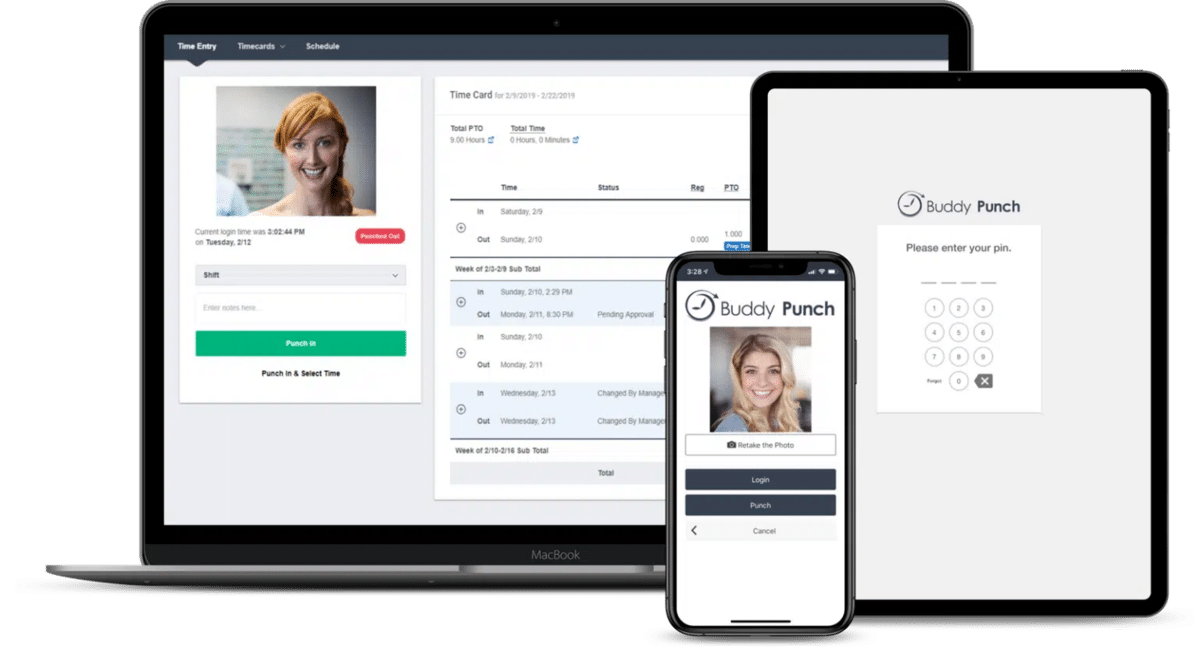 Buddy Punch is software we built to offer payroll and time tracking features in one application. You don't have to juggle between multiple websites, deal with multiple logins, or transfer data from spreadsheets to your payroll software.
Everything is tracked in Buddy Punch, and you can pay your team from Buddy Punch.
First, let's look at how Buddy Punch tracks employee hours and time to be paid out.
Hourly employees use the Buddy Punch mobile app and web app to easily punch in and out on their preferred devices, such as a smartphone, tablets, or computers. Buddy Punch automatically tracks and records these punches for any payroll need. Using an app is perfect for remote workers, having multiple job sites, or setting up a single time clock kiosk without fussing with outdated, hardwired time clock systems.


You can also use Buddy Punch to track time worked by salary (i.e., non-hourly) employees.


You can pick from several advanced clock in and out features (like geofencing) that help ensure your team tracks their time accurately and honestly, which we cover in the sections below.


Buddy Punch also tracks paid time off (PTO), which is critical for ensuring your team gets paid appropriately when they take PTO, like their holiday or sick leave.
With Buddy Punch, you can easily edit an employee's timesheet. This helps you keep your records accurate, which helps with time tracking and reduces the chances of costly payroll errors.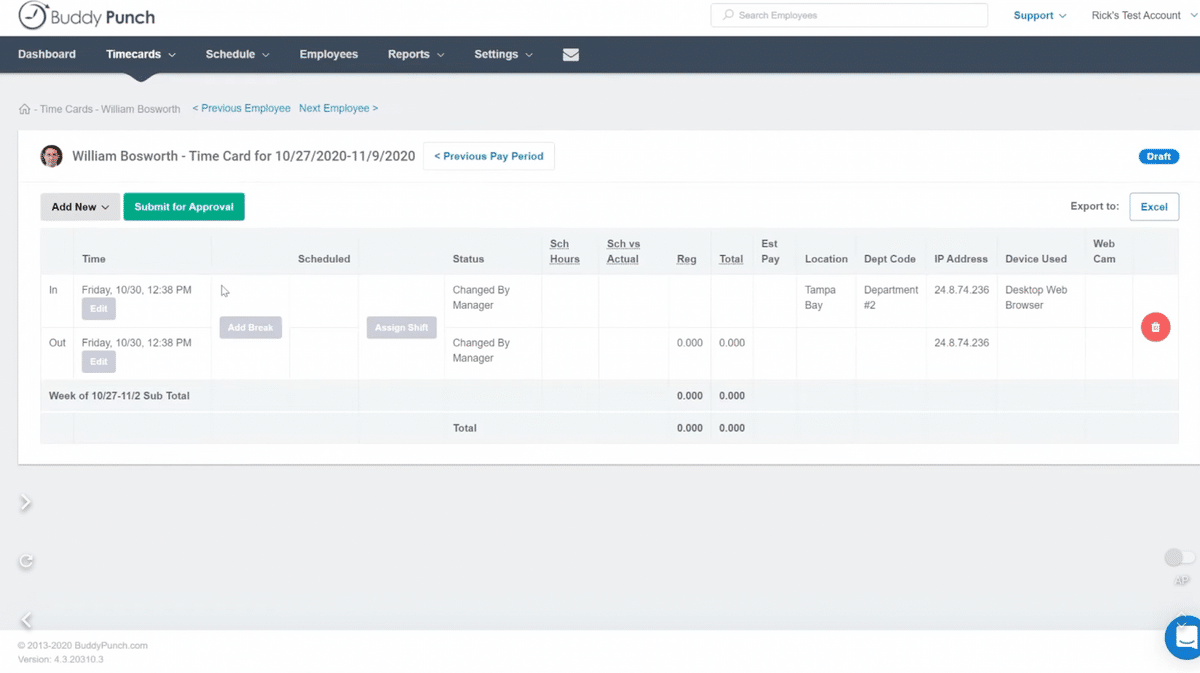 For example, say someone clocks out for lunch but never clocks back in. Or, say, an employee forgets to clock out for the day. You can access their employee timesheet, make the appropriate edits, and keep your records current. Now they're only going to get paid for the time they worked.
Finally, when it's time to run payroll, you run it through Buddy Punch. You don't need another tool or software. You select the time period you want to run payroll for and review your team's payroll.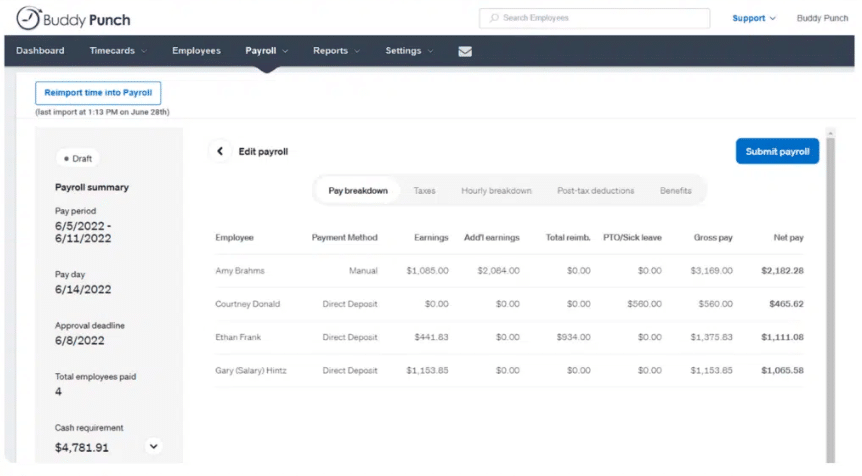 You can make changes, and also add additional earnings, such as someone's bonus, commission, or reimbursements. Buddy Punch handles all tax calculations and withholdings, and your team can get paid by direct deposit or check.
You can also set up Auto-Payroll, so you don't have to worry about forgetting to submit payroll on time. Buddy Punch offers both 2-day and 4-day processing.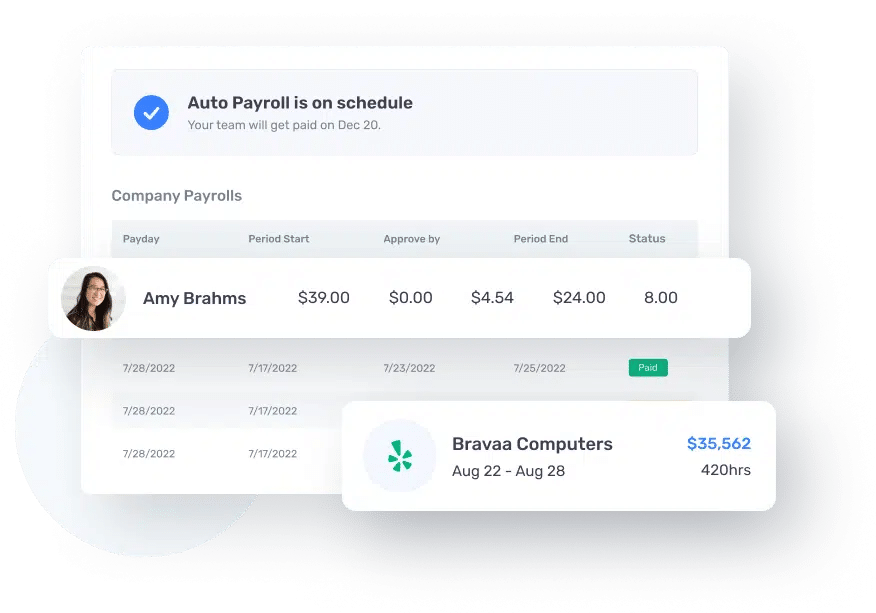 And that's a high-level overview of how Buddy Punch works as an all-in-one payroll timesheet software.
To see how you can simplify your specific time management and payroll needs, you can:
You can also keep reading below, where we further detail key Buddy Punch features.
Time Tracking Software That Helps Increase Employee Accountability
Buddy Punch offers a variety of time tracking features that help increase employee accountability. You can pick the right ones for your business and employees.
Geofencing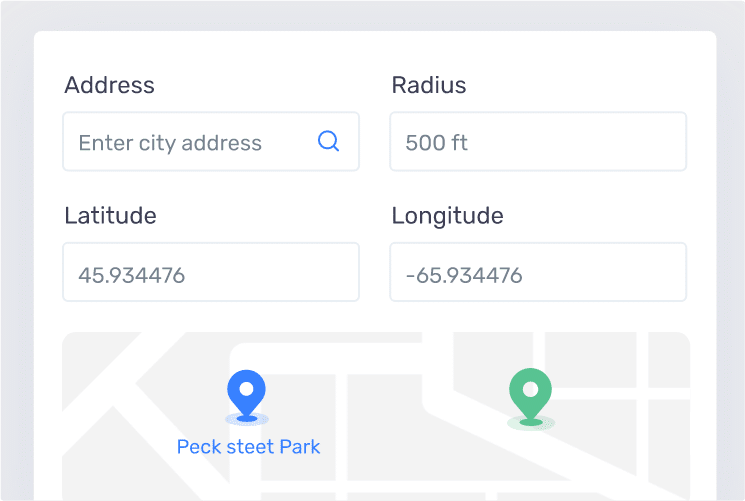 Using GPS software, you can limit where employees can punch in and out by setting up a geofence.
This sets a certain radius (say, 500 feet from your business address) to be the only location where an employee could clock in and out, and if they attempt to punch outside the designated geofence they would be met with an error notification and asked to try again.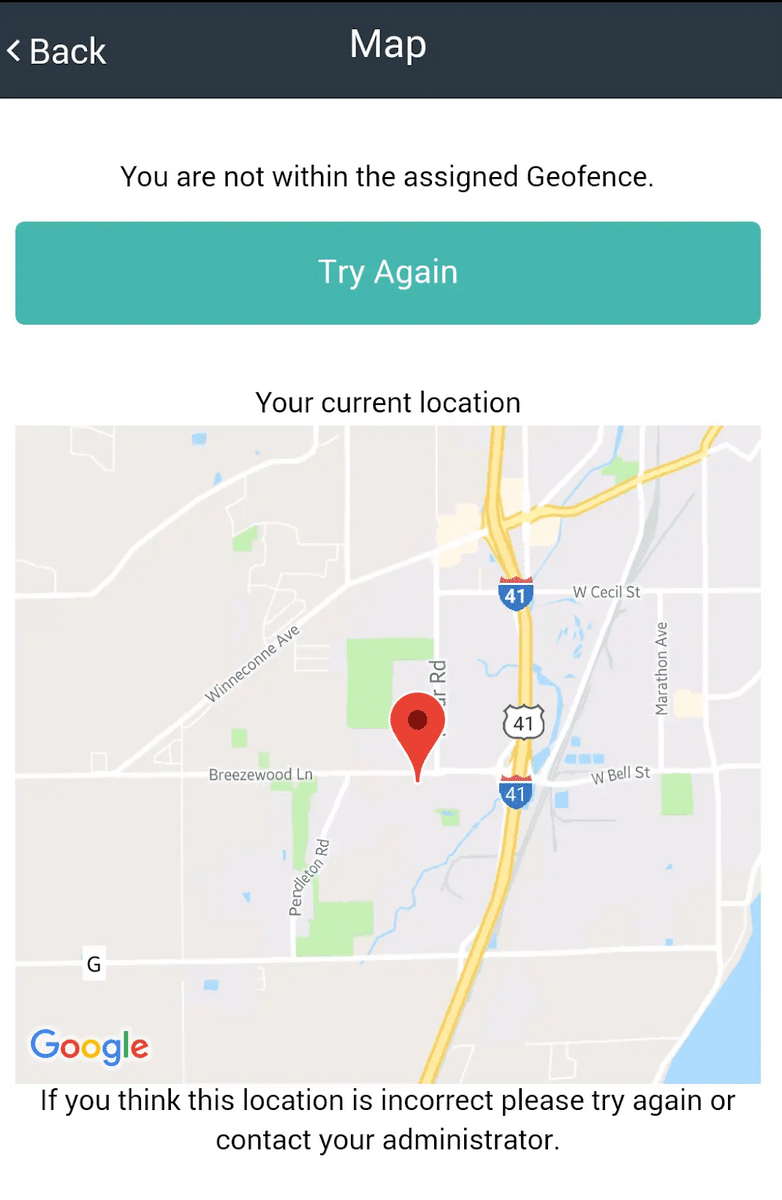 Geofencing is a great tool to help prevent time theft, ensuring that employees punch in to work when they're at work.
You can set up multiple geofences based on your particular business needs. For example, if you have multiple job sites and employees travel between more than one location.
IP Address Locking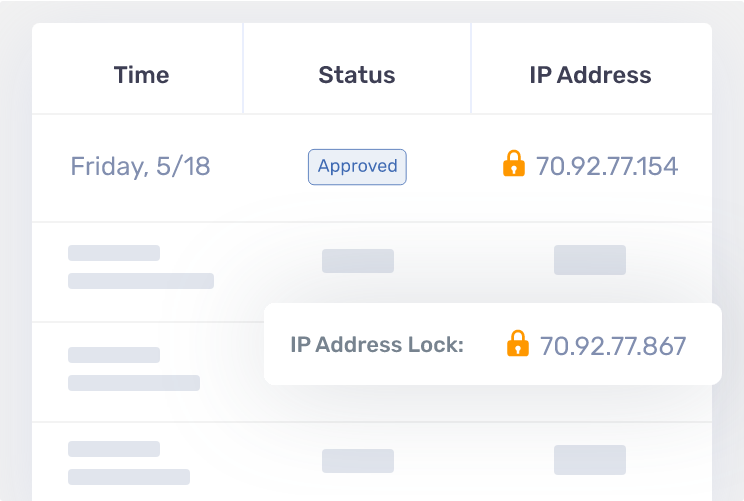 With IP Address Locking, you can limit punches to a particular device or network.
For example, you can require employees to be connected to the company WiFi network before punching in.
Similarly, you can designate a central device such as tablet or computer as a punch station.

Photos On Punch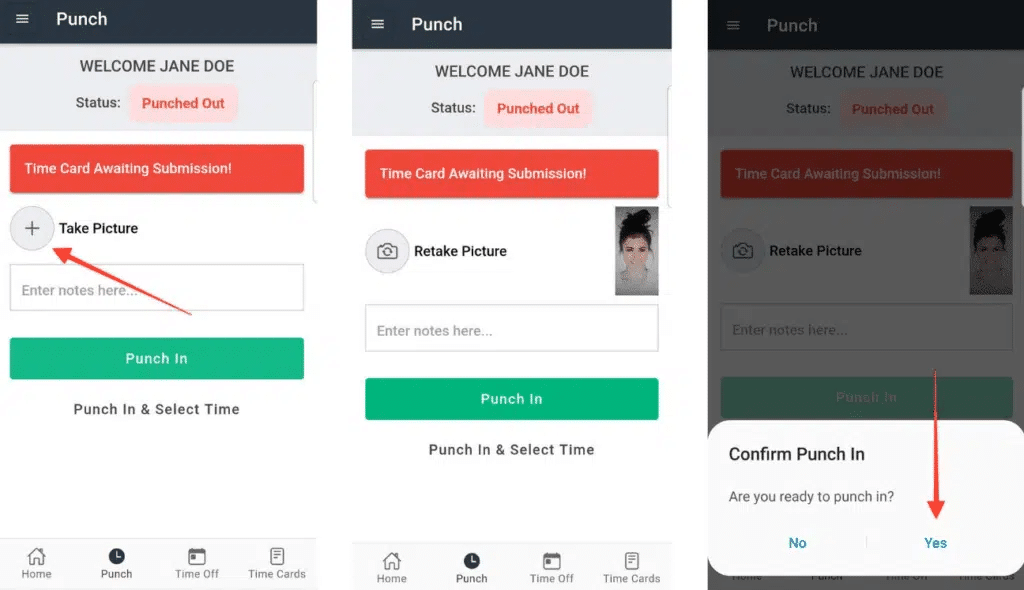 You can also keep employees accountable by having them provide a photo every time they punch in or out. This is just one of our features that prevents buddy punching (someone clocking in for someone else on the team).
All pictures can be easily reviewed by an administrator using the dashboard: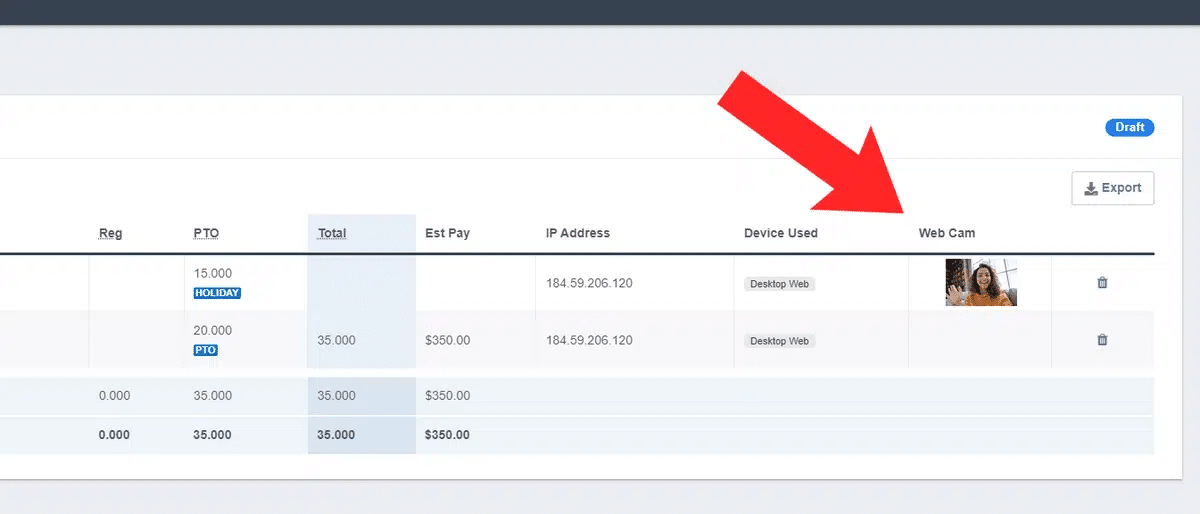 See All of Buddy Punch's Accountability Features
Buddy Punch offers several other accountability features that you might find helpful, such as:
You can also set up Punch Limiting Rules. This is a great feature for keeping your payroll in check. By setting punch limiting rules, you control how early someone can clock into their shift and how late someone can clock out. This prevents time clocking padding — where an employee is adding to their paycheck by clocking in early 7 minutes every day.
How Buddy Punch Helps with Tracking Time Off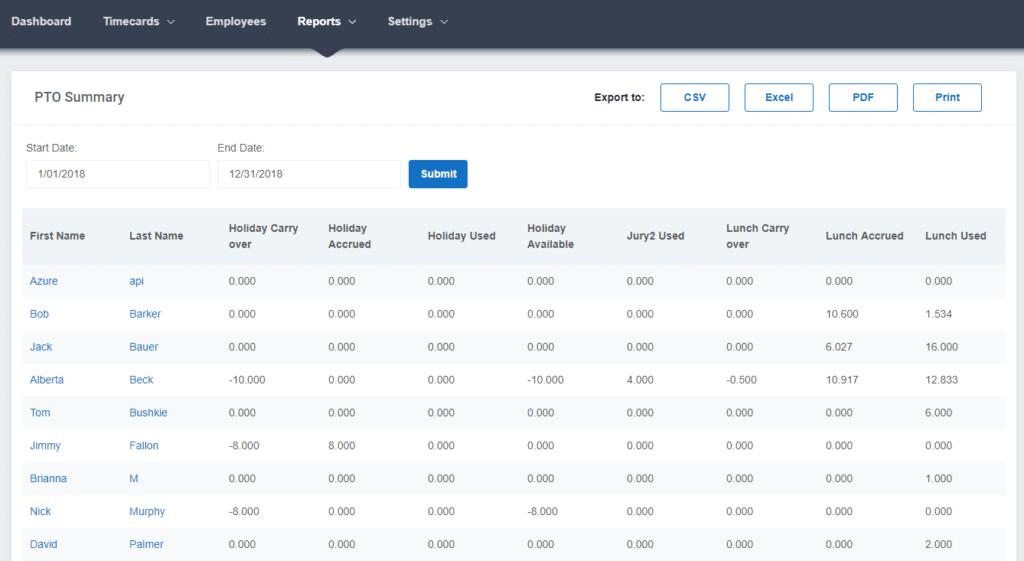 Another key aspect of submitting payroll correctly is making sure your team's PTO is accurately tracked and accounted for.
Time-off tracking is easily handled through Buddy Punch. Employees put in time off requests through the dashboard as needed. Administrators may optionally review these requests, and all paid and unpaid time off data is automatically tracked and available as downloadable reports in your preferred format.
When you go to run payroll, any paid time off day is accounted for and included on your payroll report.
Accruals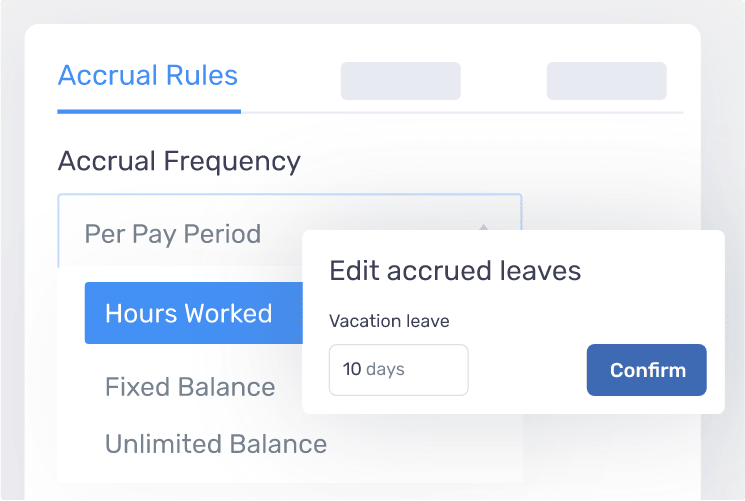 Accruals and accrual rules are also easily set up with Buddy Punch. You can customize when and how your team accrues PTO. For example, you can have team members accrue PTO based on hours worked or time with the company. You can customize this for each employee.
By covering all aspects of time tracking — from time worked to PTO — you can confidently use Buddy Punch to run accurate payroll, which we cover next.
Buddy Punch's Payroll Functionality
You can either use Buddy Punch's built-in payroll service, or integrate Buddy Punch with your current provider (in case you don't want to switch payroll processes just yet, but still want a better way to track time to be paid out).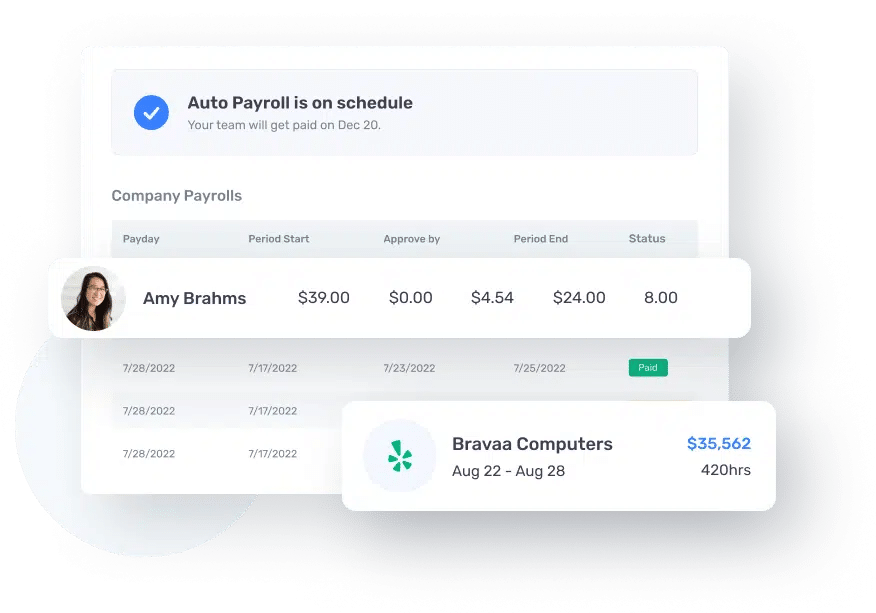 Buddy Punch offers hassle-free payroll software built-in with its time tracking tools. As we've already discussed, combining your timesheet and payroll applications into one has many benefits and ultimately saves you valuable time and money.
As a refresher, here's how it works:
First, you can access your payroll information through the Buddy Punch dashboard, where you can review all relevant information (including time worked and hourly rates broken down by each employee) and make any changes as necessary (e.g., reimbursing an employee for a work trip or fixing someone's time clock error).

Then, when you're ready to file just hit the "Submit" button and let Buddy Punch handle sending out direct deposits and paystubs, along with filing your state and federal taxes.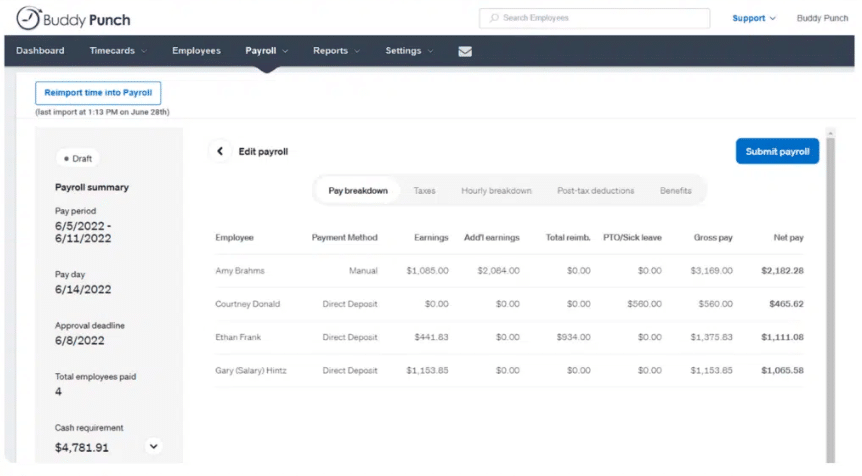 Your employees (everyone from full-time members to independent contractors) can log into their Buddy Punch and:
Edit/update their bank account information for direct deposit
See their pay stub, and see how much they made over the pay period
But we know that changing how you run payroll is a big step — and you may just want to use Buddy Punch's efficient and accurate time tracking method at first, and keep your current payroll process in place.

If that's the case, keep reading to learn how you can easily integrate Buddy Punch with 3rd party tools or export payroll reports on demand.
Payroll integrations help you share data between multiple platforms while reducing the risk of keystroke errors.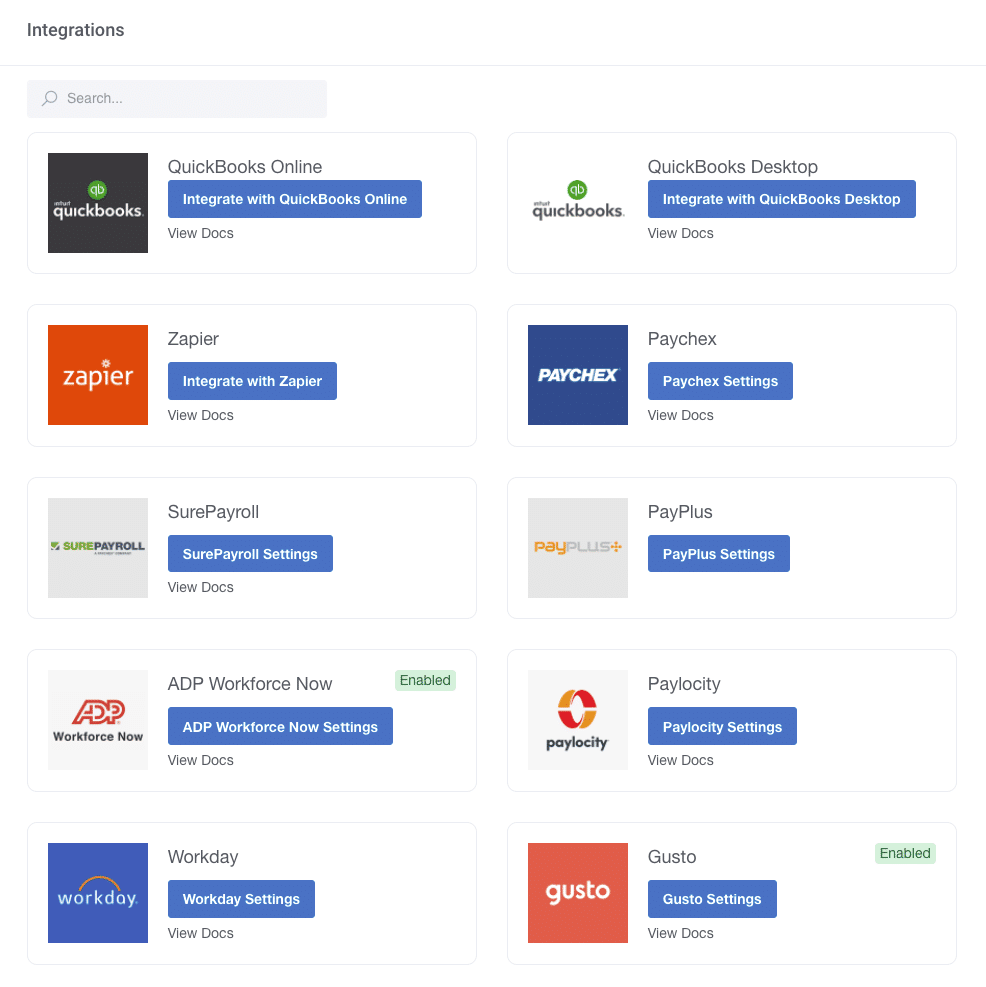 We offer integration support with most popular software, which includes:
Payroll Reports On-Demand

If you're not using an integration, you can export your team's payroll reports. This gives you all the employee timesheet info you need to run payroll in an on-demand, shareable report.
See All of Buddy Punch's Features
View a complete list of all of our features here, which includes:
Buddy Punch Reviews

At the time of this writing, Buddy Punch boasts a 4.8 star rating on the popular review site Capterra, with 825 reviews.
Below are several reviews that showcase Buddy Punch's ease of use and excellent customer service:
"Most folks pick up on it right away. The system is intuitive and those who do have difficulty only need a quick tutorial and they are good to go."

Click here to read the full review.
"Minimal training for end users (employees or managers). The back end (admin) features are just as simple and intuitive. We wanted a product that was simple to use, cost friendly and allowed us to customize — all of these areas were met. Very impressed!"

Click here to read the full review.
"The area I am most impressed with is with their support — they respond quickly, accurately and offer real solutions."

Click here to read the full review.
"We signed up for the trial period, and our employees were impressed immediately. They were able to start… immediately with zero training or assistance, which was a priority for us. The system is also very easy to use from an administrator end."

Click here to read the full review.
"The team is responsive, and eager to assist. Any questions we've had, whether using the free trial, or after we signed up as a customer, have been answered quickly".

Click here to read the full review.
"Their team is knowledgeable about my organization and the way that we use the platform — I have received many helpful suggestions to how we can best leverage the Buddy Punch platform in our sometimes complicated organizational structure. We have had very few issues, but have always received immediate resolutions when anything has come up."

Click here to read the full review.
"The software is straightforward and well-run, and was easily understood by our team of 55+ non-technical staff of all ages."

Click here to read the full review.
Click here to see the full list of Buddy Punch's Capterra reviews.
Everything Buddy Punch Has to Offer
To see how Buddy Punch's payroll timesheet software can work for your particular business, you can:
If you're looking for something different from what Buddy Punch offers, keep reading for alternative options.
Clockify is a popular payroll timesheet software offering unlimited time tracking, timesheets, expense reports, scheduling, payroll provider integrations, and more.
Its free plan is a popular option for freelancers and individual employees, as it's easy to track time worked broken down by task, which can help with invoicing/billing.
But if you want more advanced features, you will want to pick one of its paid plans. But even on those paid plans, there are some limitations. For example, Clockify is not payroll software.
Instead, you must set up integrations from Clockify to your current payroll processing system. So if you use Clockify, you will have one tool for time tracking and another for running payroll.
See their website here for a comprehensive list of all their features.
They currently stand at over 4000+ reviews with a 4.7 star rating on Capterra.
Here's what one user had to say:
"Versatility: Clockify is a versatile tool that can be used by individuals, teams, and companies for a variety of tasks.Integrations: Clockify makes it simple to monitor time across various platforms by providing integrations with well-known tools and platforms. Reporting tools: The platform provides a variety of reporting tools that can be used to analyse time consumption and pinpoint problem areas".

See the full review here.
The next on the list for payroll timesheet software is QuickBooks Time, offering both mobile and desktop time tracking, customizable reports on-demand, scheduling, and employee management features, such as geofencing.
QuickBooks is also a payroll solution, so you don't need another tool to run payroll.
Check out a comprehensive list of all their features here.
Currently, QuickBooks Time has 4.7 stars on Capterra with 6200+ reviews.
"I'm very happy with the quality, accuracy, and smooth integration with QuickBooks Online Tsheets, which imported all of my projects (jobs) and allowed me to track time accurately for each job while saving me time."

Click here to read the full review.
Hubstaff is payroll timesheet software that offers all the essentials — time tracking, online timesheets, location tracking, scheduling, and payroll.
You can see a full list of their features here.
On Capterra, Hubstaff has over 1300 reviews with a 4.6 star rating.
Here's what one reviewer had to say about the application:
"As a time tracking, payment management, and employee monitoring software, Hubstaff does a great job. It does help many companies keep track of their employees and is pretty comprehensive and even fun to use (when you look at it from the browser)".

See the full review here.
TimeCamp is another alternative to consider when choosing payroll timesheet software. They offer a variety of time tracking and payroll solutions ranging from automatic time tracking, time kiosks, and reporting, to payroll integrations and time off tracking.
A full description of all their features can be seen here.
They have a 4.7 star rating on Capterra and 584 reviews at the time of writing this article. Here's what one reviewer had to say about the software:
"TimeCamp has achieved that our employees receive a correct salary depending on the hours worked and accounted for, this platform has allowed our employees to receive a salary according to what they have worked for, in addition, this platform is also capable of accounting for the overtime of each employee, which allows this whole process of posting hours to be done automatically, we no longer have to count these hours manually".

See the full review here.
Time Doctor offers online and offline employee time tracking, multiple device support, payroll, budgeting, and productivity management.
Visit their site to see a full description of all their features.
Looking at their Capterra page, they have a 4.5 star rating and nearly 500 reviews (490, at the time of writing this article).
See what one reviewer wrote:
"Time tracking is one of the core features of Time Doctor, and it allows us to track the time they spend on different tasks and projects. This feature is particularly useful for remote individual contributors who need to track billable hours accurately with screenshots snippet for productivity".

See the full review here.
Next on our list, Gusto is a great payroll timesheet software option that offers a variety of payroll and time tracking tools, along with direct deposits, tax filings, and more.
Check out a full list of their features here.
Currently, the software has over 3000 reviews on Capterra and a 4.6 star rating
"This software has been of great importance for our business in managing payroll as well as other HR services. We implemented this software as we hit 9 employees as we were having issues relating to payroll receiving several complaints from our employees. The complaints have reduced drastically as soon as we implemented Gusto, which hence resulted in time as well as cost savings as well as more satisfied employees."

Click here to read the full review.
Finally, ADP is yet another solid option for your payroll timesheet software needs. It offers a time clock system, and payroll services which include tax support and digital payments. See a full list of their features here.
As of this writing date, ADP has 4.4 out of 5 stars on Capterra with over 6,000 reviews.
"User friendly application, easy to access all hr services and payroll services, User interface is so easy to understand, tax related all queries has already updated no worry which companies had this application."

Click here to read the full review.
For more information about time management, payroll software, and time tracking, check out these posts: