9 Best Timesheet Software Options for Workforce Management (In-Depth Guide)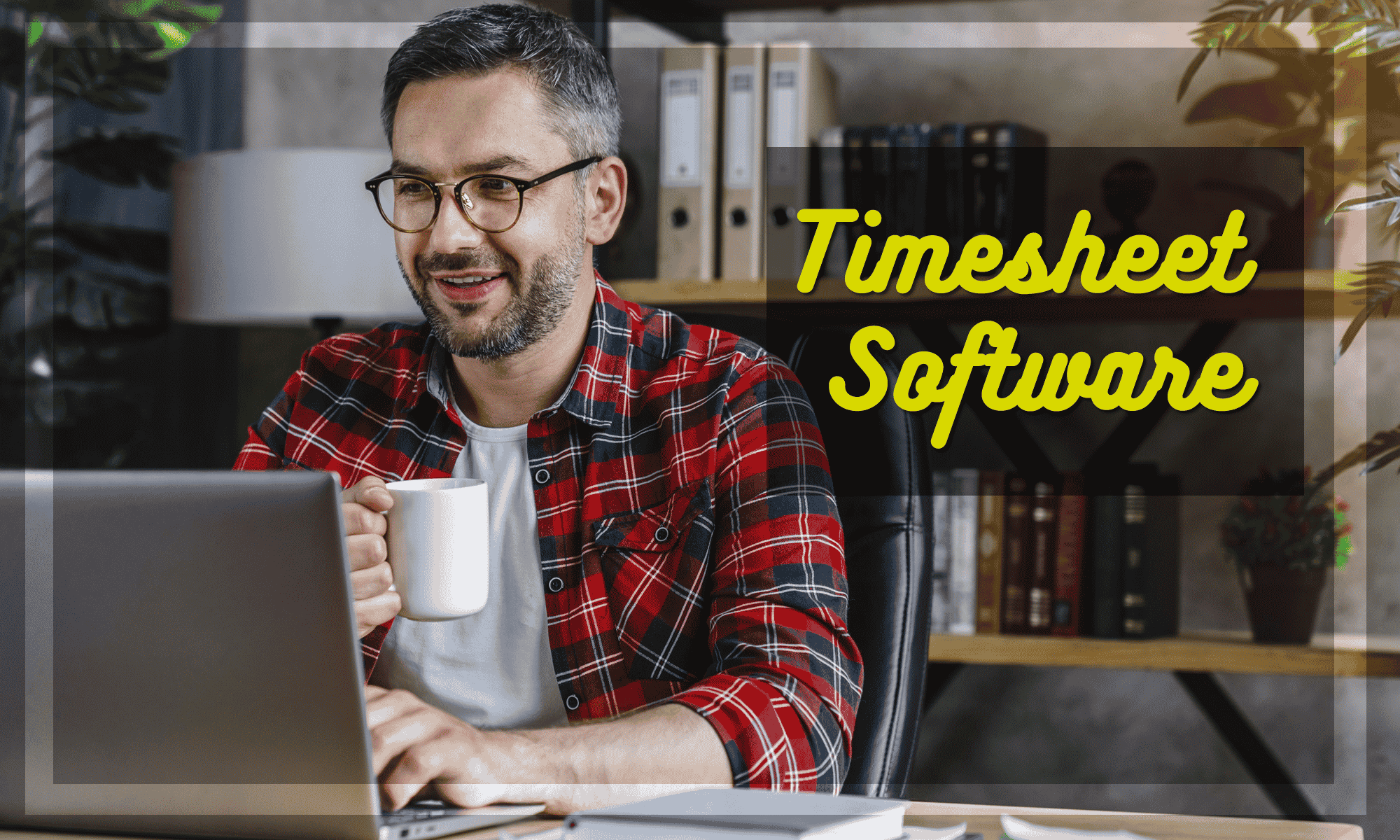 At first glance, Timesheet software is a no-brainer for most business owners to implement into their workforce. After all, what could a time tracking tool do besides bringing structure and optimization to your workplace?
Well, it could completely destroy your employees' ability to focus on work.
Employee timesheets tend to put pressure on employees. They feel they have to be 110% "on" during work hours, which leads to them neglecting their work-life balance, forcing themselves through problems, and overall putting in subpar work. Then, once they (or someone else on your team) spends time making corrections, you're looking at an overall loss in profitability.
At the same time, accurate timesheet data can empower business owners to make informed decisions across their workplace that can lead to improved conditions for both manager and team members. It's clear that there's a balance that has to be struck between monitoring time and micromanaging it.
Below, we're going to list out some of our choices for the best time tracking software, based on how well their features balance keeping employees accountable against not invading their privacy. Plus, we'll also weigh how efficiently they streamline the business management side of things, and how easy to use they are for even the least tech-savvy employees.
Timesheet Software
How can a software juggle monitoring employees, keeping its interface simple and easy, and not overwhelming team members with complicated features or pressure to succeed? In our opinion, you achieve this by keeping most of the features hidden on the backend for administrative control, while making the front-end intuitive for team members.
Buddy Punch achieved this through a focus on three core tenants:
Accountability
Simplicity
Streamlining
Our focus on Accountability fuels the features we decide to integrate into Buddy Punch. When we add tools like GPS Tracking, Drag & Drop Scheduling, Job Codes, and Customizable Reports, it's because we know that business owners will benefit from enabling or disabling these features at will to keep employees on task.
But we never lose track of Simplicity, with automated or subtle features such as Notifications, Punch Rounding, and One-Button Clock Ins to make our management tools easy for both employees and employers to use. In some cases, your team members won't even know which features are active (unless you want them to).
Lastly, our focus on Streamlining is what drove us to include features such as Payroll Integrations and Shift Trades & Covers into Buddy Punch, making core aspects of business management run smoother and easier than ever before.
Next, we're going to dive into some of these features to expand on what they can contribute to your workforce management.
Note: Talking about these tracking features is one thing, but it doesn't compare to experiencing them for yourself. If you have the time, it's worth using Buddy Punch's 14-day free trial directly.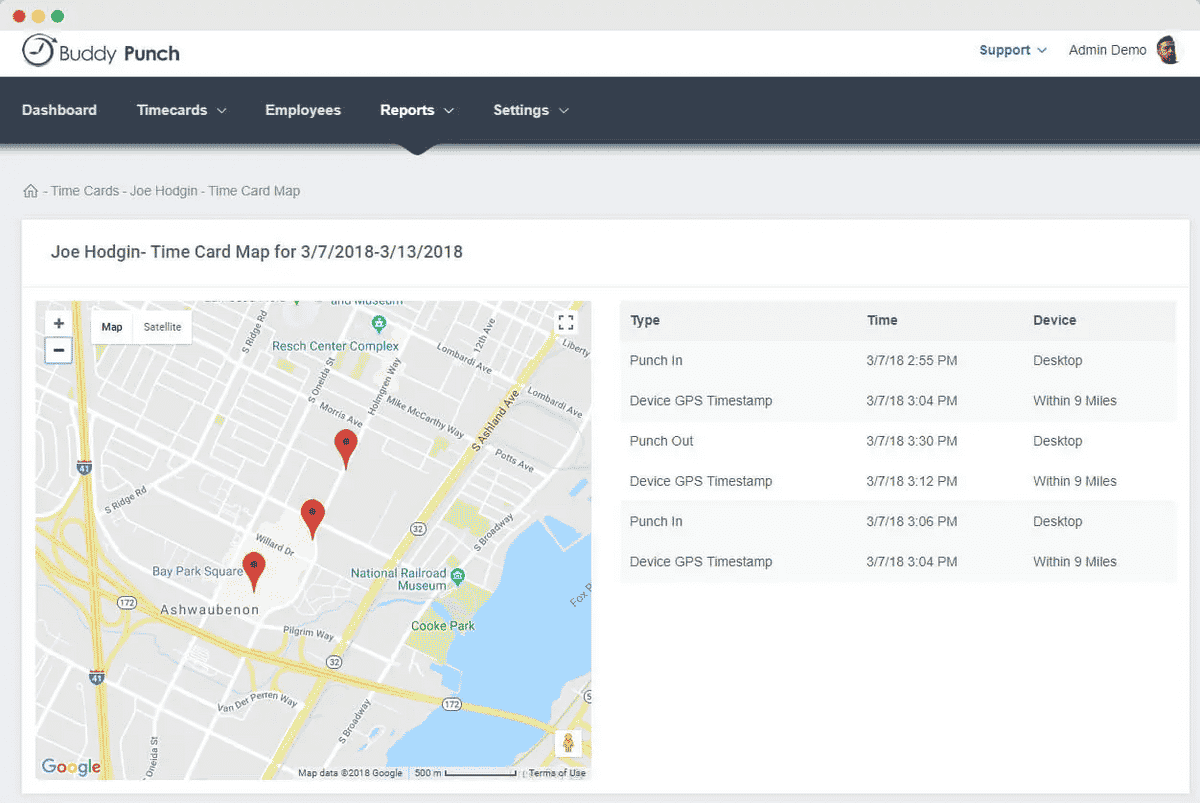 GPS Tracking is the perfect feature for employers dealing with remote workers (whether they are clocking in from home or clocking in from remote sites – or both). With this, you can view GPS punch-ins individually or group them together, a feature that can be turned on or off per individual employee.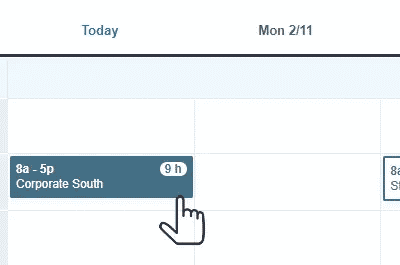 Use Buddy Punch's Drag & Drop Shift scheduling to create shifts simply by clicking on empty cells – then move them around for the week as needed. This feature lets you visualize your online timesheet to fill in any open shifts, and sends notifications once published.

The Job Codes feature (also known as Department Codes) lets you attach codes to the assignments your employees are working on. This simple feature becomes incredibly powerful when you use it to calculate which tasks are generating the most profit for your business, and which ones are devouring the most of your team members' time. Use this tool to optimize your operations.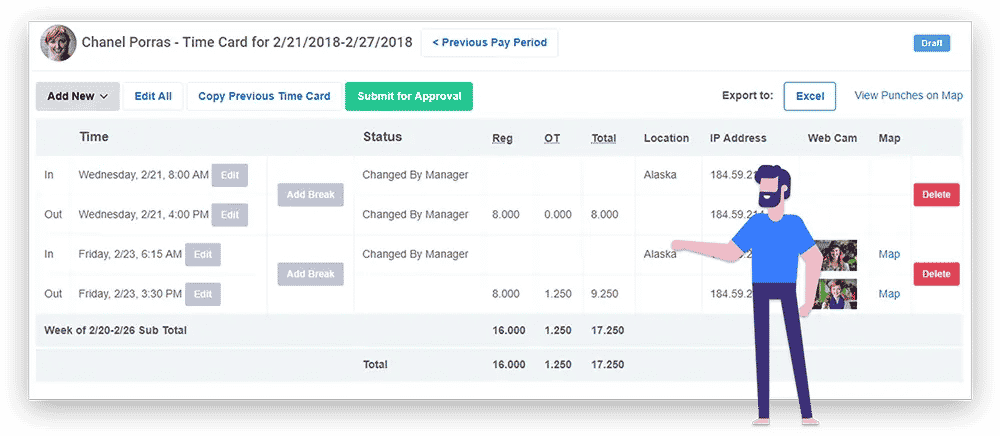 Buddy Punch offers several different customizable reports for business owners, depending on what your needs are. You can view data such as Employees, billable hours, real-time activity tracking, PTO, and more. Export whatever you need into PDF or Excel formats.

The Notifications feature on Buddy Punch is a versatile tool that keeps both managers and employees in the know. Employees can send notifications for PTO requests or automatically upon each clock in, and can receive a notification from you in turn when you respond to their requests.
If you've set up Buddy Punch as a kiosk, you'll find some value in the Punch Rounding feature. This will automatically round clock-ins to a predetermined interval that you select – anywhere from 2 minutes to 30 minutes. This gives you some control over the time your employees clock in.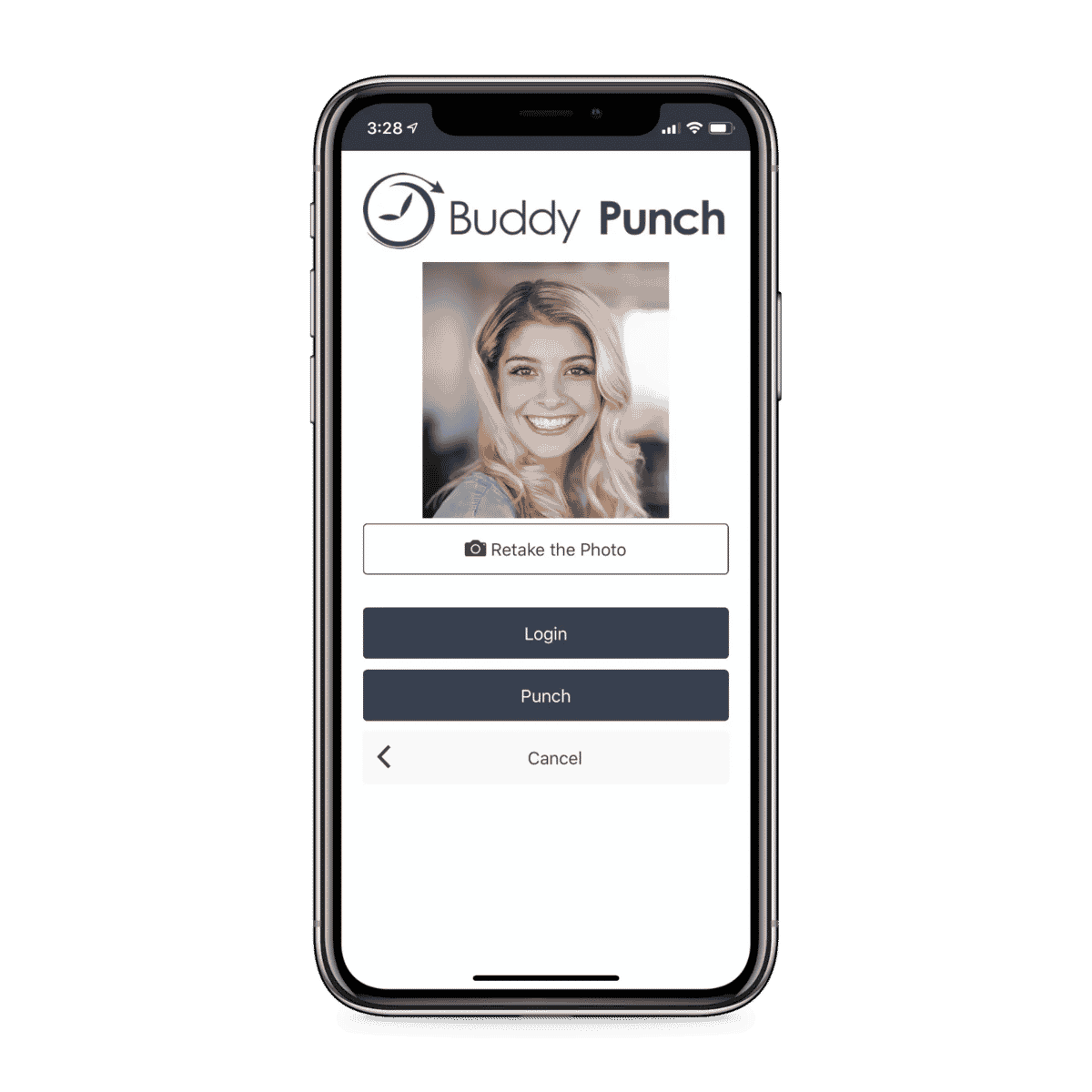 Speaking of punching in, Buddy Punch makes it simple for employees to clock in with just a single button press. This is part of the reason our device is able to function across multiple platforms (iOS and Android, Desktop Mac and Windows, Tablets, pretty much any device with an internet connection can make use of Buddy Punch).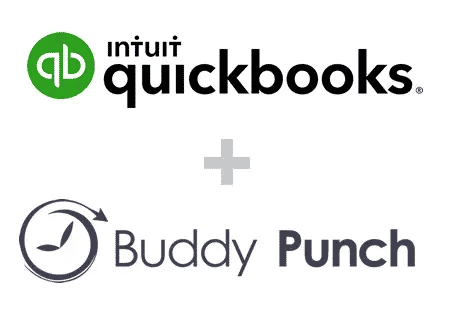 One thing that sets Buddy Punch apart from other tracking solutions is the number of Payroll Software we integrate smoothly with. We wanted to help business owners save time by the end of each pay period without going through the hassle of switching to a different payroll system. To that end, Buddy Punch is compatible with big names such as Quickbooks, ADP, Paychex, and more. Click here to view the full integrations list.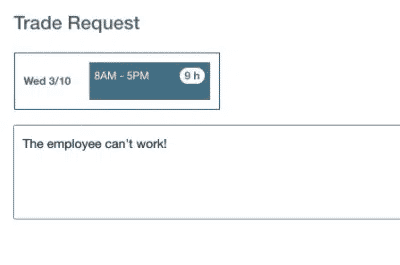 This feature allows employees or managers to initiate shift trades between other employees. Additionally, employees can see which shifts need to be covered due to an employee absence and initiate a cover to take over that position if they have free time. This allows your employees to step up and automate scheduling shifts on your behalf.

There's More Features to Buddy Punch
Even with the aforementioned features, there's still more you have access to when you use Buddy Punch. We wanted this to be your end-to-end solution for all things time entry, so we included features such as:
Additionally, we have a help doc center that contains up-to-date articles on how to best utilize Buddy Punch, a blog section where we constantly provide new information to business owners, and our customer support is available via live chat to answer your questions.
In fact, that same responsive customer support can lead you through a personalized demo of Buddy Punch if you wish. Learn more information or book your one-on-one demo here.
Buddy Punch's Online Reviews
As of this article's writing date, Buddy Punch has 4.8 out of 5 stars and 685 reviews on Capterra.

Below, we'll list just a few reviews that speak to Buddy Punch's ease of use and great customer support service. (Click here to explore the full list of reviews.)
"BuddyPunch is very easy to use and has several login options. Our employees can use their standard username and password, but they can also punch in faster/simpler using QR codes or a 4-digit pin. BP also organizes your timesheet well so that you can check your worked hours, PTO, etc at a glance."

Click here to read the full review.
"Simple interface and dashboard. Captures what we need for tracking timesheets for payroll. Our team loves the ability to punch in and out from the phone app."

Click here to read the full review.
"Buddypunch gives us a lot of abilities to manage our employee that we didn't have before. We literally made the leap from paper timesheets to a system that every employee has to utilize. As you can imagine, there were some lagging employees that did not embrace the idea of change. Once employees gained experience with the service, it has become a monumental change for our agency."

Click here to read the full review.
"It has a great deal of flexibility and gives administrators/managers the ability to see who is here at any given time of the day. Managers also have the ability to approve PTO prior to it being added to the time sheet. This provides accountability for both the employee and manager."

Click here to read the full review.
As you can see, the general consensus is that Buddy Punch offers a variety of powerful features, is easy and simple to use, and benefits both managers and employees equally.

Try Buddy Punch for Free
Tempted to see how well Buddy Punch can serve your needs? Sign up for a free 14-day trial by clicking here. You can also view a pre-recorded demo video, or sign up for your own one-on-one demo through the software.
Harvest is a simple time tracking software that includes features such as:
While there is no free plan, Harvest comes with a lengthy 30-day trial period. That's an entire month to see how valuable you find its features. As of this post's writing date, Harvest has a rating of 4.6 out of a possible 5 stars, based on 496 total reviews.
"Harvest is a good option when it comes to basic time management and invoicing needs. It is easy, friendly and reliable to the point of becoming addictive. It have seen it used by freelancers and small companies. You can quickly get started with tracking your time and expenses, keeping track of project progress, invoicing customers, tracking invoices and offering online payment."

Click here to read the full review.
Asana isn't just a time tracker – it's a full web and mobile work management platform with a wide range of features including (but not limited to):
As of this article's writing date, Asana has 4.5 out of 5 stars and 11025 reviews on Capterra.
"Asana is a powerful project management tool for our team. It allows us to have a central place online to add client projects, marketing projects, and in-house projects and keep track of them. Totally love the recurring task feature.

Alternatives Considered: Trello and Zoho CRM"

Click here to read the full review.
Timely is a time tracking software that focuses on automatic, AI-powered insights. Some of its key features include:
At the time of writing, Timely has a total of 208 reviews on Capterra (see here), with an average of 4.7 out of 5 stars.
"The AI memory feature of Timely is the most awesomest time tracking feature for any consultant who hates timesheeting. It tracks what you do on your computer, your appointments in Google Calendar and your location, so you can fill out your timesheets in a heartbeat. Also the customer service is great! Overall great value for your money."

Click here to read the full review.
Clockify is a popular time tracker with a powerful free plan that's quite well liked (it's worth noting that it's one of the most popular timesheet software for accountants). Some of its key time management features include:
At the time of writing, Clockify has a total of 4166 reviews on Capterra (see here), with an average of 4.7 out of 5 stars. Here's one example of why it's liked as an accounting software:
"A really useful feature on Clockify is that you can set by default a billing price for your time, but also you're able to set a specific price per project, so when you set billable time to any project, it will apply the specific price in case it is set or the default one in the other case. The dashboard section is also quite nice, but less useful, but anyway it shows some interesting info such as total time worked, or total earnings, most active projects and so on."

Click here to read the full review.
If you're looking for an end-to-end solution for employee management, Connecteam might be one of the best timesheet software options for your employees. You can communicate, manage, and even train your team with features such as:
As of this post's writing date, Connecteam has 4.7 out of 5 stars and 151 reviews on Capterra.
"The Connecteam always reached out promptly–within minutes–to help resolve my issues. Even if the issue wasn't resolved, the still kept in touch to let me know what was going on."

Click here to read the full review.
Paymo is an online time clock software that focuses on fostering communication and cooperation between team members and managers. Some of its key features include:
At the time of writing, Paymo has a total of 420 reviews on Capterra (see here), with an average of 4.7 out of 5 stars.
"The main reason for switching to this software is that it allowed my entire team to track time. After using the software for a few months, there have been several benefits from using the software: – Interface is very clean and allows to track much more data that I was able to do before. – As stated in the pros, one of the best feature of the software is that it allows users to create task lists individual for each project. "

Click here to read the full review.
8. 7shifts
7Shifts is a timeclock software that differentiates itself from others by focusing on helping restaurant owners. This is reflected in some of its features:
As of this writing, 7Shifts has garnered a total of 876 reviews and 4.7 out of 5 stars on Capterra.
"We have been using 7Shifts little over 2 years now and it has been a great experience. User interface is very simple. It an app that apple would have build. Very basic but yet very powerful. If you are getting this app i highly recommend getting all packages. "


Click here to read the full review.
9. Insightful
Insightful, formerly known as Workpuls, is a timesheet app that's a strong pick for data-driven team managers thanks to an emphasis on data insights and analysis. Some of its key features include:
At the time of this post's writing, Insightful has a total of 61 reviews on Capterra (see here), with an average of 4.8 out of 5 stars.
"The best thing about this software is that it's extremely easy to use. Just 1 click setup. Neat and clean dashboard and gives all the required tools which are essential. We use it to track our employee's check-in, checkout, time tracking, project tracking, idle time and productive time."

Click here to read the full review.
Choosing The Best Timesheet Software for Your Business
As we've clearly highlighted, there is quite a lot of variety when it comes to choosing between timesheet software to track projects and employees. While this may seem like a saving grace at first glance, it ultimately means there might be quite a few options to go through before you can settle on a time clock that fits your business best.
To narrow it down, look at the overall vision of the software developers. Are they like 7Shifts, creating a program with a specific focus on helping restaurant owners manage shifts and tips? If you're managing a restaurant yourself, 7Shifts should be the first software you try out. Or, are you looking for a program that helps your team members communicate in-app? Then you might want to try out Paymo.
But, overall, if what you're looking for is a scalable software solution that has a responsive customer support team, powerful features that can be enabled or disabled at will, and an intuitive design that anyone on your team could get used to – then you can't go wrong with Buddy Punch.

Try Buddy Punch for Free
If you want to see how well your managerial style and workforce can make use of Buddy Punch, sign up for a free trial. You can also book a one-on-one demo, or view a pre-recorded demo video.

You May Also Like…