11 Best Timesheet Managers in 2023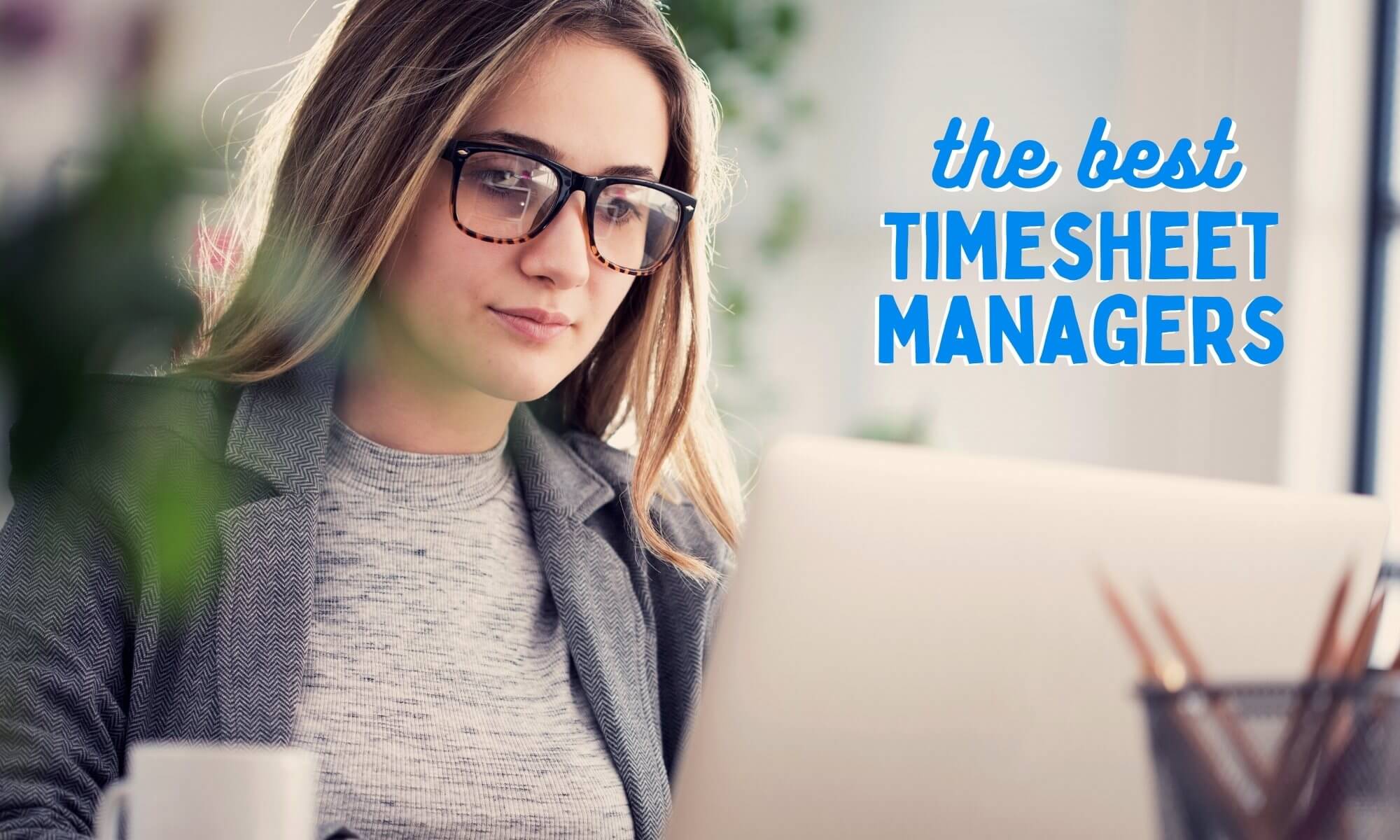 For businesses, there are two ways to manage timesheets:
1. Manual Timesheet Management
Manual timesheet management involves recording and tracking employees' working hours with pen and paper or digital spreadsheet templates like Excel.

In this method, employees typically enter their start and end times for each task or project, and supervisors or HR personnel manually review and approve these entries. This process can sometimes be "good enough" for smaller companies.
Still, others will quickly become frustrated with:
how time-consuming it is to update (and review) manual timesheets
the lack of employee accountability
For example, how can you be sure your team is logging their hours accurately and honestly?
2. Timesheet Software
Timesheet management software uses specialized platforms to automate and streamline tracking and recording employees' working hours and attendance. The software offers real-time data and will generate reports for payroll and analyzing productivity. It reduces errors, saves time, and provides valuable insights for businesses of all sizes.
We believe that software is the best timesheet manager, and in this article, we'll look at ten timesheet manager software solutions:
First, we'll discuss Buddy Punch, our timesheet manager for small businesses. Buddy Punch makes timesheet management easy for small businesses by:
Enhancing employee accountability and accurate time tracking: Buddy Punch lets employees digitally and quickly log their work hours. Admins and managers can activate features like geofencing (constraining punches to specific locations), IP Address Locking (restricting punches to designated devices or WiFi networks), punch rounding (to avoid employees padding their timecards), and more.
Streamlining payroll management: Buddy Punch offers key payroll features such as paperless paydays, employee self-setup, and payroll tax filing. Or, you can integrate Buddy Punch with your current payroll provider. Either way, using Buddy Punch helps simplify your payroll process and pay your team accurately and on time.
1. Buddy Punch
The Best Timesheet Manager and App for Small Businesses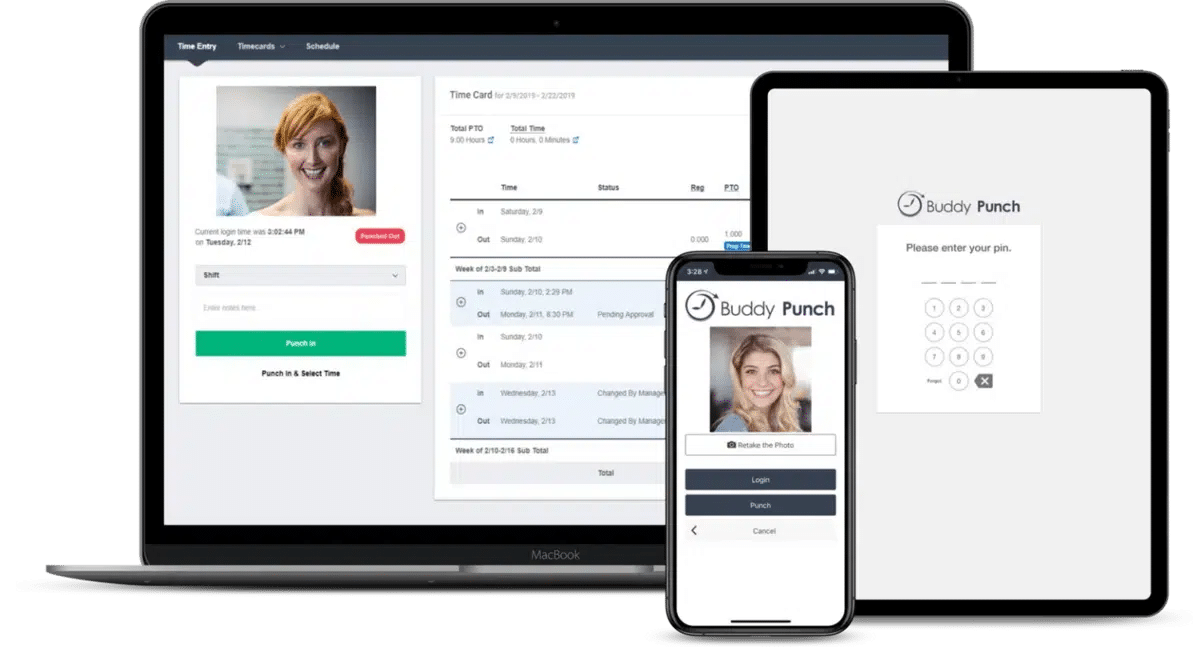 A versatile timesheet manager, Buddy Punch can be used by all types of small businesses — everything from construction crews to retail stores to marketing agencies. It's an excellent solution for various workforces, whether your team operates from a single location, multiple sites, or remotely, and whether you employ full-time, part-time, or freelancers, and independent contractors.
With Buddy Punch, you have access to:
User-friendly time-punching options: We enable employees to conveniently clock in and out from their phones, tablets, or computers. Additionally, you can customize Buddy Punch with advanced features like Geofencing, Photos on Punch, and IP address locking for enhanced employee accountability and precise timesheet management, regardless of location.
Seamless timesheet editing capabilities: Managers and, if you prefer, employees can easily update and submit their timesheets for approval using a desktop or mobile device (compatible with Android and iOS). More details into this functionality in a moment, but in short, selecting the "Edit" option on an employee's timecard allows for effortless adjustments to existing punches, including modifying time entries or adding breaks.
Multiple ways to run payroll: You can use Buddy Punch to run your payroll. Buddy Punch handles all local, state, and federal taxes. Plus, Buddy Punch can pay your employees via direct deposit (which your employees can set up themselves via self-service portal). You can also integrate Buddy Punch with your current payroll processor (like Paychex and ADP).
Keeping Timesheets Accurate
Ensuring accurate timesheets and employee honesty is paramount for any small business. The challenge lies in addressing two primary issues: human error, where employees may forget to clock in or out accurately, and the unfortunate possibility of some employees being dishonest about their hours, leading to time theft.
Buddy Punch's timesheet software tackles these challenges in two fundamental ways. Firstly, it simplifies editing anyone's timesheet, allowing access to an individual's timecard for punch adjustments, additions, or break modifications, which will be discussed in-depth below. Secondly, we offer multiple accountability features to maintain accuracy and integrity, including:
Geofencing: Creating designated areas where employees must punch in and out.
IP Address Locking: Restricting punch-ins and punch-outs to authorized IP addresses.
Photos on Punch: Employees must submit a photo to verify their identity when clocking in or out.
Punch Rounding: Implementing rules for automatic time rounding, such as rounding to the nearest half-hour.
Overtime Tracking: Setting up alerts to monitor when employees approach specific work hour thresholds, such as reminding them not to exceed 40 hours weekly.
GPS Tracking: Each time an employee punches in or out, their GPS coordinates will be recorded.
These features collectively ensure that only authorized personnel record their hours accurately and in line with their scheduled shifts. More details below.
If Buddy Punch sounds like the best option for your business, you can:
Or keep reading for a more in-depth review of Buddy Punch.
Geofencing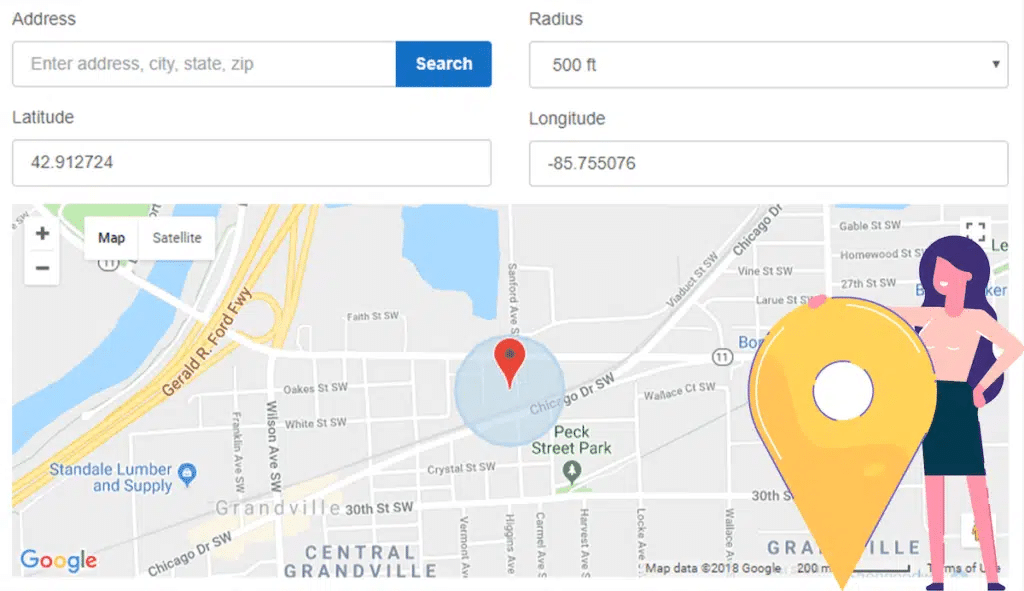 Geofencing lets you restrict employee punches to a specific location. It's a helpful feature to prevent time theft, also known as buddy punching.
For example, if you have a physical office location, you could restrict employee punches to within 400 feet of the address.
If an employee tried to punch in outside your designated Geofence area (e.g., while still at home), they'd receive an error message and be asked to try again within the workplace.
Multiple business locations? No problem; you can set up numerous geofences for employees.
IP Address Locking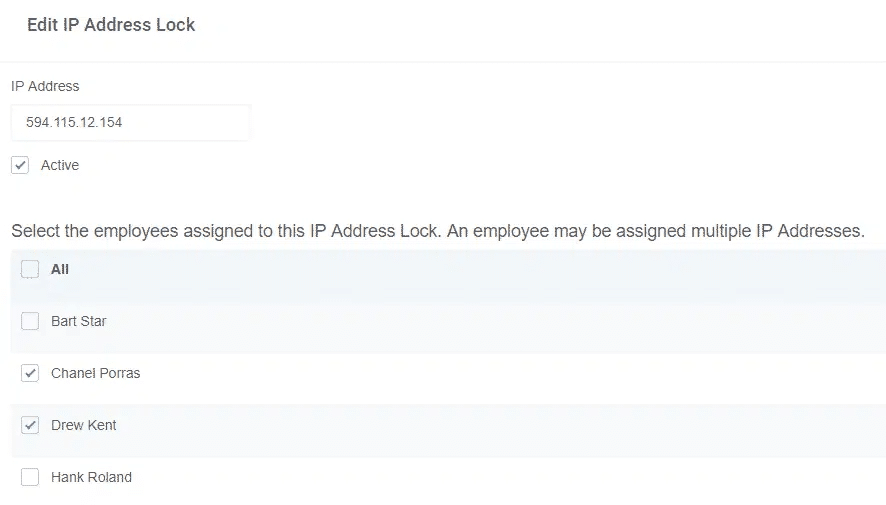 IP Address Locking lets you restrict employee punches to a specific device or WiFi network.
For example, if you run a warehouse, you could set up a kiosk that limits punches to that device; or, if your employees work from home, IP address locking ensures employees need to be connected to their home WiFi network.
Photos on Punch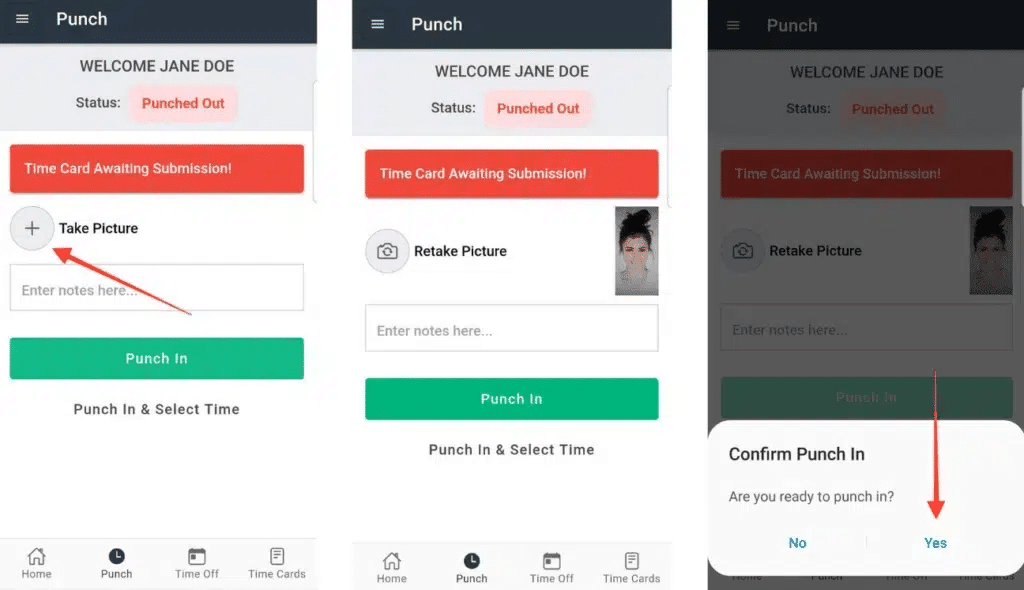 With Photos on Punch, employees must take a photo of their face in real-time, either from a kiosk you set up or from our mobile app, each time they punch in or out.
You can quickly glance through the photos via a central dashboard (example below) and ensure that the right employee punched in from the right place.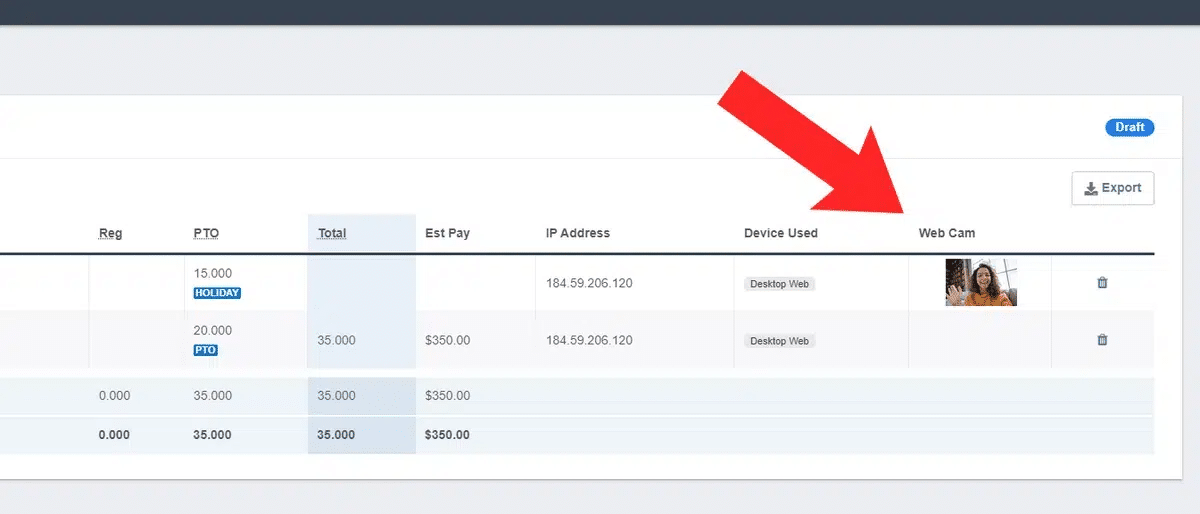 Punch Rounding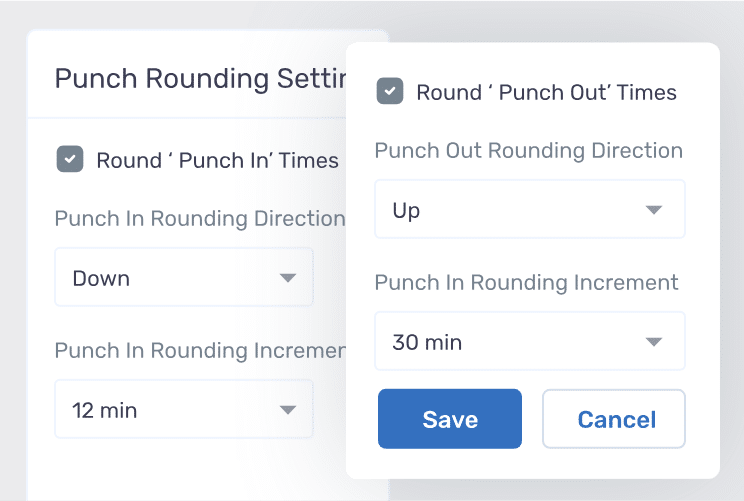 Punch Rounding is a functionality that allows you to decide whether punches will be automatically rounded up or down to a predetermined interval you select. This can be anywhere from two minutes to 30 minutes. For example, if an employee punches in at 8:05 a.m., you can have that punch automatically round down to 8:00 a.m.
Additionally, if you have a lot of employees punching in or out simultaneously from one location, it may take more than a minute for all of them to punch in or out. With the punch rounding feature, you can give your employees a grace period to ensure they aren't penalized for waiting in line.
Minutes add up fast, so utilizing this feature can save you time from manually editing timesheets and ultimately save you money in the long run.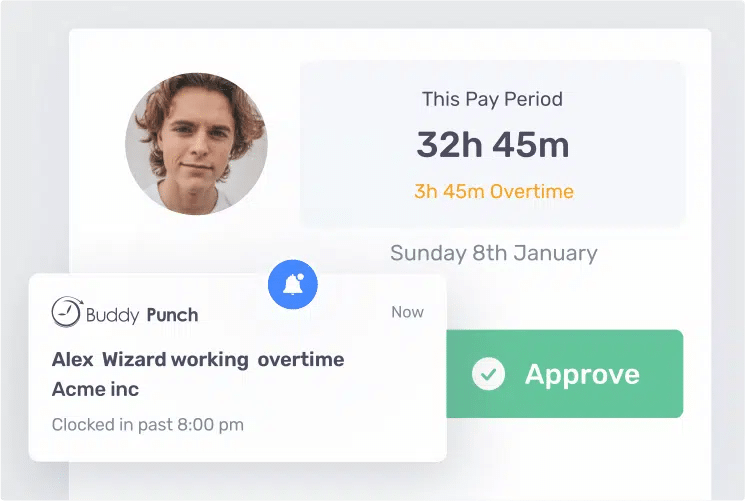 To help minimize costly overtime, Buddy Punch lets you set up real-time overtime alerts.
Overtime alerts can be set daily or weekly to go simultaneously to the team member, manager, and account administrator.
Our alerts will tell you if the employee is punched in or out and their total hours worked. You'll receive the alert via email with the name of the employee in the subject line and can remind an employee of a lunch break or to punch out at the end of the day. These automated alerts can help give you more free time to focus on other business matters.
If you choose to activate GPS Tracking, each time an employee punches in or out, their GPS coordinates will be recorded: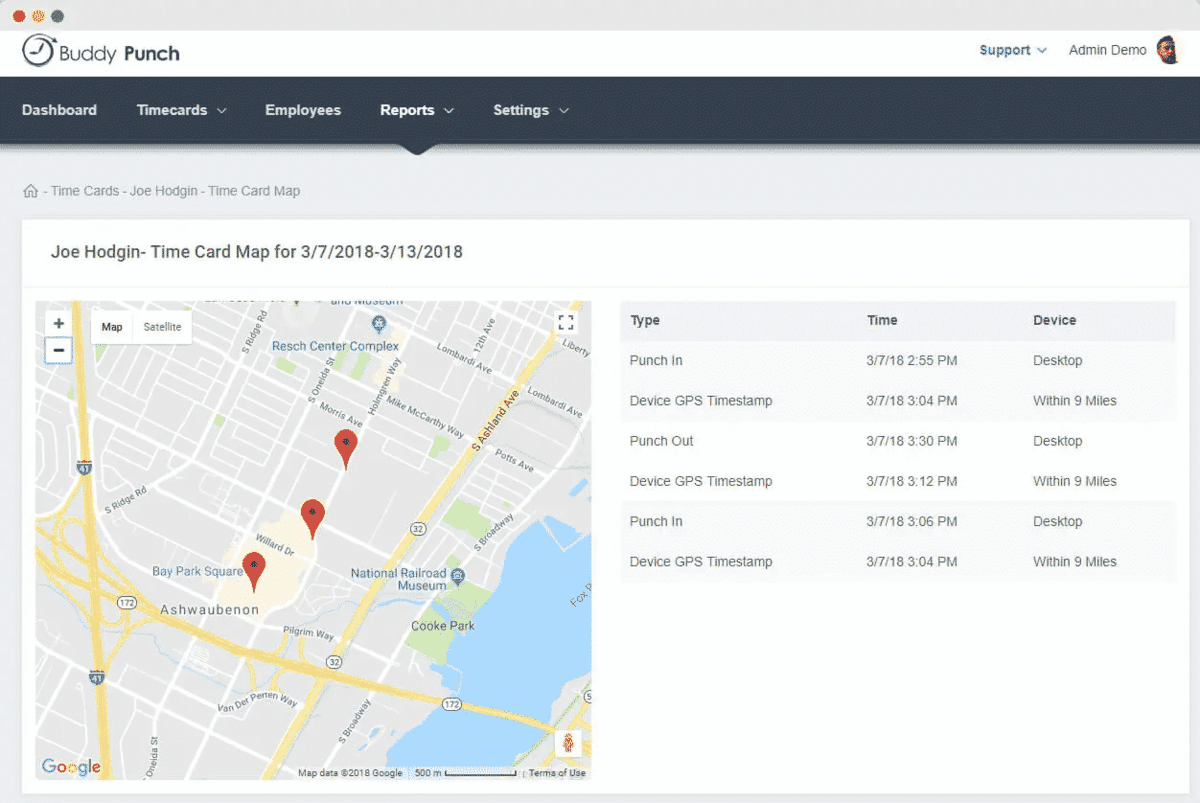 You can easily view each employee's GPS coordinates within the Buddy Punch dashboard and verify they punched in from the correct location. Like all the features we've mentioned, GPS tracking is optional and can easily be customized.
You can mark it as "Optional" or "Off" for different staff members, depending on the needs of your business: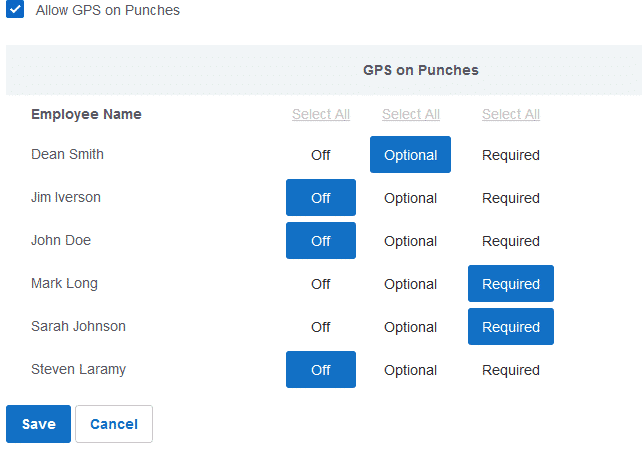 This is just a sample of Buddy Punch's timesheet accountability features that can streamline your workflow. Other helpful features include:
Quickly Review, Edit, and Approve Timesheets
Even with a software timesheet manager, human error is bound to happen occasionally. People will forget to clock in or out for their shift or might clock in under the wrong job code.
Buddy Punch makes fixing timesheet errors and approving timesheets easy. Here's a closer look, including helpful screenshots.
1. Click the "Timecards" tab under the Pending Approval section on your dashboard. You'll see a list of timecards that are waiting for your approval. You can click "View" to view a specific timecard.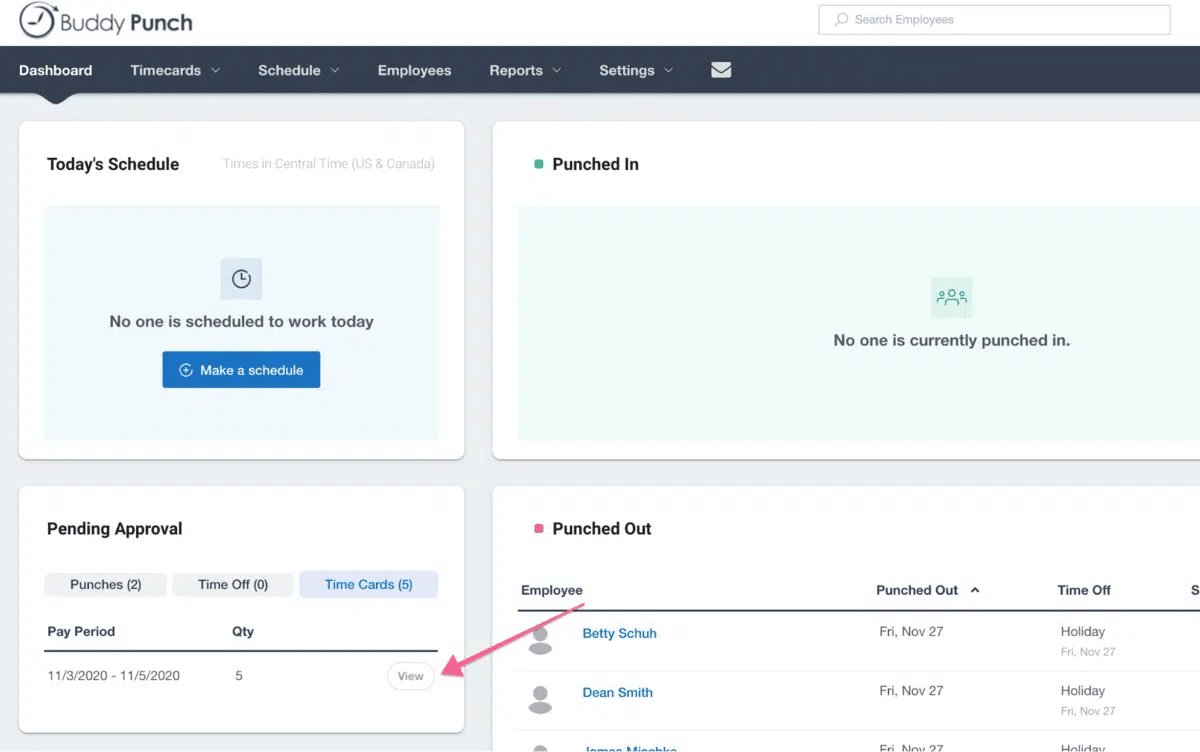 2. If you don't want to review all hours in detail, you can approve the timecard immediately by clicking the "Approve" button.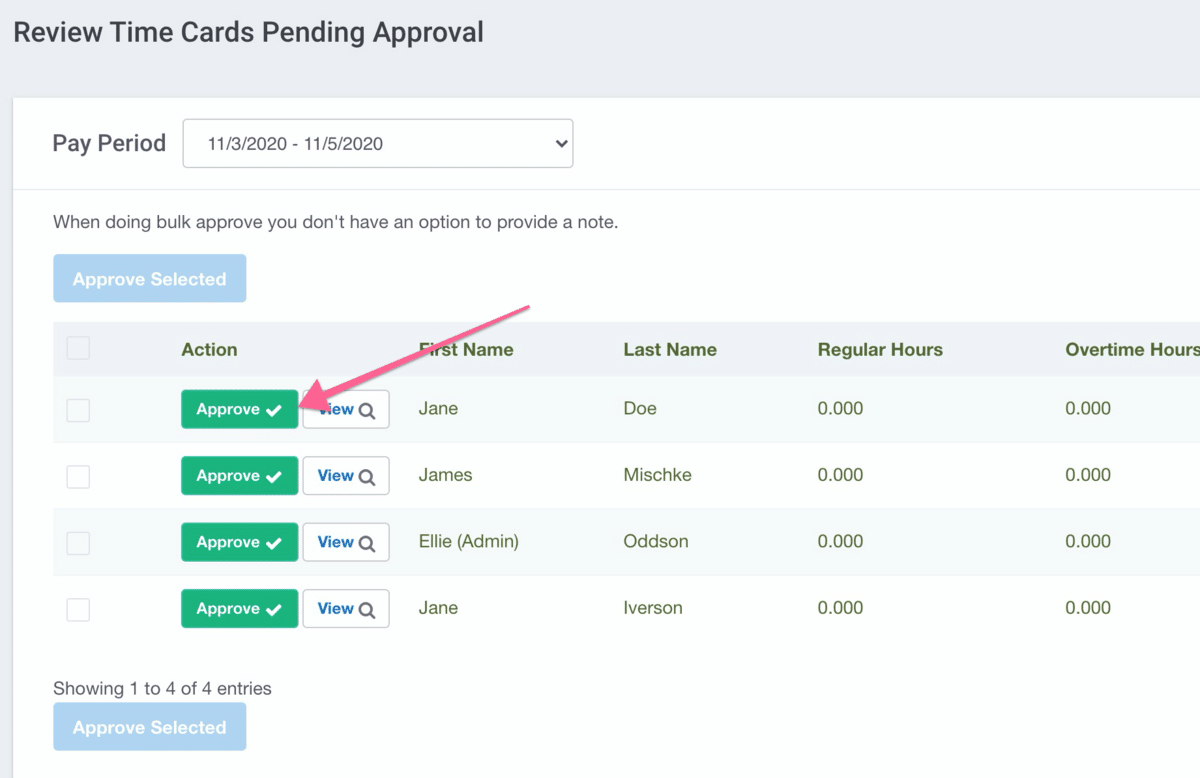 3. If you want to view a timecard in more detail, you'll want to click "View" next to an employee's name.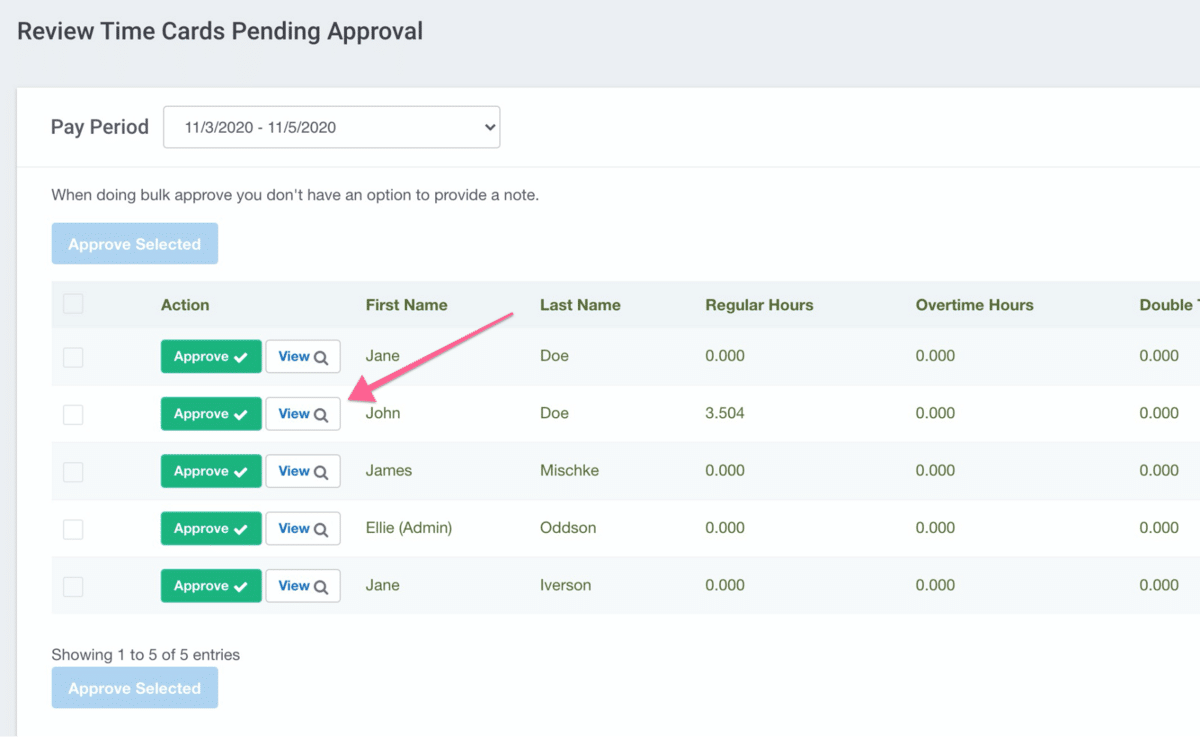 4. Once you're ready to approve or reject, you'll want to click the "Approve / Reject" button at the top of the timecard.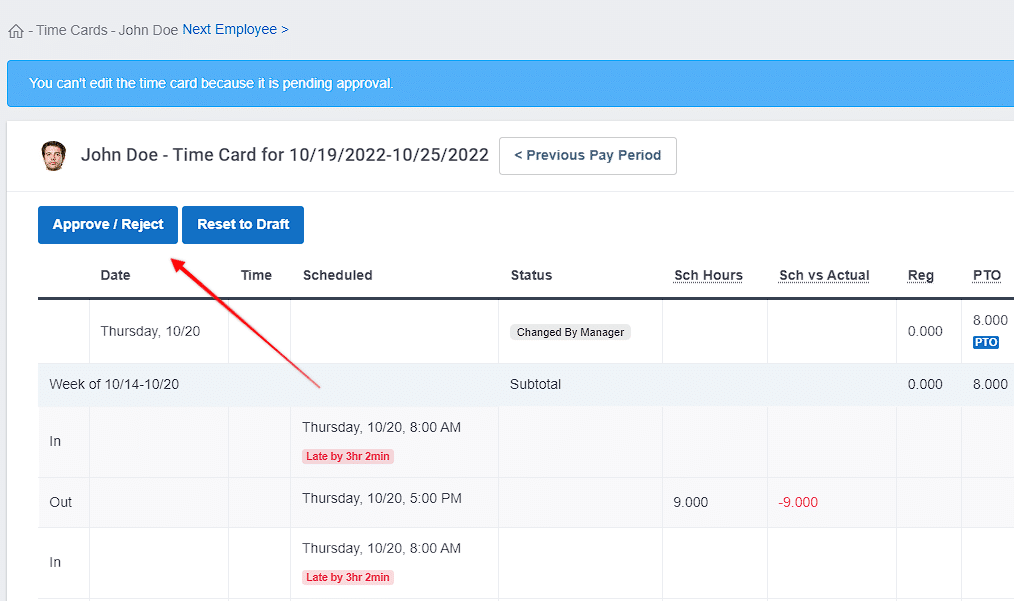 5. If you must return the timecard to the employee to make changes or make changes yourself as an Admin or Manager, simply click the "Reject" button.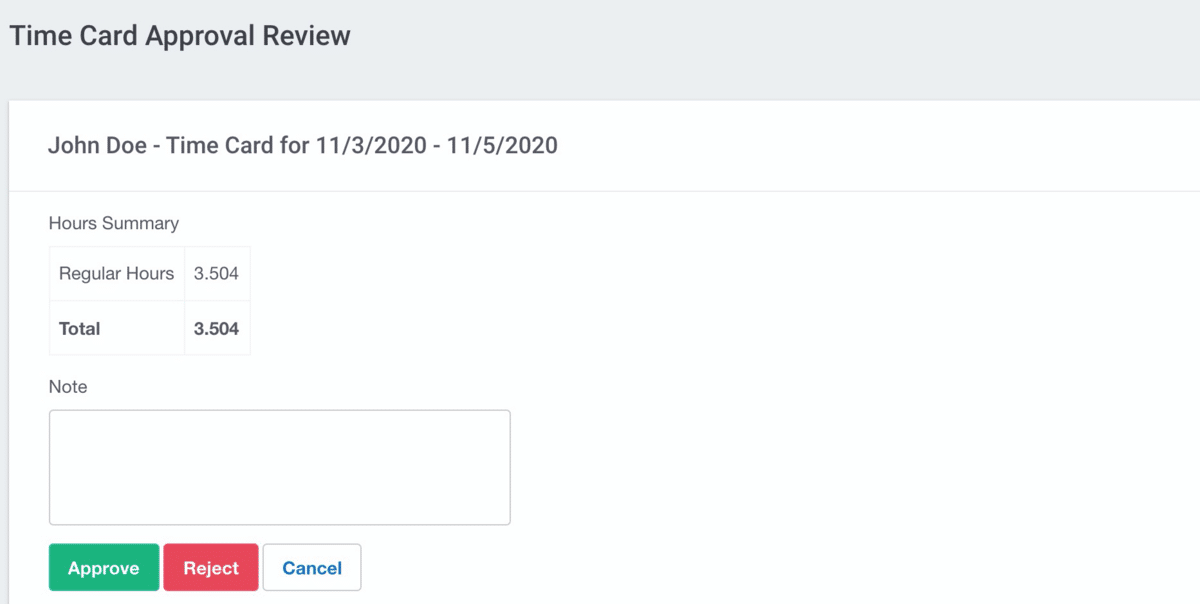 6. Whether you reject or approve the timecard, the action taken will be visible in the Approval History, which can be found at the bottom of an employee's timecard.

In addition, you can also quickly edit timecards by:
1. Clicking the drop-down menu on "Timecards" and then clicking "View All".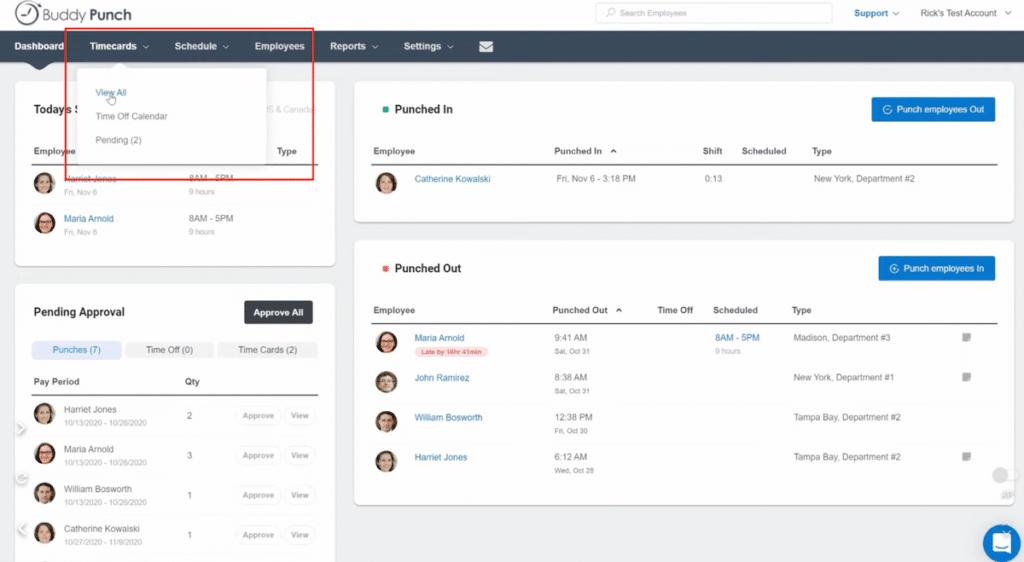 2. Selecting whose timecard you want to review.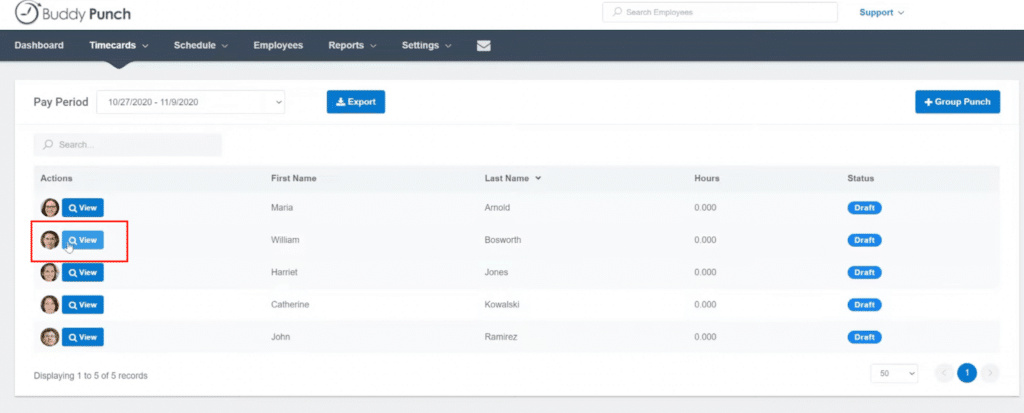 3. Clicking "View" on the employee's timecard you want to access.

4. Making the necessary changes, such as changing when someone clocked in, clocked out, or took their break.
Easily Keep Track of PTO
PTO tracking is an essential part of keeping accurate timesheets and payroll records. Buddy Punch makes it easy. Here's how:
1. An employee opens the app, enters the requested days, and specifies the type of leave they're taking.
2. If it's paid time off, the hours are logged on their timecard to be reconciled with payroll.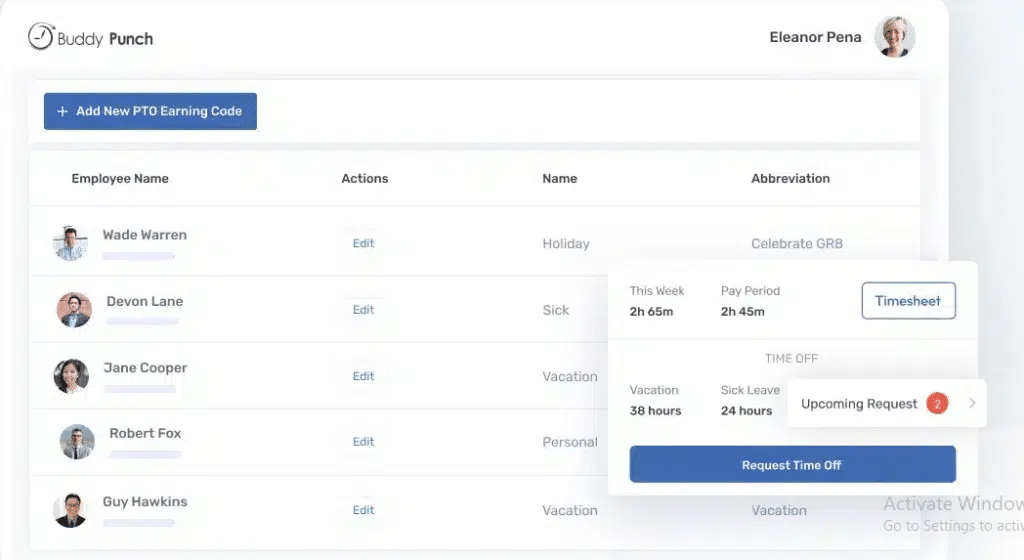 3. Once the request is submitted, you can view, approve, or deny the request. Or, you can customize your settings to approve the PTO automatically.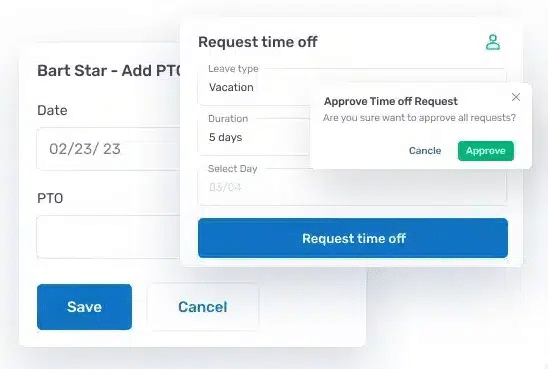 You can set up custom PTO accrual rules based on hours worked, payroll periods, or even work anniversaries. In addition, you can customize these rules for each employee. For example, you can have different PTO rules for hourly, salaried, or freelance employees.
Run Payroll
Online timesheets are just one aspect of Buddy Punch that helps you run your business. It's also an invoicing and payroll provider, or you can integrate our software into your current payroll system.
Here's a look at how to quickly run payroll.
1. Once a pay period is complete, click "Payroll" in the top navigation, followed by "Run Payroll."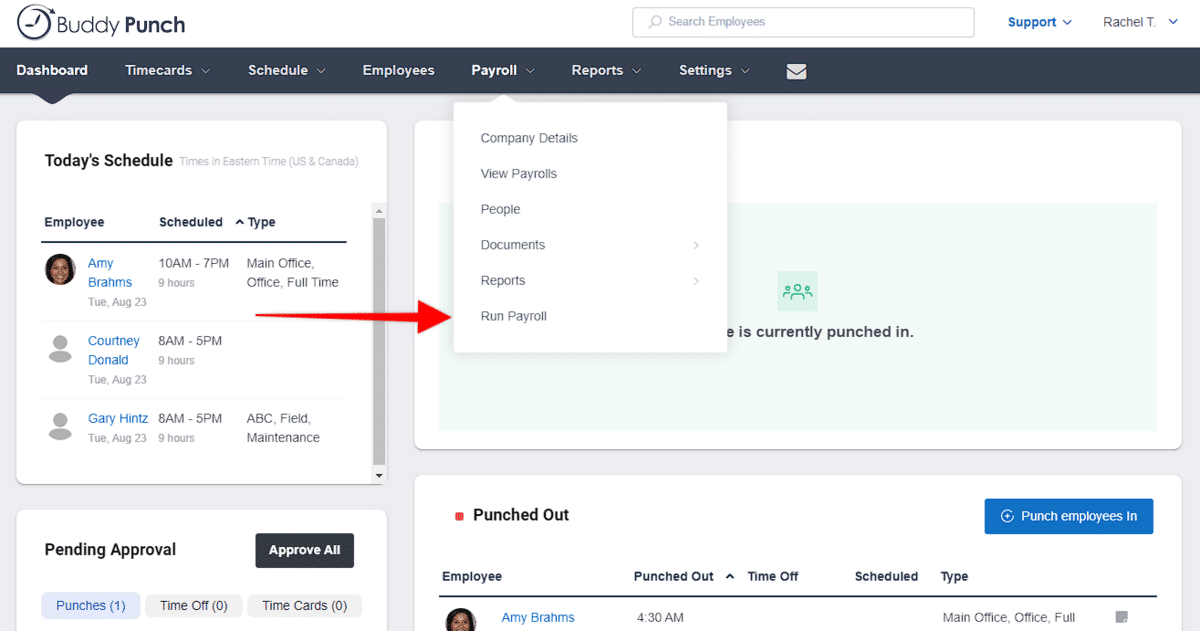 2. Select the pay period you want to run from the dropdown. Next, click "Run Report" to populate hours.
If everything looks good, click "Import time into Payroll."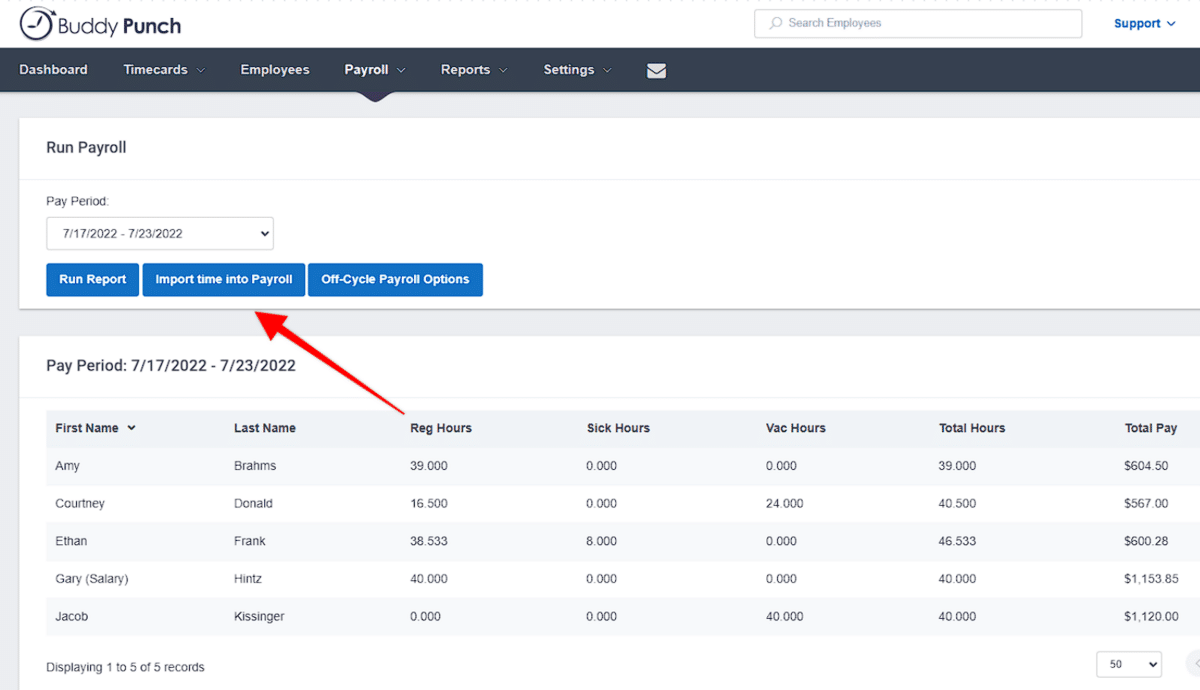 3. After your employee's hours have been synced, you will be able to:
Configure a custom pay rate.
Enter tax-free reimbursements.
If changes have been made to employee timesheets and you need to re-sync, choose the "Reimport time into Payroll" button in the top left-hand corner.

4. If you're ready to continue with payroll, click "Continue."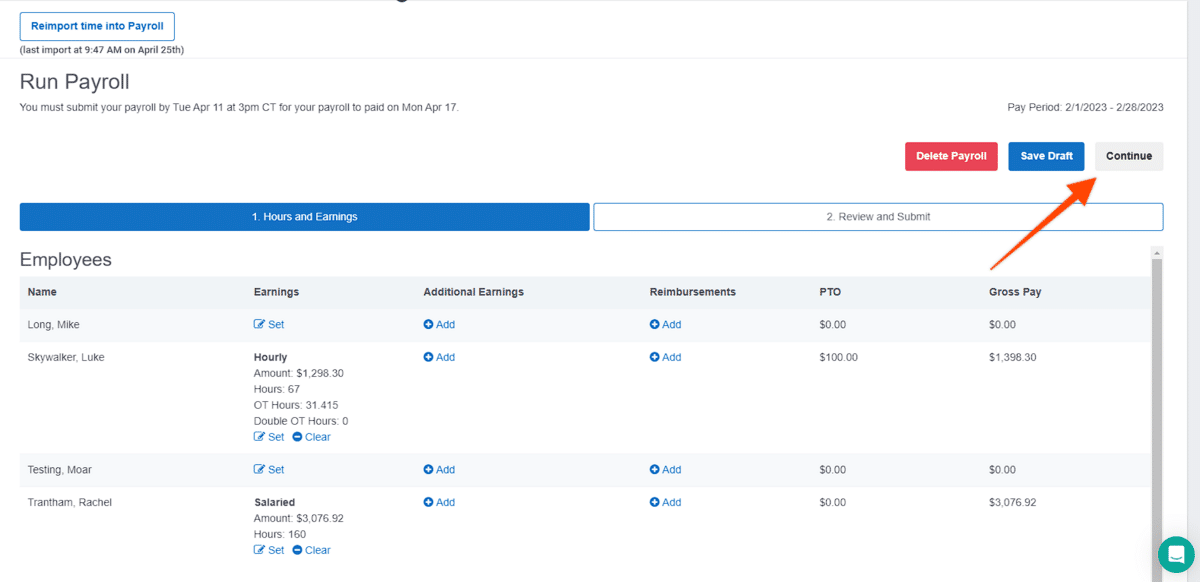 5. Next, you'll see a breakdown of pay and taxes for each employee, along with the total costs for payroll under the Cash requirement section. If everything looks good, click the "Submit Payroll" button.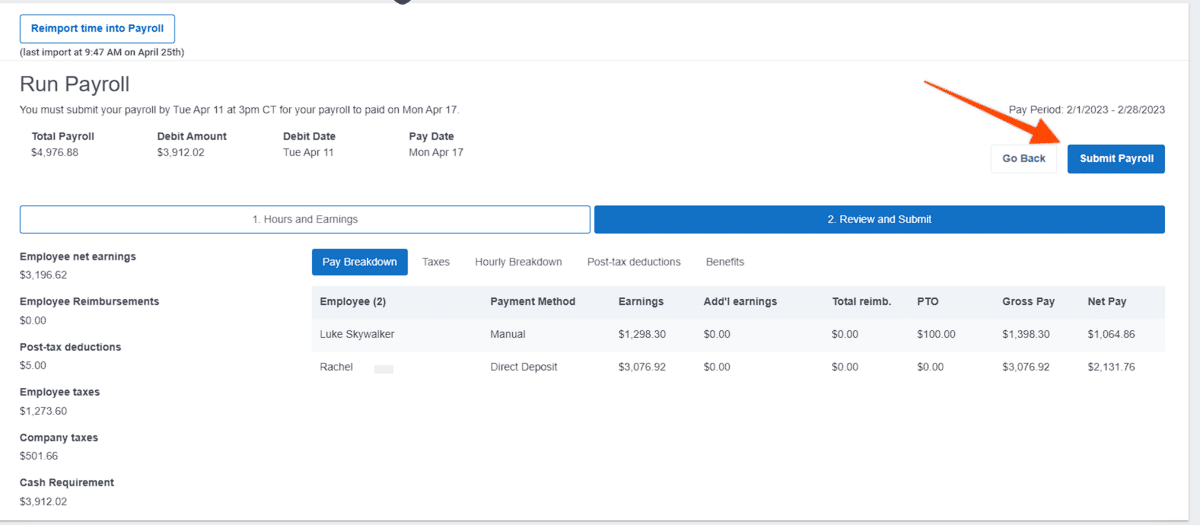 6. You've officially processed payroll! You will receive an email letting you know your payroll is pending and will also receive an email if there are any issues or once it's been processed.
You can also run payroll separately for freelancers or part-time workers. Once a freelancer sends you their billable hours and invoices, simply run payroll using the same method outlined above.
If you're happy with your current payroll process, you can use Buddy Punch as your timesheet software and then easily integrate or export your team's records into your payroll software.
We have ready-to-go payroll integrations with leading accounting software:
Zapier
QuickBooks
ADP
Gusto
Paychex
You can also export your payroll reports from Buddy Punch and use them as needed.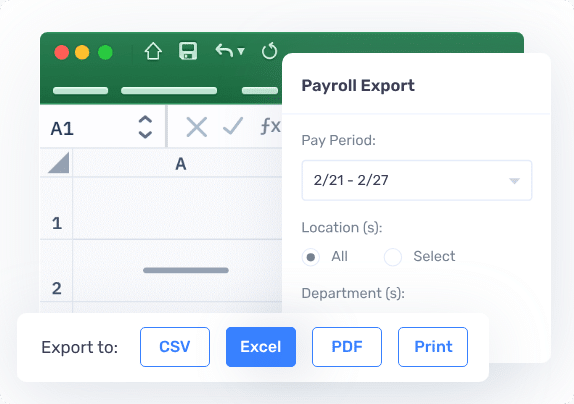 Real Customer Reviews of Buddy Punch
We think Buddy Punch is the best timesheet manager software for small businesses. We have over 900 reviews and 4.8 out of 5 stars on Capterra, a popular software review site.
Here's a selection of reviews highlighting our dedicated customer support and why our customers love Buddy Punch for employee time tracking and timesheet management. You can read all the reviews here.
"Best time clock we have ever had! Pros include ease of use and being notified if an employee does not punch out. The Geofence is great."

Read the full review here.
"It's very easy to use. We're easily able to navigate to keep accurate time of all employees. I appreciate that I can clock employees in and out."

Read the full review here.
"I love how easy it is for everyone to use. It can be used from a computer or on the app on your phone."

Read the full review here.
Other Timesheet Managers for Small Businesses
Here's a selection of other time tracking software solutions. Keep in mind that while some options come with free versions, pricing can vary based on the number of users your business needs.
2. Hubstaff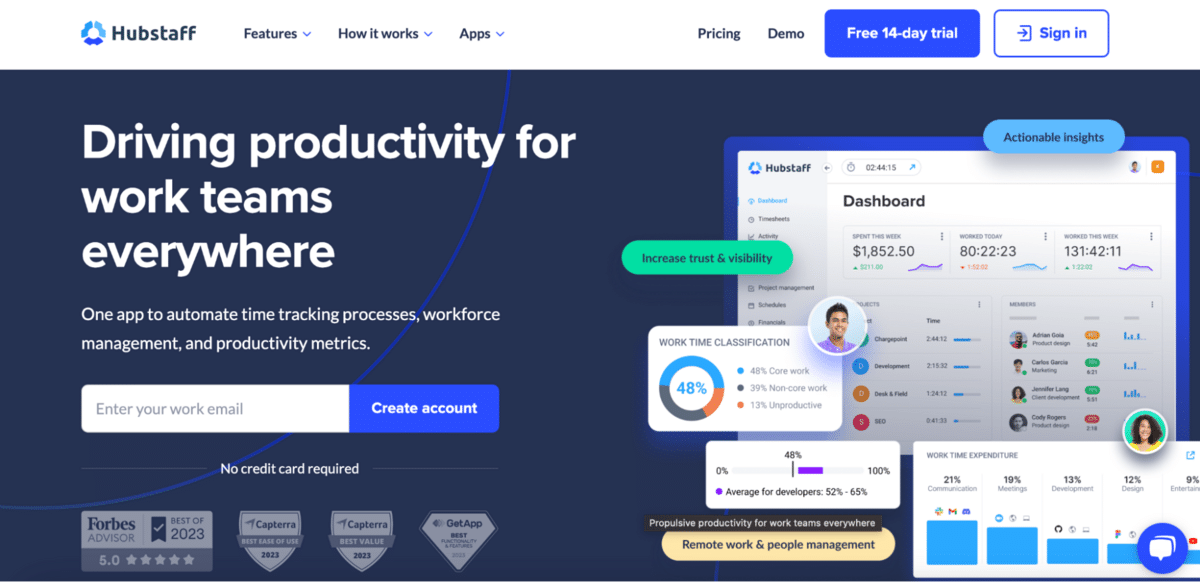 Hubstaff is a popular timesheet manager with a user-friendly interface that includes features for:
Managing multiple remote teams
Online & offline indicators
Idle time customization
Budget & time limitation
Tracking time offline
Automatic payroll
At the time of writing, Hubstaff has over 1,400 reviews on Capterra, averaging 4.6 out of 5 stars.
3. Connecteam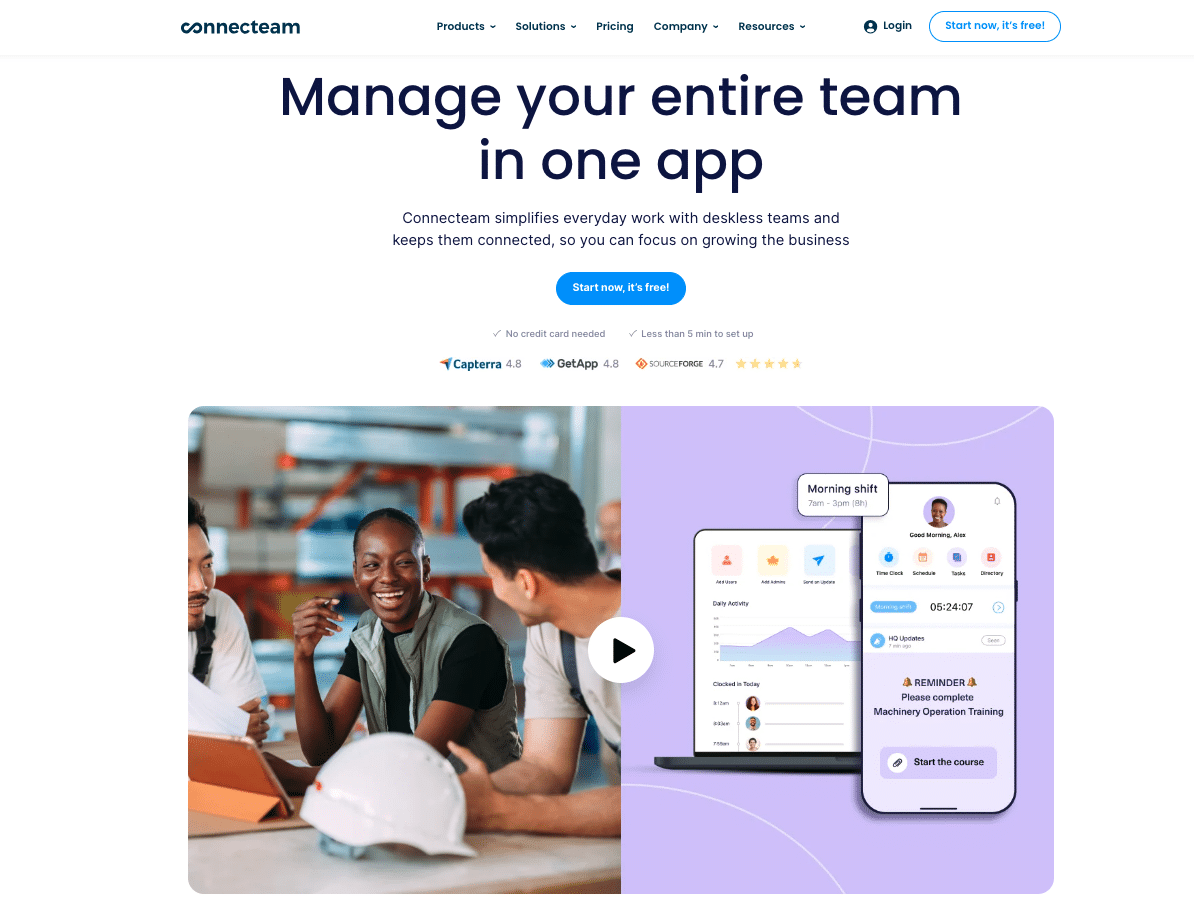 Connecteam offers plenty of features designed for time management, including:
Timesheet data
Employee time clock
Employee scheduling
Task management
Employee training
Employee communication
As of this writing, Connecteam has over 300 reviews and 4.8 out of 5 stars on Capterra.
4. TimeTracker by eBillity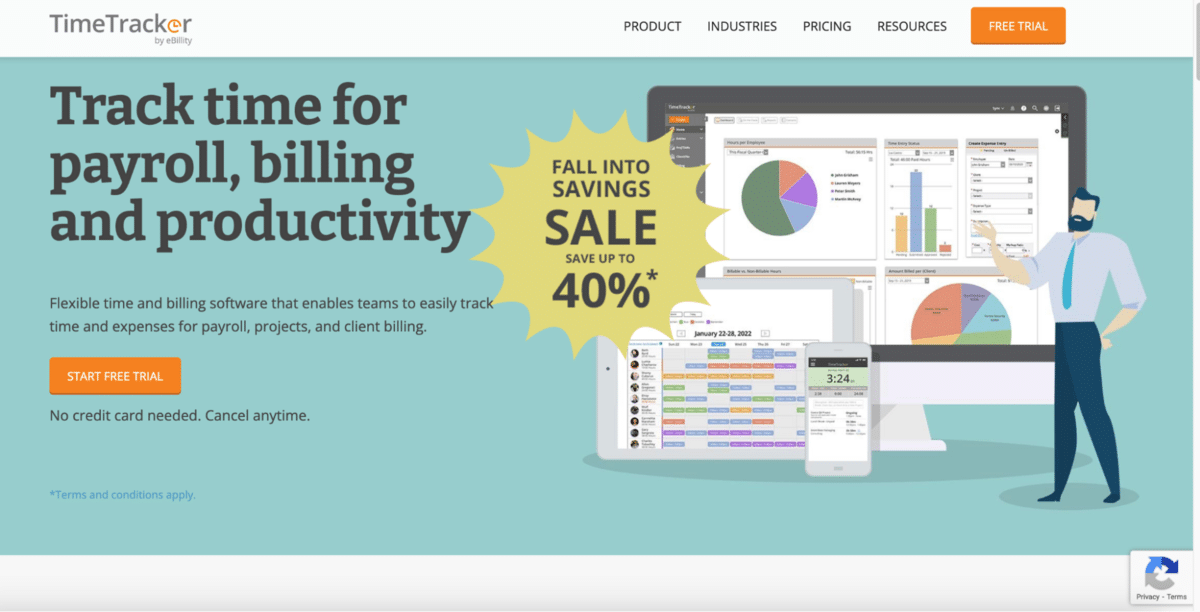 TimeTracker by eBillity is another excellent option for online timesheet software. Core features include:
Reminders & team messages
Monitor employee time
Web-based & mobile available
Detailed reporting
Offline & online timer
As of writing, TimeTracker has 4.4 out of 5 stars on Capterra with over 2,900 reviews.
5. OnTheClock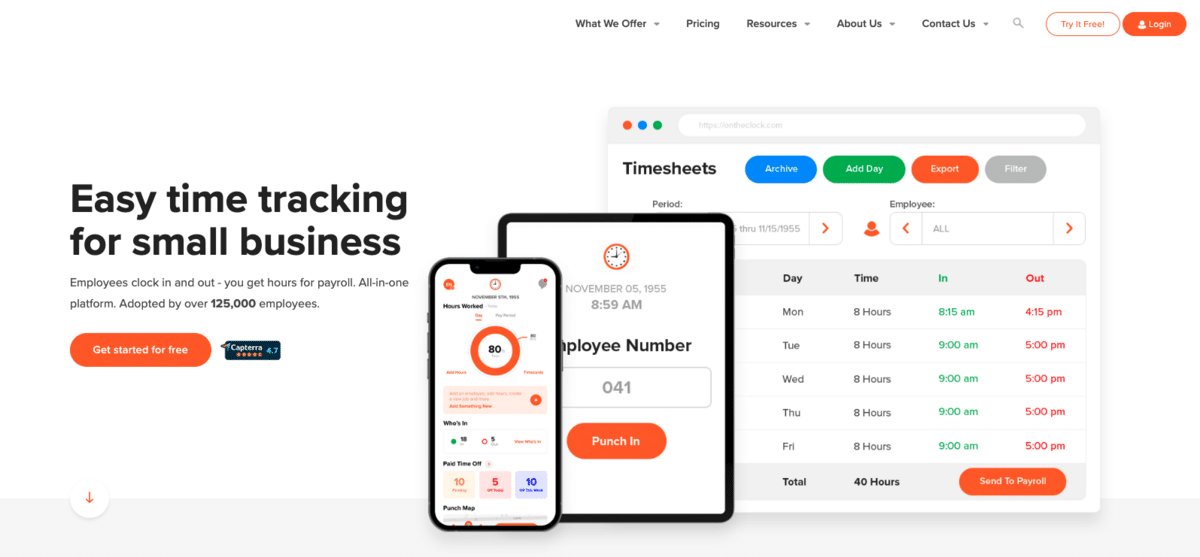 OnTheClock offers many timesheet management features, including:
Time tracking
PTO management
Shift scheduling
Payroll integrations
Fingerprinting for time punching
Mobile app
As of writing, OnTheClock has 4.7 out of 5 stars with over 500 reviews on Capterra.
6. TimeCamp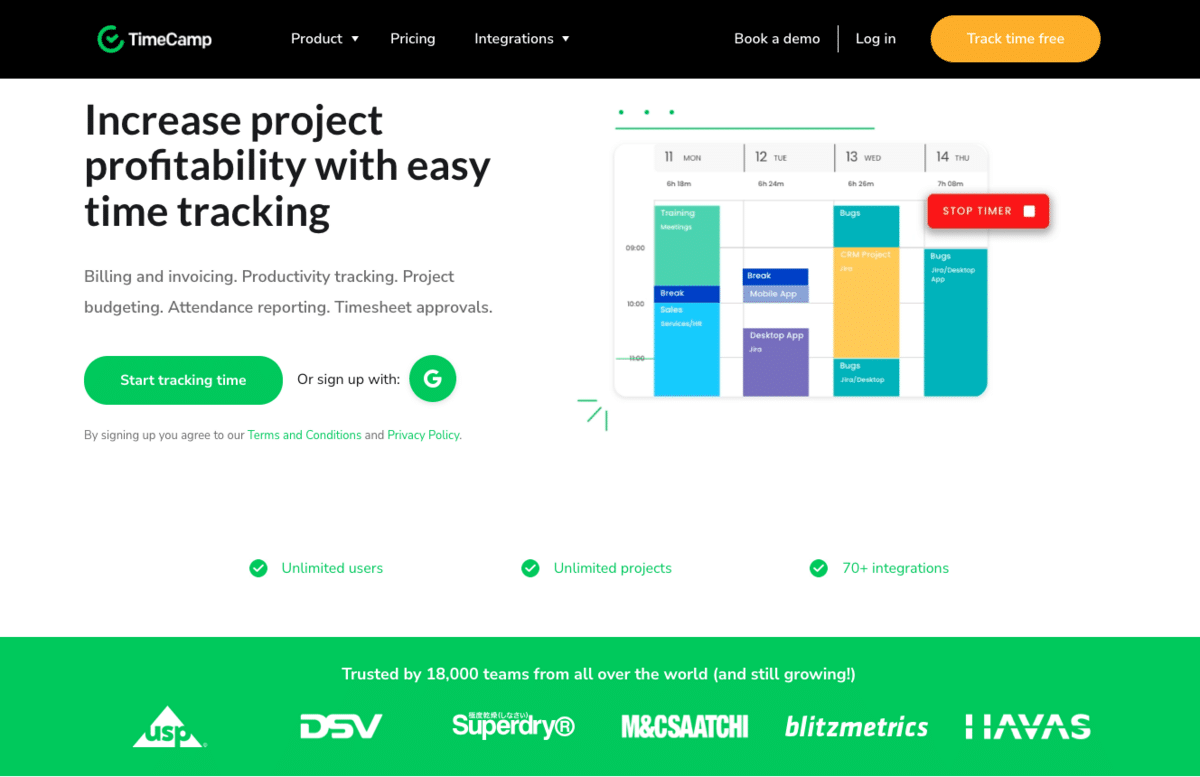 TimeCamp is a cloud-based timesheet management system that offers automated time tracking. Other core features include:
One-click time tracking
Mobile & desktop apps
Automated time tracking
Subtasks & notes
Income calculation
Timesheet approvals
Currently, TimeCamp has 4.7 out of 5 stars on Capterra, with 500+ reviews.
7. Time Doctor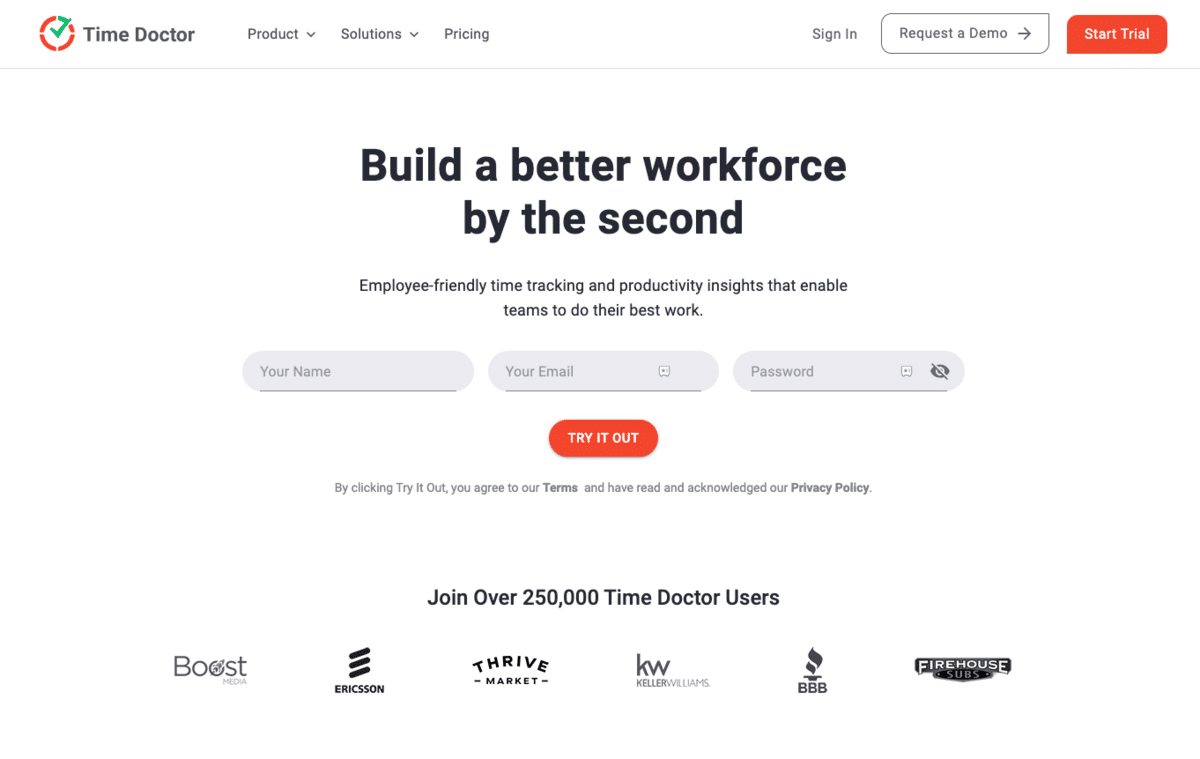 With Time Doctor, you can get insights into your team's workloads, activities, and schedules with automated time tracking. Other features include:
Time tracking
Employee productivity analysis
Employee monitoring
Payroll integrations
Browser extensions
A mobile app
Time Doctor has 4.5 out of 5 stars on Capterra at the time of writing, with 500+ reviews.
8. RescueTime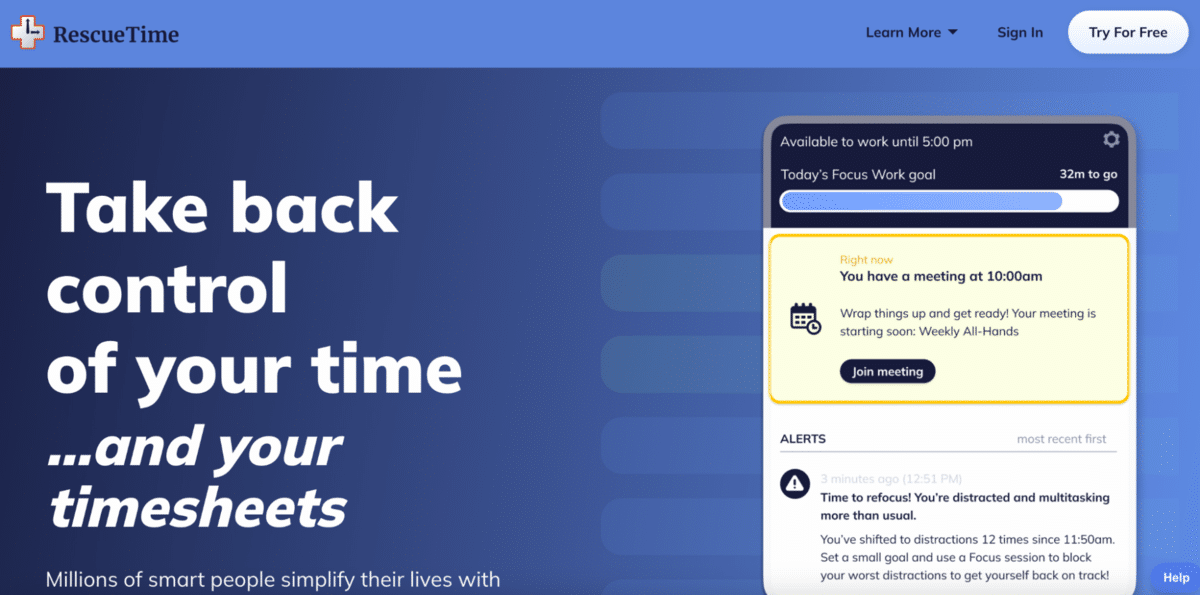 RescueTime offers advanced timesheet management capabilities like break monitoring, phone call tracking, and the option to log meetings. Other functions include:
Detailed reporting
Detailed filtering
Setting up daily goals
Productivity score
Blocking time-wasting sites
Tracking offline activity
Right now, RescueTime has 4.6 out of 5 stars, with over 100 reviews on Capterra.
9. Toggl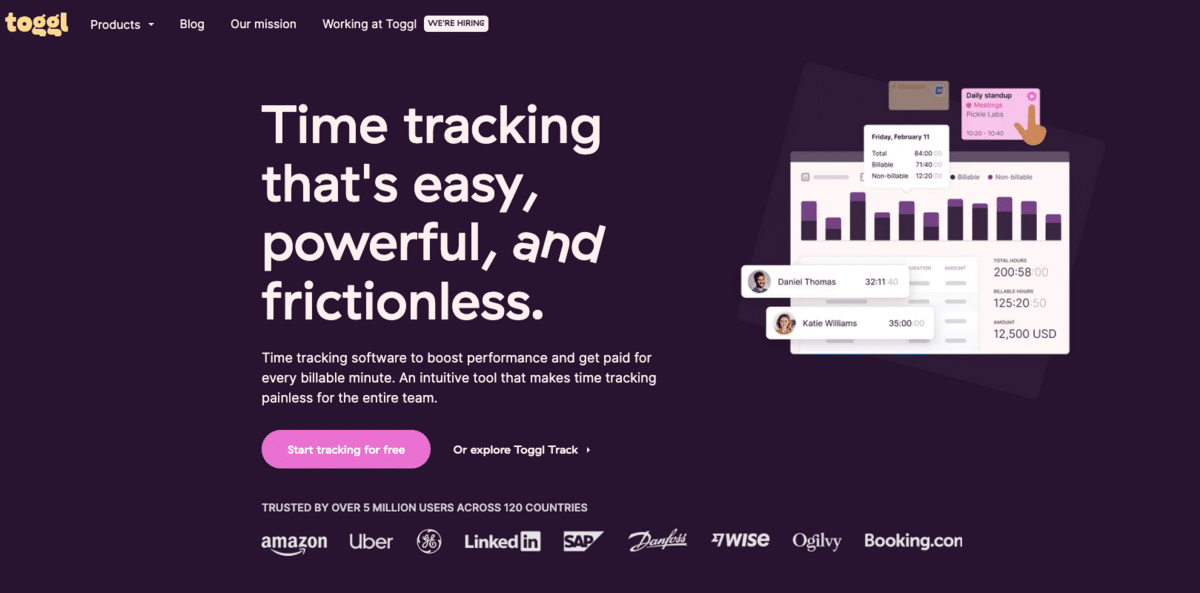 Key features of Toggl's timesheet manager include:
Exporting data based on users, tasks, or projects
A native calendar and integrations for project management tools
Separate tracking for billable and non-billable hours
Desktop and mobile app
Project budgeting
The ability to track time offline
As of writing, Toggl has 4.7 out of 5 stars on Capterra with over 2,000 reviews.
10. Deputy
Deputy offers timesheet management features like:
Making schedules compliant with labor laws
Automated payroll calculations
Time clock app
Wage and hour compliance tracking
Shift swapping
Store demand forecasting
As of writing, Deputy has 4.6 out of 5 stars on Capterra with over 600 reviews.
Learn More about Buddy Punch and Start a Free Trial
If you'd like to explore Buddy Punch as a timesheet manager in greater depth, check out these links below: