Is There an App for Timesheets? Unlocking The Key to Better Workforce Management (In-Depth Guide)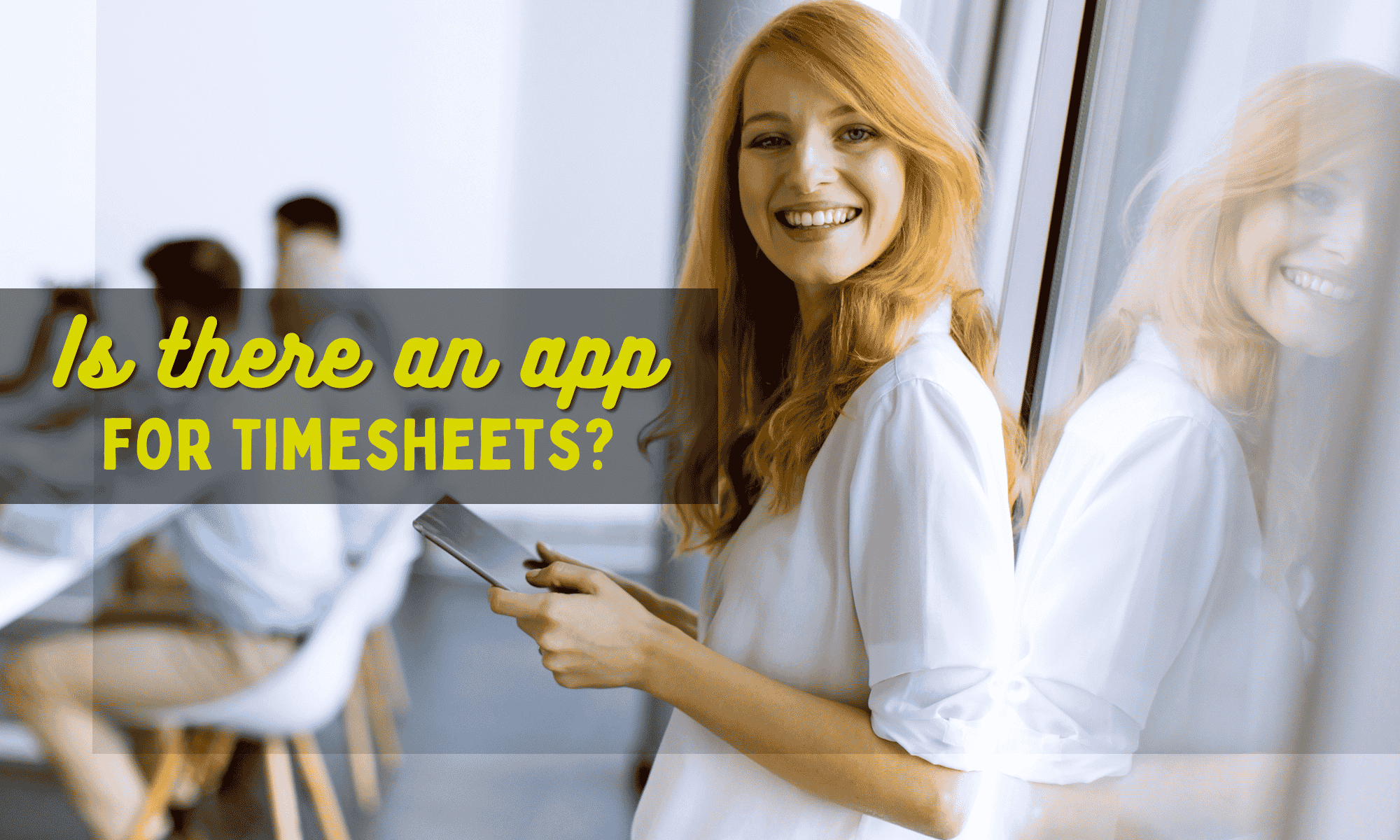 While most business owners are aware that timesheets are critical to reaching higher levels of productivity, efficiency, and revenue in the workplace, there's still some debate over the "best" way to go about time tracking.
Digital Timesheets vs Manual Timesheets
It's 2022, so it may come as no surprise that we believe that digital timesheets tend to beat out manual timesheets in almost every situation.
The main benefit to using manual timesheets, which causes some business owners to (rightly) hesitate to swap over to digital, is that manual timesheets can be remarkably simple for employees to use. If you're working with Excel for example, once you've designed a template you can keep reusing it and export the csv at the end of each pay period. All team members would have to do is input their billable hours for each time they clock in or clock out.
If your manual time entry process is this simplified, then it would be a mistake to swap to any digital timesheet that further complicates the process.
At the same time, any digital time tracker that keeps the process comparably simple would then allow you to access other features that could aid with employee and project management.
Creating, Finding, or Choosing Your Timesheet Software
In this guide, we're going to cover every major aspect of using timesheets to track employee productivity and work hours. We'll cover a few options of popular time management software that businesses of all sizes enjoy using, touch on how you can create a simple free timesheet of your own if you so wish, and talk about a few different specifications to help select your ideal employee timesheet app.
By the end of this guide, you should feel secure in your choice of method of employee time tracking.
Is there an app for timesheets?
Is There an App for Timesheets?
Yes, there's an app for timesheets for your business. It doesn't matter if you're in hospitality, contracting, self-employed or working at a small business – there are so many software offerings now that you can absolutely find a timesheet that would be a great fit for your business, regardless of your niche.
The only downside is that you're going to have to wade through a lot of options. To help with that, we've created a simple 3-pronged criteria for what we feel the best timesheet apps should have:
Simplicity. In order to ensure that your team members can adapt to usage of the functions, regardless of how tech-savvy they are, the software should be as simple to use as possible. Bonus points if it's also intuitive and sleek in its design.
Accountability. The main reason to use a timesheet app is to hold employees accountable for their time – but that could be accomplished simply enough with an Excel document. If you're going to implement an entire software into your workflow, it should come equipped with additional options that further improve accountability. Features like GPS tracking, PTO management, Screenshots on punch, and more are borderline mandatory for modern time tracking software.
While you can adjust your priorities on these attributes based on your needs or use this as a guide and figure out your own desires, the idea is the same: going into your options with your goals in mind will help you not get caught up in additional reporting features that complicate time tracking.
Once you've narrowed down what you're looking to get out of a timesheet app, you can start narrowing down your search.
Next, let's have a look at some popular timesheet app options.
Buddy Punch as a Timesheet App
Buddy Punch is an online timesheet app that embodies the three core attributes we've outlined above. First we'll detail the features it has that helps achieve these. Then, we'll dive into how exactly each feature empowers business owners.
Note: If you'd rather try out Buddy Punch for yourself, you can access a free 14-day trial of the software here.
Simplicity Features
One-Button Clock In
Single Sign On (SSO)
Drag & Drop Scheduling
Employee Accountability Features
Geofencing
GPS Tracking
Notifications
Punch Limiting
Streamlining Features
Payroll Integrations
Time Off Tracking
PTO Accruals
Payroll Reports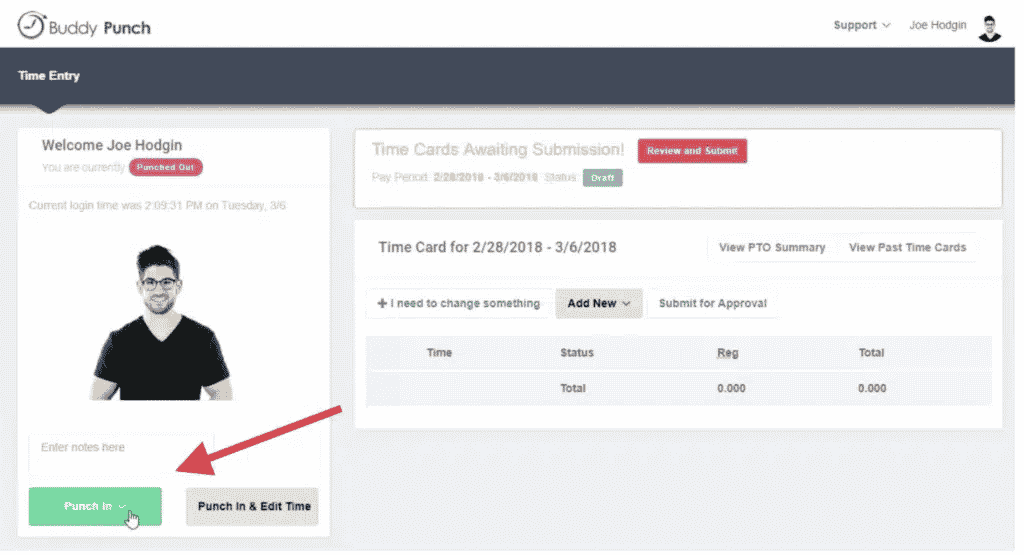 Buddy Punch functions as a time clock on any device with an internet connection (Desktops, Smartphones, Tablets, etc.) Regardless of what device your team members use to access it, clocking in is always as simple as one click.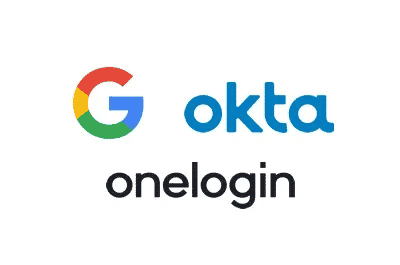 Buddy Punch's Single Sign On also enables team members to have an easy time using this software, allowing them to sign into their accounts using their existing services through other businesses (Gmail, OneLogin, or Saml 2.0).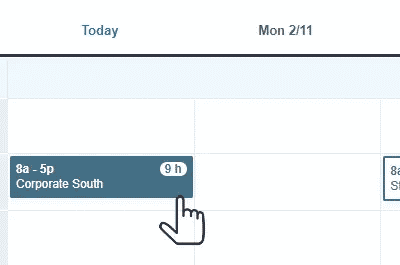 You can streamline employee scheduling with Buddy Punch, creating shifts simply by clicking on an empty cell. You can then drag and drop that shift as needed. This feature serves to give both business owners and employees a visual overview of their scheduling, making it easier to close gaps and allocate hours fairly.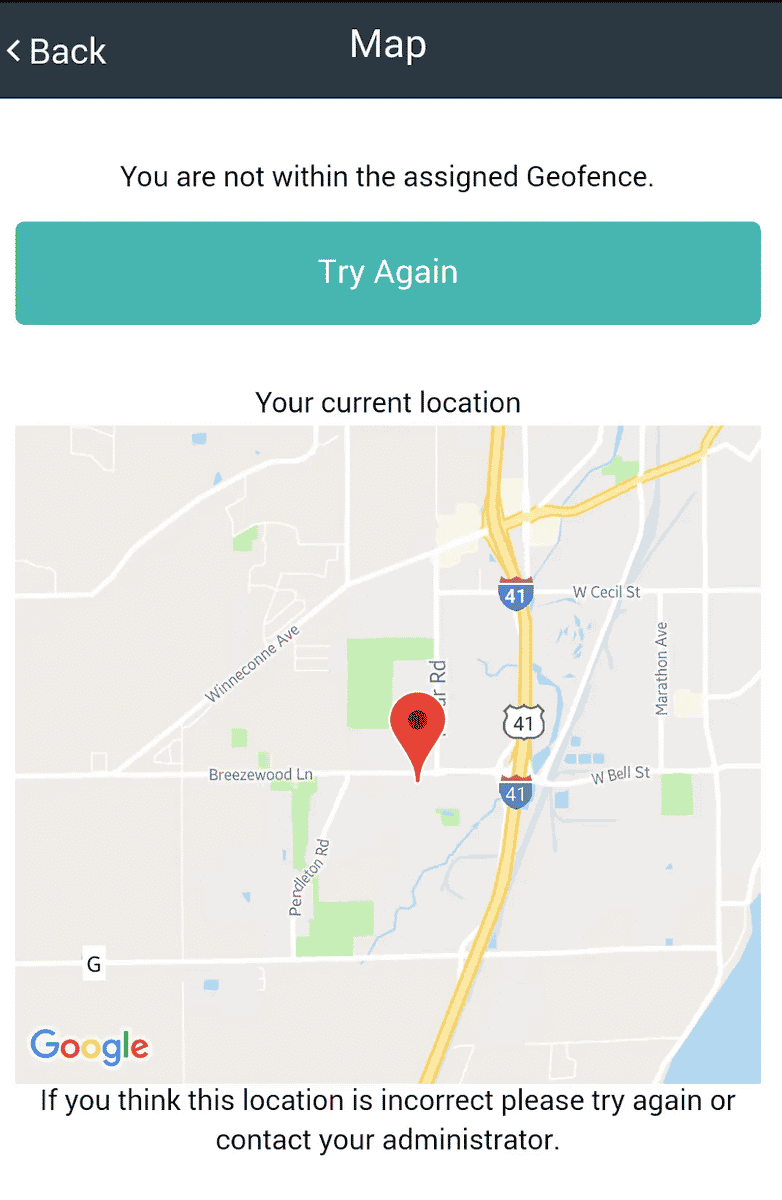 The geofences feature makes it so that you can create an entire zone where employees can clock in and out, giving you control over job sites. If an employee is not within one of your designated radii, time tracking cannot begin.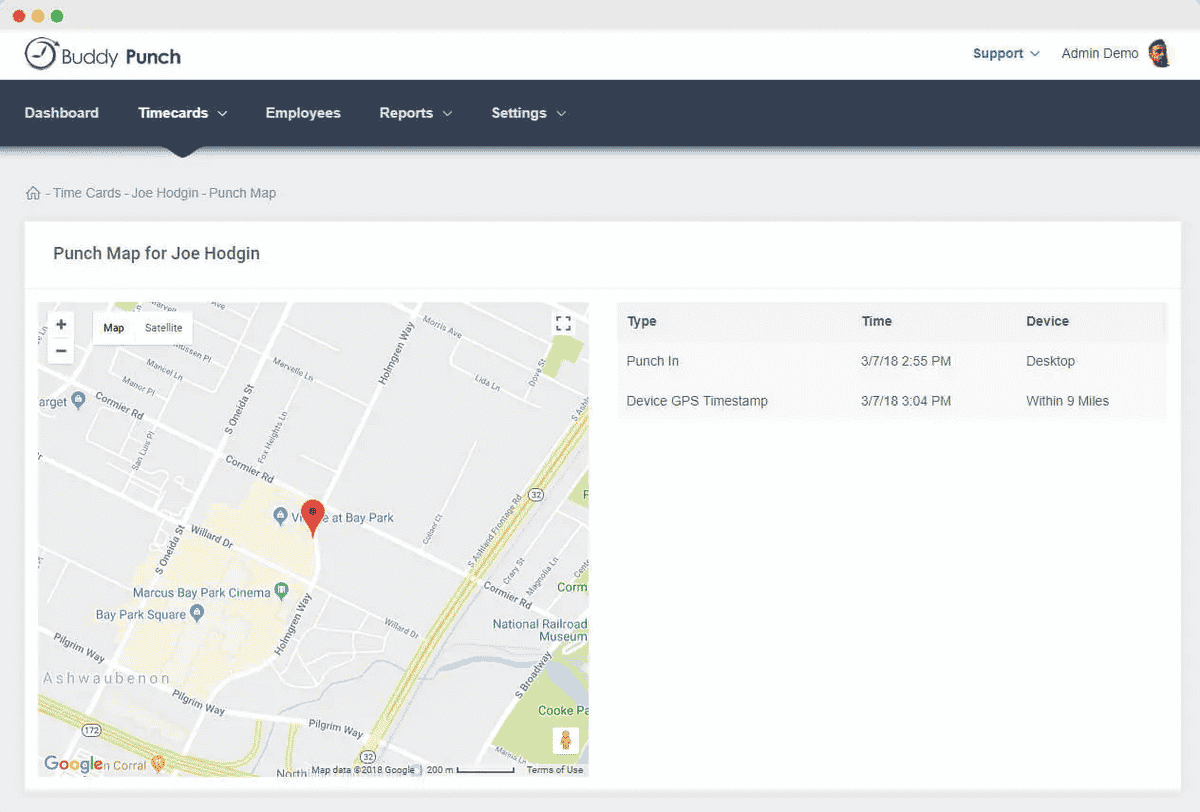 Buddy Punch's real-time GPS Tracking lets you monitor where your employees are when they're not at your job site via their phones (iPhones or Android). This is perfect for Work from Home or remote jobs, ensuring that employees are still productive while they're on the clock.

The Notifications Feature enables improved team communication by allowing managers to send alerts to team members for various updates (for example, when publishing an altered schedule). Similarly, team members can send a notification to managers when they'd like to request time off. They'll get an alert back from you when their request is approved or denied.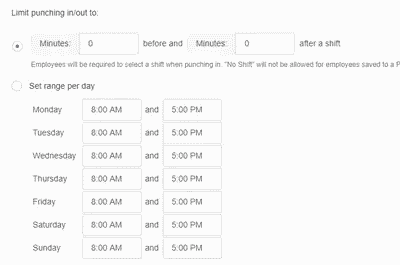 Punch Limiting is an example of the customizable automatic time tracking features Buddy Punch has to offer. With this, you can automatically cut off employees who tend to to punch in early or punch out late (and accumulate overtime).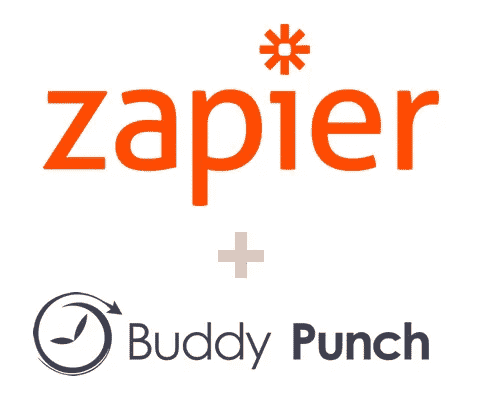 Buddy Punch was built to be a tracking tool you could implement smoothly into your existing operations. To help achieve that goal, we've made it integrate with some of the most popular payroll software. View the comprehensive list of Buddy Punch's Payroll Integrations here.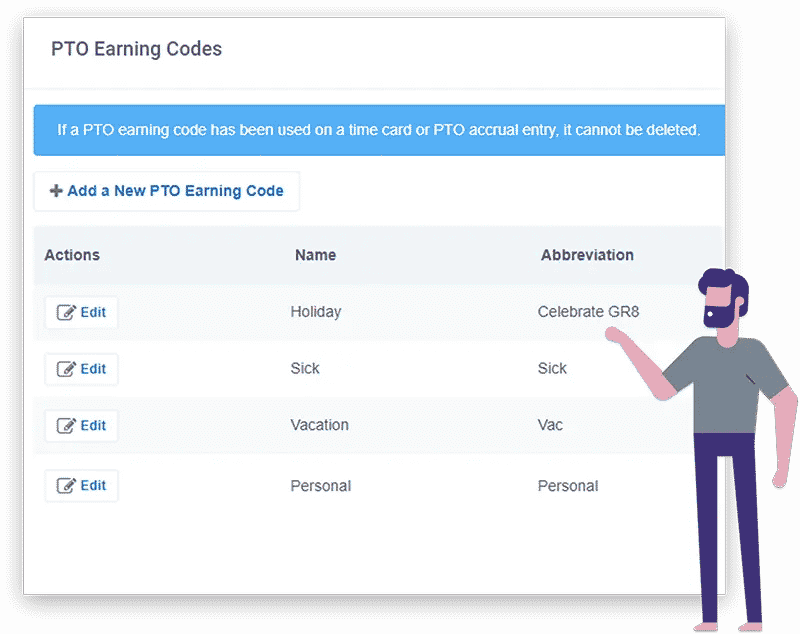 Automate parts of the Paid Time Off tracking experience through using Buddy Punch. We enable you to manage a variety of different custom PTO types depending on your needs.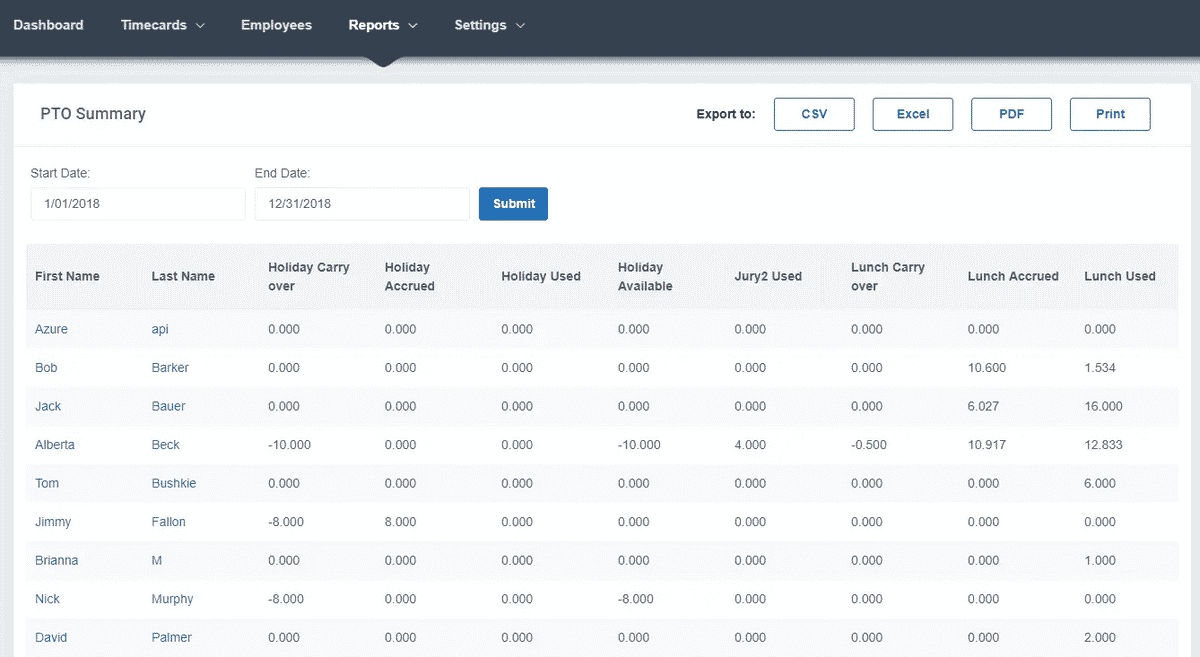 For businesses using an accrual method to monitor Paid Time Off, you can create a rule in Buddy Punch to let PTO accrue anyway you want. This feature includes a PTO Summary Report that lets you see what PTO carried over, accrued, was used, and how much PTO is currently available.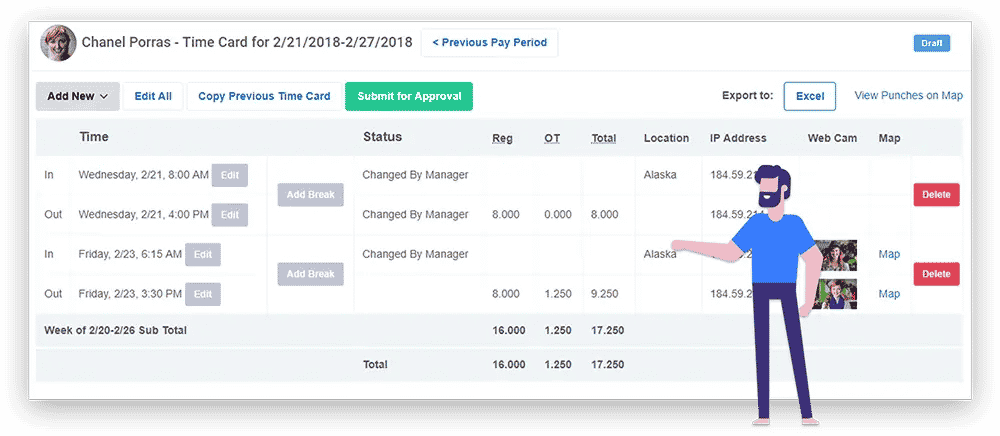 Buddy Punch offers a variety of customizable reports that can be exported as Excel CSV or PDF. This includes the capacity to create a detailed Excel view of your payroll (with Employees, Overtime, Locations, and Departments).
What Users Say About Buddy Punch
At the time of this post's writing, Buddy Punch has a rating of 4.8 out of 5 possible stars on Capterra (with 676 reviewers). Here's what some of these business owners had to say about Buddy Punch's functionalities and usage:
Very easy for employees and administrators alike to track time and edit if necessary. Provides accountability for our employees with the location settings such as GPS/Geofence. Provides a variety of reports that are helpful. Provides our employees with mobility–we can send them to any job site, and they have the ability to punch in/out.

Katie B. (Click here to read the full review)
Overall its a great app!!! I was able to easily navigate the app and desktop app. The guys were able to easily use it! It was much more efficient than the handwritten time sheets we have been using.

Holly S. (Click here to read the full review)
Buddy Punch is easy to use for managing our remote team members. It's easy to set them up in they system, establish their locations, and manage how they can punch in and punch out.

Rick S. (Click here to read the full review)
Don't just take their word for it. You can try Buddy Punch with a 14-day trial for free.
Next, let's check out some of the other popular choices for a timesheet app.
Does Google Have a Timesheet App?
In a way, yes, Google has a timesheet app available in the Google Workspace Marketplace. It isn't a software created directly by Google, but it is one that passed the app review in order to be listed in the marketplace in the first place.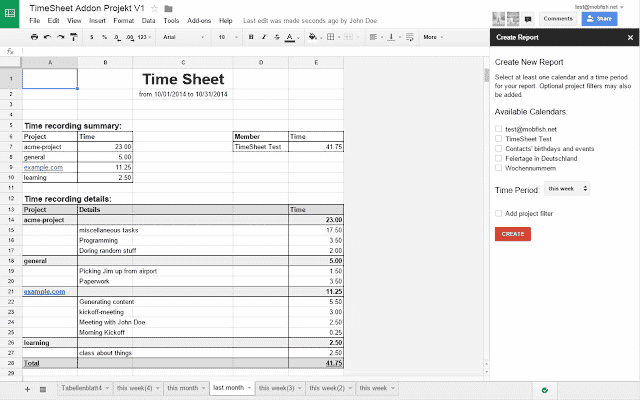 This tool creates a spreadsheet that connects with your Google account to be used with Google Sheets and other Google apps (such as Google Calendar and Google Docs).
Users might like this option because it's got a fairly simple design and usage (anyone familiar with Google Sheets or Excel can probably manage this), it keeps employees accountable with time tracking, and its templates help streamline the time tracking process.
That said, it is a little technical (requiring the usage of #tags to create entries or make comments) which can make it less attractive for business owners and team members. Not to mention that this tool has no available customer support (though you could reach out to contact the developer at their website).
It makes up for this by being free, however, and has a rating of 4/5 stars based on 302 reviews, and has been downloaded a total of 435,751 times. Learn more by clicking here.
What is Timesheet Mobile App?
Timesheet Mobile App is another popular tool for employee time and task management. This tool specifically focuses on mobile time tracking, which means functionality on iOS and Android devices.
Let's see how it adheres to the philosophy of Simplicity, Accountability, and Streamlining.
Simplicity is achieved through a barebones UI designed to work across a wide variety of devices.
Accountability is covered by a diverse range of features such as Geofence TIme tracking, COVID-19 Employee Screening, Work Scheduling, and more.
Streamlining is reached through Integrations with Payroll software (in a manner similar to Buddy Punch), in-app team messaging, and an alerts feature designed to cut down on overtime.
At the time of this post's writing, Timesheet Mobile has a rating of 4.2 out of 5 stars on Capterra, based on 19 reviews (see here).
Timesheet Mobile is a true business partner that is flexible and responsive to our needs. Their software has enabled us to become more efficient, more aware and better prepared for our work week. The monthly savings is just the cherry on top.

Click here to read the full review.
How Do You Use a Timesheet Phone?
For some business owners, the existence of Timesheet Phone – an app entirely focused on time tracking on employees' mobile devices – might raise the question of how you use a timesheet phone. You use it on your phone by using an app (iOS or Android).
Any time reporting app that works on mobile phones will function in one of these two ways:
Through the web browser on a mobile device
As an app created to function on a mobile device's operating system (iOS, Android, etc.)
The most versatile timesheet apps will do both.
Most timesheet phone apps are designed to not drain your team members' phone batteries by running in the background or sending data intermittently rather than in a continuous fashion.
6 Tips to Determine if You've Chosen the Right Timesheet App
Whether you've chosen one one of the timesheet apps we've mentioned, or tried some other (such as Clockify or Hubstaff), here's a checklist you can use to help you figure out if you've found a winner.
Consider making use of the free trial or any demos the product may offer. While a limited number of timesheet apps are free, they tend to restrict functions or number of users to make up for it. Instead, look to paid apps that offer a free version to let people try out their functionalities. Then you can get a proper feel for the software and determine if they would help you save money, thus making up for their price.
Ask yourself if the timesheet app feels invasive for the average person. Will your employees feel like they're being spied on? Or is it simple enough to use that they'll rarely have a second thought about it? How disruptive is it to their daily process?
How is the customer support? It's important that the timesheet app you choose to use has responsive customer support, since you'll be relying on uptime and improved features for the foreseeable future. Consider how the pandemic rapidly increased the desire for Work from Home monitoring tools. Do you believe the timesheet app you're considering would have been able to develop features to accommodate that sudden change?
Think about how long it will take you (and team members) to get used to using the software. How intuitive would you say its functions and designs are? If it's too complicated, it may reduce your workforce productivity rather than increasing it.
Make sure you look into pricing plans as well. Some businesses offer a flat pricing fee, while others base their pricing on your team size. Keep your budget in mind when choosing your tool, while remaining aware that the positive benefits will improve your revenue in less visible ways.
Lastly, you can look into reviews of the timesheet app to see what other people are saying about the software. The Capterra website lists a wide variety of software, allowing users to assign ratings for categories (such as Ease of Use, Customer Service, and Likelihood to Recommend). If you do a search for a timesheet app you're considering, you'll likely find a result.
Is There a Free Timesheet?
Yes, there is a free timesheet you can use if you're convinced you'd rather stick with a manual method of time tracking. Many different websites offer free timesheet templates that you can download.
Here are some free Excel timesheet templates (weekly, biweekly, and monthly) for you to download: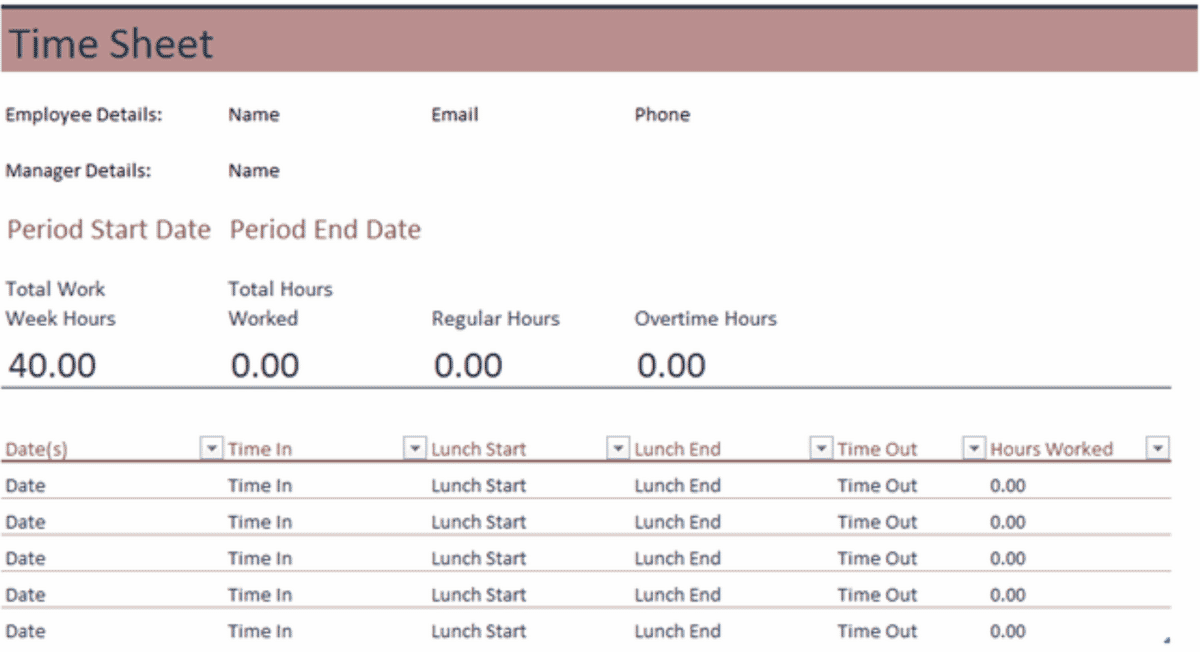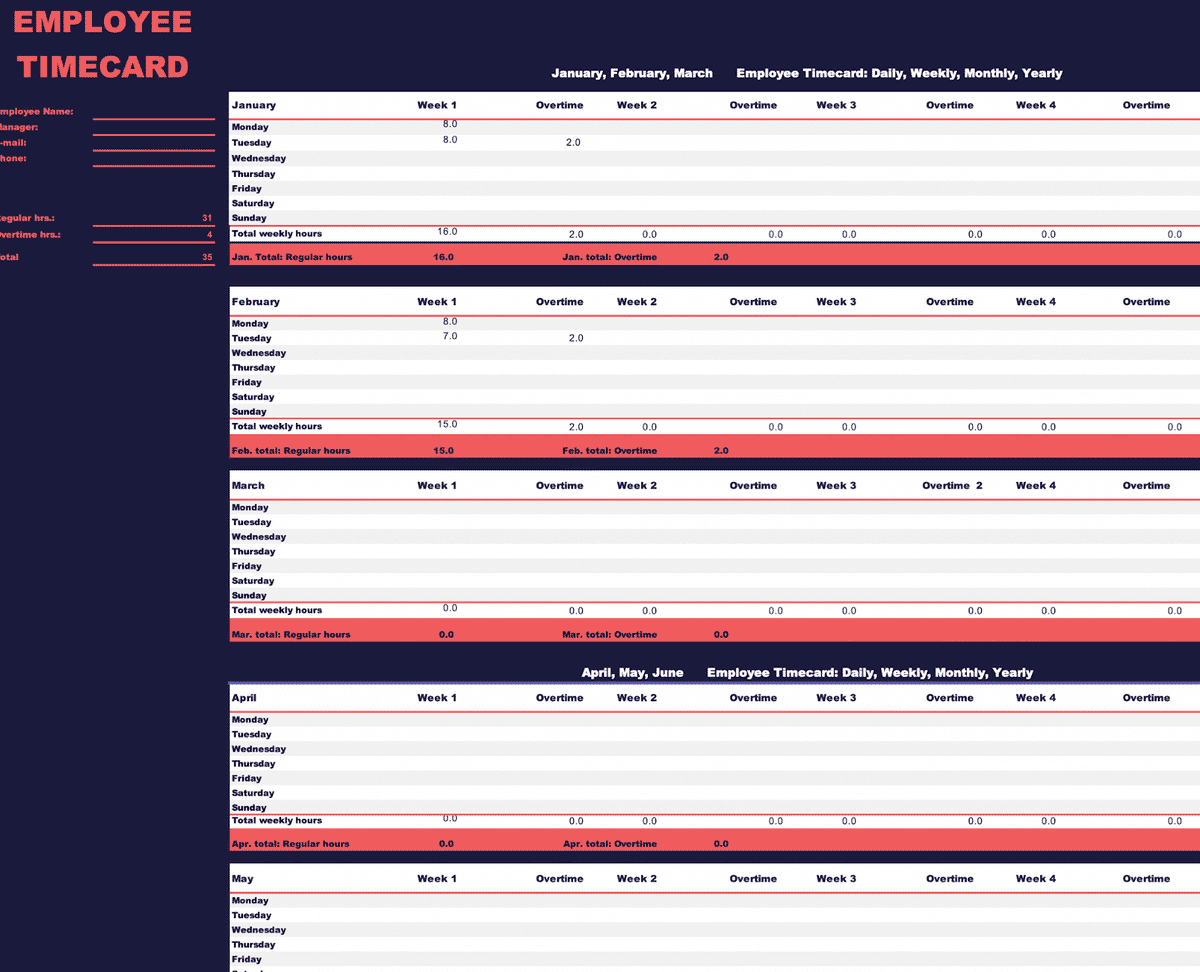 It's worth noting that the Microsoft Excel website has an even more diverse selection of free timesheets available.
Is There a Free Timesheet App?
Yes, there are Free Timesheet Apps you can use. However, it's important to keep in mind that many of these tools limit their features or functions for their free plans. Don't expect to be able to use a timesheet app for unlimited users, for example.
Here are some of the more popular timesheet apps with free plans:
Clockify has helped my team get our projects organized for quite some time. We enjoyed the free version for a little over a year before we started opting for the paid version since we want to take advantage of some of the paid features such as automation, API integration, templates, and other productivity features to further improve our operations.
All in all homebase's functionality does a great service to our small business as a tour company with erratic hours and at different pay scales. The payroll integration with Gusto is key here.
Overal, I have been using ActiTIME self-hosted version for over 4 months and I love it. It provides me with everything I need to track my daily tasks, to properly provide clients a detailed report on tasks for invoices I send using Invoice Ninja and lastly it doesn't require a monthly subscription which is always a plus!
I love Toggl Track!! As a freelancer, it's indispensable for keeping track of my hours by project or client so I can create invoices (outside of Toggl Track). It makes it easy to collect the data to calculate the time I need for certain types of work, and helps me keep track of my training hours, which I need for my professional organization. All in all, I can't live without it and recommend it highly.
How do I Create a Timesheet App?
Some more enterprising business owners may be wondering how they might go about creating a timesheet app of their own. If you don't want to go through the trouble of coding one from scratch, you can actually build one using a couple of existing tools:
* You can use Microsoft PowerApps to create a timesheet app through using certain templates or guides.
* Appypie Appmaker has a template you can use to create a time tracking app for free.
Alternatively, you could turn to Open Source Timesheet Apps and customize them however you wish:
Redmine is an open source project management app with features such as time tracking, project support, and email notifications.
eHour is another open source, web-based time tracking tool that can be run on your own devices or as a hosted solution.
How do I Make an Electronic Time Card?
If you want to make your own electronic time card, rather than using templates, Google Workspace actually has a short (4 minute) video guide on how you can create a Digital Time Card using Google Forms and Google Sheets.
Choosing Your Ideal Timesheet App
We've thoroughly covered the various options a business owner has to upgrade how they go about time tracking with timesheets. Whether you want to use a timesheet app, create your own, or use optimized templates, there are enough options out there to find a method that works best for you and your team.
That said, if you're leaning towards choosing a Timesheet App, you can't go wrong with Buddy Punch. The sheer amount of features offered grant business owners the perfect mix of accountability, streamlining, and simplicity in order to improve employee productivity and engagement.
Try Buddy Punch Free
Don't just take our word for it, watch our pre-recorded demo video or book a one-on-one demo to get a walkthrough of Buddy Punch. Alternatively, you can try Buddy Punch for 14 days free (every plan comes with a built-in free trial).

You May Also Like…