In-Depth Comparison of 4 Homebase Alternatives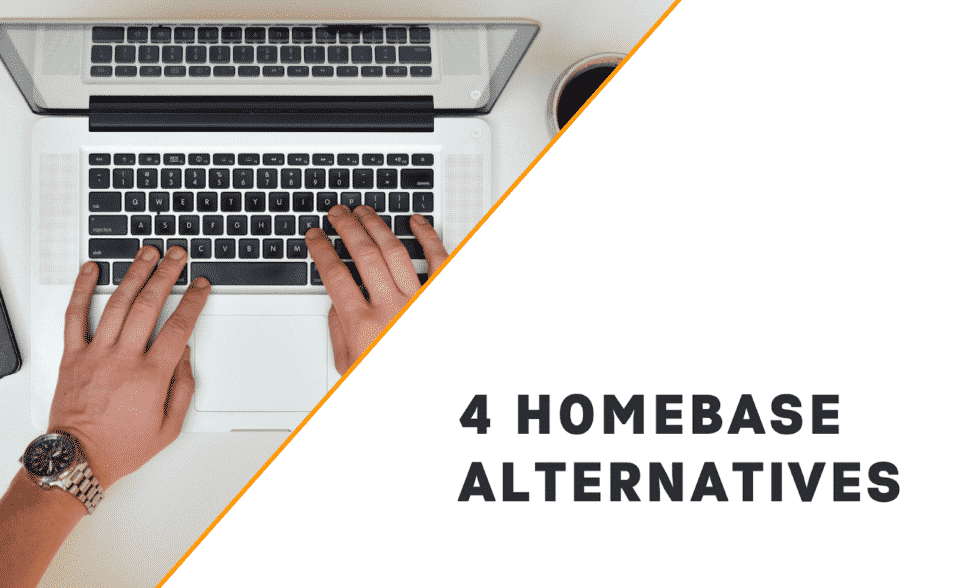 In the eight years we've run Buddy Punch, we've had countless conversations with businesses about the challenges they faced when tracking time for their employees using traditional methods (i.e. paper time cards and timesheets, Excel spreadsheets, etc.).
From those conversations, we've gathered that most businesses run into the same three problems in workforce management:
Accountability: Employees being dishonest when punching in/out of work.
Payroll: Running payroll manually using inaccurate timesheets can be an inefficient and arduous process.
Scheduling: Manually crafting scheduling for your team is complex and time consuming.
Turning to an employee time tracking and scheduling software can help you solve these specific challenges. But there are many solutions on the market, and each one comes with its own strengths and weaknesses.
Some, for example, started out as scheduling tools and then expanded their features to cover automation, accountability, and payroll – which means their core strength lies in employee scheduling.
Others began as accountability and payroll-first tools and then grew to cover scheduling-related features, meaning their core strength lies in employee time tracking.
We've written this article to help you find the Homebase alternative that best fits your specific business needs.
Read on to find our picks for:
Best for small businesses looking for help with scheduling: When I Work
Best time clock app for enterprise companies: Replicon
Note: To learn more about Buddy Punch, visit our site here and sign up for a free trial.
Best Time Clock Apps for Small Businesses Looking for Accountability & Payroll Features
Buddy Punch was born as a management software to help with both accountability and payroll.
While we do offer scheduling features that may suit your business' needs, we have less scheduling features than other time clock apps, such as When I Work. Our main focus is performance management and optimization to improve profitability while simplifying your existing workflow.
If you're looking for a time management app whose strength lies in accountability and payroll, Buddy Punch may be the best fit for your company.
With Buddy Punch, you can:
Increase Accountability for Your Team with:
Streamline Payroll with:
Simplify Scheduling with:
Below, we'll explore each of these features in detail.
Buddy Punch's Accountability Features
A lack of accountability from your employees when punching in/out of work leads to inaccurate timesheets. We learned this lesson in our previous business endeavor, when we struggled to track time for over 20 employees (across three different business locations).
If you can't keep your employees honest, you'll waste countless hours and money trying to fix inaccuracies and reduce labor costs when it's time to run payroll.
This is why we built the following features: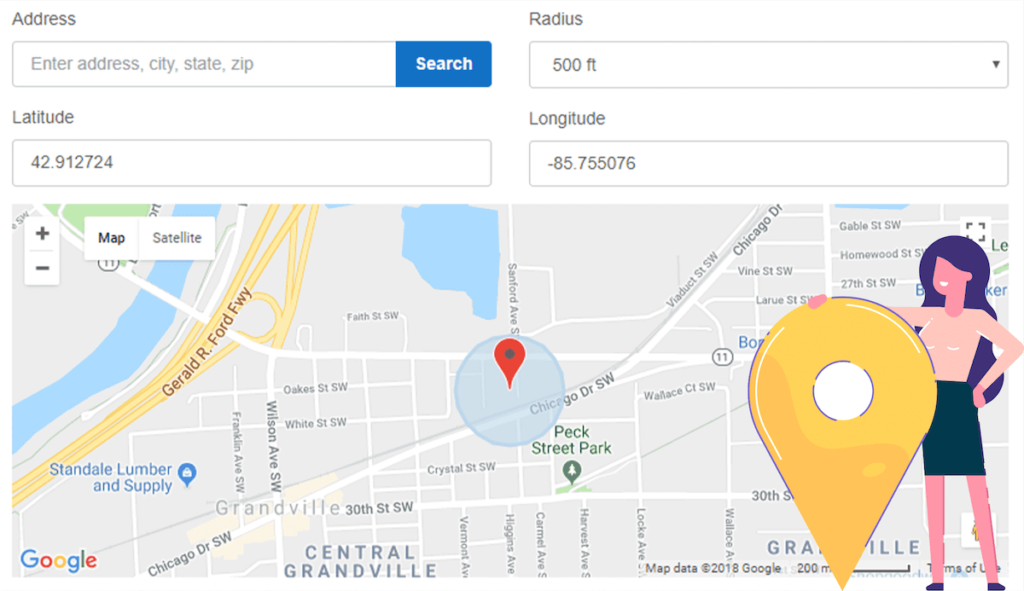 Our Geofencing feature allows you to set up limiting radiuses to your employees' punches, meaning if they attempt to punch outside your predetermined radius, our app will show them an error message.
To set up a Geofence, simply log in to the Buddy Punch platform, input the address you'd like to act as the center of your Geofence, and select the radius coordinates.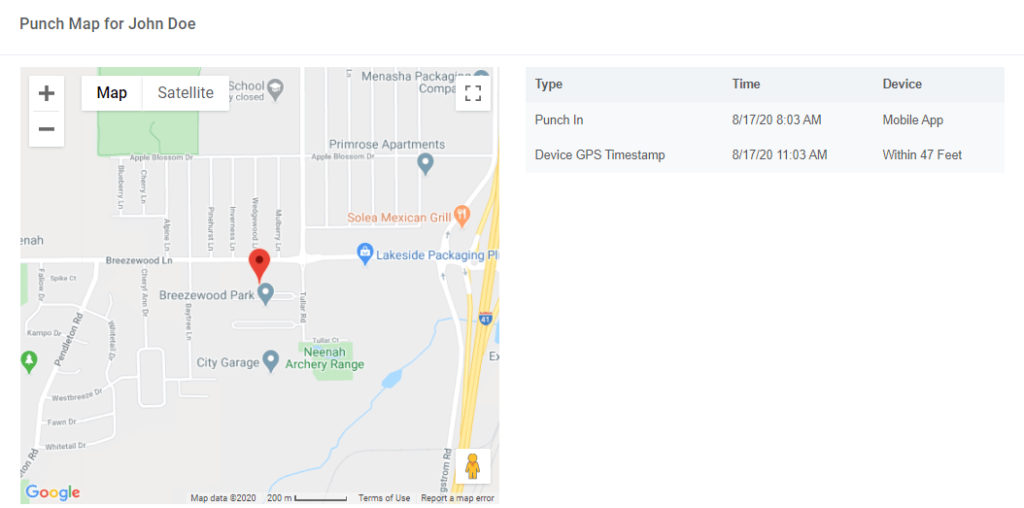 Our GPS Tracking feature leverages your employees' mobile device GPS technology to keep track of where and when they punch in/out of work.
This information is tracked automatically, and recorded in your employees' timecards and the Buddy Punch platform for your review.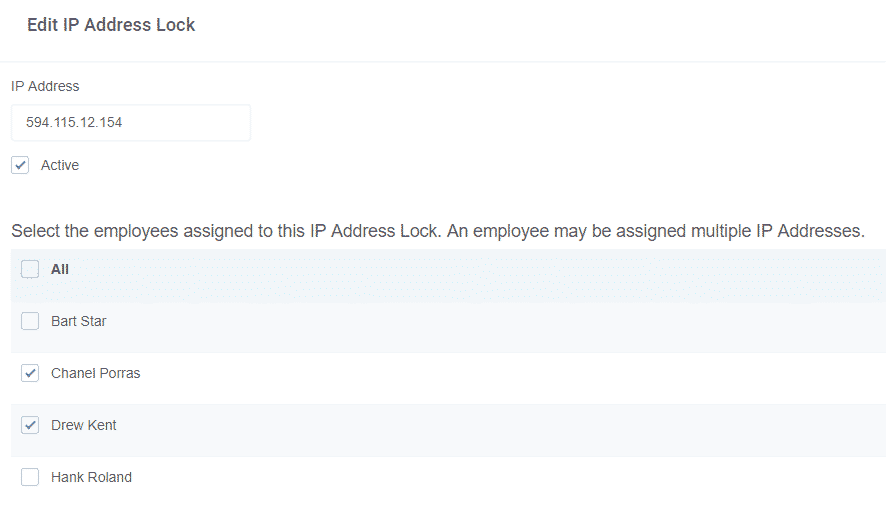 With IP Address Locking, you can add an extra layer of accountability to all your employees' punches. This feature allows you to designate a specific IP Address your employees have to be connected to before they can punch in/out of work (your office's Wi-Fi network, for example).
To activate this feature, log in to the Buddy Punch platform and input your desired IP Address for the lock, as shown above.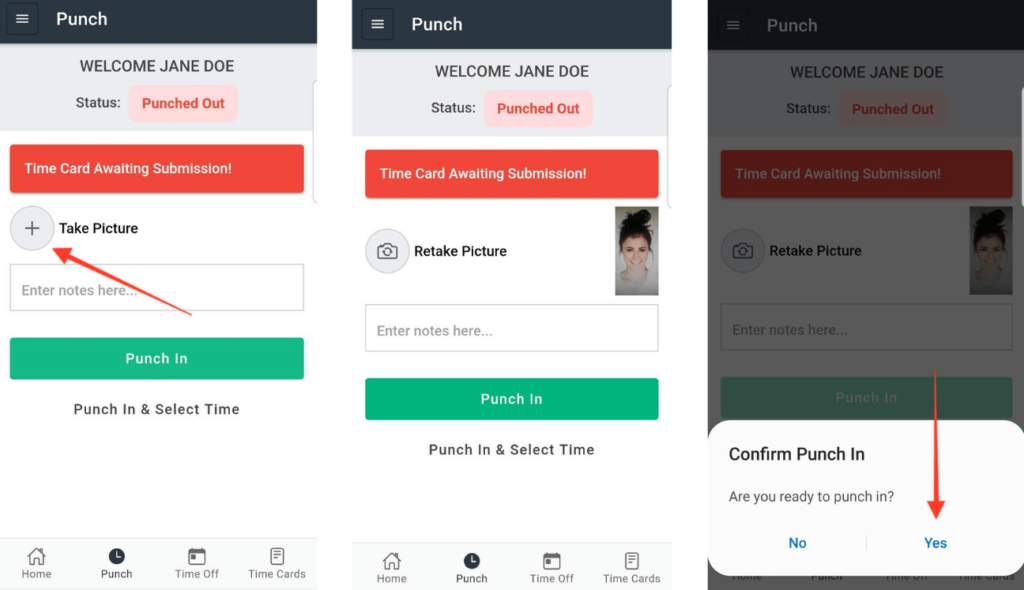 Our Photos on Punch feature, when active, makes it so your employees need to take a photo of themselves in order to punch in/out of work, as pictured above.
These photos are then centralized in the Buddy Punch administrator dashboard, and saved in each of your employees' timecards. You can review photos on a per-employee basis, or all at once.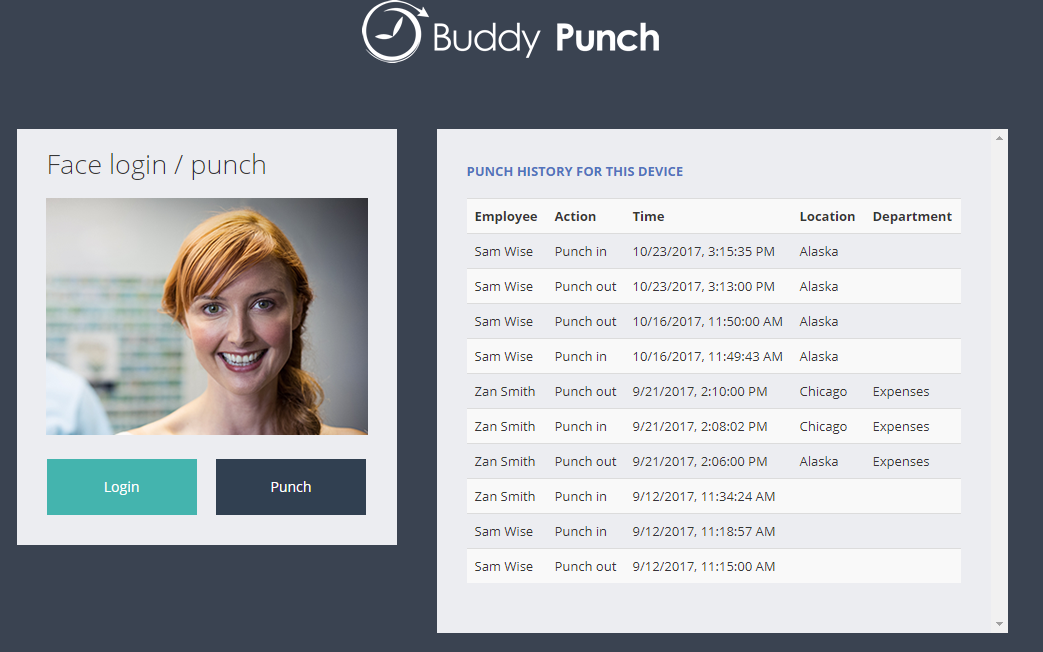 When you activate our Facial Recognition feature, our app will prompt your employees to do a biometric scan of their faces before they can submit their punches.
If our app doesn't recognize a face, the punch is considered invalid. This prevents buddy punching (i.e. an employee having one of their coworkers punch in their stead).
Payroll Features
Even if your employees are honest when punching in and out, the payroll process is still notoriously time-consuming, error-prone and arduous.
To solve these challenges, we built the following features: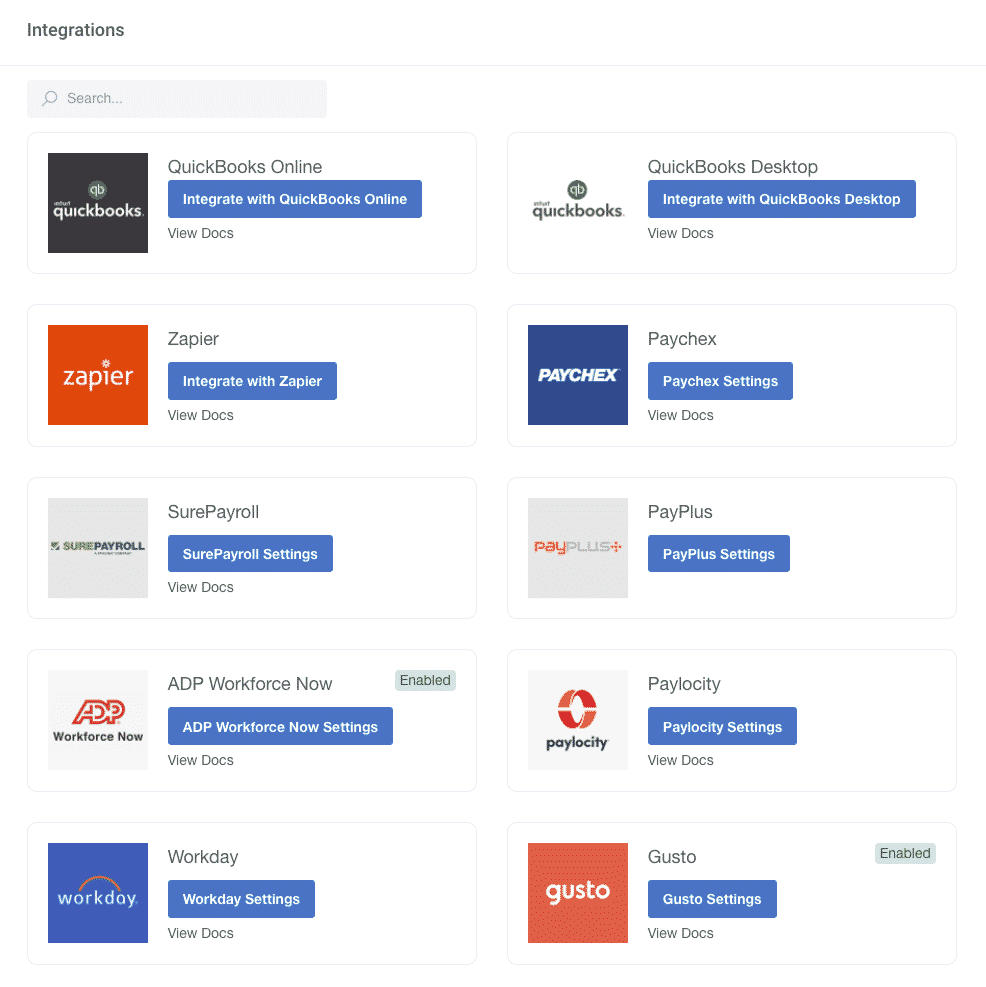 We integrate with most top payroll provider APIs such as QuickBooks, Paychex, SurePayroll, PayPlus, ADP, Paylocity, Workday, Gusto, Paycor, and more.
This means our app can automatically transfer all relevant payroll information (regular hours worked, PTO, overtime, etc.) to your chosen payroll provider. This is faster and more efficient than manually inputting the data into your payroll provider.
Note: Click here to see a full list of our payroll provider integrations.

At Buddy Punch, all relevant payroll data (hours & minutes worked per employee, time off data, overtime, location, and more) is automatically calculated, and can be easily exported in an Excel or PDF format. This helps bypass the challenges inherent to doing manual calculations come payroll time.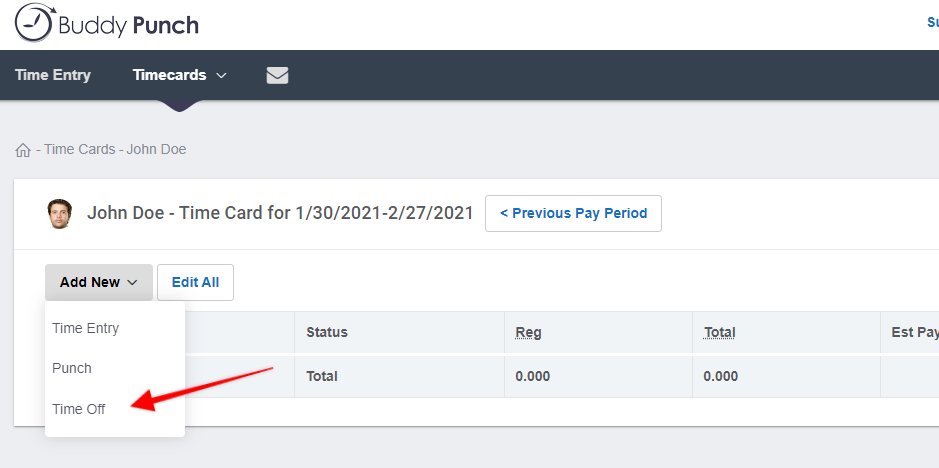 With Buddy Punch, employees can request time off (paid or unpaid) with just a few clicks within our app.
This information is then sent to you, the employer, for approval.
To find all time off requests pending approval, log in to the Buddy Punch administrator dashboard and look for the 'Pending Approval' sign, as pictured below:

Buddy Punch also offers an in-app time off summary.
Your employees can take advantage of this summary to easily check their time off balance, future balance, or look at their history of time off taken.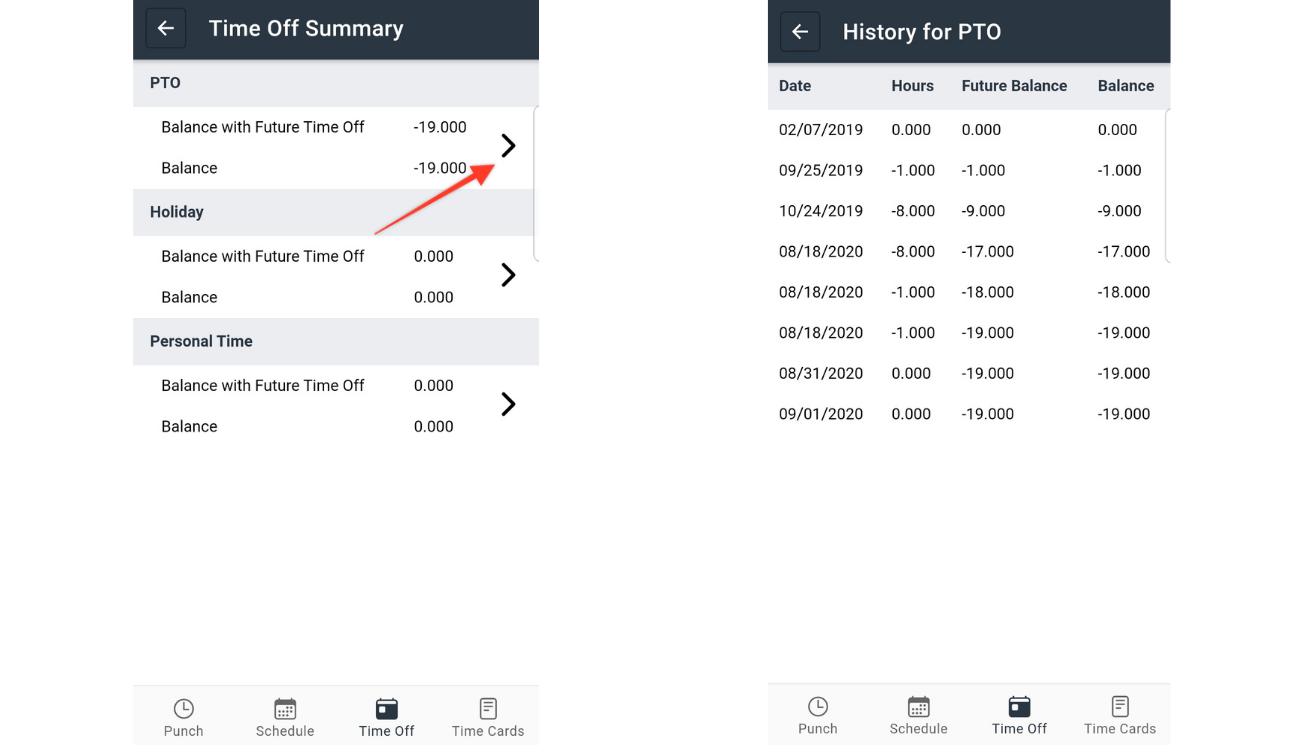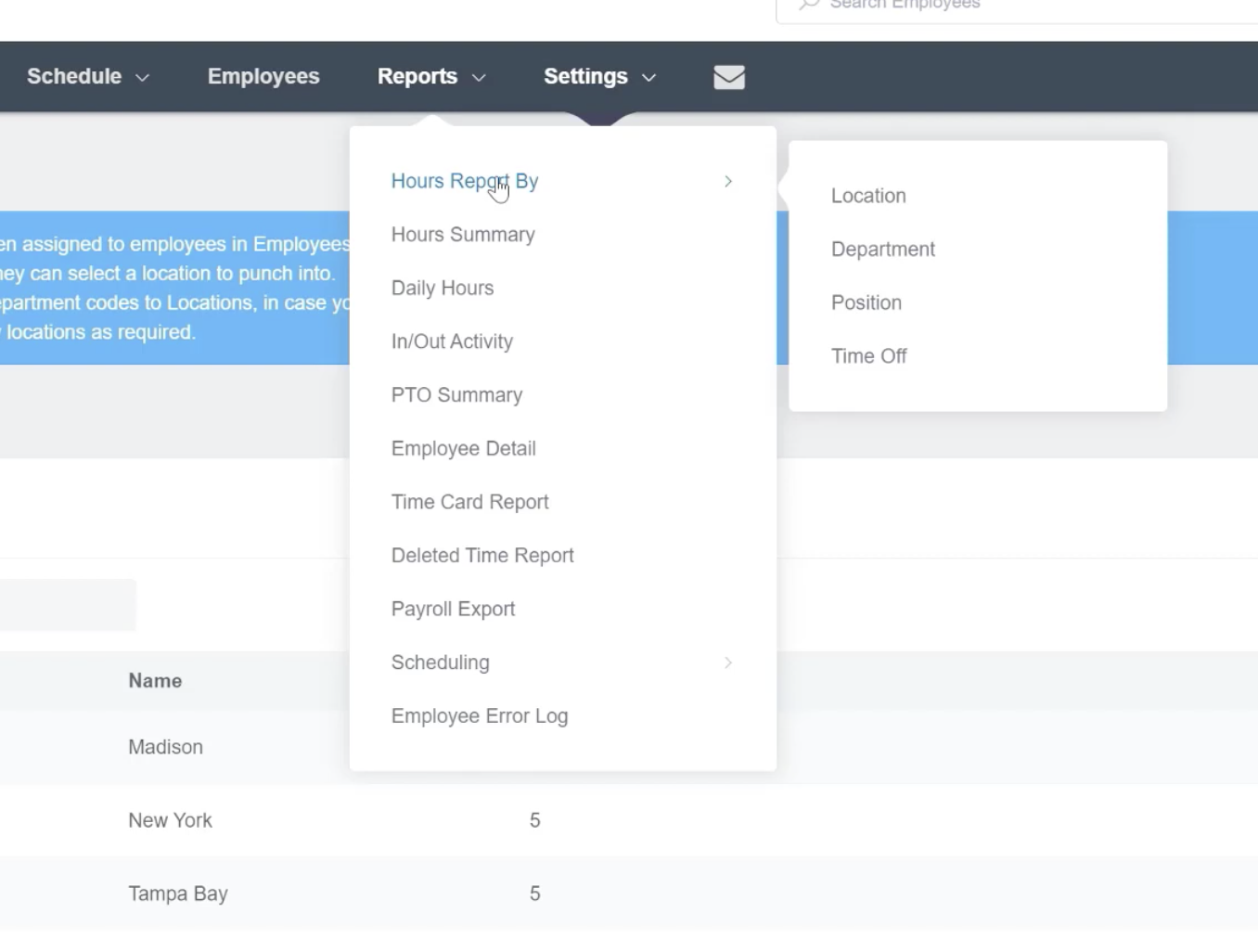 Per the screenshot above, Buddy Punch comes with several different "Hours Reports", segmented by "Location", "Department" or "Position", which you can generate with just a few clicks. We also offer a "Time Off Report".
For a more detailed explanation of how our reports work and how to set up codes for your team to punch into, see this video.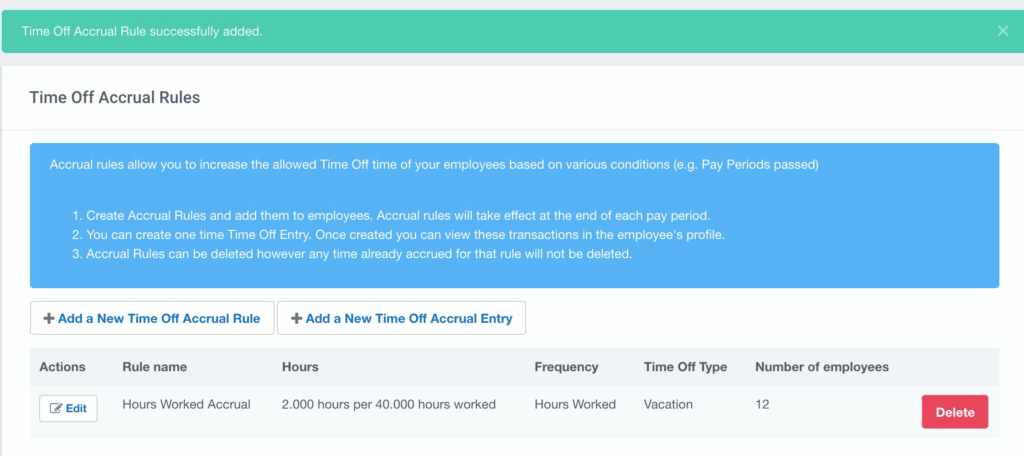 You can use our Accruals feature to manage all your business' accrual needs without breaking a sweat.
Simply navigate to the accrual rules section of the administrator dashboard and create accrual rule(s), which can be based on hours worked (total), or on a specified pay period including annual accrual.
Scheduling Features
Last but not least, Buddy Punch offers several basic scheduling features that our customers find helpful.
These features include: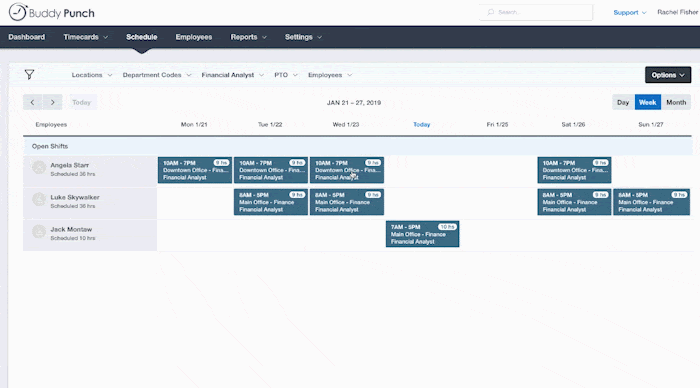 To make the schedule-crafting process simple and effortless, we set out to build our scheduling functionalities following a Drag & Drop principle.
First, decide on what shifts will best fit each of your employees by clicking on the empty slot next to their name to create a new shift. Then drag and drop to visually reorganize shifts until the result is one you're happy with.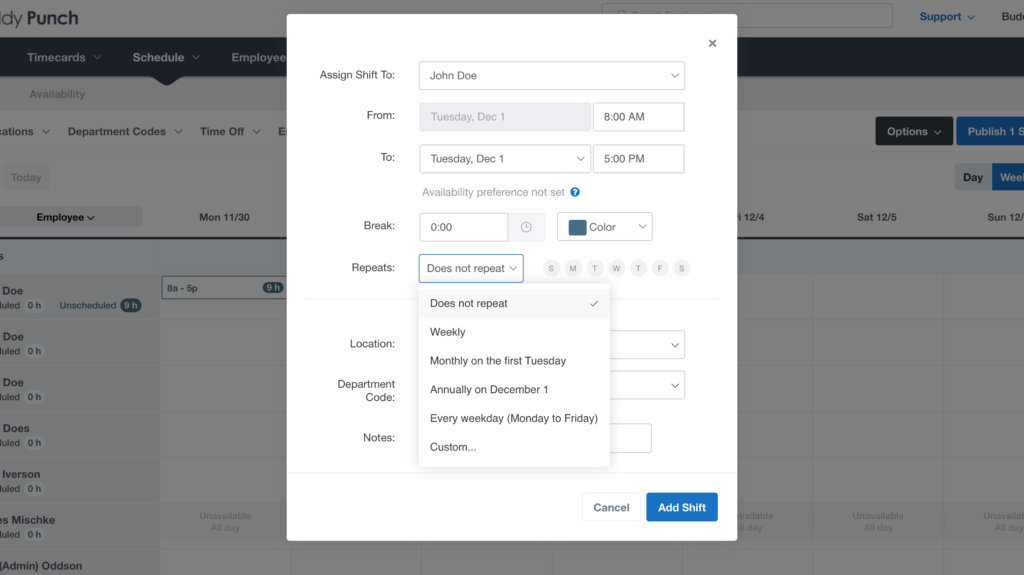 To reduce the time you spend making schedules for your team (by not having to create multiple drafts of a schedule from scratch) use our Repeating/Recurring Shifts feature, which allows you to have schedules repeat over specified regular periods.
These include weekly, bi-weekly, or monthly.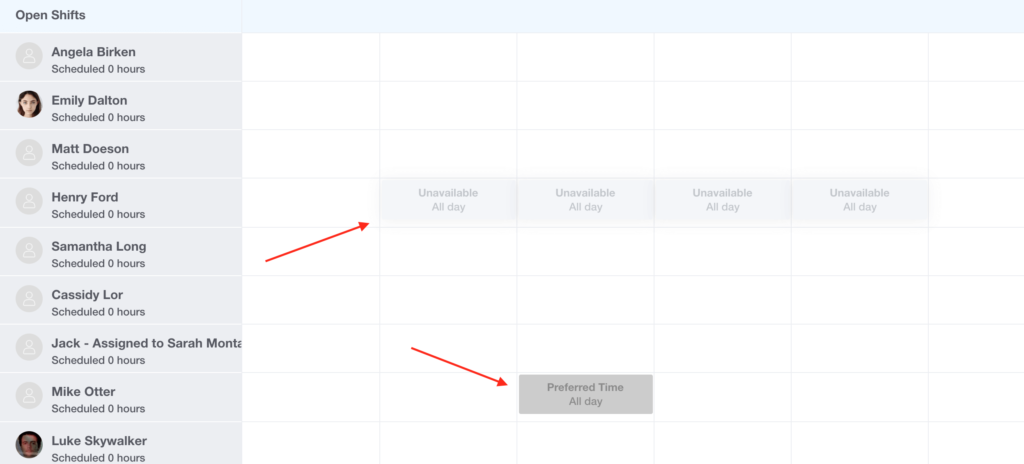 When creating employee schedules, one of the biggest hurdles is not knowing in advance what shifts your employees would like to work. To bypass this hurdle, we built an Employee Availability feature, which makes it so your employees tell you about their shift preferences in advance.
To do so, your employees log in to the Buddy Punch app, navigate to the "Employee Availability" section, and select the shifts they prefer to work — subject to your approval.
Our administrator dashboard will be automatically populated with all that information when you next set out to build schedules for your team.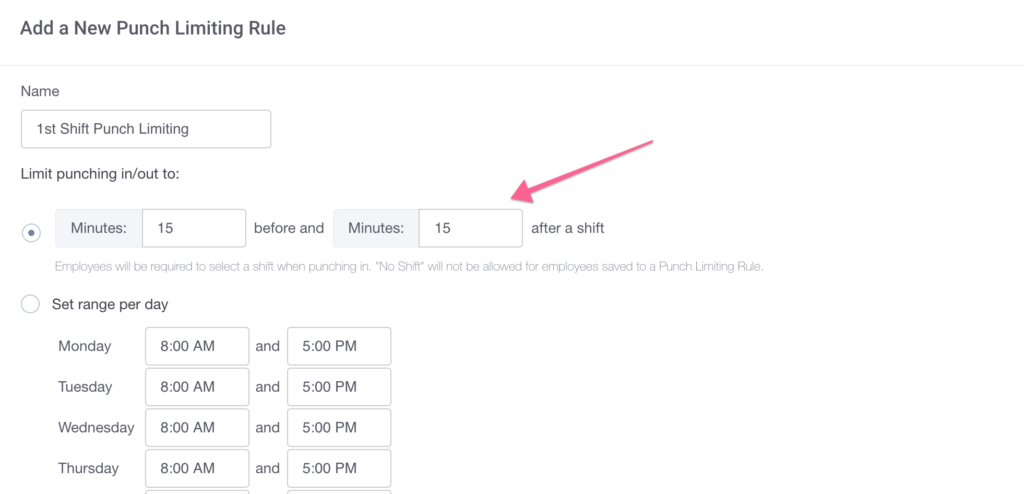 To prevent your employees from punching in a few minutes early or punching out a few minutes late, use our Punch Limiting feature.
Using the example in the above screenshot, employees wouldn't be able to punch 15 minutes before or after their scheduled shift.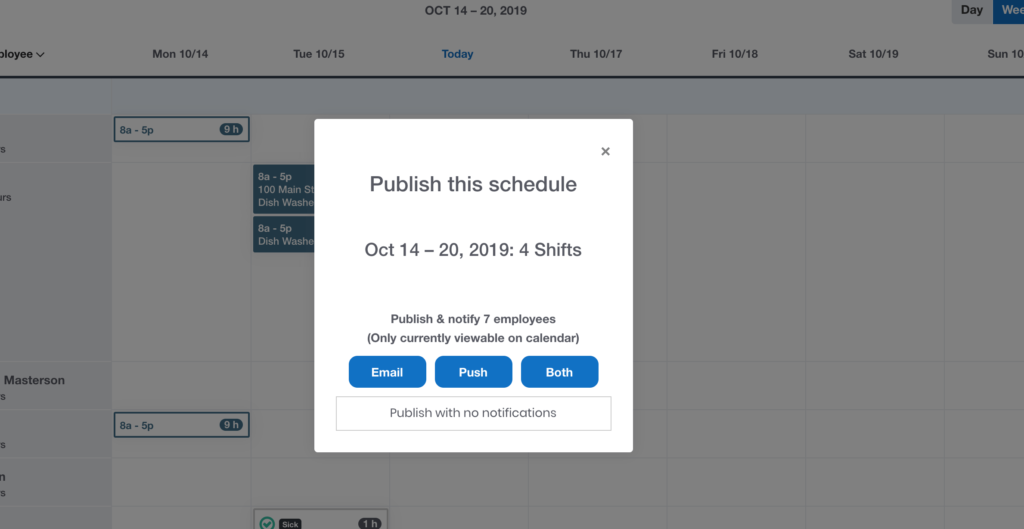 Employees can easily access their work schedule, no matter when and where, as long as they have access to the Buddy Punch mobile app or website.
Additionally, you can make it so that each time a shift is published, your staff is notified via email or mobile push notification (not unlike text messaging).
Buddy Punch comes with many other notifications for schedules, including:
Shift Start Reminder & Shift End Reminder
Late In Alert & Late Out Alert
Early In Alert & Early Out Alert
Additional Features
We've detailed each of Buddy Punch's key features when it comes to accountability, payroll and scheduling. But that's not all we have to offer! Our platform comes with many other features, which you can pick and choose from to best fit your business needs.
These features include:
Interested in Learning More?
To learn more about Buddy Punch and all its key features, watch our demo below:
If you'd like more information about our platform, sign up for a free trial or schedule a 1-on-1 demo.
QuickBooks Time (formerly known as TSheets) is another SaaS time clock app that was initially created to solve small businesses' time tracking and accountability needs. They have since expanded to also cover scheduling and other aspects.
QuickBooks Time is one of the biggest players in the space, which is why we've written an article on how Buddy Punch differentiates from them.
As we discussed in that article, there are two key aspects that differentiate Buddy Punch from QuickBooks Time:
Buddy Punch's intuitive and easy-to-use app interface.
Buddy Punch's large emphasis on customer support.
Best Time Clock App for Small Businesses Looking for Scheduling Features
If you're a project manager looking for a time clock app whose strength lies in scheduling, then When I Work may may be the best fit for you.
Unlike Buddy Punch and QuickBooks Time, When I Work was conceived as a scheduling software first, and then expanded to cover time tracking, accountability, and payroll-related features.
Best Time Clock App for Enterprise Companies
Unlike Homebase competitors like Buddy Punch, QuickBooks Time, and When I Work, Replicon is a tool built specifically to serve enterprise companies.
Replicon customers can customize their time-tracking, payroll, and scheduling setup however they like, and get assigned a customer support representative whom they can call whenever they need. That said, Replicon comes with a higher price tag compared to other time clock apps.
Note: We're proud of what we've built at Buddy Punch. Our tool may not be perfect for all businesses, but it excels in terms of accountability and payroll-related features. To learn more about Buddy Punch, visit our site here and sign up for a free trial or book a 1-on-1 demo.
You May Also Like…