7 Best When I Work Alternatives in 2023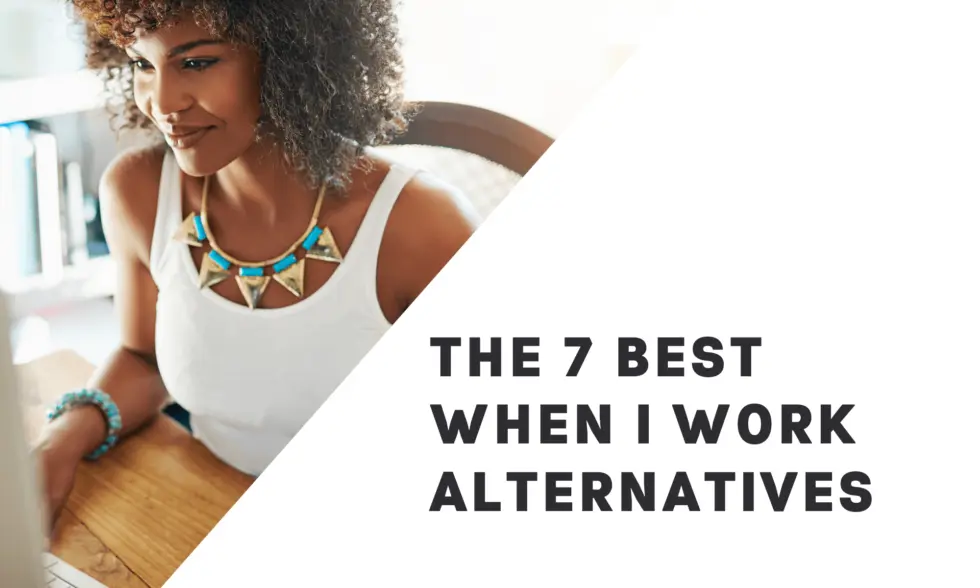 When I Work is a great tool. They help businesses track their employees' time and streamline payroll through features such as employee scheduling, employee time clock, timesheets, and more.
That said, if you'd like to explore your options, we've got you covered. In this article, we've compiled an in-depth list that compares the features and online reviews of the 7 best alternative solutions.
Note: Buddy Punch is our own product and we're proud of what we've built. Find out more here and sign up for a free trial.
Best When I Work Alternatives
We struggled for many years with paper punch clocks and timesheets. That's why we set out to build Buddy Punch in the first place . We wanted an end to the frustration, lost time, and money that came with trying to manage time for 20 employees in 3 different locations.
Our aim from the beginning was to create a product that helped keep employees honest and make payroll processing seamless, all the while having an automation interface that was intuitive and easy-to-use for both employees and employers. Now, small businesses and enterprises alike have come to fully appreciate the power our software gives them. We're proud of what we've built, and grateful it has translated to many positive online reviews. For example:
At Buddy Punch, we aren't limited to just tracking your employee's time. We know — after working with over 10,000 businesses — that a great workforce management software needs features that help with:
Accountability

(GPS Tracking, IP Address Locking, Geofencing, and more)

Payroll Streamlining

(We offer payroll export and integrations with many popular payroll providers)

Scheduling

(Drag & Drop, Repeating Schedules, Employee Availability, and more)
Next up, we'll dive deep into each one. Keep in mind that pricing is flexible depending on which functionalities you choose.
1. Accountability Features
Businesses relying on manual punch clocks and an 'honor system' of accountability can invariably find themselves with lost time and money. With Buddy Punch, you can stop worrying about accountability thanks to features such as:
With Buddy Punch's GPS Tracking feature, you can record all of your employees' punches in real-time, including time of punch and location. These records allow you to then generate reports with just a few clicks so you can review all your employee's activity at once.
With IP Address Locking, you can set it so your employees can only punch in and out while using a specific IP Address, given to you by your internet provider.
Geofencing acts similarly to IP Address Locking, but instead of limiting punches using a specific network, you can decide upon a radius around a physical location. Your staff will only be able to clock in and out of work inside that radius. If you operate a business where your team alternates between different locations regularly, you can also assign your employees' multiple areas and job codes.
With Buddy Punch's optional Webcam Photo functionality, you can make it so your employees need to take a photo of themselves to be able to punch in and out of work. Keep your team accountable by reviewing all photos at once in one simple, user-friendly dashboard.
2. Payroll Features
Calculating total time worked, adding or subtracting time off, and finding errors or discrepancies — and fixing them — in a huge stack of timesheets not only takes a lot of time, but is also prone to inaccuracies.
With Buddy Punch, payroll is effortless and more accurate thanks to the following simple-to-use features:
With 'Project Tracking', you can easily set up rates tailored to your different jobs or projects, calculate labor costs and generate project reports to check your numbers before payments are due.
Buddy Punch allows you to set time off accrual rules. You can base these rules on the number of hours worked or a specific pay period. You can also create an annual accrual.
With our PTO Summary feature, you can calculate paid time off for all your employees, or choose to break it down on a per-employee basis. Once that's done, exporting a report with all this information is just a few clicks away.
Don't waste time manually reviewing and verifying timesheets. Buddy Punch automatically calculates everything you need to run payroll and then allows you to export this information in the form of an Excel payroll report.
Buddy Punch gives you the ability to integrate with almost any top payroll provider in the market, such as QuickBooks, Paychex, Workday, and the list goes on.
To see the full list of all Buddy Punch integrations and learn more about how it can benefit your business, click here.
3. Scheduling Features
Without the right tools, creating schedules for your employees can easily become a headache. The more employees and locations you have, the harder it is to build a schedule that doesn't contain errors or omissions.
At Buddy Punch, we remove all hurdles in the process so you can make sure your employees always know when they work, and where. You can create a schedule in just a few clicks thanks to features such as:
Our drag and drop functionality makes managing your teams' schedules simple and intuitive. With this feature, you also have the option to easily notify your team of upcoming shifts or changes.
Once you've decided on a schedule that works, Buddy Punch gives you the ability to copy entire schedules or create repeating shifts. Don't waste time building and re-building schedules that you know will repeat over time.
With our work schedule app, you can easily share schedules with your team through both email and phone notifications. Your employees can also see their schedule at any time from their mobile devices or desktop.
Note: Buddy Punch offers a mobile app (Android & iOS) that supports both administrators and employees, as you can read about in greater detail here.
This feature gives your employees the ability to choose when they would like to work, subject to your approval. Save time when creating schedules by having your staff inform you when they can work, and when they'll be unavailable.
With our punch limiting feature, you can restrict when your staff is able to clock in and out of work.
Your employees will simply receive an error message if they try to submit a punch outside of their shift or a specified timeframe.
Additional Features
Buddy Punch's features don't stop at helping you deal with accountability issues, streamline your payroll, and schedule your employees' work. We offer a list of additional features — which did not specifically fit into those categories but can be very useful for your business.
With Buddy Punch, for example, you can add, edit or delete punches. You can also automatically calculate overtime, and makeit so employee time cards are automatically approved — no need to waste time approving punch-ins you know are correct. Buddy Punch is a resource management powerhouse, and gives business owners the ability to reallocate their budget and time spent on employee management towards direct improvements to their business
Additionally, Buddy Punch offers your employees multiple punch and login options, including:
Username & Password
Facial Recognition & Face ID (Apple)
Google Account
QR Code
Intuit Account
PIN Number
Click here to explore a complete list of Buddy Punch's features.
What Our Users Have to Say About Buddy Punch
We're proud of what we've built with Buddy Punch and thankful that our customers have taken the time to share the word with others.
At the time of writing, Buddy Punch has 604 reviews and 4.8 out of 5 stars on Capterra, a popular review site. One such review is:
We're also proud to say that we've scored 4.8 out of 5 stars in Capterra's 'Ease of Use' and 'Customer Service' ratings, two themes we set out to achieve specifically when building Buddy Punch.
Interested In Learning More?
To help you better understand each of our features, we've recorded a full Buddy Punch demo. Watch it above and sign up for a free trial to test it yourself.
If you would like to request a personal demo with someone from our team, click here.
Homebase helps keep your team accountable, manage payroll and create work schedules, with features such as Employee Scheduling, Time Clock, Online Timesheet, Health & Safety Screening, Team Communication, HR & Compliance and more.
To see a full list of Homebase features, go here.
Homebase Capterra Reviews
At the time of writing, Homebase has:
Click here to see all of Homebase's Capterra reviews.
DeskTime is another When I Work alternative. This human capital management (HCM) software lets you can track time with features such as Automatic Time Tracking, URL and App Tracking, Document Title Tracking, Idle Time Tracking, Automatic Screenshots, and Absence Calendar.
Click here to see a full list of DeskTime's features.
DeskTime Capterra Reviews
At the time of writing, DeskTime has:
Click here to see all of DeskTime's Capterra reviews.
Hubstaff's features include Employee Time Tracking & Absence Management, Online Time Reporting, and Employee Productivity Monitoring. They also offer GPS Location Tracking, and Automated Payroll & Invoicing.
Click here to see a full list of Hubstaff's features.
Hubstaff Capterra Reviews
At the time of writing, Hubstaff has:
Click here to see all of Hubstaff's Capterra reviews.
Connecteam is a great employee scheduling software, and a solid time-tracking solution. They offer a large array of features such as Checklists & Forms, Employee Time Clock, Employee Task Management, Employee Training, Employee Communication and Employee Scheduling.
Click here to see a full list of Connecteam's features.
Connecteam Capterra Reviews
At the time of writing, Connecteam has:
Click here to see all of Connecteam's Capterra reviews.
Timely is another When I Work alternative. They boast features including (but not limited to) Automatic Time & Attendance Tracking, Project and Team Planning, Team Time Management and App Integrations.
Timely Capterra Reviews
At the time of writing, Timely has:
Click here to see all of Timely's Capterra reviews.
QuickBooks Time is a great software solution, with features that include Time Tracking, Staff Scheduling & Messaging, Payroll & Human Resources Integrations and Time Card Reports.
Click here to see a full list of QuickBooks Time's features.
QuickBooks Time Capterra Reviews
At the time of writing, QuickBooks Time has:
Click here to see all of QuickBooks Time's Capterra reviews.
Note: Buddy Punch is our own product and we're proud of what we've built. Learn more about how it works here and sign up for a free trial.