5 Best Software Options for Tracking PTO for Salaried Employees (Analysis Post)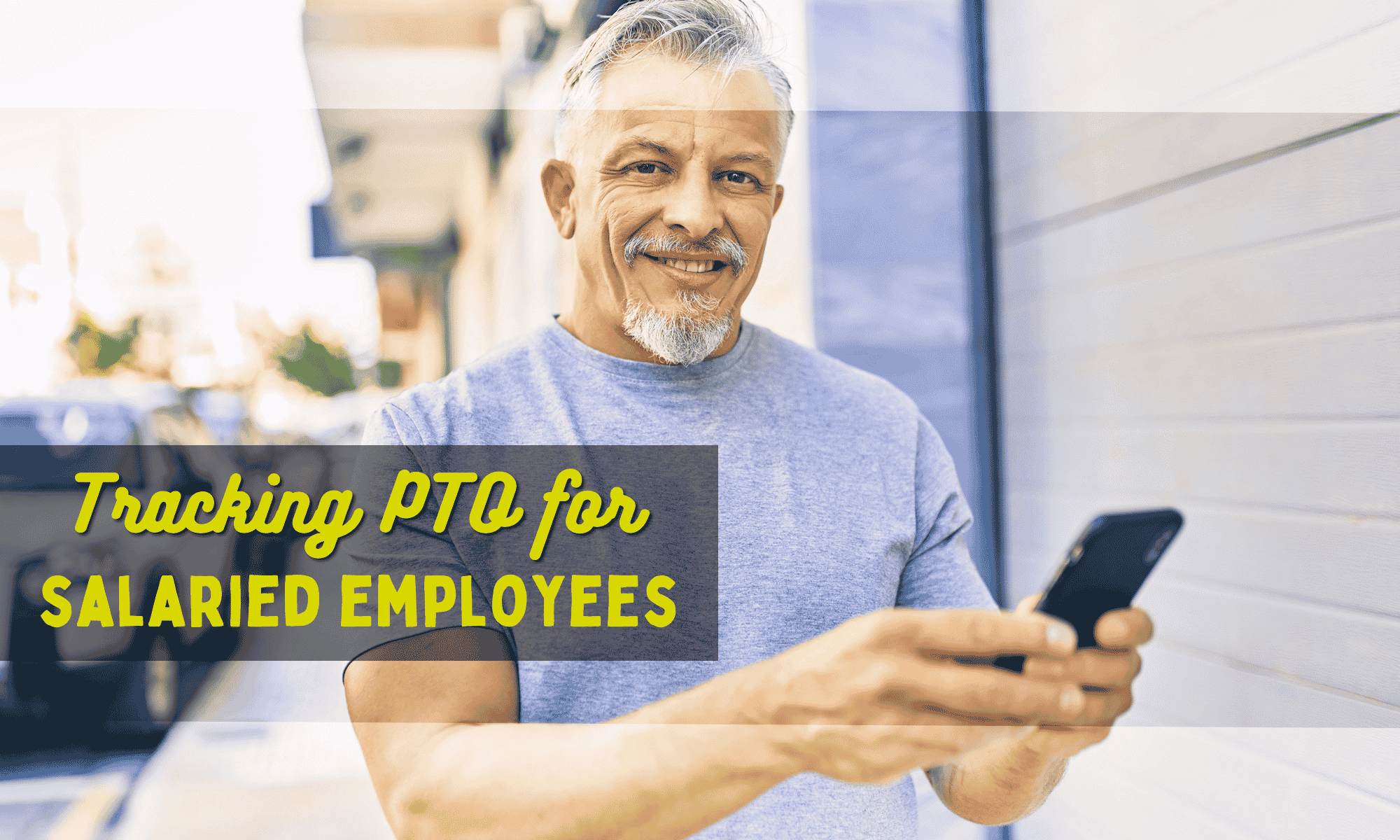 There's an easy way to adhere to your established PTO policy, and a hard way. Most business owners, especially with an increasingly skilled labor force, have beefed up their PTO policies to make working for their businesses more attractive for highly competent employees. With this comes an increased necessity to accurately track PTO, something that businesses have to handle on their own since paid time off is not required by the FLSA (Fair Labor Standards Act).
While some business owners have grown attached to manual methods to track paid leave for hourly employees, many managers and HR teams have made the switch to more convenient tracking systems. There are plenty of time clock systems out there that can keep an automatic PTO Balance for you, regardless of how you want to set it to accrue.
Below, we're going to list our top 5 picks of the best time clock systems that will help you keep track of banked PTO hours for your teams.

Tracking PTO for Salaried Employees Options:
When we were designing Buddy Punch, we found that most business owners fully understood the necessity of granting vacation time to prevent burnout, but still struggled to find a way to juggle PTO Tracking amidst their other responsibilities throughout the workweek. To that end, we wanted to create a software with an option to accrue PTO that could be used for sick days, holidays, vacation time and more, all with minimal input from you as an employer.
And while we were at it, we added features to help manage overtime pay as well. These features work across all devices with an internet connection, as Buddy Punch is available as both a smartphone app (for iOS or Android) and accessible via the web for Desktop and tablet devices.
Below, we're going to touch on a few of these features to help demonstrate how Buddy Punch can alleviate much of your employee hour related stress by the end of each pay period.
Note: If you want to get a more personalized feel for Buddy Punch, you can book a one-on-one demo with our team here or sign up for a 14-day trial by clicking here.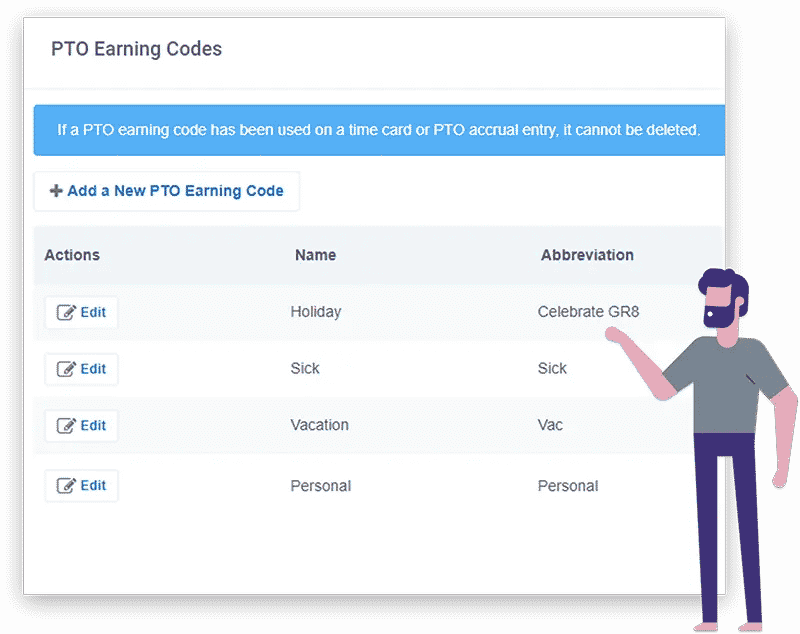 Our PTO Tracking lets you track any type of PTO – even custom types that you create just for your workforce. Additionally, you can give your team the ability to take a self-service approach to Paid Time Off. When they put in PTO Requests, you can approve it yourself or let it be approved automatically without requiring your input.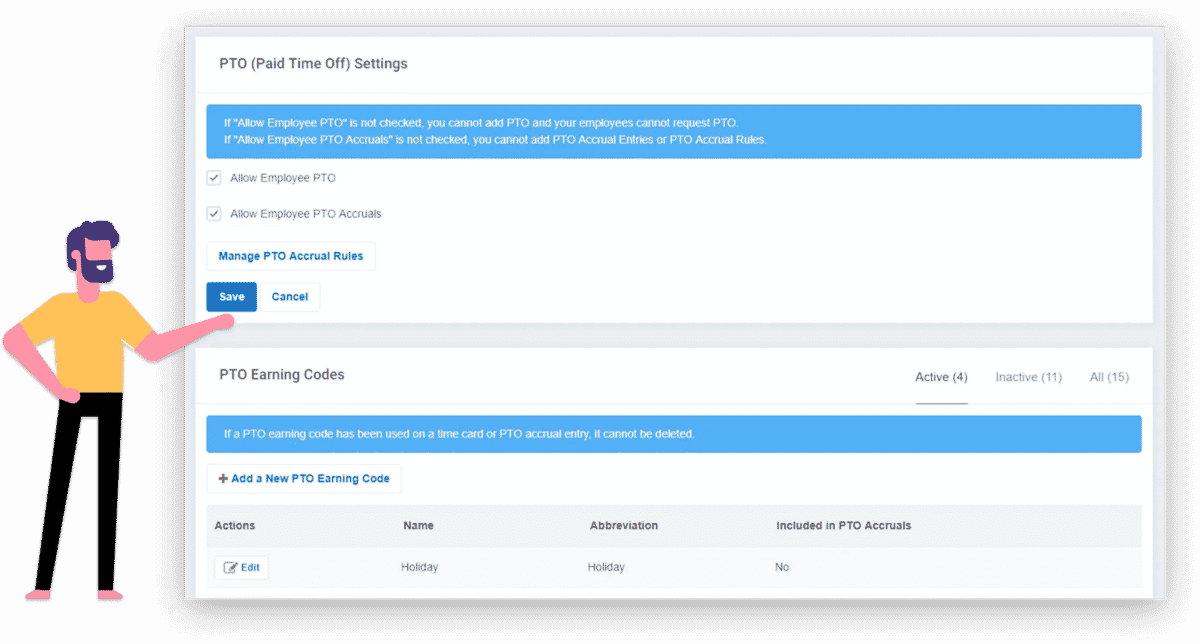 The PTO Accruals feature allows administrators to create PTO Banks for each employee and assign rules that determine how PTO is added over time. You can view how much PTO is banked per employee at will. This is perfect for making sure you're not accidentally violating your own agreements as outlined in your company policy.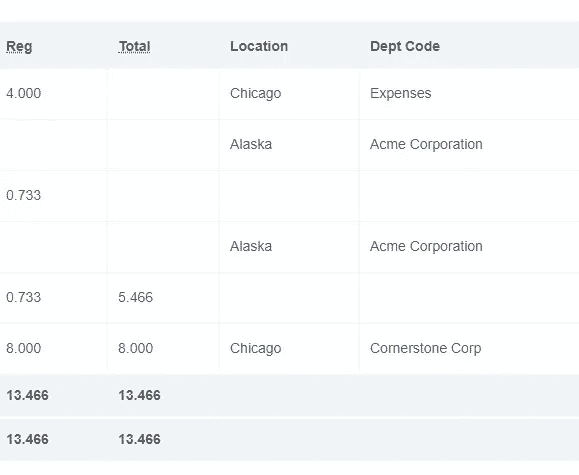 Speaking of counting, we wanted Buddy Punch to help you manage the number of hours employees logged as well. To that end, we created the OT Calculations feature. You can choose from a dozen different types of overtime on a per employee basis – give every salaried employee a different type if you need to! And if for some reason the type of overtime you need is missing, you can reach out to our responsive support team to get the situation remedied.
DOL (Department of Labor) mandates dictate that employees have to be paid time-and-a-half for overtime hours (you don't have to worry about tracking PTO for employees with exempt status – they are paid on a salary basis). With this feature, you'll never have to worry about accidentally violating federal law.

As we touched on above, our notifications feature helps you keep track of employees who need to take time off, or who are spending extra hours on the clock and racking up overtime. Buddy Punch's notifications improve two-way communication between employees and managers. Stay apprised of clock in times and potential schedule changes from your team members and keep them in the know of your decisions and management of their schedules in turn.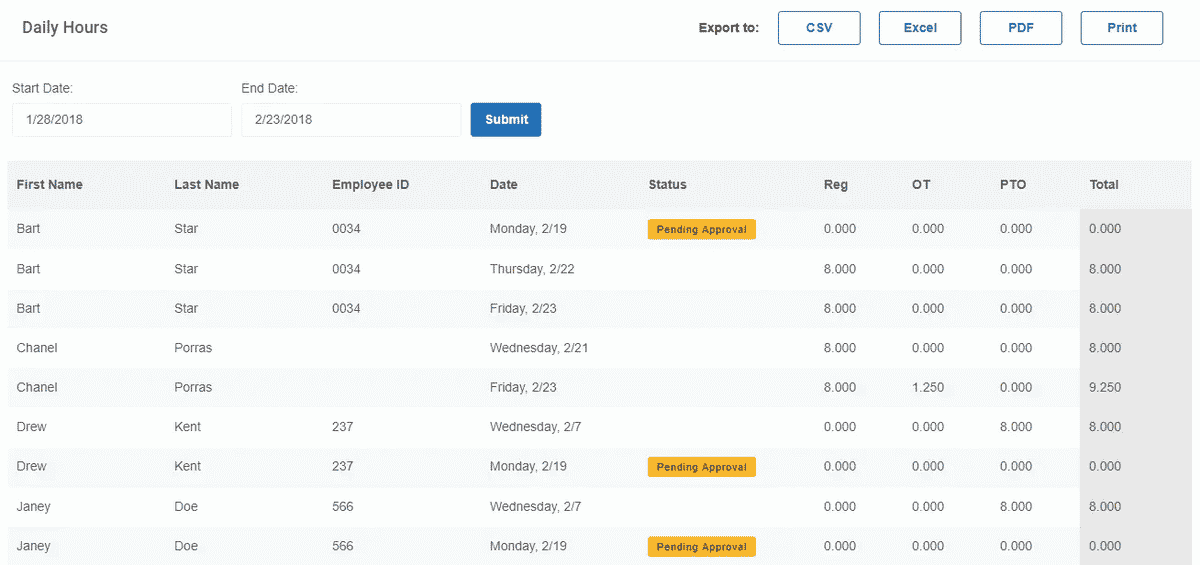 Buddy Punch has a fully customizable report feature that gives you information on your employees, their logged hours, their overtime, PTO Summary (including sick leave, vacation days, etc.), and more. This report can be exported in PDF or Excel formats, depending on what you're most comfortable with.
Buddy Punch Brings More To The Table
Besides the aforementioned features, Buddy Punch also offers:
In addition to all this, you can refer to our help doc center for useful articles on best practices while utilizing Buddy Punch. You can also turn to our live chat to get in touch with our always-responsive customer support.
Buddy Punch's Online Reviews
As of this post's writing date, Buddy Punch has 4.8 out of 5 stars and 685 reviews on Capterra.

Below, we'll list just a few reviews that speak to Buddy Punch's ability to influence PTO tracking for full-time and part-time employees alike. (Click here to explore the full list of reviews.)
"I really like that it tracks and accrues PTO & holiday hours. I don't have to ask anyone what my PTO balance is! I think its smart to be able to add a schedule if you happen to work the same amount of hours each day – much easier to add. I also like that I can add a comment or note of some sort, if needed."

Click here to read the full review.
" I had used other more expensive systems at previous employers and Buddy Punch has be more than sufficient for our size of business. It is easy to run the reports- PTO, location of services, and the geofence. "

Click here to read the full review.
"I like how easy the PTO requesting is for the staff and for admin to approve. It's a little bit of work trying to get all of the PTO hours in for all employees, especially if they work different hours and have different PTO hours, but the team at Buddy Punch are always available to help with questions. That is one of the things I think are most important- the great customer serivce."

Click here to read the full review.
"It has a great deal of flexibility and gives administrators/managers the ability to see who is here at any given time of the day. Managers also have the ability to approve PTO prior to it being added to the time sheet. This provides accountability for both the employee and manager. They can also schedule shift work if necessary."

Click here to read the full review.
As these reviewers have noted, Buddy Punch is flexible and empowering for both employers and employees.

Try Buddy Punch for Free
If you feel that Buddy Punch might be the right fit for your business, sign up for a free trial. You can also book a one-on-one demo, or view a pre-recorded demo video.
OnTheClock is a web-based Time Clock Software that places a special emphasis on tracking, accuracy, and compliance. Some of its features include:
Like Buddy Punch, this tracking software works across mobile and tablet devices. As of this article's writing date, OnTheClock has 4.7 out of 5 stars and 511 reviews on Capterra.
"The incredible amount of flexibility it offers is amazing. You can set or restrict punches from specific devices, regions, IP addresses, and similar on a per-employee basis or account-wide, allowing you to make sure that every employee is punching in when and were it's appropriate to do so. It allows a per-employee automatic accrue system for PTO. Approving PTO requests is a breeze as well."

Click here to read the full review.
3. Clockify
Clockify is a time tracker that's particularly popular because it's free to use for unlimited projects and unlimited users. That said, it does have the drawback of locking some of its more powerful features behind paid plans. Some of these functions include:
At the time of this post's writing, Clockify has a total of 4166 reviews on Capterra with an average of 4.7 out of 5 stars.
"The free version itself is better than most of the paid time trackers I tried. This was the only one I used on a regular basis and it also integrates with clickup, which is a huge pro for me."

Click here to read the full review.
Hubstaff is an all-in-one time tracker that works great for both remote and on-site teams. Some of its features include (but are not limited to):
As of this post's writing date, Hubstaff has 4.6 out of 5 stars and 1257 reviews on Capterra.
"Its a pretty solid program to keep track of your productivity and sometimes I even use it to go a couple days back to check if I was able to do tasks that I may have slipped my mind."

Click here to read the full review.
5. QuickBooks Time
QuickBooks Time (formerly known as TSheets) has a long-standing reputation as one of the most powerful time tracking tools out there, thanks to its suite of features including:
It's a great timesheet app for Android and iPhone, and at the time of writing, QuickBooks Time has 4.7 out of 5 stars and 5,601 reviews on Capterra.
""Who's Working" is helpful because we're 50% remote, and it also helps with transparency and accountability. The accessibility of PTO management is something everyone appreciates. I highly recommend this tool to businesses of any size with hourly employees!"

Click here to read the full review.
The Best Method To Keep Track of PTO For Salaried Employees
While we're of the opinion that digital methods of tracking PTO beat out physical/manual ones, there is clearly some degree of flexibility when it comes to choosing between time trackers.
If you like the idea of working with a big software company, though that may lead to relying on less personal customer support, QuickBooks Time might be your best bet. If you have specific needs about conducting employee health surveys, OnTheClock has that function built right in.
But, if what you're looking for is a scalable solution that provides for all your PTO tracking and even overtime monitoring needs in a way that any employee or manager can benefit from, you can't go wrong with Buddy Punch.
Try Buddy Punch for Free
All of Buddy Punch's pricing plans come with a 14-day free trial, so give it a try and see how you like it. Alternatively, you can view a pre-recorded demo video here, or click here to book a one-on-one demo with our team.
You May Also Like…