Accruals
Here are a few help articles on setup and usage:
Accruals allows administrators to track different types of time by giving each employee various banks that can be created, added to and used. You can see the number of hours an employee has in their bank and when that accrued time has increased or decreased.
Here are a few help articles on setup and usage:
How do I add PTO to employees?
Time Off Settings
You can turn PTO on and off, manage the types that you offer, and also create rules for when PTO Accrues.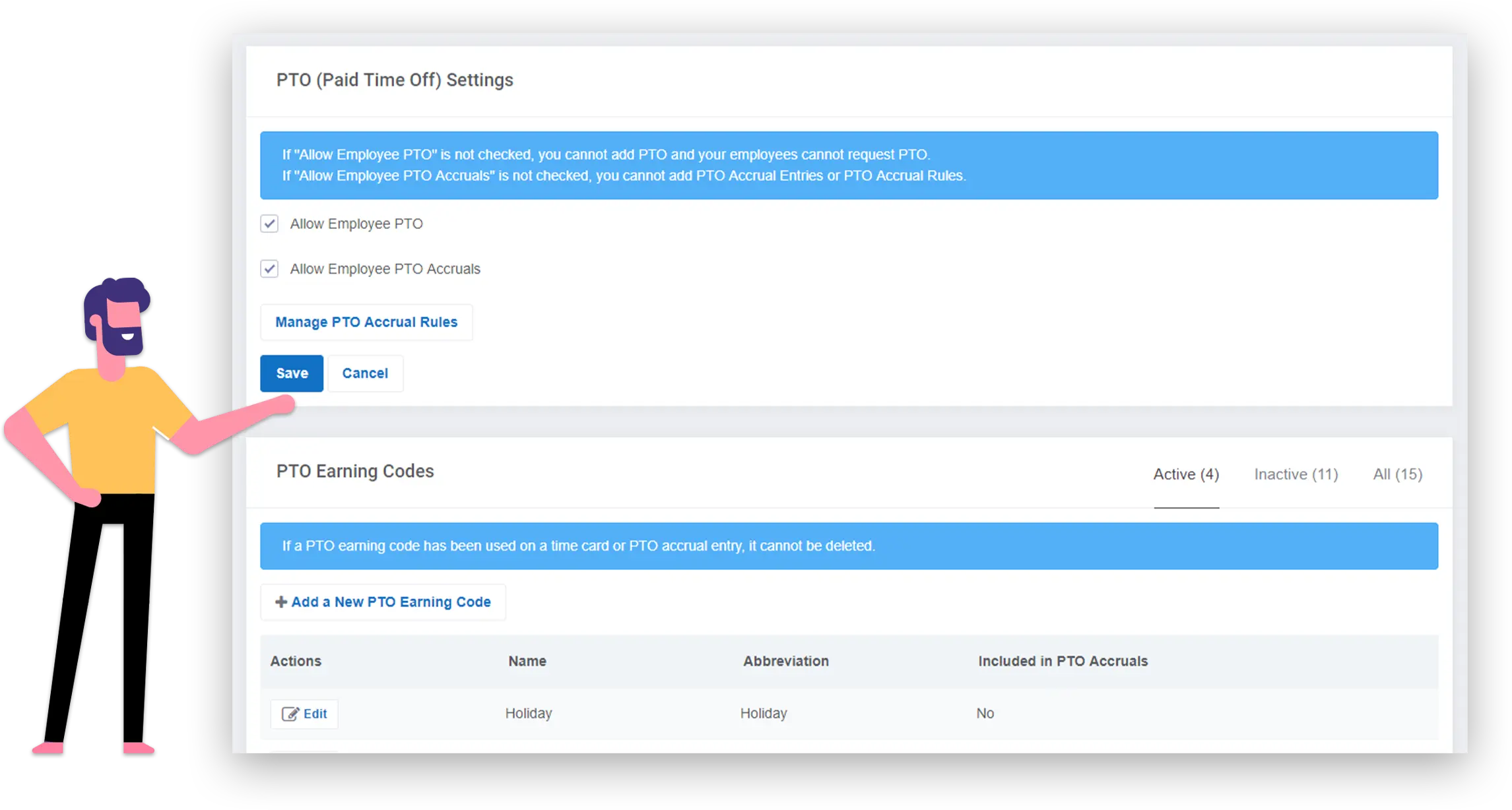 Individual Entries
While you can create custom rules when PTO Accrues and you can also create one time entries for employees.

PTO Summary Report
The PTO Summary Report provides a summary of PTO balances from all employees. If you want to view the PTO summary for only one employee, you can click on an individuals name.The PTO Summary Report gives you an in-depth breakdown of what PTO was carried over, accrued, used, and how much PTO is available both current and in the future.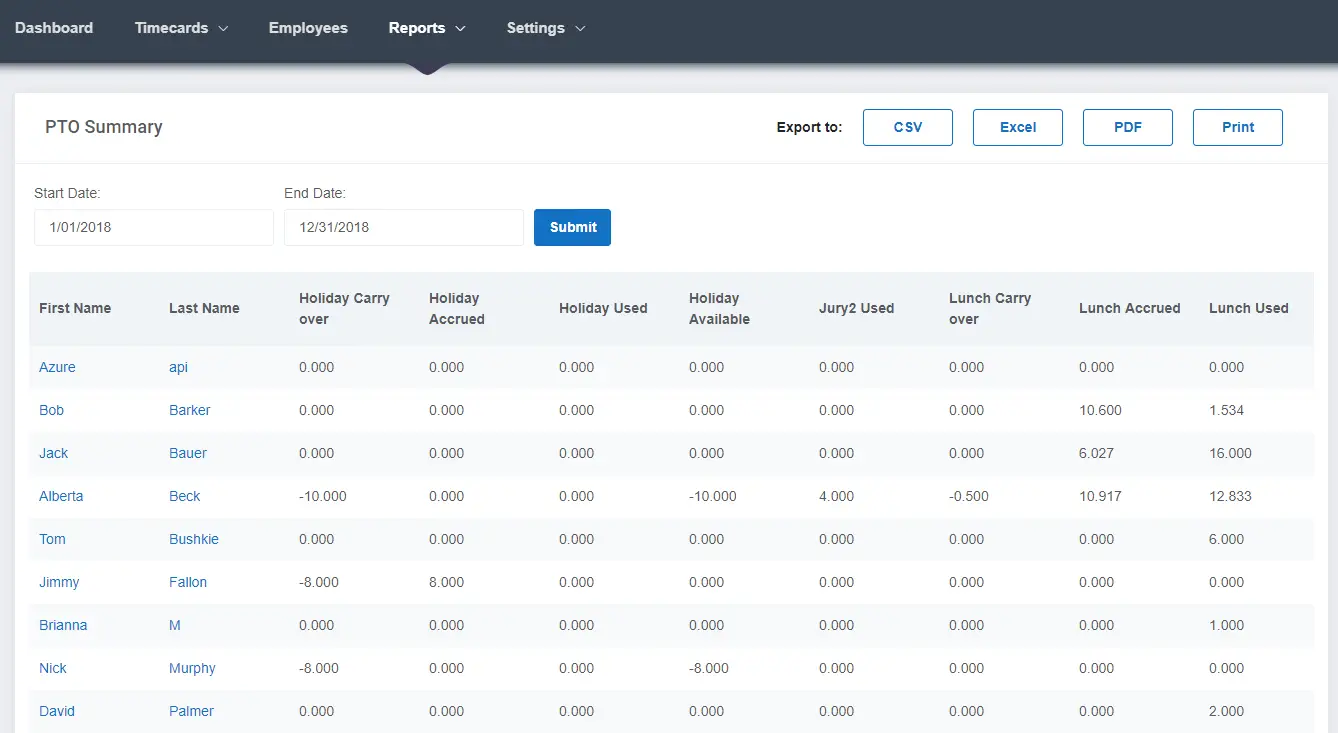 Adjust PTO Accrued
Accidentally forget to apply a new PTO Accrual to an employee or perhaps they have reached their 5 year anniversary and need to add more time? With the PTO Accrual Entry you can add and deduct PTO from an employee's bank of time. Easily see who made what additions or deductions from within the employee's PTO history along with all system generated PTO accrual additions.
Flexible Accrual Options
We offer several different frequencies at which PTO can accrue including per pay period, hours worked, and yearly. Do you have employees that earn a set amount of PTO days per year? Then use our yearly option and select the exact date you'd like the PTO to accrue on. Setup as many rules as your business needs.
What are the benefits of an Employee Time Clock with Accruals?
Employee hours can be difficult enough to manage before you start getting into accrual rates, sick leave, and vacation time. We built Buddy Punch as a time clock software that would give business owners more control over work hours and completely replace physical timesheets, and it became clear to us during development that we would need a way to handle all things Employee PTO.
Whether for sick days or just for a break, your team members need their personal time. It's good practice to grant it to them as long as it doesn't cut into your bottom line. To that end, business owners need tracking software that can let them manage PTO requests while making sure the amount of time requested (or granted) doesn't surpass what a business can handle.
Other Features
We know how important it is to have a robust set of features and functionalities to help you better manage your employees and their time. We pride ourselves on offering many features that are not provided by several other time tracking systems. Whether you are looking for simple yet powerful features such as PTO Accruals and Overtime Calculations or more advanced features such as Geofences and QR Codes – we have got you covered! Make sure to check out all of the Other features we offer.
Paid Time Off Tracking
Easily track different PTO types with our Paid Time Off Tracking feature. Whether you are looking to track sick pay or vacation – we have got you covered. Setup as many PTO types as your business needs. Decide whether or not you want to allow your employees to enter in PTO on their time card – you have the option of approving PTO as they request it or letting them add it without approval.
Ready to give Buddy Punch a try?
For free trial, no credit card required.