Why We Built a Time Clock Software for QuickBooks & How It Works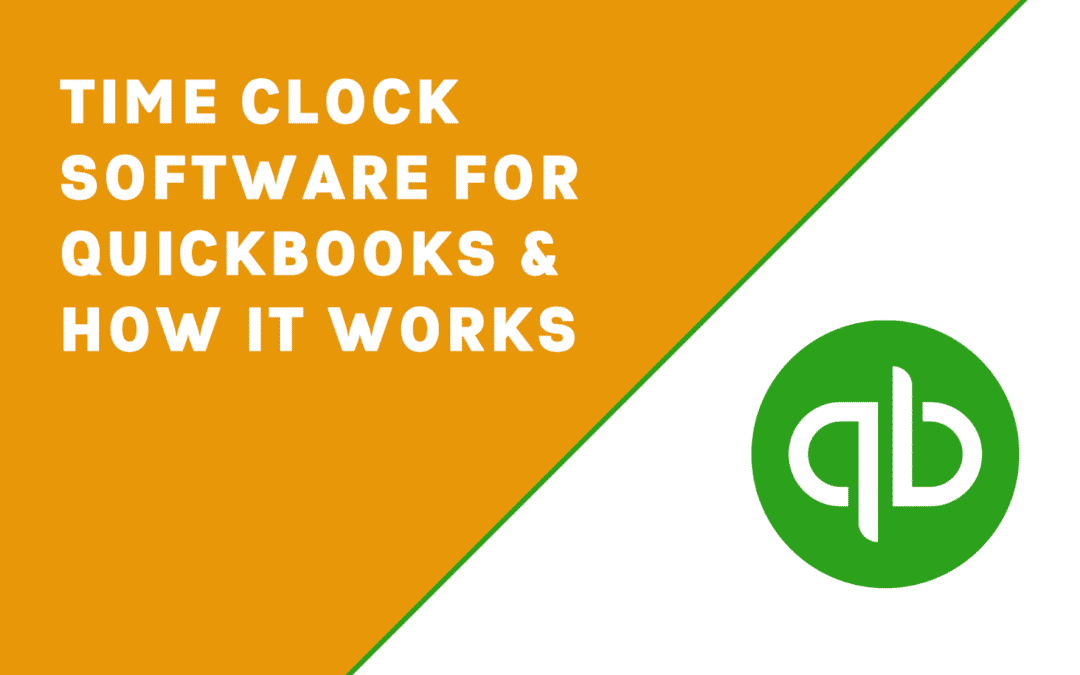 Buddy Punch is an employee time tracking software where employees can punch in and out, and then all of the information needed for the payroll process (i.e. regular hours worked, paid time off, overtime, etc.) is automatically calculated and available in a payroll report.
It's easily accessible, more organized than manual timesheets, and takes just a few clicks to download all relevant time card data in CSV or Excel format.

When we set out to build Buddy Punch, we didn't want business owners or administrators to have to manually type the payroll data from our reports into QuickBooks — a process that is both time consuming and liable to human error. Our belief was that data entry should be more streamlined in an optimal time clock software.
So we built an integration where, in just a few clicks, you can transfer employee hours from Buddy Punch into QuickBooks (not be confused with QuickBooks Time, formerly known as TSheets). Regardless of who's working or where, all data is accurately and comprehensively compiled and easily transferred.
This makes payroll a breeze, and we're proud to say our efforts paid off: customers love that we're a QuickBooks compatible time tracking app, and many have been kind enough to write us online reviews about it.
In fact, at the time of writing, Buddy Punch has garnered 780 reviews on the popular software review site Capterra, with an average of 4.8 out of 5 stars (and we were recently shortlisted for Capterra's list of 2022 Best Value Employee Scheduling and Attendance Tracking Software, as well as Best Ease of Use Employee Scheduling Software!).
Here are two examples of reviews highlighting Buddy Punch's QuickBooks integration:
One thing worth noting: The reviews above don't mention that Buddy Punch integrates with both QuickBooks Desktop and QuickBooks Online, so no matter which version of QuickBooks payroll your company uses, we've got you covered.
Buddy Punch's QuickBooks Desktop Integration
QuickBooks Desktop is the legacy version of QuickBooks, before the software went fully online.
Many businesses still use QuickBooks Desktop instead of its online counterpart mainly because they've already paid for the payroll software once, and do not wish to move to a monthly or yearly billing format inherent to QuickBooks Online. Now, newcomers to the software will have to make their choice based on pricing and capabilities.
The benefits of using QuickBooks Desktop with Buddy Punch's time tracker are clear: instead of inputting payroll information manually from each employee timesheet for every clock in and clock out, you can send it all from Buddy Punch to QuickBooks Desktop with the push of a button, and have it populate in real-time. This includes regular worked hours and time off information.
QuickBooks Desktop also allows you to segment your team members' hours by Customer Job Classes, which mirror Buddy Punch's own Locations, Departments and Positions categories.
Put simply, if you tag your employees' hours by locations, departments or positions, and use our QuickBooks Desktop integration, Buddy Punch will match those categories to their QuickBooks Desktop equivalents when sending information between one platform and the other.
While you can read a more detailed tutorial here, at a basic level, here's how this time clock app integration works:
Map the relevant payroll items that you would like to be transferred to QuickBooks Desktop: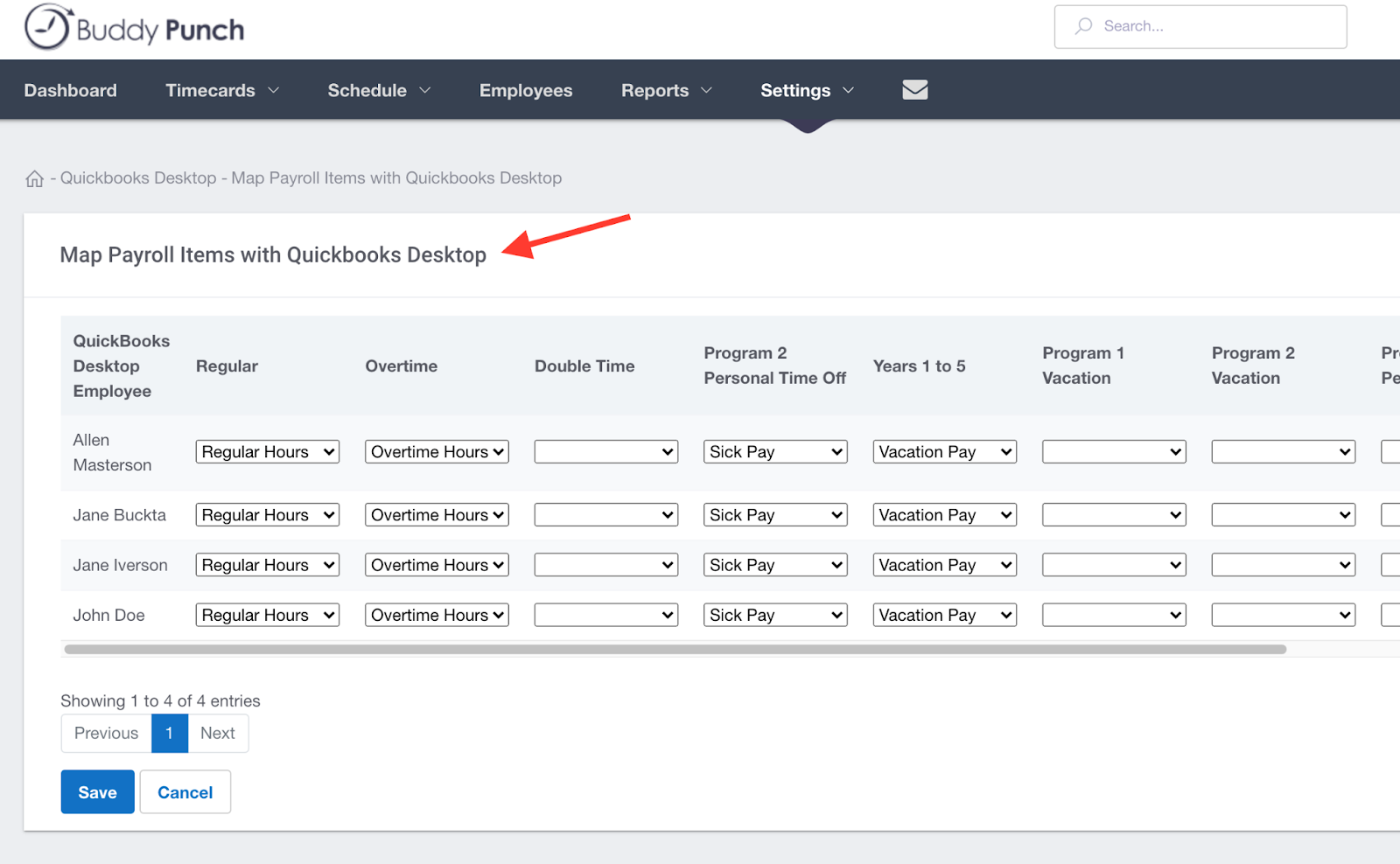 Then, all those relevant employee time clock items you selected to run payroll (i.e. regular hours worked per each team member) are automatically transferred to QuickBooks, saving you lots of time on an otherwise manual workforce management process. ​​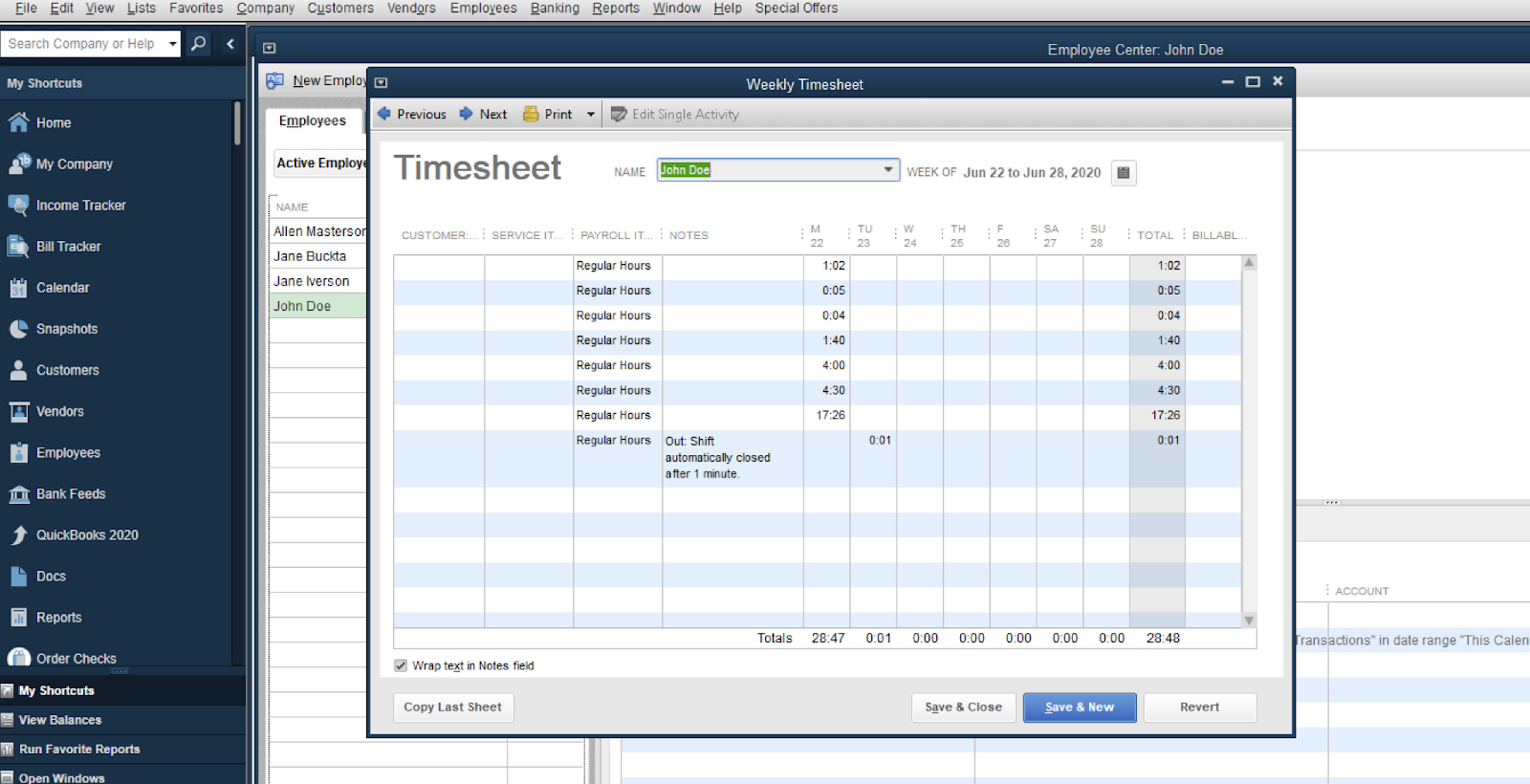 How to Set Up Buddy Punch's QuickBooks Desktop Integration
If you've picked Buddy Punch as your time clock system, here's how you can setup the QuickBooks Desktop Integration:
1. Log-in to the Buddy Punch platform using your administrator account and find our 'Integrations' page.


2. Click on the button next to the QuickBooks logo that reads 'Integrate with QuickBooks Desktop'.


3. Download 'QuickBooks Desktop Web Connector', and install it on your device.


4. Download and install Buddy Punch's Web Connector file.


5. Use QuickBooks Desktop's Web Connector to transfer time from Buddy Punch to the QuickBooks Desktop platform.
For a more in-depth help doc article of how to set up Buddy Punch's QuickBooks Desktop integration, click here.
Buddy Punch's QuickBooks Online Integration

QuickBooks Online is the newer, fully online version of QuickBooks Desktop. Both systems are effective ways to process payroll, but there are differences in price and functionality.
Most businesses that use QuickBooks Online do so because they either did not purchase the QuickBooks Desktop license when it was available, or because they want to enjoy QuickBooks Online's continuously up-to-date software.
Our QuickBooks Online integration is easy and fast to set up, and cuts down on all drawbacks inherent to the manual input of time data into punch clocks. While you can read a more detailed overview here, at a very basic level, here's how it works:
Select the relevant pay period dates and export employee hours into QuickBooks Online:

The employee time information you exported from our tracking system will then be available inside QuickBooks Online.
It's as easy as that and only takes a few clicks.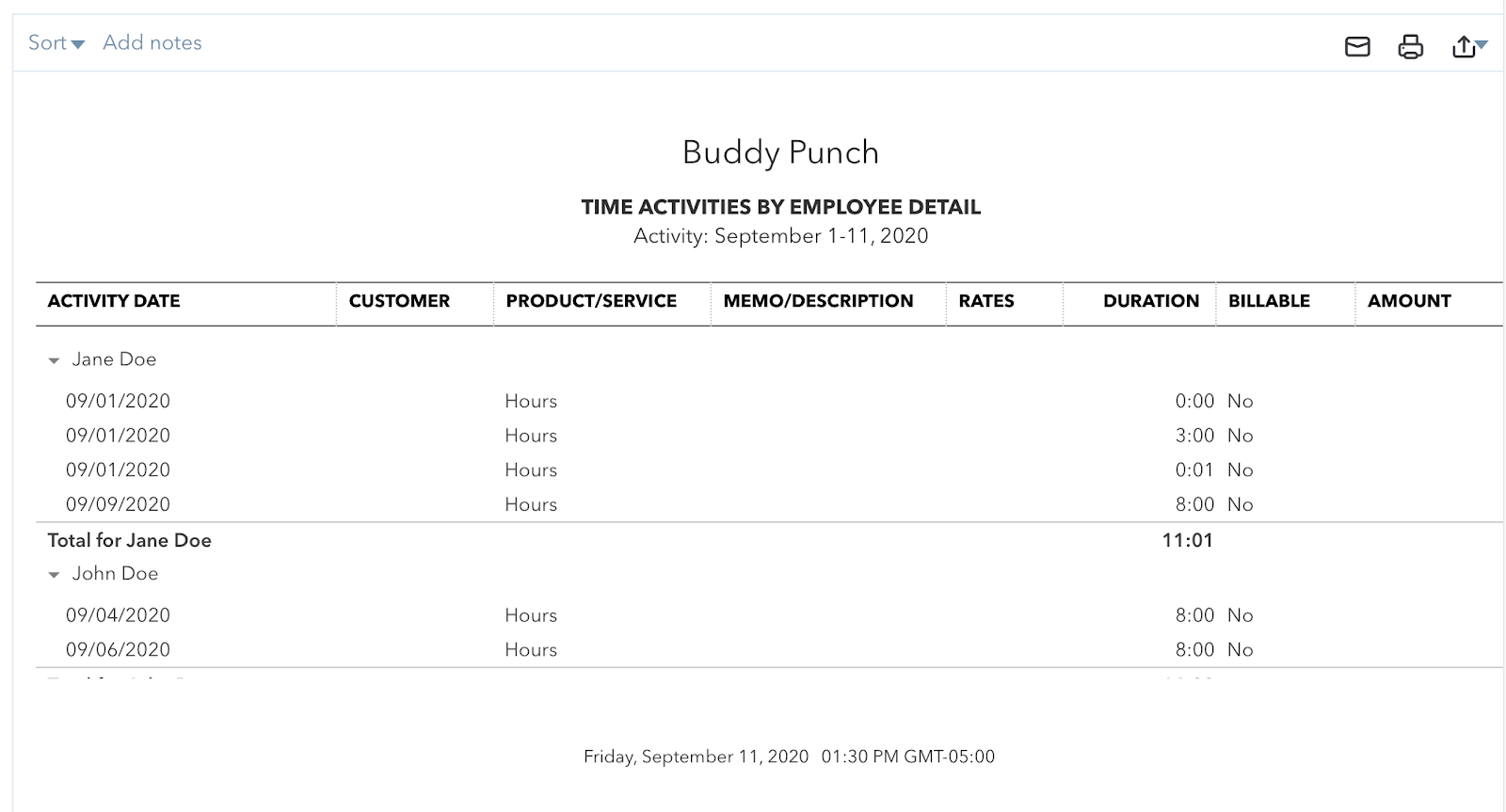 Note: One drawback to our integration (though not inherent to Buddy Punch, but instead to QuickBooks Online) is that it does not support the transfer of time off data from one platform to the other. This, as mentioned earlier, is not an issue when using QuickBooks Desktop. Another downside is that you will not be able to automate the updating of employee time off balances in QuickBooks (see our FAQ).
How to Set Up Buddy Punch's QuickBooks Online Integration
To set up Buddy Punch's QuickBooks Online Integration, follow these steps:
1. Log-in to the Buddy Punch platform using your administrator account and find our 'Integrations' page.


2. Click on the button next to the QuickBooks logo that reads 'Integrate with QuickBooks Online'.


3. Once on the integration page, click 'Connect to QuickBooks'. You'll be prompted to sign in to your QuickBooks Online account.


4. Click the 'Connect' button.


5. Navigate back to Buddy Punch's integrations page. You'll now see that you're connected to QuickBooks Online. Click on 'Sync Employees'.
For a more in-depth help doc article of how to set up Buddy Punch's QuickBooks Online integration, click here.
Final Thoughts
If you choose to use a time keeping app to keep track of employee hours and transfer that information to QuickBooks without an integration like the one Buddy Punch offers, you'll have to do it manually.
Some of our customers choose to do so, mainly because they are a small business with only a handful of employees and believe the manual transference of data between accounting software to not be too much of a hassle.
However, we advise against it to (1) save time and (2) avoid human error when typing hours and minutes for each employee into the QuickBooks platform.
Interested in Learning More About Buddy Punch?
Buddy Punch is an online time clock that not only integrates with Intuit QuickBooks (Desktop & Online versions) to streamline your payroll time calculating process, but also helps businesses keep track of time entries for their employees while keeping them accountable.
Our attendance software comes with many powerful benefits that cause some business owners to choose it over the QuickBooks time tracking options. Some of our time management features include:
For a full list of Buddy Punch's features click here.
Note that our tracking solution works on desktop, tablet, and mobile devices, so you'll always what your employees are doing on site. Our mobile app is available for iOS and Android and can even send notifications to your team members on these devices.
If you'd like to see our key time & project management features and functionalities in action, we've recorded a full Buddy Punch demo, which you can watch below:
To see Buddy Punch in action, sign up for a free trial (no credit card required) or schedule a personal demo. A member of our customer support team will be happy to show you the ins and outs of the Buddy Punch software, and answer any and all questions you might have along the way.
You May Also Like…