5 Best Retail Employee Scheduling Software Options (In-Depth Post)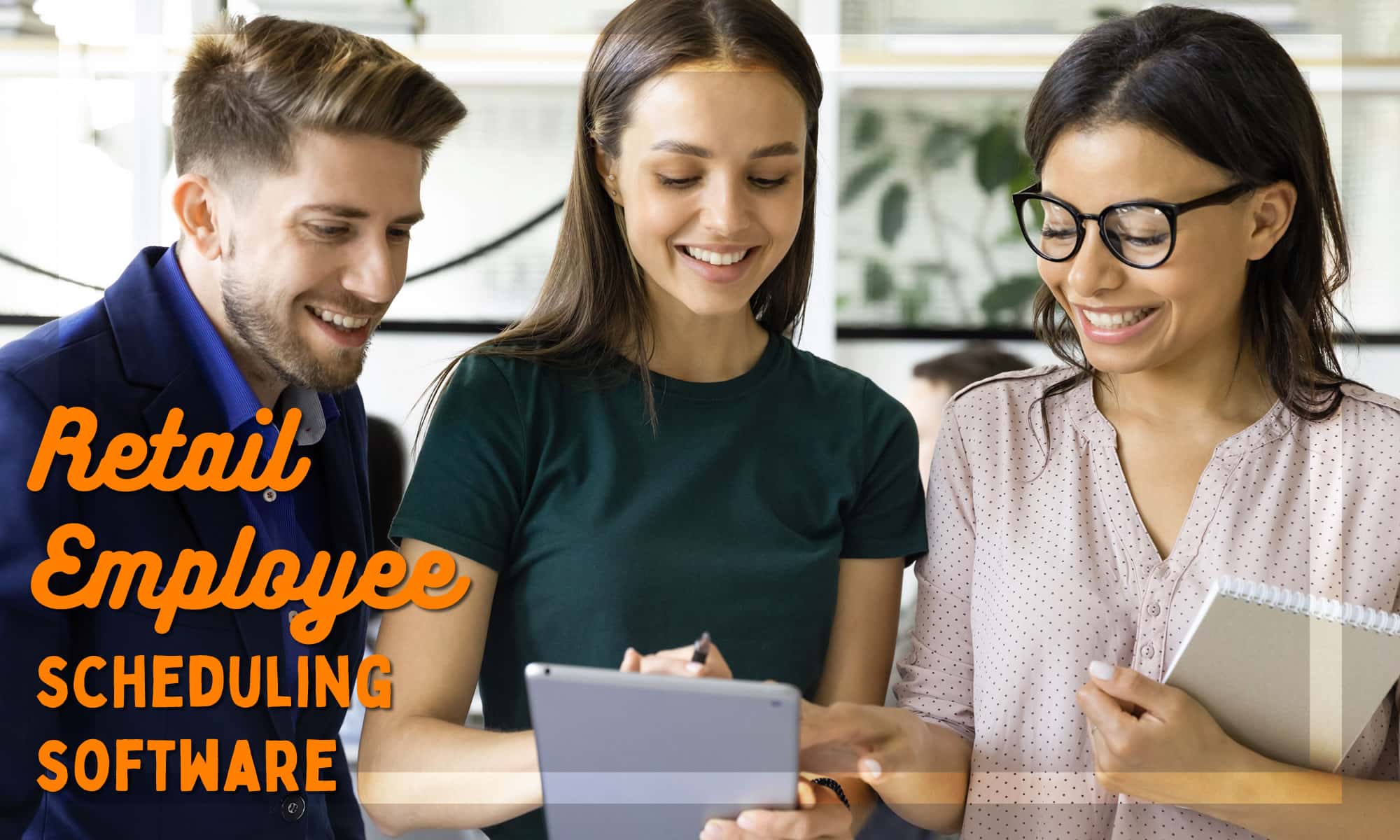 Proper scheduling methods are nearly mandatory for any business owner that wants to accurately calculate labor costs, stay on top of employee availability and staffing, and boost team communication. While many business owners immediately turn to digital scheduling tools to meet these needs, it's important to note that a subpar retail employee scheduling app can actually set you back in your goals.
Retail businesses thrive or suffer based on how well they manage their team members. There are three core aspects to consider when selecting your choice of retail management tools:
Employee Accountability. What is this scheduling solution bringing as far as accountability features? Think of functions like taking pictures when employees clock in to ensure no one is buddy punching, or monitoring which employee is working what job while on the clock.
Design Simplicity. Can any one of your team members use this tool easily? What if they're not particularly tech-savvy? What if some of your team members are on iPhone, others on Android mobile devices, and others still using desktops or tablets? Regardless of the tool they use, your team members should have an easy time maneuvering around your chosen shift scheduling software.
Payroll Streamlining. Lastly, handling employee data shouldn't be a time-consuming process that you dread each pay period. Rather than solely improving retail worker scheduling, a good software should also streamline the process to pay workers in a timely and accurate manner, minus any time they may have taken for personal leave.
Now, with these 3 aspects in mind and a general definition established of effective ways of handling employee scheduling for retail, we're going to list out our top 5 choices of scheduling software that will help retail stores improve their workforce management, profitability, and employees' job satisfaction.
Retail Employee Scheduling Software
Starting off our list of online retail employee scheduling software we have our very own Buddy Punch. When we began development on our employee management app, we drew on our own experience working with clients, as well as testimonials from our clients themselves, to determine what features would be most effective at improving the scheduling process. Here's a preview of what we settled on:
Next, we're going to explore each of these scheduling features to make it clear how they can benefit business owners.
Note: If you'd rather get a hands-on feel for these functions, Buddy Punch offers a 14-day free trial on all pricing plans. Click here to get started.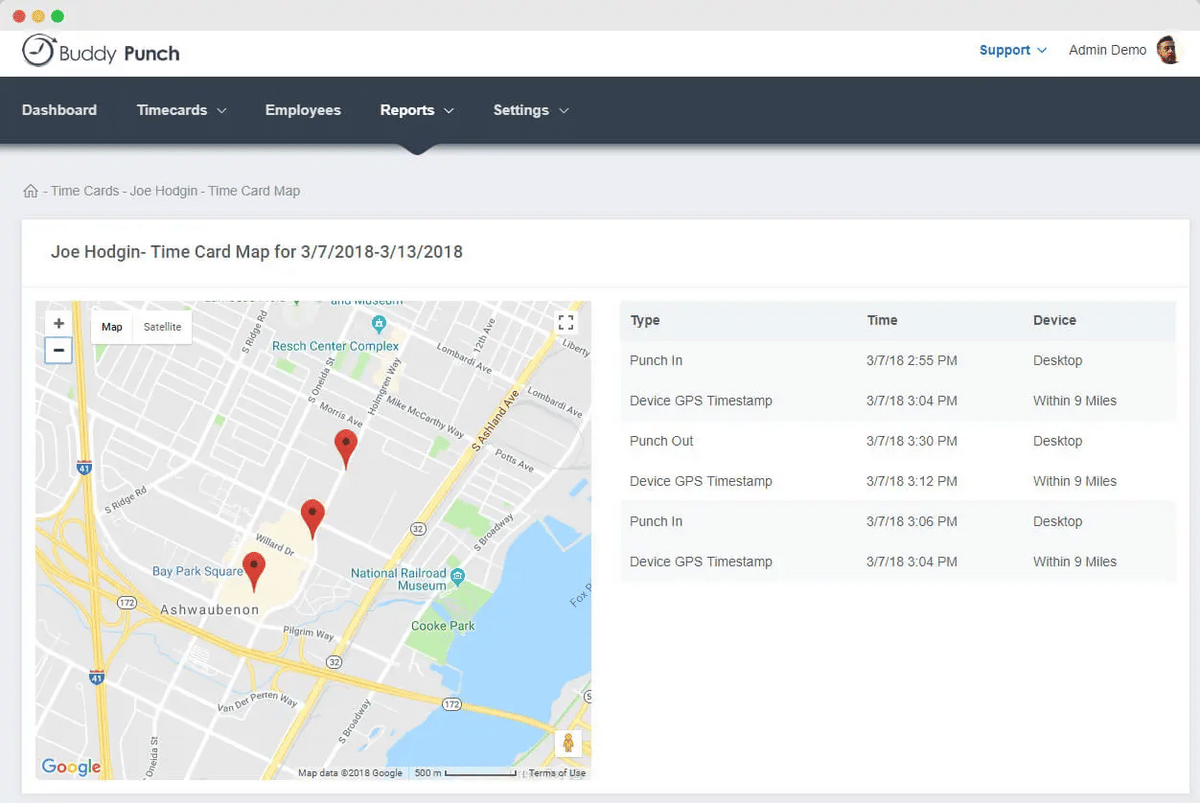 The pandemic raised awareness for remote and hybrid work in the retail sectors, with businesses like Apple fully embracing a more flexible model for retail employees. But most business owners tend to worry about their ability to track remote workers to ensure they aren't wasting time and money while off-site. Buddy Punch's GPS Tracking helps alleviate this, allowing you to see where employees are on an interactive map whenever they clock in.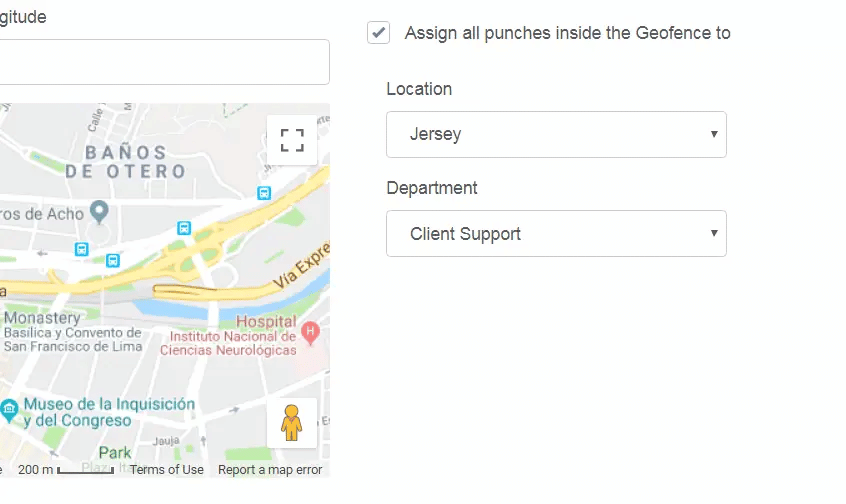 The Geofences feature gives you the ability to make sure your retail staff are where they're supposed to be while on the clock – all without you having to micromanage them. Simply create a radius on an interactive map (called a Geofence) and employees will only be able to log time while they're in that designated zone. Otherwise, they'll receive an error notification and be blocked from logging time.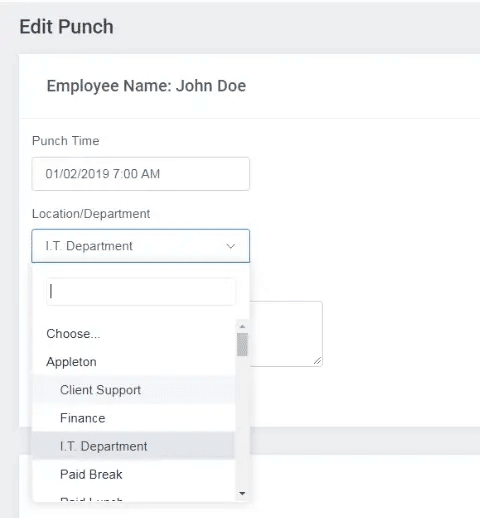 The Job Codes feature, also known as the Department Codes feature, enables business owners and administrators to track what tasks employees are completing while they're clocked in. If an employee works multiple jobs throughout the day, they can easily swap which code they're assigned to.
The Shift Trades & Covers feature allows employees (with permissions), managers, or administrators to trade shifts with other employees. In addition to this shift change option, employees can use the shift covers feature to address open shifts, volunteering to fill in for absent employees. If you give employees the autonomy, they can resolve some of your scheduling needs on their own.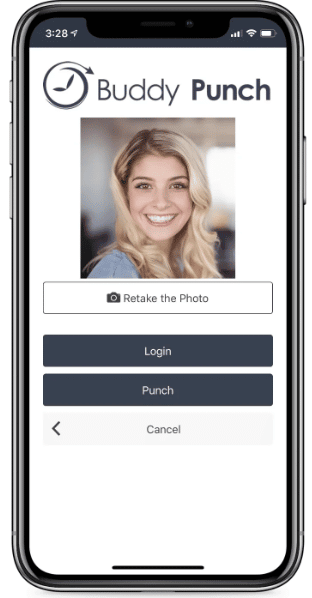 As you browse through Buddy Punch's feature list, you might start to think we've created an all-in-one tool for every need a business owner could have. While that was something we aimed for, we didn't want to overwhelm employees either. That's why we kept punching in simple – because for some teams, clicking one button to clock in is the full extent of functionality they'll need from Buddy Punch.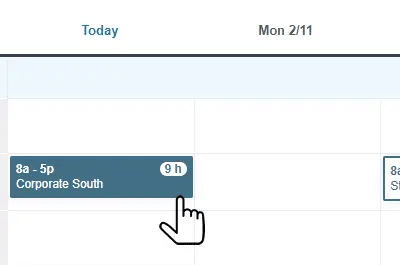 Buddy Punch makes shift management easy. You can create a shift in Buddy Punch's interface by simply clicking on an empty cell. Then, you can drag and drop it into your schedule as needed. This feature makes it easy to visualize your retail schedule. Once you publish it, all scheduled staff members will be automatically notified.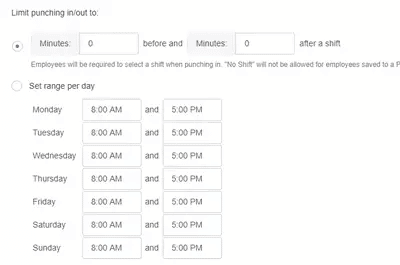 Have staff members with a tendency to punch in early or late, affecting your schedule (or even causing overtime?) The Punch Limiting feature allows you to limit punching in and out to a specific time range during your employees' days.

Buddy Punch makes billing, invoicing, and payroll easier by integrating directly with payroll software to make it easy for you to transfer over employee data. Some of the most popular names we work with include Zapier, ADP, Paychex, and more (click here to view the full list).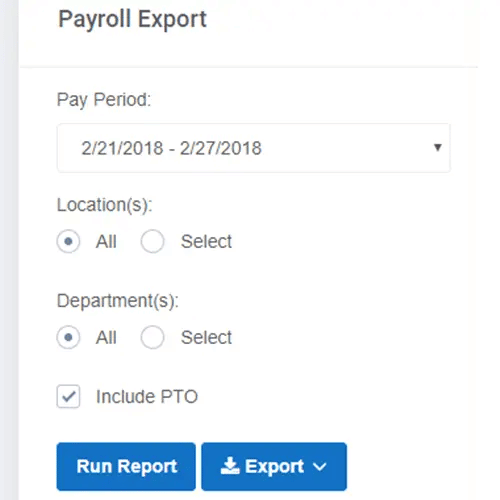 Buddy Punch offers many customizable reports, but the Payroll Export in particular is very powerful. This gives you a detailed view of your employees, their hours, overtime, locations, and departments – all the data you need to make informed decisions for optimizing your operations or enacting schedule changes. You can even go back to previous pay periods at will.
This can be exported into Excel CSV or PDF format, depending on your preference.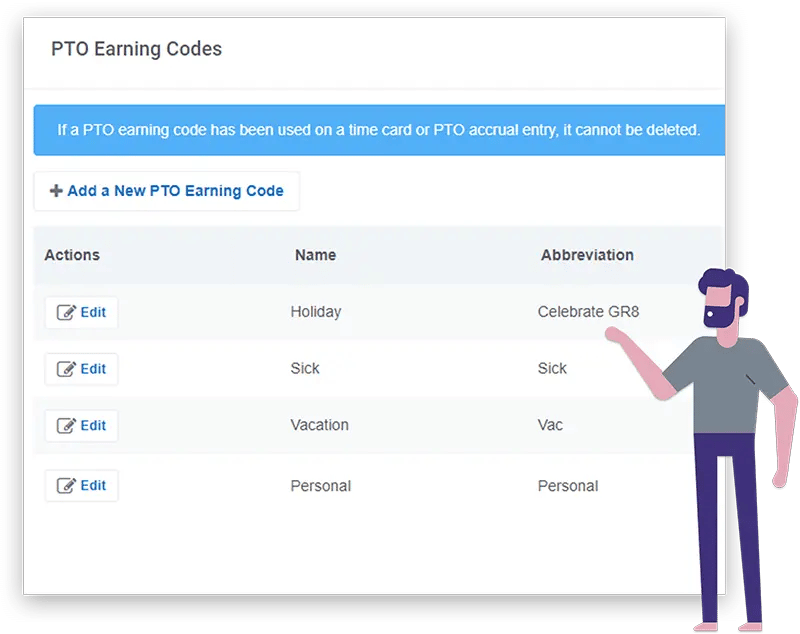 Lastly, Buddy Punch enables you to spend less time on paid time off management. You can use Buddy Punch's built-in PTO types (Holiday time, Sick leave, vacation days, etc.) or create your own custom PTO type at will. Furthermore, you can grant your team members the autonomy to be automatically approved for their requested time off if you wish. Otherwise, you'll be notified when a leave request is put in, and your staff will be notified of your decision to approve or deny a request in turn.
Buddy Punch Brings More to Retail Store Employee Scheduling
We've only touched on a select few benefits to using Buddy Punch. Consider some of these other features the program has:
Additionally, there are plenty of out-of-app benefits to consider with Buddy Punch:
Reading about all these tools is one thing and trying them out is another thing entirely. You can get a one-on-one personalized demo of Buddy Punch by booking here.
Buddy Punch's Online Reviews
As of this post's writing date, Buddy Punch has 4.8 out of 5 stars and 696 reviews on Capterra.

Below, we'll list just a few reviews that speak to Buddy Punch's effectiveness as an employee scheduling software for retail. (Click here to explore the full list of reviews.)
"The interaction with the the different sections is seamless once a person learns all the processes that relate to time in and time off. Having the availability of the calendar option makes keeping up with personal time very simple. The features that allow changes to time and scheduling are made simple and are quick and easy to perform"

Click here to read the full review.
"Overall: It has a great deal of flexibility and gives administrators/managers the ability to see who is here at any given time of the day. Managers also have the ability to approve PTO prior to it being added to the time sheet. This provides accountability for both the employee and manager. They can also schedule shift work if necessary. In running payroll, since employees will punch in, be able to track their time as well as PTO in one place; this saves me time on my end."

Click here to read the full review.
"Any time I have an issue, its immediately fixed and it seems like Buddy Punch is constantly taking customers issues and using those to fix the system overall. Every business is going to have issues, it's a matter of fixing them and improving . I have never dealt with a company before, not just an online time clock/scheduler, that has responded so efficiently to customers issues and wants to fix it to where it doesn't happen again in the future or fix it to where its easier to use in the future. "

Click here to read the full review.
"This software is user friendly and easy to learn how to use. It provides more than just time accounting. Employees can schedule time off. It provides accurate data concerning payroll dollar amounts. Overall, it is a great asset to our organization. Buddy Punch compliments our payroll software and helps ensure payroll accuracy."

Click here to read the full review.
As these reviewers noted, Buddy Punch is a simple software to use, with a responsive customer support team to support business owners.
Try Buddy Punch for Free
If you feel that Buddy Punch might be the right retail scheduling app for your business, sign up for a free 14-day trial. You can also book a one-on-one demo, or view a pre-recorded demo video.
Sling is an employee scheduling tool that emphasizes improving communication between management and employees. It offers various features including (but not limited to):
Sling automates many scheduling features, making it a great employee time tracking software for iOS and Android devices. As of the writing date, Sling has 4.6 out of 5 stars and 110 reviews on Capterra.
"I looked through several scheduling tools before settling on Sling. This included simple Excel sheets, Homebase, and When I Work. I settled on Sling because of the wide array of features for no cost and mobile app access. The mobile app experience, per my team, was easy and extremely convenient. I personally was impressed with the ease of the drag-and-drop scheduler."

Click here to read the full review.
QuickBooks Time (formerly known TSheets) has features that include but are not limited to:
At the time of this post's writing, QuickBooks Time has 4.7 out of 5 stars and 5,657 reviews on Capterra.

"This app has single-handedly reduced our employee-touch payroll tasks by at least 30% in under a week. Onboarding is super simple. We've traditionally balked at using an app for employee time-keeping because they usually overpromise and underdeliver. We have a unique set of problems with payroll because we track employee drive time and work time separately, and we have to compare employee time with GPS locations of our vehicles. "

Click here to read the full review.
As of this post's writing, Deputy has garnered a total of 584 reviews and 4.6 out of 5 stars on Capterra.
Here are just a few of its key features and functionality:
"This software has helped our company specifically with the scheduling aspect of our business. It saves the company scheduler time, helps us keep the time off requests and scheduling organized, and has made it much easier to communicate the work schedule to our employees. After trying the free trial, we knew it was the right software for us."

Click here to read the full review.
ZoomShift is a scheduling tool designed specifically for hourly employees. Here are just a few of its key features:
As of this post's writing, ZoomShift has a rating of 4.5/5 stars, with 94 reviews on Capterra.
"Efficiency in scheduling and having information immediately connected to staff is a blessing compared to our previous manual individual set scheduling policy. It has normalized the regular need to adjust start times, stop times and work assignments (You know….Vacation liability, PTO, call outs, unexpected client demands and on and on). "

Click here to read the full review.
Choosing the Best Retail Employee Scheduling Software
One thing that may have become apparent in our list is how varied these potential apps are, both in function and design. Finding the one that works best for your workforce may come down to trial and error, but looking closely at each tool's features and goal for business owners can help.
For example, if your business has thrived with schedule templates, you might like that Sling will let you import and export templates at will. If you're working with a HR Department, you might want to use QuickBooks Time to help them manage employees.
And if what you want is a tool with many versatile features that you can enable or disable at will, a responsive customer support team that's always available to help you with issues, and a simple design that makes it so that any staff member can easily use it, what you want is Buddy Punch.

Try Buddy Punch for Free
If you feel that Buddy Punch could be the right scheduling app for your business, sign up for a free trial. You can also book a one-on-one demo, or view a pre-recorded demo video.

You May Also Like…