What should a schedule include?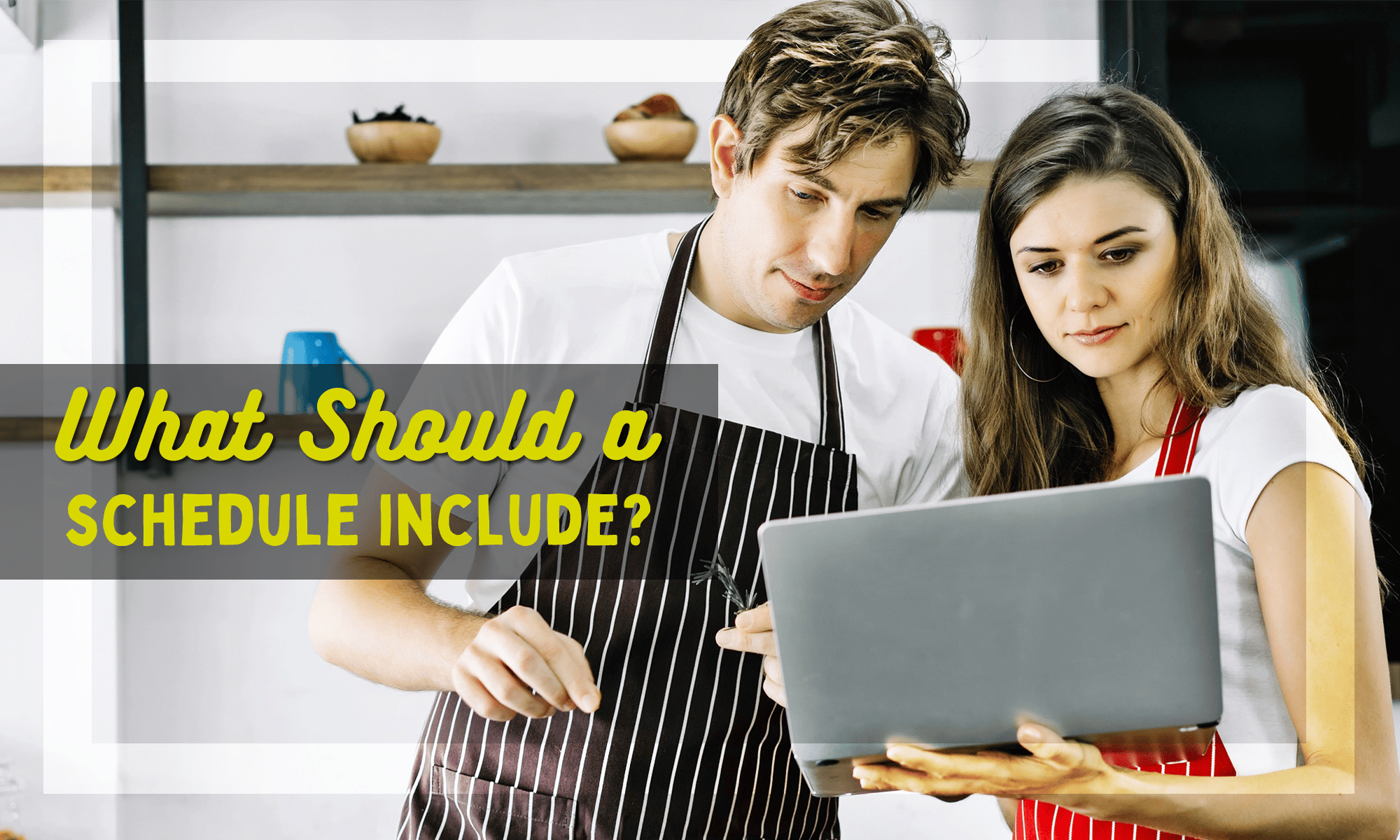 Creating a project schedule is one of the most important tasks when planning the initial stages of a project. A schedule sets out a timetable that helps with time management and task organization, as well as resource management and due dates over the course of the project. Knowing what to put in a project schedule and how to organize it is an essential part of project management.
Project scheduling involves a variety of different tasks and a schedule should include some key elements for project success. This guide will tell you everything that you need to know about project schedules and how you can ensure your project scheduling process is effective.

What are the uses of a schedule?
A schedule is used in multiple ways to help keep a project on track. Without scheduling, it's difficult to keep any project organized. A project schedule helps to ensure everyone knows what they should be doing and when, as well as what resources are needed, who needs them, and when they are needed. Project schedules are used when planning a project and when executing them too. Project managers can gain control of key deliverables over the course of the project when they have a clear schedule for them and their whole team to follow.
A schedule provides a full timeline for any project so that it's easier to manage employee time, the tasks they need to complete, and the deadlines that they have to meet.

What is the basis of a schedule?
A schedule basis is a document defining the basis for the development of the project schedule. It helps the project team and stakeholders to identify key elements, issues, and considerations involved in the project. A schedule basis includes the assumptions used to build the schedule, which can be particularly useful if the project schedule needs to be handed to someone else. There are best practices for developing schedule basis documents, which provide guidance on creating a schedule basis before creating a project schedule.
What is an example of a schedule?
An example of a schedule is a project schedule, an employee schedule, or a work schedule. Schedules come in many forms in business and project management. Take a look at how some different projects, tasks, and work days might be scheduled with these examples and templates. You can find that different projects and working schedules will differ depending on the industry or the project that needs to be completed.

What makes an effective schedule?
An effective schedule is a schedule that is as detailed and thorough as possible. It needs to take into account time management, tasks, people, and resource management to make sure all of the essentials are included and the project schedule can be followed.
Effective project scheduling should make it easier to manage and allocate resources, provide a baseline for performance management, and allow the project progress to be tracked. Some of the things that should be included in the project scope include:
Stages and milestone schedule
A work breakdown structure
An outline of tasks
A critical path to chart a path through all the tasks
Resource availability and allocation
Risk documentation
All of these things can be brought together to create a comprehensive project schedule using a range of project scheduling techniques.

How do you create a project schedule?
Creating a project schedule involves defining all of the tasks, resources needed, and deadlines for your project. There are various techniques that you can use to create a project schedule, different types of schedules, and tools that you can use for project scheduling.
Types of Project Schedules
Some of the types of project schedules include a master schedule, milestone schedule, and detailed schedule. Each of these types of schedules should be used in different circumstances to enable effective project management.
A master schedule is a summary-level document that should include project milestones, key deliverables, and a work breakdown structure. It should be given to key stakeholders and should be referred to in key communications between different stakeholders.
A milestone schedule can provide more detail during project management and the project scheduling process. Its purpose is to outline the goals and achievements of a project, as well as the dates and deadlines that the project will work on. This detailed schedule probably doesn't need to be shared with the client or higher-ups outside of the project team. It is a key document that can be used to measure KPIs and define whether the project is meeting deadlines.
A detailed schedule is mostly for project teams, giving team members the exact details of what needs to be done and when, as well as the resources required. The detailed schedule should include deadlines, deliverables, and what work needs to be completed before and after each task is carried out.
Ideally, all of these schedules should be created for a project. You can then check if they all match up to ensure your project schedules have been laid out effectively.
Preparing for the Project Scheduling Process
There are many steps that need to be carried out during project scheduling and there are different methods that can be used during the process. Before you can start putting a project schedule together, there is a certain amount of groundwork that needs to be carried out. The project manager should start with some basic planning, including listing stakeholders, outlining available resources, and considering contingencies that could arise. You can also decide who can make changes to the schedule, the process for requesting a change, and a project communication plan.
After doing these initial tasks, the next step is to define the project activities. This can just involve writing down a list of the tasks that need to be completed in order or priority. Complex project schedules might require tasks to be organized in the form of a chart, rather than just a list, so that everything can be visualized. Splitting up different tasks can be challenging. One way to define activities is to use the 8/80 rule and make sure your tasks take between 8 and 80 hours. If they take fewer than 8 hours, they can be grouped together with other tasks.
When you have a complete list of tasks, you can determine which tasks depend on others being completed first. This will ensure your tasks are prioritized effectively and the project can run smoothly. You won't have to suddenly stop because a forgotten task needs to be completed before you can carry on with the project schedule. You can then sequence your tasks.
Finally, you can estimate the resources and durations for the activities in your project. Resources include personnel, subcontractors, tools, and workspace that will be needed. Resource allocation is important to pay attention to because it will affect your schedule. One person can't work on multiple parts of the project at once, so you need to schedule effectively.
These steps can all be summarized into five key steps of scheduling: defining tasks, sequencing tasks, estimating task resources, estimating task durations, and developing the schedule.
Project Scheduling Techniques
When developing the project schedule, there are numerous techniques you could consider using. Some of the techniques that can be useful include task lists, project calendar creation, and Gantt charts.
Task lists offer a simple way to schedule tasks, which can work best for smaller project schedules. More involved project management needs might require other methods that allow for dealing with more detail and complex requirements. A task list can be as simple as a list of tasks and any connected sub-tasks that are assigned to team members. Project management software or scheduling tools can come in handy when using task lists for project scheduling.
Using a project calendar is very useful to help plan and execute any project schedule. Calendars can help with visualizing different timelines and deadlines and seeing how tasks can overlap too. However, a calendar on its own can lack the ability to do things like assigning tasks. So it's more useful to use a project calendar along with other techniques.
Gantt charts are common tools that project managers use to visualize timelines and task dependencies in a project. Using a Gantt chart, you can quickly estimate the time that's needed to complete each task. Gantt charts use bars to represent the tasks that need to be completed. They show when tasks should begin and when they should be completed, as well as task dependencies and overlaps between tasks.
Project Schedule Models and Formulas
Another thing to consider is the different models and formulas that can be used to develop a project schedule. Some of the options include models such as critical path, critical chain, and resource-leveling. Each method has its own benefits and can be applied to various project management needs, so it's worth considering which approach could work best for your project progress. There's a lot to know about each method, but here's a quick rundown of what they mean.
The critical path method is a method based on the tasks necessary to complete the project. It focuses on the minimum number of tasks to complete to get the project finished as quickly as possible and puts them in sequential order.
A critical chain is the longest path in the schedule and looks at the interdependence of activities and resource constraints. It identifies tasks that could extend the timetable of the project if they are delayed.
Resource leveling focuses on optimizing resources that define when the project schedule will finish based on resource availability.

FAQs
How do you plan and schedule a work activity?
To plan and schedule a work activity, you need to begin by defining the tasks that need to be completed. You can then organize your project activities by prioritizing and sequencing different tasks. Similar tasks can be grouped together so that they can be completed more efficiently. Setting realistic timetables is also a key part of planning and scheduling a work activity. Time management is crucial to consider in the beginning stages.
How is project scheduling done?
Project scheduling is done using a range of methods and techniques. The best approach to project scheduling will depend on the size of the project, as well as the type of project being completed, and even the industry. Some of the tools used to develop a project schedule might include task lists, project calendars, and Gantt charts.

What are the five steps of scheduling?
The five steps of scheduling are: Defining tasks, Sequencing tasks, Estimating task resources, Estimating task durations, and Developing the schedule.
What is a schedule used for?
A schedule is used to ensure all the tasks required to complete a project will be completed. It defines the tasks, the resources required (including personnel), and the timetable for the completion of the project. A project schedule can be referred to throughout the course of the project to check that everything is on track, understand what needs to happen next and who should be doing it, and make any necessary schedule changes.
What is a software schedule?
A software schedule is a schedule that is used in the development of software. Much like any other project schedule, it needs to follow certain steps to help with schedule management. It should include anything that any other project schedule should include, such as project needs, resource requirements, and the specific tasks that need to be completed over the schedule duration. A software schedule should be distinguished from project scheduling software, which is software designed to make scheduling easier.
What should a schedule include?
A schedule should include everything that is needed to complete a project and keep it on track. A comprehensive schedule needs to list tasks, deadlines and timeframes, and resources that are required to do all of the tasks too. Every project schedule should have start dates and end dates, tasks with time frames, and resources and people assigned to each of the tasks. It should give everyone involved in the project a clear idea of how it will progress from start to finish. Some schedules will have basic details, while others will provide a further breakdown of the project activity.