7 Best Sling Scheduling Alternatives for 2023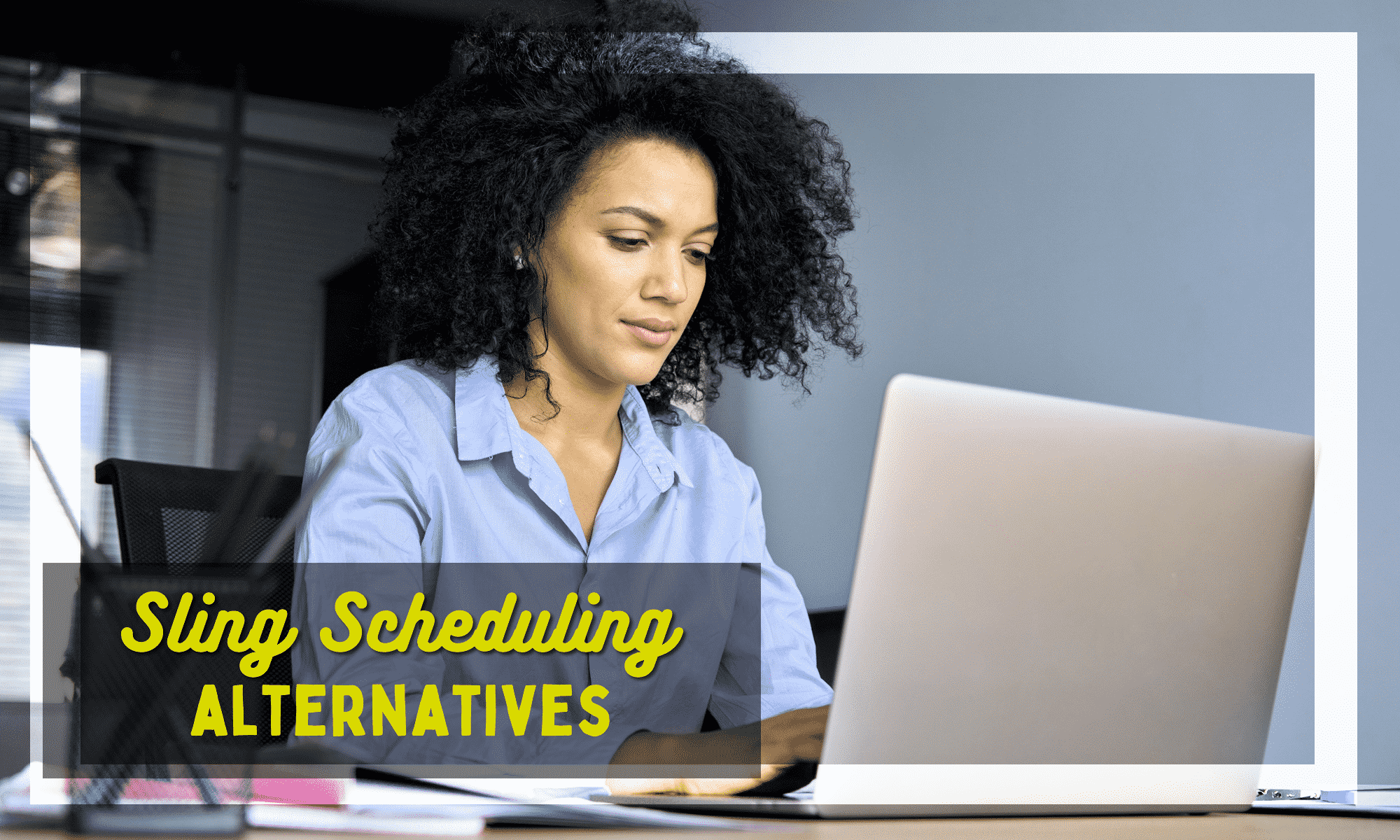 Sling is a powerful employee scheduling tool, designed to help with time tracking, schedule creation, and labor costs, reducing administrative burden and improving HR processes. However, it isn't the only time tracking and employee scheduling software on the market. There are many alternatives.
If you're curious about what's out there, we've got you covered. In this post, we take an in-depth look at some of the other labor management tools on the market, and how they could help your business thrive.
Note: Buddy Punch is a powerful scheduling app we build ourselves, offering business leaders a variety of tools designed to reduce annoying administrative tasks. Click here to learn more and sign up for a free plan.
Best Alternatives to Sling Scheduling

At Buddy Punch, we used to spend a huge amount of time on workforce management, planning work schedules, calculating rates for hourly employees, and time tracking. Therefore, we decided to develop an employee scheduling app that would not only control labor costs but also improve our core HR services. Our goal was to put an end to losing money managing multiple employees at different locations.
The result is the Buddy Punch time clock software we are so proud of today. It keeps employees honest while also providing managers with a suite of additional services including automatic alerts for employees before their shift starts, shift swapping, and even payroll integration. The result is an intuitive employee scheduling app for both employees and employers that allows small businesses to manage schedules with ease, instead of trying to do everything through cumbersome, difficult-to-use spreadsheets.
Here's what one reviewer had to say about their experience with Buddy Punch:
Overall: It has a great deal of flexibility and gives administrators/managers the ability to see who is here at any given time of the day. Managers also have the ability to approve PTO prior to it being added to the time sheet. This provides accountability for both the employee and manager. They can also schedule shift work if necessary. In running payroll, since employees will punch in, be able to track their time as well as PTO in one place; this saves me time on my end. I simply run a report at pay period end to access a summary for each employee. I still have to enter totals but will not longer have to search spreadsheet each line for notes regarding time off. The reports are very helpful and can be downloaded in multiple formats.

Click here to see the full review.
Buddy Punch isn't just team tracking software, though. It's a holistic business solution, and a genuine Sling alternative. For instance, our software helps with:
Work schedules: Benefit from a simple drag and drop interface to create repeating schedules and track timesheets
Payroll: Get full payroll integration with a variety of popular providers, making it easier to schedule work and track hourly workers' compensation
Employee accountability: Prevent time theft with GPS tracking, IP address locking, and geofencing
Let's take a look at each of Buddy Punch's main features in more detail.
Without proper tools in place, scheduling work for your team can be challenging. When you operate multiple locations and have dozens of employees, unifying communications through a single platform becomes essential, otherwise, you risk making mistakes.
Fortunately, with Buddy Punch, you get all of the features you need to make schedule changes, improve leave management, and track employee work hours included in a single solution.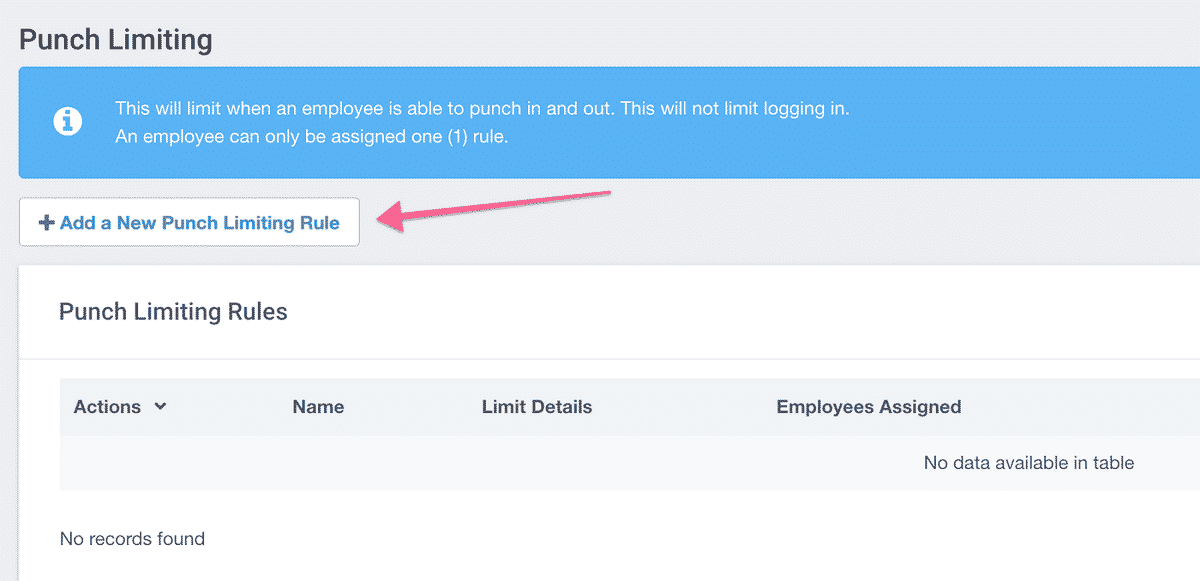 Buddy Punch's punch limiting tools let you restrict when staff can clock in and out of work, for instance, 15 minutes before or after, on any day of the week. If they attempt to clock in outside of permitted times, they will receive an error message.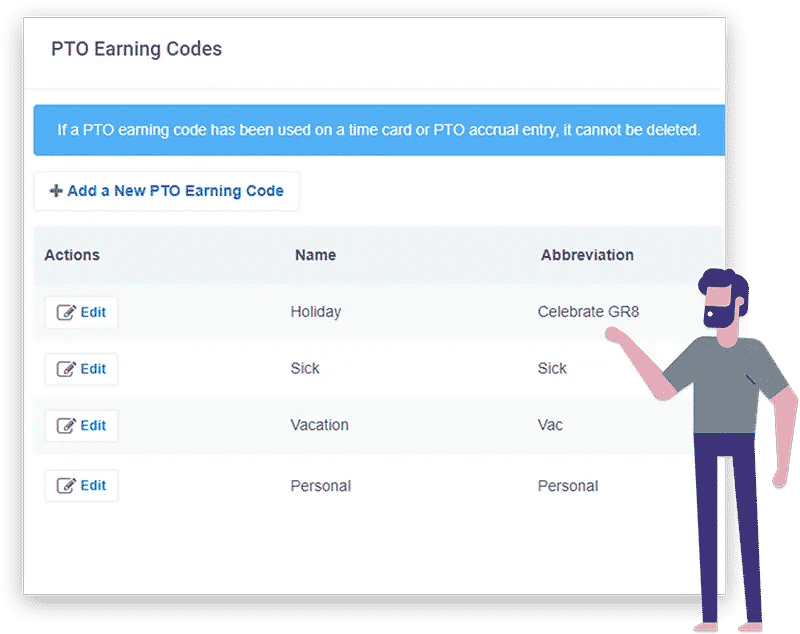 Offering working hour flexibility is essential for talent acquisition. Therefore, Buddy Punch offers an employee availability workforce management system that lets employees tell you when they would prefer to work. You can then approve their requests in real-time.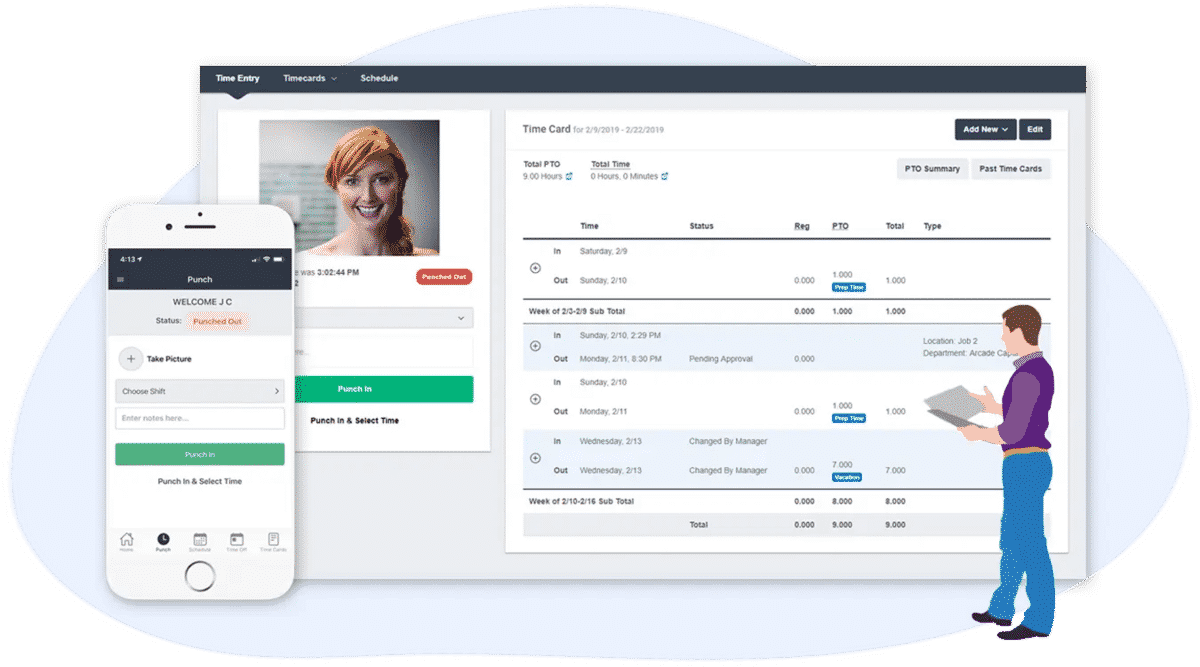 Keeping tabs on employee schedules is challenging, even for the best HR departments. However, Buddy Punch features helpful notifications and alerts that get automatically sent to employees' devices, whenever they have a shift coming up, or if there is a change.
Note: Buddy Punch mobile app is suitable for both iOS and Android devices.
Repeating Shifts
Buddy Punch also offers various tools for streamlining scheduling. Our repeating and recurring shifts feature makes it easy to copy entire schedules once you create them, negating the need to enter the same information multiple times.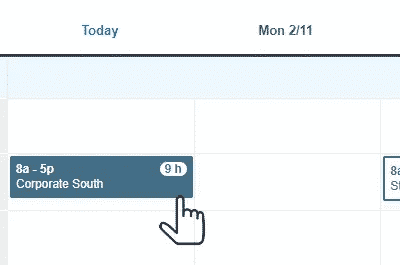 Lastly, we make time tracking a breeze with our easy-to-use intuitive drag and drop interface. Improve workforce and attendance management while also notifying your team of work schedule changes by simply dragging and dropping shift boxes into your calendar.
Calculating payroll is hard when you rely on traditional methods. Errors and discrepancies inevitably emerge without employee scheduling software integration. Worse still, correcting problems, often months later, is an unwanted administrative task and can sour relations with your employees.
Fortunately, Buddy Punch offers a host of payroll features designed to free up time and provide better service to your users.
Calculating paid time off on an employee-by-employee basis is time-consuming. But with our platform, it doesn't need to be. With our PTO summary feature, you can easily calculate paid time off for all your employees, just by entering a few key parameters.
Accrual rules vary significantly between businesses, but Buddy Punch offers the flexibility you need. Accruals can accumulate based on specific pay periods, hours worked, or annually, depending on your contract terms.
Project Tracking
Project tracking lets you figure out how much a particular set of tasks is going to cost ahead of time, letting you manage it better. You can adjust rates and calculate labor costs, based on the work being done.
Lastly, Buddy Punch offers a range of helpful employee accountability features designed to keep your team honest and reduce supervision workload for managers.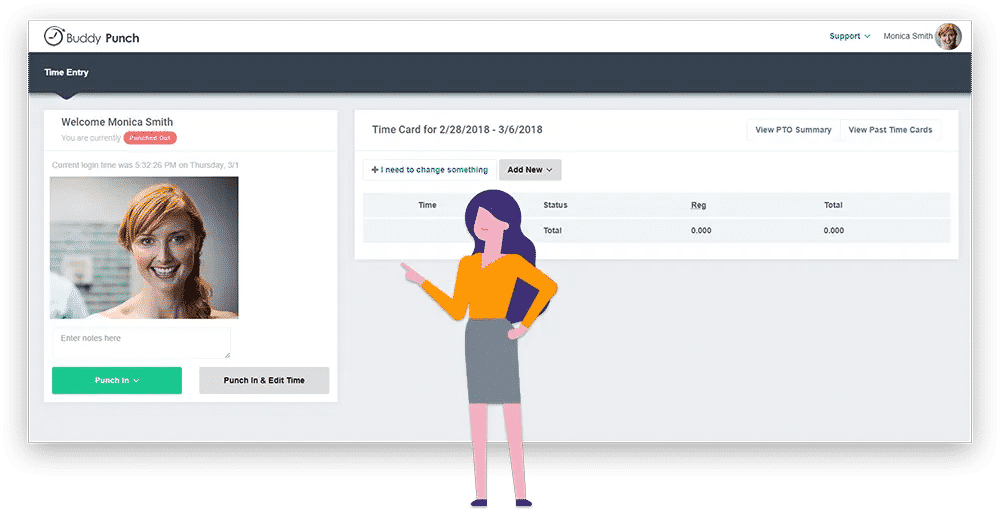 Buddy Punch's webcam photo identification gets employees to take a picture of themselves before logging in for their shift. Managers can then review all photos, checking for discrepancies.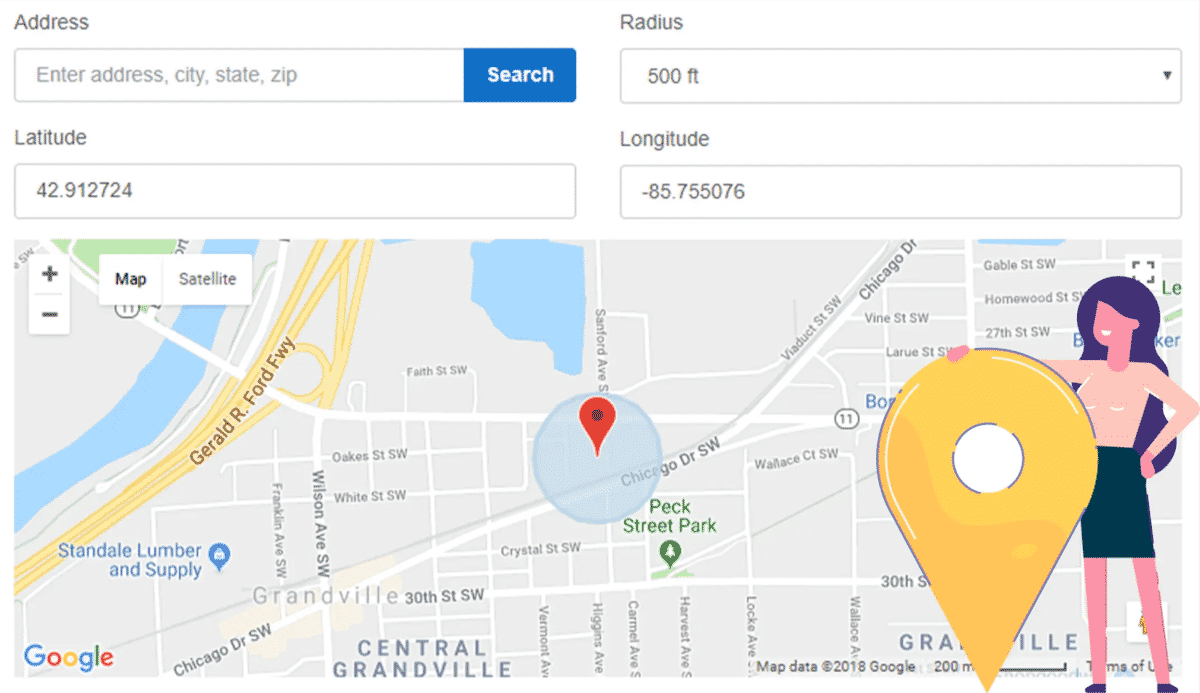 Remote workers may sometimes attempt to clock on for shift work early, even if they are nowhere near their worksite. However, with Buddy Punch's geofencing, you can prevent this from happening, only letting workers punch in once they reach a specific GPS-defined location.

Lastly, IP address locking prevents employees from signing on for a shift from an unrecognized device.
Added Features
Of course, Buddy Punch's features don't end here. There are multiple additional tools that you'll love on our scheduling app.
For instance, Buddy Punch makes it easy to have cloud-based group chats, improving shift swapping and shift changes. The software also automatically approves employee time cards so you don't need to manually authorized pre-approved employee scheduling.
Lastly, Buddy Punch offers multiple login options to align with your current business practices. Employees can sign in with a PIN, QR code, Google account, Apple Face ID, or a conventional username and password.
Check out the complete list of Buddy Punch Features here.
What Our Customers Say About Buddy Punch
We love receiving reviews from our customers. Here's what they have to say about Buddy Punch:
Overall: Turns out its preetttyyy gooood. Was looking for an app that helped manage employee punching in/out for small businesses and did a bunch of trials before finding BuddyPunch. The other apps that I found were often not what I was looking for or did not have a focus on employee punch-in/outs. Found buddypunch and it does exactly what I need it to. The UI is very well designed, the administrator makes employee accounts and employees just go to the website, log in, and push the big green button. They then log in again to punch out but the big green button will be a big red button this time. Very simple, very easy, does employee punch-ins, does it well. Also got an IP-Lock feature so employees can only punch in on-site. There are some other features like wage calculations based on punch-in time, overtime stuff, and other things that I don't use but they seemed pretty useful if I ever choose to use them.

Read the full review here
This review focuses on ease-of-use, which is something that we focused on from the start.
Overall: Best solution to time tracking for our hourly employees, and it keeps me updated when someone forgets to clock out. Also, it allows my employees to make changes if needed, which I can review and approve.

Pros: Ease of use, for both employees and managers. The phone app with the clock in/out feature makes this the easiest for our company.

Read the full review here
This review confirms how easy it is for managers and employees to use our platform.
Overall: Buddy Punch has streamlined the clock-in/clock-out system for the firm I work for. Previous employers used different systems for timekeeping and they always seemed to cause more of an issue at the end of the month when billing and payroll would hit.

Pros: I like that there a very little functions, meaning that the software is simple to navigate and understand. I also prefer being able to see my time cards for my own personal use instead of having to ask the administrator for the information that I am looking for.

Read the full review here
At the time of writing, Buddy Punch has an average score of 4.8 out of 5 on Capterra and is one of the easiest to use alternatives to Sling.
Learn More About How Buddy Punch Could Help You
To get to know Buddy Punch and the incredible benefits it offers, book a demo, watch our introductory video, or simply sign up for a free plan and try it for yourself.
Formerly Tsheets, QuickBooks Time offers a range of features, including time tracking, time card reports, payroll and HR integrations, employee scheduling, and performance management.
You can view the full list of QuickBooks Time features here.
QuickBooks Time Capterra Reviews
At the time of writing, QuickBooks Time by Intuit, has more than 5,546 reviews, with an average score of 4.7 out of 5 stars.
Overall: This software has been a great tool to not only keep track of employees' time but also to schedule and plan for future jobs. Because of that, I have been able to help save us time and money by properly scheduling our employees for the needed amount of time. My experience has been very positive with TSheets.

Read the full review here
Click here to see QuickBook Time's full list of reviews on Capterra.
Clockify is third on our list of Sling alternatives. It offers a host of features including timesheets, time tracking, reports, scheduling, time off calculations, expenses, invoices, and various integrations. The cloud-based timesheets features let employees and employers log weekly activities in less than a minute.
Scheduling is also easy on Clockify. The app uses a calendar that lets you plan projects and visualize your team's capacity. View assignments, and milestones, and see who is able to take on more work.
To see all of Clockify's features, click here.
Clockify Capterra Reviews
Clockify is a highly-rated employee scheduling software. At the time of writing, it has an average Capterra score of 4.7 out of 5 across more than 4,094 reviews.
Overall: We are a full remote team working on projects for clients, so having a way to track time spent and pay out / invoice using tracked time is very crucial part of our day-to-day workflow. I really enjoy having a working software that I can track time on all of my devices and even have it integrated into other tools like Trello and our accounting software using API.

Read the full review here
Click here to see all of Clockify's Capterra reviews.
DeskTime is fourth on our list of Sling alternatives, thanks to its extensive list of features. The platform lets users save time with automatic time tracking, cost calculation, project tracking, URL and app tracking, Pomodoro timer, absence calendars, and custom reports. It also permits "private time" at work, allowing workers to take custom breaks from their busy schedules if required.
DeskTime also offers some nice features for businesses looking to reduce their application load. The vendor's integrated web timer is accessible directly from browsers and doesn't require managers to download and install any new software for their team.
To view DeskTime's full list of features, click here.
DeskTime Capterra Reviews
At the time of writing, DeskTime had an average Capterra rating of 4.4 out of 5 across 238 independent reviews.
Pros: I've been using DeskTime since I was in university more than 4 years ago. It's been such a great help seeing where my computer time is going to. It allows me to gain perspective and set priorities for my own personal goals. Knowing the amount of procrastination or time wasters I partake in helps me make better decisions with my life.

Cons: Certain features had been limited at the start, such as being able to categorize activities quickly, but the DeskTime team seems to be still supporting the software and improvements.

Read the full review here
To see all of DeskTime's Capterra reviews, click here.
Time Camp comes in at number five on our list of Sling alternatives. The app is successful because of its ability to increase project profitability, no matter where users are located. Time and budget tracking for managers are particularly useful because it allows businesses to quickly view team performance and then create accurate resource estimates for all projects, both sequentially and concurrently.
Click here to see the full list of TimeCamp features
TimeCamp Capterra Reviews
At the time of writing, TimeCamp has an average Capterra score of 4.7 out of 5 across more than 552 reviews.
Overall: it helps me track my time and my team's. when the app integrations work properly, i'm able to generate reports and give my clients solid estimates based on solid data. but as we're switching to asana, timecamp really falls apart, so i'm really frustrated by the lack of support and communication from your team.

Pros: i love the timesheet interface and easy on/off. the report feature is fantastic. i love being able to copy tasks and leave notes. i actually love this app, but the integrations are so messy and unstable, we might have to move to harvest something i don't want to do, but i think i won't have the choice.

Read the full review here
Ebillity comes in at number six on our list of Sling alternatives. The employee scheduling software is famous for making operations hum.
What makes it worthy of such a high ranking? Simple: its advanced time clocks and attendance management features. Managers can approve time entries, know the location of their teams with real-time access, check on the health of their employees (for COVID-19 screening), and keep a watchful eye on project schedules. Pricing starts at $6 per month, per user.
Click here to see the full list of Ebillity's features.
Ebillity's Time Tracker Capterra Reviews
At the time of writing. Ebillity's Time Tracker has a Capterra average score of 4.3 across more than 2,431 reviews.
Overall: I have really enjoyed my overall experience with Time Tracker. At times, I do wish that company benefits were supported or provided with Time Tracker.

Pros: I really like that the software automatically alphabetize clients and projects. I also like the ease of use and navigation through weeks and days.

Read the full review here
Timely comes in at number seven on our list of Sling alternatives thanks to its excellent team time management features, app integrations, and project and team planning tools. The platform makes it easy to swap shifts, schedule new projects, and fully utilize team members with spare capacity.
Timely Reviews
At the time of writing, Timely had an average Capterra review score of 4.7 out of 5 across 207 reviews.
Overall: As a consultant supporting several projects, timely is a very easy to use and quick way to keep track on time spent on each activity. I have it on my PC, MAC and iPhone, and logging time is done in seconds. It synchronises instantly across platforms provided they are online. I also use Move on my iPhone and I really look forward to have these two functions come together shortly.

Read the full review here
To see the full list of Timely Capterra reviews, please click here.
Try Buddy Punch for Free
If you feel that Buddy Punch could be the right fit for your business, sign up for a free trial. You can also book a one-on-one demo, or view a pre-recorded demo video.
You May Also Like…