How do I create an employee schedule in Google Calendar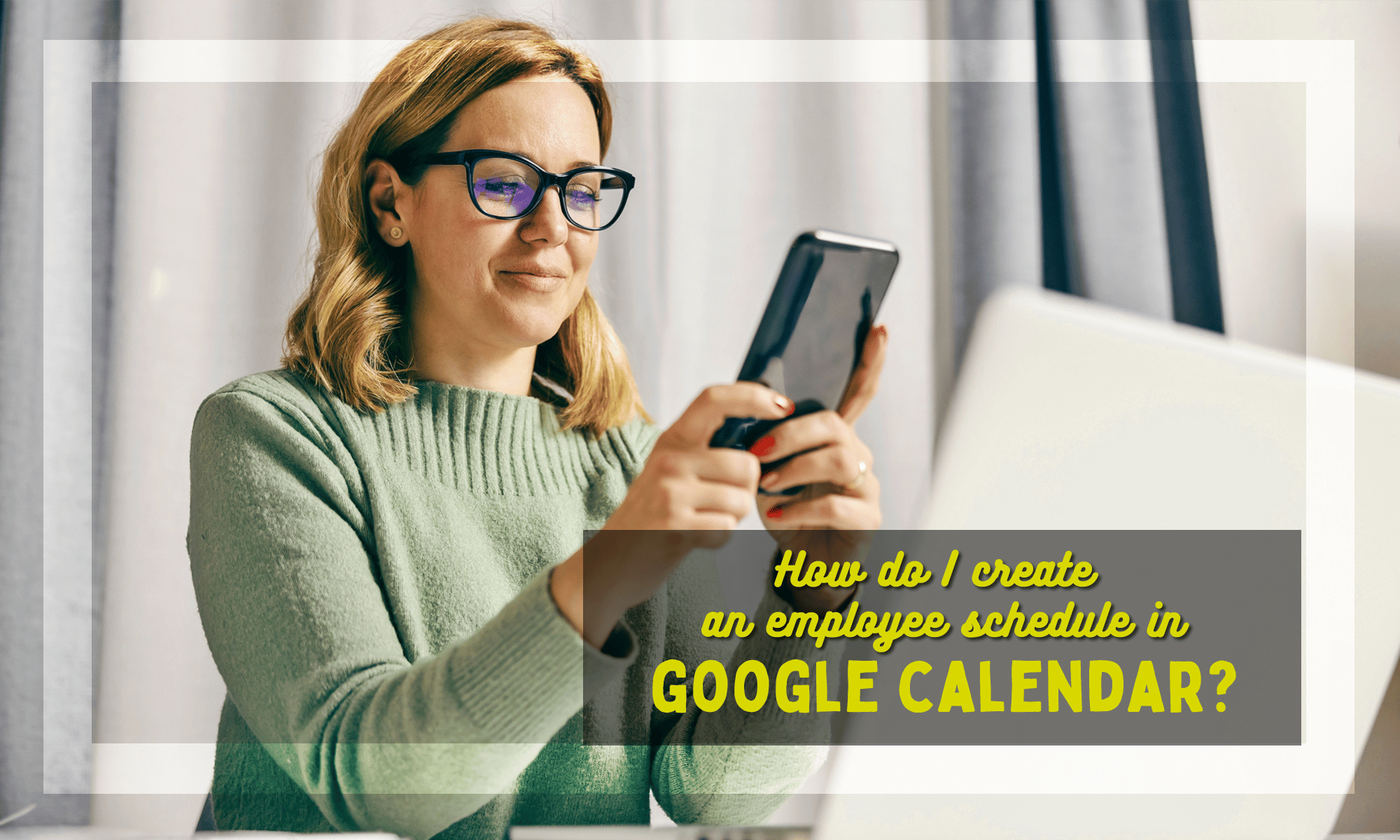 To make sure business owners are equipped to use various tools for managing their workplace, we're going to go over all the main steps and advantages of using Google Calendar to schedule your employees. Then, at the end of this article, we'll also include an alternative for scheduling that we believe to be more streamlined and effective than Google Calendar – using scheduling software.
How do I create an employee schedule in Google calendar?
You can create an employee schedule in Google Calendar by sharing a calendar with your employees and adding events as shifts. Start by creating a team Google Calendar and sharing it with your people.
Here's a quick tutorial. To manually create calendars, you will need to:
Enter Google Calendar and then click on the left arrow next to Other Calendars. Then select + > and choose Create New Calendar from the drop-down menu.
Give your calendar a name and then add an optional description to start adding events.
Select the time zone that working hours apply to.
Click Create Calendar.
Check that the new calendar appears under your My Calendar list so you can use it as a shift scheduler.
You can change calendar options and preferences by clicking the Settings tab, as you can in other Google apps. Additionally, Google Calendar allows you to load in custom schedule templates or make use of widgets.
Once you've created your Google Calendar, you can share it with your team for employee scheduling or appointment scheduling purposes, which gives it an advantage over calendar apps like Microsoft Excel. Here's what to do:
Open Calendar in your Google account and then navigate to My Calendars. Once there, click the calendar that you want to share.
Select the top right Google Calendar option More > Settings and sharing
Choose your sharing option
Using Google Calendar staff scheduling requires you to share events with your employees. You can either do this on an individual basis or more broadly across your organization. Schedule meetings, assign shift work, and ensure your team members know what they're expected to do every day of the week. If there's an issue with employee availability, you should have more than enough transparency for a team member to submit a time off request.
To share with individuals, click Add People in the Settings and sharing tab. Then enter the email address of the person you want to share with. In the options box click Send. Google Calendar will then provide the recipient with a link there they can view events you create, allowing you to start scheduling shifts.
You can also share an institutional schedule across your organization more broadly. To do this, you'll need to change global sharing settings.
Go to Access Permissions. Then select Make available to "organization name" or Make available to public." Clicking this option will enable all authorized accounts to view shared events in your work schedule.

Can you use Google Calendar to schedule employees?
Yes, you can use Google Calendar as an all-in-one tool for scheduling employee shifts and working hours. To do so, you will require a Google account and the email addresses of your employees or a permissions setup for your organization as a whole.
To schedule employees, first set up a new calendar and then begin adding events that represent your staff schedules. Add hours, working location, and tasks, right inside the app.
Once you've done this for the week or month, your employees can then subscribe to your calendar and access their timesheet hours for free.
It's worth noting that Google Calendar is not a purpose-built employee scheduling system. It can't go toe-to-toe with modern employee scheduling apps – not with their integrations, additional features, and customization options. While you can arrange shifts for several people, there is no built-in functionality for communicating with employees about schedule changes via push notifications.
In this regard, it is different from Google Workspace. However, Google Calendar does allow employees in your organization to view the most up-to-date schedule.
Note: If what you're really after is a tool to optimize scheduling, we built Buddy Punch to serve as a real-time employee scheduling software that would work for business owners of all kinds, whether you're running a small business or an enterprise. We've helped over 10,000 businesses optimize employee scheduling and time tracking in addition to streamlining their payroll. Click here to learn more and try Buddy Punch for free.

Does Google have an employee scheduling tool?
Google does not offer an employee scheduling tool of its own. However, it does recommend integrated third-party apps that streamline the scheduling process.
If you want to use Google Calendar to schedule tasks and optimize workflow, you first need to choose the day for the shift and then block off the time you'd like your employees to work. You can also arrange teams in this manner.
Some third-party apps let you export and import spreadsheet data to Google Calendar. This lets you use the free tool to create shift patterns, regardless of your budget. You can also use third-party integrated apps to add descriptions of the work that you would like employees to carry out, or attach resources that they might find useful.

How do I create a work schedule in Google calendar?
You can create a work schedule in Google Calendar in two ways. You can either set your own calendar and share it with others, telling them when you are available or create employees' schedules by sharing calendar events with them.
Open Google Calendar
Go to Settings in the top right
Under the General settings tab, click Working Hours and then click Enable working hours
Choose the times when you work (and when people can contact you)
Google lets you specify blocks of time when you are available, allowing you to split your working day into parts. If you want to add more times, you can click Add+. If you want to remove availability, you can click Remove-. These options make all the difference when you want to share Google Calendar data with other people.
You can also use Google's calendar services to set your working location, showing people where you will be during the week.
To do this:
Go to Settings, navigate to General and click Working hours & Location
Check the Enable working location box
Choose the days that you work. (These may already be highlighted if your calendar shows your working hours).
Enter a location next to each working day
You can also build a work schedule for other people in your organization. To do this, open Google's calendar app and then start creating events that represent shifts. When you are ready to share them, navigate to Settings and sharing and then click Add people. You can then add a person or a Google group email address. You can also adjust permissions, denying employees the ability to edit events or tasks.
Once you've entered the email addresses, click Send to share them with your recipients. Employees will then need to click the calendar link sent to their email addresses to add the event to their own calendar.
To choose a location, go to Choose working hours & location and then click the General box at the side of the screen. Select Enable location and then type the location of your shifts into the accompanying box.

How do I create an employee schedule in Google Calendar?
You can create an employee schedule in Google Calendar by creating a team schedule. To do this:
1. Open Calendar
2. Navigate to Other Calendars and then click Create new calendar
3. Name the calendar you want to create and then add a description
4. Select the appropriate Time Zone under the option, then click Create. Your new shift schedule will appear under My Calendars.
To share your new team calendar:
Go to My Calendars and click Settings and sharing
Either share with individuals, make it public, or share it with members of your organization
To share with individuals, navigate to Share with specific people and click Add people. Then enter their email address for Google to send a link to their computer.
To share with the public so anyone with a link can view the calendar, click Make available to public.
If you've defined your organization, you can also select Make available for "organization name." This option lets you quickly and easily share schedule information with all relevant stakeholders using Google.

How do I schedule a Google calendar for employees?
You can schedule a Google Calendar for employees by navigating to the Google Calendar toolbar. However, Google did not design the app for shift scheduling purposes, meaning that using it can sometimes feel like a workout.
To schedule a calendar for employees, you will need to:
Set up your employees with a new account on Google Apps.
Add new events to your calendar
Share them with your employees via email links
While it sounds relatively straightforward to use Google for scheduling, it's not as easy as it sounds. The search giant intended the app for personal use, not for managing large organizations. The actual in-depth scheduling process is surprisingly complicated, particularly when you begin importing data from Google Sheets or Google Docs.
At its root, Google's calendar was designed for events or as a to-do list. While you can use it to distribute shifts, the tool doesn't allow any visibility over schedule distribution. What's more, it relies on employees clicking various links and subscribing to your events, a cumbersome manual process.
For these reasons, many firms prefer to use dedicated scheduling apps. These let them manage teams effortlessly using advanced features such as built-in time clocks.
For instance, quality shift scheduling software doesn't rely on employees clicking links in their Gmail accounts to confirm their shift patterns. Instead, they can view easy-to-understand scheduling charts within the app itself, showing them when they are working (and when their team members are working, too).
Note: One great example of this is our own software Buddy Punch, which we created as a web and mobile app capable of handling employee scheduling, time tracking, payroll streamlining, and more Windows and Apple devices (iOS and Android). Click here to learn more about how Buddy Punch's automation can drastically improve your scheduling and workforce management. Pricing varies depending on features desired.
Dedicated apps also make it easy to enter bulk shift patterns. You can display multiple calendars at the same time, side by side, which is great for when you have more than five people on your team.
You can also add shift notes and tasks, allowing you to communicate with employees via the app, something that isn't easy to do on Google's regular app.
In summary, there are far better apps out there for shift scheduling that Google's calendar, a tool that the search giant intended for a different purpose.