Online Time Clock for Podiatrists Options (In-Depth Post)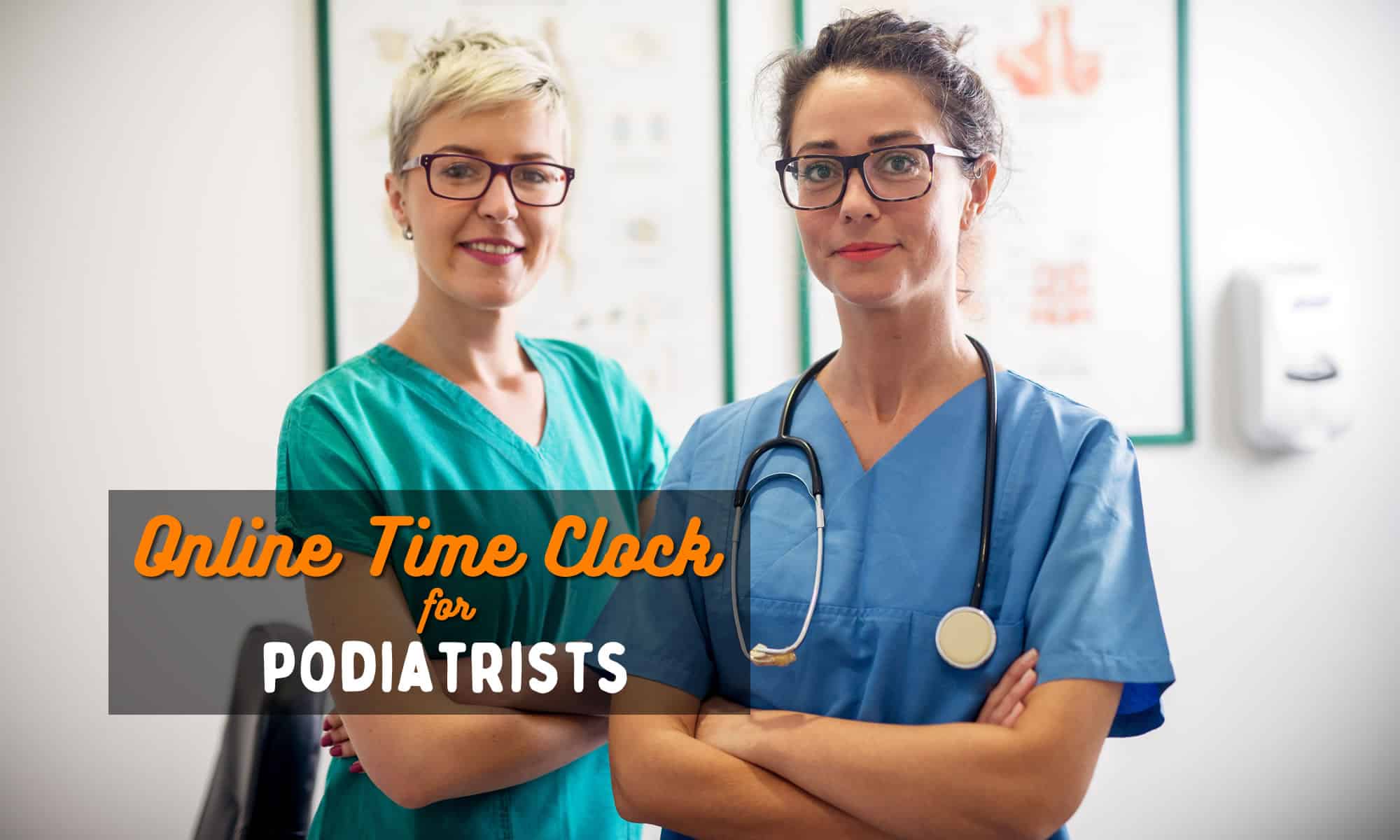 Most medical fields can benefit greatly from using time tracking software to improve service, and podiatry is no exception. Between consultations, diagnosing issues with foot care, running x-rays or detailing basic information about dermatology, even the most experienced podiatric physician can lose track of time throughout the day – which means worse service for clients, a hurt reputation, and potentially losing business to other healthcare providers and rival DPMs.
That said, even if you accept the idea of a time tracking solution resolving these issues, it almost goes without saying that not every time clock is built to work with medicare. In our minds, there are three core attributes that define software that could work well for podiatrists (and fit the sort of workflow, messaging, and reporting parameters that the American Podiatric Medical Association [APMA] recommends):
Employee Accountability. Time tracking software should be built to encourage podiatrists, nurses, and physicians on residency programs to make the most of their time while they're on the clock. This means including features that don't distract from seeing patients in-person, but can gently remind professionals to stay on track.
Design Simplicity. Considering how busy podiatric offices can be, we think it makes sense for time clocks to be as simple as possible to use in-between diagnosing foot pain or prescribing the usage of orthotics to patients. In other words, marking what you're doing on the clock should come natural and easy, rather than requiring an education program to know how to navigate the time tracking tool.
Payroll Streamlining. Lastly, while you're looking at technology to help improve your services rendered, we firmly believe that the payroll processing process needs to be expedited as well. Billing, invoicing, and payroll are too tedious to leave up to manual processes when many time tracking tools come with built-in solutions to speed them up, all while maintaining accuracy.
Now, with our parameters for judging each of these tools out of the way, let's proceed to our selection of the top 5 digital time clocks for podiatrists.
Online Time Clocks for Podiatrists
Kicking off our list of time tracking software for podiatry, we have our very own Buddy Punch. The three attributes we used to help rank these different software options (employee accountability, design simplicity, payroll streamlining) were the features we narrowed in on being most important after looking at a variety of time clock software to see which one might work for us, being disappointed, and deciding to create our own.
Fast forward to today, where Buddy Punch delivers on all of these aspects through features such as Job Codes, Managers Delegations, Notifications, Overtime Calculations, PTO Management, Customizable Reports, Payroll Integrations and more.
It doesn't take the Council on Podiatric Medical Education (CPME) to make it clear how these functions can be useful to your practice, but if you're hesitant, we can go into more information and usage scenarios below.
Note: If you'd rather get a feel for Buddy Punch yourself, you can start a 14-day free trial of our software here.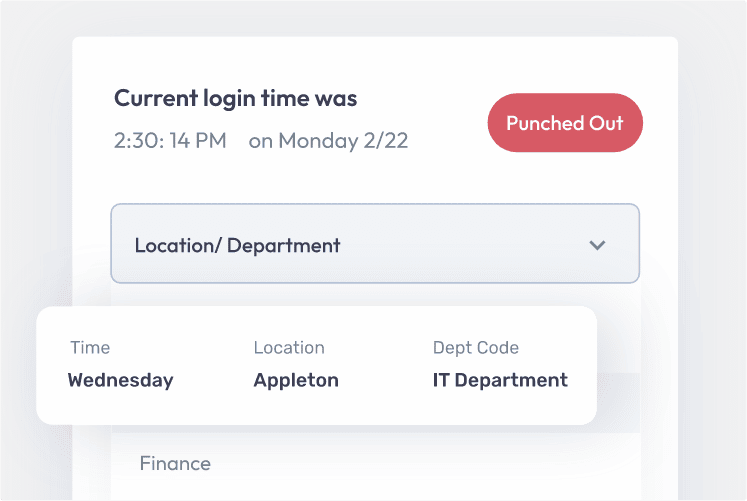 The Job Codes feature (sometimes known as Department codes) brings transparency to what your team members are doing throughout the workday. With this, clocking in includes a process of saying which job/code you're working on (something that employees can easily swap between throughout the day). You can view the complete records at any time on your employees' time cards – and ask them why looking up warts or mycotic toenails is taking them two years when it should only take two minutes.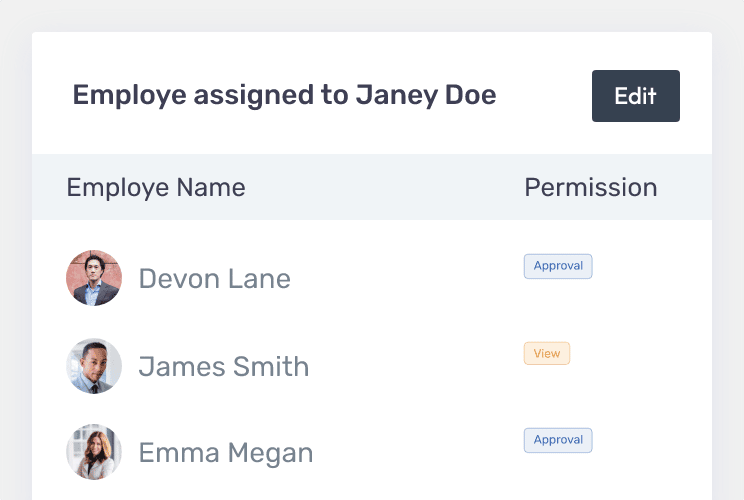 Whether or not you have managers in your office (we're sure colleges of podiatric medicine would recommend directors over managers), you can create a Manager system in Buddy Punch that helps you delegate work. Employees you "promote" are able to view or edit assigned employee time cards. View means they can see time card, time change requests, PTO requests and more, while edit allows them to action pending change requests or make corrections to an employee's time. While you perform wound care or ankle surgery, your "manager" will keep the rest of the office running smoothly.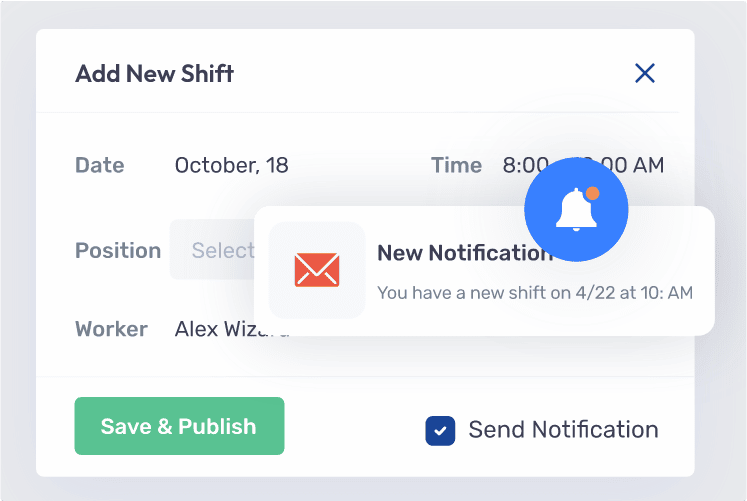 Buddy Punch's notification system makes it easier for employees to stay on task, because they'll be secure in the knowledge that if something needs their attention, they'll be alerted. Go ahead – give a seminar, let employees read sports medicine magazines or get on the line with insurance companies to work with your office. If anything important happens, such as punch change emails, timecard approval status changes, PTO changes, and more.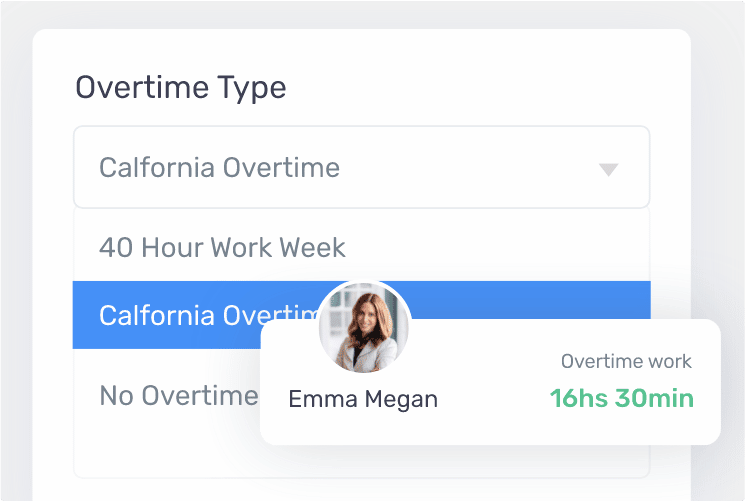 The Overtime Calculations Feature lets you choose from more than a dozen different overtime types on a per employee basis to determine how, and to what extent, overtime is to be paid. This feature automatically calculates regular, overtime, and double overtime for podiatrists. Pair this with the Payroll Exports to keep a close eye on how time management is costing your practice.
PTO Management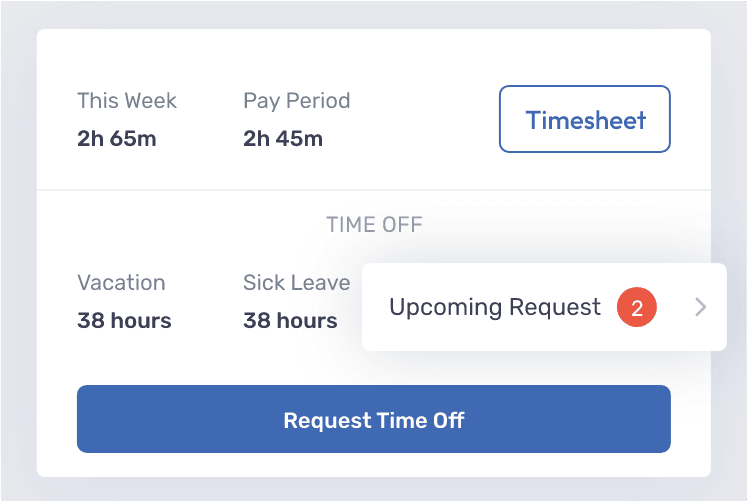 Buddy Punch makes it easy to complete overhaul how your practice handles Paid Time Off. In addition to helping you manage the most common PTO types, you can also use this to create a custom type at your leisure. But it gets even better. Enable a self-service approach to PTO and your employees will be automatically approved for any time off they request. No more having a sudden leave request distract you from researching new developments in Plantar Fasciitis management.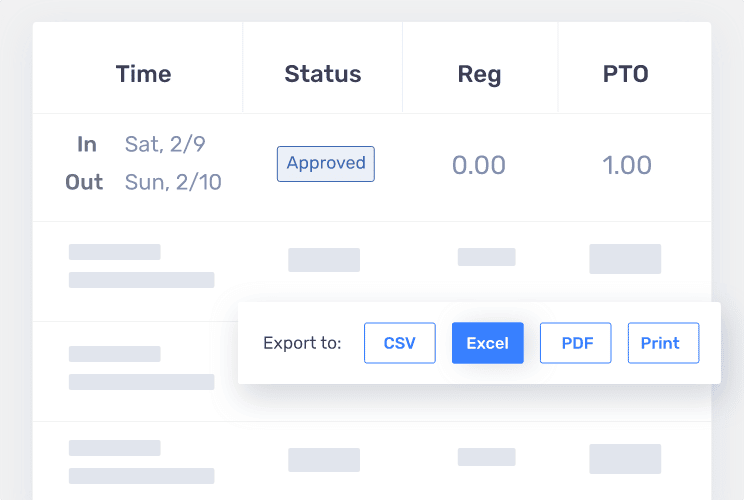 Buddy Punch offers a wide range of customizable reports that can be generated and exported on demand to give a closer look at the inner workings of your practice. Some of these exports include the Hours Summary, PTO Summary, Employee Detail Report, and more (click here to view the full list). You can export these as Excel CSVs or Adobe PDFs in a New York minute depending on your preference.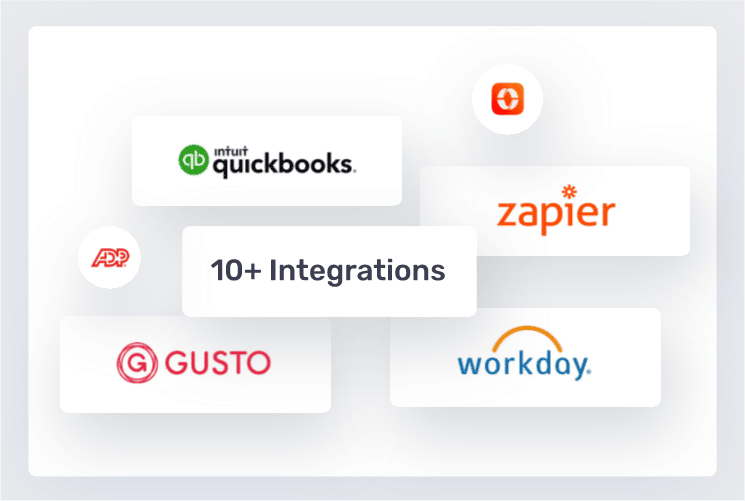 Last but not least, the Payroll Integrations feature makes it easy for podiatrists to handle billing, invoicing, and payroll in their business. Buddy Punch integrates directly with some of the most powerful Payroll Software Providers, such as QuickBooks, Paychex, ADP and more (click here to view the full list). It's never been easier to handle pay periods.

Buddy Punch Brings More Time Tracking Options to Podiatrists
So far, we've only highlighted a select few functions that you get with Buddy Punch. Consider what you'd get out of using Buddy Punch for these other features:
Additionally, working with Buddy Punch means regularly accessing the blog section, which contains useful information on workforce management, the help doc center, which guides practice owners on the best ways to utilize Buddy Punch, and the customer support desk, which puts you in contact with our team via live chat to answer any questions you may have about our time clock software.
Interested but not convinced? You can book a one-on-one personalized demo of Buddy Punch here.
Buddy Punch's Online Reviews
As of the writing date, Buddy Punch has 4.8 out of 5 stars and 724 reviews on Capterra.

Below, we'll list just a few reviews that speak to Buddy Punch's impact on workforce management. (Click here to explore the full list of reviews.)
"I love many things about this software! 1) It is self-explanatory. Even the most technically-challenged employee can figure out how to use it, for the most part. 2) Edits are made by the employee, and approved by the administrator where other programs require the administrator to make all the changes. 3) This program is available even when our electricity goes out or our server goes down."

Click here to read the full review.
"The ability to control what employees are able todo like adding time that was forgotten some employees require an approval so i am able to confirm they're where bouts prior to approval. Its very easy for me to go in and add or fix employees time."

Click here to read the full review.
"It has a very simple interface, easy to punch in and out as well as check timecards. I think both the desktop version and the smartphone version were well-designed. It doesn't try to do too much and make things complicated, since the main purpose is just to clock in and out, and it efficiently allows the user to do exactly that."

Click here to read the full review.
"The Customer Support team is super responsive, thorough, and effective. Their support software allows for much quicker response times than you could get on the phone. Their team is knowledgeable about my organization and the way that we use the platform – I have received many helpful suggestions to how we can best leverage the BuddyPunch platform in our sometimes complicated organizational structure. "

Click here to read the full review.
As these users noted, Buddy Punch is intuitive, easy to use, and is accompanied by a helpful customer support team.

Try Buddy Punch for Free
If you feel that Buddy Punch might be the right fit for your podiatry, sign up for a free trial. You can also book a one-on-one demo, or view a pre-recorded demo video.
Coast is another option for simple yet effective time tracking to help while you're dealing with sports medicine, pediatrics, or diabetic foot care. As of this writing, Coast has 47 reviews and 4.5 stars on Capterra.
Some of Coast's features include:
"We used to use multiple apps for scheduling, team communications, work orders, and tasks. It was cumbersome because our team constantly had to switch back and forth. With Coast, now we have everything in one place. Our work order process is streamlined, and we no longer text and email people to get status updates."

(Click here to read the full review.)
Sling is a popular time clock software that, as of this post's writing date, has 113 reviews and 4.6/5 stars on Capterra.
"I looked through several scheduling tools before settling on Sling. This included simple Excel sheets, Homebase, and When I Work. I settled on Sling because of the wide array of features for no cost and mobile app access. The mobile app experience, per my team, was easy and extremely convenient. I personally was impressed with the ease of the drag-and-drop scheduler."

(See the full review here.)
Insightful (formerly known as Workpuls) comes with features including but not limited to:
At the time of writing, Workpuls has a total of 72 reviews on Capterra with an average of 4.8 out of 5 stars.
"The software is very easy to maneuver and set up thresholds, and applications that are considered productive as well as marking applications that we consider non-productive. We also enjoy the features can be customized per department per industry."

Click here to read the full review.
The last time tracking software we want to mention is Paymo, which has features including:

At the time of this post's writing, Paymo has a total of 424 reviews with an average of 4.7 out of 5 stars on Capterra.
"One of the things I also personally quite appreciate is the professional and clean look of the invoices (and how easy it is for clients to pay them online). With a click of a button, you can add the unbilled time/fees for a specific time period and/or projects to an invoice. Paymo does all that heavy admin stuff for you and it has saved me a lot of time! "

Click here to read the full review.
Choosing The Best Time Clock for Your Podiatry Clinic
Though we've managed to narrow down the options, you'll still have to do some trial and error to decide which time clock here would work best in your office. But taking a close look at the functions offered can help.
For example, if you want to take screenshots of your employees' dashboards, you might like Insightful. If you're a fan of organizational tools like Gantt Charts or Kanban Boards, you'll definitely want to give Paymo a chance.
Otherwise, if all you're looking for is an effective time tracking tool with useful features, an easy to use and understand user interface, and a helpful customer support team as a bonus – then you really can't go wrong with Buddy Punch.
Try Buddy Punch for Free
If you feel that Buddy Punch could be the right fit for your business, sign up for a free trial. You can also book a one-on-one demo, or view a pre-recorded demo video.
You May Also Like…