Online Time Clock For Chiropractors (3 Options For 2023)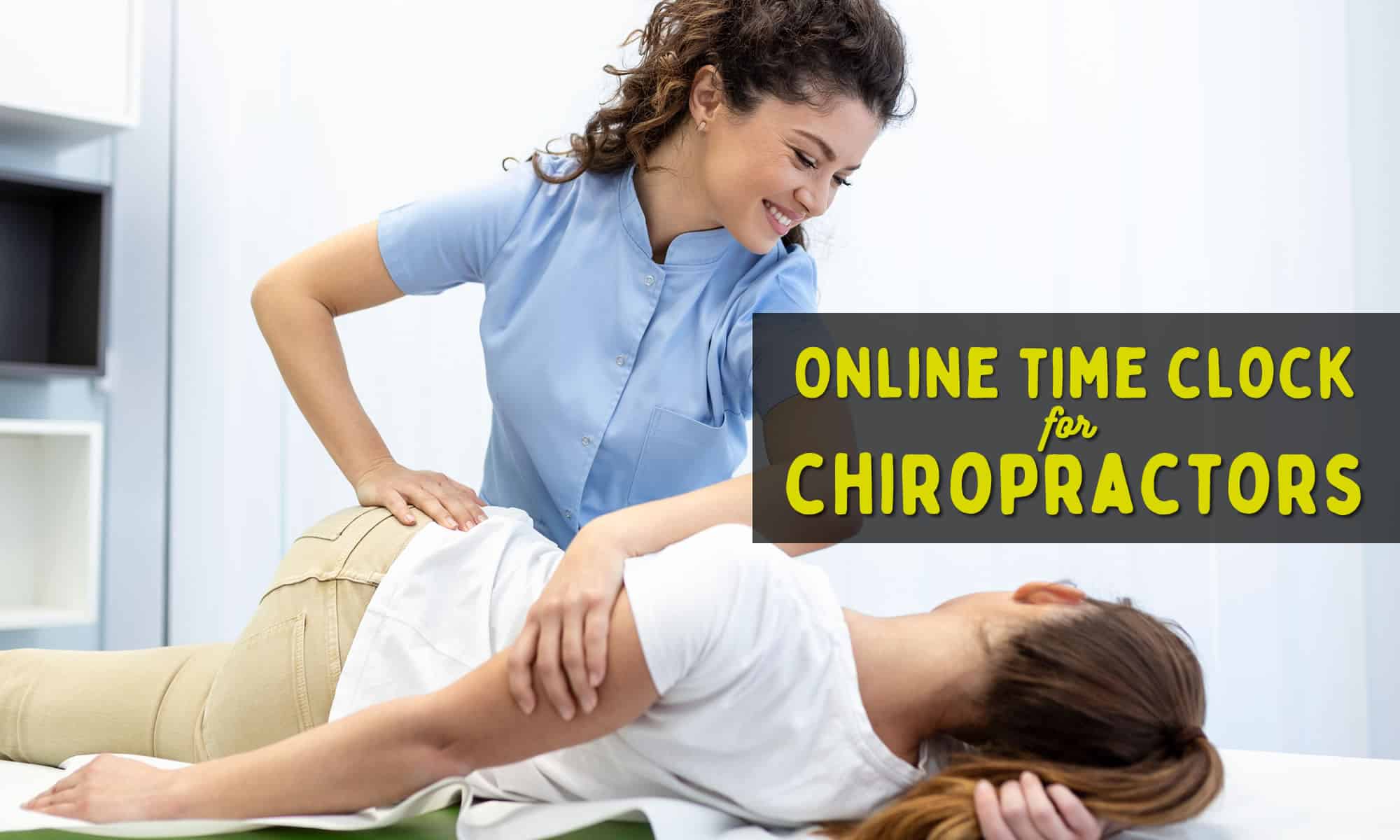 What is the best online time clock for chiropractors? You'll find out in this article.
Chiropractic businesses can immensely benefit from employing an all-in-one online time clock platform. Here's how:
Online Time Clock For Chiropractors
Let's take a look at the best time tracking platforms for chiropractic clinics.
One Unified Platform to Track Chiropractic Practice Hours & Attendance
A time clock system streamlines all aspects of employee attendance data, making it the perfect tool for chiropractic practice management.
Buddy Punch's all-in-one platform lets you visualize how employees are utilizing their time during shifts.
Leveraging real-time data, you gain immediate insights into employee performance, enhancing your overall healthcare service.
Clock In And Out Remotely, From Any Location
The right time clock app will streamline your chiropractic practice, enabling increased productivity.
No matter the size of your practice, an effective time clock solution simplifies timekeeping.
The app, often offered for free by providers, allows team members to clock in and out from any location using iOS and Android mobile devices.
This feature can be particularly valuable in today's hybrid work environments.
Monitor Team Attendance & Performance for Better Healthcare Delivery
The best time clock solutions enable managers to efficiently track labor costs and monitor team performance.
With the added benefit of a mobile app, remote and hybrid teams can use a digital time card machine to log their hours.
This can be especially useful for multi-site chiropractic providers. It's no longer just a tool – it's an integral part of your practice management software.
Best All-In-One Time Clock Solutions (3 Options)
1. Buddy Punch
Buddy Punch is a comprehensive time tracking platform perfect for chiropractic practices of all sizes. Here are some of the key features offered by the platform:
With its customizable templates and automatic SMS notifications, Buddy Punch offers a lot more than just time tracking.
The free time clock app can be used on iOS and Android devices to clock in and out from any location.
Buddy Punch's pricing options are suitable for organizations of all sizes, making it an affordable solution for healthcare providers.
Buddy Punch's Online Reviews
Buddy Punch's user reviews highlight the potential benefits of this platform. As of the writing date, Buddy Punch has 4.8 out of 5 stars and 859 reviews on Capterra.
Below, we'll list just a few reviews that speak to Buddy Punch's ease of use and great customer support service. (Click here to explore the full list of reviews.)
As reviewers have noted, Buddy Punch provides team leaders and project managers with the necessary tools for accurate time tracking and employee location tracking:
"I love how quickly you can log in to the Buddy Punch site and just simply hit the "Clock In" button. The program is incredibly easy to use and required no training at all, which I really appreciated especially since I'm just a very part-time employee who only uses it once a week."
Click here to read the full review.
"Buddy Punch has been a super efficient business solution for our office. It is very user friendly. The integration with Quickbooks has streamlined our payroll which has been a huge plus. Most importantly to me as the administrator who's been responsible for the complete set up and training of all staff – the Buddy Punch customer service team has been absolutely outstanding!"
Click here to read the full review.
"Buddy Punch has made it easy for our practice since we expanded and now have staff in remote locations including staff that work from home. It's user-friendly and makes the supervisors'/managers' jobs easy when it comes to approving timecards! Payroll report is easy and it works with SurePayroll which is out payroll company."
Click here to read the full review.
Try Buddy Punch for Free
If you feel that Buddy Punch might be the right fit for your business, sign up for a free trial. You can also book a one-on-one demo, or view a pre-recorded demo video.
2. Hubstaff
Hubstaff emerges as an exceptional time tracking solution tailored for chiropractic practices.
With the ease of a single click, chiropractors and other healthcare professionals can log their patient consultations and therapy hours.
This platform is an invaluable aid for chiropractic practice managers, offering a comprehensive suite of tools to effectively monitor the attendance and performance of the staff, even remotely.
As of the writing date, Hubstaff has 4.6 out of 5 stars and 1,413 reviews on Capterra. Hubstaff offers a range of functionalities, some of which include:
"Very happy I moved from Time Doctor to Hubstaff. Huge improvements on all areas and a satisfying product to use. The experience is so good that I find myself wanting to stay with Hubstaff regardless of whether my need for time tracking reduces."
Click here to read the full review.
3. QuickBooks Time
QuickBooks Time is a versatile platform ideal for chiropractors seeking a seamless way to gather and process employee attendance data for payroll.
You do not need to utilize QuickBooks' accounting software to benefit from QuickBooks Time – the platform operates independently as a potent time management solution.
This tool can be particularly beneficial for chiropractors who require a dependable system for managing appointments and employee schedules.
By integrating with your preferred accounting platform, QuickBooks Time simplifies the administrative side of your chiropractic practice, allowing you to focus more on patient care and less on timekeeping.
It's an excellent timesheet app for Android and iPhone, and at the time of writing, QuickBooks Time has 4.7 out of 5 stars and 6,492 reviews on Capterra.
QuickBooks Time (formerly TSheets) has features that include but are not limited to:
"Prioritized assistance, the technology is every much awesome and to how things have changed now compare to how they were before it really helps the technology improves and each and everyday and that is wonderful for us."
Click here to read the full review.
Try Buddy Punch for Free
If you feel that Buddy Punch could be the right fit for your business, sign up for a free trial. You can also book a one-on-one demo, or view a pre-recorded demo video.
You May Also Like…