5 Best Time Clock Software Programs For Small Business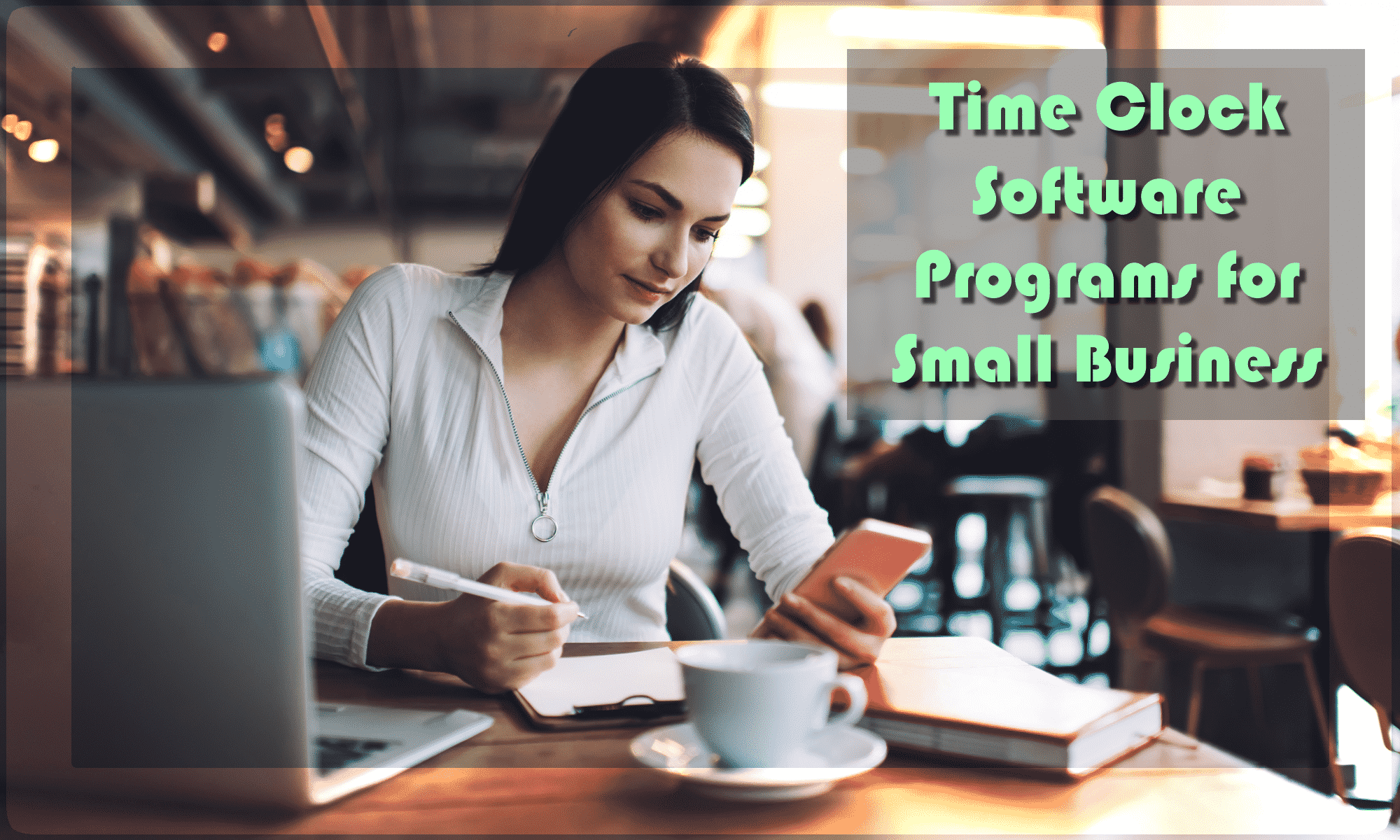 Keeping track of when employees arrive and leave the workplace is critical. It lets you determine whether they are showing up on time, leaving the worksite specified by their contract, or completing their allotted number of hours during the week.
Unfortunately, trying to track time and attendance manually is hard. Collecting employee data for work hours from multiple locations is administratively challenging.
Fortunately, though, there is a range of helpful time clock software programs on the market that eliminate all the administrative hassle. They facilitate employee schedules and help you better track paid time. Moreover, digital employee time tracking prevents annoying problems such as time theft and even shift fraud.
Boiling it down, time clock software programs for small businesses help in two ways:
They increase employee accountability, providing better time tracking in each pay period
They save on payroll processing time. Things like overtime, vacation, and sick days are automatically calculated for you in mobile apps, negating the need to create manual entries.
In this in-depth post, we explore how Buddy Punch's time clock software can help small businesses and ensure that payroll runs smoothly.
Following that, we take a look at some other time and attendance solutions for small businesses, giving you a more complete picture of the employee scheduling products and services that are out there.
Best Time Clock Software For Small Businesses
How Buddy Punch Ensures That Small Business Employees Only Get Paid For The Time They Work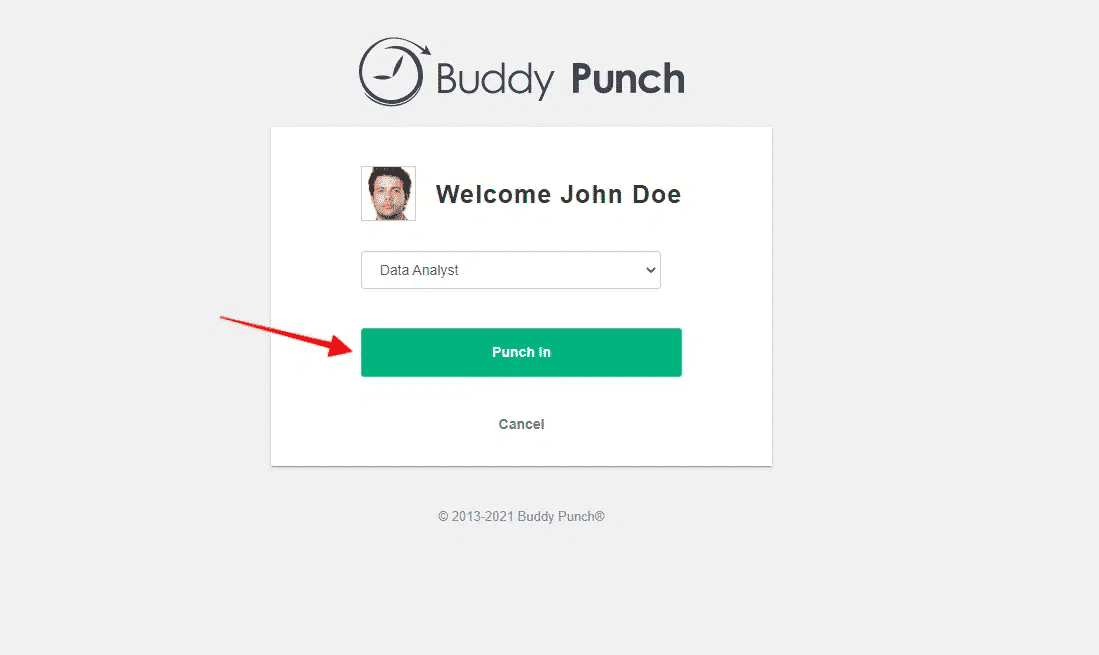 Buddy Punch comes with a host of employee attendance features designed to make it easy to manage employee hours. Here's a brief overview of what you can expect:
Automatically calculate cumulative employee hours, time off, and over time, and easily export data into your preferred format
Employees punch into attendance software on a device of your choosing, such as a computer terminal in your workplace, or their personal devices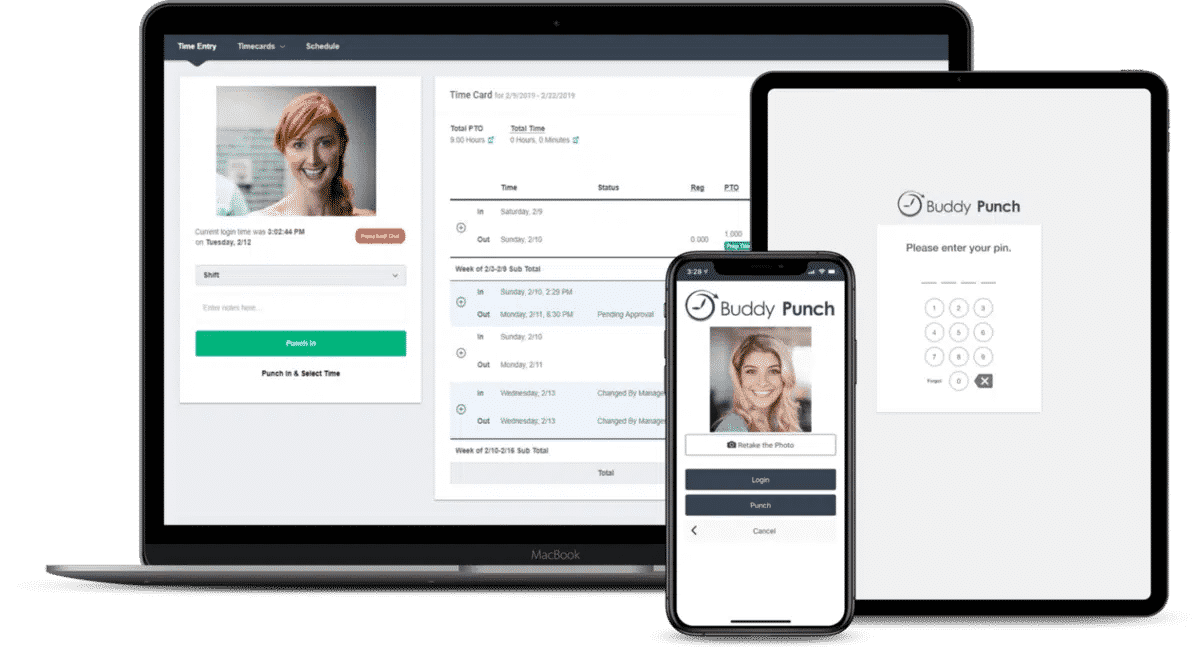 Accurate Employee Time Clock Software With Photos On Punch, Geofencing, And Facial Recognition Punching
One of the benefits of Buddy Punch is that it enables you to reduce the risk of time theft and track employee attendance remotely. It uses a host of innovative technologies to verify that colleagues work their allotted hours and don't inflate their working week.
Facial recognition punching is an advanced feature available on Buddy Punch. It lets employees scan in and out using a live image from a webcam. This way, you can ensure that workers are punching in for themselves and nobody else.
All the data is sent over either Ethernet or Wi-Fi. Biometric time clock features work on any device with an internet connection.
Note: Click here to learn how this feature could assist your institution.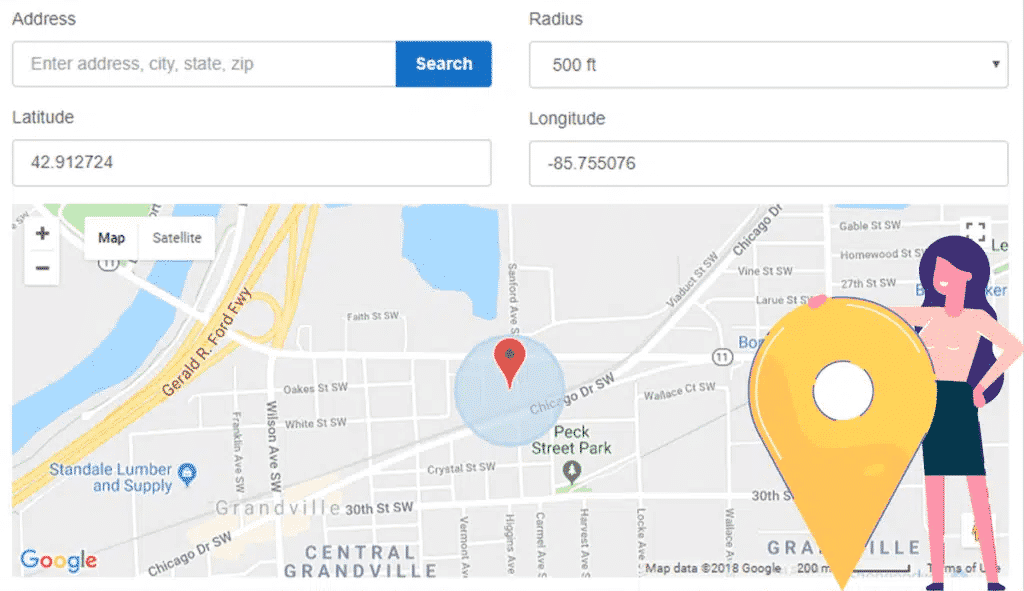 Geofencing is another powerful in-built tool that you'll come to love in Buddy Punch. No matter how many employees you have, the timekeeping system ensures that they can only punch in and start clocking hours once they reach a specific location – great for remote teams.
The way it works is incredibly intuitive. First, choose a valid location for clocking in (such as a client's worksite), and then specify a radius around it that you will permit your employee to use to start clocking their hours – say, 1,000 feet. If employees are not within the circle, they will receive an error message telling them to move closer. You only pay employees for time spent on the job when you use Buddy Punch automatic time tracking.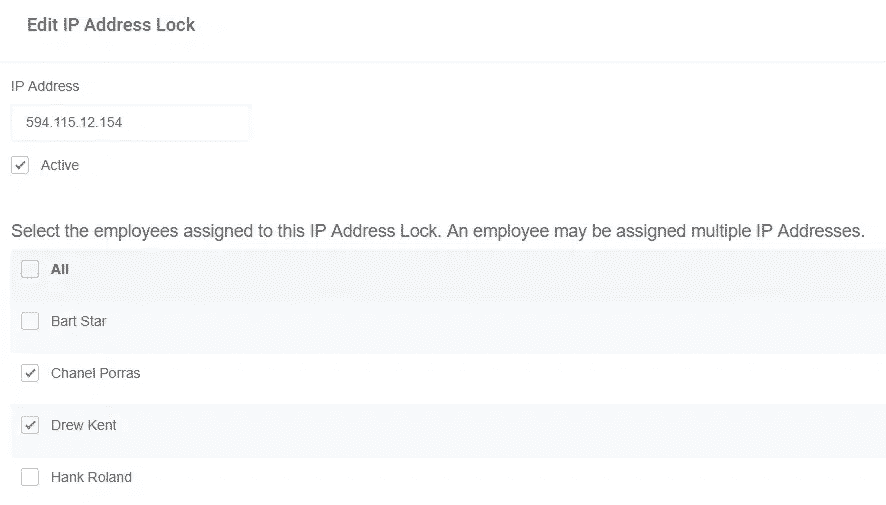 Sometimes workers will attempt to log into employee time clocks on unregistered devices, potentially bypassing security controls and putting your firm at risk. With Buddy Punch's IP locking, however, you can assign employees to authorized IP addresses only, and forbid any others they might try to use.
Features That Reduce Administrative Costs And Save Time
HR can be extremely costly in terms of both time and money. However, Buddy Punch comes with a range of tools designed to reduce overheads and, in some cases, eliminate them.
Booking and tracking paid and unpaid time off should be easy and, with us, it is. Our PTO management tools let you streamline your HR and easily enter different PTO types. Buddy Punch also permits an employee self-service approach, allowing them to enter days they would like to take off directly onto their time card.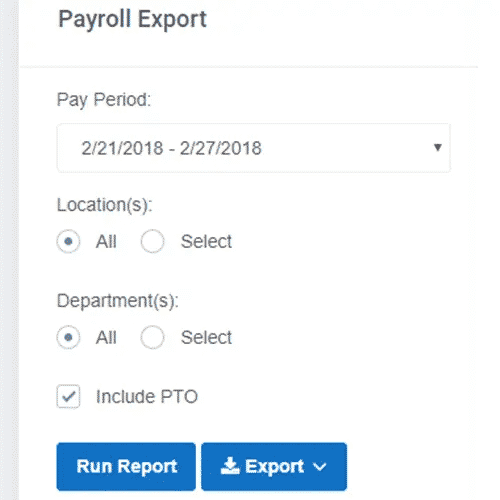 Obtaining a comprehensive overview of your current HR position can be challenging. But, again, Buddy Punch makes it easy. With our payroll expert feature, you can get detailed spreadsheet reports on your employees' hours, locations, departments, and overtime. You can also check-in/out activity for each time period you set, and get granular breakdowns for each employee.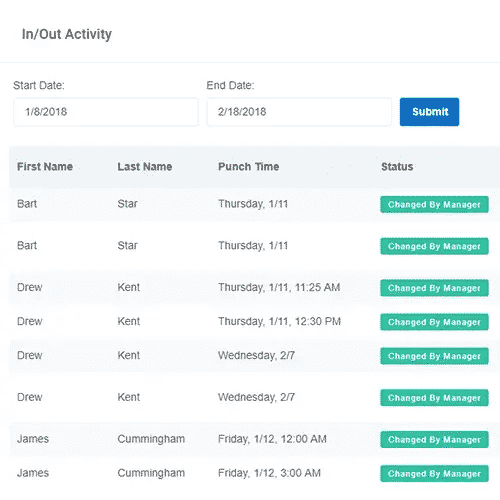 Buddy Punch's Additional Features
In the above section, we only described a short list of Buddy Punch's features. The full list includes:
If you ever get stuck or just want to know how to make the best possible use of all the features Buddy Punch offers, check out our extensive knowledge base on our website. You can also contact a member of our team at any time for one-on-one support.
Buddy Punch's Online Reviews
Still not convinced about the quality of our time clock software for small businesses? Don't take our word for it. 669 reviewers rated Buddy Punch's service 4.8 out of 5 stars at the time of writing, making the solution among the best in the world.

Small business owners love buddy punch for all sorts of reasons. Here's what they have to say:
Overall: Great app, check in and out with accuracy, keep in contact with supervisors and can submit photos for proof of visit if not using GPS.
Pros: I am an Event Specialist with Deluvia Inc, they upgraded from emailing and faxing my time sheets in to this system. They are out of state so this is a great way for them to keep up with my time while doing "Road Shows". I arrive at my location, open the app and sign in, my employers do require me to attach photos so I snap a photo of the store front before entering. While there, I setup my samples and take a few photos of my presentation to attach when I clock out. I like that I can see my schedule, even though I already know my Road Shows are 11 days back to back for each demo. It takes out 39 minutes for my lunch and keeps up with my total hours so I can accurately calculate my check. They can leave messages after each shift end set of photos. I have seen a few where they wanted to see different angles or my face more throughout my presentations. I've also been told my samples looked yummy, I left messages and asked questions that were answered. This is a good app to have when your employer is out of your area.
Cons: The only thing I found odd was I could log in anytime during my employment, but couldn't do so between Road Shows. I wanted to look at my schedules and could gain access to the app. Other than this hiccup, the app works fine. Deluvia gets my time and there are no shortages on my check.

Read the full review here
Pros: The Customer Support team is super responsive, thorough, and effective. Their support software allows for much quicker response times than you could get on the phone. Their team is knowledgeable about my organization and the way that we use the platform – I have received many helpful suggestions to how we can best leverage the BuddyPunch platform in our sometimes complicated organizational structure. We have had very few issues, but have always received immediate resolutions when anything has come up. The software is straightforward and well-run, and was easily understood by our team of 55+ non-technical staff of all ages. I appreciate that new releases are well-tested before they are launched and free of bugs – the BuddyPunch team does a great job of maintaining the integrity of the application while continuing to add more value to the software frequently. We have had consistent experiences on the web version as well as iOS and Android apps for the life of our subscription.
Cons: I would like a little more flexibility in reporting outside of the confines of the predefined reports.

Check out the entire review here
Overall: It has a great deal of flexibility and gives administrators/managers the ability to see who is here at any given time of the day. Managers also have the ability to approve PTO prior to it being added to the time sheet. This provides accountability for both the employee and manager. They can also schedule shift work if necessary. In running payroll, since employees will punch in, be able to track their time as well as PTO in one place; this saves me time on my end. I simply run a report at pay period end to access a summary for each employee. I still have to enter totals but will not longer have to search spreadsheet each line for notes regarding time off. The reports are very helpful and can be downloaded in multiple formats.
Pros: The software has all the features that I currently was using in my spreadsheet – but better as it took human error out of the equation! I gained the reports that tallied PTO (vacations, sick time, personal time) which I had to pull manually from a spreadsheet. Employees are able to enter their own PTO requests (again a time saver). The chat staff has been super helpful to me every single time I have messaged them. They assisted me to get the software ready for a trial run which was very helpful! Every chat session was emailed to me for future reference.
Cons: Although they are able to answer every one of my many questions; it would have been helpful to download a readable document for reference.

See the entire review here
Try Buddy Punch For Free
If you want to leverage Buddy Punch to help you better organize employee shifts, sign up for a free trial today. Alternatively, book a one-on-one demo, or view a pre-recorded demo video.
eBillity is a powerful time-keeping solution for businesses of all sizes, including those with only a few employees. It's simple, affordable, and comes with a variety of helpful features, including:
Users rate eBillity's services at 4.3 stars out of 5 across 2428 reviews on Capterra. The following review reveals the value that it offers small businesses:
Overall: I like it very much , recommend it to my friends , cause it helps me alot , especially in my business because it helps me to increase transparency, accountability and productivity
Pros: In fact , it helps me alot cause it makes me disciplined , provides me more information on how I spend my time , lets me doing my work faster .It organizes my work ,increases my productivity
Cons: Complex systems is expensive ,so. I suggest to be cheap a little bit

See the entire review here
Click here to see all eBillity's Capterra reviews.
Unfortunately, eBillity doesn't let you edit text after you submit hours or enter "non-billable" time.
When I Work is a powerful time management tool that offers time tracking, integrated scheduling, and team messaging.
As of the time of writing, it has 919 reviews on Capterra, with an average of 4.5 out of 5 stars. Core features include:
But what makes it good for small businesses? Here's what one reviewer had to say:
Overall: I loved the when i work app very much. I was able to look at my shifts as well as change and drop shifts, There is also the ability to chat with other employees about changing or swapping shifts.
Pros: When I work is a great app as far as employee scheduling and shift changes. The app has sooo many great features available and it is very affordable.
Cons: there were a few glitches with the software on ocassion when trying to pick up a dropped shift if you are already scheduled.
Alternatives Considered: ADP Workforce Now
Reasons for Choosing When I Work: I heard from other stores that have used the software as well as reading reviews online.

See the entire review here
Click here to see the full list of When I Work's Capterra reviews.
When I Work lets small business owners put schedules and time clocks in every team member's pocket.
Managing a team of shift workers without tracking attendance solutions can be challenging, but not with Sling. The software lets you set up shift schedules, manage shift trade requests, and keep track of when employees clock in and out.
Sling has 108 Capterra reviews, with an average score of 4.6 out of 5 stars. Key features include:
What's more, it has massive appeal to small businesses, as the following review makes clear:
Overall: Overall experience with Sling has been great. As I said earlier, its deployment has brought our company into a new age with communication, timeclocks, and scheduling.
Pros: I originally went looking for an easy, free scheduling app. I happened to find Sling and immediately loved the way I could customize positions and make schedule templates. I then saw how Sling offered a timeclock, which our company really needed. We relied on Excel sheets for our employees, so using a timeclock app was like bringing us out of the dark ages. We use the Newsfeed all the time to communicate policy and procedure changes as well. It has changed the way we interface with our employees.
Cons: I would really love to see more customization for things like the timeclocks and working hours. For example, we are an umbrella of companies. We have physical properties that are staffed with managers and assistants (Great Atlantic Management), we have a Home Office staff (Great Atlantic Companies), and we have a maintenance staff (Great Atlantic Contracting). We also have some properties that are unmanned, so we have no computers at that location. So, it would be fantastic if we can choose the mobile timeclock for just certain employees (like our Contracting crew and the unmanned helpers). Our Contracting crew also works 10 hour days, so when they request a vacation day, it needs to be a 10hr block, but I can't tell the system to use 10hrs for this position vs 8hrs for that position unless I choose the "partial day" option, which cuts down on the convenience of the app. It would be GREAT if the "Position" option allowed more features, like enable different timeclocks, enable different working times, etc. Most companies have different departments that require different hours, etc., so being able to customize this would be very helpful.
Alternatives Considered: Timesheet Mobile
Reasons for Choosing Sling: Timesheet Mobile was very customizable, so I could choose who was going to use the mobile timeclock vs a kiosk but there was not a real communication hub with them. If they had offered that feature, I probably would have went with them instead.

Read the entire review here
Click here to see the full list of Sling reviews.
Ultimately, Sling helps to increase productivity and slash labor costs.
7Shifts is a time management and employee clocking software designed specifically for small restaurant businesses.
It's also highly successful. Figures from Capterra show that 7Shifts has an average score of 4.7 out of 5.0 stars across 876 reviews, as of the time of writing.
Its key features are:
Reviewers have this to say about how 7Shifts helps small businesses in the foodservice industry:
Pros: We're interested in this app for the optimal labor scheduling feature. Unfortunately, we haven't yet used it long enough for this feature to work for us. Being able to manually add projected sales to the schedule to see the estimated labor % as you prepare the schedule is helpful. The reports seem easy to read. The helpdesk has been responsive so far.
Cons: The cost of the second highest tier plan is the same as the highest tier plan on our previous software. I don't know if this is a good value yet since we haven't been using it long enough to access all the features we need. I'm hoping the longer we use it, the better it will get. So far, myself and my team are still struggling to understand and find everything we need.
Alternatives Considered: Deputy
Switched From: Homebase
Reasons for Switching to 7shifts: We want to access the optimal labor feature in 7shifts. 7shifts seems more geared towards QSR than Homebase.

Read the entire review here
Click here to see the full list of 7Shift reviews.
7Shifts excels in basic HR tasks and can even adapt to businesses with multiple departments.
Try Buddy Punch For Free
Thousands of small businesses trust Buddy Punch as their time clock software – and you can, too. Sign up for a free trial risk-free, or view a pre-recorded demo video of how to use our software. You can also book a one-on-one demo to learn more about the specific features Buddy Punch offers to assist small businesses.
You May Also Like…