10 Best Time Clock Software No Monthly Fee (And One Paid Option)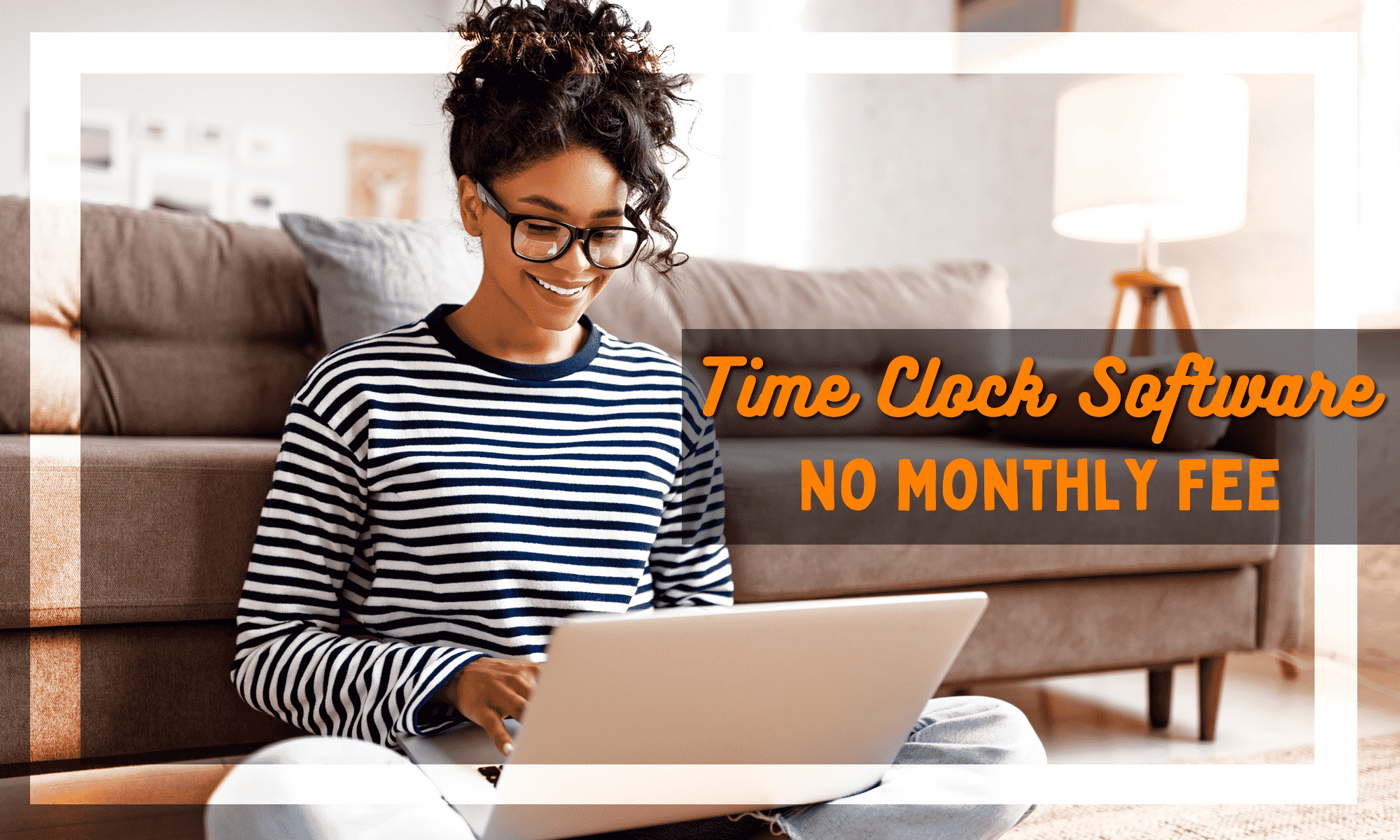 Once a business owner is aware of the benefits of using Time Clock Software to monitor when employees punch in, their most common first move is to look into one that either won't cost them anything or will be a one time payment instead of a monthly fee.
We've come to believe that this move is a mistake.
Using a time clock system to track employee hours, at its core, is a move designed to improve accountability and profitability. And yet, most time clocks come with a subscription, rather than being a one-time payment or completely free.
This is because time clock software has to be adaptable as business owners naturally grow (or shrink) operations. Timekeeping is a process that adapts with different managerial styles and team member temperaments, and most developers of employee attendance tools understand this. They need constant updates and support, and that's not the sort of thing you can provide with one-time payments or while being completely free.
Consider these points against free software:
Free attendance software has extremely limited functionalities to make up for bringing in zero profit. If you're trying to improve accountability and profitability, you're going to want multiple functions for tracking employees (such as GPS tracking, Geofencing, Job Sites, and Biometric Facial Recognition).
You're also going to want flexibility in what time clock features you make use of, and sometimes that means using a time clock with developers that aren't afraid to change, or update the formula. Some businesses will need to keep track of PTO and PTO Accruals, while others will need to capture employee punches across multiple devices (mobile devices like iPhone and Android, desktop devices like Windows PC and Macs, and tablets.) If developers aren't being paid consistently, they can't afford to develop and update these features.
Lastly, you're going to want responsive customer support, so that any issues with the time clock software you choose are quickly remedied. Downtime from bugs or crashes could quickly derail your productivity goals, and there are some time clocks out there that are known for subpar customer support despite decent functionalities.
When you add up all these requirements, it's no surprise that most attendance systems that deliver on these employee clock in functions comes with a monthly subscription. It's the type of assurance that keeps those developers working, and it motivates them to provide business owners with regular and quick support.
Even if you think that maybe one-time fee software makes up for that, you have to really think about it. Once you've bought that time clock, that's it, they've got you. Are they really going to continue serving your business with the same attentiveness 2, 5, 10 years down the line? Building a business is planning for the long term, and you need relationships that facilitate that.
Monthly payments keep both parties honest. You can terminate your relationship with a time clock that fails to meet your standards, or doesn't have a positive impact on your business. At the same time, those payments help developers afford to make updates and provide support that allows your team, business, and reliance on the software to grow with the software itself. In other words – monthly payments empower the business owner.
That said, if you're going to continue down the course of looking for a free time clock software without a subscription, we've compiled a list of some of the most well-liked free time clocks out there. But first, we're going to tell you why we think Buddy Punch beats them out as a paid option.
Best Time Clock Software With No Monthly Fee
Buddy Punch (Paid Option)
Free Options:
You've come looking for the best time clock software with no monthly fee, and instead we're recommending a paid option with a subscription. Trust us, there's a good reason for it. We're going to dive into the functions that Buddy Punch delivers to boost productivity and reduce time theft, in order to show you why it's worth the price (mostly because of the money it helps you save in day to day operations). Let's dive into it.
Note: If, instead of reading about Buddy Punch's features, you'd rather see them for yourself – Buddy Punch does offer a 14-day free trial. Otherwise, read on to get a better understanding of how this time clock could help improve your business.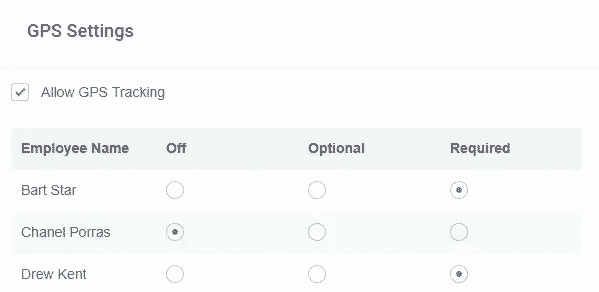 Any business with remote job sites or remote employees can benefit from our GPS tracking. This simple feature allows you to see where and when employees are when they clock in, allowing you to hold them accountable for how they spend their time when they're on the clock. This powerful feature is exactly what managers need to regain control over their employees following the radical changes that came as a natural consequence of the pandemic.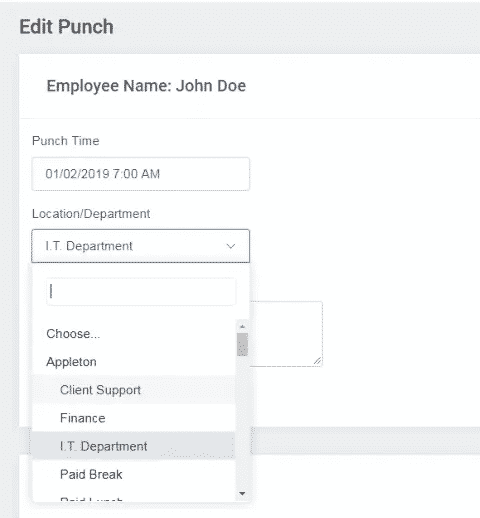 Another feature that helps manage accountability, Job Codes lets you see how much time employees spend on a specific custom job, or for a particular client or company throughout their workday. Besides giving you greater visibility of how team members time data, this can help you calculate labor costs and profitability to improve your operations.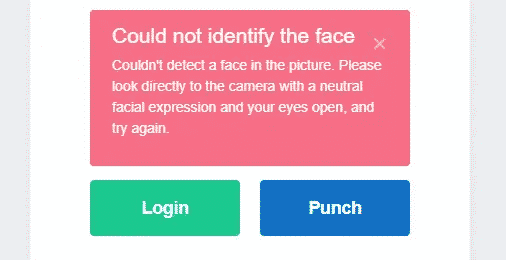 Another great feature for accountability is biometric face recognition, which helps you ensure that no one is engaging in buddy punching or time theft. Biometric fingerprint time clocks are clunky and can be fooled, and manual timesheets can be easily manipulated, but it's much harder to fool recognition technology that scans your face and saves biometric data to ensure time is being logged accurately.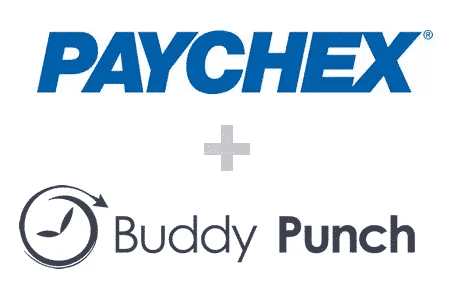 Who has the time, or the patience, to work through their entire team members' work hours at the end of every pay period? Buddy Punch's Payroll integration makes it easy to streamline the entire process, working seamlessly with your favorite payroll software. Some favorites we're compatible with include: Paychex, ADP, Quickbooks, Zapier, and more. Click here to view the full list.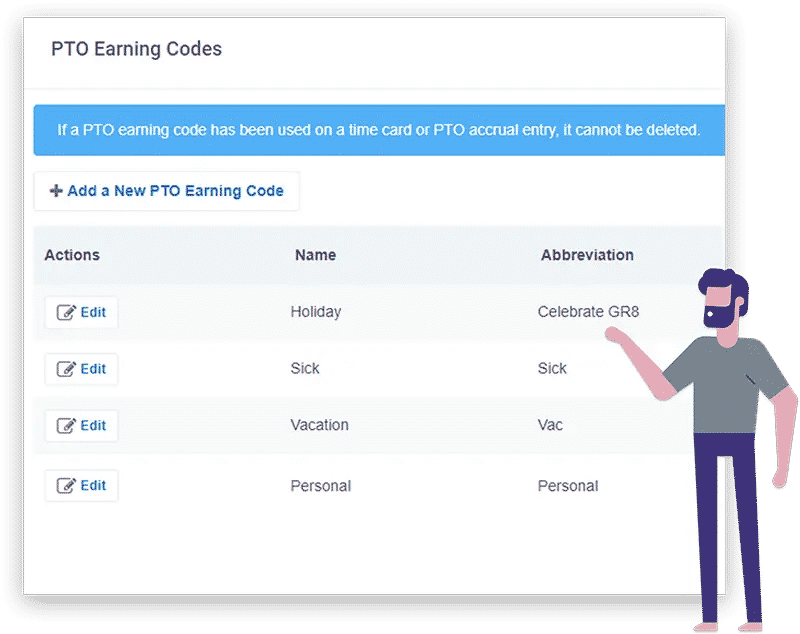 Not every business is designed to track paid time off, but any business that makes use of it is going to want to stay on top of it. One more point in Buddy Punch's favor is enabling business owners to make use of this feature for free, and how customizable it is. Choose from our selection of different PTO types to monitor, or reach out to us directly if you need a specific type added.

Hand-in-hand with our standard paid time off tracking feature is our accruals option, which lets businesses using this approach to PTO management stay on top of how much paid time off their employees are accumulating.
This comes with a PTO Summary Report feature that will provide a detailed PTO balance sheet of all of your employees. Save your business time on calculations and instantly see how much is being carried over, accrued, used, and available in the future.
So you've got Windows PCs at your workplace, but at home employees are used to Macs, and sometimes you have remote jobs and the only thing a team member can bring is a smartphone. In the days of manual timesheets, this might be a gigantic problem. Now, it's barely an inconvenience, since time clock apps like Buddy Punch work as apps and directly inside web browsers.
Simply put – you can use Buddy Punch from anywhere at any time, as long as you have an internet connection (wifi, LAN, or Ethernet).
What good is an attendance solution if you can't get it operating? Our tech support is always ready to answer questions and help with any issues you may be having with our software.
Buddy Punch Offers Many Other Features
We're only touching the surface of what Buddy Punch has to bring to a business owner. While, yes, Buddy Punch is a time clock you pay for monthly, it's certainly worth visualizing how much time and money you save with features like:
Beyond these features, it's worth noting that we have a blog section that's constantly updated with articles that can help business owners improve their workforce management methods, and we have a detailed help doc center that describes how to best utilize Buddy Punch.
Plus, that responsive customer support we mentioned is always available via live chat to answer questions. This is a level of customer-facing service that most free time clock software can't deliver on, because they can't afford to. You get what you pay for.
Buddy Punch's Online Reviews
So what do clients who paid for Buddy Punch think about it? As of this post's writing date, Buddy Punch has 4.8 out of 5 stars and 670 reviews on Capterra.

"I handle HR for a small start-up tech company, and we were looking for a simple, easy-to-use time tracking software solution that was also cost-effective for our size. We found Buddy Punch, and it seemed to offer everything we needed, and it was reasonably priced. We signed up for the trial period, and our employees were impressed immediately. They were able to start recording their time immediately with zero training or assistance, which was a priority for us. "

Click here to read the full review.
"I can customize its features in a way that work for my situation! My employees can clock in and out from the free app on their phones, and I can limit that ability by ip address and location of timecard punch. I also like that it is so easy to review original punched, and to accept or decline requested modifications if employees have erred or forgotten to clock in or out."

Click here to read the full review.
"Working with the Buddy Punch support team has been such a wonderful experience. The team is responsive, and eager to assist. Any questions we've had, whether using the free trial, or after we signed up as a customer, have been answered quickly. What a great platform.."

Click here to read the full review.
"Easy to use for admins and employees Concise reports Archiving of data is permanent while a paying customer (never lose past timecards) Reasonably priced."

Click here to read the full review.
It seems fair to say that users of Buddy Punch all agreed that Buddy Punch was worth the subscription, easy and intuitive for employers and employees to use, and accompanied by an effective support time that let users feel heard and served.

Try Buddy Punch for Free
If you're still not sure if all of Buddy Punch's functionalities would make up for the monthly fee, we highly recommend that you sign up for a free trial. You can also book a one-on-one demo to get a better appreciation for our customer support team, or view a pre-recorded demo video to gain a little more insight into the program.
Now, let's dive into some options of time clock software that's completely free to use.
1. Time Clock Wizard
Time Clock Wizard calls itself a "100% free online time clock," used by over 100,000 businesses. That said, despite this claim and like most free time clocks, it locks features behind a monthly pricing plan.
If you want to stick with the free plan, you can time track for unlimited users, free of charge. Once you pay, you get access to features like:
It's worth noting that Time Clock Wizard works on both iOS and Android devices.
As of this post's writing, Time Clock Wizard has a rating of 4.4 out of 5 stars, based on an average of 85 reviews.
"I still use Time Clock Wizard quite often even though my invoicing system has a time clock built in. I like the simple use of the time clock wizard over the bulkiness that is in my invoicing software, plus the fact that time clock wizard sends prompts from time to time to make sure you didn't forget to log off your time for projects."

Click here to read the full review.
2. Time Clock MTS
If you're looking for a Time Clock with a free download, Time Clock MTS might be right for you. At the time of this post's writing, Time Clock MTS has a rating of 4.7 out of 5 stars, and 91 reviews on Capterra (see here).
It's completely free to track time for up to 4 users, but if you use a paid plan it comes with:
"This is a simple no-brainer way for a small business to provide accurate to the minute clock-in / clock-out for my employees. It lets even a dunderhead like me edit times and run payroll reports with ease."

Click here to read the full review.
3. Open Time Clock
Open Time Clock is a great time clock software for small businesses to use. Unlike most time clocks with free plans, this tool allows users not paying a monthly fee to still access a good amount of features such as:
As of this post's writing date, Open Time Clock only has 18 reviews on Capterra, and a rating of 4.4 out of 5 stars.
"The PTO accruals is a bit tricky with carryforeard time off. But if you are a small business you should be able to take the time to make it work."

Click here to read the full review.
Connecteam has a variety of flexible pricing plans, including a free plan for up to 50 users. This software lets free users use the clock in system, clock out, job scheduling, and task management, but if you purchase a subscription you can access:
As of this post's writing date, Connecteam has 4.8 out of 5 stars and 144 reviews on Capterra.
"My favorite thing about this software and I am just now learning this is the ease of use and roll out and teaching other branches within the company how to use it. We have had multiple training sessions on this over the last few weeks with other branches and questions, help, and problems getting going are all minimal. It is so easy to use even for the beginner."

Click here to read the full review.
OnTheClock might be the time clock software for you if you're after a free plan, but it's only free if you have 1-2 employees. Otherwise, you have to pay monthly to access features such as:
This web-based app is a flexible tool that functions on PC (Windows) and Mac, as well as mobile and tablet devices. As of this post's writing date, OnTheClock has 4.7 out of 5 stars and 504 reviews on Capterra.
"I have tried other time card apps, and they seem a little clunky. This app is easy for administrators and employees to manage time cards. Especially the function that allows employees to adjust hours if needed."

Click here to read the full review.
6. Clockify
At the time of this post's writing, Clockify has an impressive 4070 reviews, and a rating of 4.7 out of 5 possible stars (see here). Some of this time clock software's features include:
"I've been using Clockify for more than two years now. I tried other software before but this one was the best at that and still is. If you, like me have simple needs, this is the best piece of software for you."

Click here to read the full review.
7. TimeCamp
TimeCamp has a "free forever plan" which enables small business owners to track unlimited users, unlimited projects, and to work as both a Desktop and mobile app. However, that's all they can do. If they choose to pay, they can access other features such as:
At the time of this post's writing, TimeCamp has a total of 552 reviews on Capterra with an average of 4.7 out of 5 stars.
"I looked at a lot of alternatives before settling on Timecamp. As a small business I just need something simple and clear and Timecamp does that for me; the others seem either too heavyweight or too clunky. Timecamp does have a lot of good features for larger users but if you don't need them, they don't get in the way."

Click here to read the full review.
8. Sling
Sling is another employee time clock software that really gives proper considerations to free plan users. Even without paying a monthly fee, you get access to features like:
Sling currently has 108 reviews and 4.6/5 stars on Capterra (as of this post's writing date).
"This is has been an eye-opening experience. I didn't know such an awesome scheduling solution existed and is perfect for small or large businesses. Everybody with a team should be using Sling."

(See the full review here.)
9. 7shifts
7Shifts is a time clock built for restaurants, but its free plan is extremely powerful. You get to manage up to 30 employees at a single location with a variety of powerful features. It's full range of capabilities (paid or free) include:
As of writing this post, 7Shifts has a total of 876 reviews and 4.7 out of 5 stars on Capterra.
"It pays for itself in employee management. Time off, scheduling, basic HR tasks (address, phone #, hire date, etc.) are great things to utilize."

Click here to read the full review.
10. Findmyshift
FindMyShift offers a flat price per team, depending on size . If you're a business with 5 team members, you can use this punch clock software free.
Some of Findmyshift's features include:
As of this post's writing, Findmyshift has 682 reviews and 4.6 out of 5 stars on Capterra.
"We converted from spreadsheets to using Findmyshift, and have been very happy. We no longer have problems with employees not checking the schedule, we can email it to them."

(Click here to read the full review)
What about Physical Time Clocks?
Maybe it's the idea of paying a subscription that really bothers you, but you're fine with using no software at all, and instead using a physical time clock – like a touchscreen, RFID reader, or fingerprint scan.
While it can be nice having a time clock without internet required, you enter another realm of problems to deal with: warranties, deducting benefits from the cost of training employees to use these devices, installing them onsite, making sure technical support is responsive (what happens if a power supply goes bad, an adapter gets broken, or if you need providers to come inspect a device?)
Each of these tools also have their own unique problems:
Fingerprint time clock systems: These biometric time clock systems often raise sanitary concerns (especially in recent years), cause false negatives, and can be an inconvenience for team members.
RFID Badge readers: These time card machines can present a problem as employees are now responsible for their RFID cards in addition to their daily job responsibilities, and employers will have to ensure the reader itself is taken care of.
Touchscreen Systems: Employers will have to be responsible for keeping LCD screens clean and maintained in addition to issues ingrained with having a physical system (cables, power supply, maintenance, etc.)
Even with more popular physical time clocks (NGTeco, uAttend, Compumatic, Acroprint, Lathem) you have to weigh whether or not to get a one year warranty with the purchase, which is probably the best move you could make in case something goes wrong. On the flip side, web punch software has none of these issues.
Time Clock Software: Avoid the "No Monthly Fee" Trap
When you're weighing the cost of a time clock software, it's easy to get focused on the numbers next to the device, and forget to keep in mind the invisible amounts you're saving by implementing them. You're saving time dealing with payroll, making employees more productive as a healthy side-effect to their time being monitored, and identifying where you can cut job costs to optimize your operations.
As we've been reviewing these free software options, a pattern of high-level functionalities being locked behind monthly plans has become clear. Subscriptions are necessary for developers to provide ongoing support and access to powerful functions.
But one great positive is that most time clocks come with free trials. That means you can always try out a time clock software and see how it benefits your company before you commit.
Try Buddy Punch for Free
By now we hope we've made it clear that a time clock with no monthly fee could cost you much more down the line, or fail to help you save time and money as much as a more effective attendance software could.
If you're willing to see why most time clocks have to charge a monthly fee to deliver on their functions, Buddy Punch's free trial will make it very clear. There's no better way to figure out if a time clock will be worth the price. You can also book a one-on-one demo, or view a pre-recorded demo video.

You May Also Like…