Bizimply Alternatives (5 Options)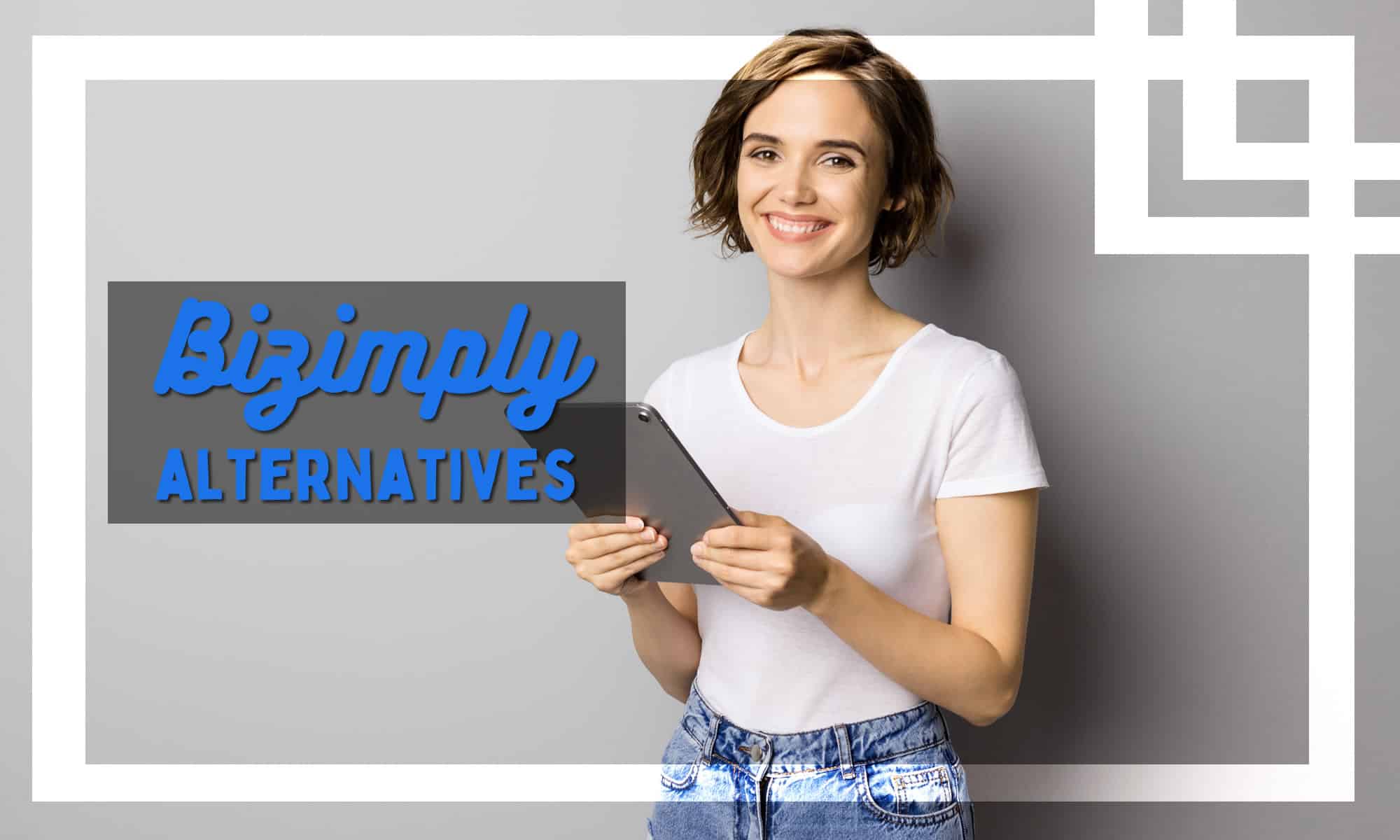 It is simply savvy for business owners to be willing to upgrade whatever attendance solution they're using for time tracking and employee scheduling if something better comes along. This rings true even if you're using a well-esteemed tool like the Dublin, Ireland-based Bizimply. Though Bizimply features some powerful options such as employee profiles and the unique MyZimply and timestation (one of the first things you'll see highlighted on www.bizimply.com), it's not going to be the ideal tool for everyone, forever. Just a look at bizimply reviews shows people taking issue with customer service and the speed of the app.
All this to say: if you are searching for the best Bizimply alternatives, this post is for you.
Since there are plenty of HR software and performance management tools on the market, we've created this guide to help you find the right workforce management software for your company. Something that will help you scale your operations and closely monitor employee time tracking, regardless of company size.
Specifically, we've got 5 Bizimply competitors listed to help you with time & attendance management. By the end of this post, one of these tools should be a good fit to help you improve your employee management.
Best Bizimply Alternatives
1. Buddy Punch
Starting off our list of alternatives to Bizimply, we have our very own Buddy Punch.
When we first wanted to move away from manual methods of time tracking and payroll management, it was because our team size had expanded from a small business. Trying to track 20 employees at 3 different locations was nearly impossible with manual methods and templates, so we realized we needed to make the switch to digital software to adapt. All we had to do was find a tool that would give us the most useful features, and the most value for money.
Unfortunately, we didn't find anything that seemed like a good fit for our team management style. That's when we set out to build our own instead.
Buddy Punch comes with everything you need to hit the ground running with cloud-based time tracking and leave management. Whether you are leading a remote team of freelancers or an in-house team of employees with a human resources department, Buddy Punch can play a pivotal role in optimization for your resource management style. This is far more than just employee scheduling software. It's an end-to-end management & tracking tool.
How Buddy Punch's Time Tracking Platform Works
This user-friendly software solution promotes self-service and gives team leaders and managers the tools they need to streamline key processes, such as timesheet collection and payroll processing. Buddy Punch also comes with many project management features which are suitable for both startups and large enterprise-level organizations.
Buddy Punch can prove instrumental in monitoring labor costs and boosting team productivity. Like all the time tracking platforms with mobile apps, Buddy Punch enables team members to clock in and out no matter where they are located. For instance, this is perfect for SaaS teams with remote workers and organizations with employees that are always on the road.
Customize Punch Rounding
For HR teams to leverage Buddy Punch, it must successfully align with all of their existing HR policies. When it comes to employees punching in and out, HR teams can take control to ensure time entries are rounded up or down based on the standardized minute increment they select. This means Buddy Punch can confidently align with all day-to-day regulatory requirements as a tracking app.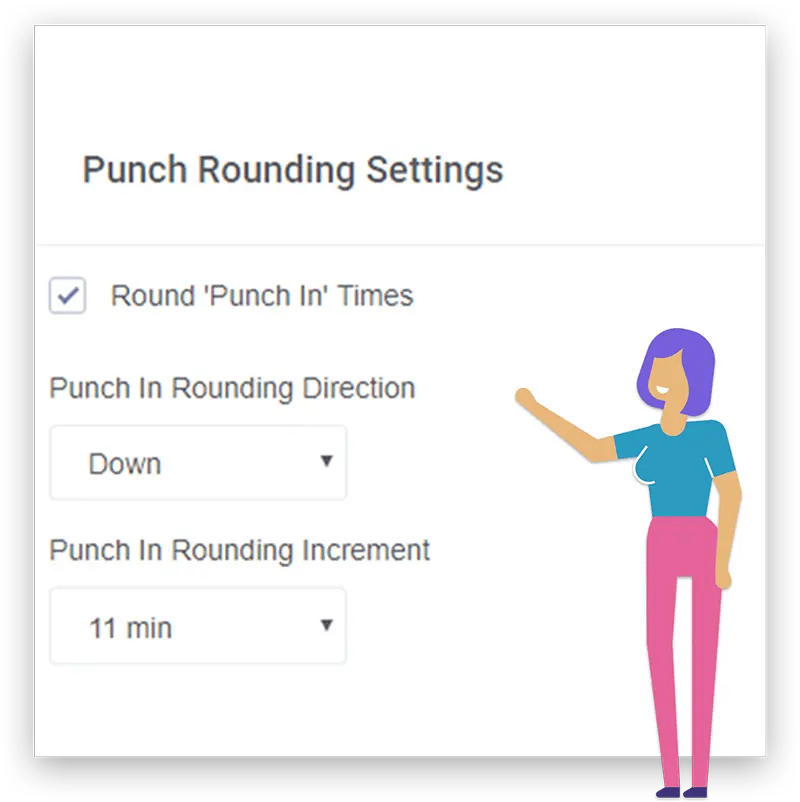 Encourage Teams To Clock In And Out With Webcams
Employees can clock in and out using the webcams on their devices. This hr function can add an extra layer of transparency to people management as far as monitoring time entries and promoting team accountability go. Upon punching in and out, team members can use their webcams to snap a selfie. These selfies can be stored as part of the time entry and used for verification purposes.
Utilize Technology To Accelerate Time Tracking
From 4-digit pin codes to facial recognition and QR codes, Buddy Punch enables employees to clock in and out using a range of exciting features. We believe these features can play a role in streamlining the time tracking process. With new ways to track employee attendance, you can ensure employees are submitting their time entries without any delays.
Approve/Reject PTO Requests
From inside the platform, you can approve and reject paid time off requests as they come in. You can either manually add PTO to an employee's time card (without the need for approval) or enable team members to request PTO at their own discretion. Team leaders and administrators can update each employee's time card and approve PTO based on platform data.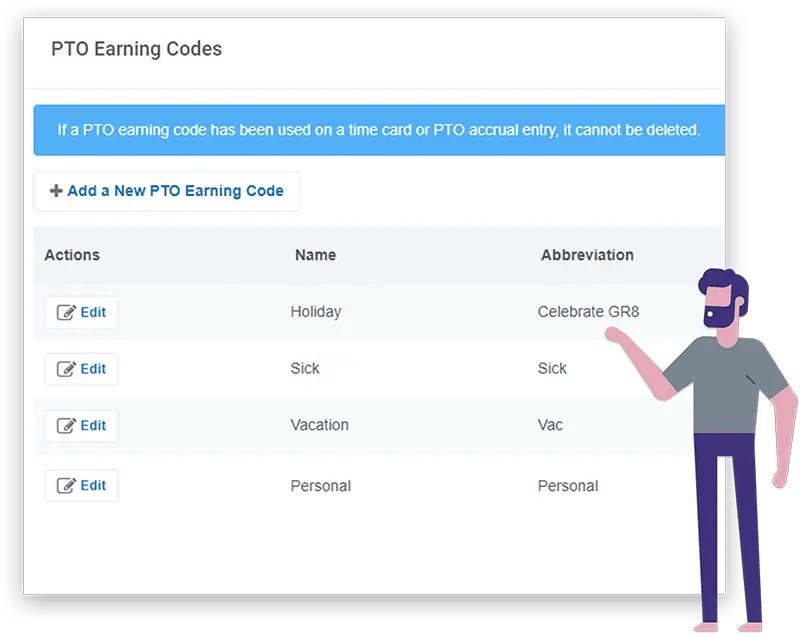 We recommend browsing through the extensive resources on our "Knowledge Base" – which contains all you need to know about setting up and utilizing Buddy Punch. Alongside this, our dedicated customer support team are always on hand to answer any of your questions. We're there with you on the frontlines, helping you maximize retention throughout your employee lifecycles.
You can book a one-on-one personalized demo here.
Simplify Payroll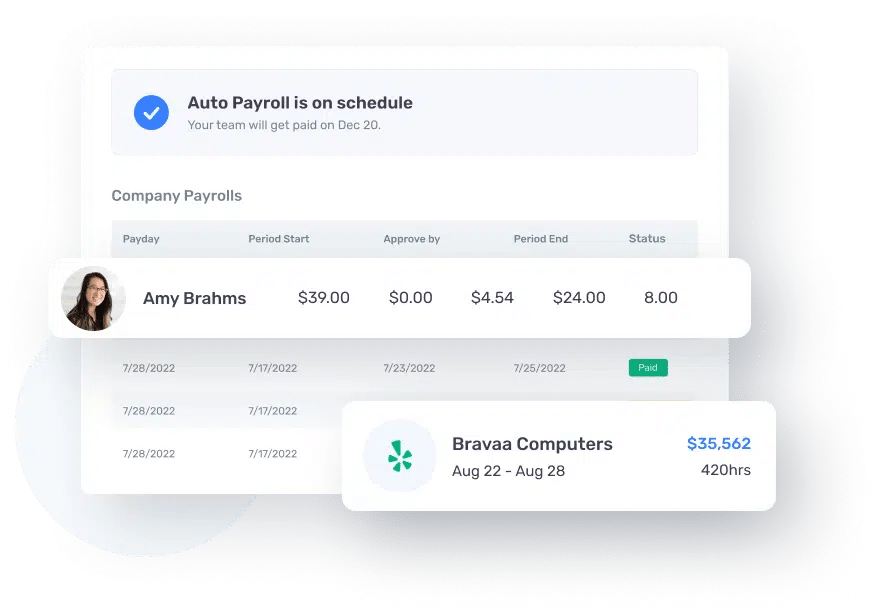 While Buddy Punch has payroll integrations with some popular payroll software APIs (such as QuickBooks, Paychex, and ADP), you can see one example of how we continue to improve our HR Solution in the recently added built-in payroll option. Now you can keep your employee data in one place by making Buddy Punch your all-in-one tool, and you still get to use automation for many of the more tedious aspects of running payroll on a regular basis.
Buddy Punch Is The Best Bizimply Alternative
We haven't even really started! Buddy Punch is a workforce management platform loaded with a comprehensive set of capabilities for staffing, shift planning, time tracking, and more. If you want to hold your workers accountable and improve transparency in your company, you need Buddy Punch on your side. This is a must-have solution for businesses and organizations that want to manage their time and monitor metrics more efficiently.
The platform also comes with the following features:
Buddy Punch works on any device with an internet or wifi connection, meaning iOS and Android smartphones, tablets such as iPads, and Desktops.
Buddy Punch's Online Reviews
As of the writing date, Buddy Punch has 4.8 out of 5 stars and 837 user reviews on Capterra.
Below, we'll list just a few reviews that speak to Buddy Punch's ease of use and great customer support service. (Click here to explore the full list of reviews.)
"Leaving the last program to go to Buddy punch was great. The comparison helped me see how cumbersome the last program was. And see how easy to use a program could be."

Click here to read the full review.
"The product is easy to use and to deploy to employees. The cost is reasonable and it can do more than what we use it for. The employees can edit their time if there is an error, and the Approver can edit and/or approve an employee's time entry."

Click here to read the full review.
"On the employee side, time tracking is incredibly simple and easy to understand. Finding and editing punches is intuitive, as are all the features that I use regularly."

Click here to read the full review.
"Buddy Punch is a great product that has allowed us to better track our technicians' hours. They are on the road 3-4 days a week and Buddy Punch helps us know where they are when they punch in/out and whether they are staying on schedule. It's a great product at a great value!"

Click here to read the full review.
Try Buddy Punch for Free
If you feel that Buddy Punch might be the right fit for your business, sign up for a free trial. You can also book a one-on-one demo, or view a pre-recorded demo video. Buddy Punch's pricing varies with features and company size.
2. DeskTime
If you've looked into human resource management (HRM) or human capital management (HCM) software you've likely heard of DeskTime. As a web-based platform, DeskTime gives leaders and administrators full oversight of their staff at all times, from onboarding to performance evaluations. With in-platform notifications for last-minute alerts, team leaders and project managers can access real-time employee performance and attendance data to help them make better decisions and lead their teams effectively. Business owners in any industry can use this to track time, manage ROTA, and calculate labour costs – from restaurants to hospitality businesses.
Like Buddy Punch, you can use DeskTime as an android app, iOS app, or via the web on Desktops. At the time of writing, DeskTime has a total of 326 reviews on Capterra, with an average of 4.5 out of 5 stars. DeskTime offers various features, some of which include:
"Overall DeskTime has been great for employees trying to manage themselves while working at home. It gives them the freedom to do what they want while holding them accountable for how their time is spent."

Click here to read the full review.
3. TimeCamp
TimeCamp is a one-click time tracker. Not only does it simplify and streamline the process of tracking your own time, but it also integrates with many popular payroll providers to make sure that your timesheet data is always accurate and up-to-date. And on top of all that, TimeCamp is highly affordable and customizable, making it a great fit for businesses of all types and sizes.
At the time of writing, TimeCamp has a total of 561 reviews on Capterra, with an average of 4.7 out of 5 stars. TimeCamp offers various features, some of which include:
"TimeCamp is the cheapest time tracking software that I have worked with so far. It covered most of my needs with the free version itself. With the desktop application, we can track the computer activities, websites and applications usage. This enables to bring trust among the customers."

Click here to read the full review.
4. When I Work
If you are tired of endless Excel spreadsheets and navigating through Slack to collect time entries, from employees, When I Work can help! When I Work is a time tracking solution that helps you collect and organize employee time entries, all in one place. With When I Work, you can say "goodbye" to manual time entry and tedious data collection.
At the time of writing, When I Work has a total of 953 reviews on Capterra, with an average of 4.5 out of 5 stars. When I Work offers various features, some of which include:
"I use this for my job and it makes looking at my schedule uncomplicated. I used to be confused when the schedule came out on paper, but now with this software, I can look at it when I work whenever. The design is seamless and easy to follow! They also have helpful features."

Click here to read the full review.
5. OnTheClock
OnTheClock is a simple-to-use and accessible timekeeping web app that helps your team punch in and out with ease, regardless of your niche, from healthcare to sales. The software is available on mobile devices and tablet devices alongside the desktop version. This means teams can punch in and out from anywhere. OnTheClock can bring order to your workflows and work schedules by utilizing an intelligent calendar.
OnTheClock offers various features, some of which include:
It is effective employee time tracking software for PC (Windows) and Mac, and it also works with mobile and tablet devices. As of the writing date, OnTheClock has 4.7 out of 5 stars and 515 reviews on Capterra.
"As an employer, I wanted an easy-to-use time clock. This is and has been such an easy set-up and managed program I could not recommend it more highly. The ability to assign managers for other employees has made my payroll day so much easier, which is a big time saver, making payroll a breeze."

Click here to read the full review.
Try Buddy Punch for Free
If you feel that Buddy Punch could be the right fit for your business, sign up for a free trial. You can also book a one-on-one demo, or view a pre-recorded demo video.
You May Also Like…