Aderant iTimekeep Alternatives (5 Options)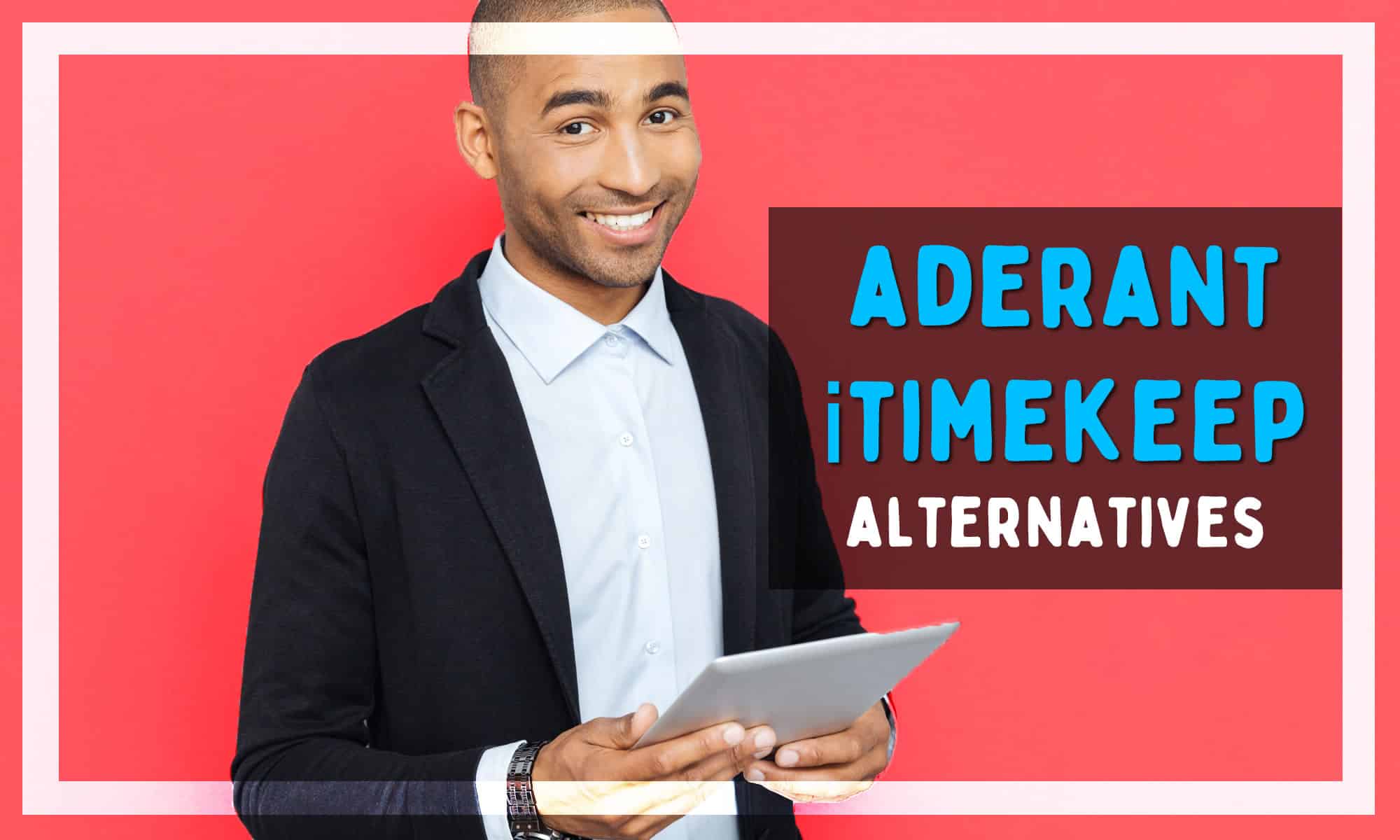 When it comes to timekeeping, having the right cloud-based time tracking software can radically accelerate your workflows and eliminate bottlenecks in payroll processing. You should look for time management platforms that support mobile time entry and use automation to streamline key processes. A time tracking solution should also neatly integrate with your billing system.
Here are just a few of the things you should look for in a time tracking solution:
Support for mobile devices.
GPS location tracking.
Leave management features.
Project tracking functionalities.
Task management tools.
Let's explore the best Aderant iTimekeep competitors on the market. Sure, we're a little biased but Buddy Punch is at the top of the list.
Best Aderant iTimekeep Alternatives
1. Buddy Punch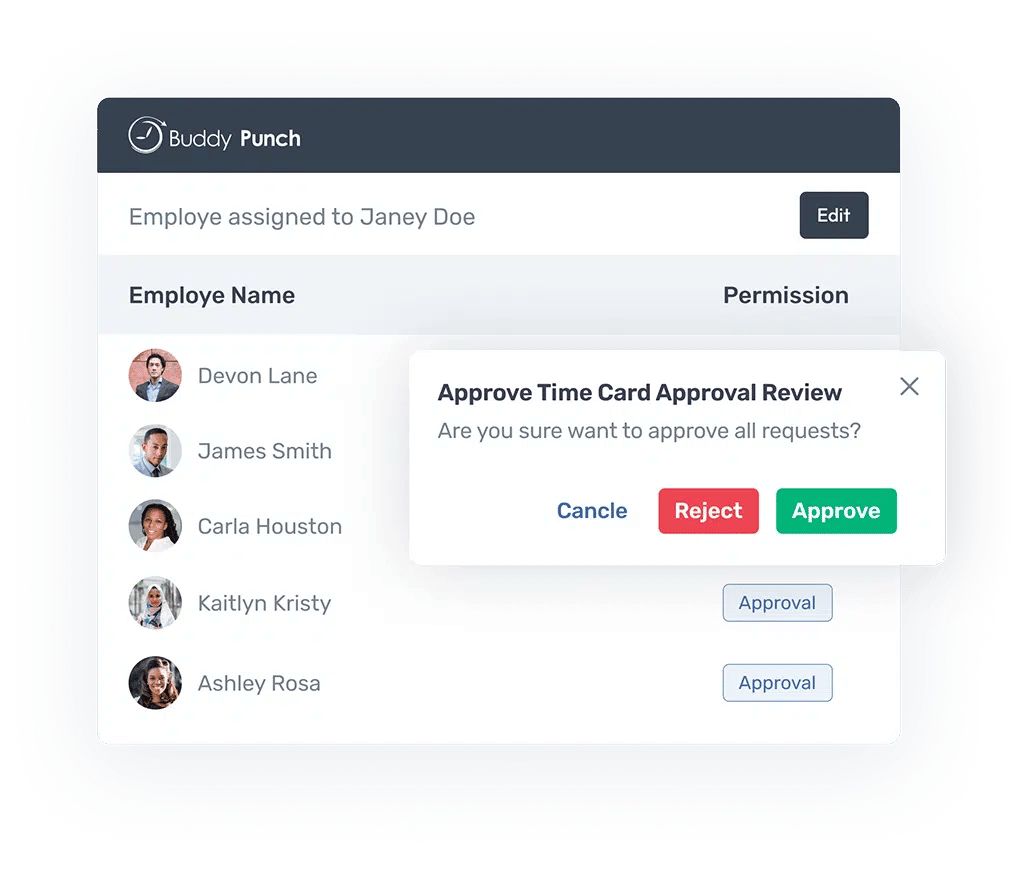 Buddy Punch is a great Aderant iTimekeep alternative as it is an all-in-one time tracking and attendance solution. With Buddy Punch, you can track time spent on projects, billable hours, vacation time, and more. Whether you are a small business or large enterprise, Buddy Punch can scale to meet your needs and support an unlimited number of users.
How Buddy Punch's Time Tracking Platform Works
Employees can use Buddy Punch's web-based time clock or app on their mobile device to clock in and out. The platform also offers geofencing, which tracks employee location and prevents time theft. Once clocked in, employees can start working on projects and tasks. This is perfect for HR teams that need to track billable hours with ease and streamline payroll processing.
Let's take a closer look at Buddy Punch's most beloved features.
Combat Timesheet Fraud With Intuitive Features
Timesheet fraud is a massive problem for businesses of all sizes. Buddy Punch offers a number of features that help combat timesheet fraud, including GPS tracking, geofencing, and photo verification. With these tools in place, you can be sure that your employees are where they say they are and that they are working their scheduled hours.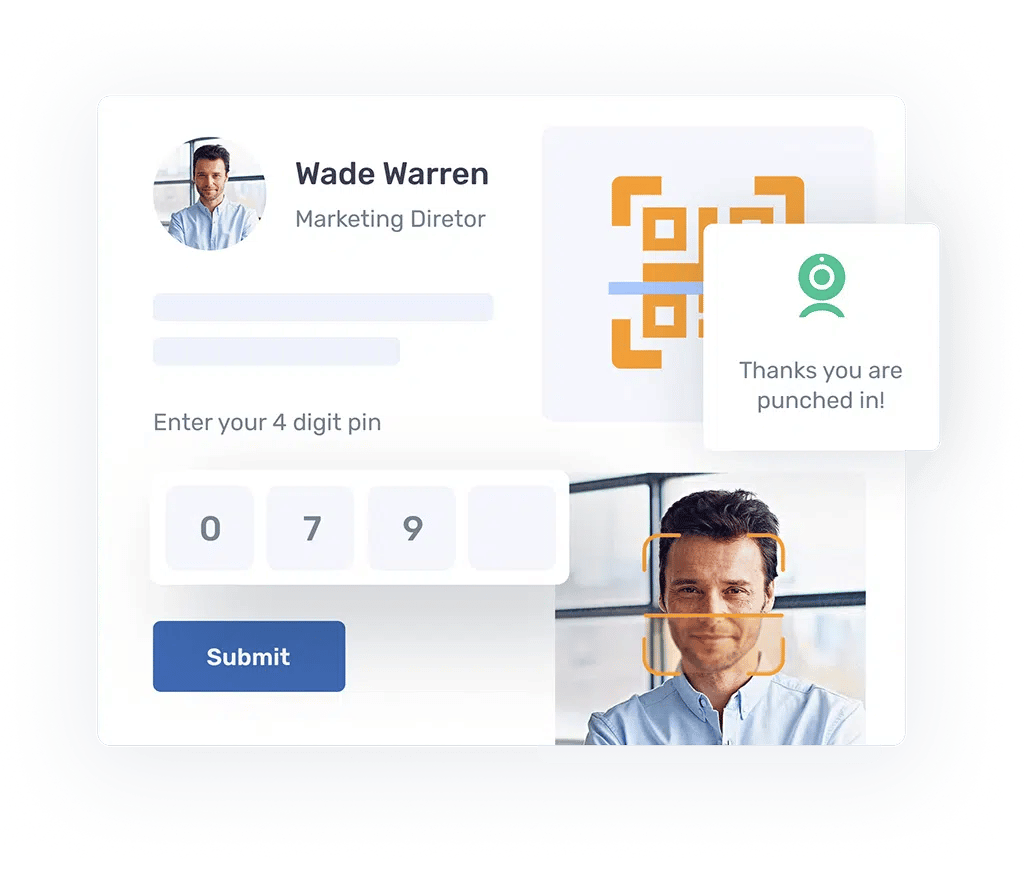 Simplify The Time Tracking Process
Buddy Punch provides you with the necessary tools and features to simplify the time tracking process. HR teams do not want to spend hours chasing up on timesheets from employees. At the same time, employees do not want to deal with a convoluted process to submit timesheets. Buddy Punch simplifies this process and makes it easy to submit timesheets for payroll.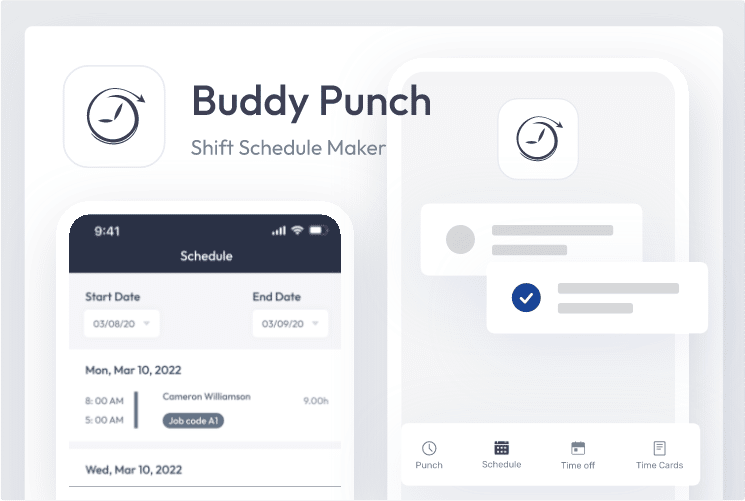 Streamline Payroll Management Inside The Platform
If you are searching for a time tracking platform that can speed up your payroll management processes, you should consider using Buddy Punch. HR departments use Buddy Punch to accelerate their workflows and collect timesheets faster. The easiest way to speed up payroll management is to make it easy for employees to submit timesheets. Buddy Punch does this!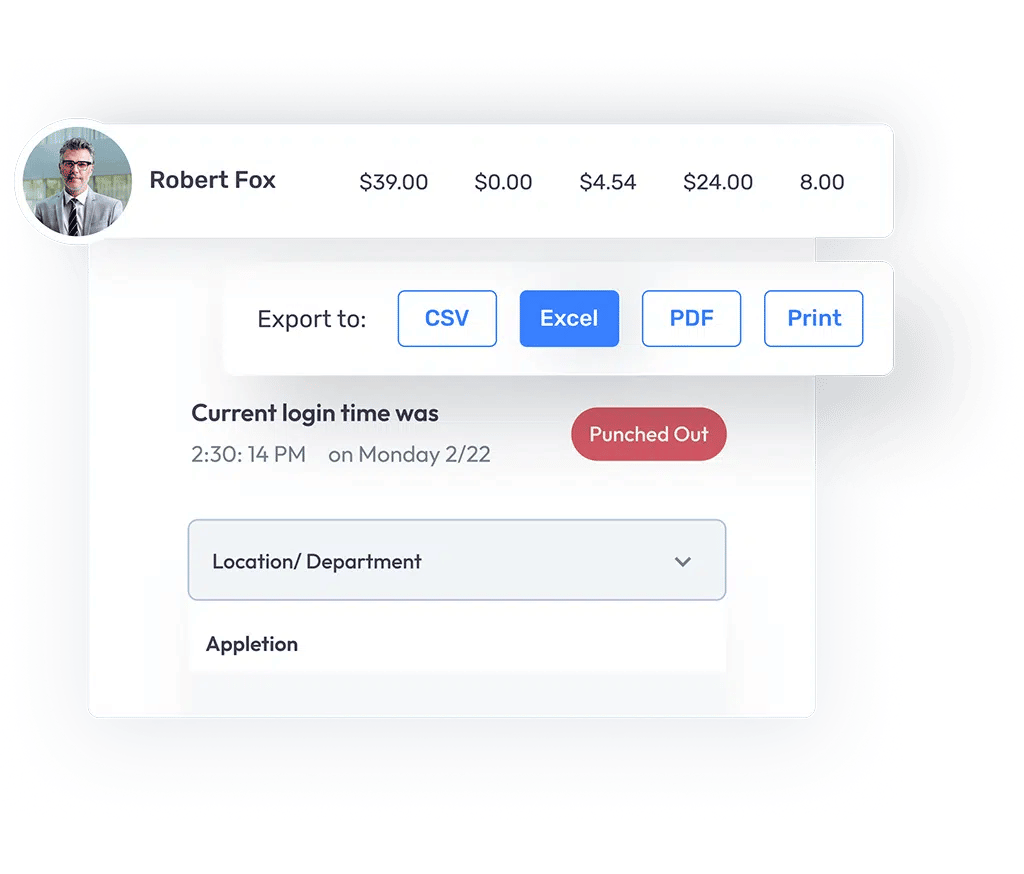 All Employee Data Is At Your Fingertips
Buddy Punch is a great option for businesses that are looking for a time tracking solution that offers a comprehensive set of features. The platform's employee onboarding feature makes it easy to add new employees to the system. You can also use Buddy Punch to manage employee vacation days and sick days – and improve PTO requests at the click of a button.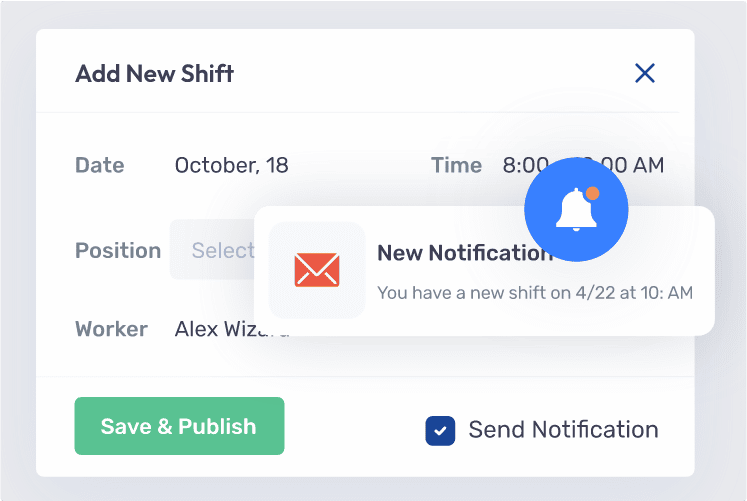 Real-Time Notifications For Rapid Decision-Making
You can stay in the loop with real-time notifications on employee time and attendance. For instance, if an employee has clocked in late or requested PTO, you will receive a real-time notification. Without delay, you can respond to requests and deal with absences. The whole process is designed to support rapid decision-making across your organization.
Once you sign up for Buddy Punch, you can explore our "Knowledge Base" to learn more about how to unlock value from the time tracking platform. You will quickly learn that this is much more than just a time tracking platform and functions well as a workforce management solution. Our support team is also ready to answer any questions you may have.
You can book a one-on-one personalized demo here.
Buddy Punch Is The Best Aderant iTimekeep Alternative
Here are just some of the features available across the desktop and mobile app:
Buddy Punch's Online Reviews
The user reviews are remarkable! From professional services businesses to SaaS companies, teams cannot get enough of Buddy Punch.
As of the writing date, Buddy Punch has 4.8 out of 5 stars and 740 reviews on Capterra.

Below, we'll list just a few reviews that speak to Buddy Punch's ease of use and great customer support service. (Click here to explore the full list of reviews.)
As reviewers have noted, Buddy Punch provides team leaders and project managers with the necessary tools to promote team accountability:
"Cannot say enough about their support. Even if the product was not as amazing as it is, I would highly recommend Buddy Punch due to the unbelievable support!"

Click here to read the full review.
"Easy to track my hours and easy for my employer to track my hours."

Click here to read the full review.
"Buddy Punch has been fantastic. Love it and would keep using it."

Click here to read the full review.
"Easy to install. Nice features including the take picture before punching in feature."

Click here to read the full review.
"It's not intimidating to use and is easy to navigate."

Click here to read the full review.
Try Buddy Punch for Free
If you feel that Buddy Punch might be the right fit for your business, sign up for a free trial. You can also book a one-on-one demo, or view a pre-recorded demo video.
2. TimeCamp
From automatic time tracking and timesheet approvals to attendance tracking and easy invoicing, TimeCamp is an all-encompassing solution for your workforce. You can centralize many of your tasks with this platform and keep everything under one roof. TimeCamp is well-equipped to meet the needs of both regular employees and senior leaders.
At the time of writing, TimeCamp has a total of 566 reviews on Capterra, with an average of 4.7 out of 5 stars. TimeCamp comes packed with a range of useful features:
"Integrating TimeCamp with my business took a few minutes in the beginning. I had to update keywords over a few days to make it a perfect custom fit. Every time I have a new client, I add new keywords – the whole process takes less than a minute."

Click here to read the full review.
3. Insightful
As the name suggests, Insightful can offer useful insights into employee performance. If you want to make better leadership decisions and manage your team with confidence, this platform is an invaluable resource. With automatic time mapping and employee monitoring, team leaders and managers can keep track of employee performance and make interventions where needed.
At the time of writing, Insightful has a total of 74 reviews on Capterra, with an average of 4.7 out of 5 stars. Insightful lives up to its name by offering several useful features:
"Insightful does exactly what it advertised and for us this is exactly what we need. We are able to understand and drill down on an individual or team level whenever there may be a performance issue. In general it has a good snapshot feature where you can see overall how your teams are doing."

Click here to read the full review.
4. When I Work
When I Work offers a treasure trove of useful employee insights to support your leadership and make it easy to run payroll. With a full range of capabilities at your team's disposal, you can elevate your workflows and get more done in less time. When I Work offers employee scheduling features, enabling the platform to also function as a project management solution.
At the time of writing, When I Work has a total of 971 reviews on Capterra, with an average of 4.5 out of 5 stars. When I Work comes with a range of useful functionalities:
"I've been using this software for 5 years, first as an employee then as an employer. Ease of use for both parties is fantastic and it's well worth paying for to save the time. When I change places of business, if I have a choice, I will choose When I Work again and again."

Click here to read the full review.
5. Timely
Timely brings clarity to your workflows and enables employees to clock in and out with complete ease. Employees can use Timely's automatic time tracking system to punch in and out without any delay and provide leaders with all the team data they need. Timely also functions well as a project management tool with a range of features designed to support productivity.
At the time of writing, Timely has a total of 208 reviews on Capterra, with an average of 4.7 out of 5 stars. Timely is loaded with a broad range of high-impact features:
"As a business owner, it is fantastic to get accurate and 'timely' submitted timesheets from staff each and every week. For the user, once you find your preferred method of capture, it is a breeze from there in."

Click here to read the full review.
Try Buddy Punch for Free
If you feel that Buddy Punch could be the right fit for your business, sign up for a free trial. You can also book a one-on-one demo, or view a pre-recorded demo video.
You May Also Like…