Justworks Hours Alternatives (5 Options)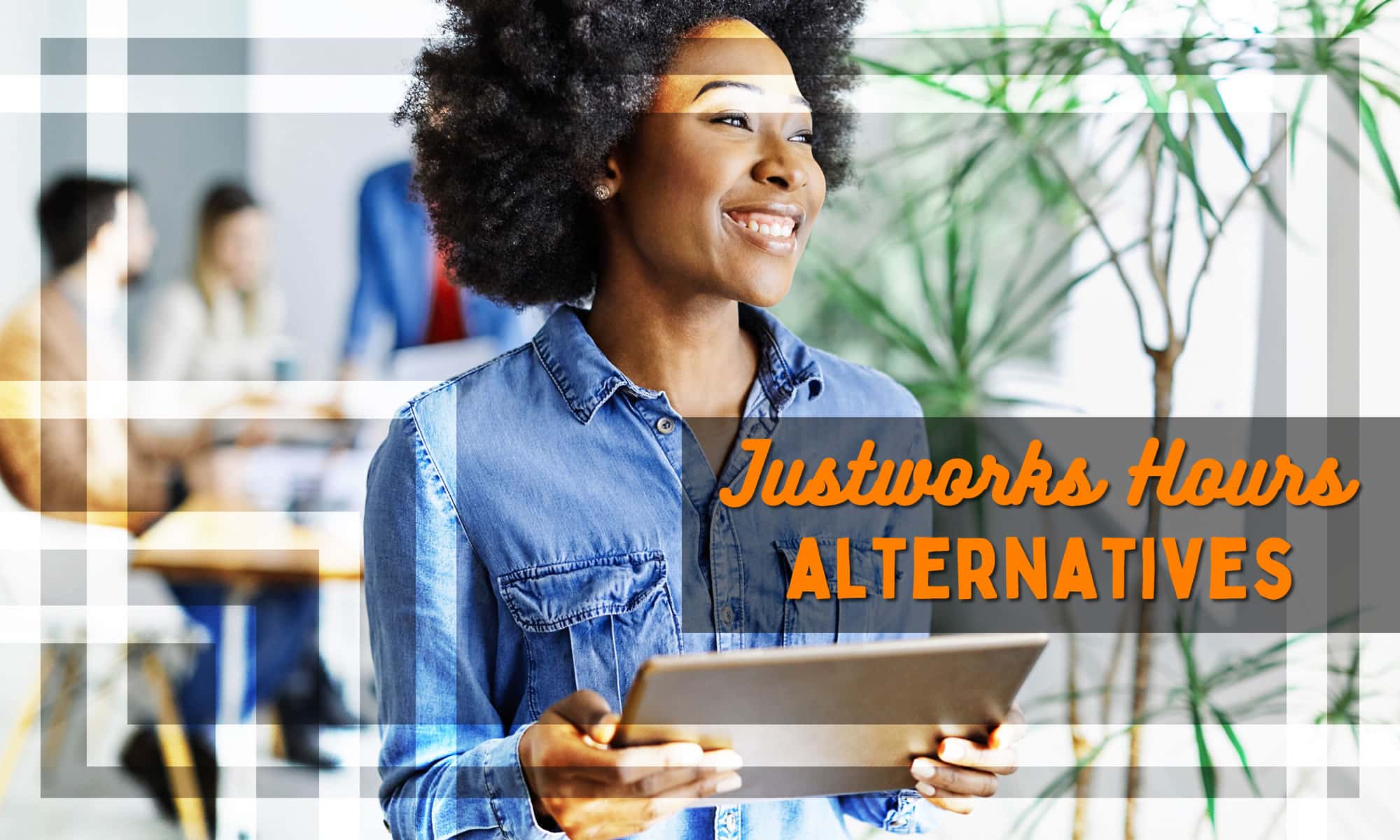 If you need access to the best Justworks Hours alternatives for HR management, you have come to the right place. There is no shortage of effective time management solutions to support the employee experience and enable leaders to track employee time. With the right time tracking tool in your corner, employee performance management becomes a breeze.
There are plenty of time clock business software solutions on the market for both medium-sized businesses and large organizations to choose from. In many cases, these can neatly integrate with your payroll software and support human resource management, particularly measuring labor costs. This is essential for professional services teams in search of HR software solutions.
Let's explore the best Justworks Hours alternatives.
Best Justworks Hours Alternatives
1. Buddy Punch
For business owners, Buddy Punch is well-equipped to meet your talent management needs. From project management to expense management, this all-encompassing platform comes with everything you need to unify your workflows and bring everything under one roof. Using Buddy Punch, you can effortlessly track employee performance in real-time.
How Buddy Punch's Time Tracking Platform Works
Employees can seamlessly clock in and out using Buddy Punch's intuitive platform via the desktop or mobile app. Leaders and administrators can receive instant notifications to effectively track attendance. As it's possible to integrate Buddy Punch with all major payroll providers, you can accelerate payroll processing by connecting your go-to payroll solution to the platform.
Leverage GPS Tracking For Team Accountability
Buddy Punch's GPS tracking feature can play a pivotal role in promoting accountability across your organization. It's particularly important for remote team leaders who need to understand where their employees are clocking in from. Team leaders can view employee locations either directly on their dashboards or by visiting each employee's time card.
Automate Timesheet Collection And Payroll Processing
With timesheet collection on autopilot, HR teams can focus their energy on other vital tasks. Buddy Punch aims to centralize all employee timesheet data for payroll processing. The best bit? The platform neatly integrates with your go-to payroll provider. You name it, we have an integration. It's a truly seamless process designed to take the hassle out of timesheets.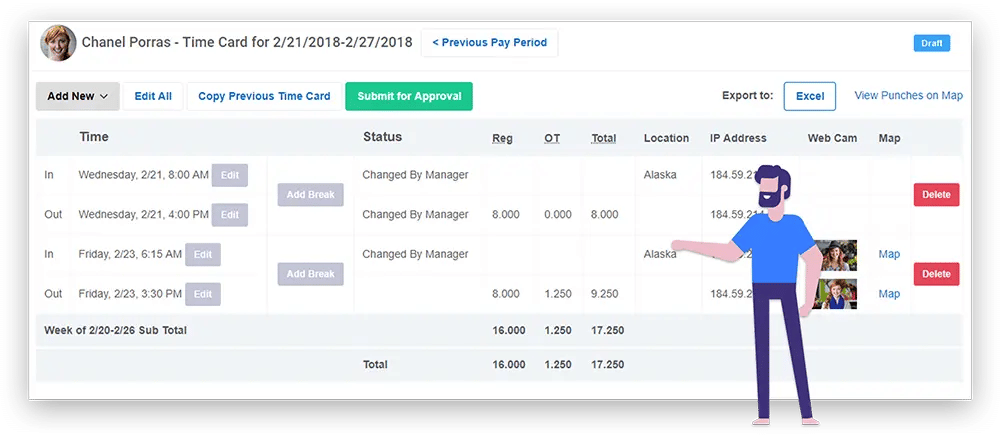 Clock In And Out Anywhere, At Any Time
No matter where your remote employees are located, Buddy Punch gives them the freedom to clock in and out from any geographical location. To support employee self-service and prevent HR teams from chasing up on time entries, team members can use their iOS and Android devices to clock in and out. The platform uses automation to streamline data collection.
Monitor Overtime With This Time & Attendance Tool
As the ultimate tracking system, Buddy Punch gives you the tools needed to track and monitor employee overtime, including PTO. Whether you are managing a network of freelancers or an in-house team, Buddy Punch offers the functionality required to track attendance. Leaders can receive notifications via email or SMS when employees reach their maximum for the workday.

As you explore the possibilities of Buddy Punch, we recommend taking a browse through our "Knowledge Hub" – which comes with a full range of useful resources. Whether you are a SaaS company or a professional services organization, we have the resources you need to unlock tremendous value from Buddy Punch.
Our customer support team is also ready to answer your questions.
You can book a one-on-one personalized demo here.
Buddy Punch Is The Best Justworks Hours Alternative
From employee onboarding to measuring profitability, our time tracking software contains many useful features:
Buddy Punch's Online Reviews
As of the writing date, Buddy Punch has 4.8 out of 5 stars and 697 reviews on Capterra.

Below, we'll list just a few reviews that speak to Buddy Punch's ease of use and great customer support service. (Click here to explore the full list of reviews.)
"Customer service is exceptional and quick. Admin is very easy and user friendly."

Click here to read the full review.
"Overall, it does what we need it to do quickly and efficiently but the dashboard could use an update and have more weekly details than just the schedule."

Click here to read the full review.
"Great, saves me time in calculating punch hours, and gives the employees extra confidence that their hours are being calculated fairly and accurately."

Click here to read the full review.
"I like the ease of use and flexibility of Buddy Punch. You can add features you want and don't have to be bogged down with what you don't want to use. Some sites have way too much. I wanted simple!"

Click here to read the full review.
Try Buddy Punch for Free
If you feel that Buddy Punch might be the right fit for your business, sign up for a free trial. You can also book a one-on-one demo, or view a pre-recorded demo video.
2. TimeCamp
Startups can use this one-click time tracker to unlock real-time employee performance data and insights. Much like other tools used to track time, you can collect a full range of practical data points, including the amount of time employees spend inside different platforms and apps. With a variety of ways to measure team performance, you can lead your workforce with confidence.

At the time of writing, TimeCamp has a total of 559 reviews on Capterra, with an average of 4.7 out of 5 stars. TimeCamp comes with the following features:
"TimeCamp is the cheapest time tracking software that I have worked with so far. It covered most of my needs with the free version itself. With the desktop application, we can track computer activities, websites and applications usage. This enables to bring trust among the customers."

Click here to read the full review.
3. Paymo
From preparing timesheets to monitoring time off, Paymo is an effective time management tool. When it comes to tracking employee working hours, Paymo offers all the features you need to do this with complete ease. If you want to streamline the preparation of timesheets for payroll processing, you need an all-encompassing solution like Paymo in your corner.
Here are some of Paymo's best features:
At the time of writing, Paymo has a total of 422 reviews on Capterra, with an average of 4.7 out of 5 stars.
"Easy to create new projects and add certain employees. It's nice that you can add only the employees the task pertains to so that the whole team is not notified, only the ones who need to see it."

Click here to read the full review.
4. DeskTime
As a time tracker app, DeskTime can automatically punch in employees once they open their devices. If your team is eager to get down to business and unlock productivity, DeskTime is a major win. This is ideal for busy teams that need a time tracking platform that fits into their existing workflows – and does not cause any hassle or stress.
At the time of writing, DeskTime has a total of 241 reviews on Capterra, with an average of 4.5 out of 5 stars. If you are curious about DeskTime, explore the platform's other features:
"I think I'm one of the early adopters and I've seen it evolve over the years. I always liked how they added new features and constantly improved the product. It's very easy to use, intuitive, and it gives me everything I need from a time tracking app."

Click here to read the full review.
5. QuickBooks Time
QuickBooks Time (previously known as TSheets) is popular due to its association with the accounting platform. You can seamlessly integrate the two solutions to accelerate payroll processing and bring all employee data under one roof. Employees can punch in and out with ease using QuickBooks Time. Leaders can approve timesheet changes at the click of a button.
QuickBooks Time (formerly TSheets) has a range of innovative features for small businesses:
It's a great timesheet app for Android and iPhone, and at the time of writing, QuickBooks Time has 4.7 out of 5 stars and 5,647 reviews on Capterra.
"QuickBooks Time has been one of my greatest additions to my company. It helps me keep track of billable and non-billable time. I am able to create many reports that are very helpful."

Click here to read the full review.
Try Buddy Punch for Free
If you feel that Buddy Punch could be the right fit for your business, sign up for a free trial. You can also book a one-on-one demo, or view a pre-recorded demo video.
You May Also Like…