The 7 Best Time Tracking Software for Small Business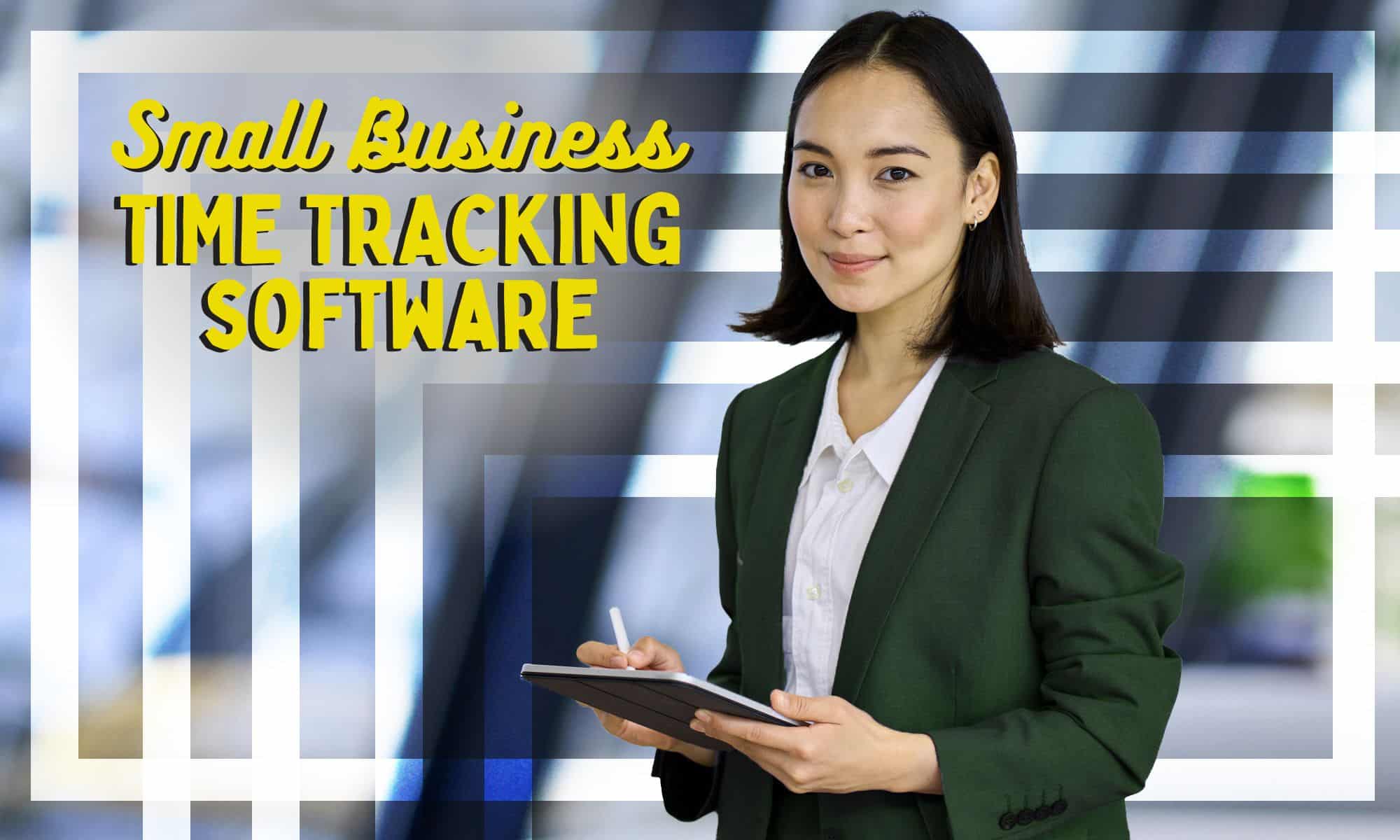 Keeping tabs on your employees' time using old-school methods like physical timecards or Excel templates can cause a lot of headaches for small business owners, such as:
A greater chance for inaccurate records (either accidental mishaps or intentional time theft, like buddy punching).


Writing out schedules by hand, fixing timecards one by one, and keeping track of paid time off (PTO) on a calendar or spreadsheet.


Reconciling your time and attendance records with your payroll process.
The best time tracking software for small businesses can solve the above (and more).
This post looks at 7 time tracking software options, including our tool, Buddy Punch.
Buddy Punch is a time tracking solution that makes it easy for small businesses to:
Easily and automatically track employee hours in real-time.


Set up multiple time punching options (such as having your team clock in from a designated kiosk at the office or by letting them use the Buddy Punch mobile app on their smartphones to punch in and out).


Review, edit, and approve timecards.


Track PTO and employee leave.


Run payroll.


Create employee schedules.


And more.
If Buddy Punch sounds like the best option for your business, you can:
Or keep reading for a more detailed breakdown of Buddy Punch's time tracking features, along with the other software options covered in this post.
Best Time Tracking Software
1. Buddy Punch: The Best Time Tracking App for Small Businesses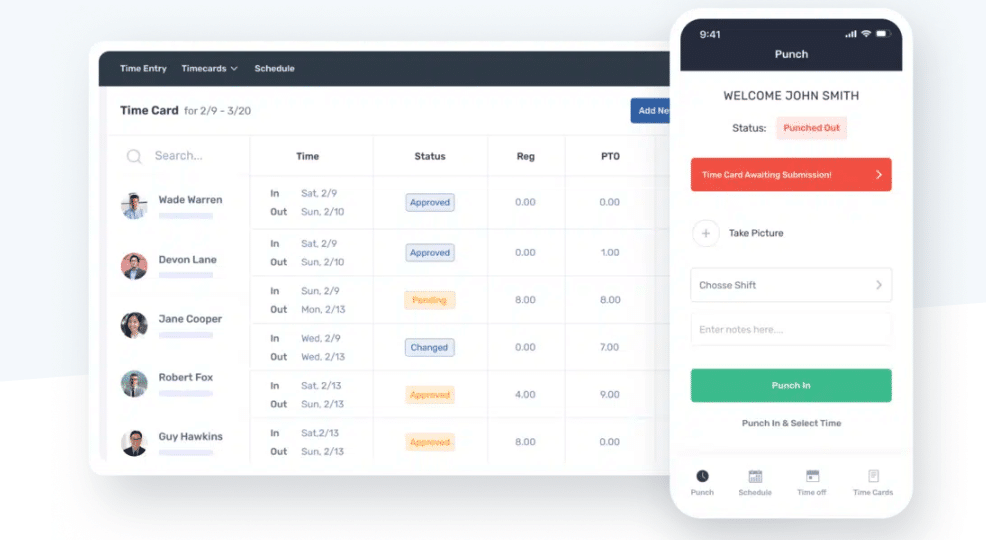 Buddy Punch can be used on your computer, tablet or smartphone (our mobile app is available on both Android and iOS).
This makes Buddy Punch an ideal time tracking app for all types of small businesses: whether you're a one-location auto shop or a local construction crew working across multiple job sites, whether your employees go into the office or work remotely.
Buddy Punch offers numerous ways to hold your team accountable for accurate time entry and attendance. These features, which we cover next, are customizable and optional.
Keep Your Time Tracking Records Accurate (and Your Team Accountable)
IP Address Locking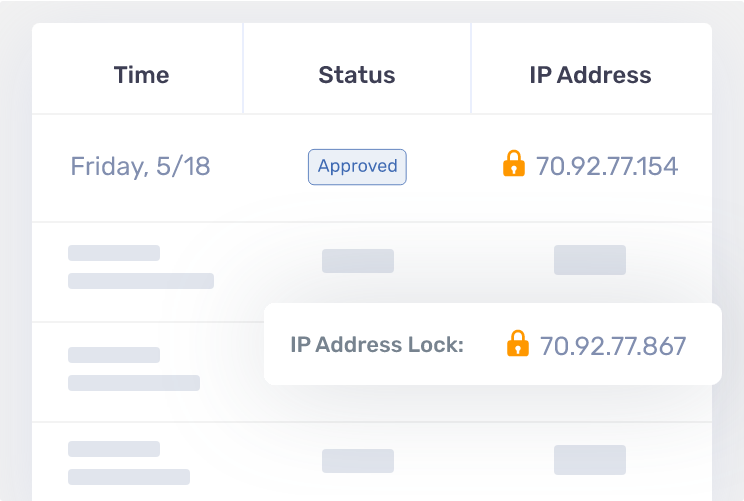 With our time tracking app, you can designate a particular IP address that your employees can use to clock in and out. This feature is handy when creating dedicated kiosks or ensuring that a team member has connected to the company WiFi before punching in for work.
Geofencing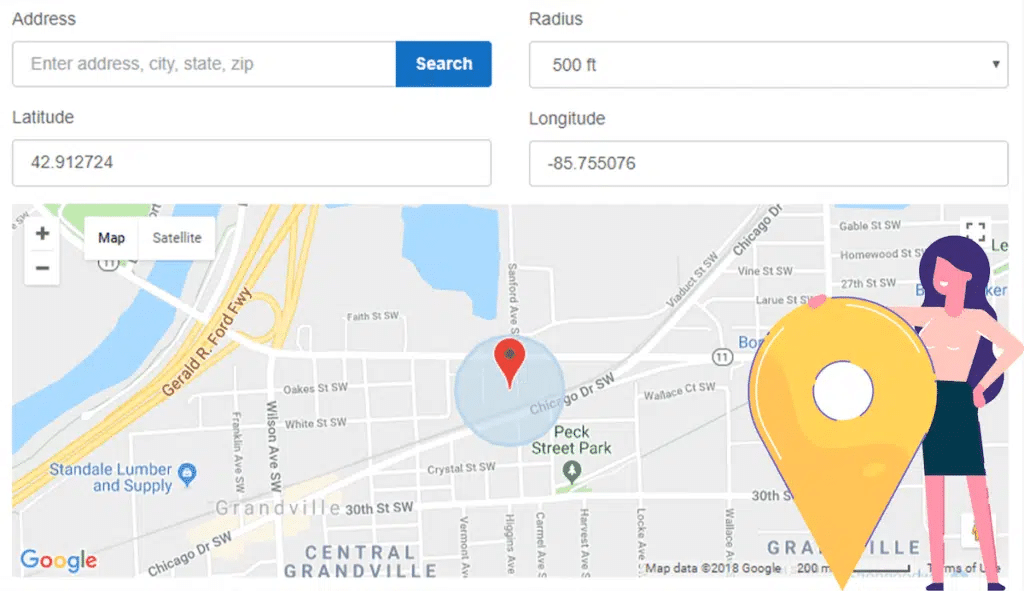 Geofencing is when you create a virtual boundary around a physical location, defining where employees need to be before they can clock in for work. For instance, you can set a radius of 500 ft around your office. If employees are outside this area, they won't be able to clock in.
Like IP address locking, this prevents employees from clocking in for work if they're not actually at the job site. The key difference between the two is that geofencing doesn't require employees to be connected to a specific WiFi network. This makes it a great option if you don't have a designated IP address associated with your job site.
GPS Tracking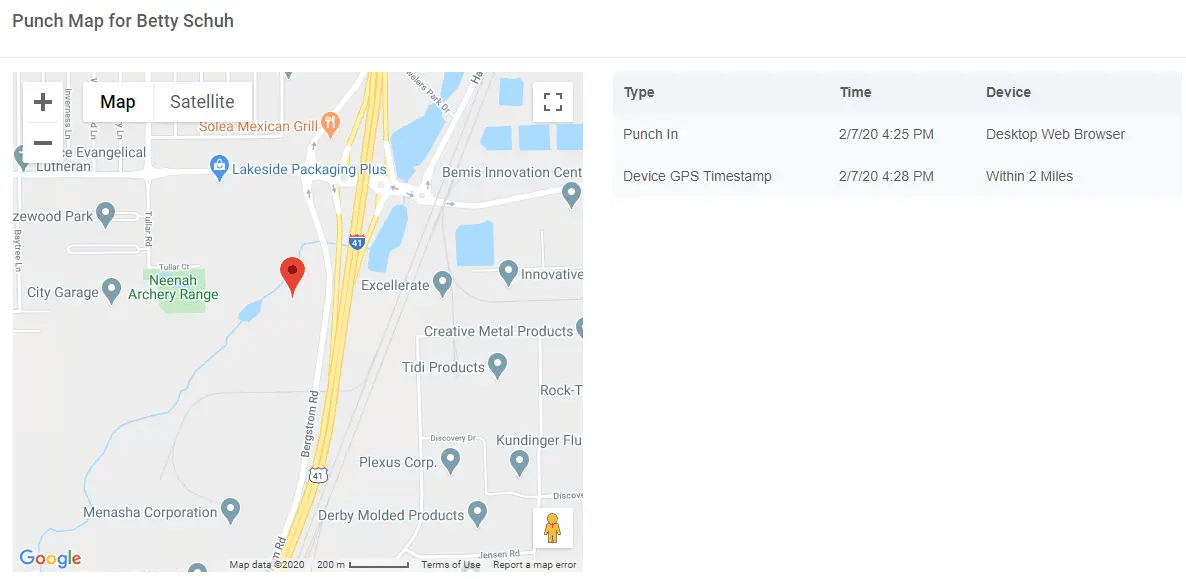 With our GPS feature, you can record your employees' locations when they punch in or punch out.
Photos on Punch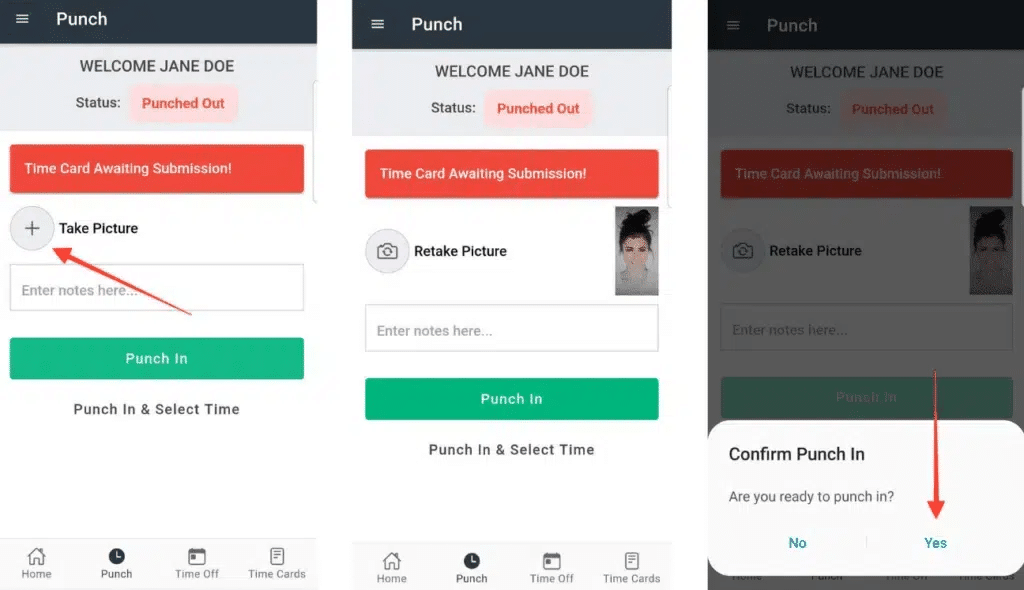 You can require your employees to take a picture when punching in or out. This feature helps to eliminate buddy punching, which is when someone clocks in on behalf of their co-worker when they're not there. You can review the photos to ensure the right people are clocking in and out for their shifts.
Learn more about the benefits of attendance systems with facial recognition
Punch Limiting
This feature lets you customize how early someone can clock in for their shift. Let's say you have several employees who consistently clock in ten minutes early. Those minutes quickly add up over the payroll period.
Punch limiting helps you avoid this and lets you set limits for when employees can clock in based on their schedule.
Plus, You Can Easily Review, Edit, and Approve Timecards
Our time tracking app makes fixing mistakes and approving timecards easy. Here's a look at how it works:
1. Click the "Timecards" tab under the Pending Approval section on your dashboard. Then, click "View" next to the pay period you have timecard approvals for.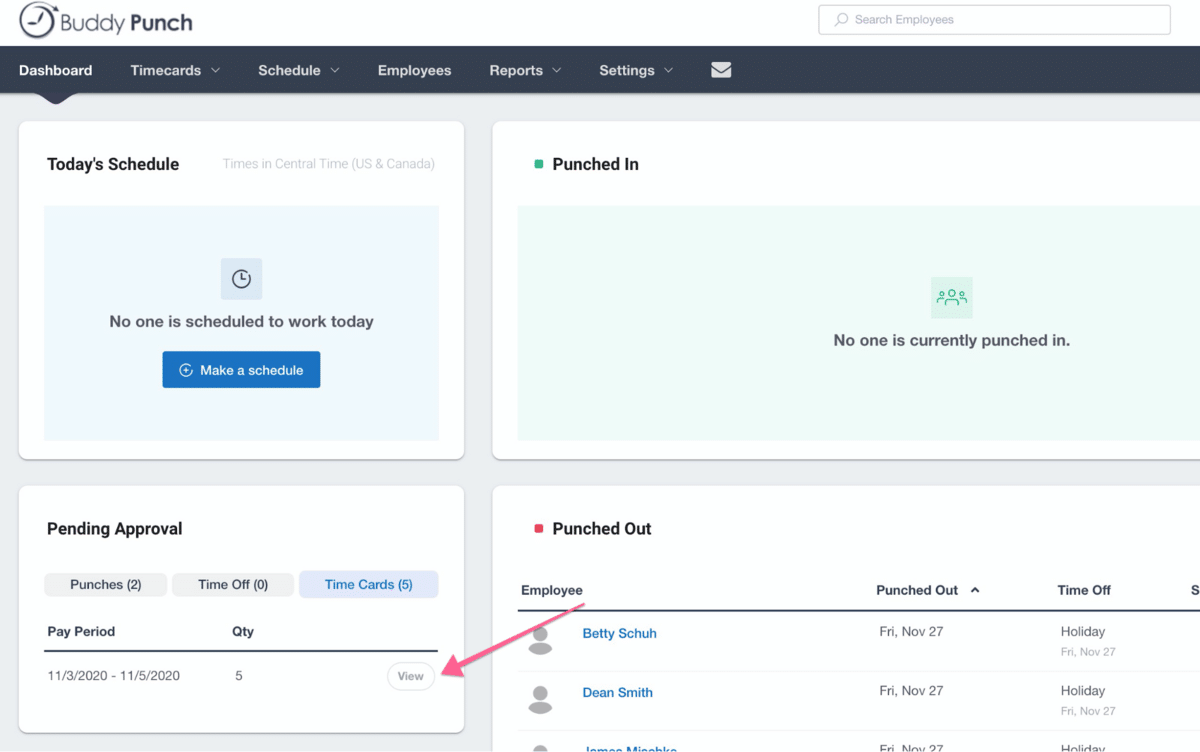 2. If you don't want to review all hours in detail, you can approve the timecard immediately by clicking the "Approve" button: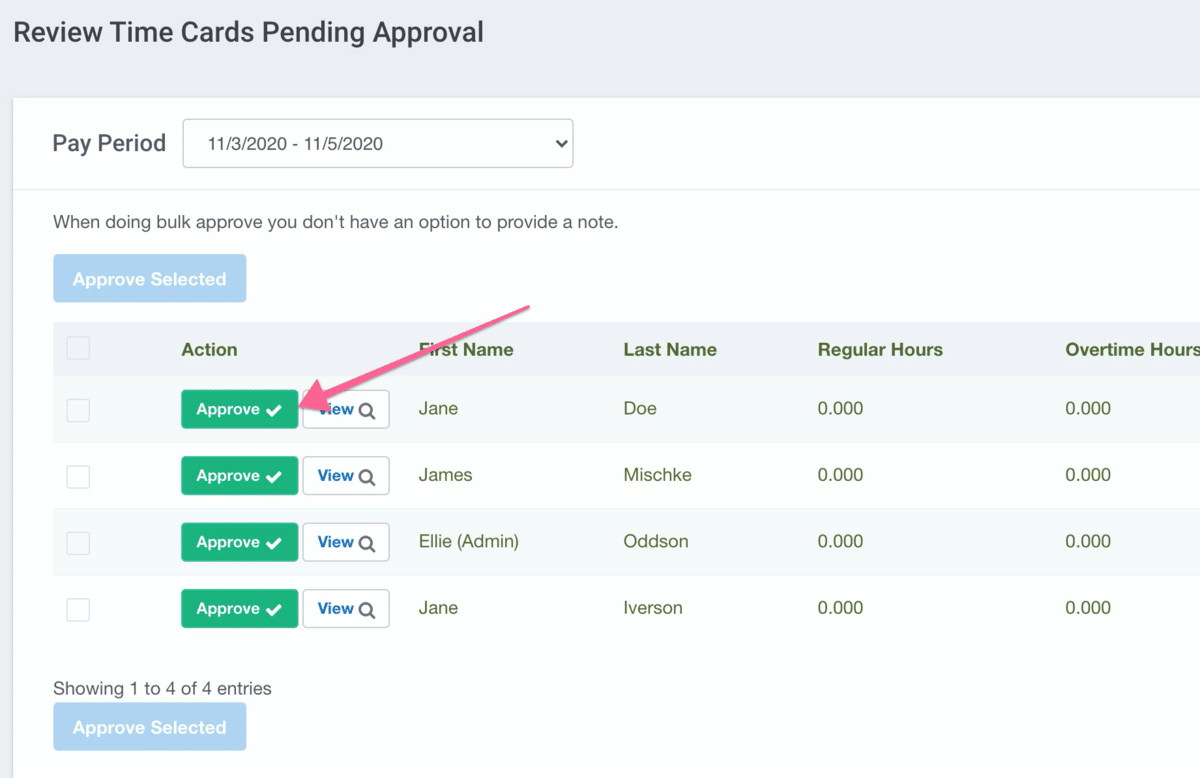 3. If you want to view a timecard in more detail, you'll want to click "View" next to an employee's name: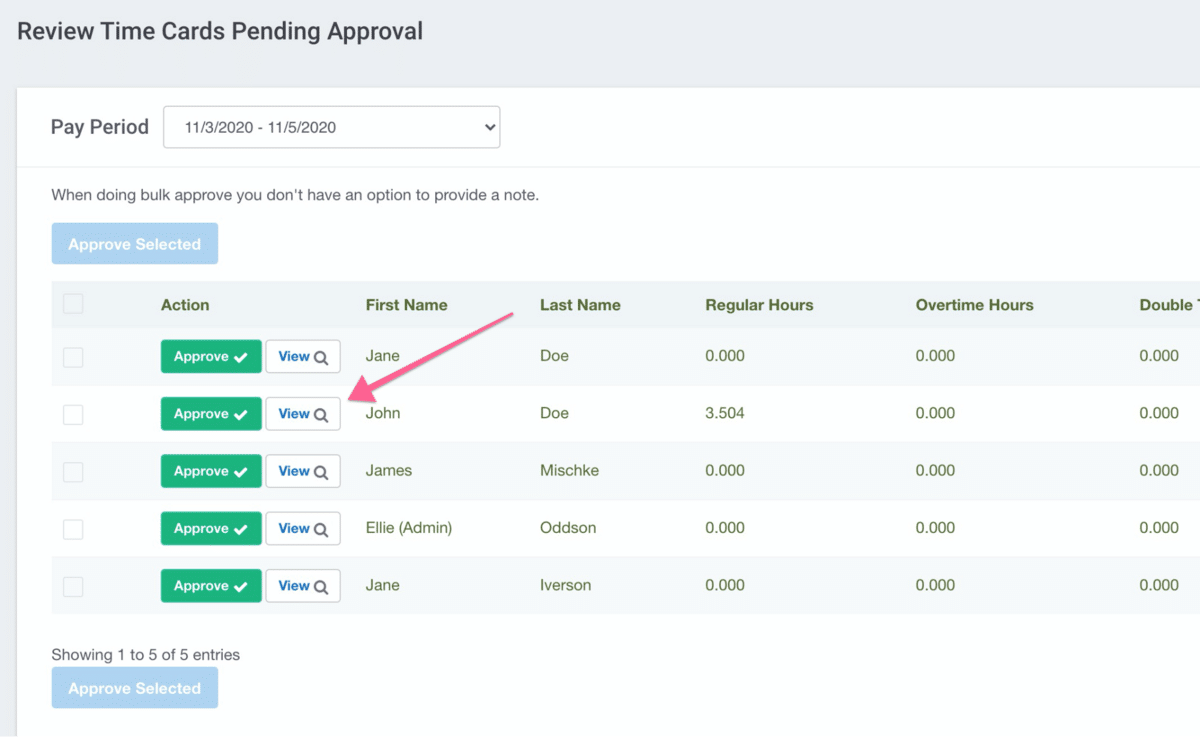 4. Once you're ready to approve or reject, you'll want to click the "Approve / Reject" button at the top of the timecard:
5. If you need to return the timecard to the employee to make changes or make changes yourself as an Admin or Manager, simply click the "Reject" button.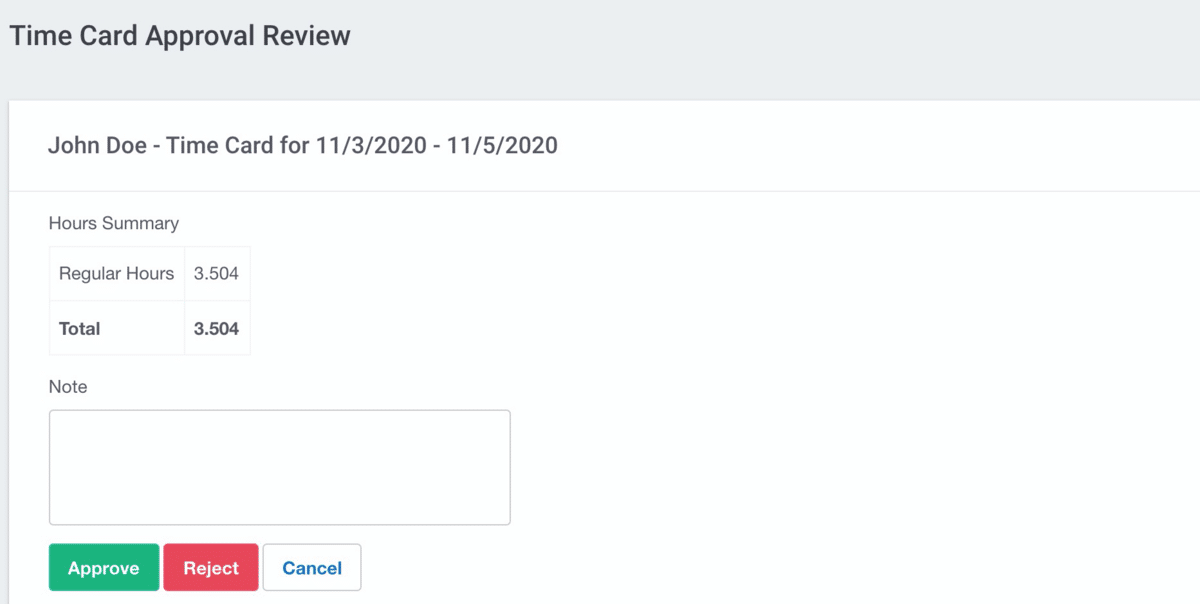 6. Whether you reject or approve the timecard, the action taken will be visible in the Approval History, which can be found at the bottom of an employee's timecard:

In addition, you can also quickly edit timecards by:
1. Clicking the drop-down menu on "Timecards", and, then, clicking "View all."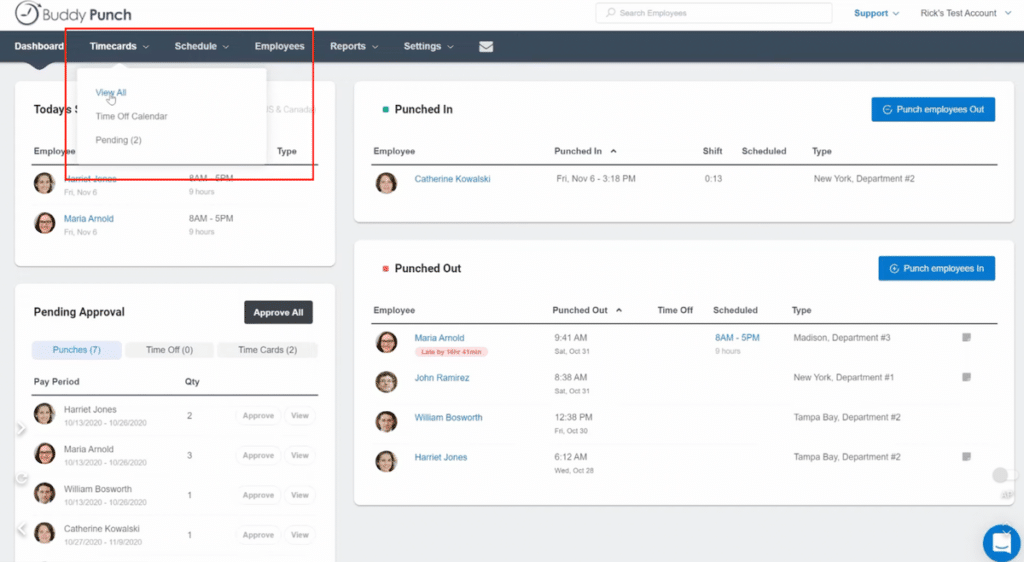 2. You can select whose timecard you want to review.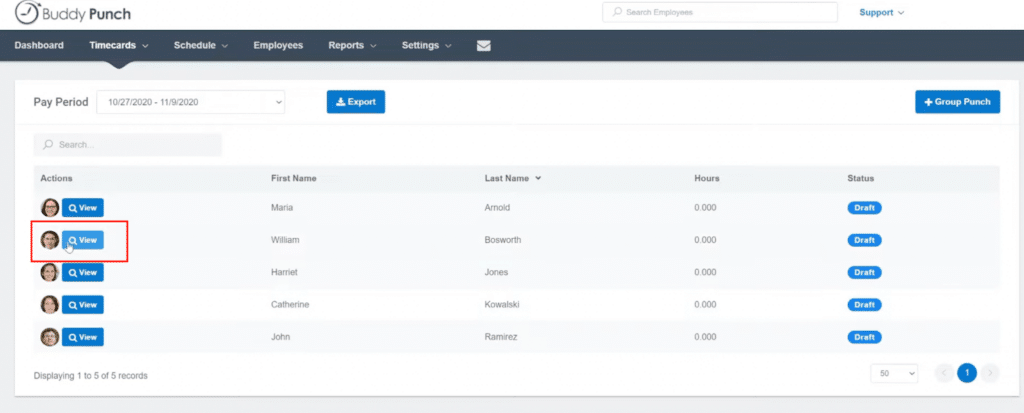 3. Just click "View" on the employee's timecard that you want to access.

4. Then, you can edit as necessary, such as changing when someone clocked in, clocked out, or took their break.
Tracking PTO
Accurate time tracking for your small business also means accurately monitoring PTO requests.
With Buddy Punch, we make it simple. All an employee has to do is open the app, enter the requested days, and specify the type of leave they're taking.
If it's paid time off, the hours are logged on their timecard to be reconciled with payroll.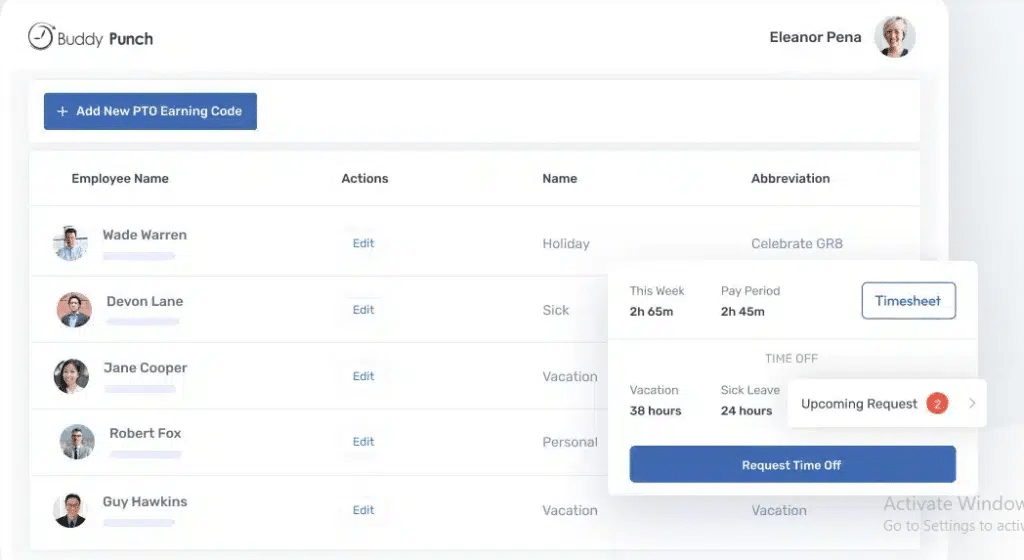 Once the request is submitted, you can view, approve, or deny the request. Or, you can customize your settings to approve the PTO automatically.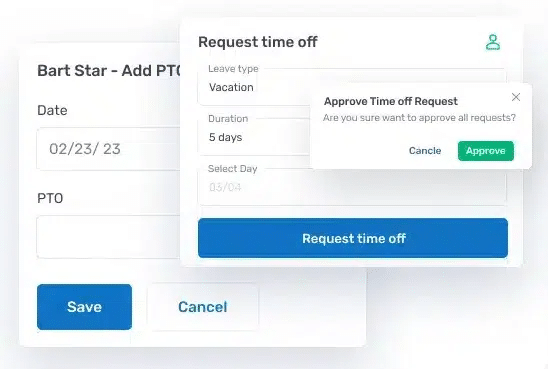 Plus, you can set up custom PTO accrual rules based on hours worked, payroll periods, or even work anniversaries. In addition, you can customize these rules for each employee. For example, you can have different PTO rules for hourly, salaried, or freelance employees.
Learn more about PTO tracking software here.
Running Payroll with Buddy Punch
As we mentioned at the start of this article, Buddy Punch offers more than just a time tracking tool. You can also use it as your payroll provider or integrate Buddy Punch with your current payroll system.
Here's a look at how to quickly run payroll and manage timesheet approvals on our platform.
1. Once a pay period is complete, start by clicking "Payroll" in the top navigation, followed by "Run Payroll":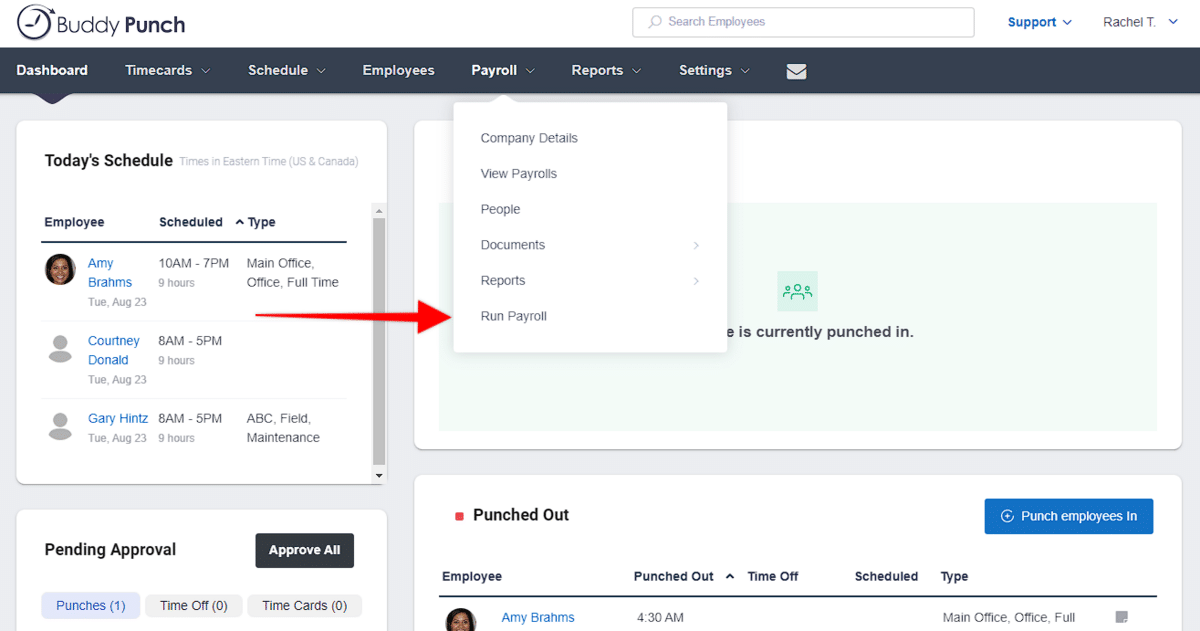 2. Select the pay period you want to run from the dropdown. Next, click "Run Report" to populate hours. If everything looks good, click "Import time into Payroll":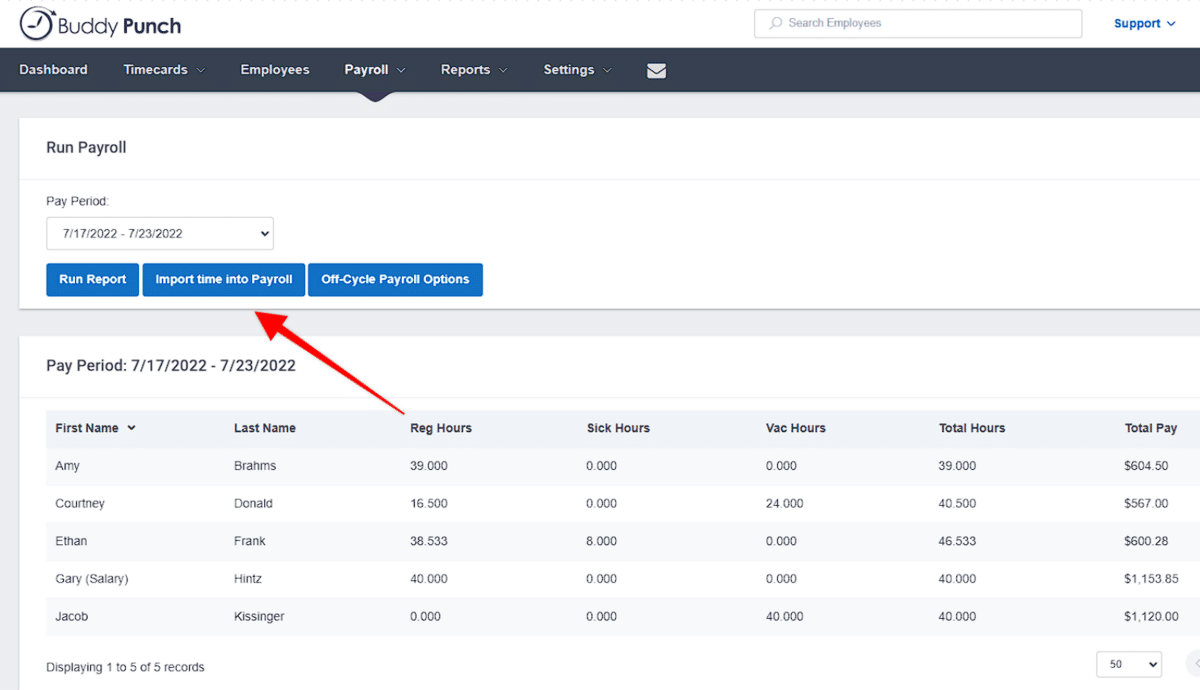 3. After your employee's hours have been synced, you will be able to:
Configure a custom pay rate.
And enter tax-free reimbursements.
If changes have been made to employee time and you need to re-sync, choose the "Reimport time into Payroll" button in the top left-hand corner.

If you're ready to continue with payroll, click Continue: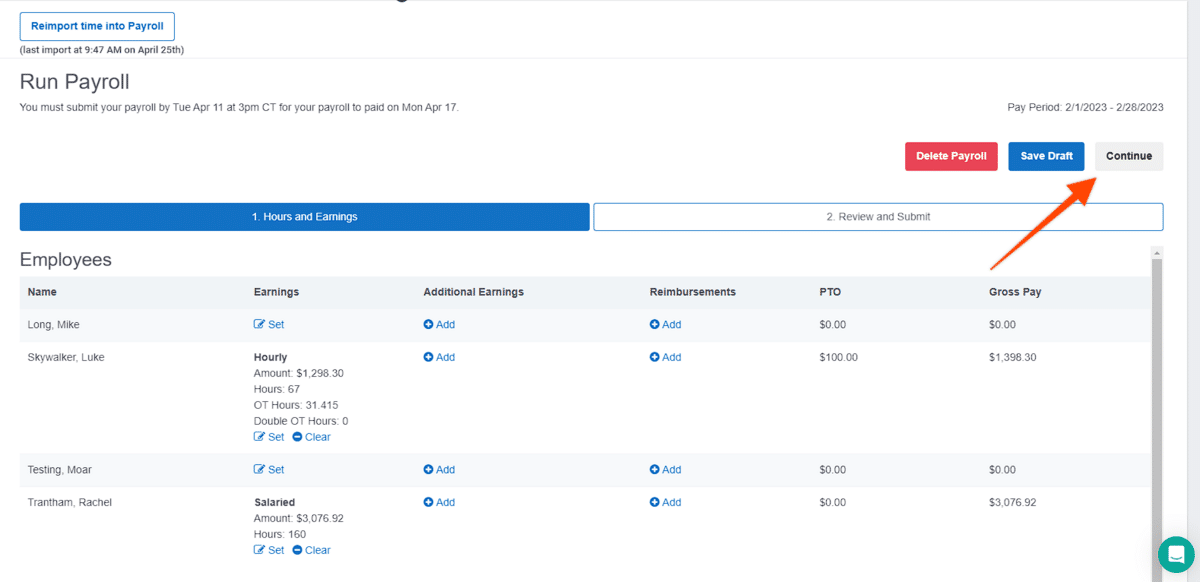 4. Next, you'll see a breakdown of pay and taxes for each employee, along with the total costs for payroll under the Cash requirement section.
If everything looks good, click the "Submit Payroll" button: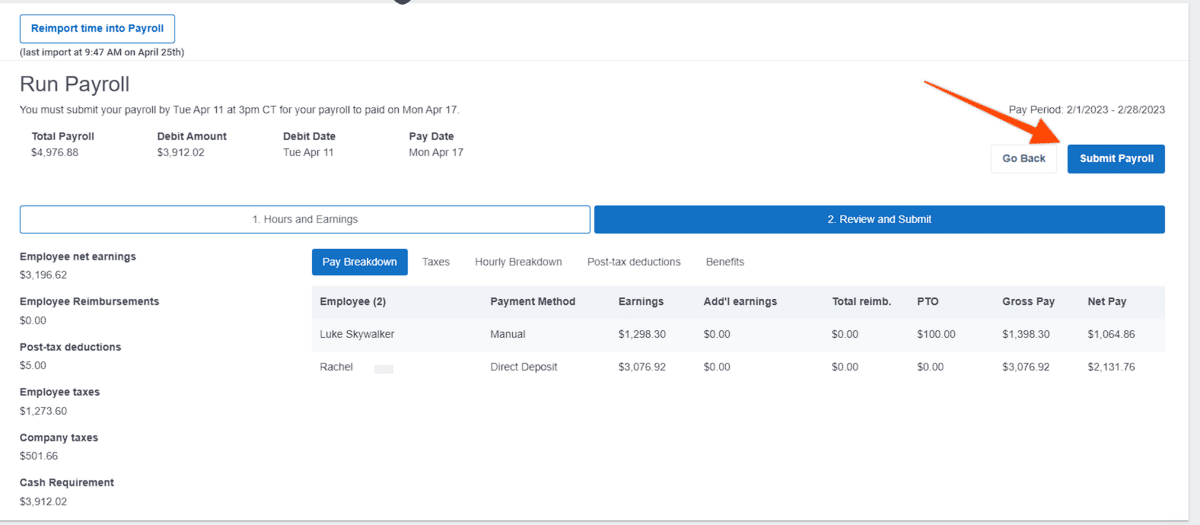 5. And that's it! You've officially processed payroll. You will receive an email letting you know your payroll is pending and will also receive an email if there are any issues or once it's been processed.
You can also run payroll separately for freelancers. Once a freelancer sends you their billable hours, simply run payroll using the same method outlined above.
If you're happy with your current payroll process, you can use Buddy Punch as your time tracking software and then easily integrate or export your team's records into your payroll software.
We have ready-to-go payroll integrations with leading accounting software:
Zapier
QuickBooks
ADP
Gusto
Paychex
You can also export your payroll reports out of Buddy Punch and use them as needed.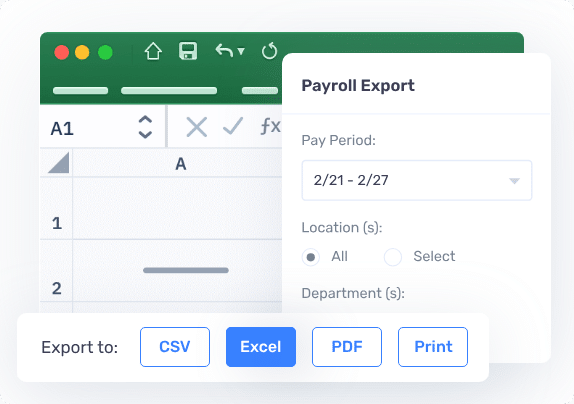 Another Helpful Buddy Punch Feature: Create Work Schedules Quickly
So far, we've covered a lot of information. To recap, Buddy Punch is time tracing software that lets you:
Easily create and edit employee schedules.


Customize clock-in and clock-out features to ensure employee accountability.


Quickly approve timecards.


Manage PTO requests.


Helps you run accurate payroll.
Now, let's look at how you can use Buddy Punch to create a work schedule.
How to Create an Employee Schedule
You can easily set up a schedule and streamline workflows with our drag-and-drop feature.
Drag and Drop Scheduling
1. First, you add a new shift to the schedule.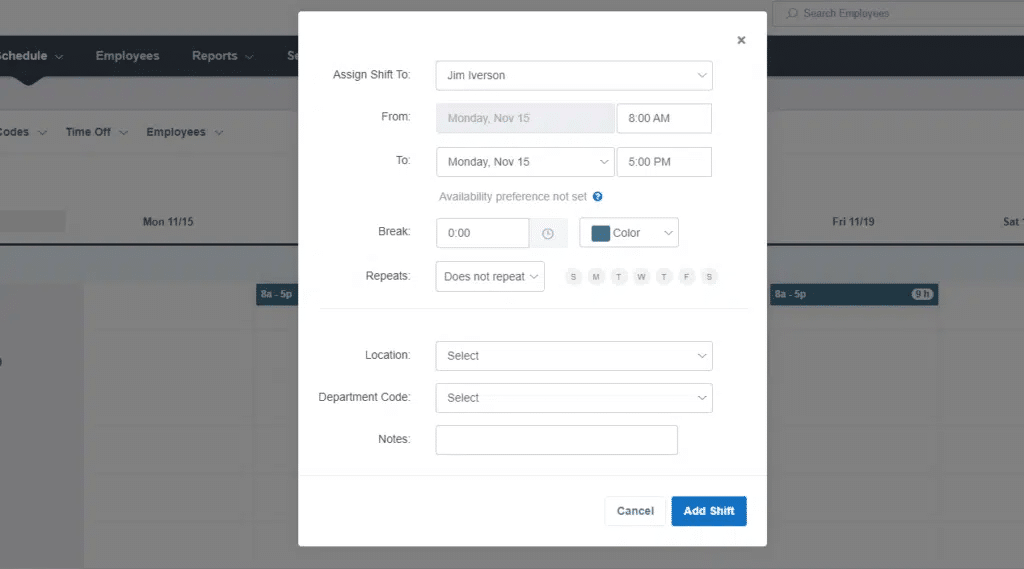 2. Then, once you've added it, you can drag and drop the shift anywhere.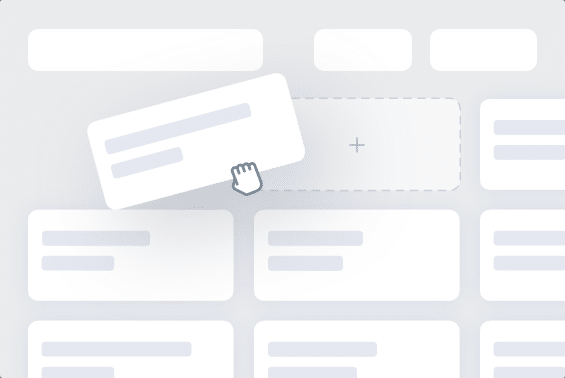 3. You can choose whether the shift repeats or is recurring.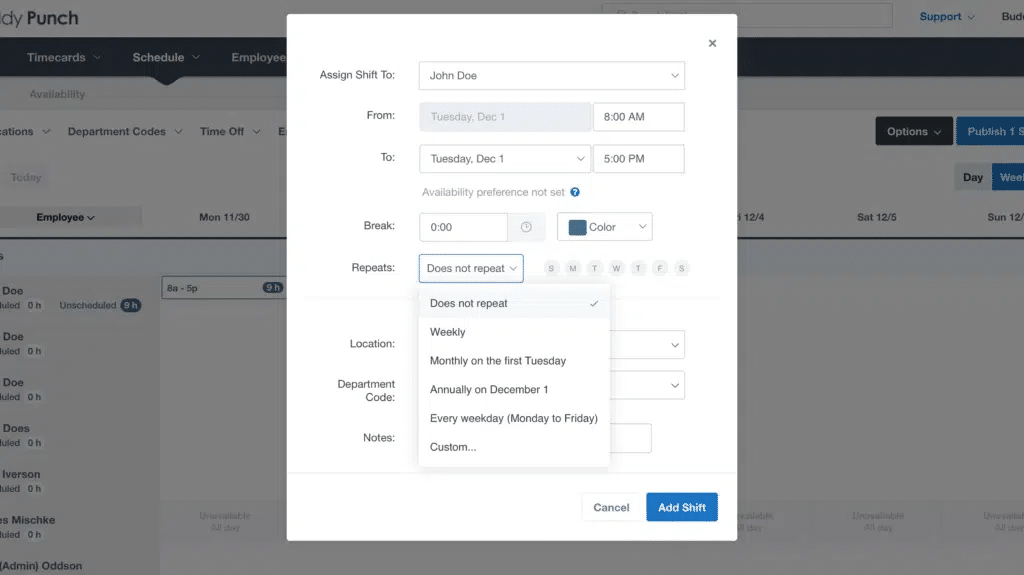 With Repeating/Recurring Shifts, you can add common shifts for employees on your team. For employees who work the same (or mostly the same) schedule every week, this is like letting Buddy Punch write the schedule for you.
4. Once the shift has been added to the schedule, it will be in draft mode. This is indicated by an outlined shift. To publish, click the Publish button in the top right-hand corner:

You'll then be able to send the schedule to:
All employees.
Employees with changes only (i.e., edits or deletions).
Employees in the current view.
Employees with shifts in the current view.
Once you've made your selection, you can then either publish via email, push notification, or both.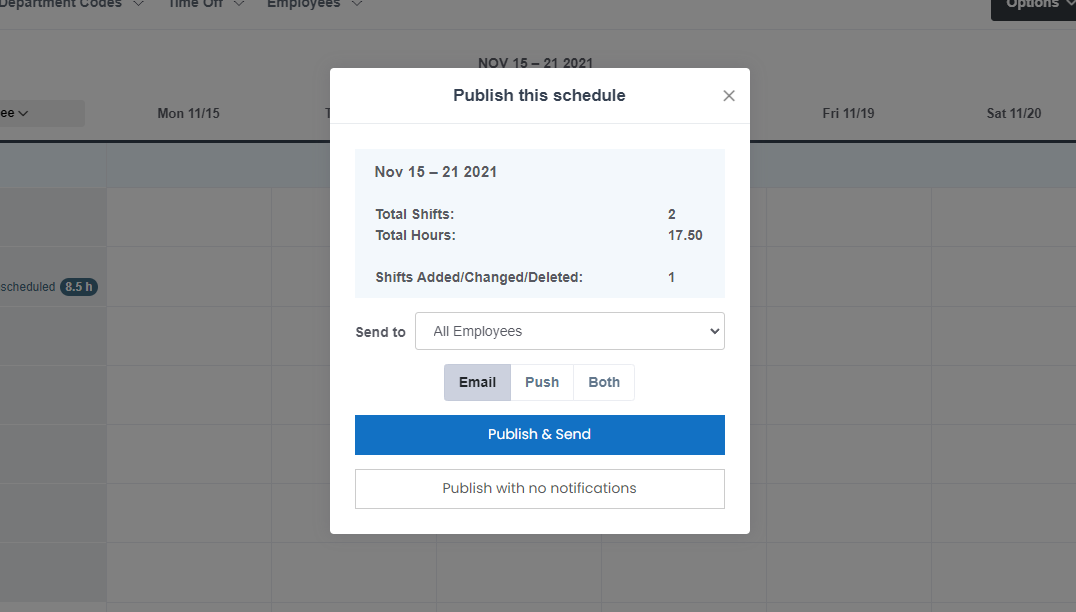 Add Employee Availability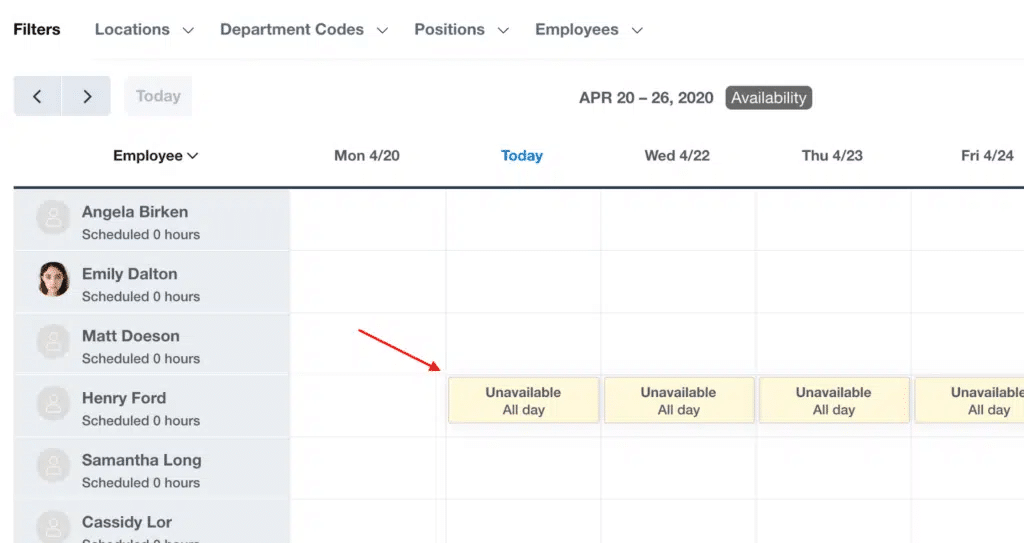 You can also add employee availability. This is especially helpful if you have a team that works on multiple shifts. This feature lets you easily know when certain employees can or can't work. You can also choose to let your employees fill out their own availability.
Add Automatic Breaks
Buddy Punch can automatically account for employee breaks and free time by deducting the set time from an employee's timecard. This feature means there's no need for you or your employees to enter their break time manually.
Real Customer Reviews of Buddy Punch

Of course, we think Buddy Punch is an excellent solution with the best functionality for all your time tracking, scheduling, and payroll needs. But, don't just take our word for it. As of writing, we have 4.8 out of 5 stars on Capterra with over 800 reviews. Capterra is a third-party review platform where real customers can leave honest reviews about the software.
Here's a selection of reviews highlighting why our customer loves Buddy Punch for time management. You can read all the reviews here.
"Best time management system. A huge time saver and overall better organization for employee schedules. Buddy Punch was super easy to set up, once the employees are added to the system and week to week operations are a breeze."

Read the full review here.
"Overall, saves time and money, with no need for all the paper. You can clock in with a pin number and track employee hours and time saving."

Read the full review here.
"We spent three months trying to get a time clock system launched with a system from a really big company. The customer service was terrible, responses took days, and in the end they could not handle our somewhat complex PTO requirements. We switched to Buddy Punch and were up and running almost immediately. Buddy Punch gives you all the control and flexibility you could ever want."

Read the full review here.
Other Time Tracking Software Options for Small Businesses
Here's a look at the other best time tracking apps:
2. Clockify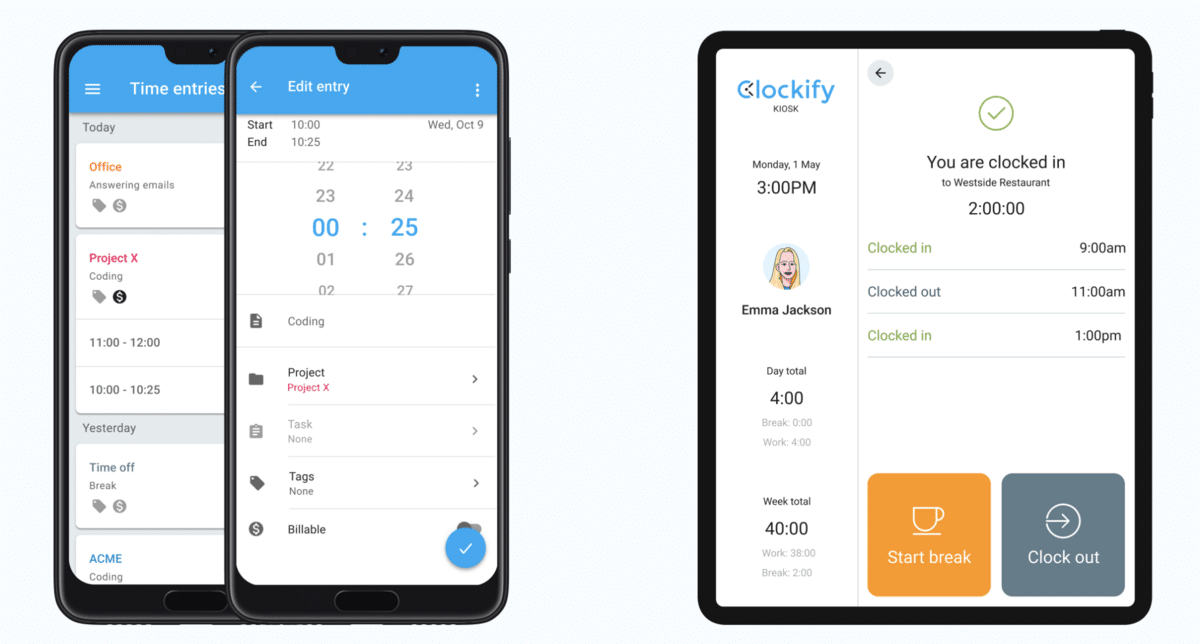 Clockify is another time tracking software for small businesses that offers several key features:
Time tracking
Timesheet management
A central dashboard
Time tracking reports
At the time of writing, Clockify has 4.7 out of 5 stars on Capterra with over 4,500 reviews.
3. QuickBooks Time
QuickBooks Time has various time tracking feature your small business might find useful:
Tracking employee miles (if they're on the road)
Income and expense reports
Sales analysis
Inventory management
At the time of writing, QuickBooks Time has 4.7 out of 5 stars on Capterra with over 6,400 reviews.
4. Timesheets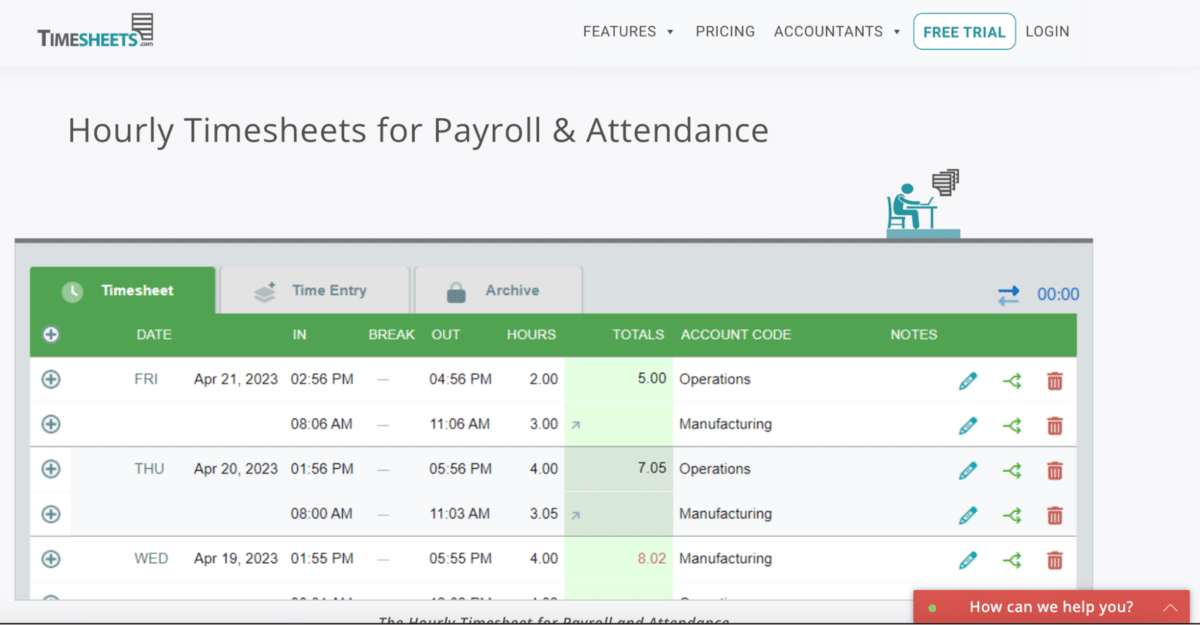 With Timesheets, you can:
Track employee hours.
Manage PTO and Time Off.
Create employee schedules.
Create time reports.
At the time of writing, Timesheets has 4.7 out of 5 stars on Capterra with over 750 reviews.
5. Harvest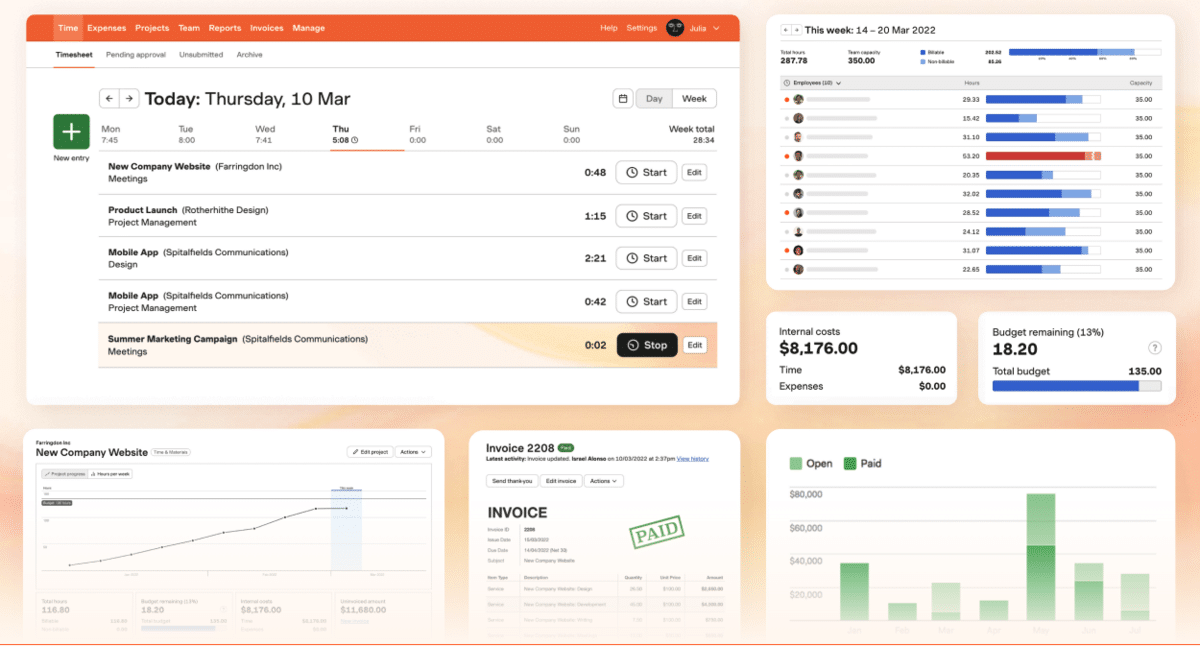 Harvest is another time tracker your small business can use to track time across various projects. With the Harvest platform, you can:
Track time.
Generate reports.
Send invoices and receive payments.
Monitor budgets.
At the time of writing, Harvest has 4.6 out of 5 stars on Capterra with over 500 reviews.
6. TimeCamp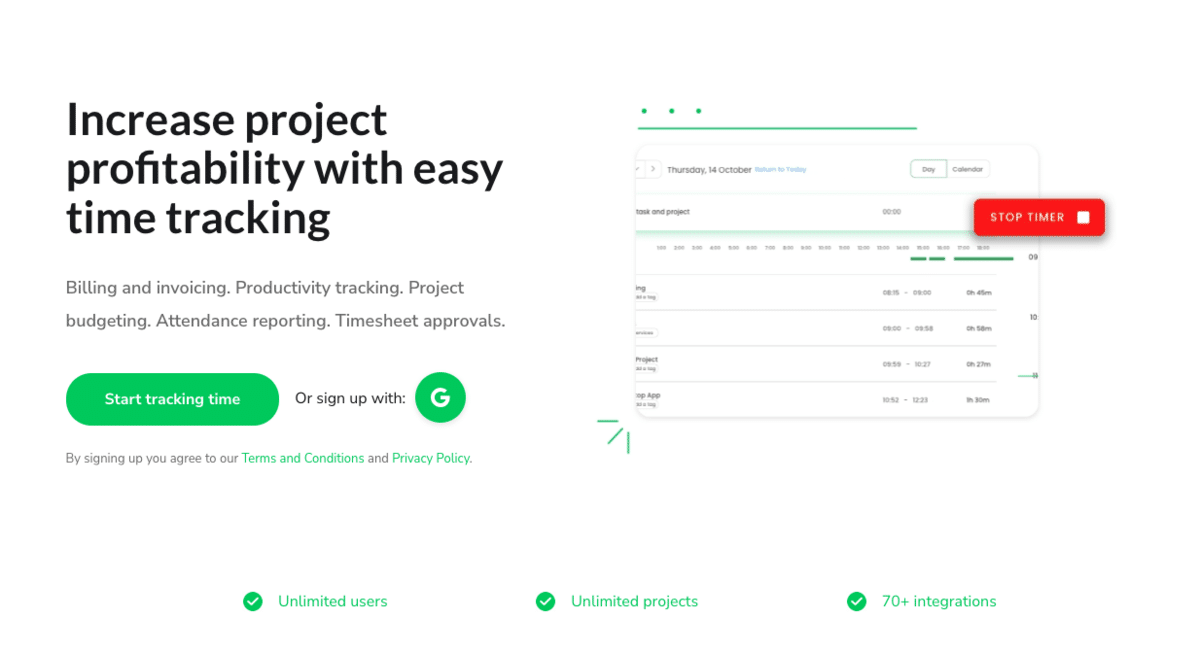 TimeCamp says they focus on increasing your small business's profitability with the following features:
Log employee working hours.
Task management.
Monitor employee attendance.
Budget planning.
As of writing, TimeCamp has 4.7 out of 5 stars on Capterra with over 500 reviews.
7. Time Doctor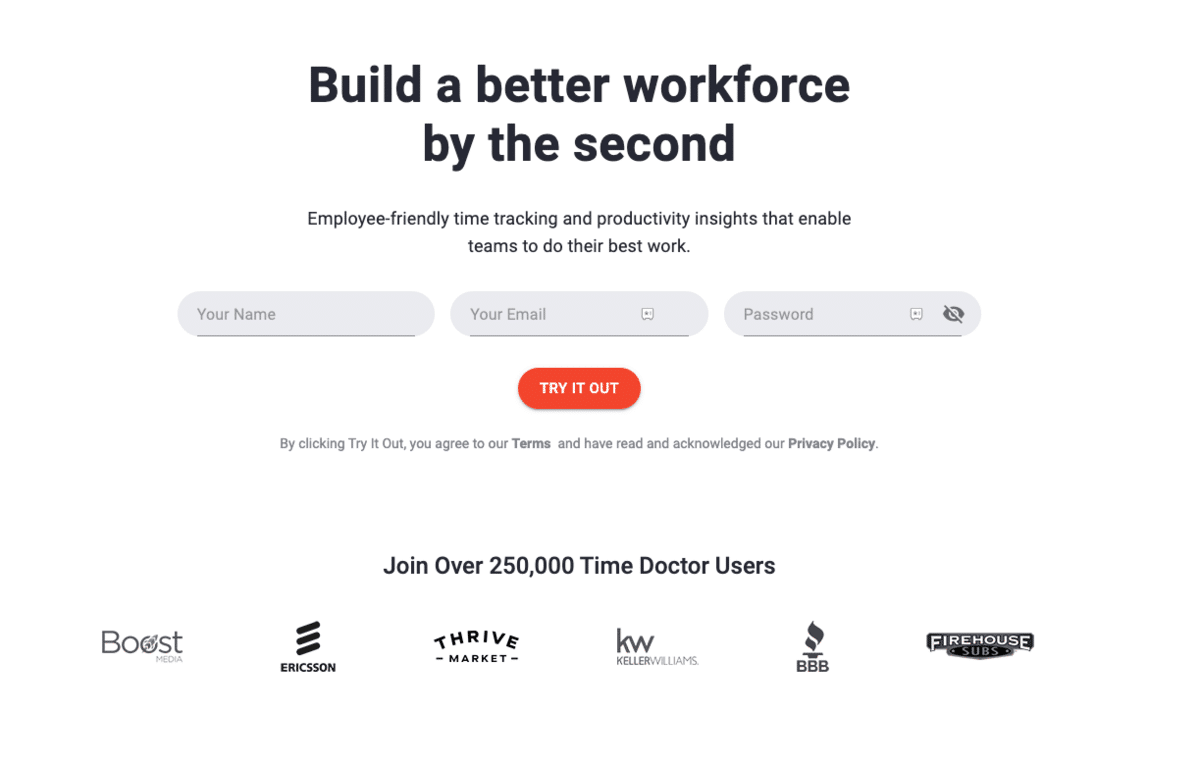 Lastly, we'll look at Time Doctor. The time tracking app lets you:
Track employee time.
Run payroll.
Project management.
Set up distraction alerts to monitor employee productivity.
As of writing Time Doctor has 4.5 out of 5 stars on Capterra with over 500 reviews.
Keep in mind that some of these time trackers may have free plans, but you may have to upgrade to a paid plan to use some of the features mentioned above.
Start Your Free Trial with Buddy Punch
If you want to see if Buddy Punch is the right time tracker for your small business, sign up for a free 14-day trial.
You can also: