5 Best Small Business Time Tracking Software & Apps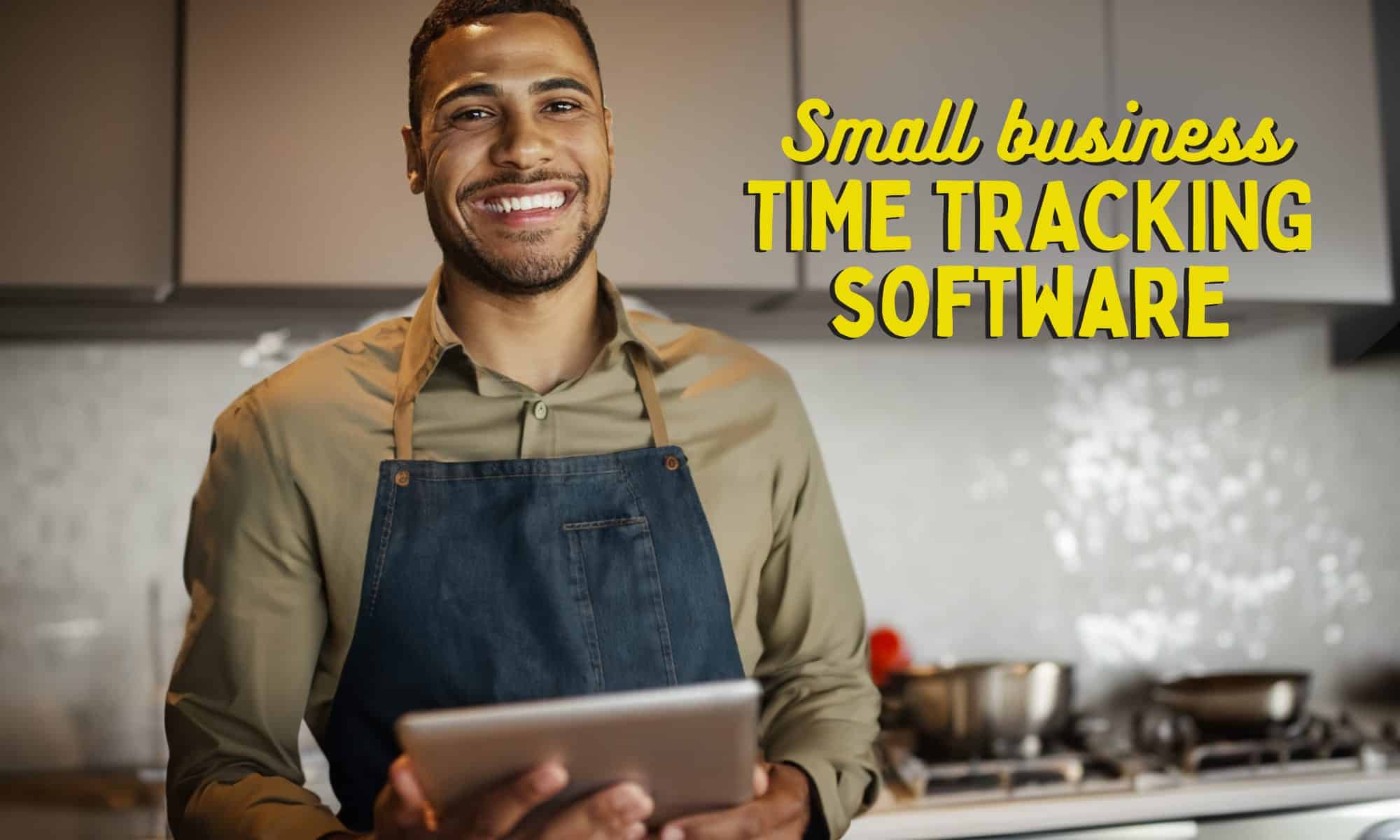 When small businesses track work hours through outdated approaches like physical timecards or Excel templates, they run into several issues:
Inaccurate time records. Your team can make honest mistakes (forgetting to clock in or out) or there can be intentional time theft, such as buddy punching, where one employee clocks in for another.
Time consuming manual tasks. You or someone on your team is responsible for these individual timecard corrections, and managing paid time off (PTO) using written calendars or spreadsheets. That's a lot of info to juggle, even for smaller businesses. 
Running payroll. After you make sure your time records are accurate (which as we outlined above, is time consuming), you then need to use those records and your team's pay to run payroll. When you run payroll, you also need to factor in any PTO, additional earnings (like bonuses), and everyone's individual pay rate.
All in all, there's just a lot of moving parts small business owners need to be mindful of when tracking time and paying their employees.
In addition, many small business owners and their employees must work on the go. Whether from a construction site, a catering event, or a sales meeting, your employees need the flexibility to clock in and manage their time from an app.
The best small business time-tracking software and app can solve these problems (and more).
In this post, we'll take a look at 5 small business time-tracking software and apps, including our own, Buddy Punch.
Buddy Punch is a time-tracking solution that can be utilized from a desktop or on an app from any smart device, like a cell phone or tablet. Buddy Punch lets you:
Automatically track employee hours in real-time.
Set up multiple time punching options, like having your team clock in from a designated kiosk at the office or using the Buddy Punch mobile app on their smartphones to punch in and out.
Review, edit, and approve timecards.
Track PTO and employee leave.
Create employee schedules.
If Buddy Punch sounds like the best time tracking app for your business, you can:
Keep reading for a more detailed breakdown of Buddy Punch's time-tracking features and the other software options covered in this post.
Best Time Tracking Software (for Mobile Apps and Desktops)
1. Buddy Punch
The Best Small Business Time Tracking Software and App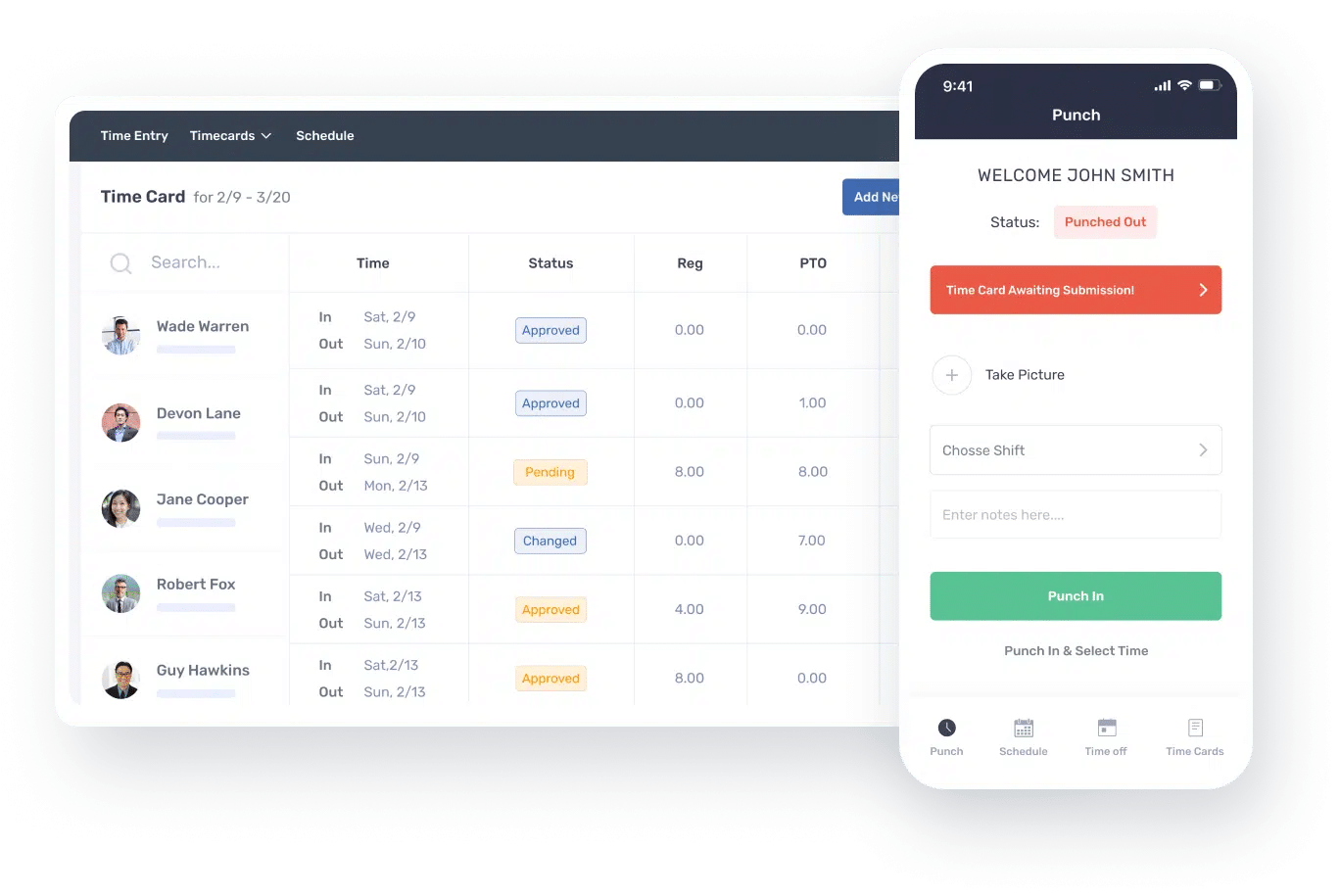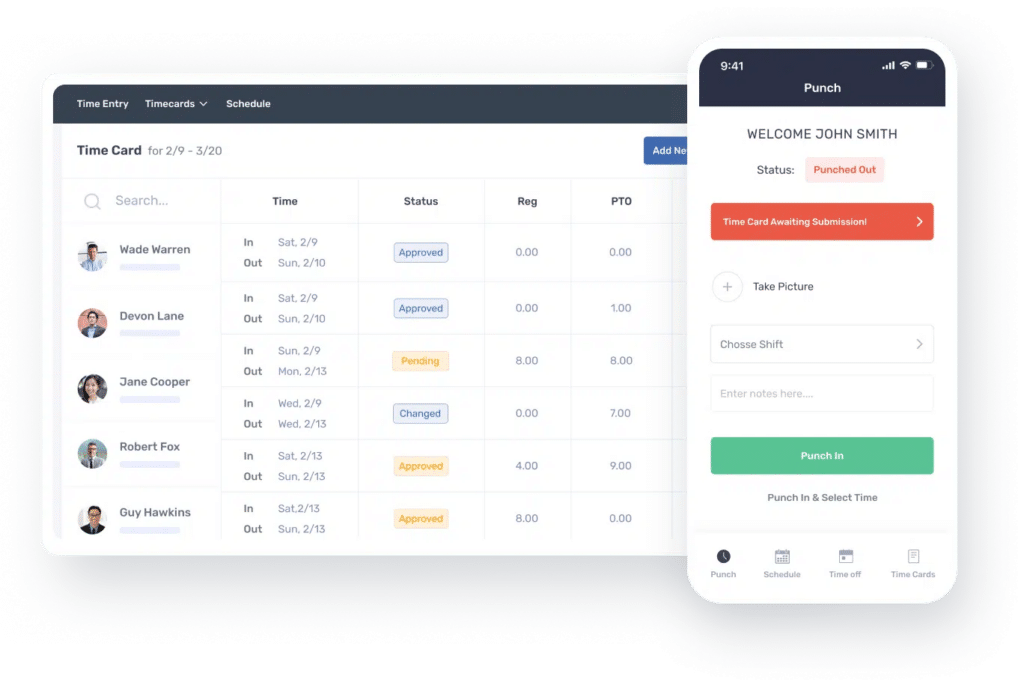 Buddy Punch is versatile and compatible with computers, tablets, and smartphones (our mobile app supports Android and iOS platforms).
Buddy Punch is an intuitive time-tracking software and project management app for any small business. Whether you run a restaurant, an auto shop, a consulting agency, or manage a local construction crew with multiple job sites. Buddy Punch works whether your employees work on-site or remotely. This is because Buddy Punch has several time tracking features — such as IP locking or geofencing — that help you customize your clock in and out process towards your business and project management needs.
Time Tracking and Team Accountability
Accurate time tracking and team accountability are crucial features in time tracking software and apps as they facilitate precise payroll processing and efficient resource allocation and foster a culture of transparency and fairness within your business. Here's a look at how Buddy Punch makes that happen:
IP Address Locking
You can designate a particular IP address that your employees can use to clock in and out. This feature is great when creating dedicated kiosks or ensuring that a team member has connected to the company Wi-Fi before clocking in for work. In addition, this can be a great feature for remote teams to ensure they're connected to their home Wi-Fi.
Geofencing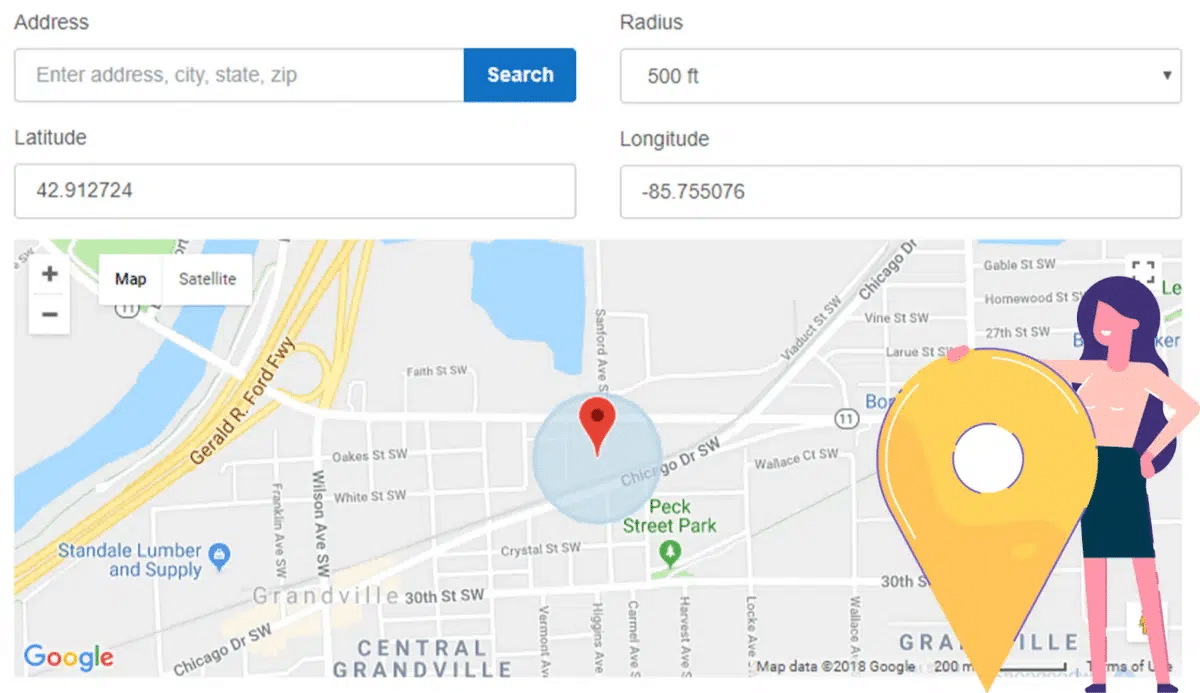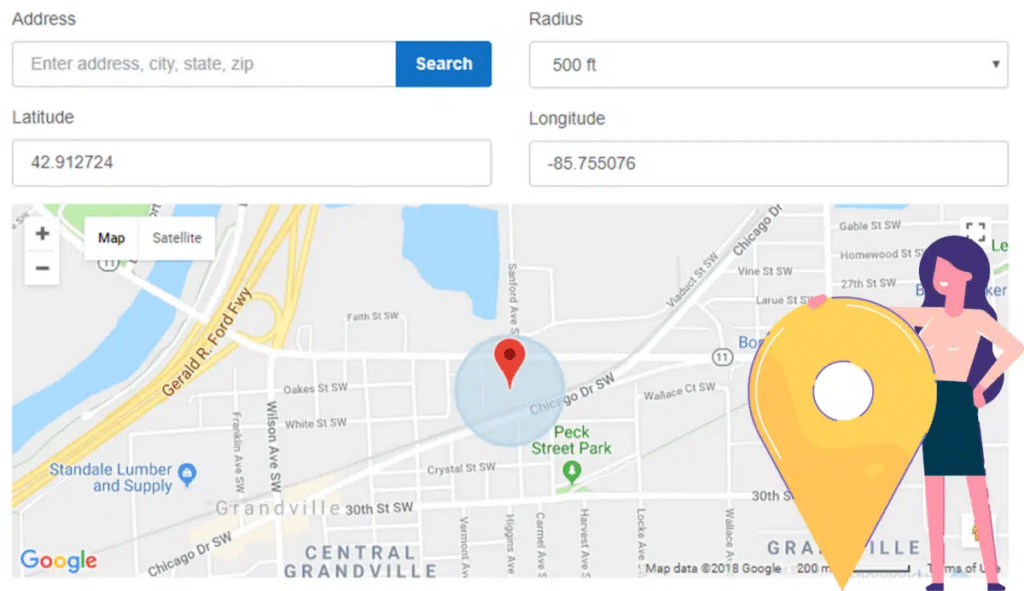 This feature lets you create a virtual boundary around a physical location, defining where employees must be before they can clock in for work. For instance, you can set a radius of 500ft around your office. If employees are outside this area, they won't be able to clock in.
Like IP address locking, this prevents employees from clocking in for work if they're not actually at the job site. However, geofencing doesn't require employees to be connected to a specific Wi-Fi network. This makes it a great option if you don't have a designated IP address associated with your job site or for employees who work from home.
Photos on Punch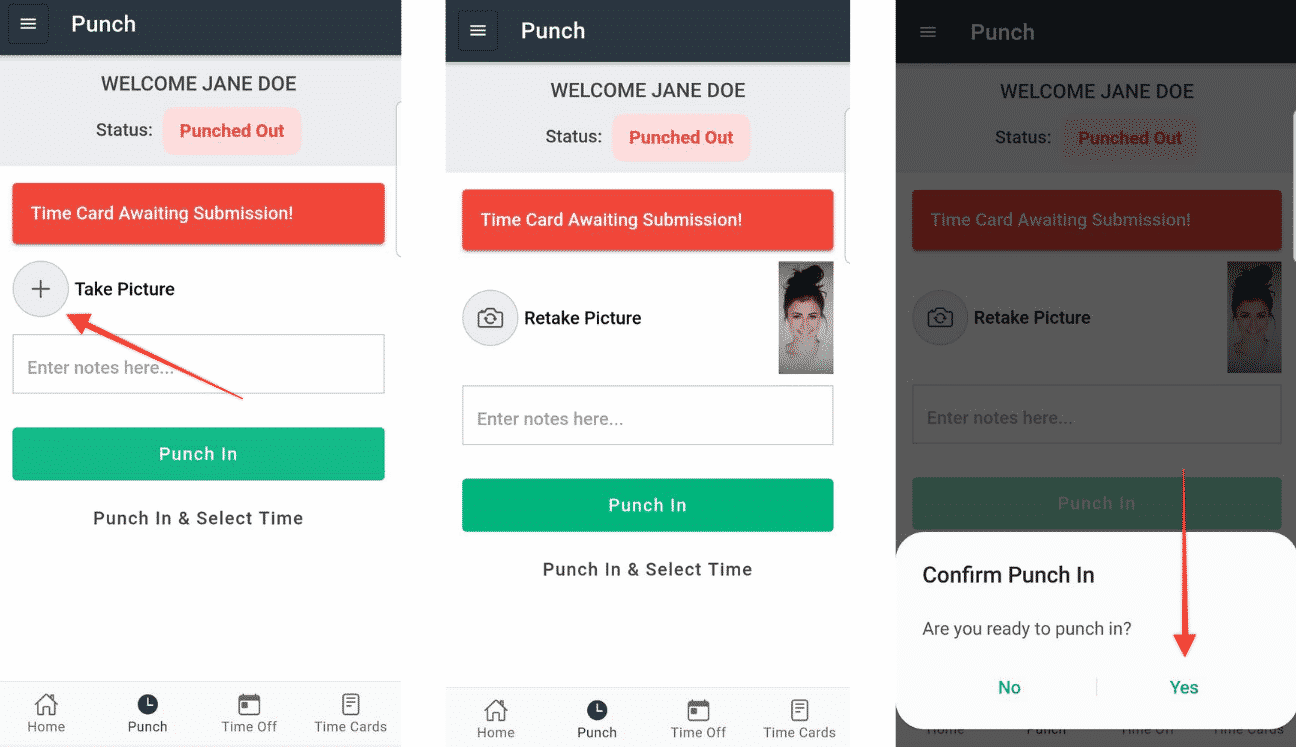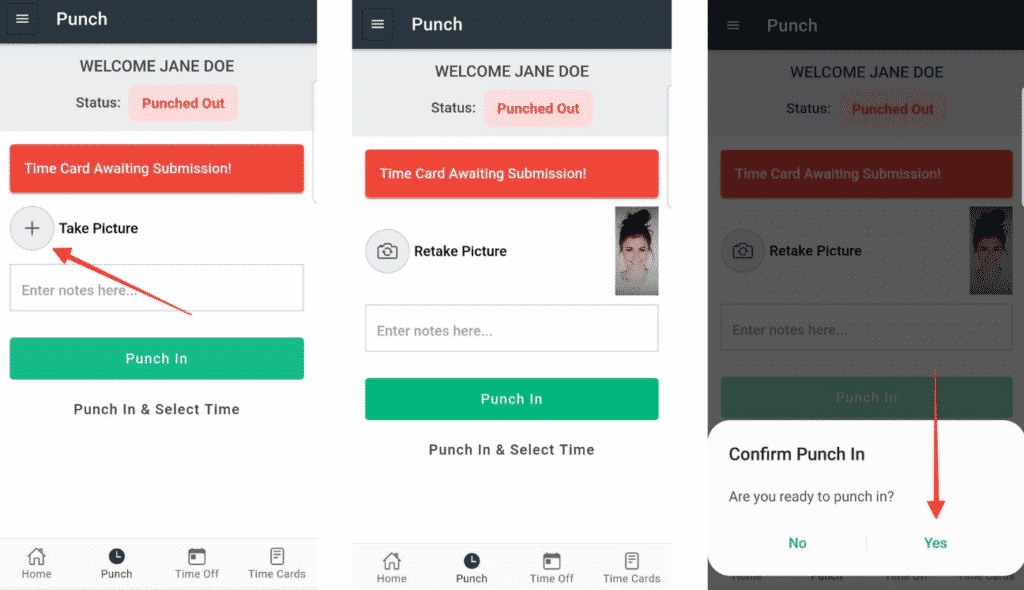 Photos on Punch uses facial recognition and requires employees to take a photo when they clock in or out. This can eliminate the threat of buddy punching (when someone punches in for another co-worker when they're not there). You can review the photos to ensure the right people are clocking in and out for their shifts.
GPS Tracking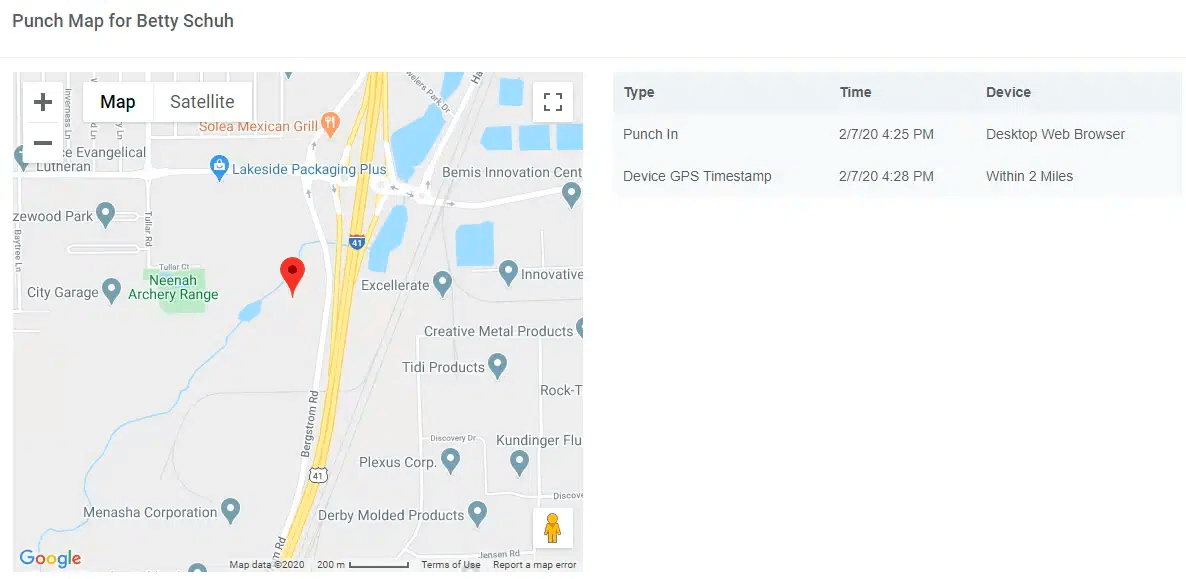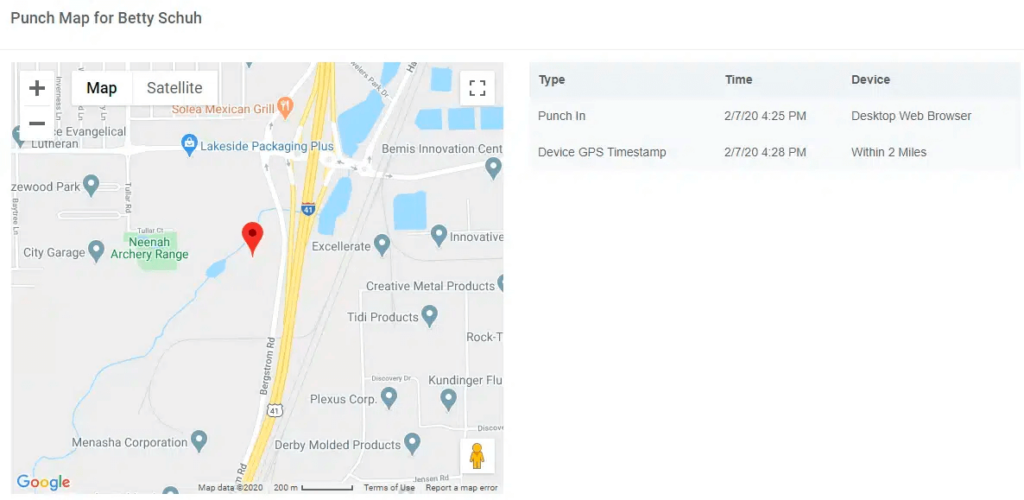 Buddy Punch offers a GPS feature for employee monitoring that lets you record their locations when they punch in or punch out.
Punch Limiting
Punch limiting allows you to customize how someone can punch in for their shift. For example, if you have several employees who consistently clock in ten minutes early, those minutes quickly add up over the payroll period.
Punch limiting helps you avoid this and lets you set limits for when employees can clock in based on their schedule.
Easily Review, Edit, and Approve Time Cards
Mistakes are bound to happen; with Buddy Punch, fixing time entry errors and approving time cards is easy. Here's how it works:
1. Under the "Pending Approval" section of your dashboard, click the "Time Cards" tab. Then, click "View" next to the pay period you have timecard approvals for.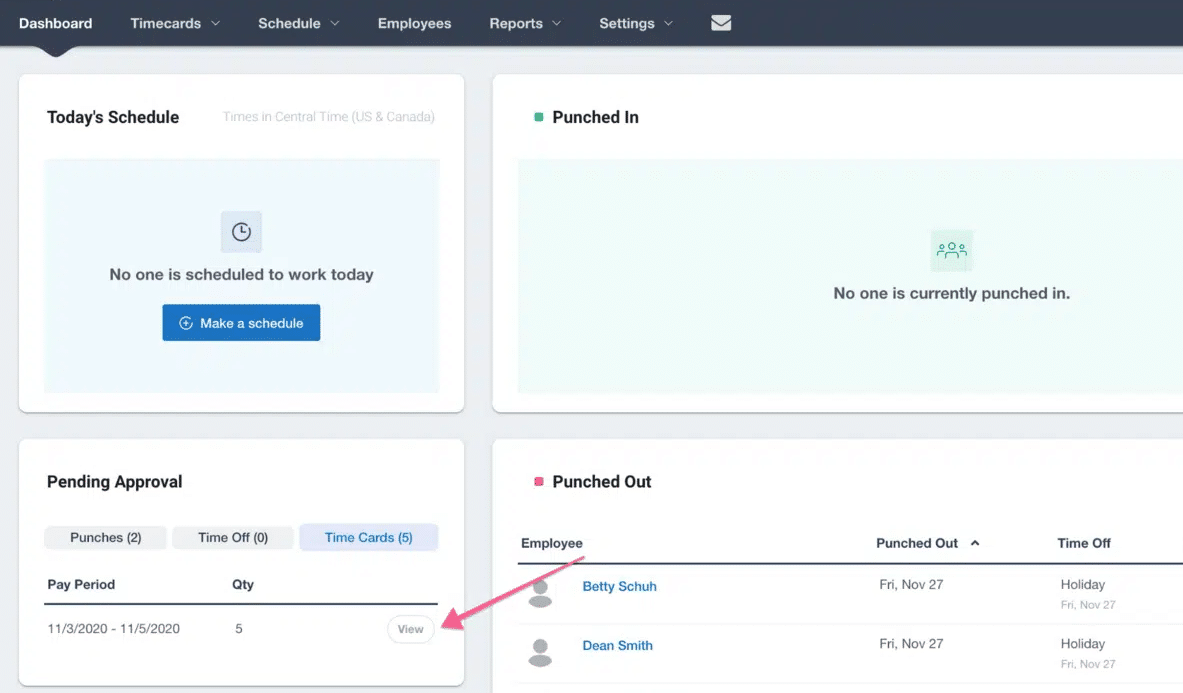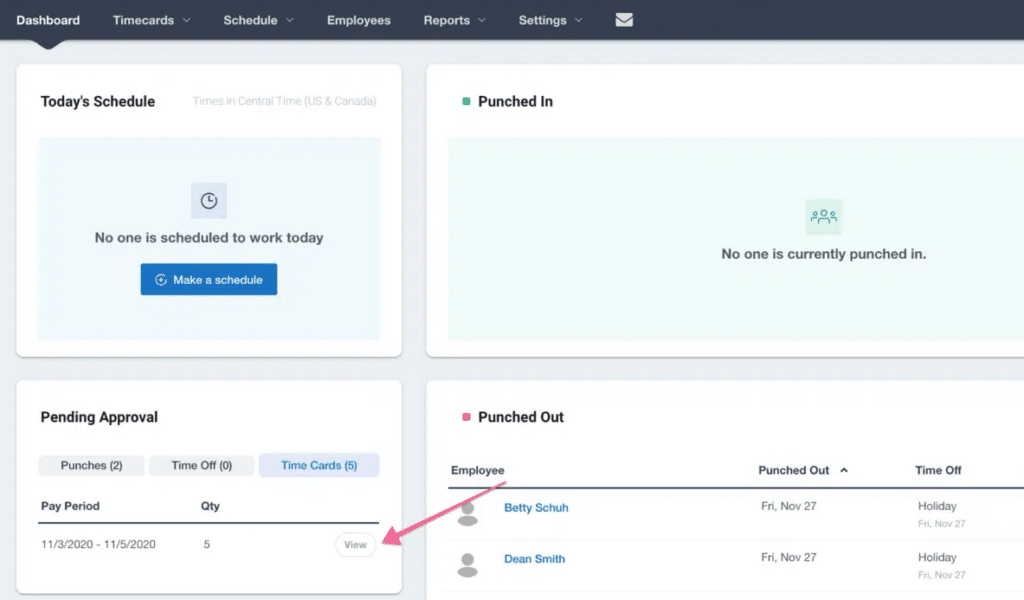 2. If you don't need to review all of the hours, just approve the timecard immediately by clicking the "Approve" button: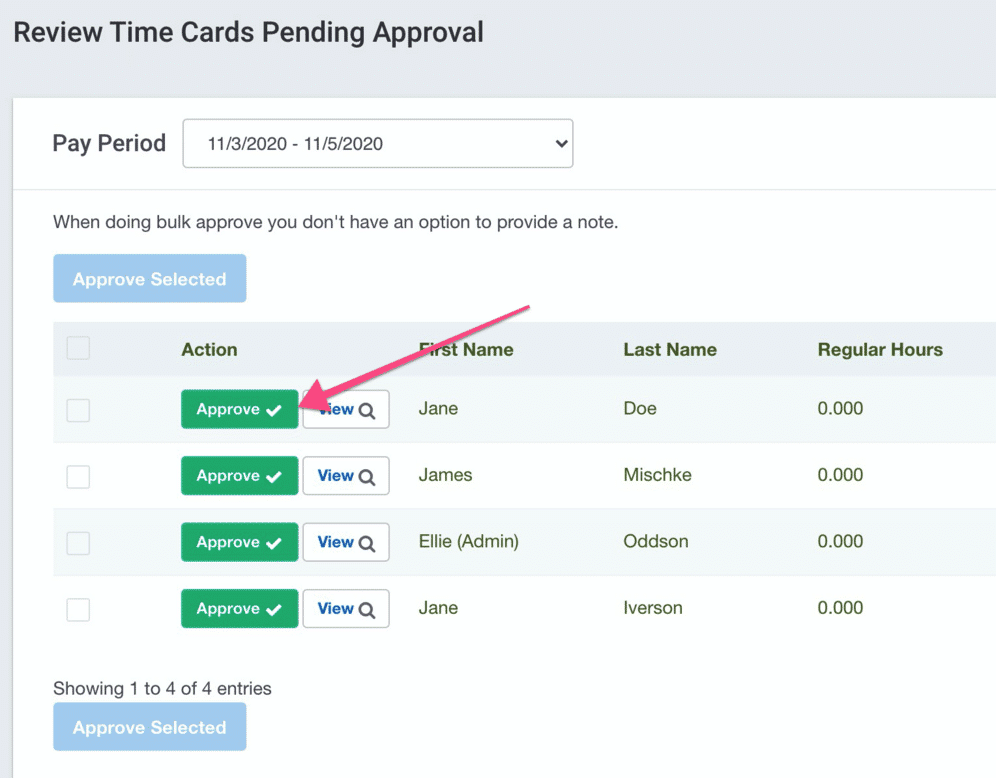 3. If you want to view a timecard's details , click "View" next to an employee's name: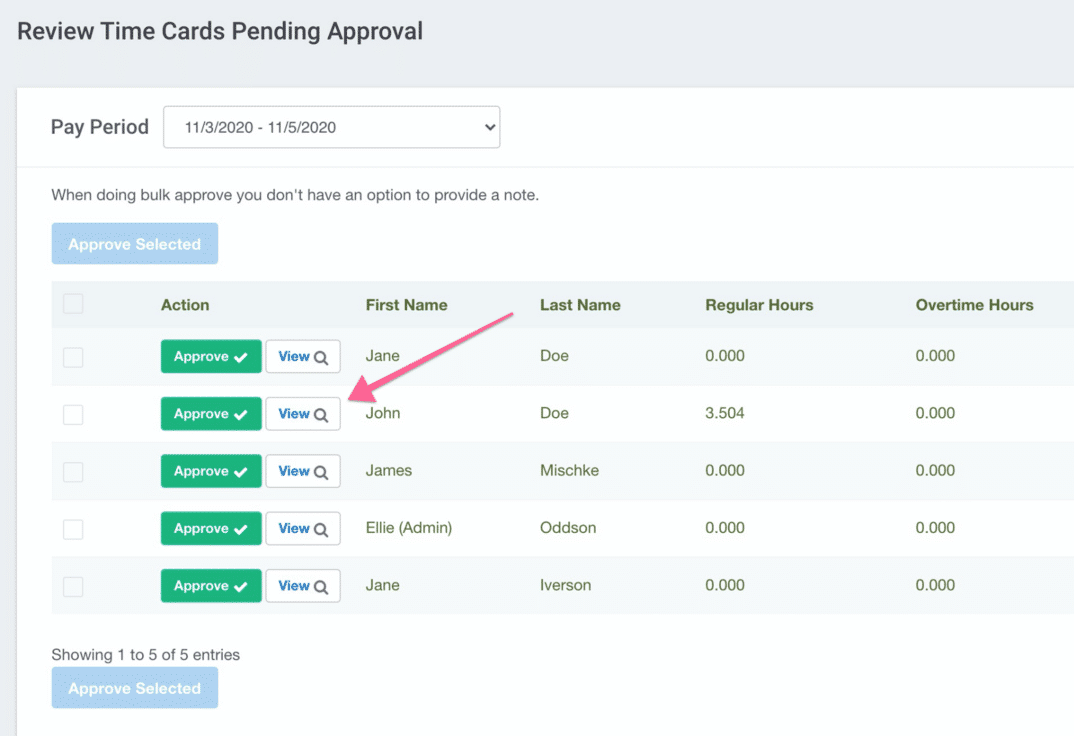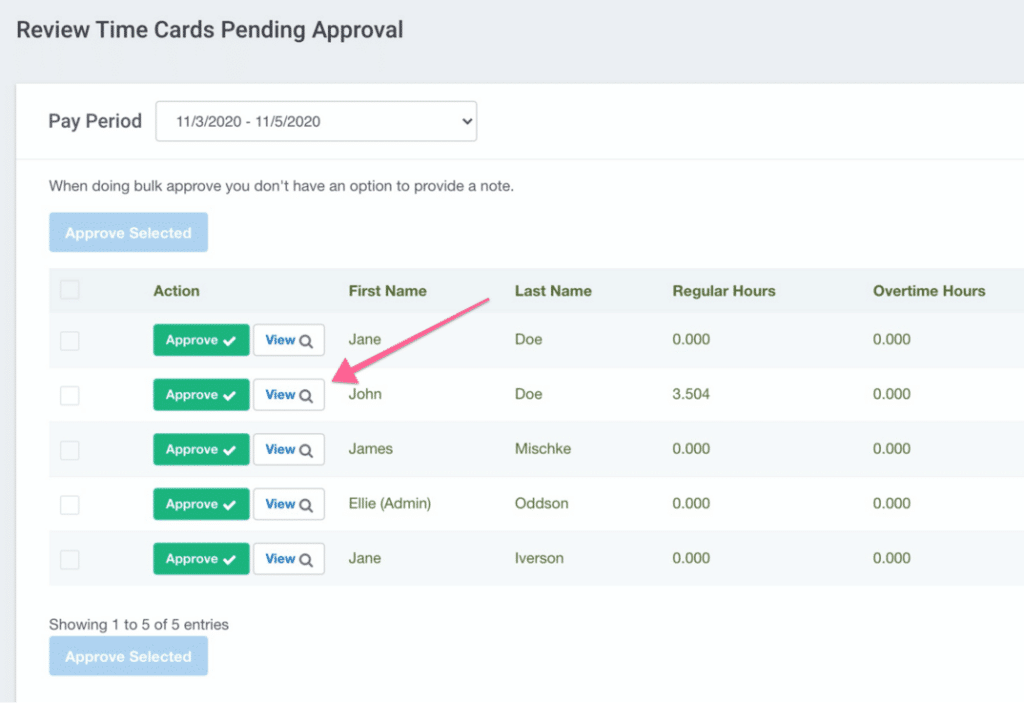 4. Once you're ready to approve or reject, click the "Approve / Reject" button at the top of the timecard: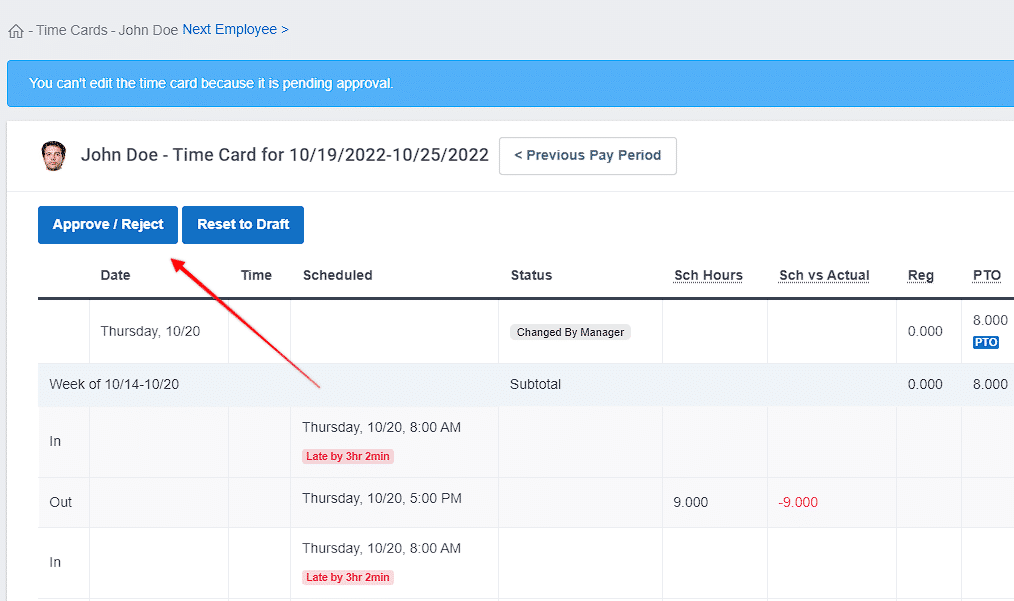 5. If you need to return the timecard to the employee to make changes or make changes yourself as an Admin or Manager, simply click the "Reject" button.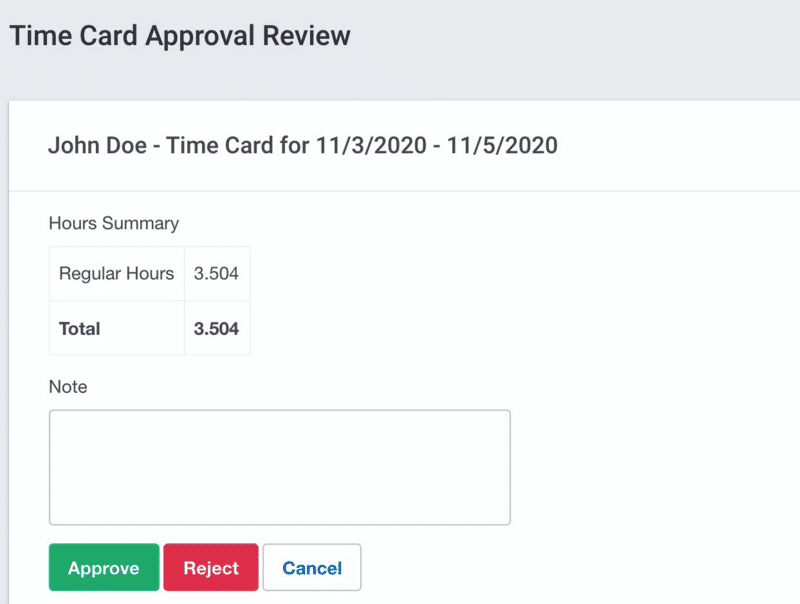 6. Whether you reject or approve the timecard, the action taken will be visible in the Approval History, which can be found at the bottom of an employee's timecard:


In addition, you can also quickly edit timecards by:
1. Clicking the drop-down menu on "Timecards", and then clicking "View all":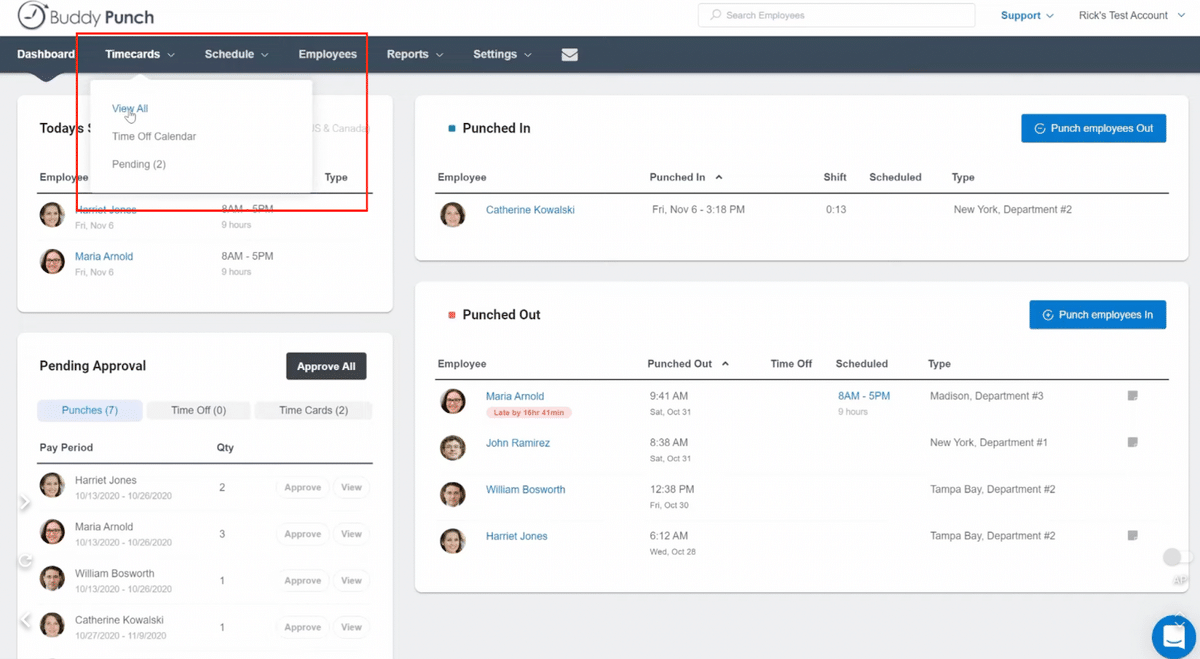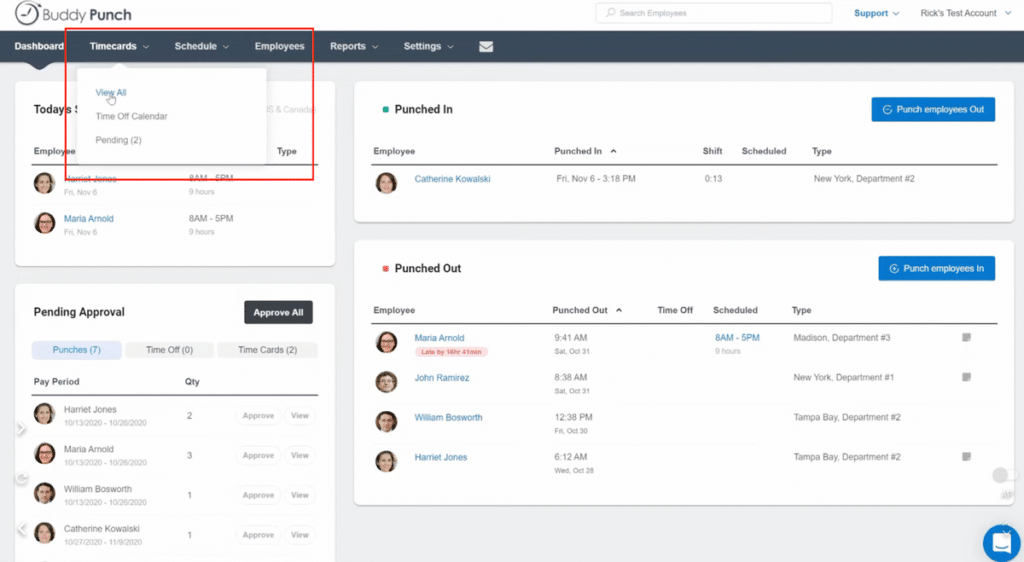 2. You can select whose timecard you want to review.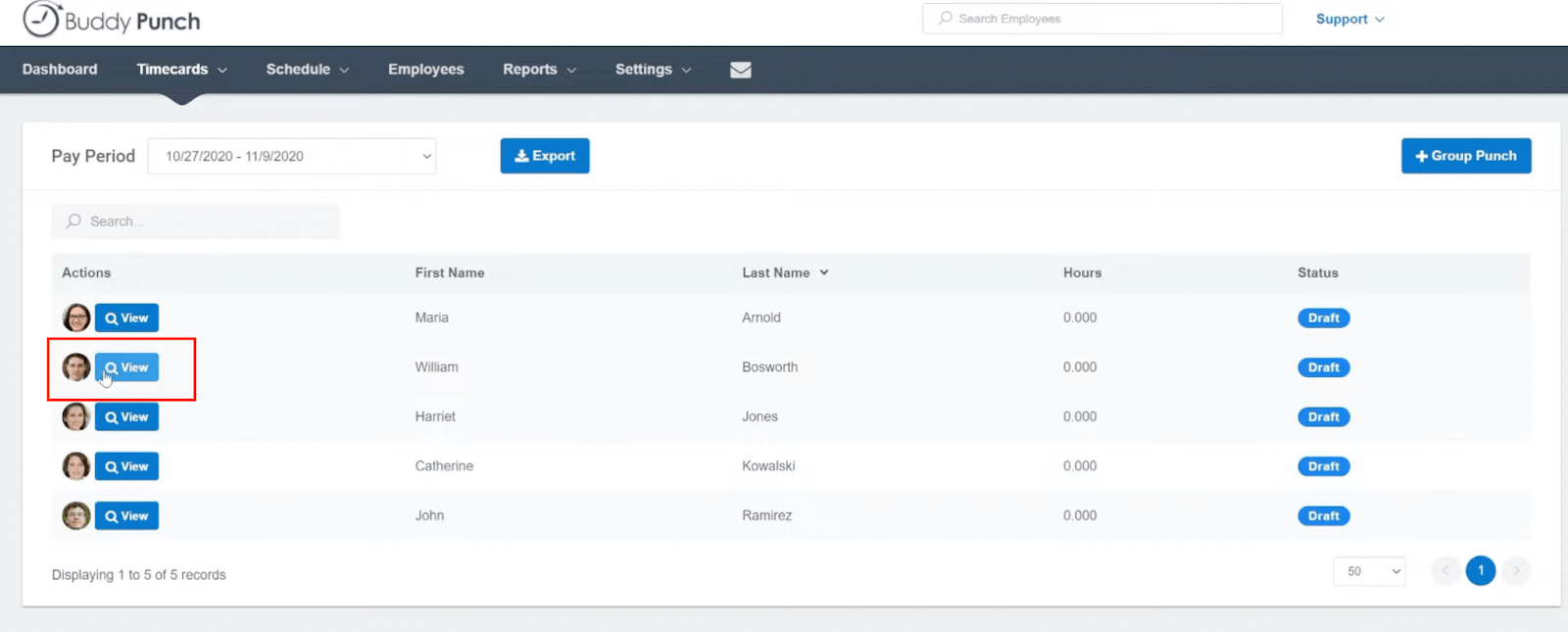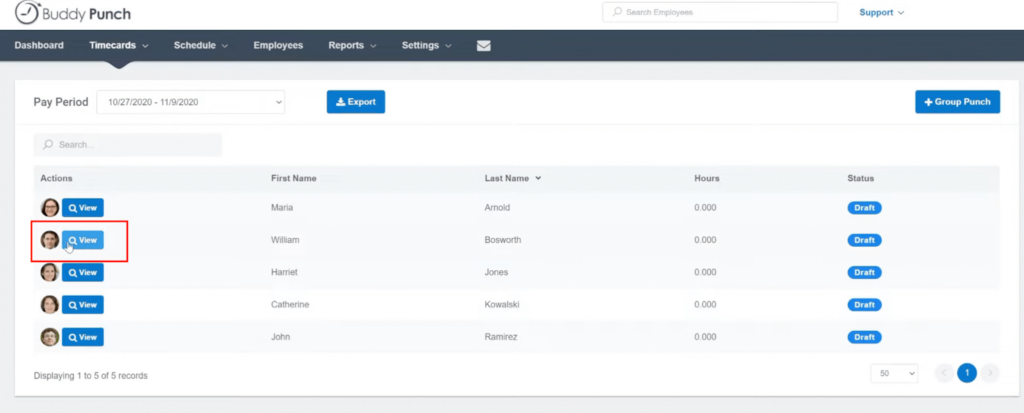 3. Just click "View" on the employee's timecard that you want to access.


4. You can edit as necessary, such as changing when someone clocked in, clocked out, or took their break.
Keep Track of PTO
In order to accurately track your employees' time, you also need to track their absences and PTO. Buddy Punch makes it easy. Here's how:
1. An employee opens the app, enters the requested days, and specifies the type of leave they're taking.
2. If it's paid time off, the hours are logged on their timecard to be reconciled with payroll.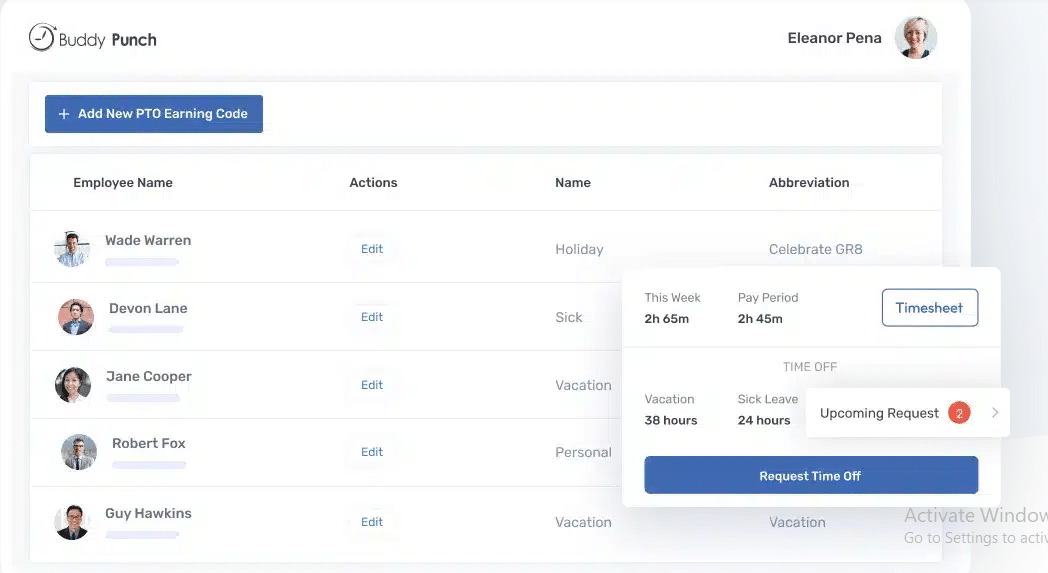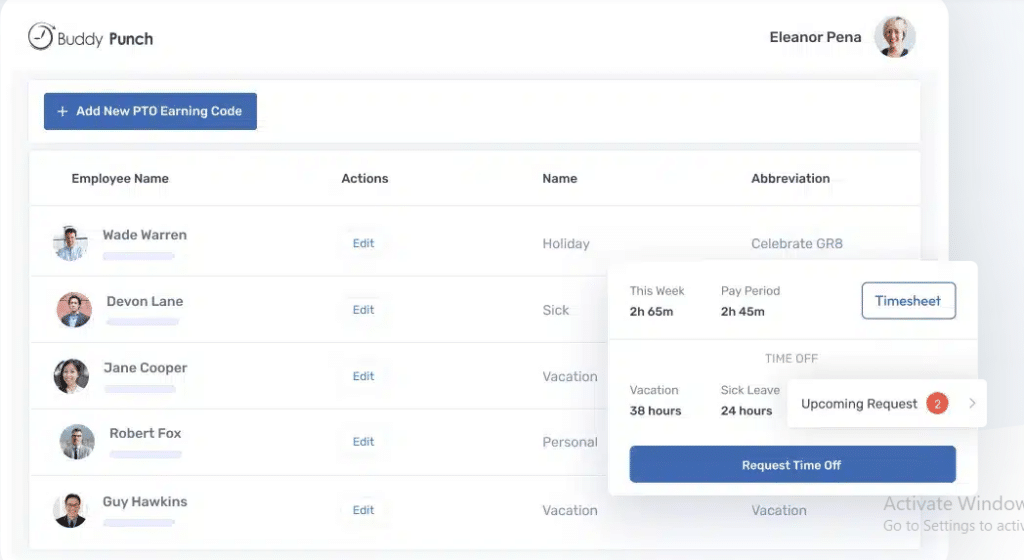 3. Once the request is submitted, you can view, approve, or deny the request. Or, you can customize your settings to approve the PTO automatically.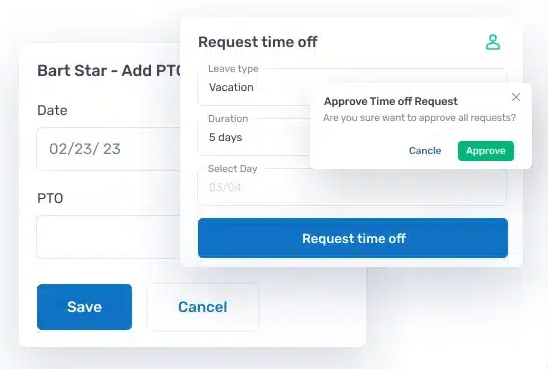 You can set up custom PTO accrual rules based on hours worked, payroll periods, or even work anniversaries. In addition, you can customize these rules for each employee. For example, you can have different PTO rules for hourly, salaried, or freelance employees.
Running Payroll (with Buddy Punch or Your Current Provider)
Employee time-tracking is just one aspect of Buddy Punch that helps you run your business. It's also a payroll provider that gives you two options.
Option #1: You can use Buddy Punch to issue payroll to your employees. We handle everything from taxes, pay stubs, and direct deposit info. You can choose between 2-day and 4-day processing. You can set up auto-payroll (so you never miss a payroll deadline).
Option #2: You can integrate our software into your current payroll system. By using our accurate and accountable time tracking records, you can rest assured that your team will be paid correctly.
Below, we look at each option — starting with using Buddy Punch as your payroll provider.
Here's a look at how to quickly run payroll:
1. Once a pay period is complete, start by clicking "Payroll" in the top navigation, followed by "Run Payroll":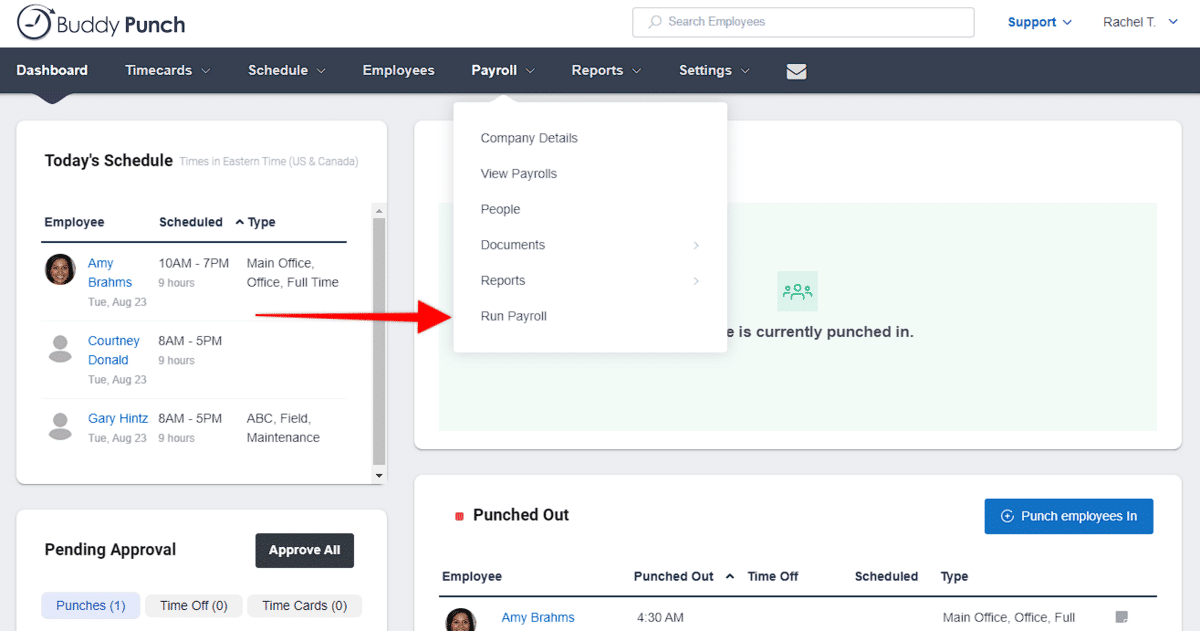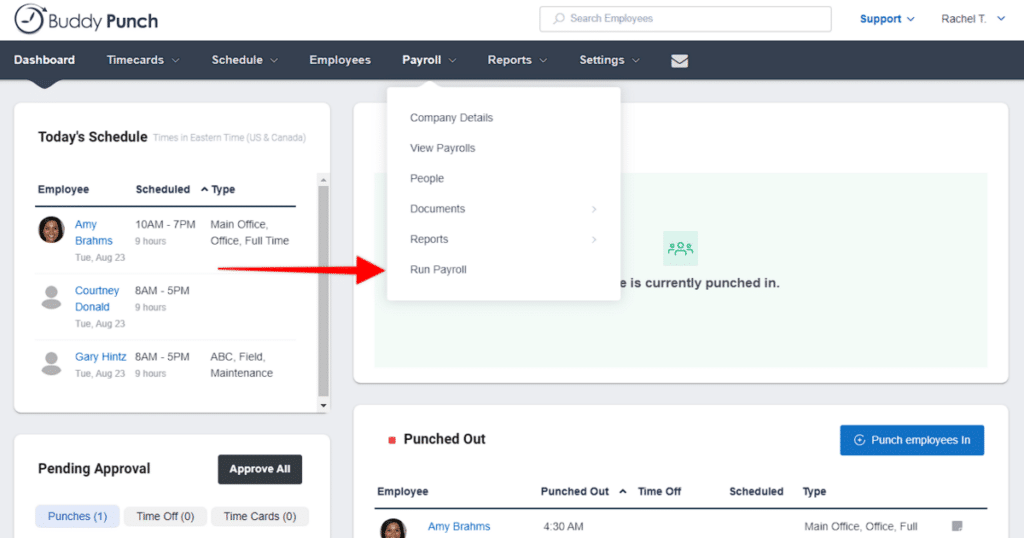 2. Select the pay period you want to run from the dropdown. Next, click "Run Report" to populate hours. If everything looks good, click "Import time into Payroll":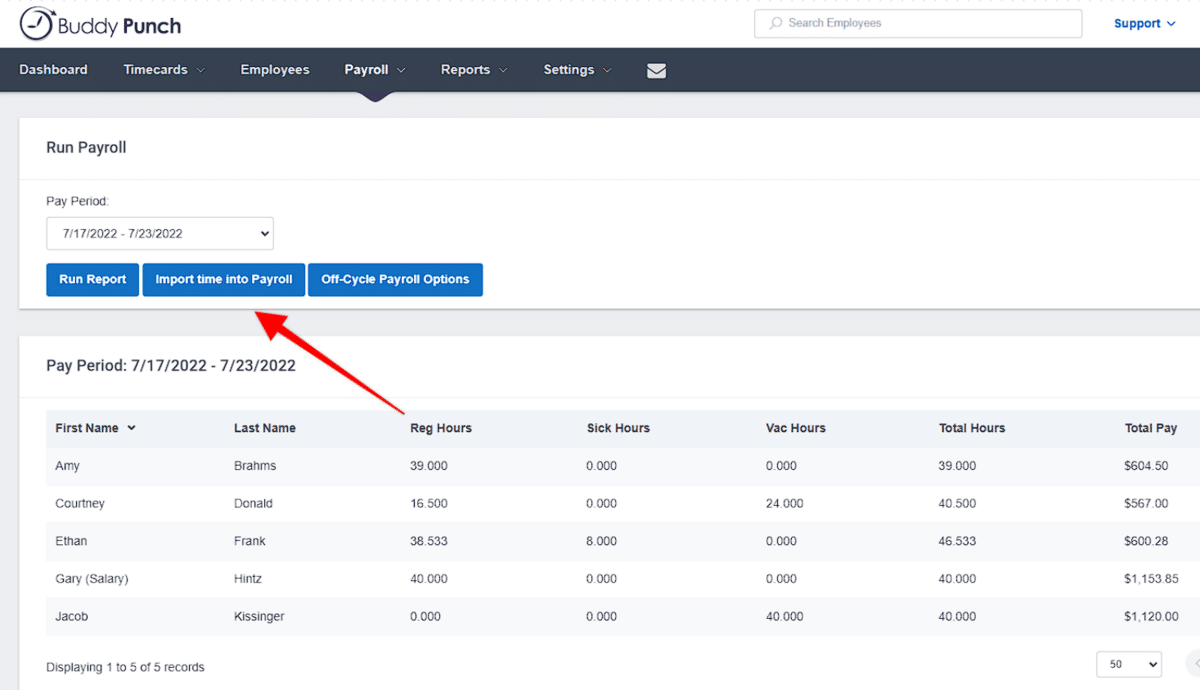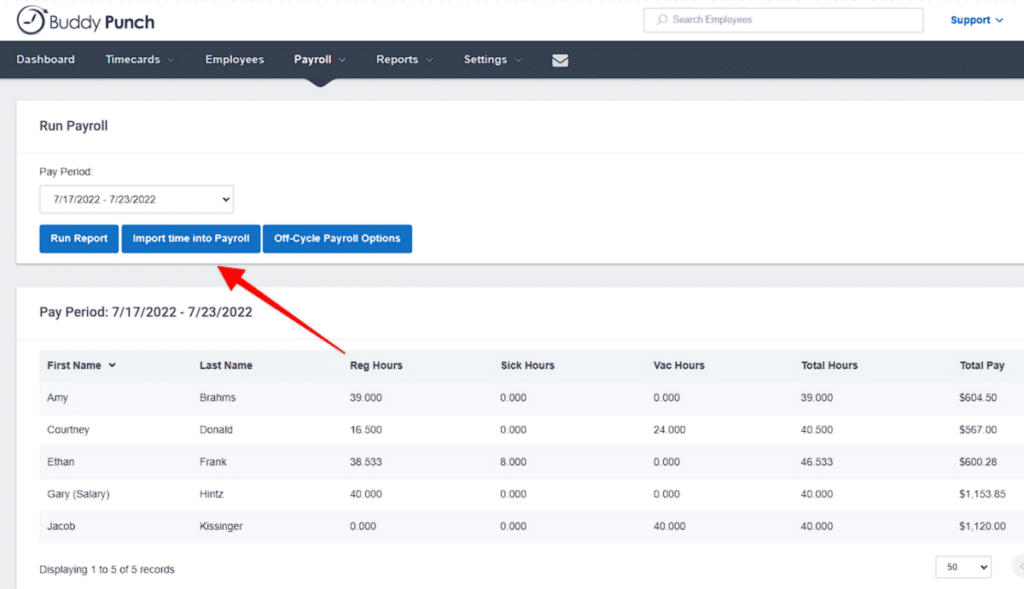 3. After your employee's hours have been synced, you will be able to:
Configure a custom pay rate.
Enter tax-free reimbursements.
If changes have been made to employee time and you need to re-sync, choose the "Reimport time into Payroll" button in the top left-hand corner.
4. If you're ready to continue with payroll, click "Continue":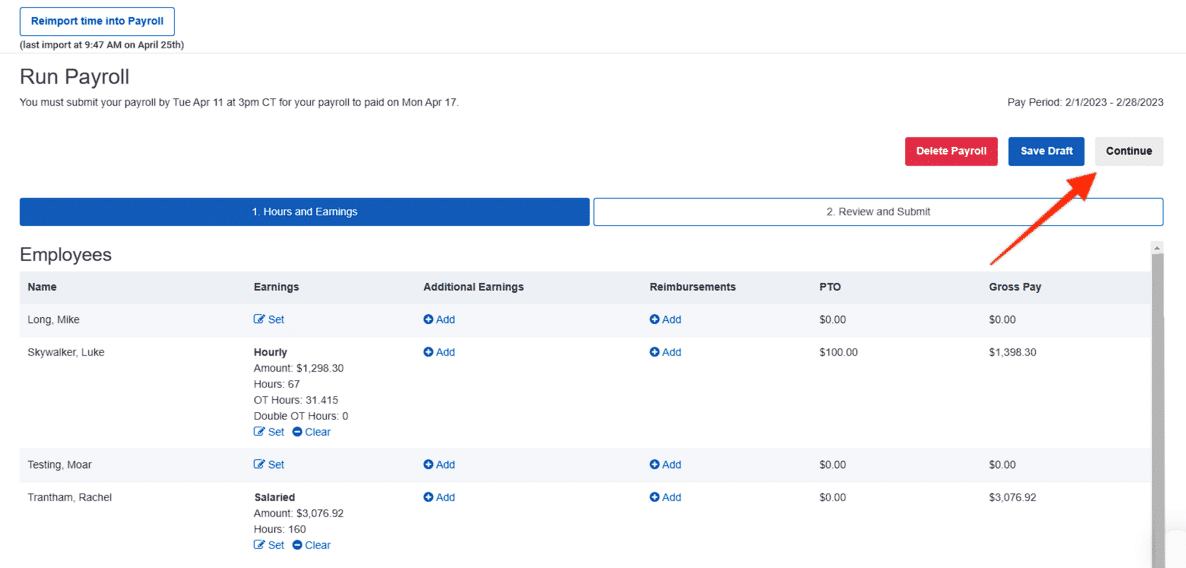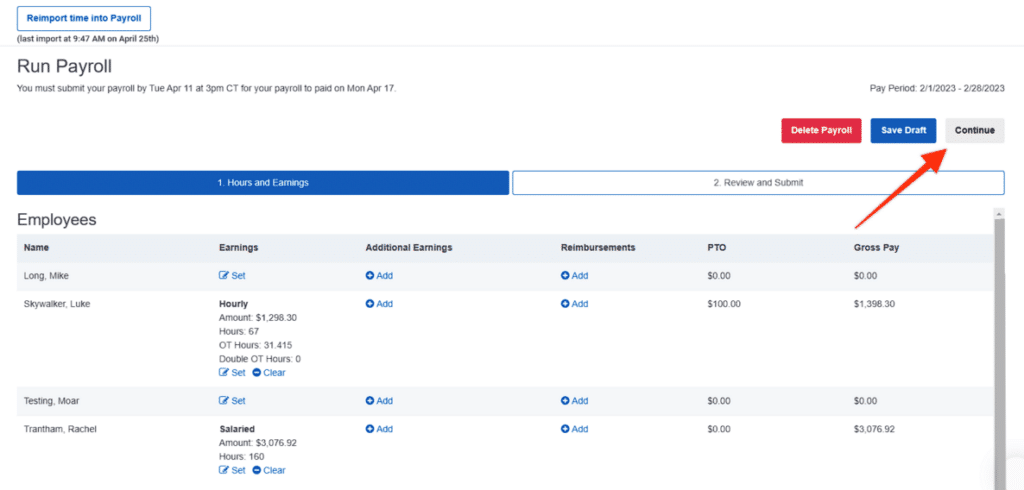 5. Next, you'll see a breakdown of pay and taxes for each employee, along with the total costs for payroll under the Cash requirement section. If everything looks good, click the "Submit Payroll" button: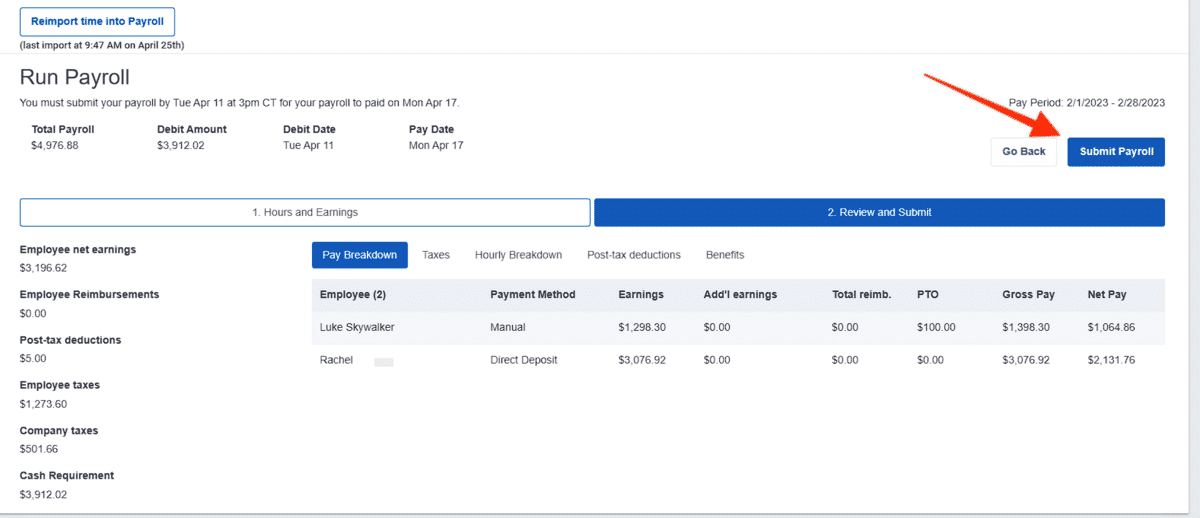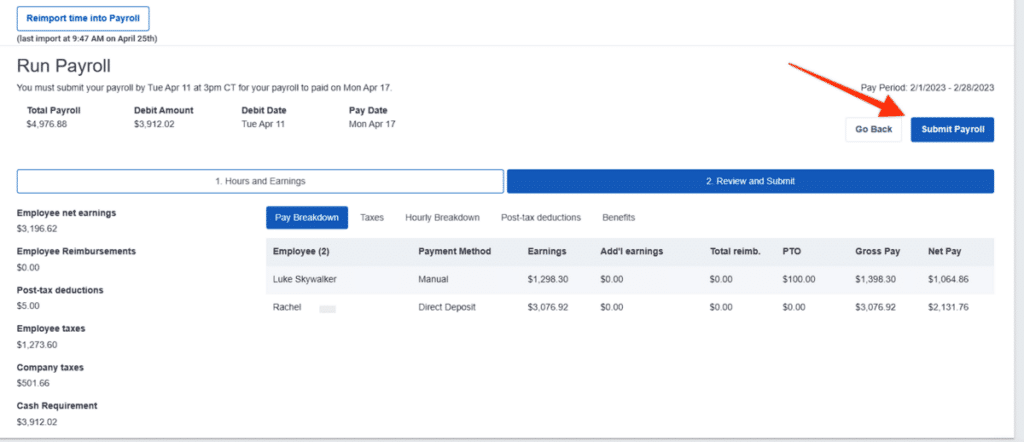 6. And that's it! You've officially processed payroll. You will receive an email letting you know your payroll is pending and will also receive an email if there are any issues or once it's been processed.
You can also run payroll separately for freelancers. Once a freelancer sends you their billable hours, simply run payroll using the same method outlined above.
If you're happy with your current payroll process, you can use Buddy Punch as your time-tracking software and then easily integrate or export your team's records into your payroll software.
We have ready-to-go payroll integrations with leading accounting software:
Zapier
QuickBooks
ADP
Gusto
Paychex
You can also export your payroll reports out of Buddy Punch and use them as needed.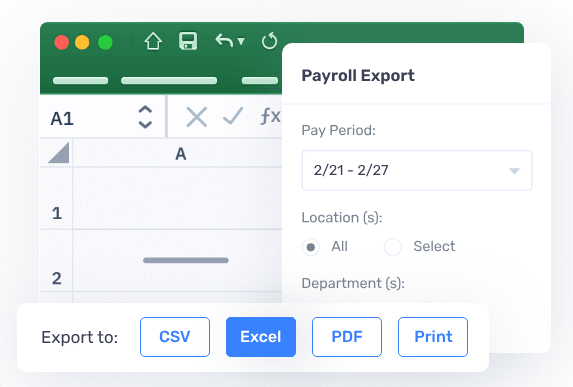 More Helpful Features: Creating Work Schedules 
So far, we've covered a lot of information. To recap, Buddy Punch is time-tracking software and app that lets you:
Easily create and edit employee schedules.
Customize clock-in and clock-out features to ensure employee accountability.
Quickly approve timecards.
Manage PTO requests.
Run accurate payroll.
Remember, all of the features we've covered work on both desktop and within the app.
Now, let's briefly look at how to make a schedule for your employees to help you keep track of project management:
Drag and Drop Scheduling
1. First, you add a new shift to the schedule.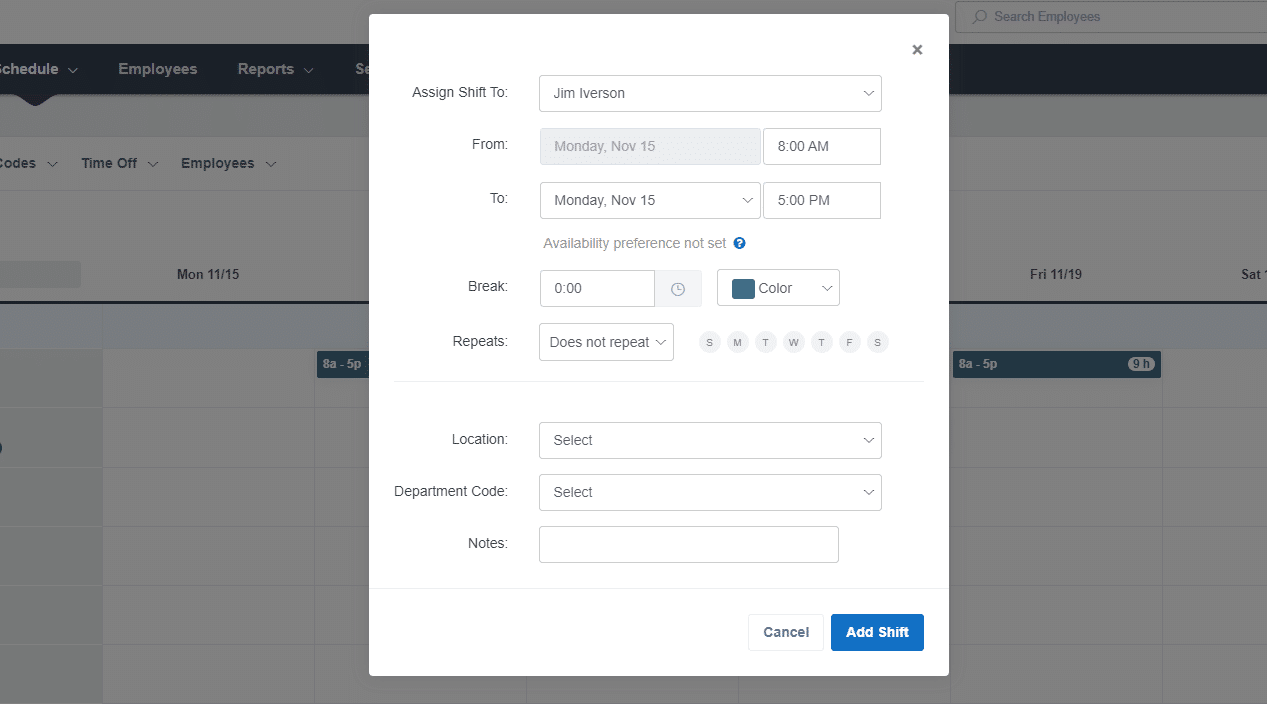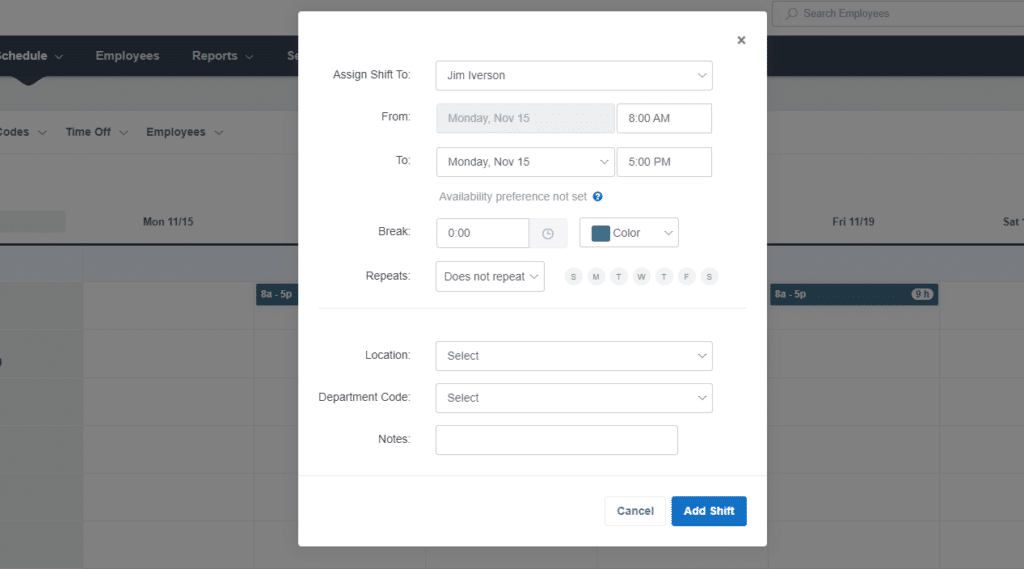 2. Once you've added it, you can drag and drop the shift anywhere.
3. You can choose whether the shift repeats or is recurring.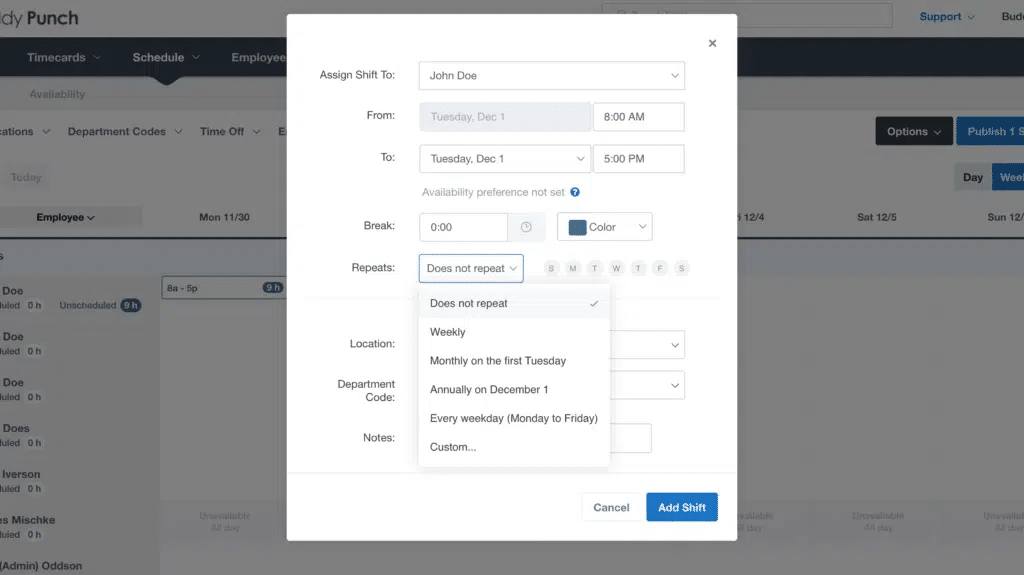 With Repeating/Recurring Shifts, you can add common shifts for employees on your team. For employees who work the same (or mostly the same) schedule every week, this is like letting Buddy Punch write the schedule for you.
4. Once the shift has been added to the schedule, it will be in draft mode. An outlined shift indicates this. To publish, click the "Publish" button in the top right-hand corner:


You'll then be able to send the schedule to:
All employees.
Employees with changes only (i.e., edits or deletions).
Employees in the current view.
Employees with shifts in the current view.
Once you've selected it, you can publish via email, push notification, or both. No more need to share screenshots of a paper or Excel schedule!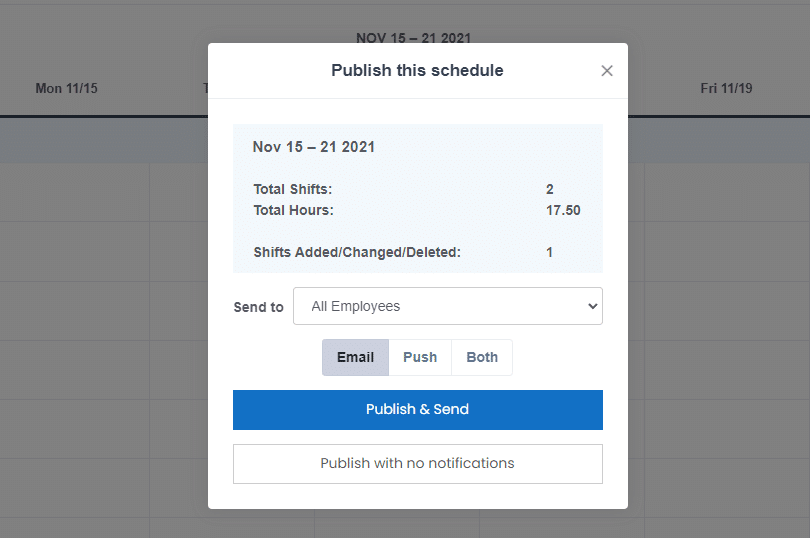 Add Employee Availability
You can also add employee availability. This is especially helpful if you have a team that works on multiple shifts. This feature lets you easily know when certain employees can or can't work. You can also choose to let your employees fill out their own availability.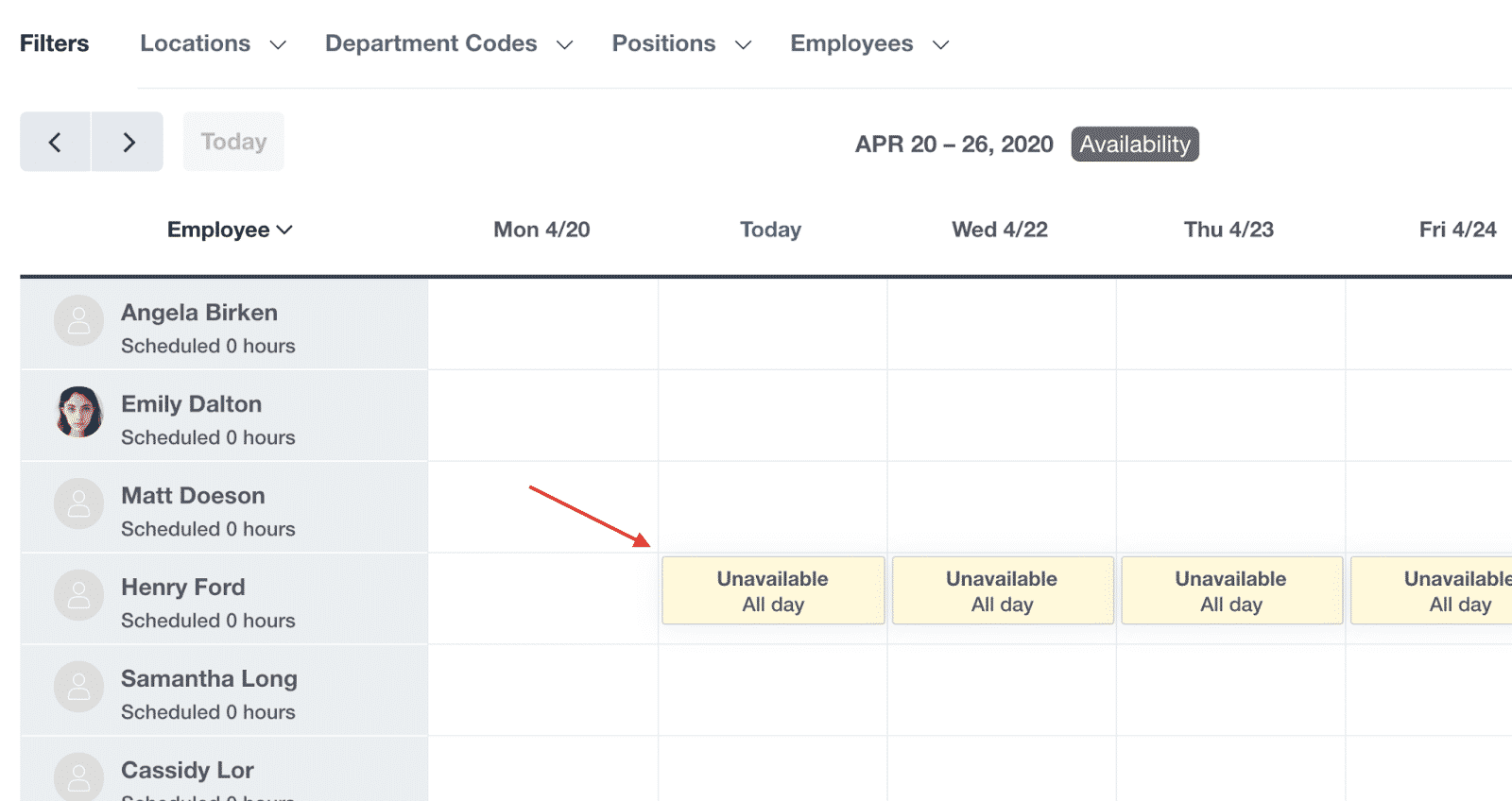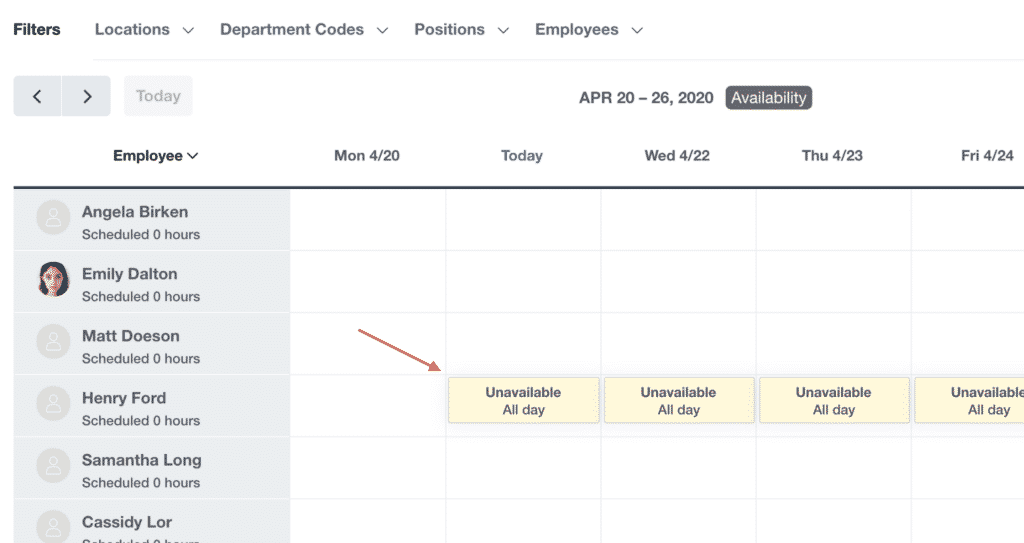 Add Automatic Breaks
Buddy Punch can automatically account for employee breaks and free time by deducting the set time from an employee's timecard. This feature means there's no need for you or your employees to enter their break time manually.
Real Customer Reviews of Buddy Punch


We believe Buddy Punch is an excellent solution with the best functionality for all your time clock, scheduling, and payroll needs. But, don't just take our word for it. As of writing, we have 4.8 out of 5 stars on Capterra with over 800 reviews. (Capterra is a third-party review platform where real customers can leave honest reviews about the software.)
Here's a selection of reviews highlighting why our customer loves Buddy Punch for time management:
"Timekeeping capability in a very timely manner without any interruptions causing conflict to any degree."

Read the full review here.
"I love how simple Buddy Punch is for my staff. Having the mobile app helps tremendously while allowing geofencing."

Read the full review here.
"Overall: It's very easy to manage and our employees must punch in and out within the GEO fence to eliminate punching errors. Pros: Easy to see the time right before your eyes, easily add or delete someone, simple time changes, and PTO addition."

Read the full review here.
You can read all of our Capterra reviews here.
Other Small Business Time Tracking Software & App Options
2. Clockify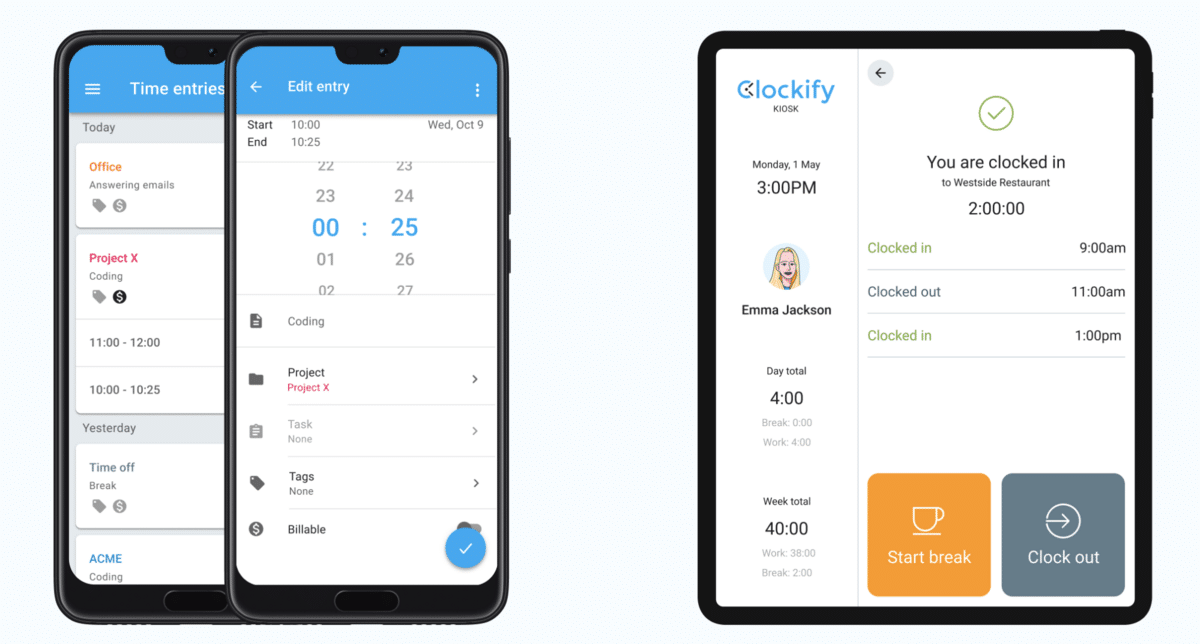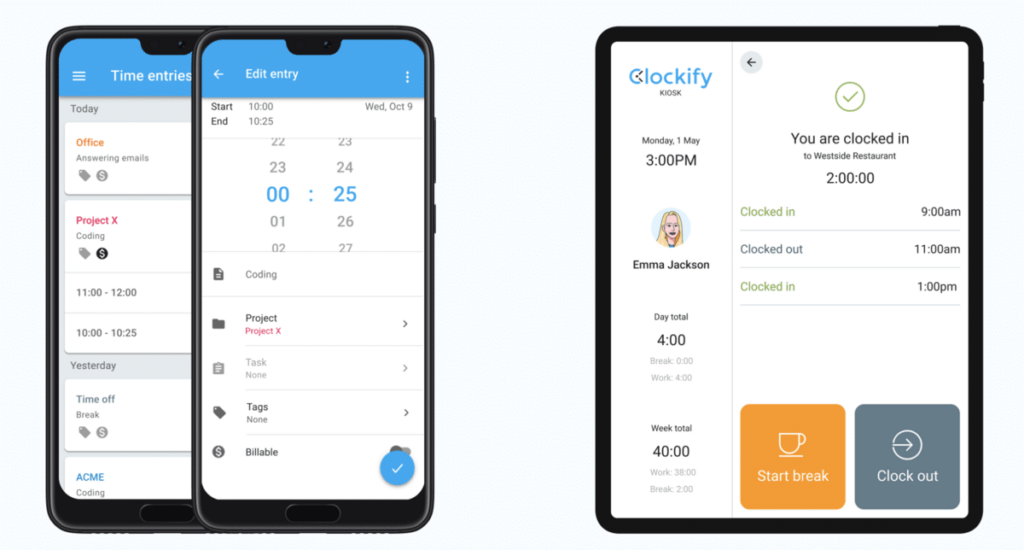 Clockify is another time tracking tool and app for small businesses that offers several key features:
Time tracking
Employee timesheet management
A central dashboard
Time tracking reports
Clockify is available on MacOS, Microsoft Windows, Google Chrome, and on mobile devices for iOS and Android.
At the time of writing, Clockify has 4.7 out of 5 stars on Capterra with 4,500+ reviews.
3. QuickBooks Time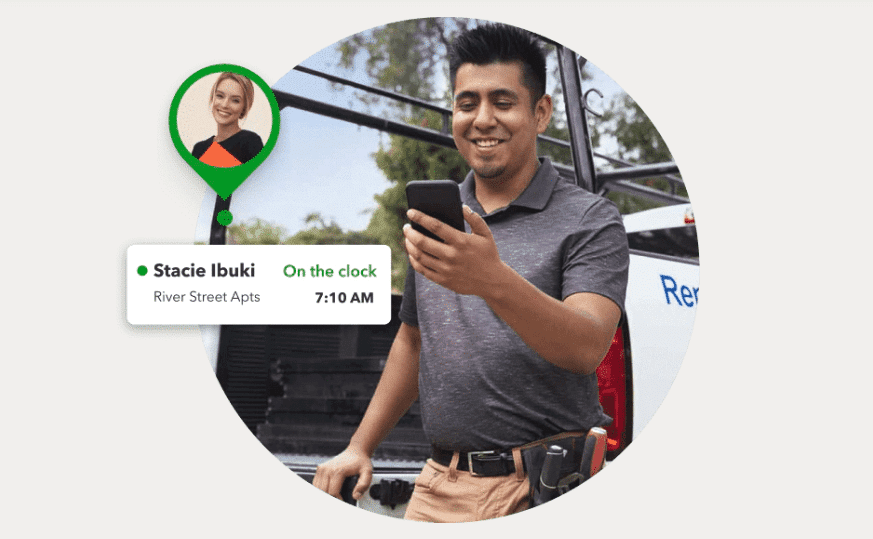 QuickBooks Time has various time tracking features your small business might find useful:
Tracking employee miles (if they're on the road)
Income and expense reports
Sales analysis
Inventory management
QuickBooks Time is available in the Google Play and Apple App Store.
At the time of writing, QuickBooks Time has 4.7 out of 5 stars on Capterra with 6,400+ reviews.
4. BambooHR


BambooHR is a comprehensive HR software solution that includes time-tracking features, such as:
Automated attendance tracking to monitor employee productivity
Overtime tracking
Payroll compliance tracking
Timecard reports
BambooHR is also available for iOS and Android.
At the time of writing, BambooHR has 4.6 out of 5 stars on Capterra with 2,500+ reviews.
5. Harvest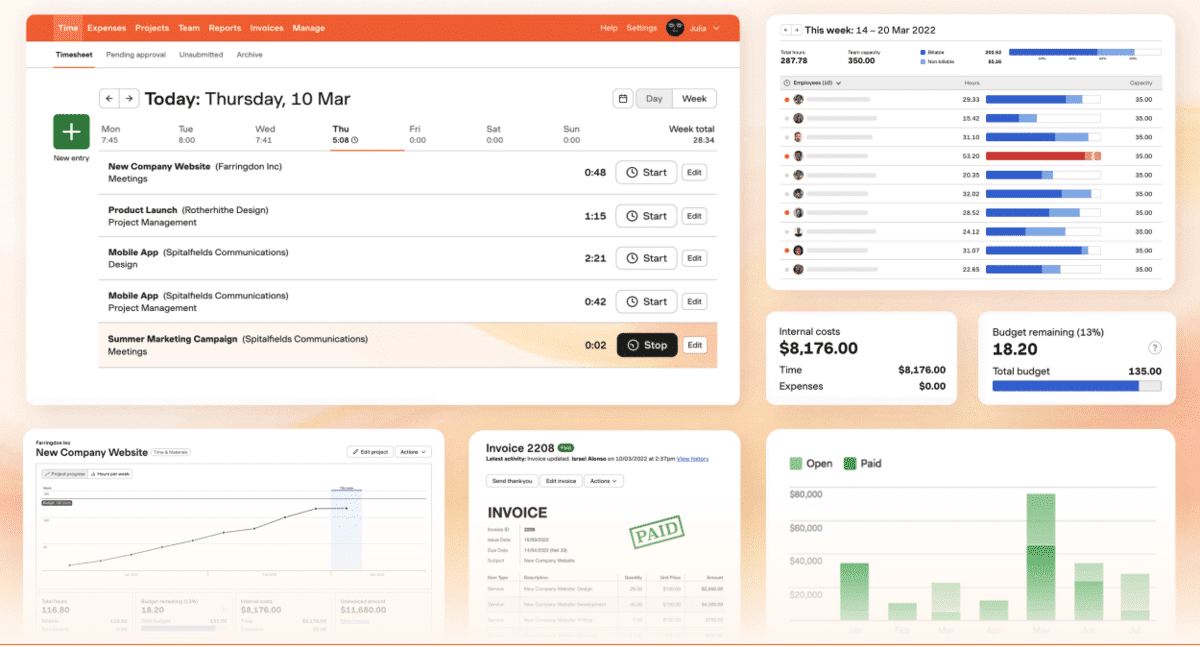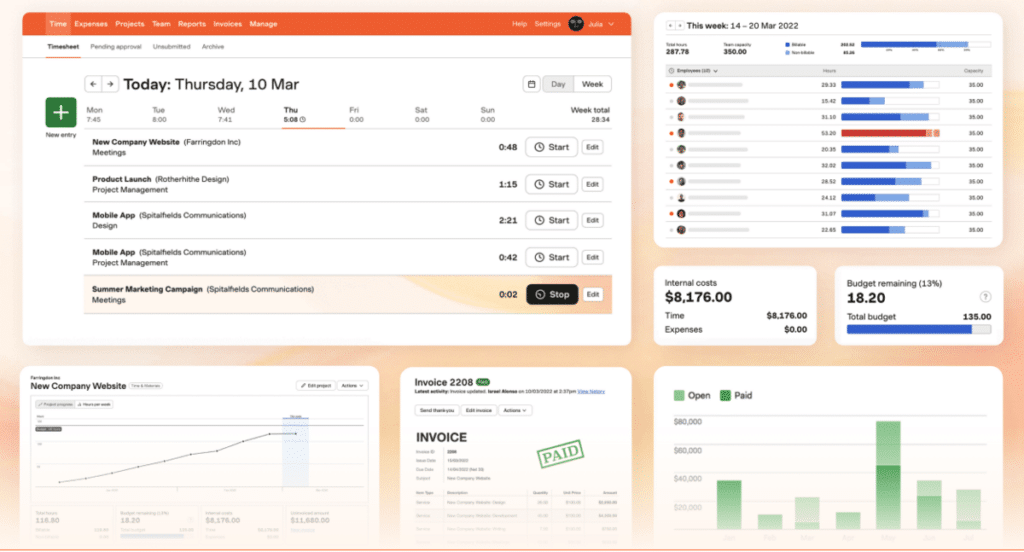 Harvest is another time tracker your small business can use to track time across various projects. With the Harvest platform, you can:
Track time
Generate detailed reports
Send invoices and receive payments
Monitor budgets (to track profitability)
At the time of writing, Harvest has 4.6 out of 5 stars on Capterra with 500+ reviews.
Keep in mind: While many of these tools have a free plan, you may have to provide a credit card or upgrade to a paid plan to unlock all the features mentioned above.
Start Your Free Trial with Buddy Punch
If you want to see if Buddy Punch is the right time tracker for your small business, sign up for a free 14-day trial. You can also: