The Best Employee Scheduling Software: 7 Powerful, Modern Options (In-Depth Post)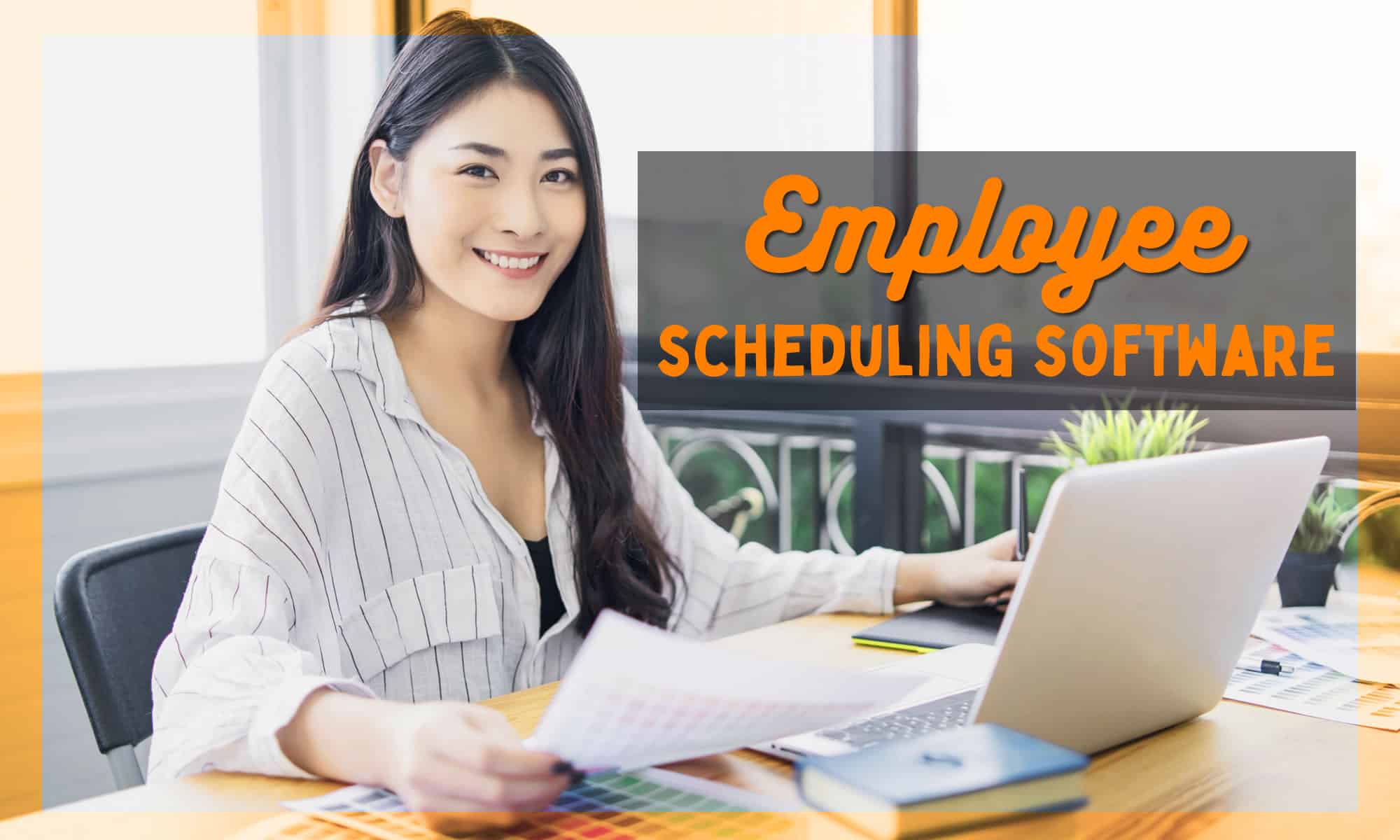 The benefits of using employee scheduling software are, for the most part, clear: you get more control over work schedules, improved staffing and understanding of employee availability, and you get insights into changes you can make across your business to optimize how your employees work.
So what holds business owners back from making use of employee scheduling software?
In our opinion, there's some friction that business owners feel when they think about the process of adopting a new management system. The question isn't just how hard this staff scheduling software is going to be for the owner or managers to learn – it's also how difficult it'll be for each of their team members to use it. What if a team member isn't tech-savvy? What if half your team uses android, and the other half prefers iOS? And on and on…
The truth is most employee scheduling software these days comes with built-in compatibility across multiple operating systems. Then, a smaller number of those options are simple and intuitive enough for anyone to make use of. And from that smaller pool, you can find what should be the best employee scheduling software for your business.
But it takes time and effort to filter through all those options. Hence why we're going to highlight our top 7 picks of employee scheduling software, based on a mix of the functions each scheduling tool offers, what reviewers of the systems have to say, and how easily we think the average business owner will be able to implement them into their workforce management.
Hopefully, by the end of this post, you'll be able to find a scheduling solution that works for you.
Best Employee Scheduling Software Options
The larger your team is, the more daunting shift scheduling can be. We learned this firsthand back in 2013, when we expanded our small team to fit 20 employees at 3 different locations. We thought that our scheduling system, then consisting of schedule templates and manually monitoring paid time off, would scale efficiently enough for us to keep up.
We were wrong.
We quickly learned that manual methods were not enough to handle our scheduling needs, and if we wanted to grow, we'd need to overhaul our scheduling process. What came as another shock was that while looking through software solutions, there was no employee scheduling app that fit our requirements. So we decided to build our own, and Buddy Punch was born.
Drawing on our personal experience, we determined that Buddy Punch needed to focus on three specific aspects of employee scheduling & monitoring:
Employee Accountability. Ideally, a scheduling solution would have features that specifically monitor what your employees get done while on the clock. Features like GPS Tracking, Shift Trades & Covers, and Job Codes.
Design Simplicity. In our option, the addition of scheduling features should never get in the way of how user-friendly and versatile a software is. Features like One Button Clock Ins, Drag & Drop Scheduling, and Punch Limiting.
Payroll Streamlining. At the end of each pay period, it needs to be easy to calculate the work your hourly workers completed and transfer it to a payroll provider. This required us to include functions such as Payroll Integrations, Overtime Calculations, and Payroll Reports on Demand in Buddy Punch.
Next, we're going to dive into each of the above features to demonstrate how they're useful in your shift planning.
Note: If you'd rather get a hands-on feel for this employee scheduling tool, you can try out Buddy Punch for 14 days free of charge by clicking here.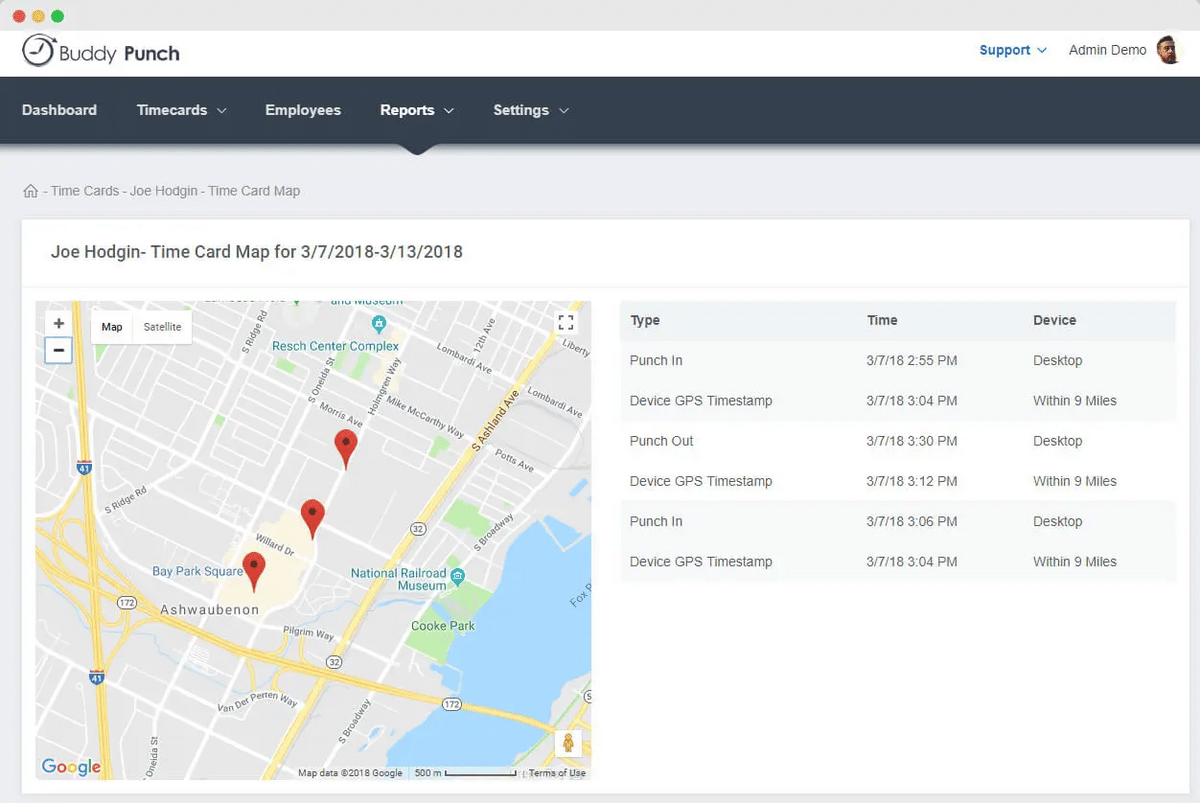 One of the biggest concerns business owners have in this age of remote work is ensuring that team members working off-site are actually completing the work they claim to. Buddy Punch is a time tracking tool that takes this into consideration. With our GPS Tracking, employees will be marked on an interactive map when they clock in. This allows you to see where they are and help ensure they're being held accountable for their time on the clock.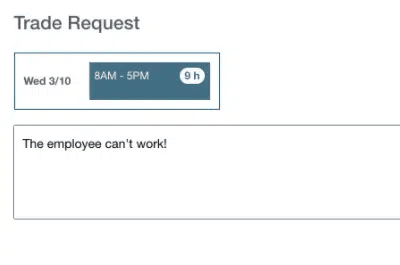 The shift trades & covers option allows employees to take more accountability for open shifts and scheduling conflicts. With this, either managers, administrators, or employees that you grant permissions can swap shifts with another employee. Additionally, employees, managers, or administrators can cover for an open shift if they see an employee request time off. With a responsible and proactive team, business owners can enjoy what basically amounts to auto-scheduling. After you schedule shifts, shift coverage, no-shows, and last-minute changes can be handled by your team members on their own.

The Job Codes feature, also known as Department Codes, gives employers a detailed understanding of what tasks their employees are completing on the clock, and which of those tasks are the most (or least) profitable. Employees log time on tasks by entering a custom code and can enter more codes throughout the day easily. You can see all time spent on each employee's time card as well as on your reports.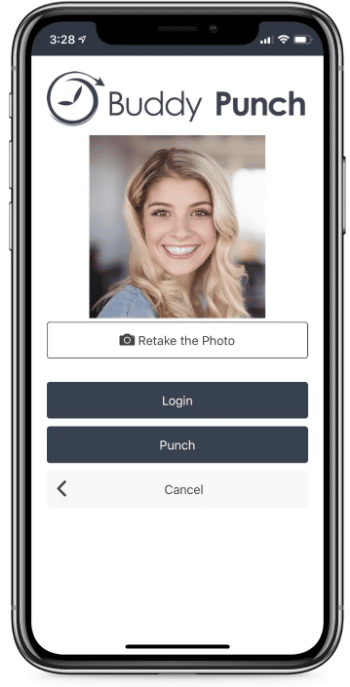 Even though Buddy Punch has plenty of features, we wanted to keep the software simple for business owners that strictly want to schedule employees and monitor time. That's why, if it's all you require, employees can clock into their timesheets with just a single button.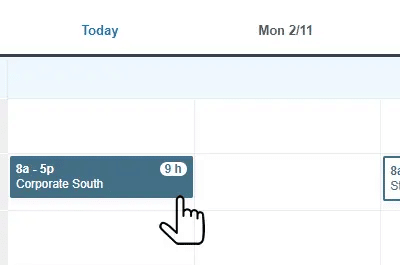 Buddy Punch's drag-and-drop scheduling system makes it easy to streamline your staff scheduling. Simply click on an empty cell to create a shift, drop shifts as desired, and use the visual overview to ensure that any necessary shift changes are made. Once you're satisfied, publishing the schedule will send an automatic notification to all relevant employees. Improve both team communication and scheduling with just one feature.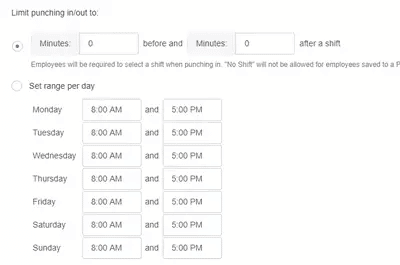 The Punch Limiting feature is a set-and-forget option that can help you cut down on overtime and increase the accuracy of reported working times. If your team members are prone to punching in early and/or late, this tool will restrict the range of time they can clock.

As a versatile, cloud-based solution, Buddy Punch keeps all your data in check. But what happens after that? With the Payroll Integrations feature, Buddy Punch allows business owners to transfer accurate employee scheduling & attendance data over to preferred payroll providers for payments, invoicing, and billing. Popular names Buddy Punch works with include QuickBooks, ADP, Zapier, and more. Click here to view the full list of Buddy Punch's integrations.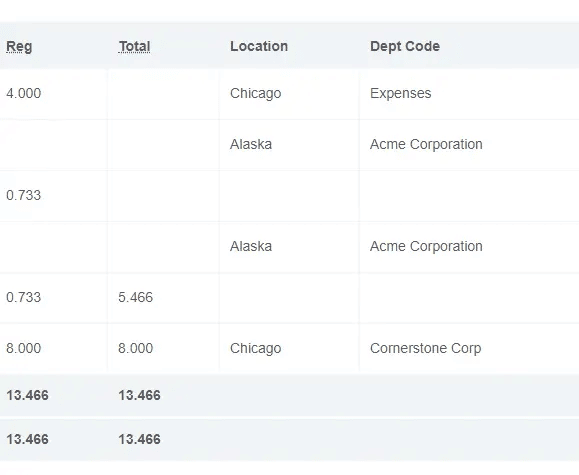 It can be hard (and expensive!) to keep track of overtime – but Buddy Punch has you covered. You can select from more than a dozen different overtime types – and if you need a type that's missing, we'll add it. Using this feature will automatically calculate regular, overtime, and double overtime for you and your employees.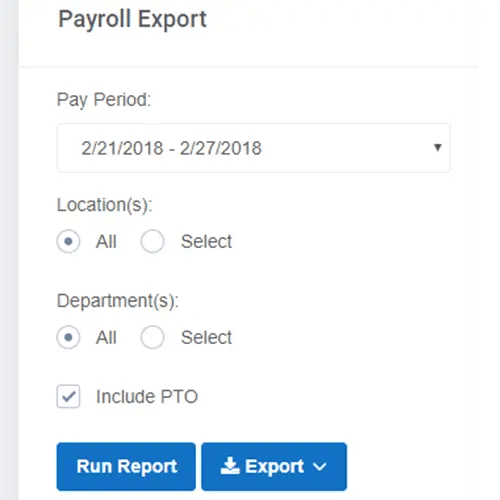 Buddy Punch offers a wide variety of customizable reports including the Payroll Reports on Demand. This report includes a detailed overview of your employees, their hours, overtime, locations, and departments. You can also cycle through prior pay periods as needed. Export this as a Microsoft Excel CSV or an Adobe PDF.

Buddy Punch Offers More Than Employee Scheduling
So far, we've only touched on a few of the features that Buddy Punch has to offer, and only when it comes to impacting employee scheduling. But there's even more functions to consider, such as:
And even here, we've only mentioned the in-app benefits of Buddy Punch. Consider these out-of-app bonuses you get when you work with us:
Our Help Doc Center contains useful articles on how to best utilize Buddy Punch for your business.
Our Blog Section is constantly updated with relevant information for business owners, from new laws to human resource strategies or forecasts for a changing marketplace.
Our Customer Support Desk puts you in contact with our responsive support team, which is always ready to respond to your questions, concerns, or messages via our live chat.
Speaking of that customer support team, if you're still on the fence you can book a one-on-one personalized demo/walkthrough from our team here.
Buddy Punch's Online Reviews
We've spent a lot of time talking about our employee scheduling solution – now it's time to hear from Buddy Punch's users themselves. As of this post's writing date, Buddy Punch has 4.8 out of 5 stars and 703 reviews on Capterra.

Below, we'll list just a few reviews that speak to Buddy Punch's positive impact as a software for scheduling employee shifts. (Click here to explore the full list of reviews.)
"The interaction with the the different sections is seamless once a person learns all the processes that relate to time in and time off. Having the availability of the calendar option makes keeping up with personal time very simple. The features that allow changes to time and scheduling are made simple and are quick and easy to perform."

Click here to read the full review.
"Managers also have the ability to approve PTO prior to it being added to the time sheet. This provides accountability for both the employee and manager. They can also schedule shift work if necessary. In running payroll, since employees will punch in, be able to track their time as well as PTO in one place; this saves me time on my end. I simply run a report at pay period end to access a summary for each employee."

Click here to read the full review.
"Any time I have an issue, its immediately fixed and it seems like Buddy Punch is constantly taking customers issues and using those to fix the system overall. Every business is going to have issues, it's a matter of fixing them and improving . I have never dealt with a company before, not just an online time clock/scheduler, that has responded so efficiently to customers issues and wants to fix it to where it doesn't happen again in the future or fix it to where its easier to use in the future. I truly appreciate it!"

Click here to read the full review.
"This software is user friendly and easy to learn how to use. It provides more than just time accounting. Employees can schedule time off. It provides accurate data concerning payroll dollar amounts. Overall, it is a great asset to our organization. Buddy Punch compliments our payroll software and helps ensure payroll accuracy."

Click here to read the full review.
As these reviewers noted, Buddy Punch is easy and intuitive to use as a program for employee scheduling.

Try Buddy Punch for Free
If you feel that Buddy Punch might be the right hourly employee scheduling software for your business, sign up for a free trial. You can also book a one-on-one demo, or view a pre-recorded demo video.
Deputy is an online employee scheduling program with plenty of useful features including:
Deputy has 587 reviews and 4.6/5 stars on Capterra (as of this post's writing date). This tool also lets you integrate with POS and HR systems.
"Our experience with Deputy right from the very beginning has been nothing but fantastic. If you have any questions, they are answered, if you need help you can get it & it is also very cost effective."

(See the full review here.)
As of this post's writing, ScheduleAnywhere has garnered a total of 60 reviews and 4.6 out of 5 stars on Capterra. Here are just a few of its key features:
"We held off using the Requests for time off, yet our staff were sending requests right at the start. Accessing it from any computer, phone or tablet with ease. From a manager perspective, accessing accurate and up to date info for our staff is crucial in healthcare."

Click here to read the full review.
Connecteam is an employee scheduling & shift management tool that comes with features including (but not limited to):
As of this post's writing date, Connecteam has 4.8 out of 5 stars and 191 reviews on Capterra.
"We are very satisfied with the app, as well as the service! Thank you for helping us work through the initial transition and we appreciate your team's attention to detail. Our staff have adapted to using the app with incredible ease and we are looking forward to using this as a tool moving forward."

Click here to read the full review.
At the time of writing, DeskTime has a total of 324 reviews on Capterra with a rating of 4.4 out of 5 possible stars. "Why do you need employee scheduling software," you might wonder – well, look at the variety features that it can come with:
"I work from home for more than 3 years now. I am not self-employes, so I wanted to make sure that I am at my desk for the time I promised and that I am working productively. This tool does exactly that. In addition, finally it has easy way of adding time to projects. I would use this to calculate how much time I spend on extra projects not directly related to my daily tasks."

Click here to read the full review.
When I Work is a powerful and versatile software for employee scheduling with features including:
Like Buddy Punch, When I Work offers a free trial, no credit card required. At the time of post's writing, When I Work has a total of 953 reviews on Capterra with an average of 4.5 out of 5 stars (see here).
"Staff empowerment to take control of their schedule and the money saved from the time saved and less errors occurring make this experience worth all the searching for a new system. Also, the customer service is quick and straight to the point!"

Click here to read the full review.
Sling is an employee work scheduling software with features including (but not limited to):
As of this post's writing, Sling has 111 reviews and 4.6/5 stars on Capterra.
" I looked through several scheduling tools before settling on Sling. This included simple Excel sheets, Homebase, and When I Work. I settled on Sling because of the wide array of features for no cost and mobile app access. The mobile app experience, per my team, was easy and extremely convenient. I personally was impressed with the ease of the drag-and-drop scheduler."

(See the full review here.)
Choosing The Best Employee Scheduling Software
Even though we've managed to help narrow down your options of employee scheduling systems, finding the best software to do employee shift scheduling is going to be a matter of trial and error, looking at functions, and learning from what your managerial style and workforce demands.
For example, if you're big on sticking to labor compliance, you might find that Deputy is the right tool for you. If you want to foster in-app communication between employees, you might like Connecteam's built-in messaging options.
But, if what you're looking for is a powerful scheduling software with a wide variety of options you can enable or disable at will, a simple design that any team member can easily use on any device, and an accompanying customer support team to help with any issue you run into – you really can't go wrong with Buddy Punch.
Try Buddy Punch for Free
Sound like Buddy Punch is the employee scheduling software solution you've been looking for? Make sure of it by signing up for a 14-day free trial.
Alternatively, you can view a pre-recorded demo video here, or book a one-on-one demo/walkthrough with our team by clicking here.
You May Also Like…