Employees Can Only Punch In Or Out From The IP Address You Specify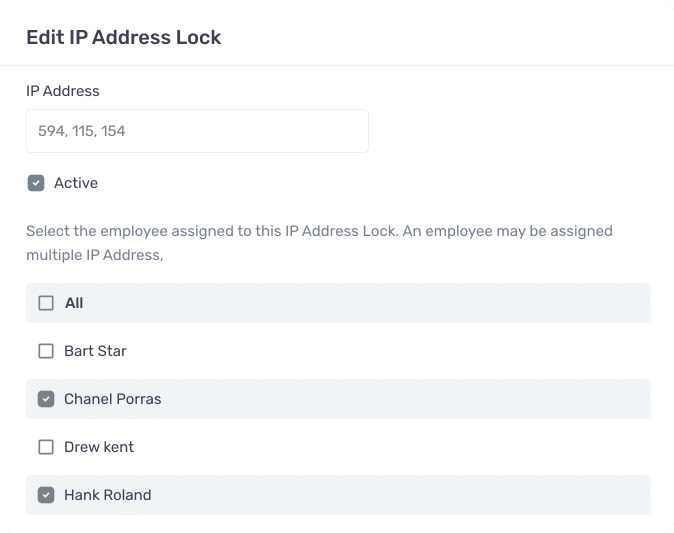 1. Create a new IP Address Lock
Start by creating a new IP Address Lock.
2. Specify the IP Address
Determine which static IP Address the employee must use to punch in or out.
3. Add Employees
Determine which static IP Address the employee must use to punch in or out.
4. Create more IP Address Locks
Create as many IP Address Locks as you would like. If an employee is not assigned to one, they can punch in or out from any IP range.
View IP Address on Time Card
Whenever an employee punches in and out, you will be able to view the IP Address that is associated with their device directly on their time card. If multiple IP Address Locks are assigned, you will be to determine which location they are punching in or out from based on the IP Address.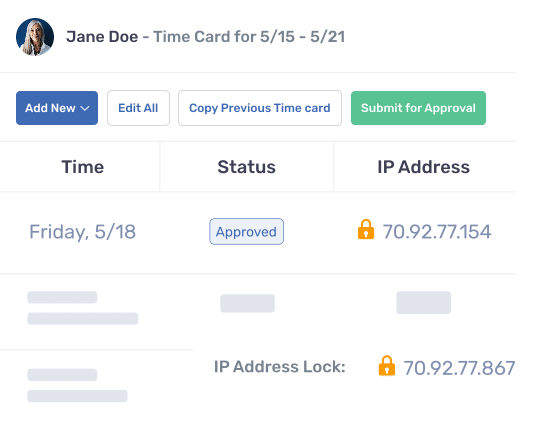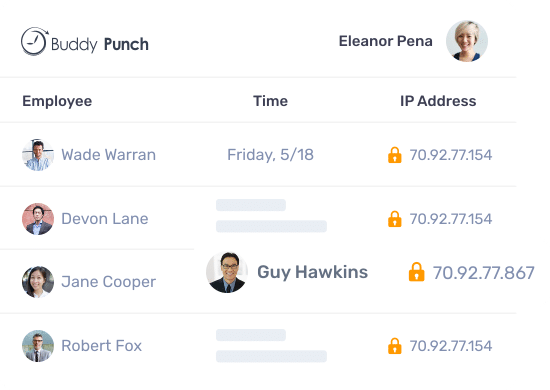 Not sure what your IP Address is?
If are not sure what your IP Address is – don't worry! When you go to setup your IP Address Lock Buddy Punch will automatically provide you with the IP Address associated with the device you are accessing your account from. Want to lock your employees to the computers at your place of work? Just login to your account from one of the computers and you will see its IP Address. Please keep in mind that your ISP will change your IP Address from time to time unless you have a static IP, but you can easily update your IP Address Lock at anytime.
Frequently asked questions
What if My Employee Has a Dynamic IP Address?
If an employee working from home has the type of IP address that changes constantly without their control, you may want to opt for using a location restriction (such as Geofencing) rather than an IP restriction. Alternatively, you could direct the employee to contact their internet service provider about changing to a single IP Address.
What if Employees Use a VPN?
Unless the VPN is one with a set IP Range, and you choose to allow an employees' chosen IP to connect, they will not be able to bypass this IP lock with a VPN.
Does This Feature Improve Security?
Absolutely – it gives you a level of access control even over remote employees, so they're not accessing important work documents or files from insecure locations. There are other authentication features Buddy Punch has if you want to be even more secure in how your employees' time is clocked, but if security is your focus don't forget other measures such as firewalls and password protocols.
Does This Feature Work on the Mobile app?
Yes, like the rest of Buddy Punch's features, this works on iOS and Android – Buddy Punch works just as well on a desktop or a phone, as long as you have access to the internet or Wi-Fi.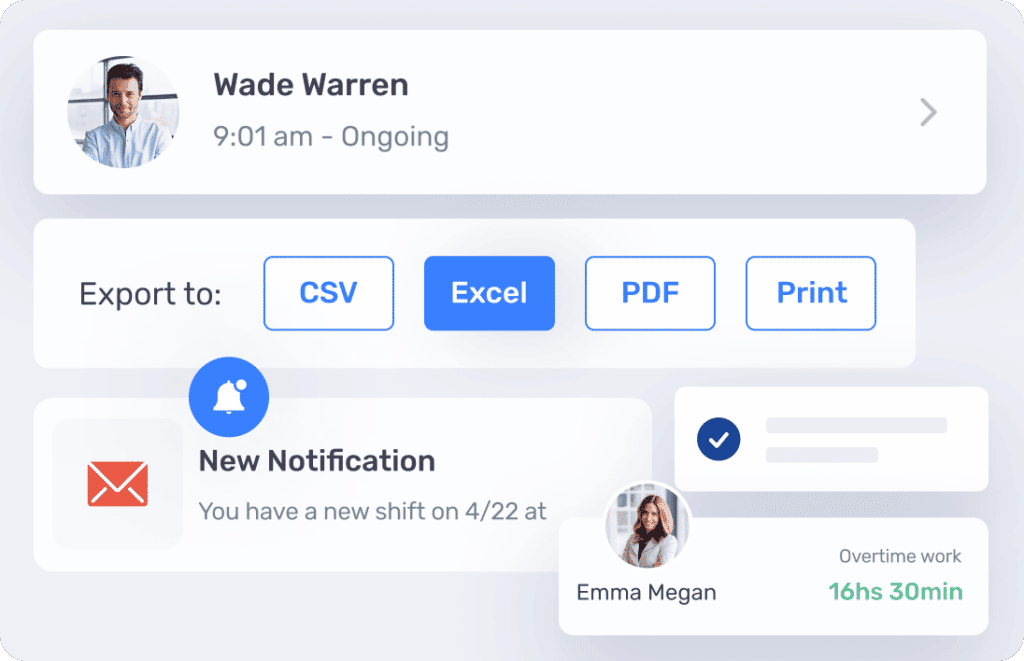 Other Features
We know how important it is to have a robust set of features and functionalities to help you better manage your employees and their time. We pride ourselves on offering many features that are not provided by several other time tracking systems. Whether you are looking for simple yet powerful features such as PTO Accruals and integrations with payroll systems like Quickbooks and ADP, or more advanced features such as Geofences and QR Codes – we have got you covered! Make sure to check out all of the Other features we offer.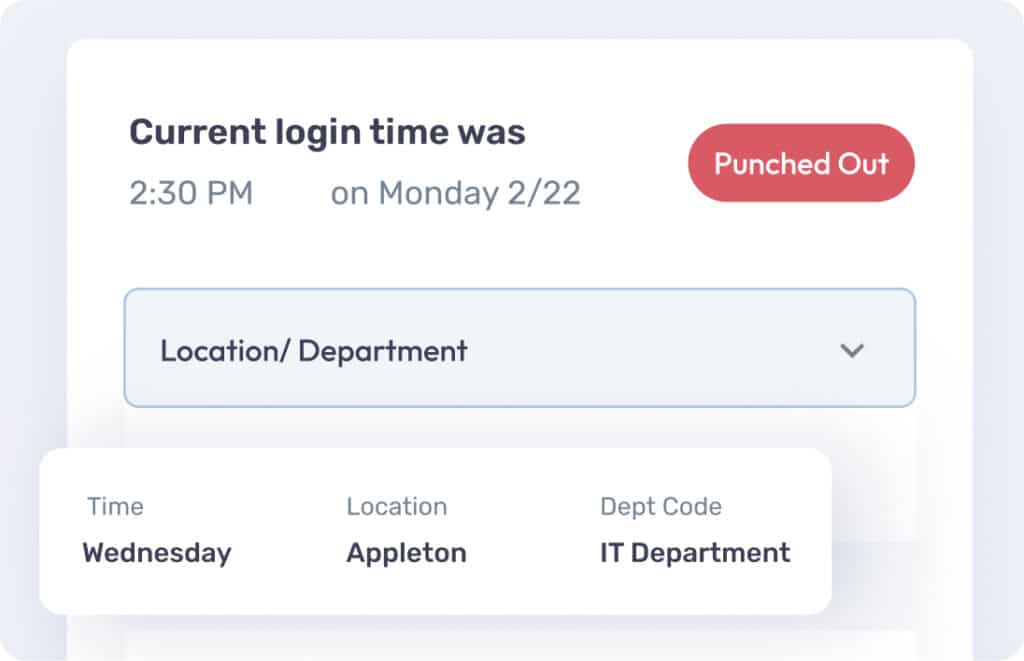 Job Codes
Job Codes, or as we refer to them Department Codes, allow you to track the amount of time an employee spends on each job. You can setup as many Job Codes as you would like and assign them to all employees or only specific ones. When an employee goes to punch in, they will be able to choose which code they would like to punch into. The time spent on each job will be shown on the employees time card as well as in your reports.