6 Best Payroll Software for Mac in 2023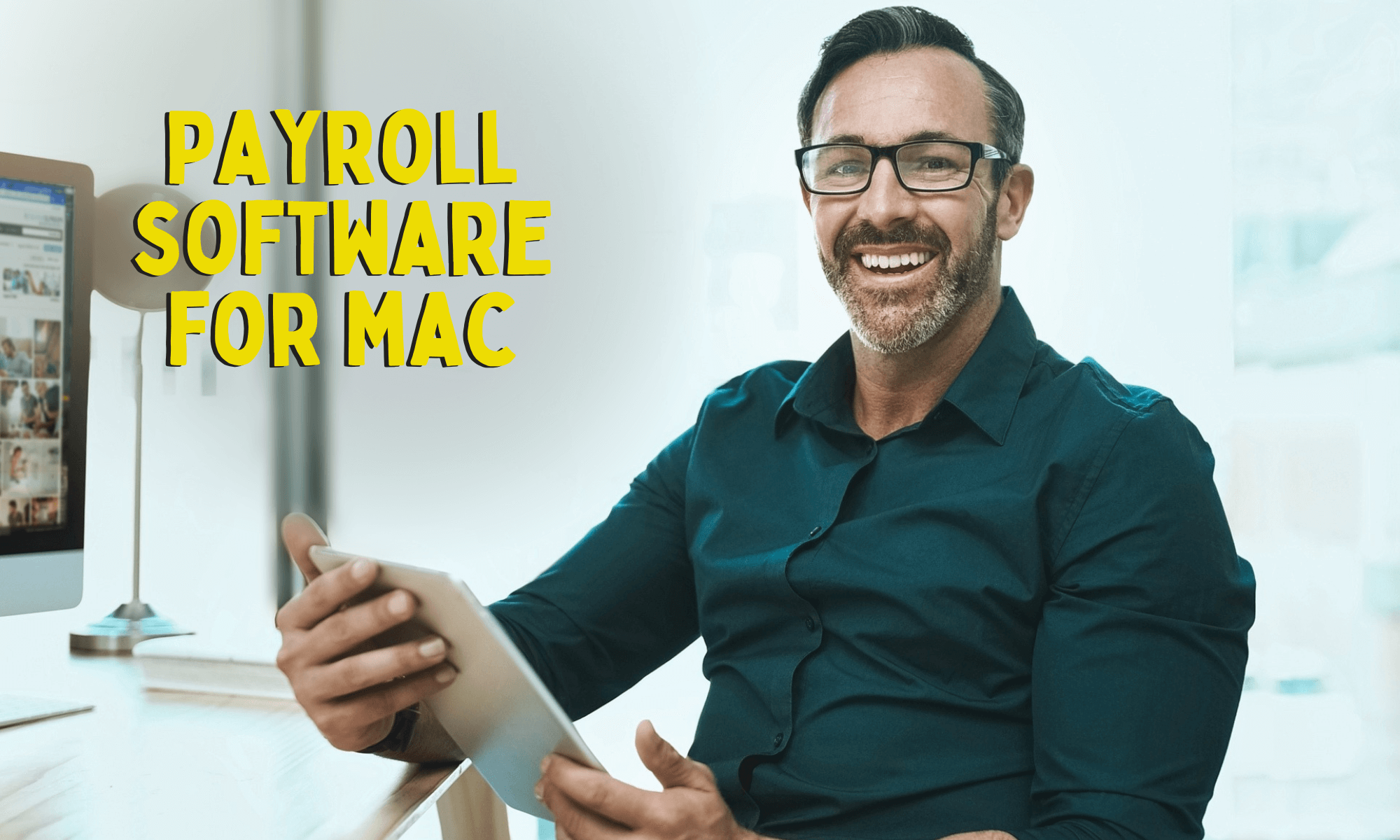 It's easy to find payroll software for Mac. For example, Capterra — a popular online review platform where you can find and compare software — features over 140 options for payroll software for Mac devices.
What's more important is finding payroll software that meets your specific business needs and the features you want when running payroll.
In our experience, most companies want or will benefit from a mixture (or all) of these features:
Time tracking. You want payroll software that lets you track employee time, that way you don't need two separate tools: one for time tracking (both time worked and PTO), and one for payroll. With two tools, you're juggling multiple platforms, which is inefficient and can also lead to more mistakes. Plus, make sure you pick software that lets you track both hourly employees and salary employees.
Easy to edit time cards. Even the most methodical teams will run into timesheet issues, like missing a sick day or forgetting to clock back in from lunch. If these aren't caught in time, they will turn into costly payroll issues (like overpaying or underpaying). The best payroll software for your Mac will be one that makes it easy to log into an employee's time card and fix any mistakes before payroll is run.
Handles all relevant payroll tax for you, so you can make sure your company is fully compliant with local and federal tax laws.
Self-service portals for your team. You'll save yourself a lot of time, and a lot of potential keystroke errors, if your payroll software gives your team a self-service portal where they can log in, edit their bank info for direct deposit, and check their pay stub.
Multiple ways to issue payment. Paying by direct deposit is the most common method — it's faster and easier. But you also want a way to issue a check, if that's ever needed.
Auto-payroll option. Payroll software will have different processing times. For example, our payroll software lets you choose between 2-day or 4-day processing. This means you need to run payroll before the self-selected cut off. By setting up "auto payroll" you can make sure your payroll is always submitted by the deadline, and your team always gets paid on time.
Taking these needs into consideration, this post looks at 6 different payroll software for Mac users, including our tool, Buddy Punch.
Buddy Punch is an all-in-one web-based time clock software and full-service payroll software. You can use it on Mac/Apple computers, as well as any device that runs on Mac OS/iOS (including smartphones and tablets). You can use it to run payroll, track time, and create work schedules.
If you want to learn more about Buddy Punch, you can sign up for a free trial or schedule a one-on-one demo. Or you can keep reading this post, which covers these 6 options in detail.
Best Payroll Software for Mac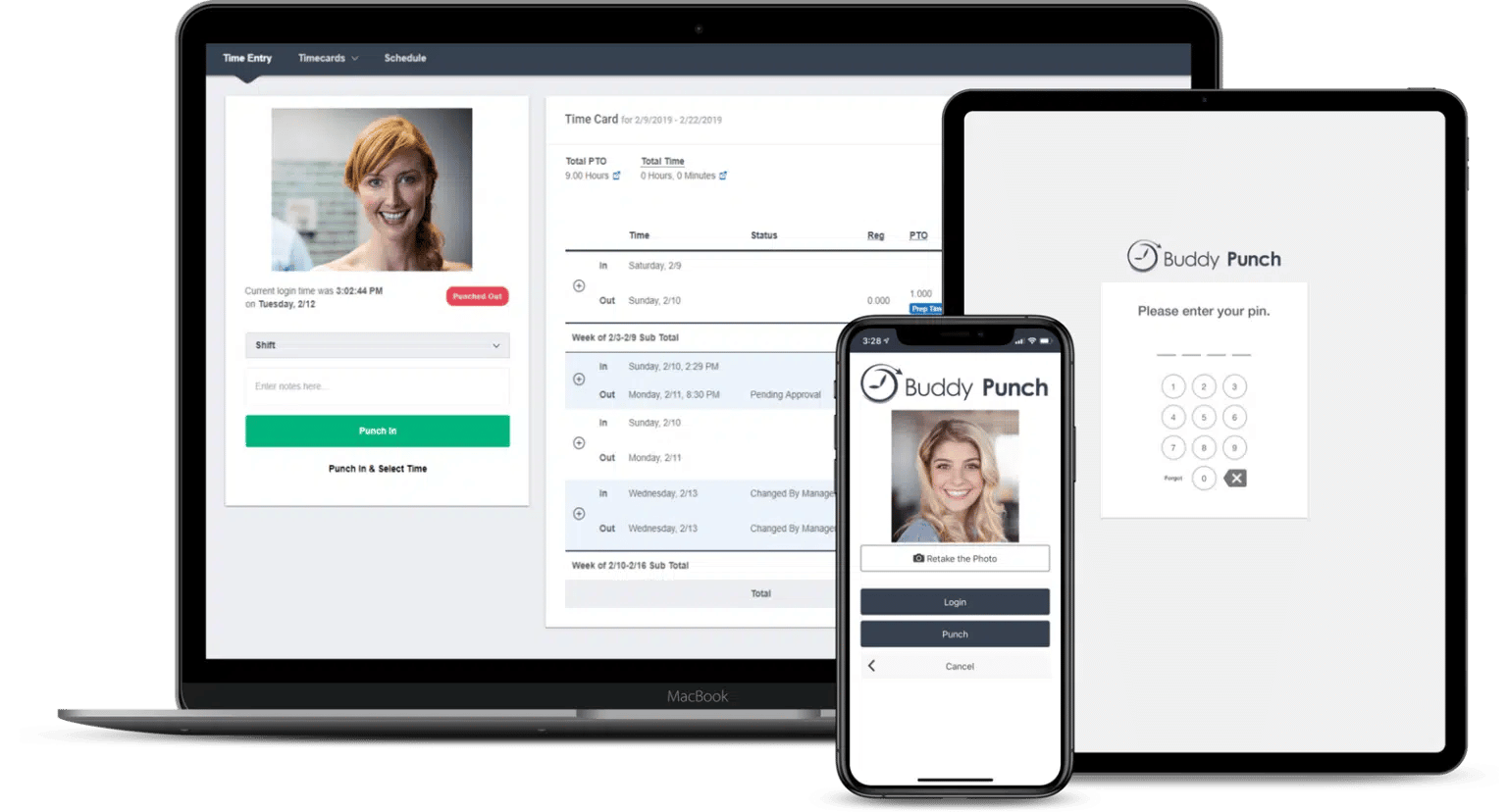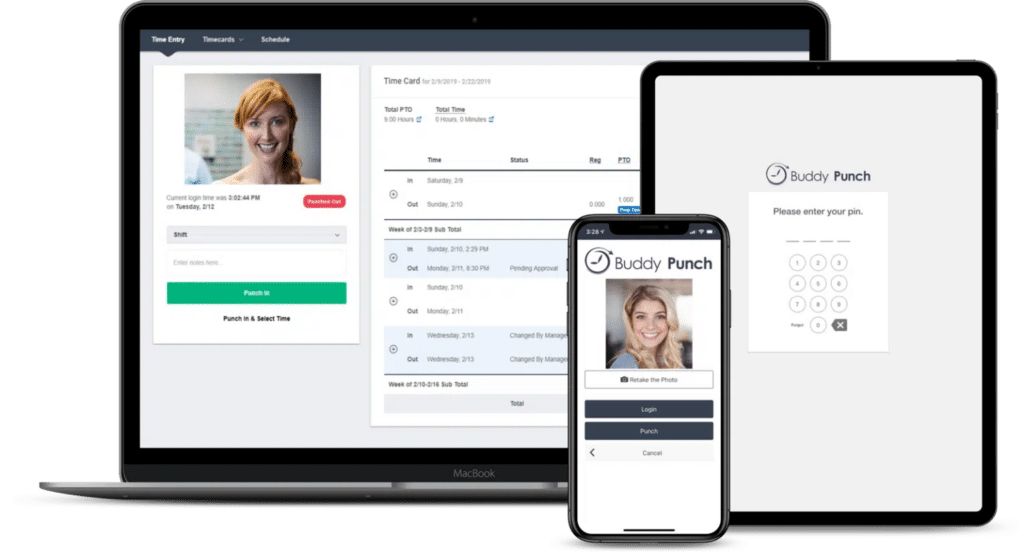 Buddy Punch's intuitive, user-friendly payroll software begins with its accurate time-tracking tools. By tracking time accurately, you set up your entire payroll process for success.
The short version is that hourly employees log their time by punching in and out, either from their own computers and devices or from a designated time clock kiosk. Again, this can be a Mac computer, an iPhone, an iPad (and also non-Mac products like Windows or Android devices).
You can set up advanced clock in and out functionality to make sure your team is punching in and out accurately. These measures include, but are not limited to, asking for a photo when an employee clocks in for work or setting up a geofenced area so team members can only clock in when they're at the office (or whatever area you've designated).
When it's time to run payroll, time cards can be imported directly into the payroll menu: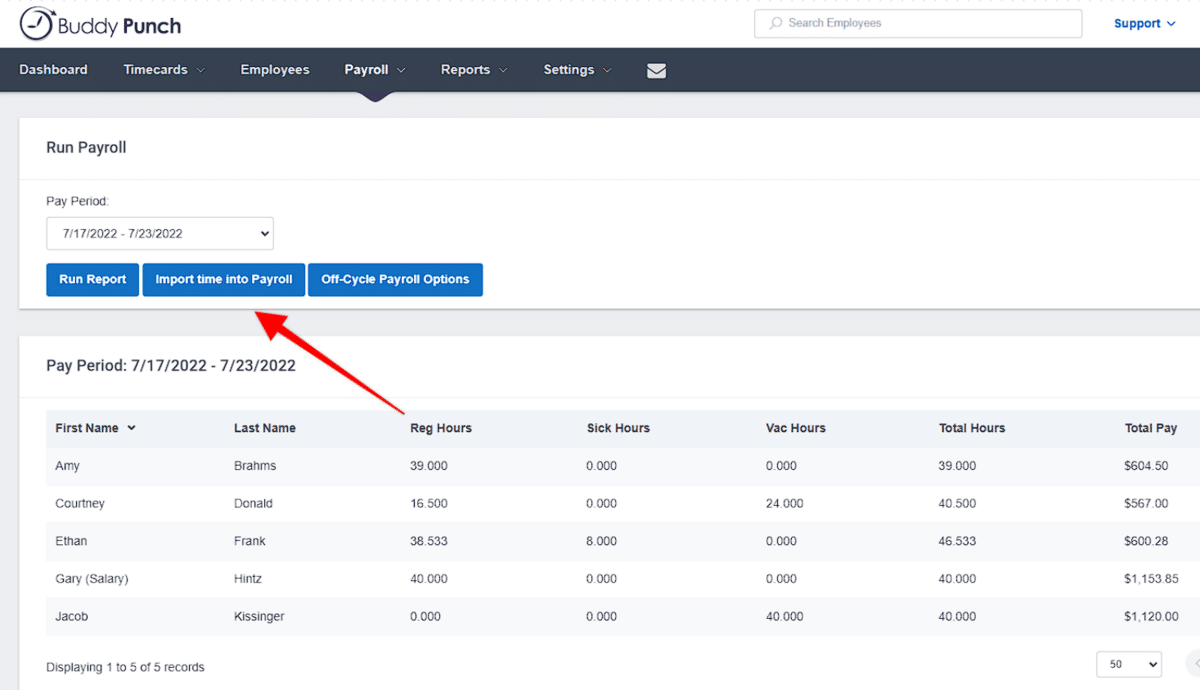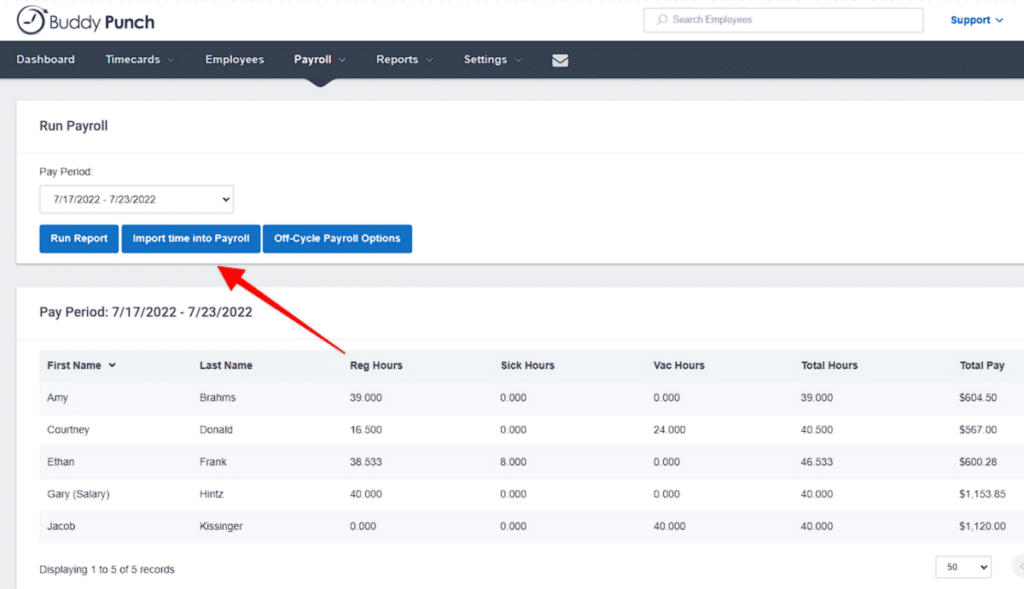 Based on employees' hours, the payroll automatically generates earnings, adds in PTO, and calculates taxes. You can also add additional earnings to someone's timecard, such as a bonus, commissions, or reimbursement.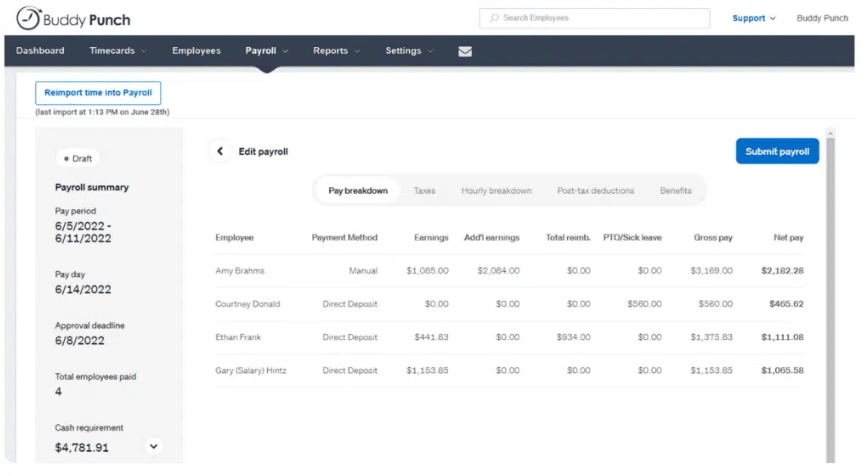 Once the payroll is submitted, employees get their money via the payment method indicated in their profile. Most of the time this will be via direct deposit, but a check can also be sent out, if needed.
And that, in a nutshell, is how you can run payroll from any Mac device (or any electronic device that connects to the internet).
You can learn more by:
Below, we go into more detail on Buddy Punch's time tracking and payroll features.
Tracking Hours Worked
When you use Buddy Punch, you get an online time clock tool that lets your hourly employees clock in and out for work — and they can do this on their smartphone, tablet, or computer. This makes it perfect for companies with multiple job sites, traveling employees, work-from-home employees, or single-location businesses.
To make sure time is tracked accurately and honestly, we offer several advanced time clock features, such as:
IP Address Locking
If you want to make sure employees are only logging in from company devices or WiFi, you can restrict the IP Address to your workplace network.
Photos on Punch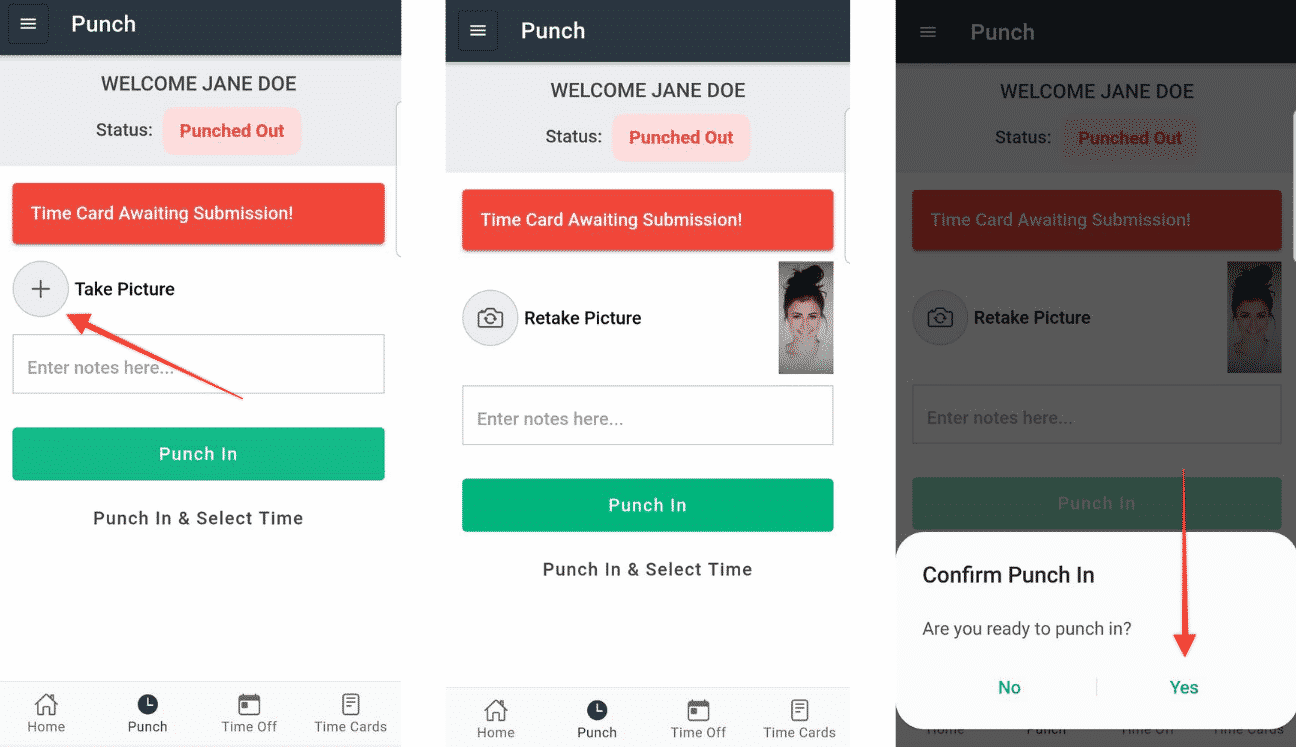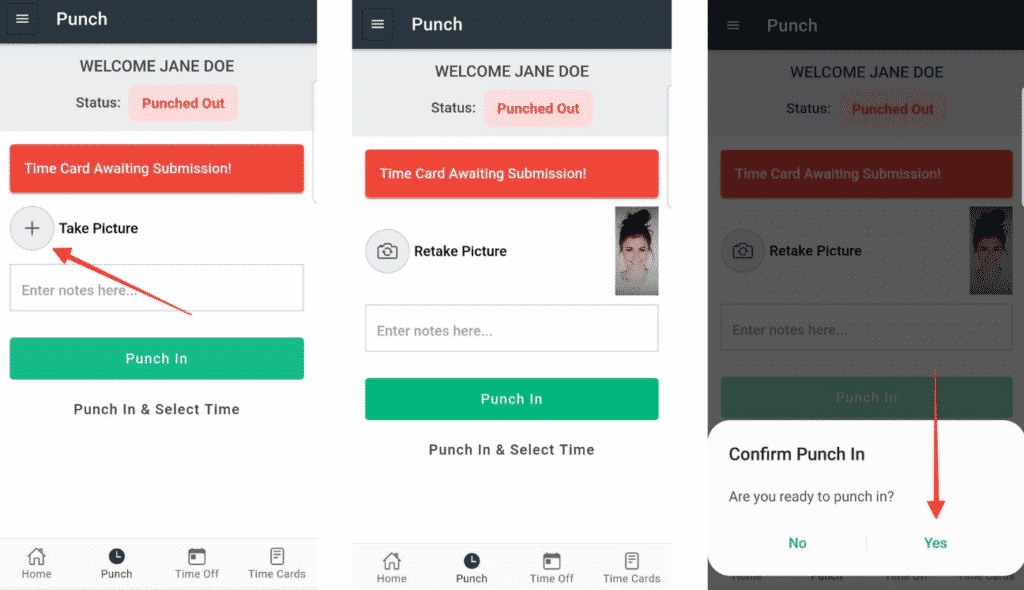 Enabling the Photos on Punch feature requires employees to upload pictures of themselves via webcam when they clock in and out. This gives administrators another tool to verify time cards.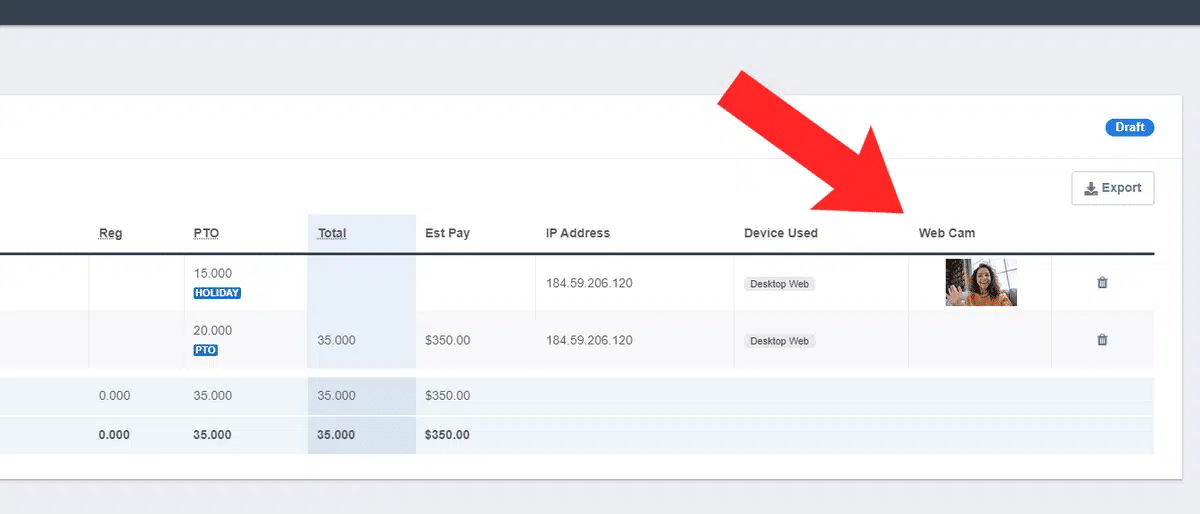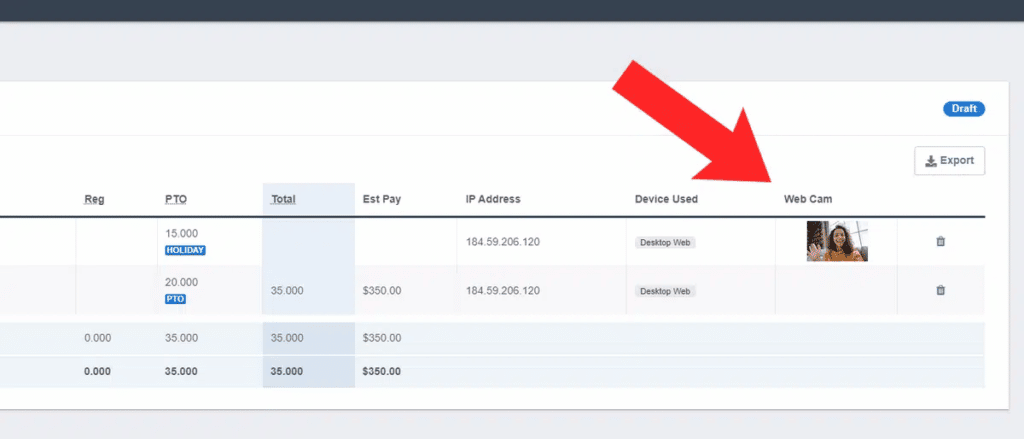 Photos on Punch helps prevent issues like buddy punching (when one employee clocks in for another).
Geofencing
For in-person workplaces, users can designate a radius employees must be within to clock in. If anyone's GPS coordinates fall outside the radius when they try to clock in, the attempt will fail.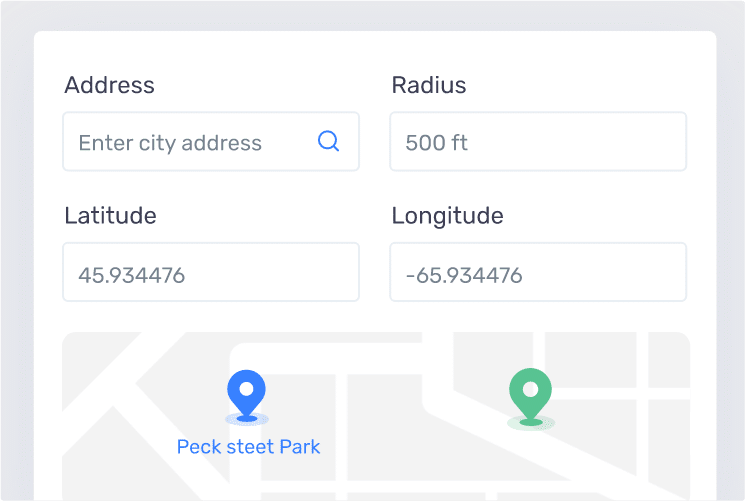 They'll get a notification that they're not within the appropriate geofenced area to clock in or out from work.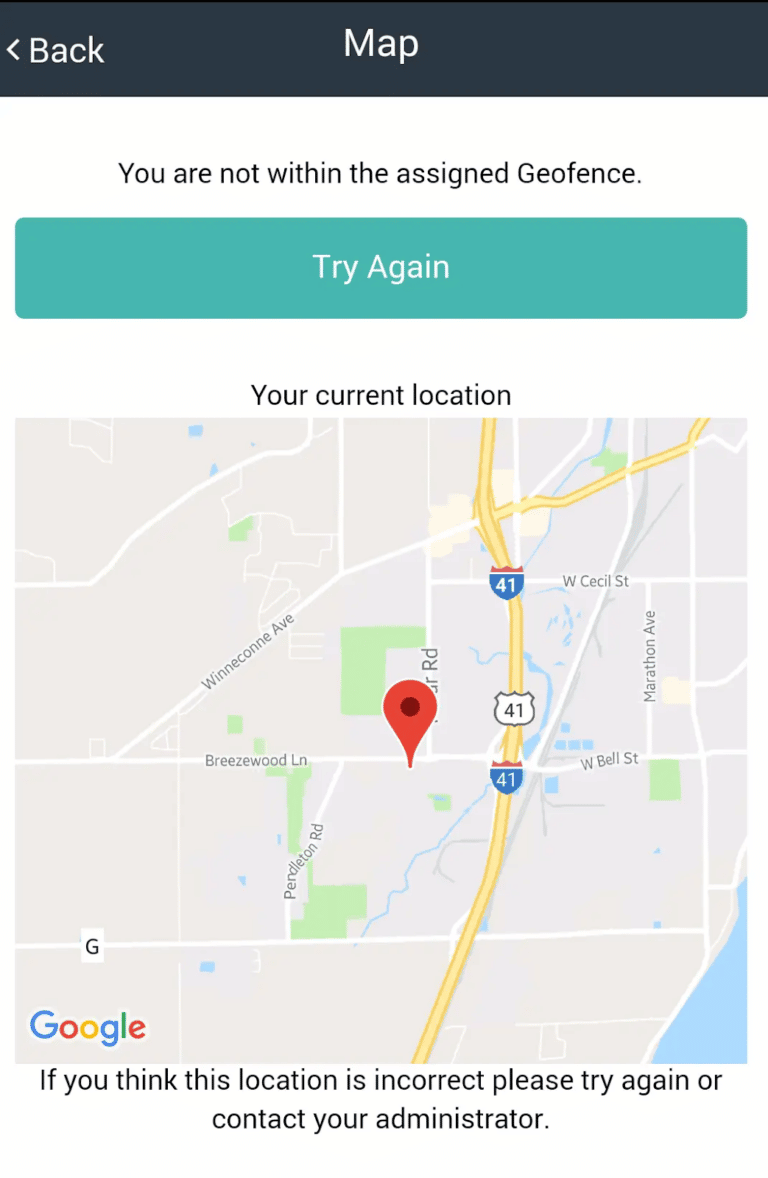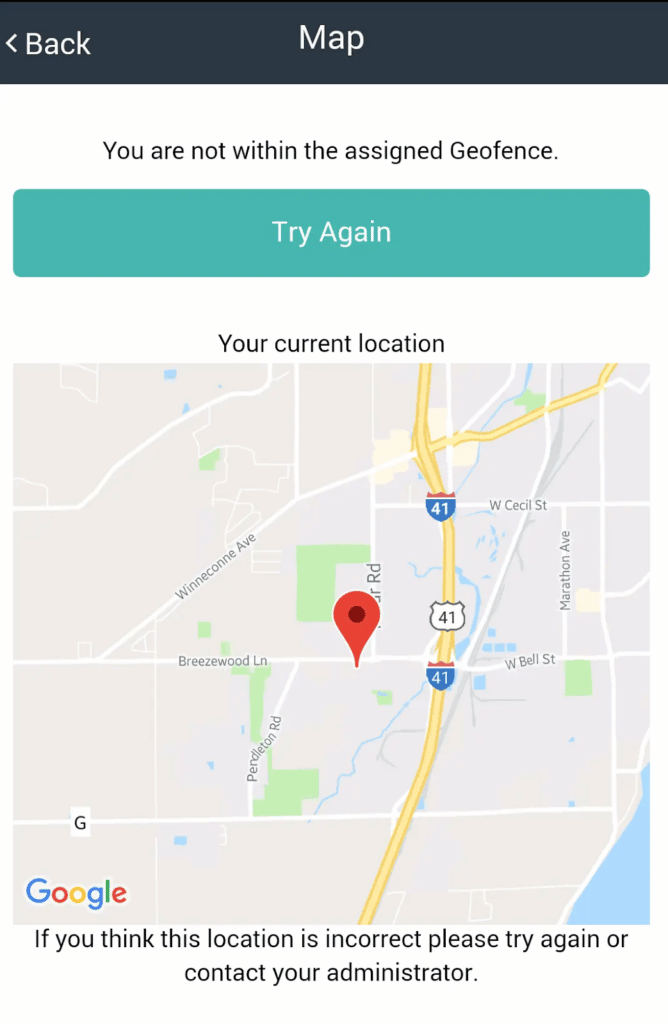 Punch Rounding
Another clock in and out feature you can set up is punch rounding. This helps save your business time in unplanned payroll.
For example, you can choose if and how reported time gets rounded (for instance, whether a clock-in time of 7:07am gets rounded to 7:00 am).
Without punch rounding, your employees can add unplanned hours to their payroll. A few minutes here and there each day can turn into several hours of unplanned payroll.
How to Edit Time Cards
Because Buddy Punch is both time tracking software and payroll software, you want to make sure you can edit your time cards so that when you run payroll, you're running it with the correct data.
Buddy Punch makes it easy to log in and edit any employee's time card.
For instance, if an employee forgot to clock in for their shift, you can add it to their time card for them.
First, go into the timecard panel: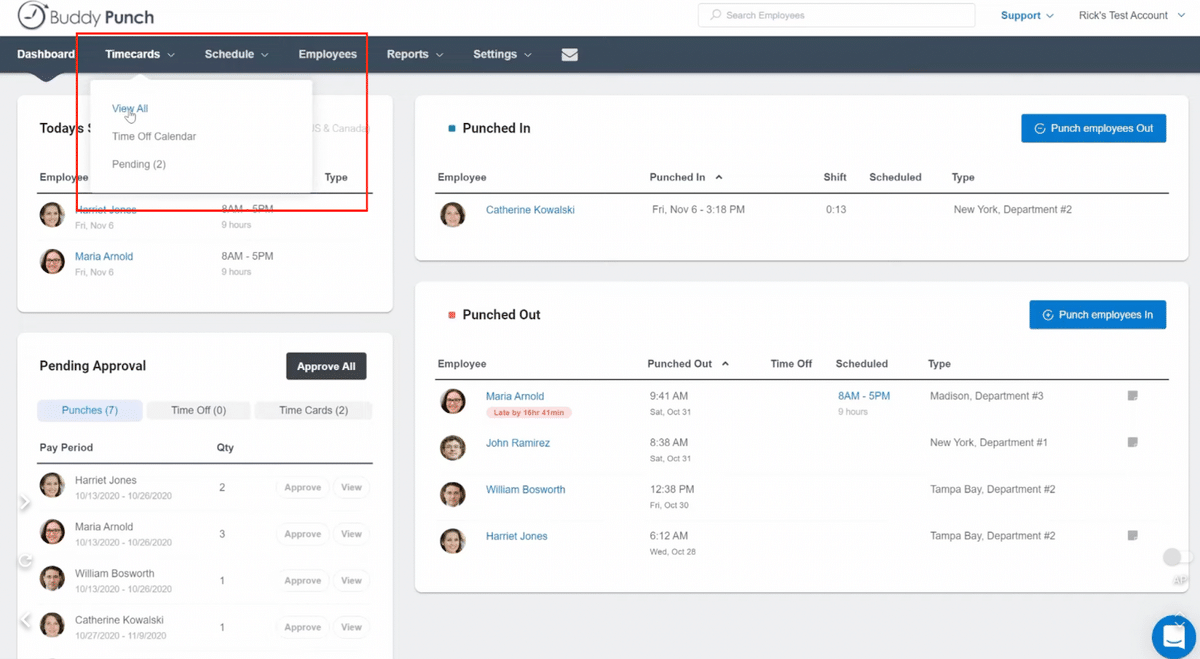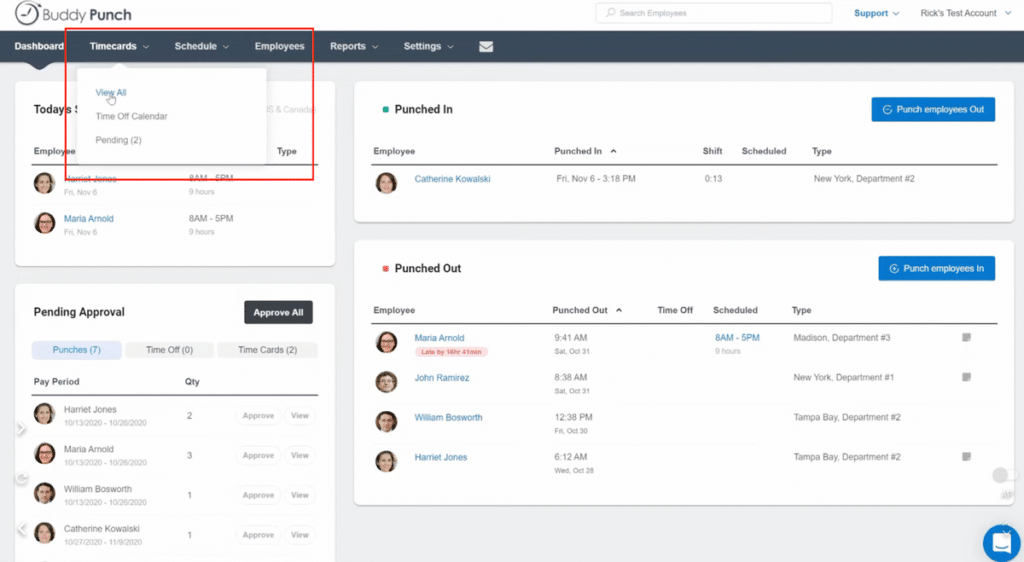 Next, select the employee's time card and enter the correct information:


The updated information is what will be uploaded into the payroll.
Track Paid Time Off
Paid time off is another key aspect of payroll software, because when someone takes PTO, it needs to show up their paycheck like their other hours worked.
Employees can request paid time off via their Buddy Punch account. Administrators can then approve these requests, or you can set up automatic approvals.

Plus, you can set up custom accrual rules (how PTO is earned).
Buddy Punch's Payroll Features
We took a look at Buddy Punch's main payroll features above, but here we go into some more detail.
Adding Additional Earnings
Any non-hourly income, like bonuses or reimbursements, can be added to employee profiles during the payroll process.
First, select the employee in question: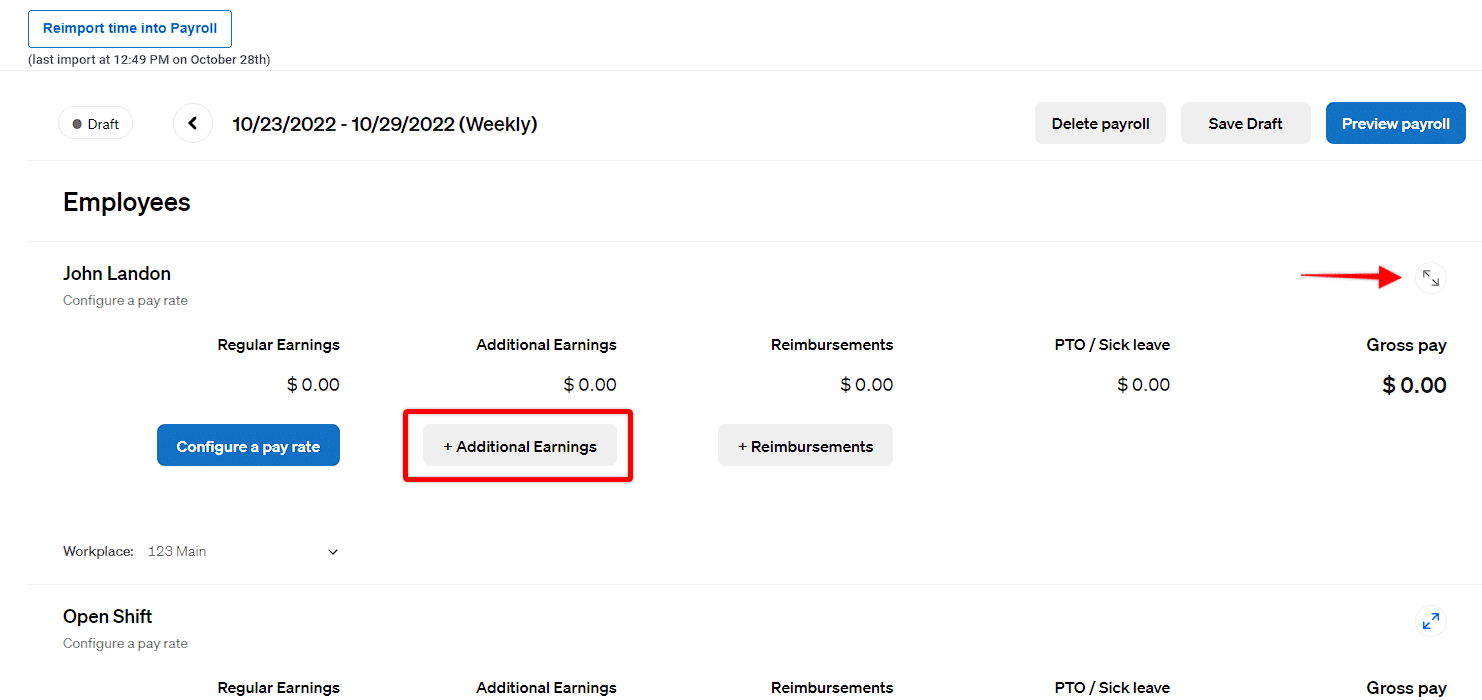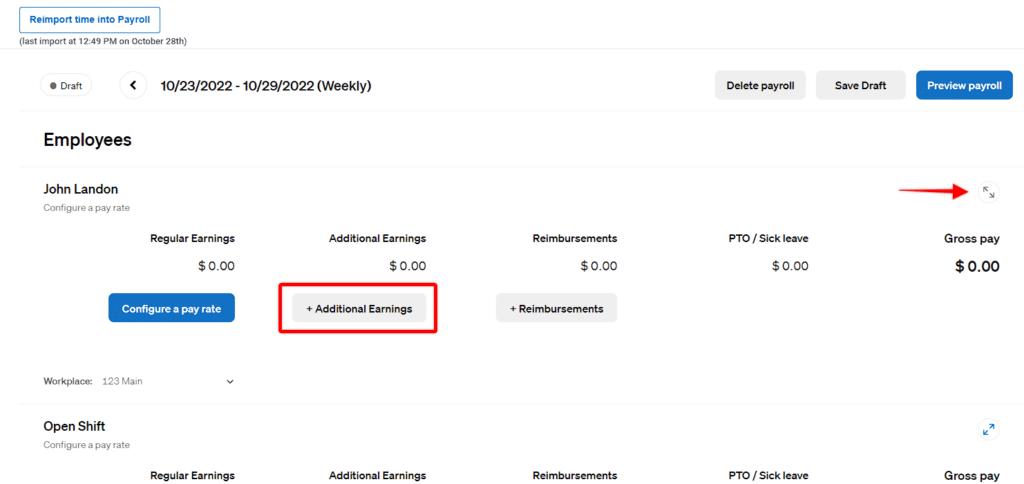 Next, input the amount due to them and designate the category: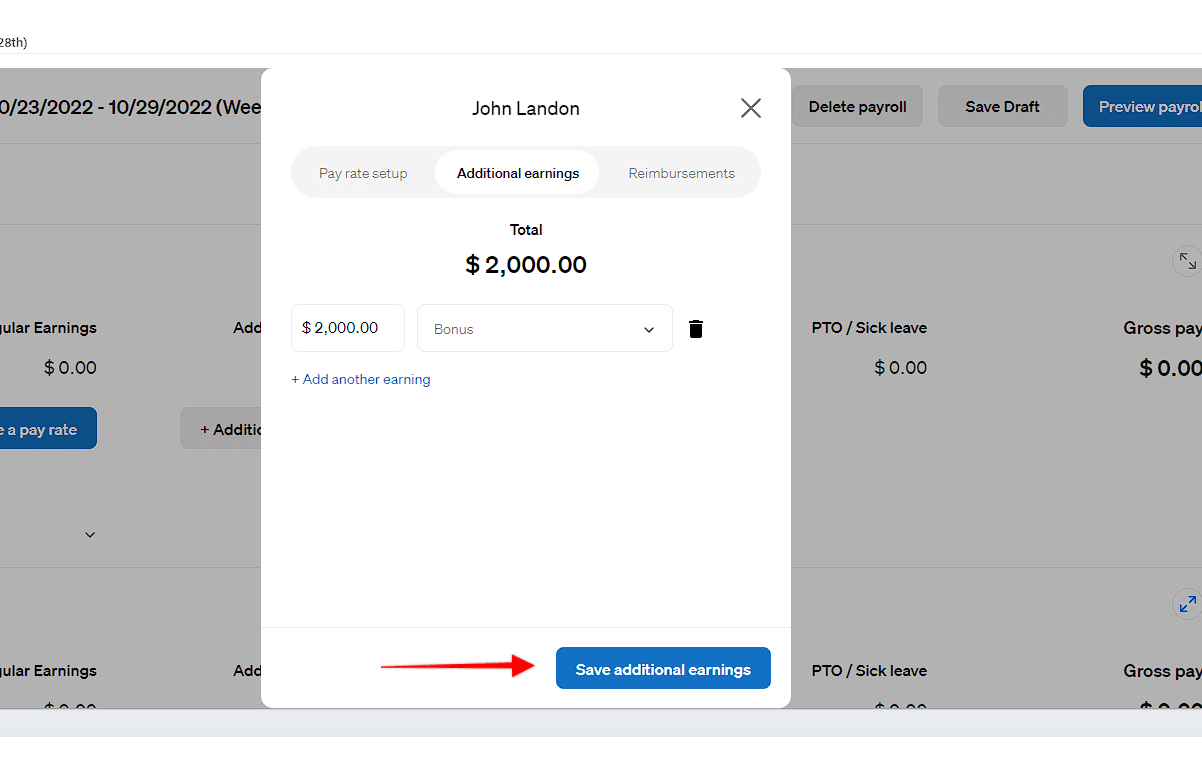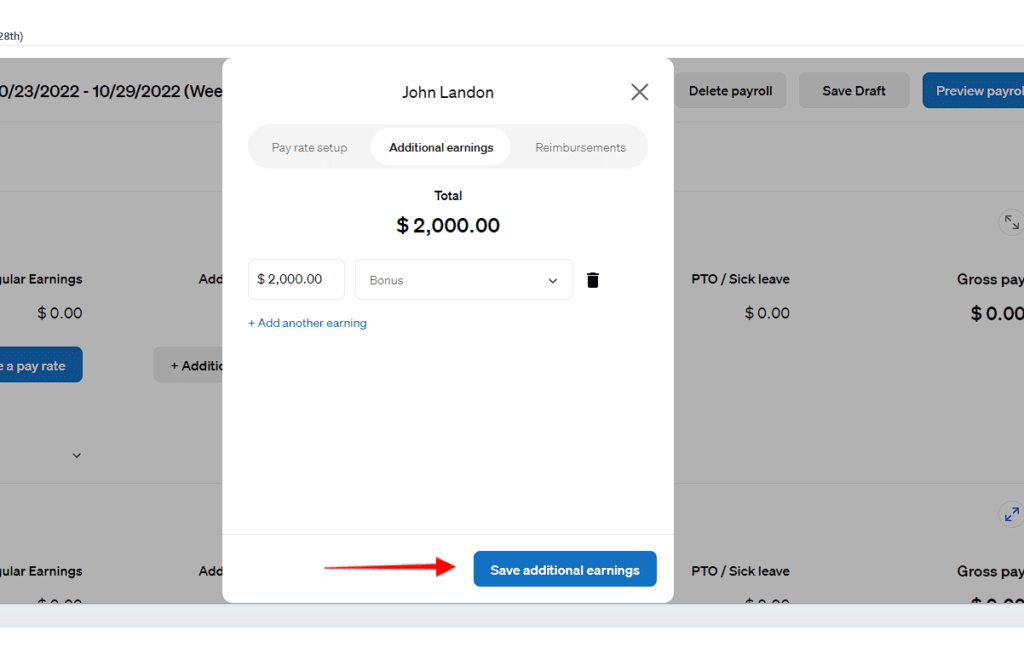 When you run payroll, the additional earnings will be added to their hourly earnings.
Handling Payroll Taxes
Buddy Punch handles payroll taxes for your business.
Plus, Buddy Punch handles the electronic and mail distribution of W-2 and 1099 forms that employers and contractors need to report their earnings at the local, state, and federal levels.
These forms can be viewed in the "Documents" section of employee profiles: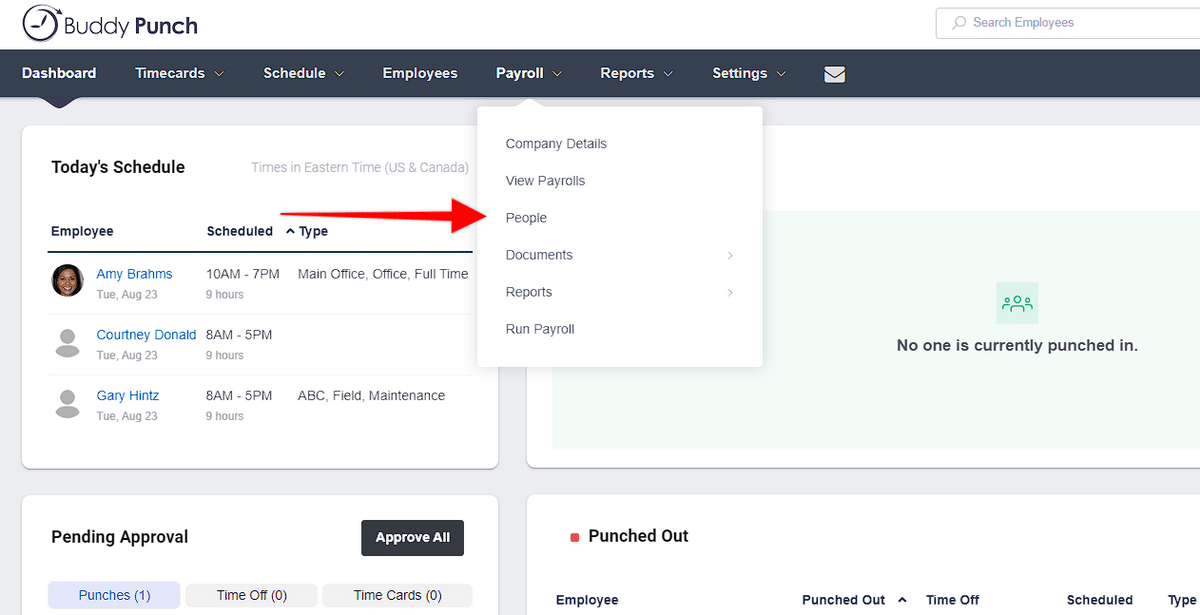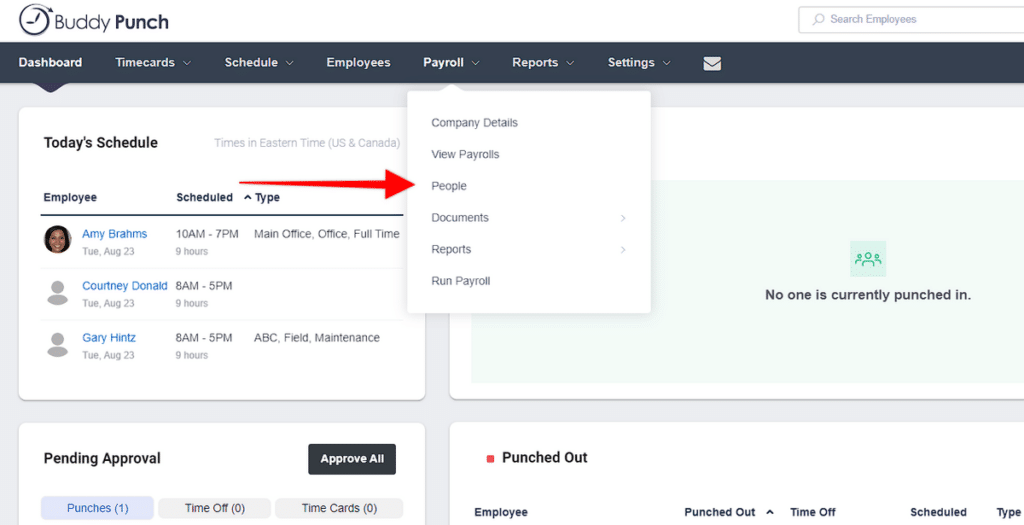 Automate Your Payroll Process
Much of your payroll process is automated when you use Buddy Punch.
Your team's hours are tracked and automatically calculated. By knowing your team's wages/pay rates, Buddy Punch calculates what's owed them.
You can also set up Auto Payroll, so payroll is automatically run at a certain time.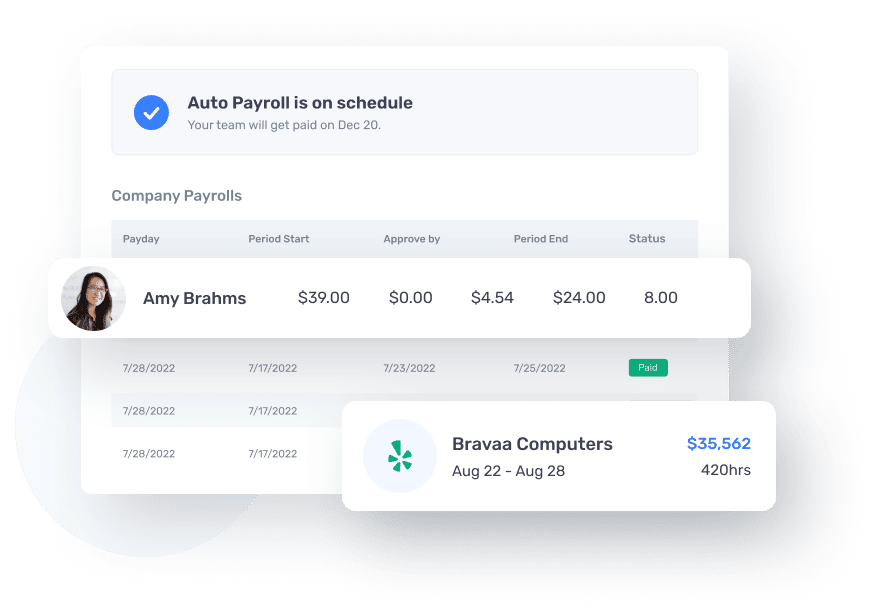 What Reviewers Are Saying
As of this writing date, Buddy Punch has 4.8 out of 5 stars and over 820 reviews on Capterra (a widely-used software review site).


"After using paper time cards for over a year, spending many frustrating hours a week reviewing, verifying, inputting, and analyzing employee punches, and then finding a place to keep the paper cards for our records, we were fed up. We looked for an affordable and easy-to-implement payroll solution. We used the Buddy Punch trial, and within a week, we knew this was the solution we were looking for … Now the process is as simple as logging on, setting the date range, exporting a CSV, and migrating the data into an analysis template. What used to take over an hour, takes roughly 20 minutes."

Click here to read the full review.
"My staff loves that the software works seamlessly and I love the easy payroll reporting process. BEST of all, when I have a question, Buddy Punch really LISTENS and always walks me through the answer or offers to help themselves."

Click here to read the full review.
Next Steps
To learn more about Buddy Punch for your own business:


Gusto is an online payroll service and HR software. This mix of payroll and HR is common, and you'll see it in a few other alternatives we cover in this article.
This mix is great if you need HR management features, like recruiting, onboarding, interviewing, performance management, etc. But if you don't, then it could be a pricey option.
Gusto helps your business:
Run payroll
Pay contractors overseas
Stay compliant
Integrate with tools like Xero and TSheets
At the time of publication, Gusto has a 4.6/5 star rating on Capterra (based on 3700+ reviews).
To learn more about Gusto's payroll features, click here.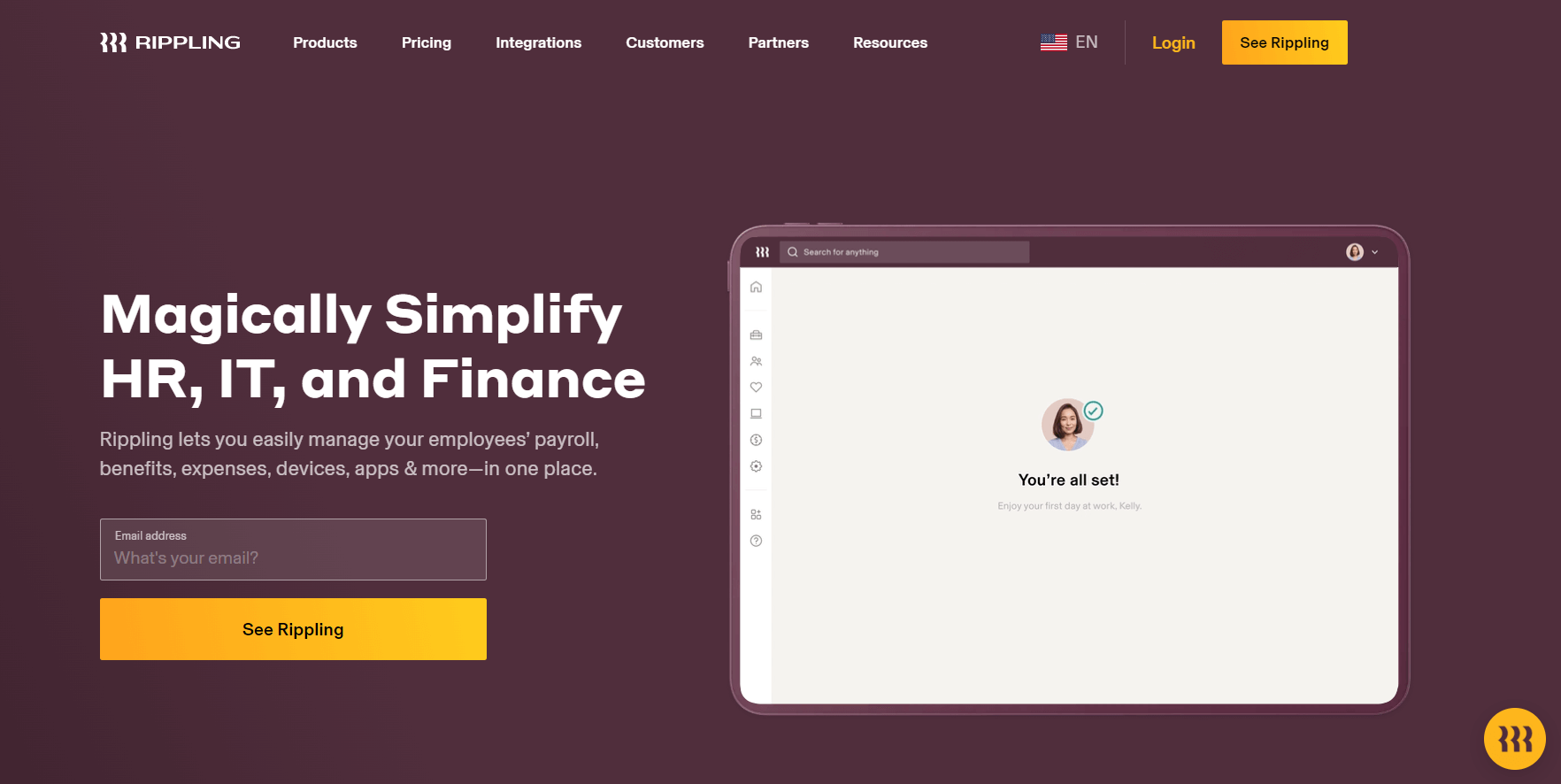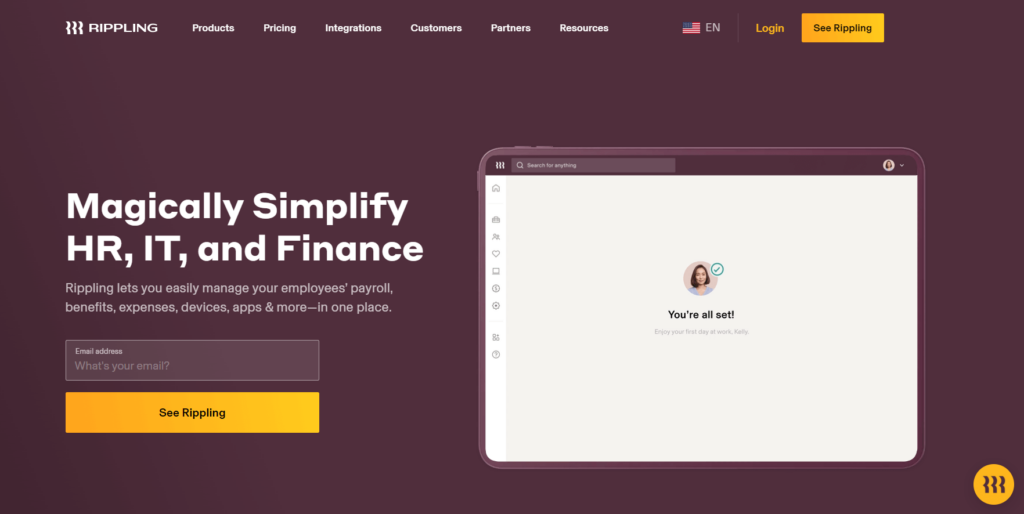 Rippling is another hybrid of HR software and payroll management software.
Here are some of Rippling's key payroll-related features:
At the time of publication, Rippling has a 4.5/5 star rating on Capterra (based on 2600+ reviews).
To learn more about Rippling's payroll features, click here.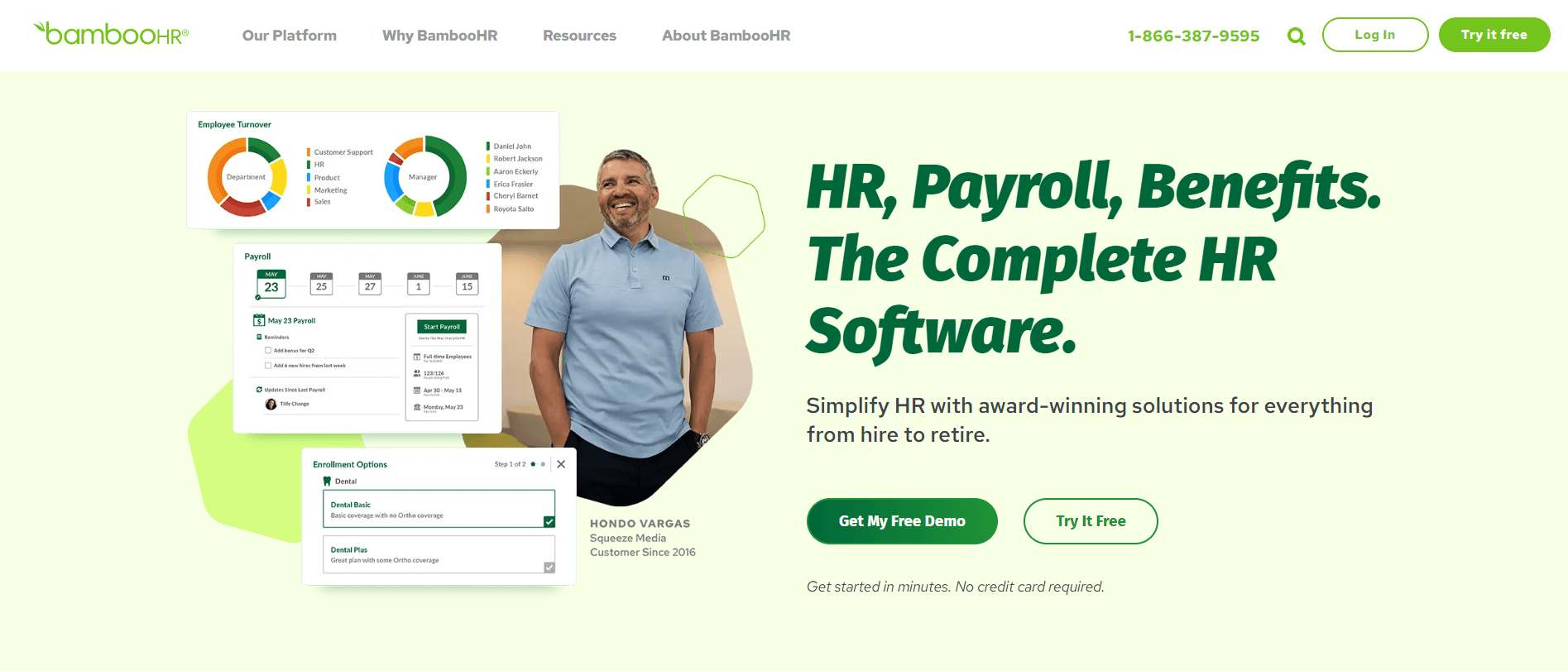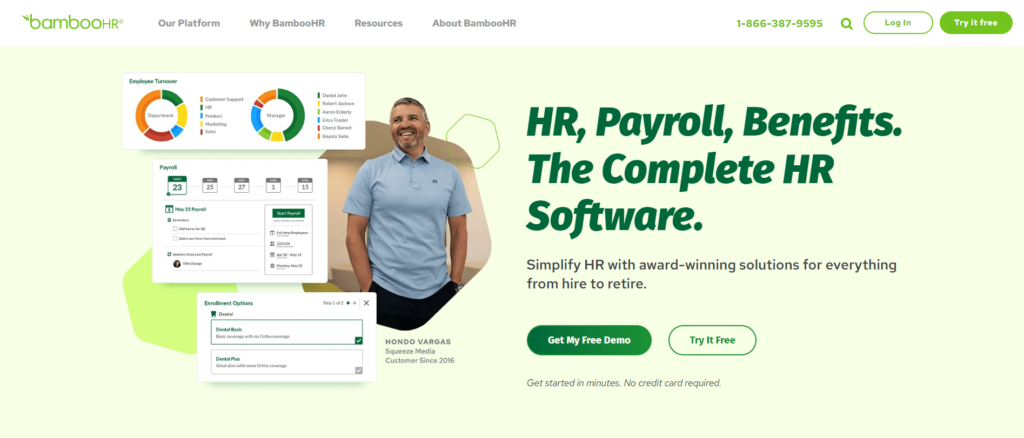 BambooHR is a full service HR platform that also has payroll features. You can use BambooHR to handle recruiting and onboarding new hires, performance management, and more.
Here are some of BambooHR's key payroll features:
At the time of publication, BambooHR has a 4.6/5 star rating on Capterra (based on 2400+ reviews).
To learn more about BambooHR's payroll features, click here.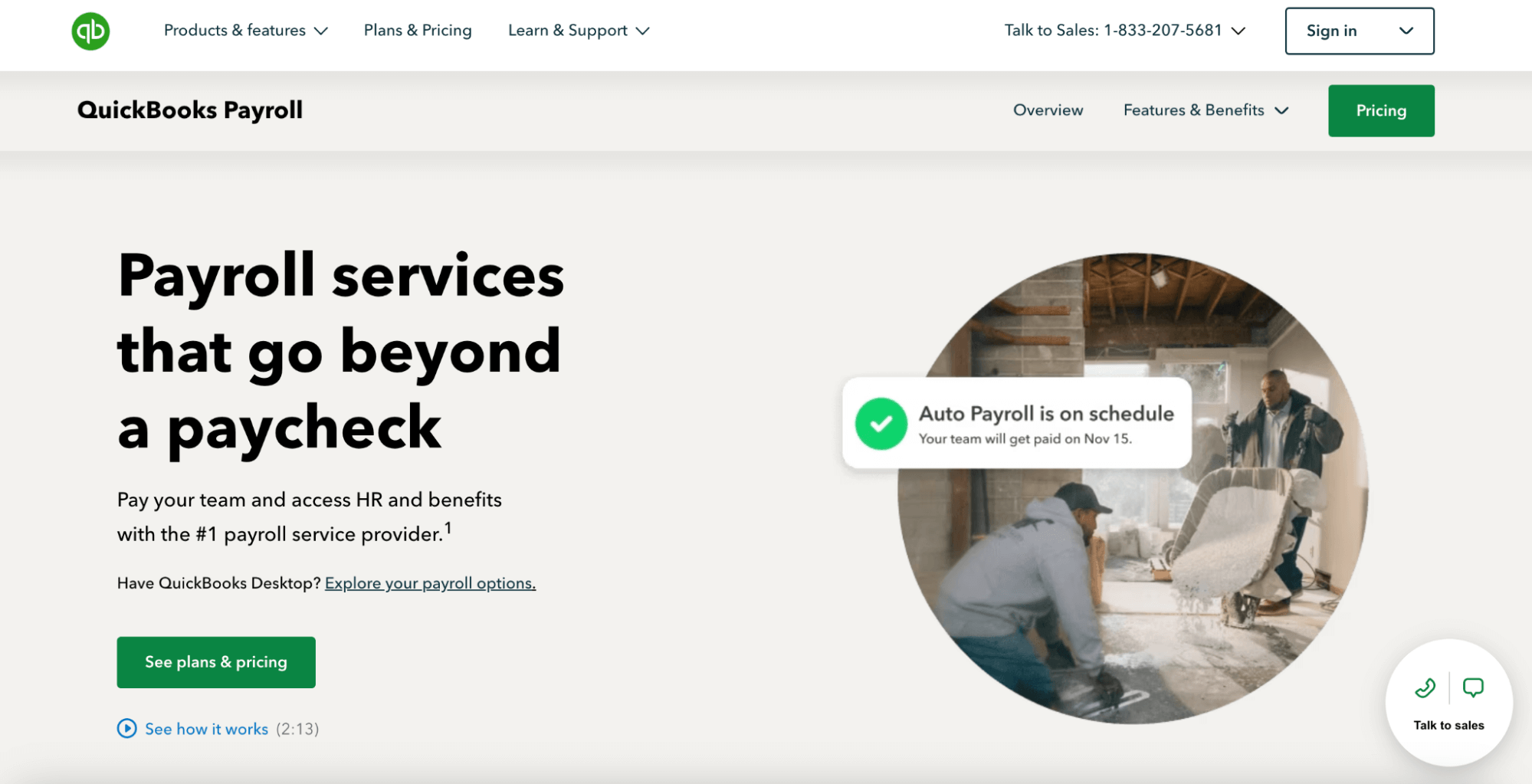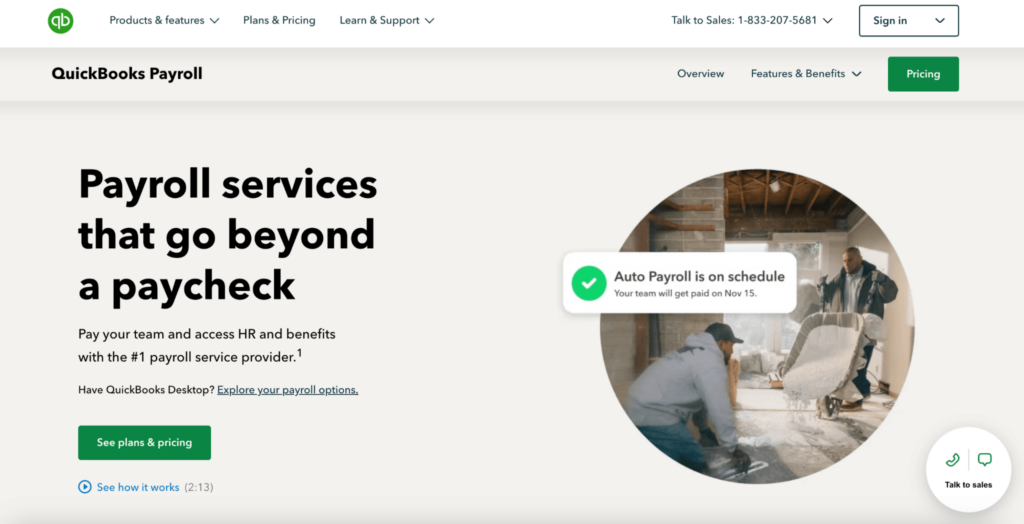 QuickBooks Payroll is a dedicated payroll system. It offers key features to help you run payroll, including:
At the time of publication, QuickBooks Payroll has 4.5 stars on Capterra (based on 800+ reviews).
To learn more about QuickBooks Payroll, click here.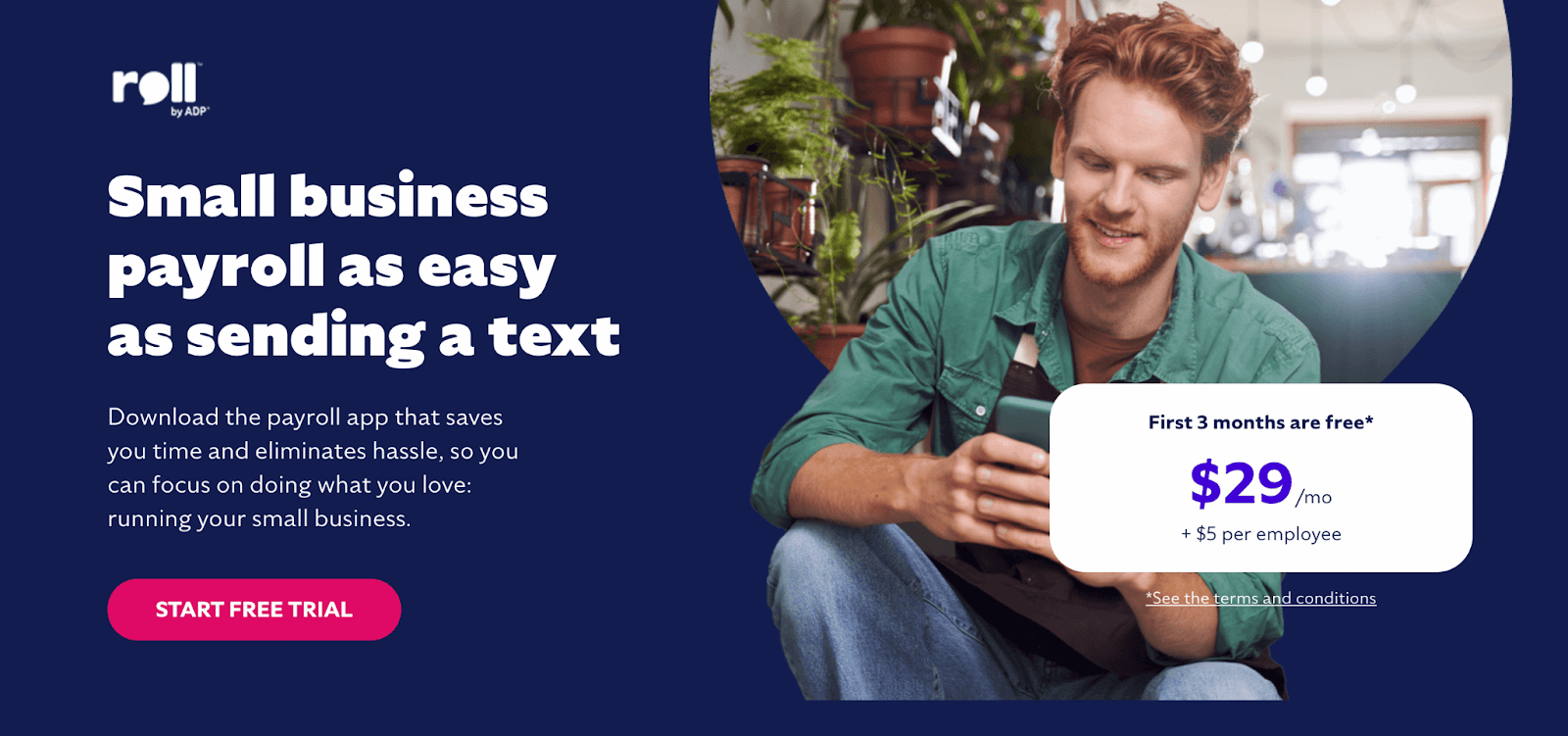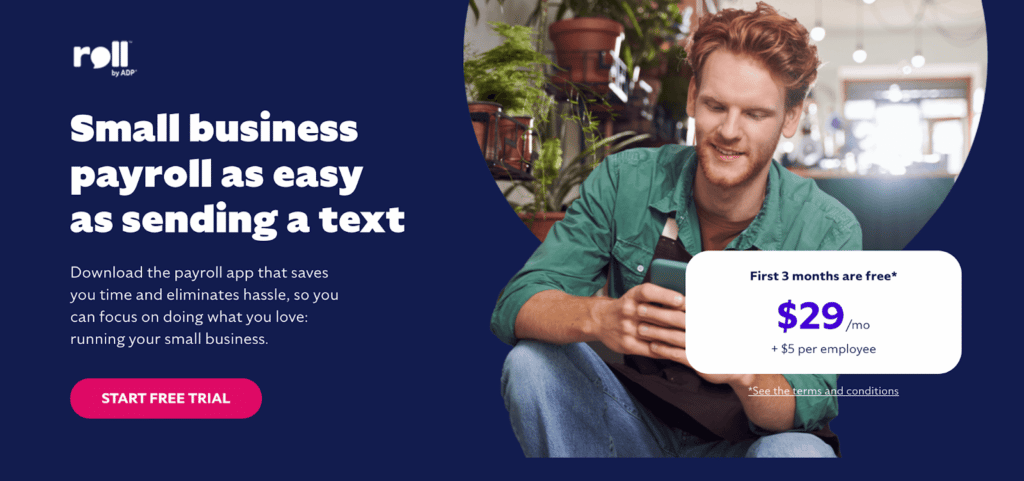 Roll by ADP is very basic payroll software specifically for small business owners who only need a very straightforward and stripped-down offering.
With Roll by ADP, you get these key features:
At the time of publication, we couldn't find any reviews specific to Roll by ADP on Capterra.
To learn more about Roll by ADP, click here.
For more information on payroll, time tracking, and scheduling, check out our posts on: