Payroll Time Clock Systems (5 Options)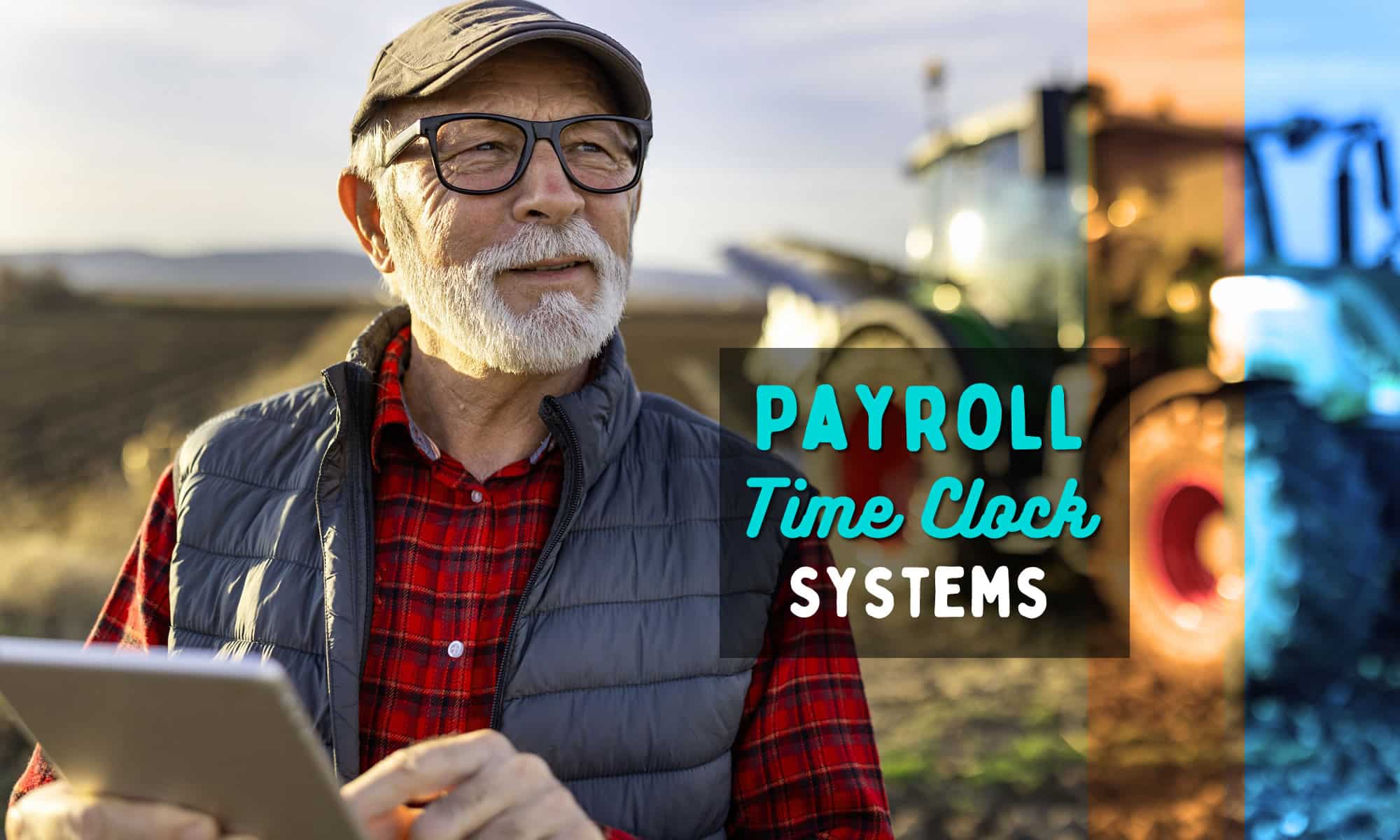 Are you looking for the best employee time tracking solutions? When it comes to tracking employee hours, there is no shortage of solutions available for you to choose from. Whether you are looking for biometric time clocks or employee time clock software that comes with facial recognition, you can find a platform on the market that confidently meets your needs.
Cloud-based time tracking software can play a pivotal role in driving productivity across your organization. An all-in-one solution can equip you with the necessary tools and features to streamline a full range of processes. You should look for a web-based digital time clock that acts like more than just attendance software. It must tick many different boxes.
Payroll Time Clock Systems
1. Buddy Punch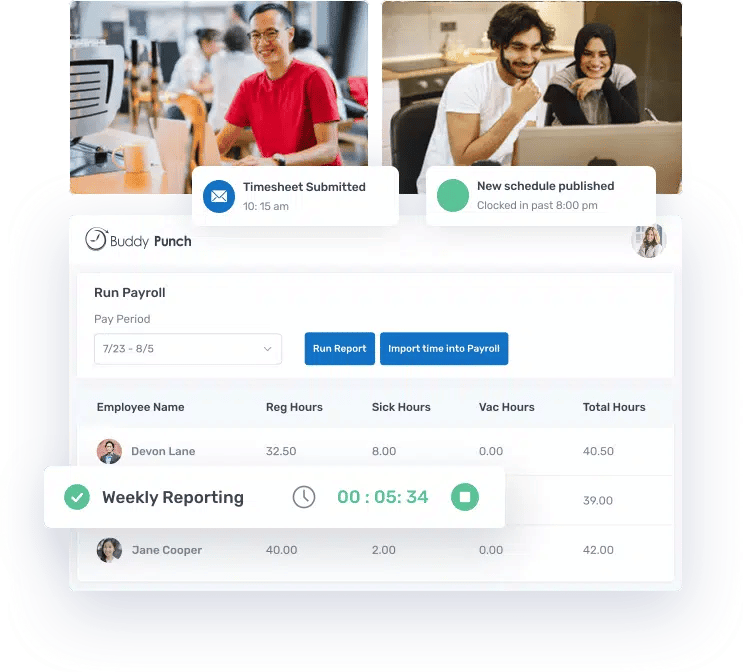 Buddy Punch fires on all cylinders as an effective time tracking solution for both small and large businesses. Whether you are running a startup with a tight-knit or an organization with a sizable workforce, attendance systems are vital to effective employee management. Buddy Punch is well-equipped to meet your team's needs as an all-encompassing employee time clock app.
How Buddy Punch's Time Tracking Platform Works
This attendance solution makes it simple for team members to easily clock in and out. No matter where your employees are located, they can easily complete time entries and provide managers with an accurate account of the number of hours they have worked. Buddy Punch's online time clock solution also offers a payroll integration for seamless payroll processing.
Let's take a closer look at how Buddy Punch's time tracking system can meet your needs.
Offer Flexible Punch Options To Employees
Team members can clock in and out from either desktop, mobile, or tablet. This flexibility is ideal for employees who are always on the move or simply do not have immediate access to desktop devices. Using Buddy Punch's mobile app, employees can complete time entries at the click of a button. This data is then automatically fed into your existing payroll system for processing.
You can allow employees to use a 4-digit pin, QR codes, and facial recognition as part of the time clocking process.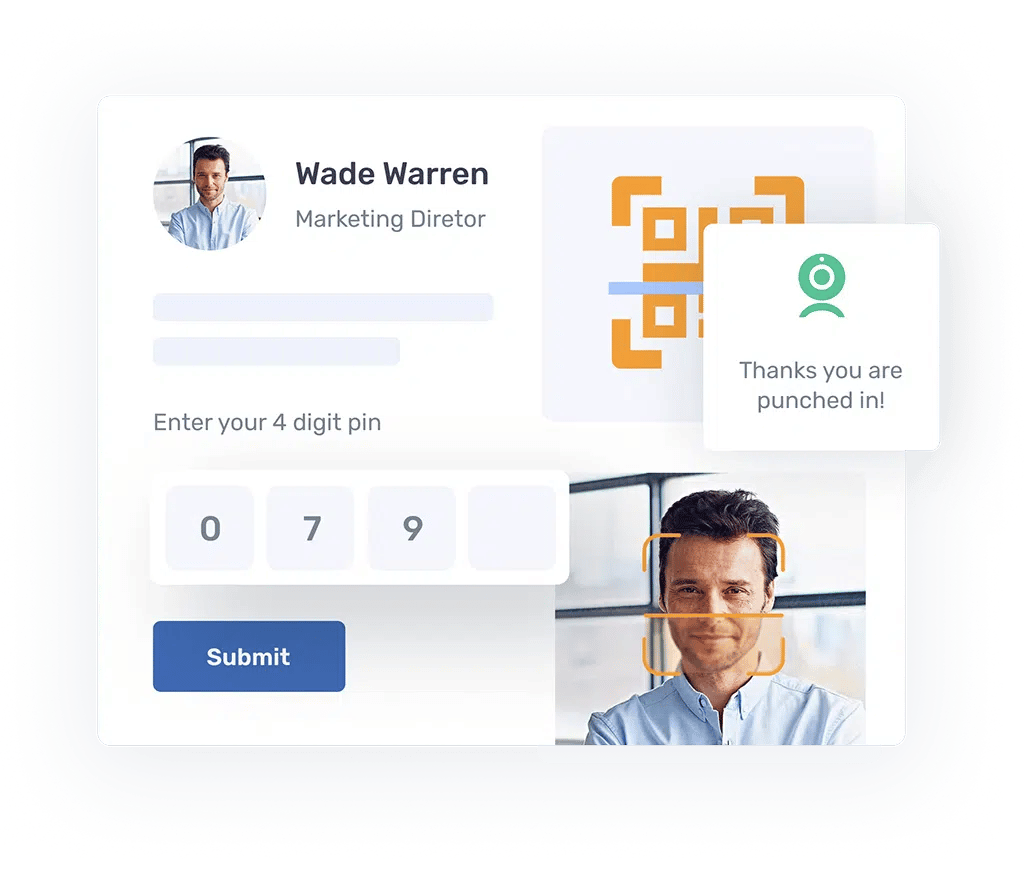 View Team Attendance Data From A Single Dashboard
If you want to view all employee attendance data in one place, you can! Buddy Punch makes this possible. You can use our intuitive dashboard to stay across all employee attendance and performance data. This is ideal for managers that have previously struggled to effectively track and monitor their teams and want to increase operational oversight.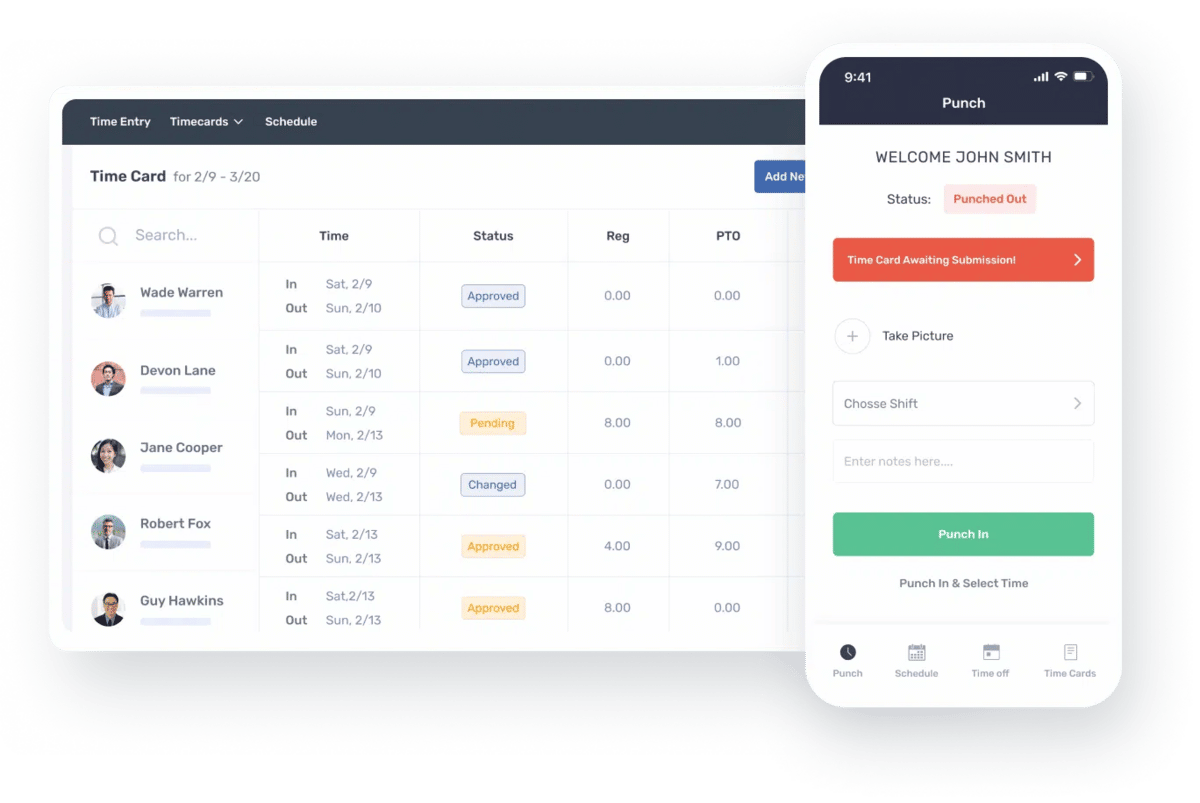 Use Geofencing To Support Team Accountability
Using geofencing, team leaders and managers can define a specific geographical area that team members must be in to successfully clock in. If you are trying to bring more employees back into the office, this feature will prove incredibly useful. Alongside this, the platform uses GPS technology to enable managers and leaders to track employee locations in real-time.
Track Overtime Hours Worked By Team Members
Buddy Punch enables managers to monitor overtime hours worked by employees. The platform can track when employees are clocking in and out and will notify managers if team members work too many hours in a week. The instant notifications are designed to ensure everyone across your organization is consistently compliant with labor laws.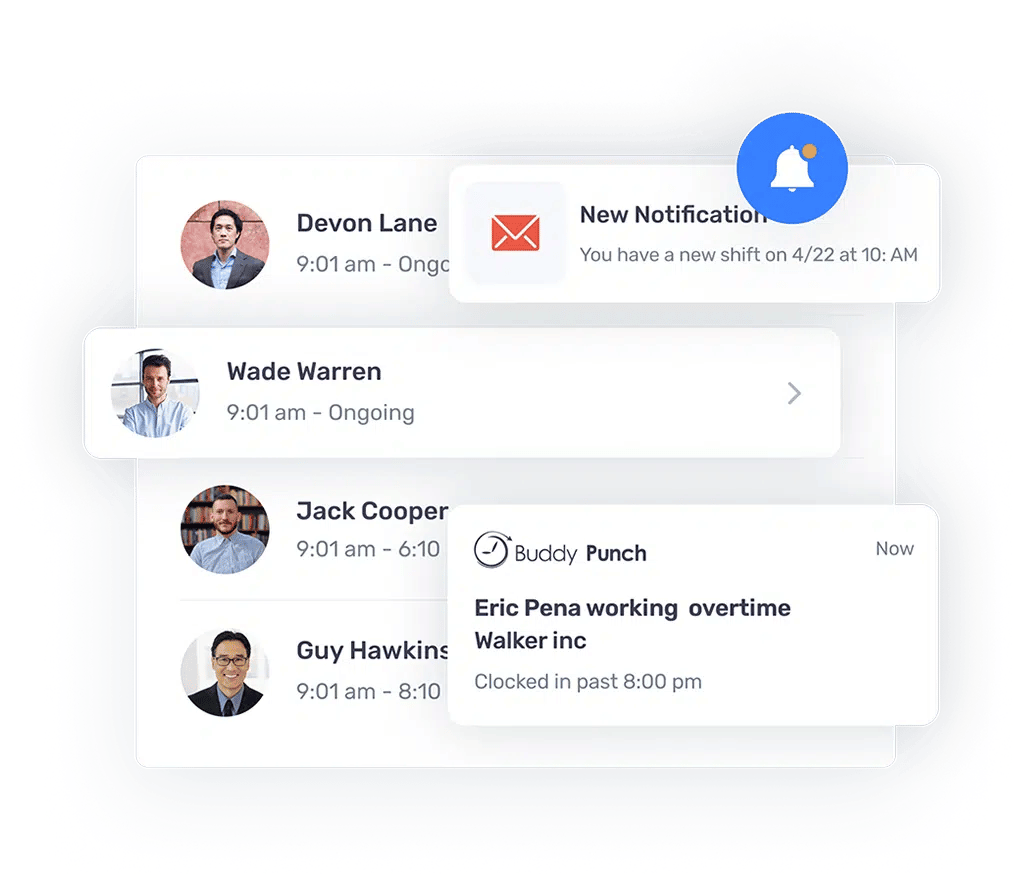 To tap into the immense potential of this employee time tracker, we suggest browsing through our "Knowledge Base" to learn more about Buddy Punch.
If you have any specific questions, you can always reach out to our team – who are always happy to help.
You can book a one-on-one personalized demo here.
Buddy Punch Is The Best Time Clock On The Market
Here are just some of the features available with this time tracking software for monitoring employee work hours:
Buddy Punch's Online Reviews
Have you seen Buddy Punch's user reviews? As of the writing date, Buddy Punch has 4.8 out of 5 stars and 767 reviews on Capterra.

Below, we'll list just a few reviews that speak to Buddy Punch's ease of use and great customer support service. (Click here to explore the full list of reviews.)
As reviewers have noted, Buddy Punch provides team leaders and project managers with the necessary tools to streamline timekeeping and monitor labor costs:
"The ease of this software helps me post schedules quickly. I have three businesses and staff that float between all. The color coding system helps me see what employee or department needs attention."

Click here to read the full review.
"It's easy to clock in or clock out. The timesheet to keep track of your hours."

Click here to read the full review.
"Buddy Punch is easy to use and even easier to understand as a user. Time track makes sense, and edits are made easy to submit."

Click here to read the full review.
"Cannot say enough about their support. Even if the product was not as amazing as it is, I would highly recommend Buddy Punch due to the unbelievable support!"

Click here to read the full review.
Try Buddy Punch for Free
If you feel that Buddy Punch might be the right fit for your business, sign up for a free trial. You can also book a one-on-one demo, or view a pre-recorded demo video.
2. QuickBooks Time
If you are familiar with QuickBooks' accounting solution, their time tracking system is likely to appeal to your business. QuickBooks Time is an all-encompassing time tracking solution that supports employee self-service and is designed to help all stakeholders save time. Through automated processes, the platform can ensure every employee is paid without any delays.
It's a great timesheet app for Android and iPhone, and at the time of writing, QuickBooks Time has 4.7 out of 5 stars and 6,013 reviews on Capterra.
QuickBooks Time (formerly TSheets) has features that include but are not limited to:
"The product makes it time tracking extremely easy and gives me the ability to accurately account for all of our time spent on various projects throughout the day, even while on the go. The seamless integration to QuickBooks takes all the duplicate work out and streamlines my billing process, and again, allows me to do this on the go from a phone or a tablet."

Click here to read the full review.
3. TimeCamp
From attendance tracking and timesheet approvals to custom billing rates and easy invoicing, TimeCamp hits the right notes on several fronts. This time management solution contains all the important features you would expect from an all-encompassing tracking system. If you want to manage payroll with ease, TimeCamp might work well for you.
At the time of writing, TimeCamp has a total of 572 reviews on Capterra, with an average of 4.7 out of 5 stars. TimeCamp offers a full range of practical features for teams:
"Integrating TimeCamp with my business took a few minutes in the beginning. I had to update keywords over a few days to make it a perfect custom fit. Every time I have a new client, I add new keywords – the whole process takes less than a minute."

Click here to read the full review.
4. Hubstaff
Hubstaff brings plenty to the table as a time management solution for both small businesses and larger organizations. With automated payroll features, this platform is designed to accelerate payroll processing and all the small tasks associated with ensuring employees are paid without any delays. Hubstaff also has all the necessary features to support easy productivity monitoring.
As of the writing date, Hubstaff has 4.6 out of 5 stars and 1,320 reviews on Capterra. Hubstaff offers a range of functionalities, some of which include:
"The benefits of Hubstaff is very helpful for doing remote job. it shows the overall time i've spent in an activity and browser. It's also user friendly if ever the time stopped yoou can easily insert a lost time in your timesheet."

Click here to read the full review.
5. Timely
With no shortage of app integrations, Timely can fit nicely into your existing technology stack and enable you to hit the ground running with time tracking and payroll processing. This platform can ensure employee work hours are automatically tracked and all managers have a clear sense of how projects are progressing across the organization, no matter the size.
At the time of writing, Timely has a total of 209 reviews on Capterra, with an average of 4.7 out of 5 stars. Timely is loaded with a broad range of high-impact features:
"I have been using Timely for a while, It is good software with many essential functions. You can schedule your job easily and track the workflow and time-consuming."

Click here to read the full review.
Try Buddy Punch for Free
If you feel that Buddy Punch could be the right fit for your business, sign up for a free trial. You can also book a one-on-one demo, or view a pre-recorded demo video.
You May Also Like…