Best Small Business Software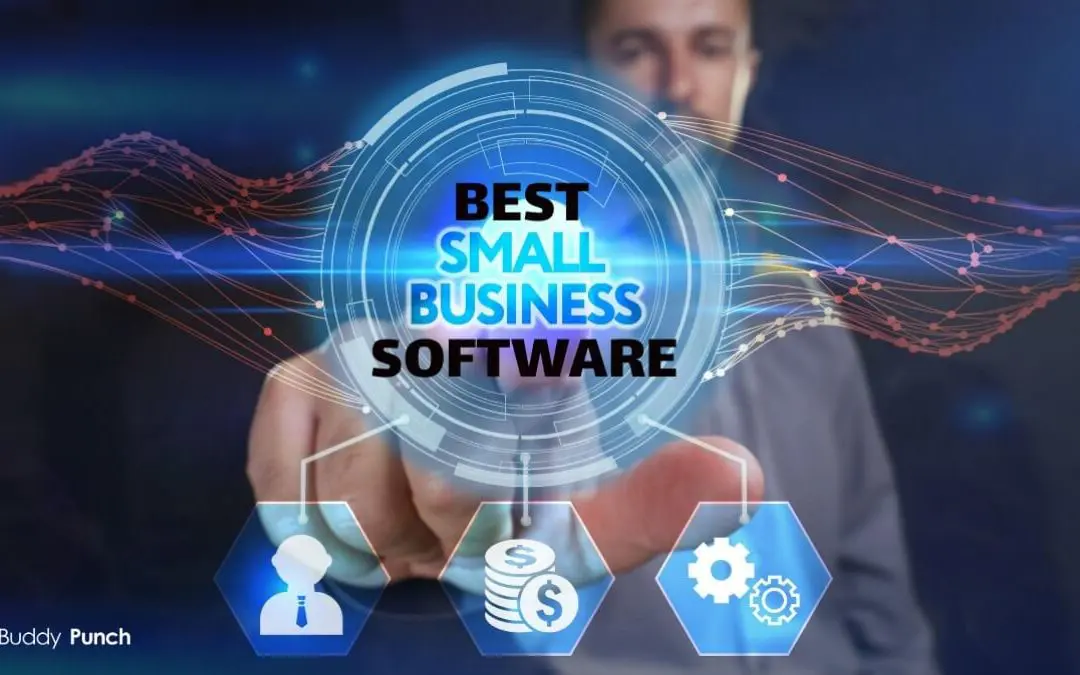 One of the most challenging parts of running a small business is determining which software to use to reduce the number of tedious tasks that need to be completed. At one point, everything was done by hand, took a lot longer to complete and required more workforce. Thanks to modern technology, there are many solutions available to help streamline your processes so you can focus on more important things – like becoming a profitable business.
Deciding which solutions are the best for your business comes down to zeroing in on your companies individual needs and identifying which business-related tasks you don't want to deal with.
We've put together a list to help you determine which programs are best suited to the needs of your business.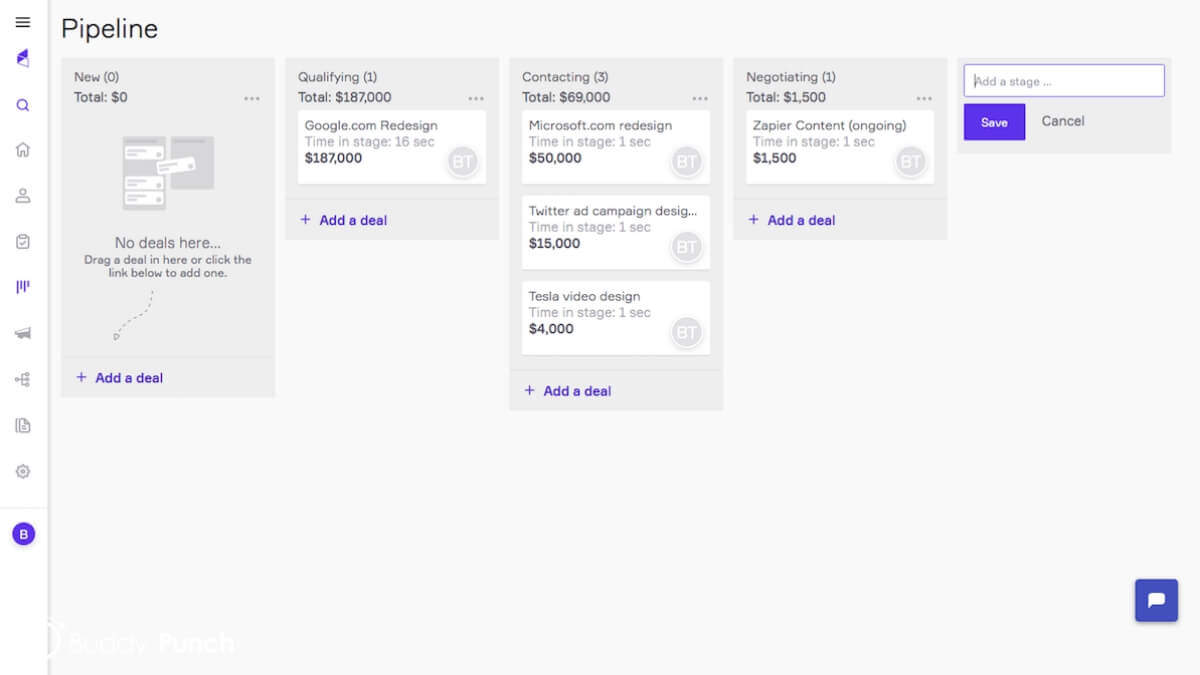 If you're searching for a great marketing solution, then Keap may be a great option for your small business. They combine all of your marketing needs into a single, efficient web-based system.
Keap, formerly known as Infusionsoft, is a web-based solution that coordinates the tasks most business owners would prefer not to deal with themselves. The software allows users to grow sales, stay organized, and can save a great deal of time when dealing with fundamental business issues.
Keap allows you to automate your sales and marketing efforts and enables you to provide consistent brand messaging across all your marketing campaigns and ensures a personalized customer experience. Using Keap can help you boost your reputation among current and prospective customers.
You can centralize contact information about your customers in one place, improving the efficiency of your sales teams and removing any duplicated sales activities. The system can be accessed from multiple different devices, whether computer, smartphone, or tablet, and is entirely secure.
The system fully integrates with powerful marketing tools to help connect you with leads via email, social media, as well as offline channels to create relationships and attend to leads. If you need to create a storefront or order pages, handle billing and collections, then Keap can help with their e-commerce tools.
In short, Keap combines everything your company needs from CRM, contact management to marketing automation and e-commerce into a single, efficient web-based system. It's quite possibly the quickest and best way to grow sales and save you and your employee's time.
There are a ton of solutions available that are compatible with Windows, but Mac users sometimes get left out in the cold. Xero is a great cloud-based system that is compatible with both Mac and Windows. What sets the system apart is that Mac users don't get a watered-down version which sometimes happens with other software.
Xero is a robust accounting system that comes with sophisticated account features, a vast amount of reports, over 700 integrations, and unlimited users. Unlike its main competitor, QuickBooks, Xero has a modern UI and mobility that often comes with cloud-based software.
The software excels as a small business accounting solution. It supports every financial element you'd expect in a double-entry accounting solution. This includes:
Sales
Purchases
Inventory
Payroll
You can create records for your customers, suppliers, employees, and even items. Xero also lets you manage fixed assets, which is something that most of their competitors don't do. The system has added several new features which include expense management, integration with additional payment processors and financial institutions, and improvements to its iOS app.
In short, Xero connects small businesses with their most trusted advisors and provides business owners with instant visibility of their financial position – something that every business owner knows is extremely important. It is a great accounting option for small and medium-sized businesses.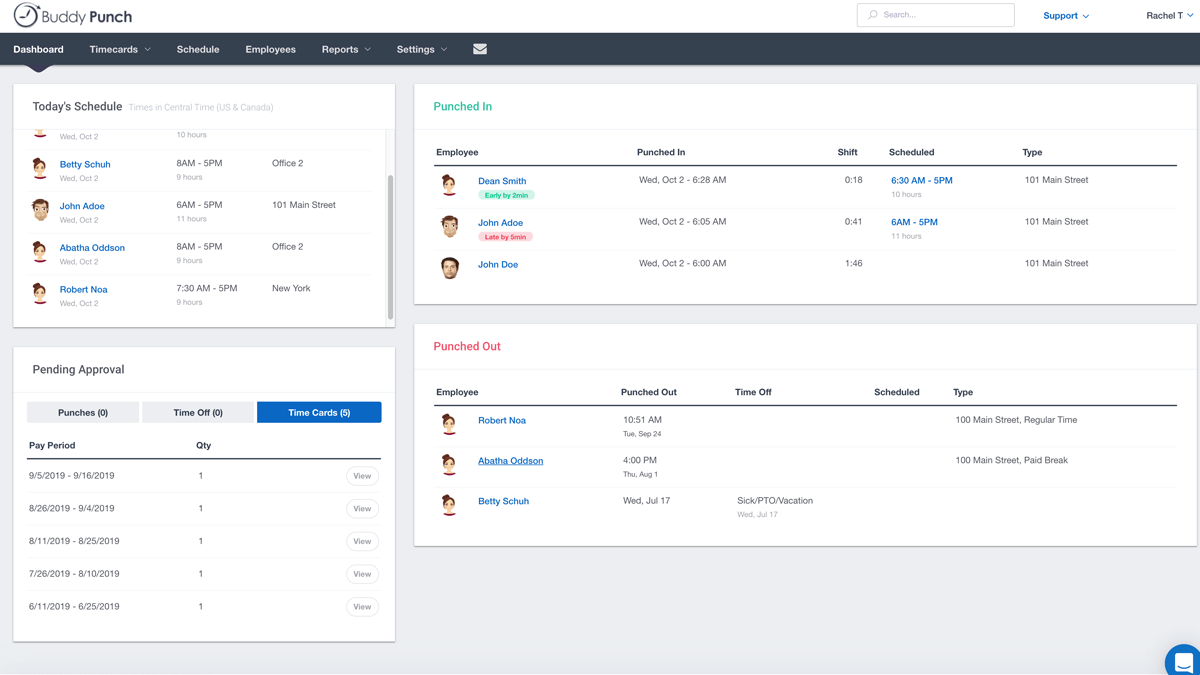 Buddy Punch is a simple to use yet powerful scheduling and attendance solution making it the perfect time clock software for small businesses.
Buddy Punch is a simple yet robust time card software for small business. As a business owner, you know that time is money, and Buddy Punch can help to ensure that you and your employees are getting the most out of their time.
Being a cloud-based solution, employees can punch time from any device with an internet connection. Businesses that would prefer to centralize time clocking can set up a dedicated device where employees can access their account or punch time.
Buddy Punch comes with a vast set of features and functionalities that are not offered by other time tracking systems. Aside from standard time tracking options, the system also allows employees to correct errors on their time cards through the employee portal. Their dashboard features a very simple and easy to navigate interface – making it a user-friendly experience for employees and management.
Not only does the system track time, but it comes with several reporting options and payroll integrations to make payroll processing as easy as possible. They integrate with major accounting solutions such as QuickBooks, Paychex, Gusto, and more.
Time tracking is an inevitable aspect of running a business, so it's essential to pick a solution that not only meets your needs but is also affordable. Buddy Punch offers several plans depending on business size. This allows companies to choose a plan that suits their company without going over their budget, making it a great time clock software for small businesses.
In short, if you're a small business owner who is looking to transition from pen and paper time tracking to an easy to use solution with vast features, then Buddy Punch is the perfect employee time tracking software for small business.
Wave is a cloud-based accounting software exclusively designed for small businesses, consultants, and freelancers. The best part? It doesn't cost a thing! But that doesn't mean you won't get a fully functional solution.
Wave provides features which include the following:
Invoicing
Accounting
Billing
Payment Tracking
Payroll Management
Finance Management
Receipts
Businesses can easily link their bank accounts, PayPal accounts, and other sources of data for real-time transaction records. Other reports such as balance sheets, sales tax reports, accounts receivable, and payable can all be generated with Wave.
The system also provides an invoicing tool to help collect money. Invoices can be sent via email, and Wave's payment processing allows users to collect credit card payments – making the payment process as easy as possible.
Wave payroll comes with several features such as direct deposit as well as employee self-service. Their personal financing fools come with a budgeting tool, real-time investment tracking, as well as a dashboard for personal finance management.
In short, if you're a small business owner with a limited budget and only a handful of employees, then Wave may be a great solution starting out.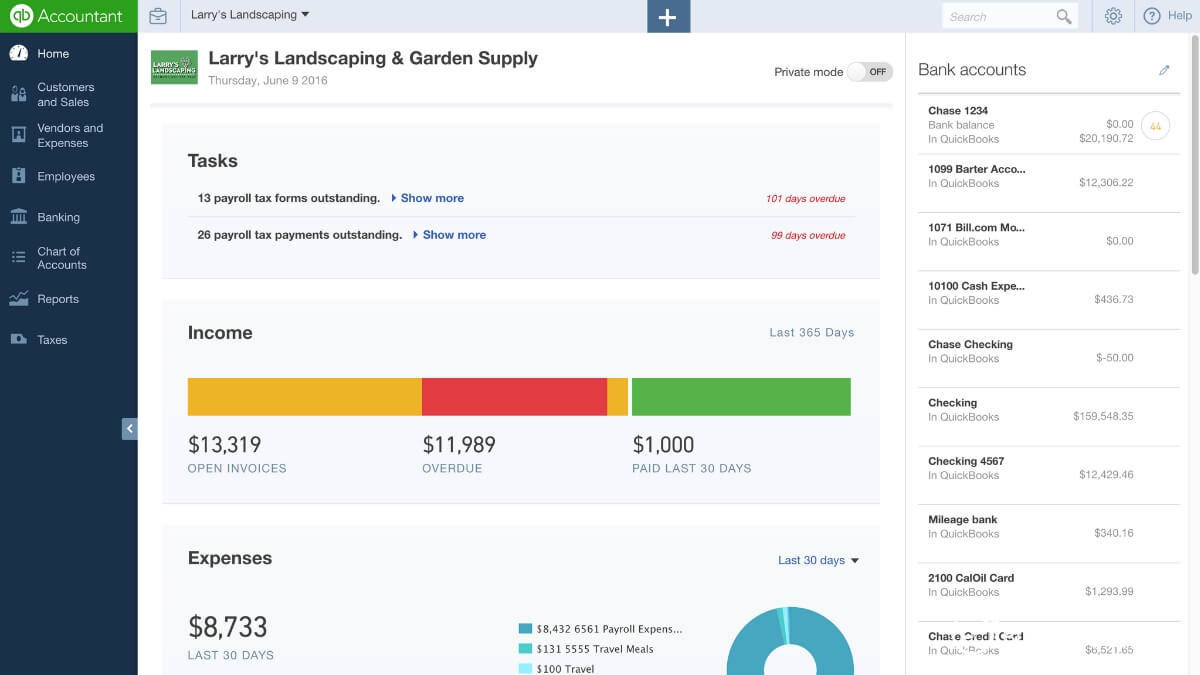 QuickBooks Pro is one of the highest-rated accounting solutions available – and for good reason. The software can manage your contacts, handle taxes, and allows you to process payroll in a quick and seamless manner.
QuickBooks is offered by Intuit and is probably one of the most popular accounting solutions available. The folks over at QuickBooks have widened their scope to address small business needs and has become a trendy choice amongst small business owners.
The system offers hundreds of templates for any report you could need. This includes reporting options for:
Accounts Payable
Invoicing
Inventory
Time tracking
And more!
QuickBooks efficiently manages all of your contacts and can handle tax issues, forms as well as returns. It can create a budget for you and do your payroll – saving you hundreds per pay period on payroll processing. Their payroll feature is an add-on that costs a bit extra, but most businesses find the investment well worth it as QuickBooks does pretty much everything!
An added bonus of QuickBooks Pro is that it integrates with time clock software for small businesses – such as Buddy Punch. The integration allows you to easily transfer your employee's time to QuickBooks for payroll processing.
One of the most significant downsides and a common complaint from users is the fact that its abundance of features can make it a complicated system to learn. Although phone support is available, it does come at a cost. There is also a Quickbooks employee time tracking option, however, we recommend investing in a pure time tracking solution for the best business outcome.
In short, QuickBooks is one of the most popular accounting solutions. Not only does it offer strong accounting, but it also boasts a vast number of features and tons of reports and integrations. It is a worthwhile investment for any small business.