The Best Employer Time Clock System: 4 Key Benefits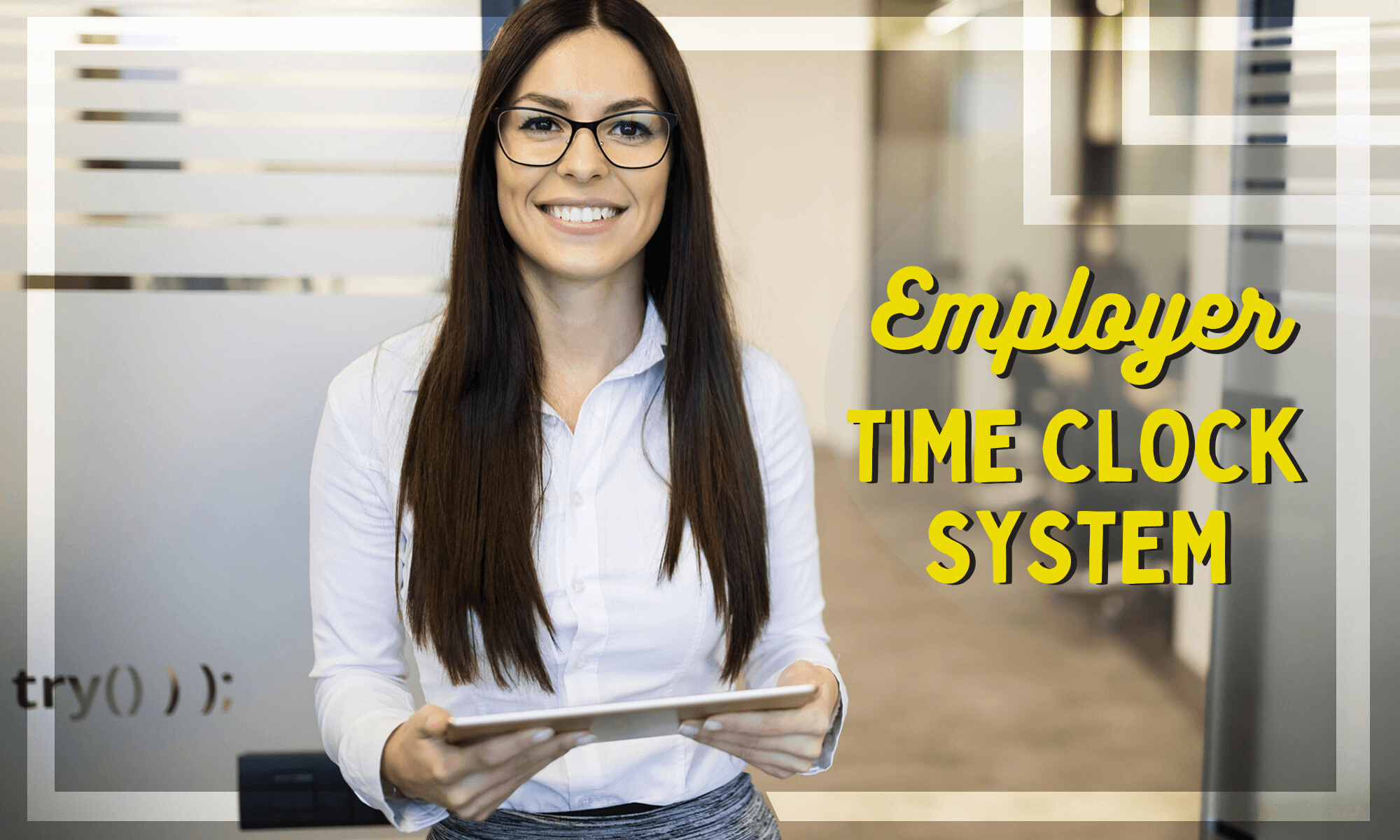 Buddy Punch is an employer time clock system that's used by thousands of businesses — in industries ranging from coast-to-coast transportation companies to single-location auto centers, and everything in between.
Based on our experience — and the feedback we get from our customers — these are some of the most important/helpful features and benefits of a quality time clock system:
Benefit #1: A quick way to set up your time clock system.
Setting up a time clock system can be a hassle if you're dealing with clunky, physical clock in and out machines, especially if you're managing multiple work sites or have remote workers. But even if you're dealing with only one location, you don't want to worry about troubleshooting hardware you're unfamiliar with.

Buddy Punch is a digital/online time clock system, so there's minimal setup involved. Your team will clock in and out directly through the Buddy Punch app, which works on all mobile devices (including Android and iPhone devices) and desktop browsers. It's also easy to use as a manager: Through our app, you can view timesheets, correct punches, track time off, and run payroll.
Benefit #2: A way to ensure employee accountability.
You want accurate time sheets for your team — this means making sure your employees are punching in and out for all their shift actions, but it can also mean putting in accountability measures. For example, you want to avoid buddy punching (where a co-worker punches in for someone else) or having your team clock in from home instead of at the office.

With Buddy Punch, you can set up advanced accountability features, such as making sure your team only clocks in when they're at a specific job site or when their device is connected to a specific IP address. Plus, Buddy Punch works a biometric time clock because you can have your team punch in and out with our real-time facial recognition feature.
Benefit #3: Fast and easy ways to correct punches.
A time clock system helps cut down on manual errors, but employees will still forget to clock in or clock out from time to time. When this happens, you want a quick way to fix their punches, so you're not dealing with inaccurate data.

With Buddy Punch, you can easily view and correct punches through your dashboard.
Benefit #4: A way to reconcile your team's timesheets with payroll.
You either want a way to export your attendance records from your time clock system or submit payroll directly from your system.

When you use Buddy Punch, you get three options:
You can export your team's timesheets as a .CSV file.
You can use payroll integrations (with tools like QuickBooks, ADP, etc.).
You can have Buddy Punch be your payroll provider.
Below, we take a closer look at how Buddy Punch can help you with these benefits. If you want to see first-hand how Buddy Punch works as an employer time clock system, skip the article and start your free trial or schedule a one-on-one demo.
Buddy Punch: An Online Employer Time Clock System for Managing Punches
Benefit #1: An Easy Set-Up Process (Get Your Time Clock System Running within Minutes)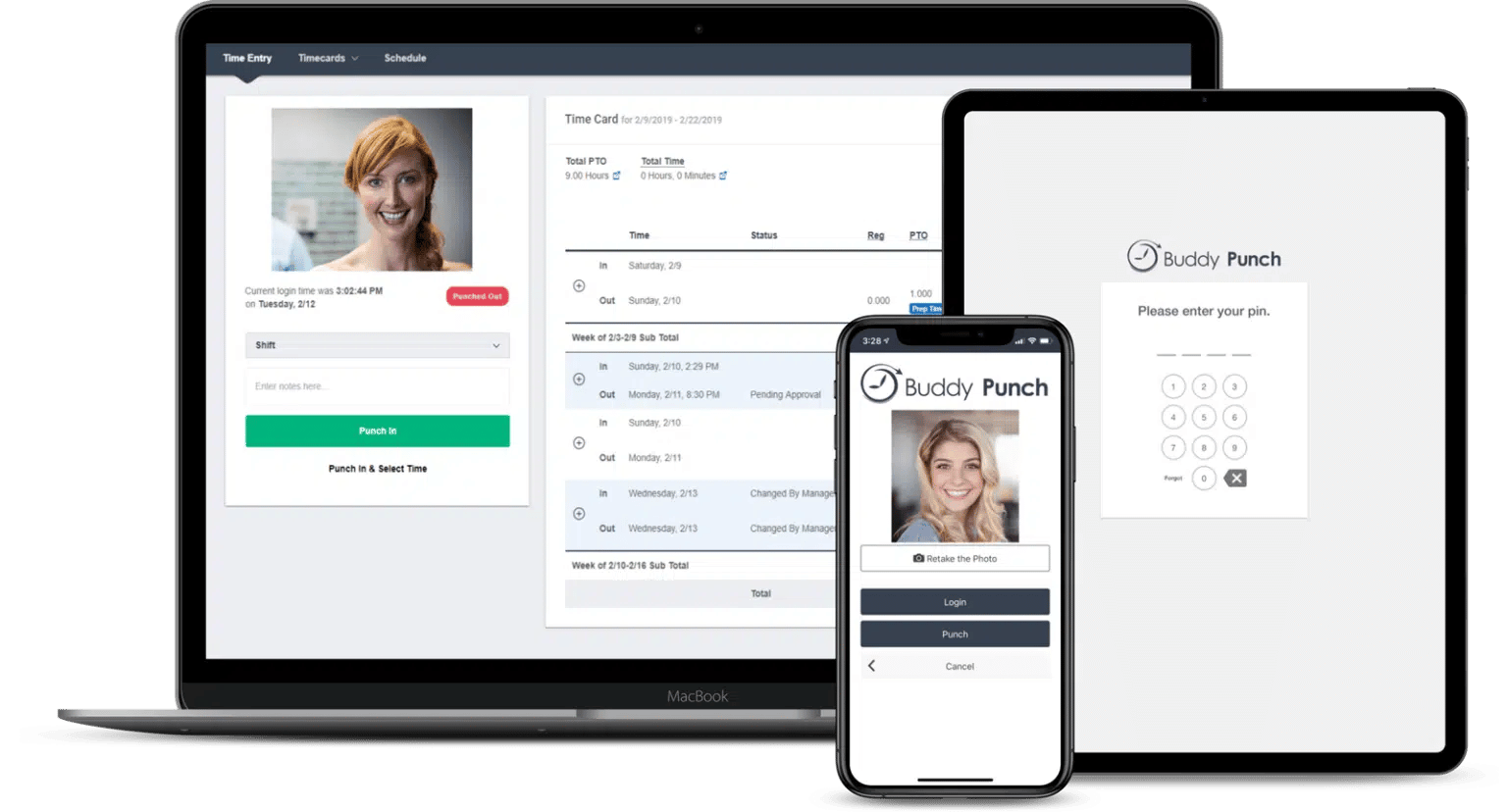 Accurate employee time tracking starts with how your team clocks in and out. With Buddy Punch, employees can easily use our app, which works on smartphones, tablets, and computers.
This accessibility makes Buddy Punch great across multiple industries — whether your team is clocking in at an office, construction job sites, or working from home.
Plus, we'll discuss Buddy Punch features that help make sure your team is punching in accurately and honestly (i.e., that they're at the job site or not having someone else start their shift for them).
All time clock actions are tracked. When someone clocks in, clocks out, works overtime, leaves early, takes time off, etc. All of this is automatically tracked by Buddy Punch.
Benefit #2: Increased Accountability (i.e., Ensure Accurate Time Tracking)
You can set up specific restrictions/parameters to increase employee accountability.
A quick note: The next features we cover are optional. Some of them may be perfect for your business, others may not be necessary. But they are all designed to help guarantee that your time clock system is getting accurate data from your team (which is critical for time off tracking, work schedules, and payroll).
Geofencing: Restrict Employee Time Clock Behavior by Location
Geofencing is when you restrict where someone can use Buddy Punch's time clock feature. For example, let's say you're running a construction company with projects across multiple zip codes, and your employees alternate between job sites. You can set up geofencing areas so your crew can only clock in and out when they're at the right location.
This does two things:
Helps prevent time theft (i.e., someone trying to clock in for work even though they're still at home).
Helps make sure your team is at the right location for their shift before they clock in.
If an employee tries to clock in outside the geofencing zone, they get an alert from Buddy Punch: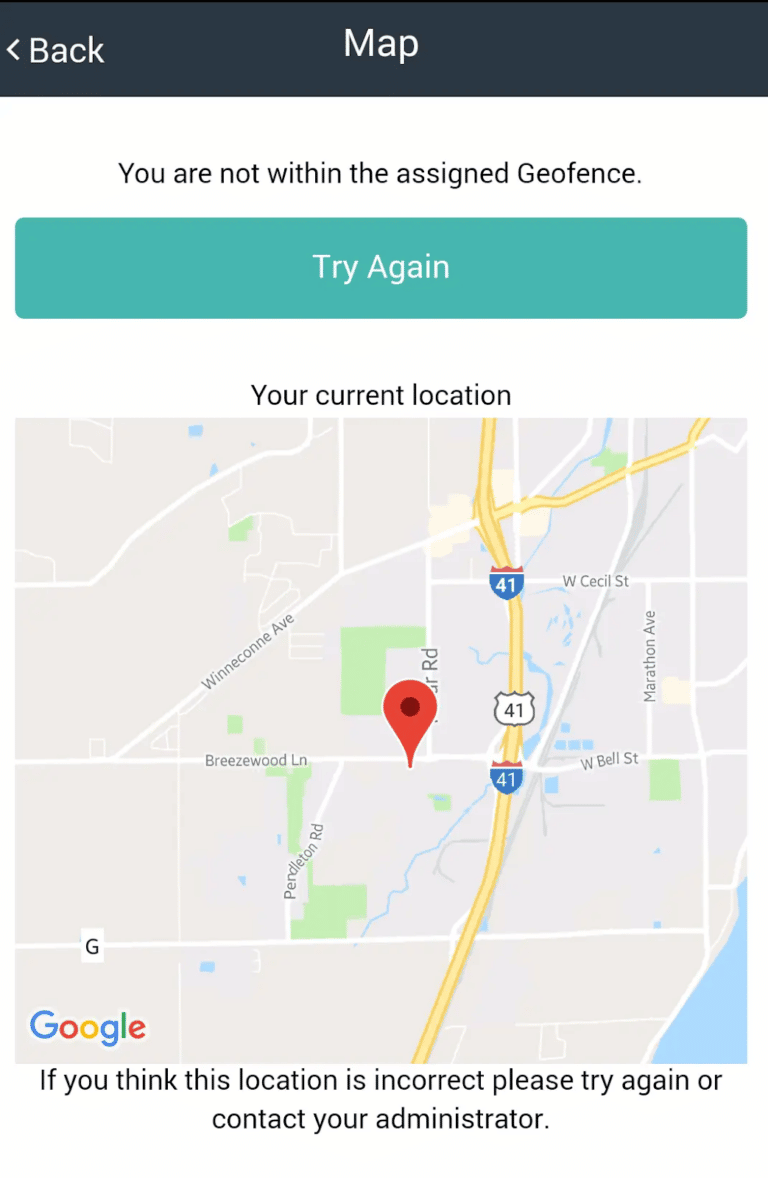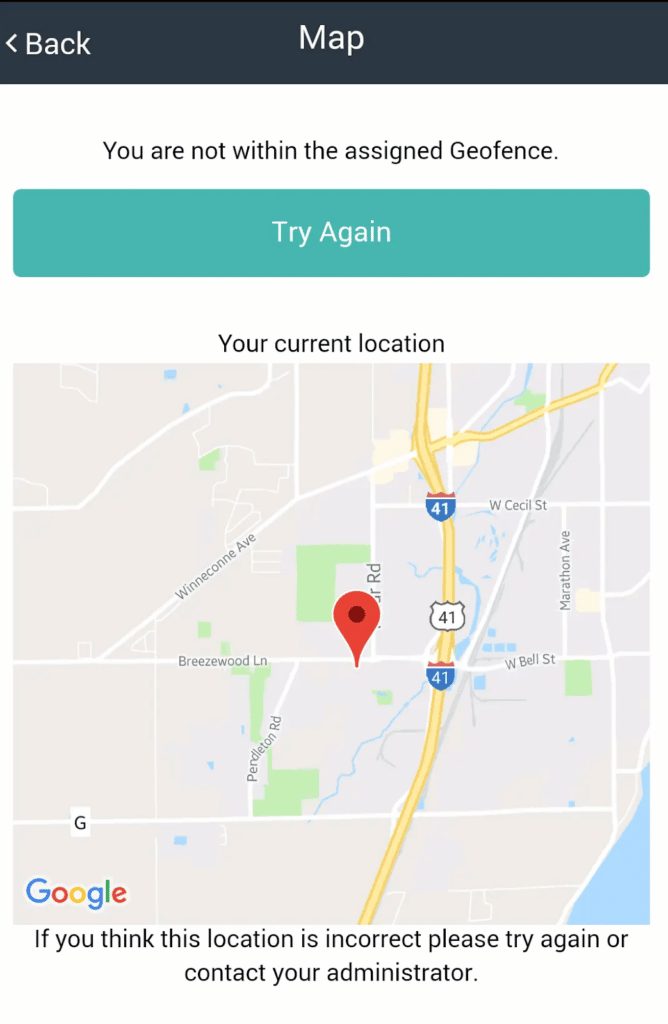 IP Address Locking: Restrict Time Clock Behavior by IP Address
Similar to geofencing, IP address locking is designed to ensure employees only use the Buddy Punch time clock system when appropriate.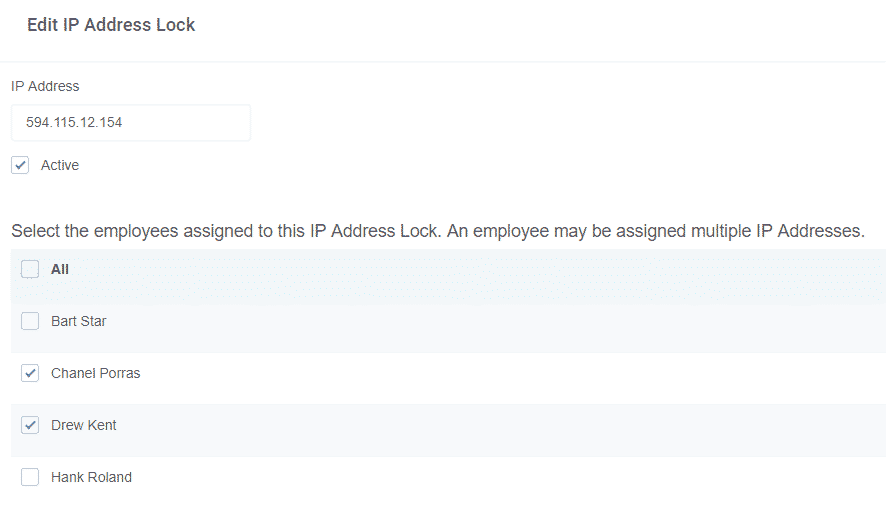 You can restrict employee punches to a specific IP address, including a specific device (such as an office iPad, desktop, or WiFi network).
Another way of increasing employee accountability is with Buddy Punch's Photos on Punch feature.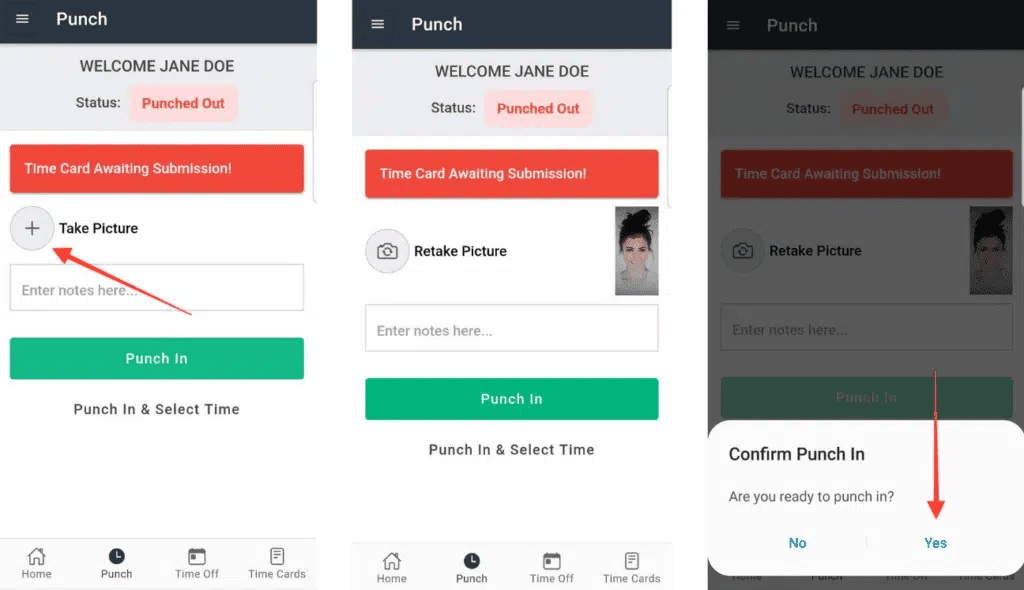 When you activate this, Buddy Punch will require an employee to take a photo (showing their face and background) of where they are when clocking in.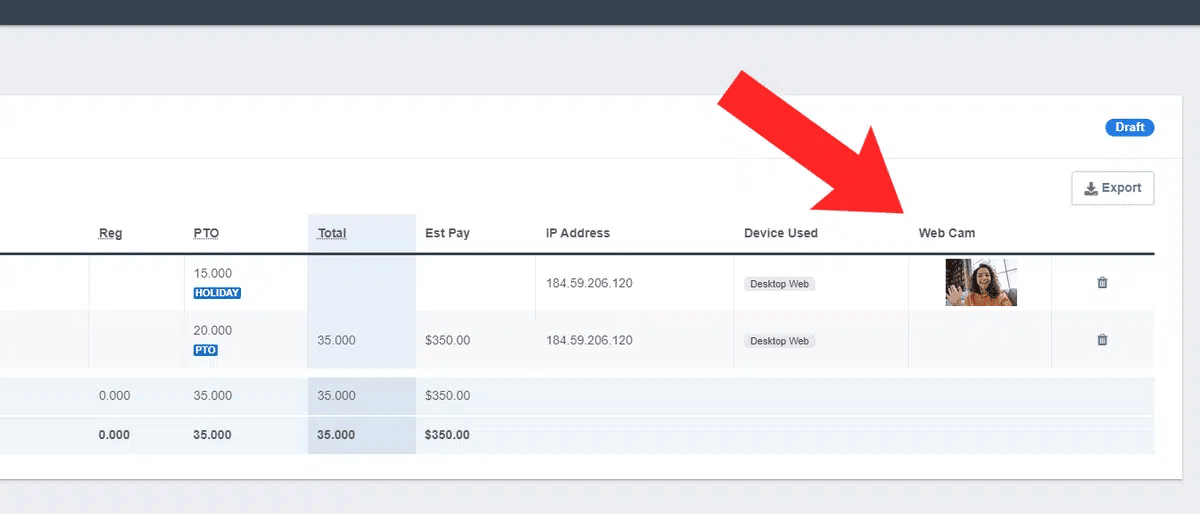 The photos are stored in your Buddy Punch account, so you can quickly scroll through and see who submitted a photo with their shift.
Additional Features to Increase Employee Accountability
We offer other accountability features, including:
GPS Tracking: You can monitor where your employees punch in with GPS tracking. You can view this information across the entire team or by individual employees.
Facial Recognition Punching: Your employees can clock in and out with just their face. Buddy Punch uses biometric facial recognition software to recognize your employee's face. Plus, a photo is taken and stored with their punch.
PIN Punching: You can have employees pick a 4-digit pin number that they will use to punch in and out. The benefit here is speed. For example, say you're managing a large team of employees with the same start time and you have limited kiosks, giving everyone a 4 digit pin moves the line along faster. Plus, you also reduce the risk of keystroke errors, where employees need to re-punch in their code because it's long and complicated.
Punch Limiting Rules: You can limit how early someone can punch in (and how late they punch out). For example, if an employee keeps punching in 7 minutes early, and punching out 5 minutes late, that adds 12 minutes to their shift for the day (that's an extra hour for the week in unplanned payroll).
Benefit #3: Easily Correct Punches
With Buddy Punch's online time clock system, you can easily correct mis-punches from your team.
For example, let's say someone starts their shift and then forgets to clock out. The next day they let you know that they forgot to clock out for the day.
To fix their time card, you will log into Buddy Punch.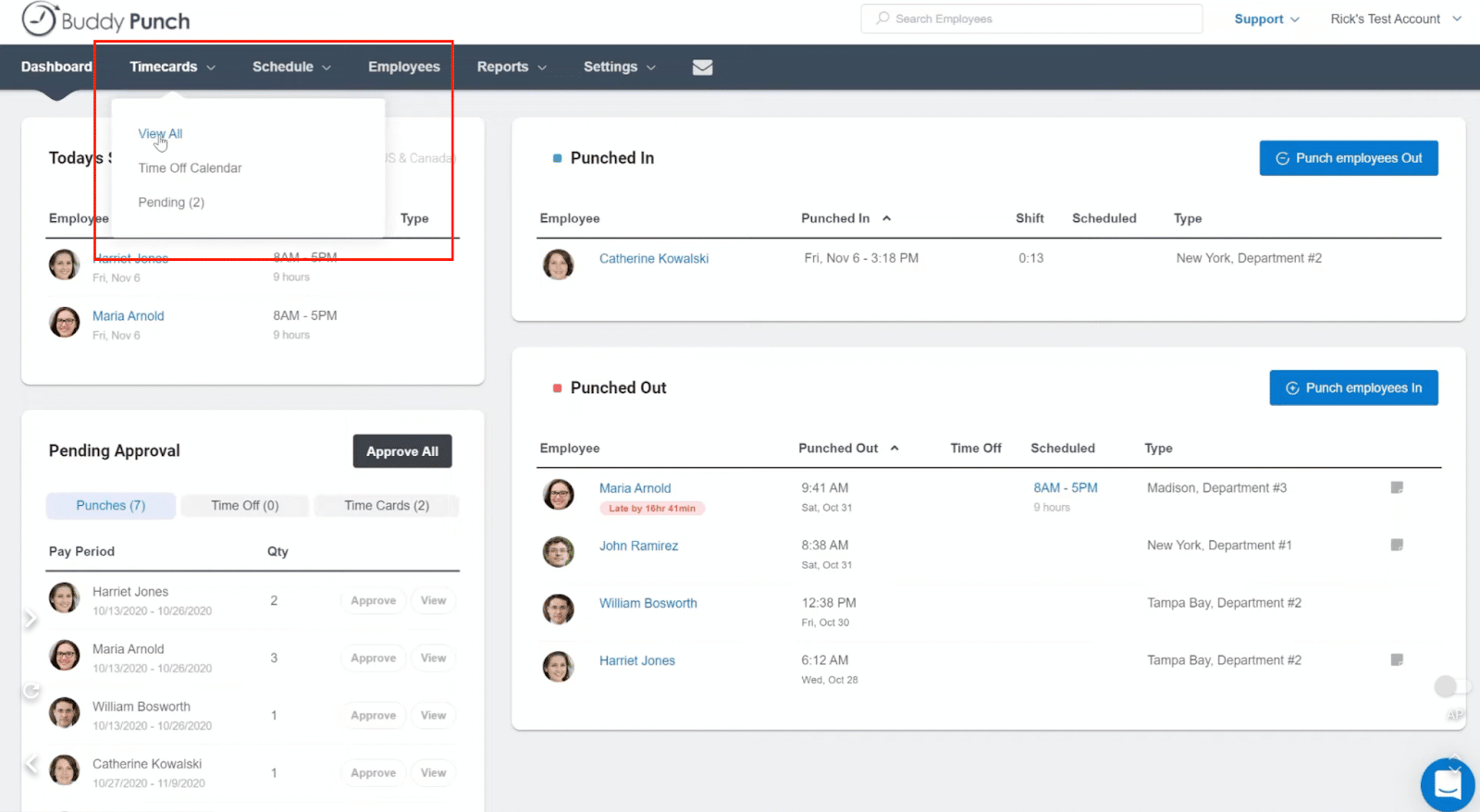 Then hover over where it says "Timecards," and click "View All."
From there, you'll see a list of all your employees.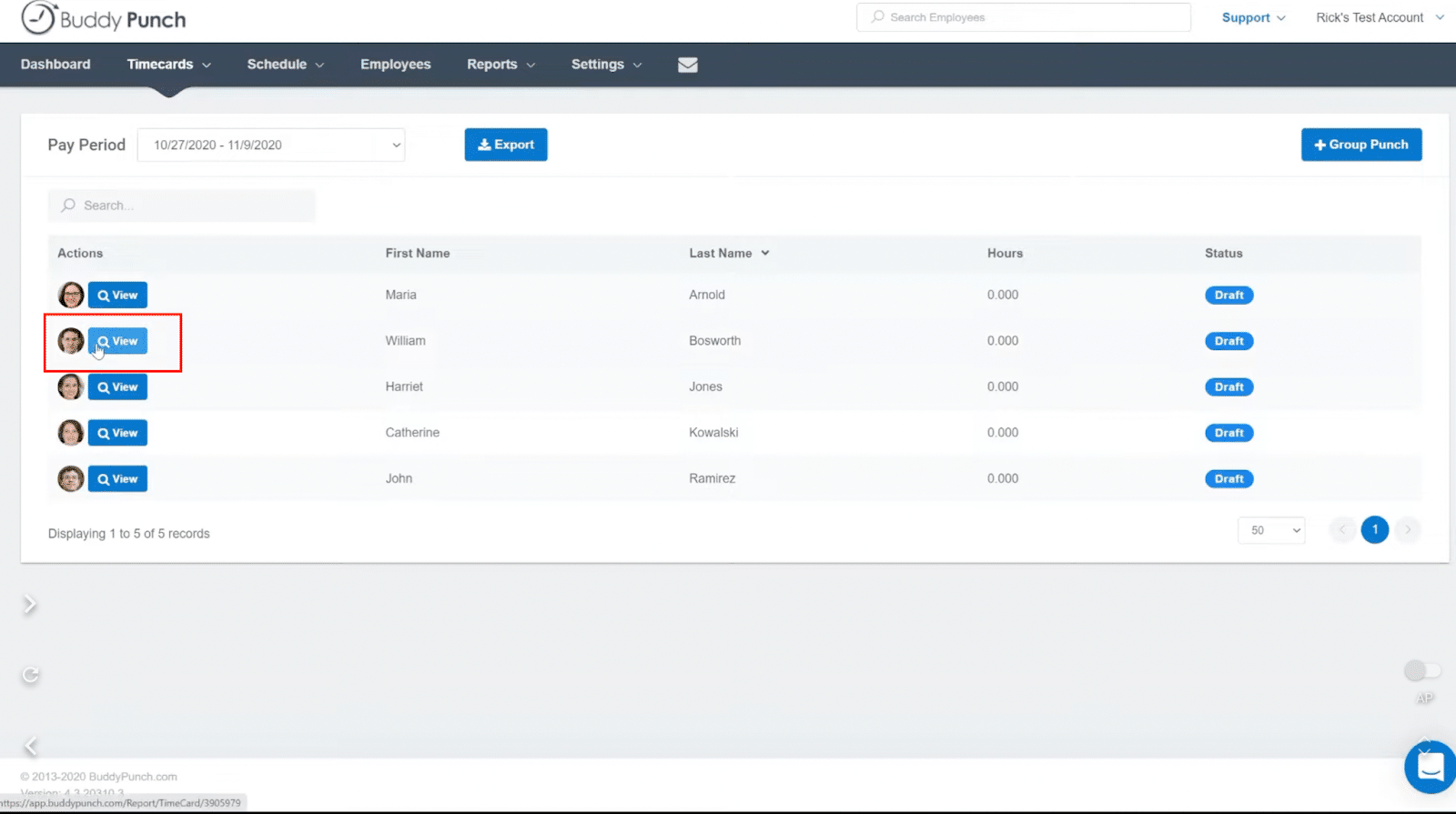 Just click "View" for whichever employee needs their punch fixed.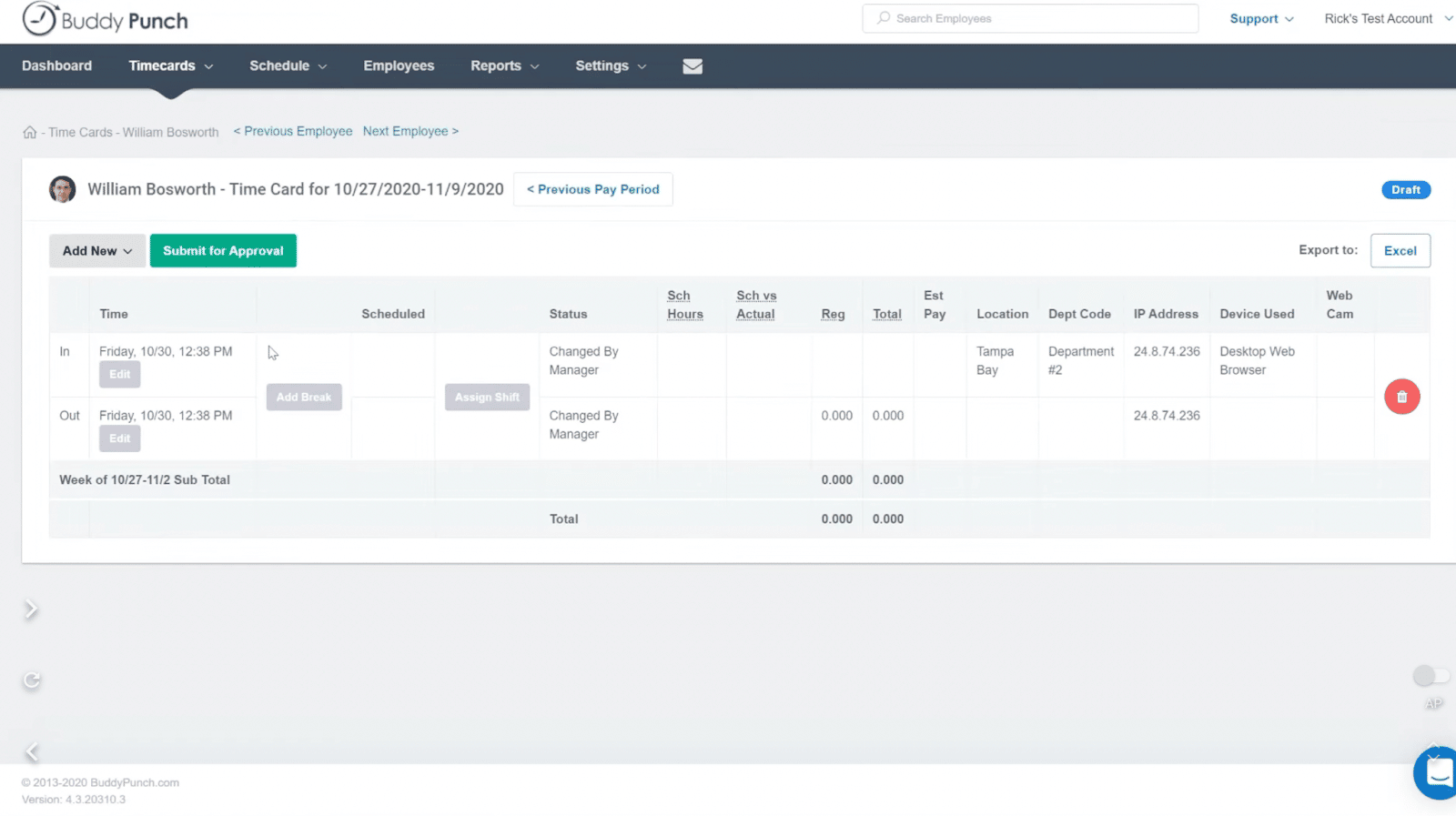 This pulls up their timecard that you can now edit. You can edit their punch in, their punch out, and you can add breaks to their shift.
It's that simple and easy to modify/edit any of your team's mis-punches.
Benefit #4: Handle Payroll through Your Time Clock Software
There are two ways that Buddy Punch helps your company submit payroll.
Using Buddy Punch as your payroll provider. This is the ideal method for companies that want to a) replace their payroll provider and b) use only one tool that works as both a time clock system and payroll provider. Buddy Punch can set up direct deposit, auto payroll schedules, tax filing, and more.
Using Buddy Punch with a 3rd party payroll provider. If you already have a payroll provider that you're using — and you want to keep using them — you can likely set up an integration through Buddy Punch. We have integrations with Paychex, QuickBooks Online/QuickBooks Desktop, Gusto, SurePayroll, and more.
If you use a payroll provider that we don't have an integration for, you can easily export your team's time tracking info out of Buddy Punch (for example, as a .CSV file) and share it with your payroll provider.
Here's a little bit more info about both options below.
1. Buddy Punch Payroll: Use One Tool for Your Time Clock System and Payroll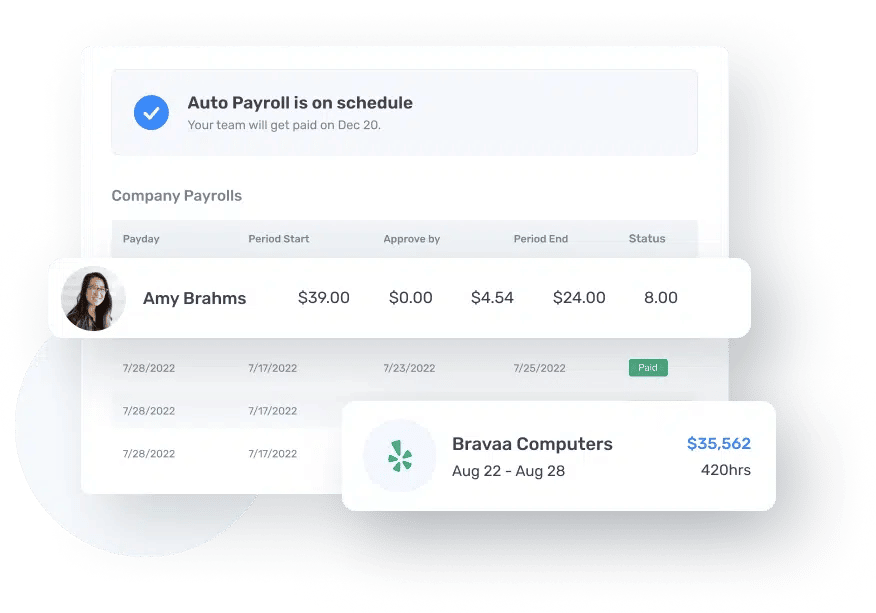 It's common practice for companies to use two different systems: one that tracks timesheets and records employee time off, and one that handles payroll.
But it's much more efficient to use one system — one system for keeping accurate time cards, tracking paid time off, and managing payroll (including direct deposits and tax filings).
By using one system, you cut down toggling through multiple screens, handling multiple logins, and paying for multiple services. Plus, it's easier to fix human errors as they pop up (like adding someone's personal day to payroll last minute) when you're managing everything out of one dashboard.
With Buddy Punch, you can review your team's payroll information from your dashboard.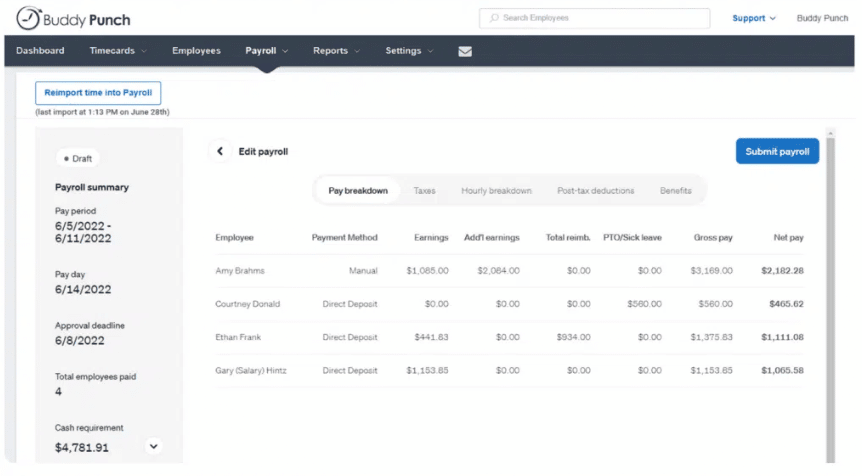 This includes checking that everyone's hours are recorded correctly, and reviewing other information like gross and net pay and each employee's preferred payment method.
Once you submit payroll, Buddy Punch handles the rest.
We send direct deposits to your employees (or whoever you're issuing payment to). FYI: Your team — whether full-time employees or contractors — can log into their Buddy Punch self-service app and put in their direct deposit info. This saves you time, as you're not working as a middleman.
We provide employees with easily-accessible pay stubs (again, they don't need to reach out to you or their direct manager to check their pay stubs).
We automatically pay and file your state and federal payroll taxes.
2. How to Use Buddy Punch with a 3rd Party Payroll Provider
If you're happy with your payroll provider — or simply don't want to switch providers at the moment — you can easily use Buddy Punch as your designated time clock system, and then share all relevant time tracking/time off information with your payroll provider.
To do this, you can either set up integrations with your payroll provider, or deliver your provider a time tracking report exported from Buddy punch.
Full List of Payroll Provider Integrations
Where possible, we recommend you use an integration. It's faster and easier, and it cuts down on the risk of keystroke/human errors. This way, you're not personally responsible for file management, and exporting/sending over time card info.
Instead, all relevant information goes seamlessly from Buddy Punch to your payroll provider.
Here are setup instructions for key payroll providers:
If we don't have an integration for your payroll provider, you can easily extract all relevant payroll information out of Buddy Punch with our Payroll Reports on Demand.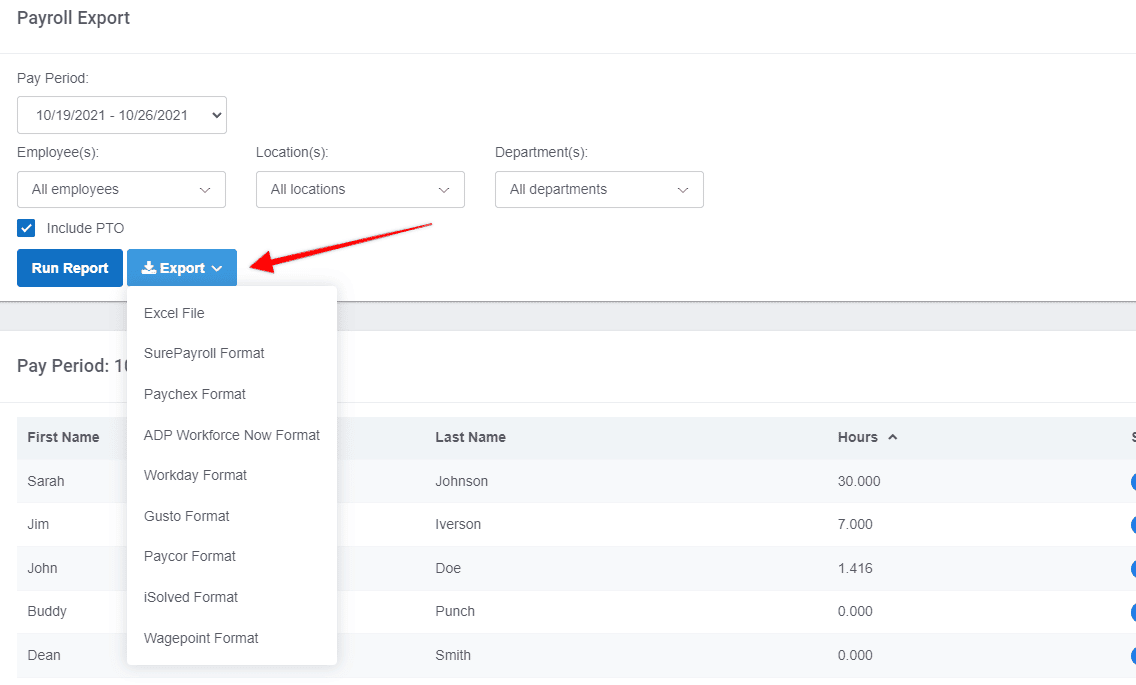 You can export this info out in formats designed to match file types for popular payroll providers, or as an Excel file.

See All of Buddy Punch's Time Clock System Features
So far, we've covered the more popular features of any quality time clock system. But there's a lot of additional functionality to Buddy Punch that makes it great for all types of businesses, including:
What Customers are Saying About Buddy Punch
As of this writing, Buddy Punch has 767 reviews and 4.8 out of 5 stars on Capterra (a popular software review site).

You can read the reviews here, but we pulled just a few that highlight Buddy Punch's ease of use and customer service.
"The area I am most impressed with is with their support — they respond quickly, accurately and offer real solutions."

Click here to read the full review.
"Minimal training for end users (employees or managers). The back end (admin) features are just as simple and intuitive. We wanted a product that was simple to use, cost friendly and allowed us to customize — all of these areas were met. Very impressed!"

Click here to read the full review.
"The software is straightforward and well-run, and was easily understood by our team of 55+ non-technical staff of all ages."

Click here to read the full review.
Learn More About Buddy Punch and Start a Free Trial
If you'd like to explore Buddy Punch in greater depth, we invite you to:
For more information around time tracking software, check out our posts on: