Employee Attendance Tracker Excel Templates (Downsides & Alternatives)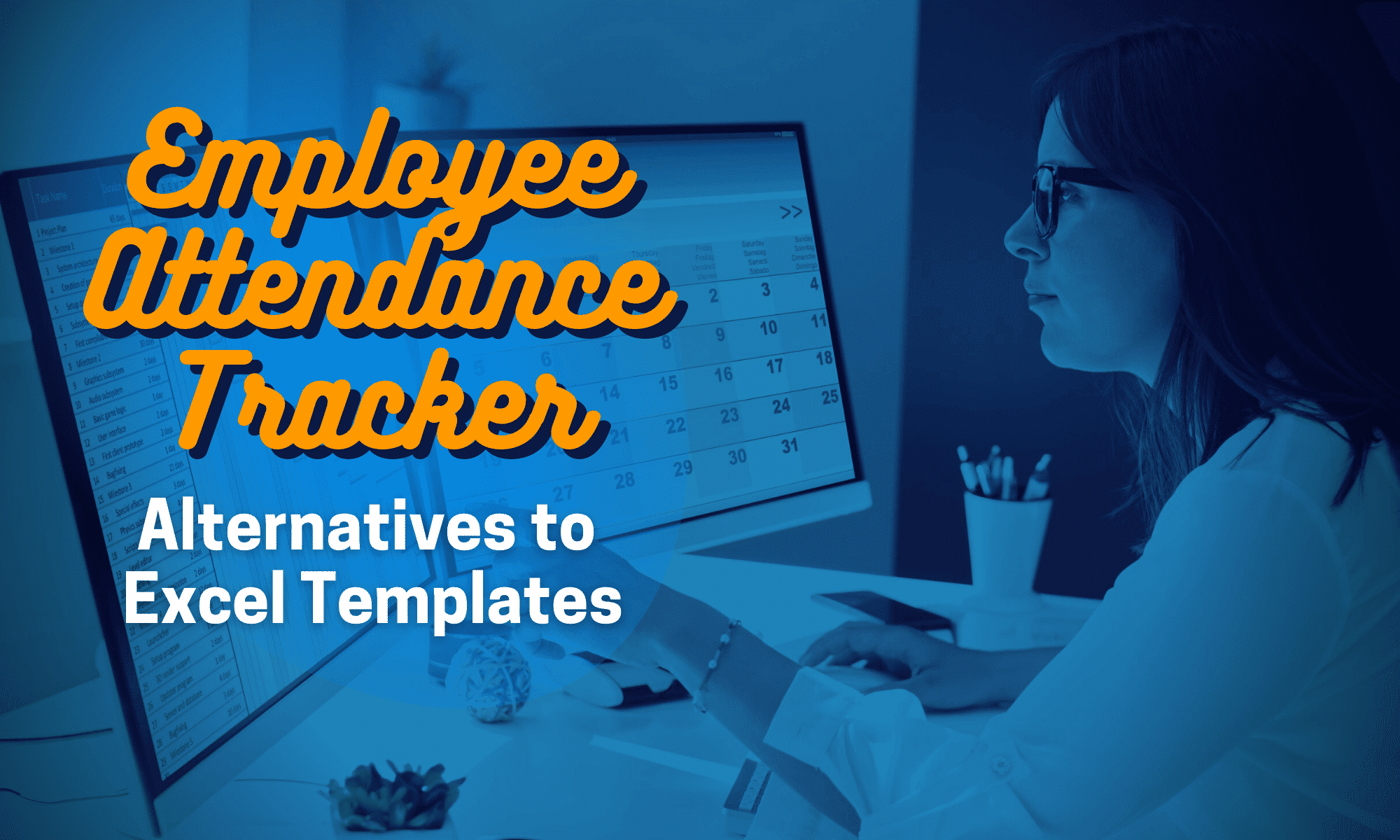 In this article, we'll start by sharing several:
Employee attendance tracker Excel templates.
Microsoft Excel attendance sheet templates.
We take a close look at several real and free Excel templates to see if they can help you solve the problems you're currently facing when trying to track attendance and employee time (such as hours worked and PTO taken). For some business owners, these manual tracking systems are more than enough to keep track of employee tardiness and monthly attendance, even if they have their flaws.
But for those companies where Excel templates just don't cut it, we also cover Buddy Punch, our employee time and attendance software. For example, we'll show you how simple it is to handle time off requests within our app, access reports that automatically calculate and show each employee's time off balance, and more. 
Note: Using spreadsheets to track employee attendance and run payroll is time-consuming, error-prone, and inefficient. Sign up for a free trial of Buddy Punch to streamline the process and save yourself countless hours of manual work.
Employee Attendance Spreadsheet Templates
Microsoft offers several free, prebuilt employee attendance tracker Excel templates that are great for tracking daily attendance. We'll link to them and provide descriptions of their application (tracking employee names, employee productivity, attendance status, sick leave or other types of leave, etc.) below: 
Employee Attendance Tracker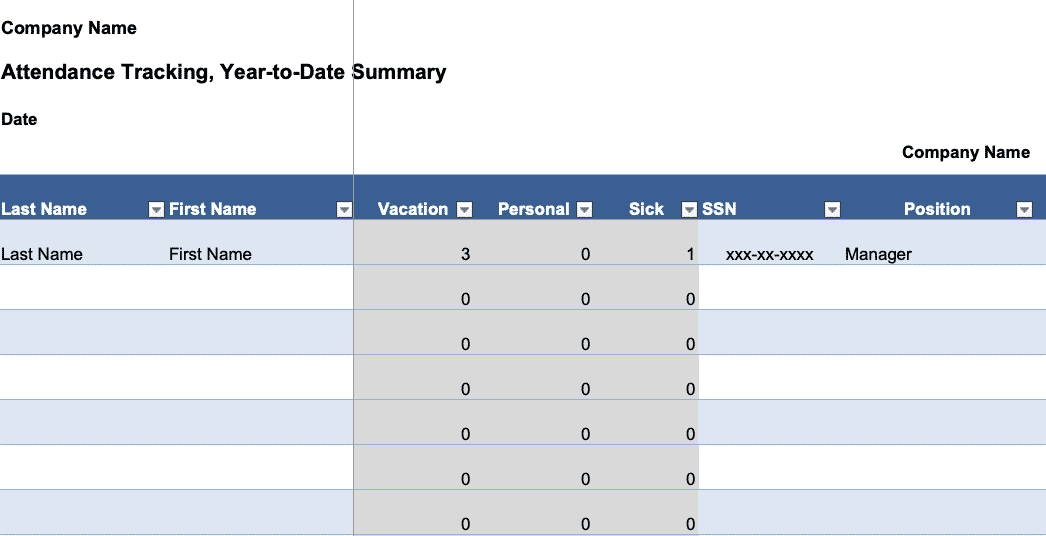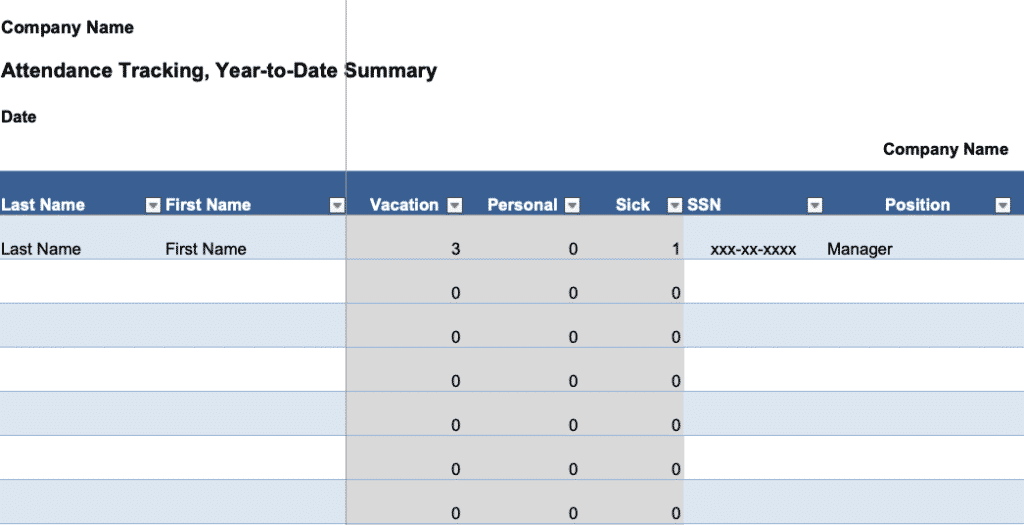 Microsoft's description: "Employees and their supervisors often need to know information about the employee's time off, including how many vacation days they have left, how many sick days they've used, and if they have personal days remaining. This attendance tracking workbook provides a place for you to record attendance and also summarizes critical information for a scannable year-to-date status report. This is an accessible template."
Get more info and download the Employee Attendance Tracker template here.
Employee Attendance Record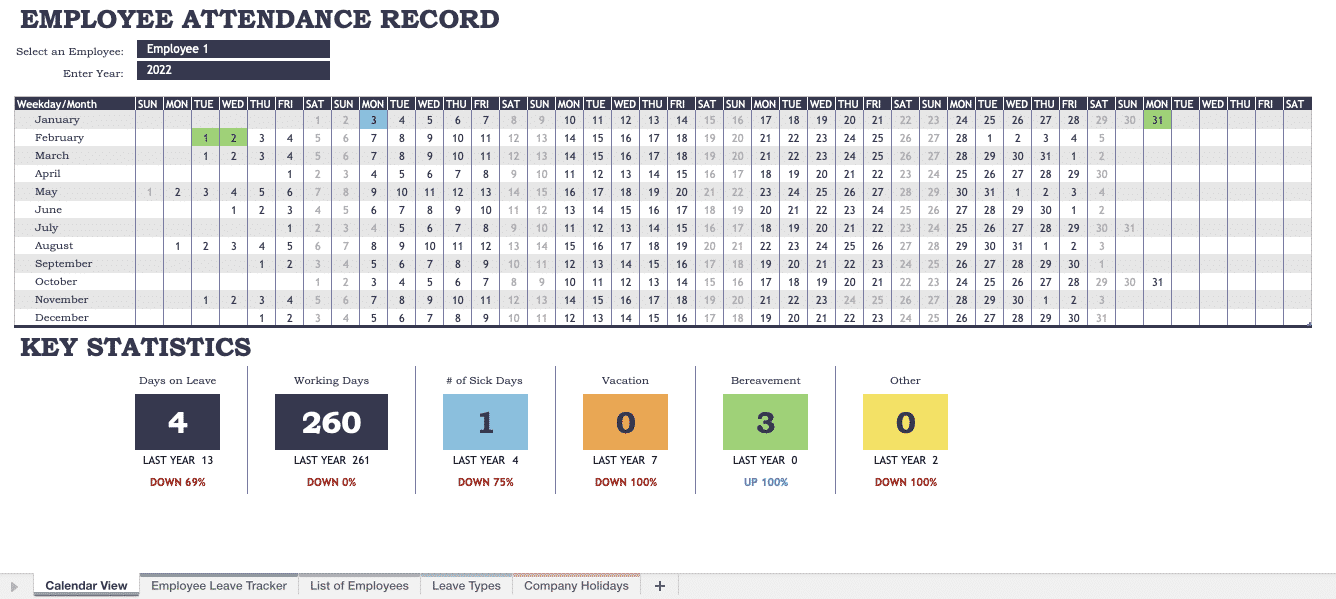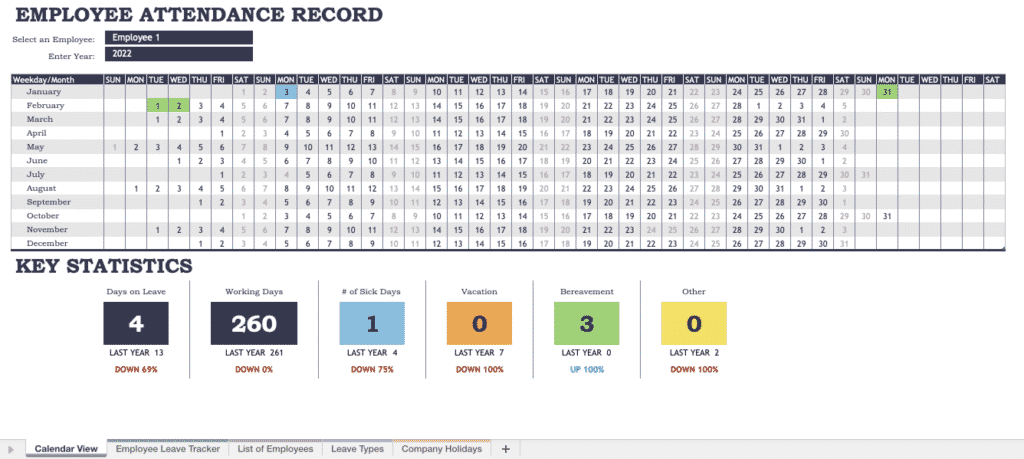 Microsoft's description: "This visual employee attendance tracker template will allow you to track the attendance of each of your employees at a glance. Use this attendance sheet in Excel to create a professional-looking employee attendance record. This is an accessible template."
Get more info and download the Employee Attendance Record template here.
Employee Attendance Tracking Templates
Microsoft also offers several great, prebuilt employee attendance sheet templates. Below are just a few examples of the worksheets. (Find the full list here.)
Weekly Timesheet Template with Sick and Leave Vacation

Click here to get more information and download the template.
Biweekly Timesheet with Sick and Leave Vacation

Click here to get more information and download the template.
Weekly, Monthly, and Yearly Timesheets

Click here to get more information and download the template.
The Downsides of Using Excel Spreadsheets
An Excel template is just that – a template used to help you organize key data, such as employee names, hours worked, employee absences, etc. You can use the templates above for some structure and guidance, or you can create a time tracking spreadsheet from scratch.
But the downsides of using tracker templates exist no matter what template you use or create. Specifically:
Templates rely on manual updating.You need to log in and update someone's attendance. This is inefficient and can create issues when keystroke errors happen.
Templates aren't easy to share/access. For example, if you have all your team's attendance records in one template, you may not want to share that with your employees. Employees should see their attendance history but not the attendance history of their team members.
Templates don't help with other parts of time tracking. Templates don't help your team put in time off requests. They don't help you quickly create an employee schedule via a drop-down menu. They don't make it easier to run payroll by generating or transferring data from attendance reports. 
For some companies, those issues aren't deal breakers. But for other companies, finding ways to automate as much as possible is worth the cost of using software.
To show you an alternative to tracking attendance with an Excel template, we cover our software below.
How Our Employee Attendance Tracking Software Works
In this section, we'll provide a high-level overview of how Buddy Punch, our daily employee attendance & project management software, works.
Following that, we'll look at key features and use cases and share several customer reviews that speak to the benefits of switching from MS Excel to our software. Here's an example:
"The software has all the features that I currently was using in my spreadsheet – but better as it took human error out of the equation! I gained the reports that tallied PTO (vacations, sick time, personal time) which I had to pull manually from a spreadsheet. Employees are able to enter their own PTO requests (again a time saver). The chat staff has been super helpful to me every single time I have messaged them. They assisted me to get the software ready for a trial run which was very helpful!"

Click here to read the full review.
In a nutshell, here's how Buddy Punch works:
Buddy Punch is time tracking software, and this means you can use it to track hourly employees, salary employees, and both time worked and paid and non-paid time off.
It's a web-based platform, so you can use it anywhere you have internet access. The app is available for computers, smartphones, and tablets, making it great for remote workers, multi job sites, and any type of business.
You can write schedules with Buddy Punch.
You can use Buddy Punch to run payroll or integrate Buddy Punch with your current payroll provider.
Let's take a high-level overview.
Hourly employees will punch in and out via the device of their choice: iPhone, Android, tablet, or desktop.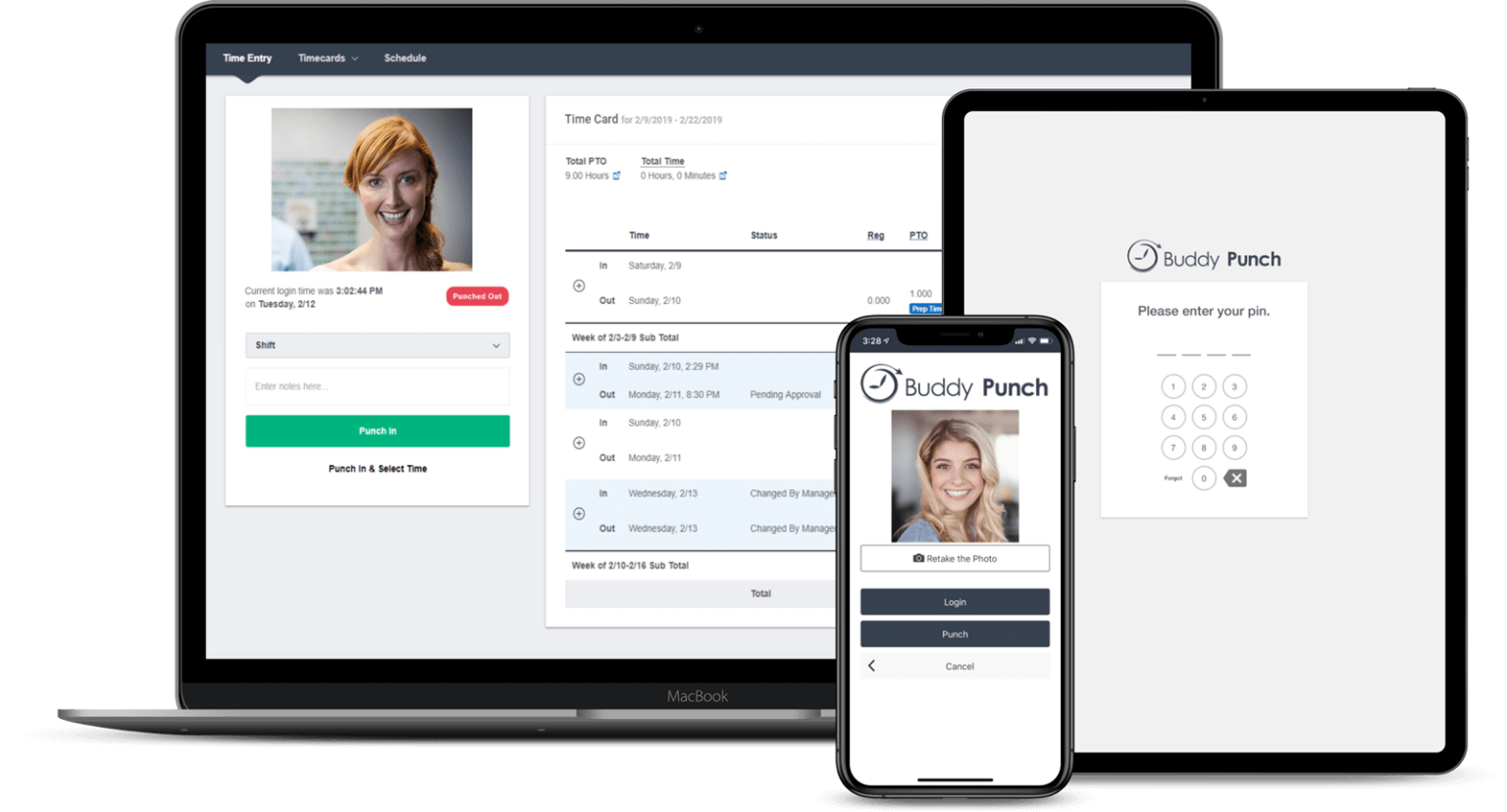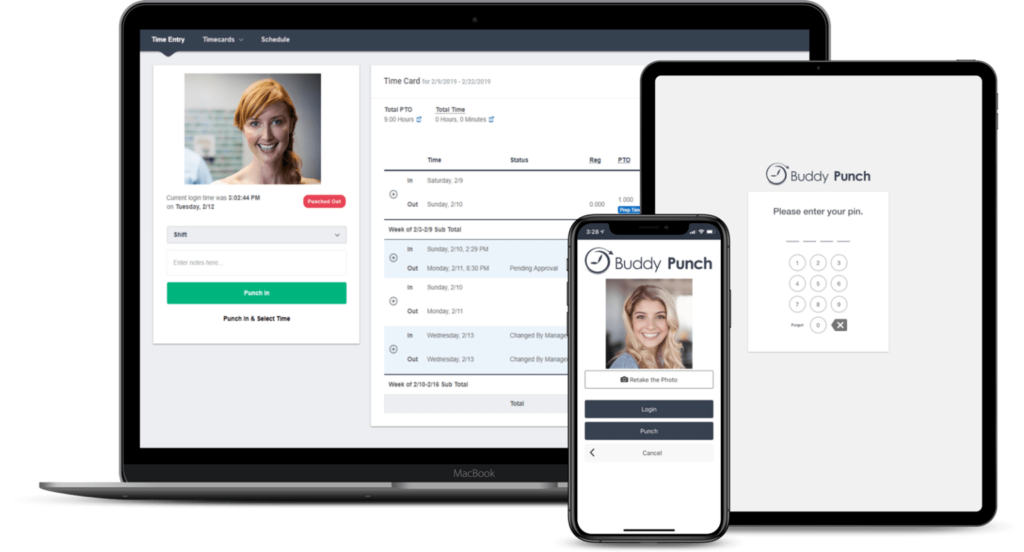 Each employee's regular hours, time off, and overtime are automatically added up, and you can download an Excel report containing this information (as pictured below).
You can then use Buddy Punch to run payroll. Buddy Punch lets your employees log in and add their bank info, so they can be paid via direct deposit.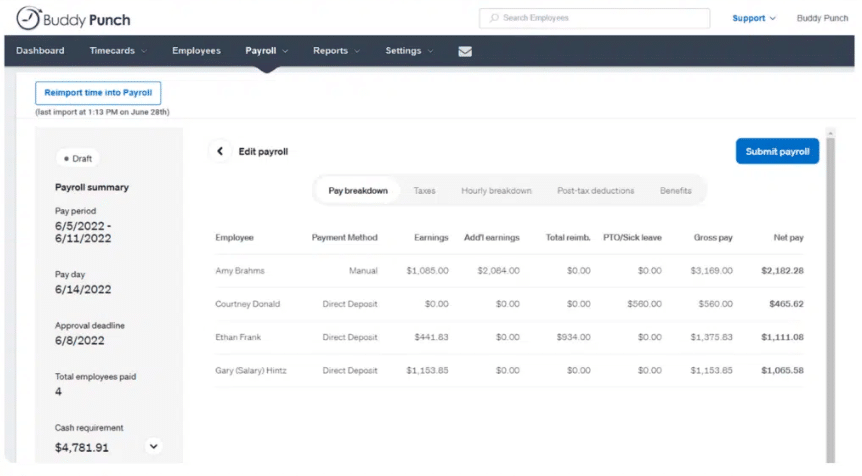 You can also pay your team with a check.
If you're not looking to replace your payroll software yet, you can also set up an integration with your payroll provider.
We integrate with QuickBooks, Paychex, Workday, and many others.

If you want to learn moare about Buddy Punch – specifically how your business can benefit from using it as a replacement over inefficient Excel templates – then you can:
Or you can keep reading for a more detailed breakdown of Buddy Punch's features, plus some customer reviews taken from a third-party website.
Buddy Punch's Time Tracking Features
Time Tracking Accountability Features
Accurate time tracking starts at the time clock. Buddy Punch offers several accountability-related features, designed to help your team clock in and out accurately and honestly.
For example, you can limit employee punches to a specific location using Geofencing, or limit punches to a specific device or Wi-Fi network using IP Address Locking (best for in-office environments). We also offer features such as Photos on Punch (pictured below), Facial Recognition Punching, GPS Tracking, and others.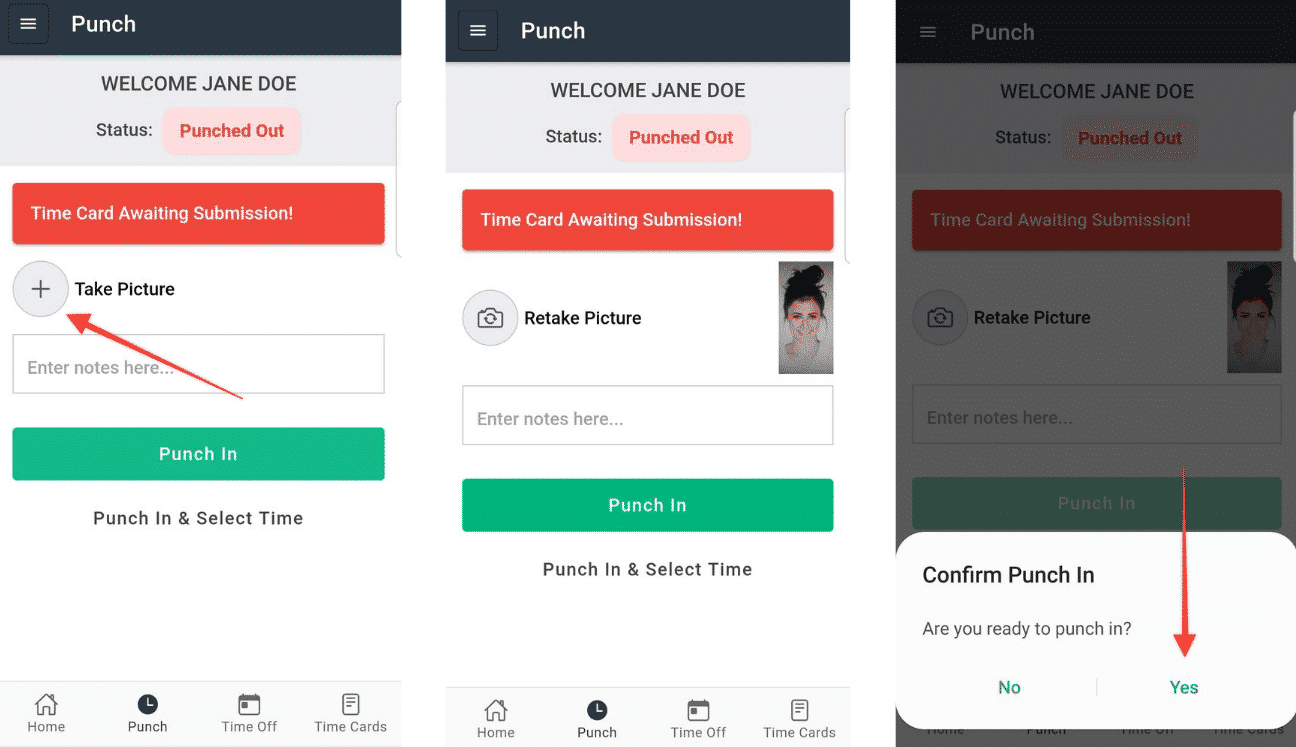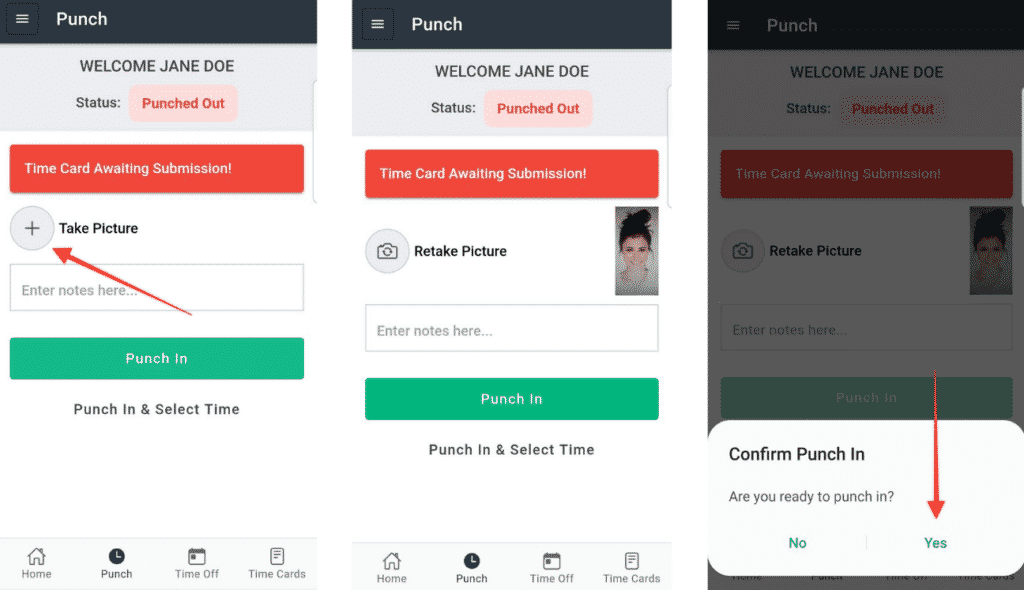 You can set up alerts to remind employees when they haven't clocked in for a shift. This is a great win because it's not uncommon for someone to get to work, put away their stuff, and start their shift without remembering to clock in.
Tracking Paid Time Off and Non-Paid Time Off
We offer a variety of time off tracking features. For example, employees can request paid and unpaid time off within our app.
This includes various employee leave types, such as vacation time, sick leave, or other types of leave. You can customize how time off management works to match your business needs. For example, you can pick whether or not a manager needs to approve a time off request.
You can also customize how PTO is accrued. For example, you can set up accrual rules based on how an employee accrues time off (whether it happens based on hours worked or weeks worked) and how much PTO they accrue. You can customize by each employee, which is great for companies who have tiered PTO accrual policies.
In addition, we offer an in-app time off summary, which shows each employee's available, used, and accrued time off information.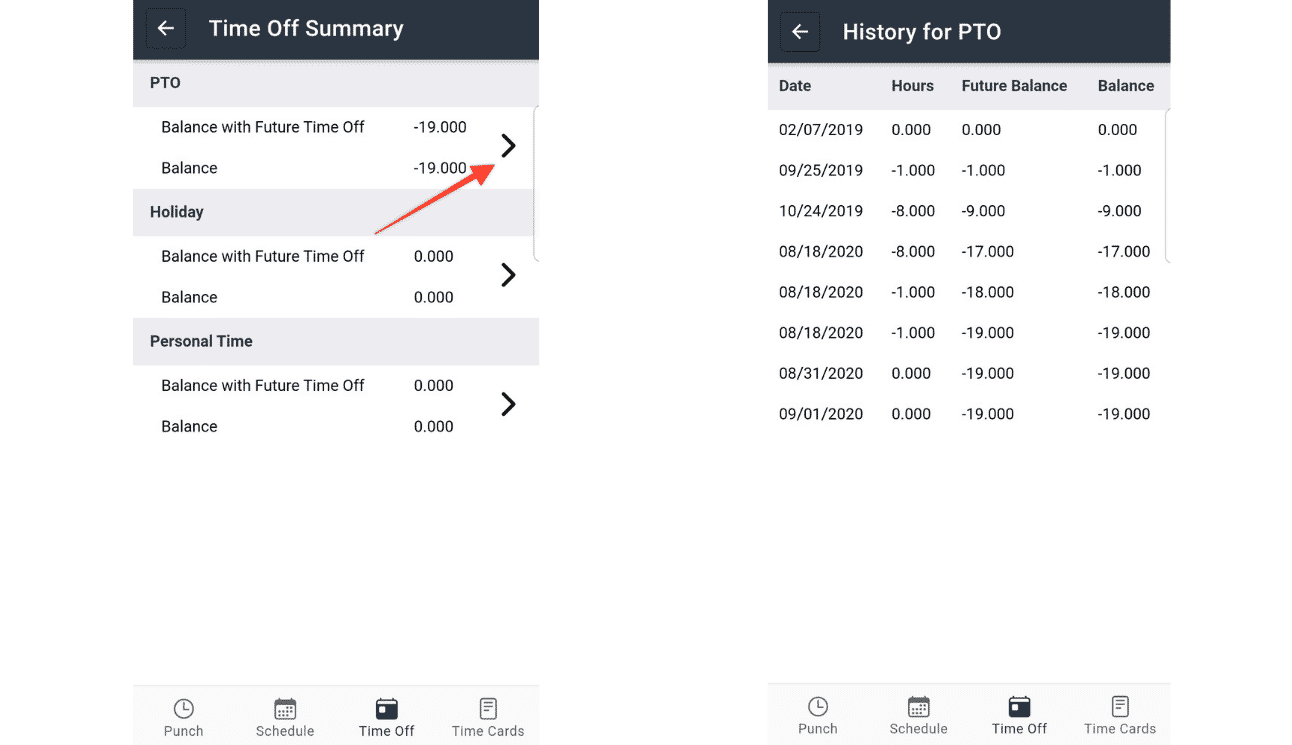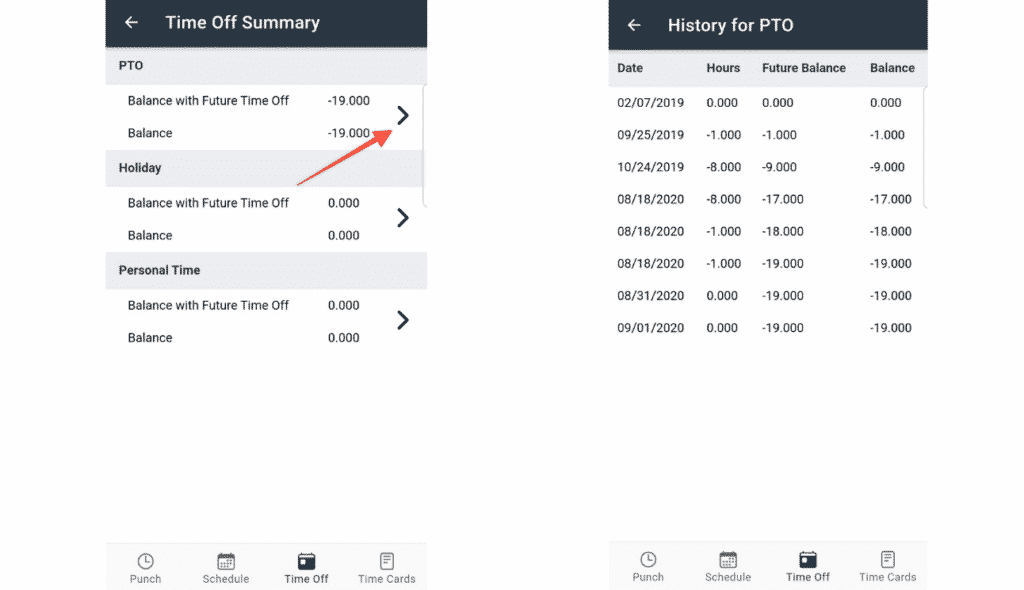 (This is just the tip of the iceberg. Visit our site to learn about additional time off tracking features, and feel free to submit any questions via live chat.)
How to Run Payroll with Buddy Punch
One of the bigger pains of using an Excel template to track attendance, is then getting that data into your payroll provider.
With Buddy Punch, we simplify the entire payroll process in three different ways.
Option #1: Use Buddy Punch as Payroll Software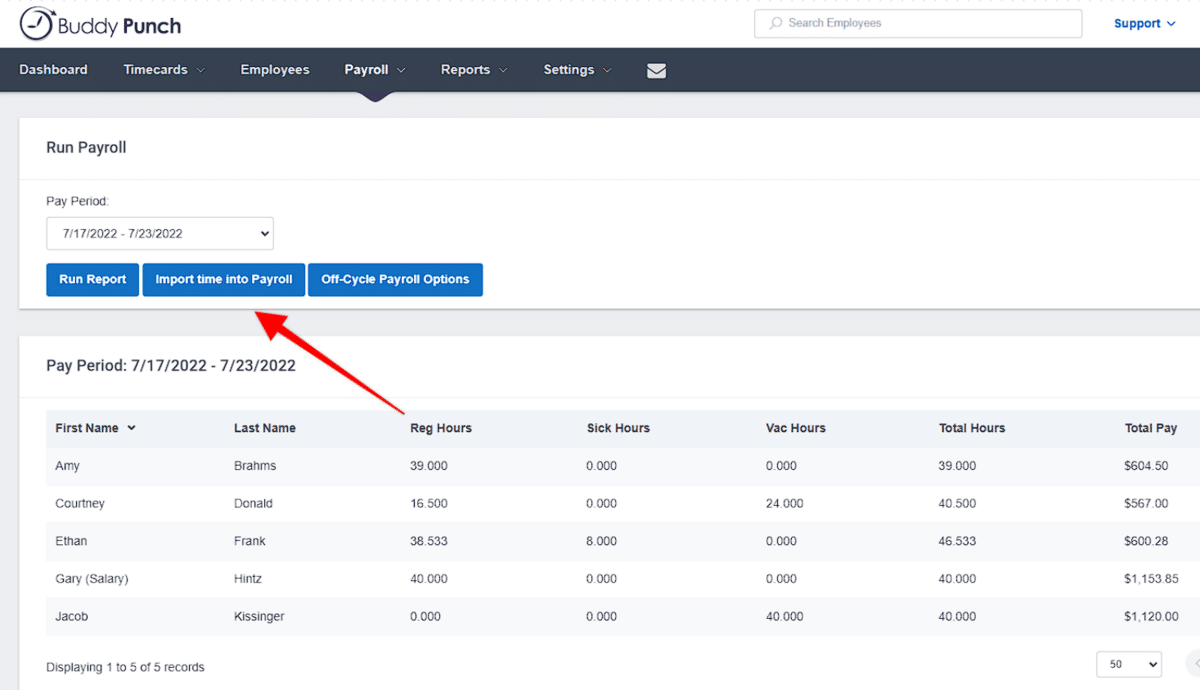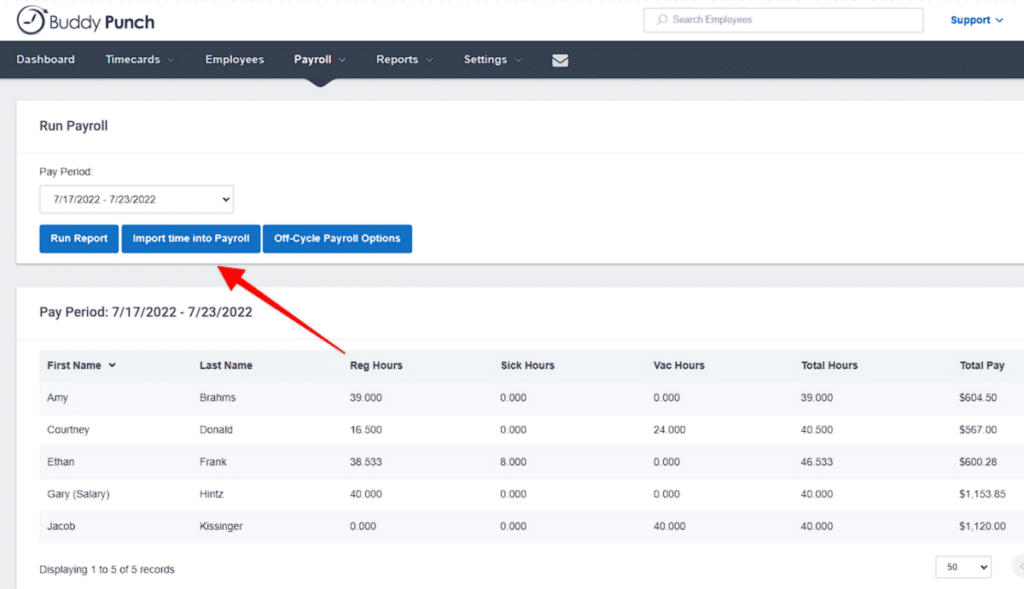 You can use Buddy Punch's payroll software.
Buddy Punch offers:
Unlimited payroll runs
Payment via direct deposit and checks
Auto payroll (so you never miss a payroll filing deadline)
2-day and 4-day processing
Self-service portal where employees can update their banking info and view their paychecks
Plus, with Buddy Punch, you'll always be payroll compliant, as Buddy Punch handles payroll tax.
The benefit here is that you don't need to jump back and forth between two different platforms (an attendance tracker and payroll software) to run payroll.
You can make sure your team's time is tracked accurately (thanks to the features we covered above), then you can run payroll for a specific time period.
You can then review payroll before it's submitted, check the recorded time to be paid out, confirm hourly rates, and even add additional earnings to someone's pay (such as a bonus or commission).
Option #2: Use Ready-to-Go Integrations with Popular Payroll Providers
Some businesses will mainly use Buddy Punch as a time tracking tool, but will still want to stick with their current payroll provider.
You can still simplify your payroll process by using ready-made payroll integrations.
Buddy Punch can integrate your team's time tracking reports into payroll reports. We have integrations with several leading payroll providers, including:
QuickBooks
SurePayroll
ADP
Paychex
Gusto
Option #3: Export Payroll Reports On Demand
You can also export payroll reports as .CSV file. Then you can share it with the appropriate party – whether you have an accountant or need to upload a .CSV file into payroll software we don't have an integration for.

You can have peace of mind that the payroll report you've exported out of Buddy Punch consists of accurate time tracking – so your team is getting paid exactly what they're owed.
Customer Reviews Highlighting the Benefits of Switching from Excel to Our Software
As of this writing, Buddy Punch has received 827 reviews and 4.8 out of 5 stars on Capterra (a popular software review site).


Below, we'll list just a few reviews that highlight the benefits of switching from Excel spreadsheets to our employee time and attendance software:
"We are currently dealing with paper PTO requests and Excel spreadsheet timecards. Having the whole timecard and PTO request process online and in one place will make everything much easier for us. Buddy Punch has all the features we need (manual punching, job coding, PTO requests, etc.) plus a simple and user-friendly experience. All the other applications we looked at were either way too robust for our small non-profit or didn't offer one of the key features we needed."

Click here to read the full review.
"The software has all the features that I currently was using in my spreadsheet – but better as it took human error out of the equation… In running payroll, since employees punch in, I can track their time as well as PTO in one place; this saves me time on my end. I simply run a report at the end of each payroll period to access a summary for each employee. I still have to enter totals but no longer have to search each line for notes regarding time off. The reports are very helpful and can be downloaded in multiple formats."

Click here to read the full review.
"We used to use an Excel spreadsheet that was very difficult to read and change the hours. Now technicians can clock in and out as many times a day as they need and if they need to change the time in or out it has to be approved by a manager! Love that you can pull an "hours report" and see the hours that each employee worked for any certain amount of time. Love that it shows the hours and overtime hours separately and together. The Reports are easy to access and easy to read. Love that you can pull the "timecard" and find when each employee clocked in and out per day- easy to keep track. Love that it keeps GPS to see WHERE each employee clocked in or out when they do so. Love the PTO portion and that you have the opportunity to export information for Payroll as well!"

Click here to read the full review.
"Before we began Buddy Punch, completing a weekly labor analysis would take over an hour and a half… Now the process is as simple as logging on, setting the date range, exporting a CSV, and migrating the data into an analysis template. What used to take over an hour, takes roughly 20 minutes."

Click here to read the full review.
Click here to see all of our Buddy Punch reviews on Capterra.
Start a Free Trial and/or Request a 1-on-1 Demo
We offer a free 14-day trial. You can also request a 1-on-1 demo where we'll show you how to best leverage our software for your business' needs.
You May Also Like…