6 Best Construction Payroll Software in 2023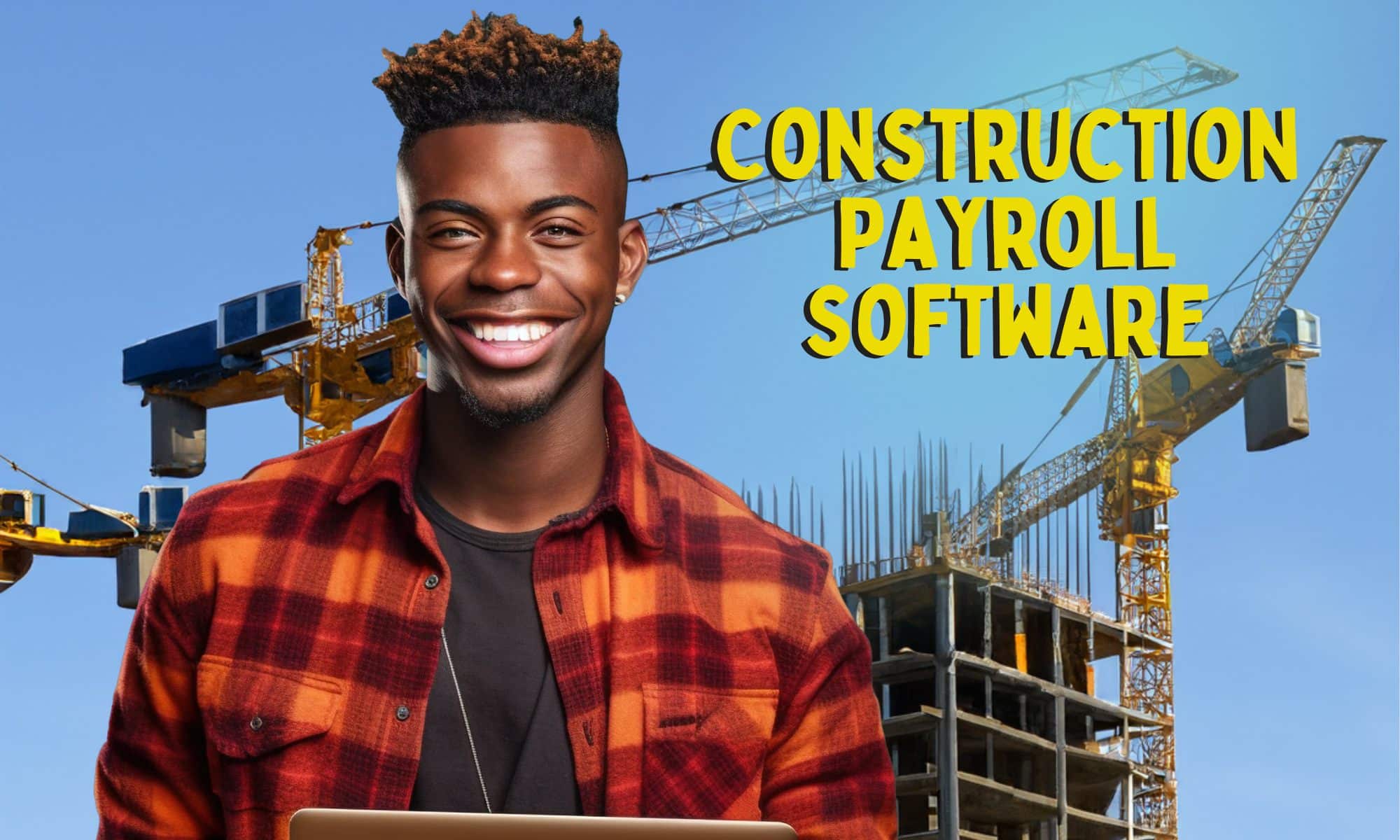 In this article, we'll look at how teams in the construction industry can use payroll software to:
Simplify and streamline the payroll process by cutting out spreadsheets or hopping from one platform to another (like using a separate time-tracking, scheduling, and payroll solution).
Get timely and accurate payroll reports about hours worked and paid time off for all employees (whether full-time, part-time, seasonal, etc.).
Track and add miscellaneous earnings such as reimbursements, bonuses, severances, etc.
Pay employees accurately and on time via direct deposit or physical checks.
Follow all local, state, and federal rules and regulations regarding tax withholdings and calculating overtime, including tracking and reporting for union workers.
The first software we'll cover is Buddy Punch, our construction payroll software. Buddy Punch tracks your crew's time worked, including paid time off (PTO) and other earnings you need to run through payroll — such as bonuses and reimbursements.
Buddy Punch has an online time-tracking system that you can use from any desktop or mobile device, so it's perfect for shift workers or when you're managing multiple construction sites. 
Construction Payroll Software
1. Buddy Punch
The Best Construction Payroll Software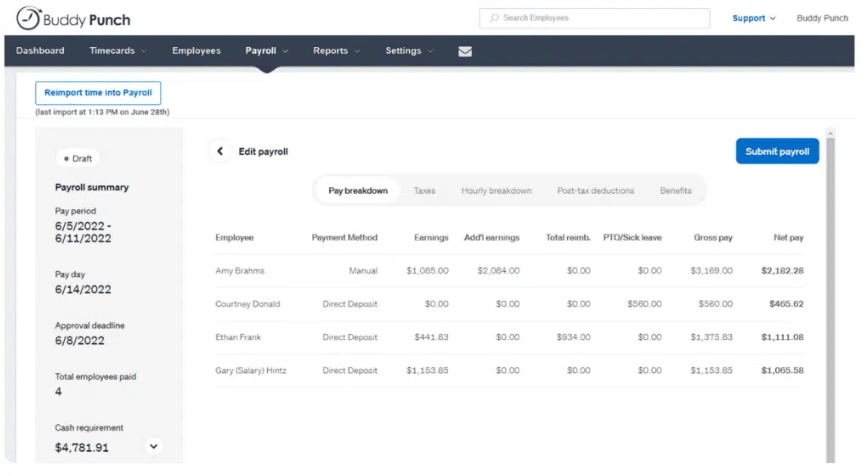 Buddy Punch is an all-in-one time tracking and payroll software for construction businesses that eliminates the need for juggling multiple platforms. With everything accessible from a single dashboard, it streamlines the process and reduces the risk of errors caused by switching between screens or importing/exporting files.
Here's a look at how Buddy Punch's payroll service works:
Track Hours and Other Expenses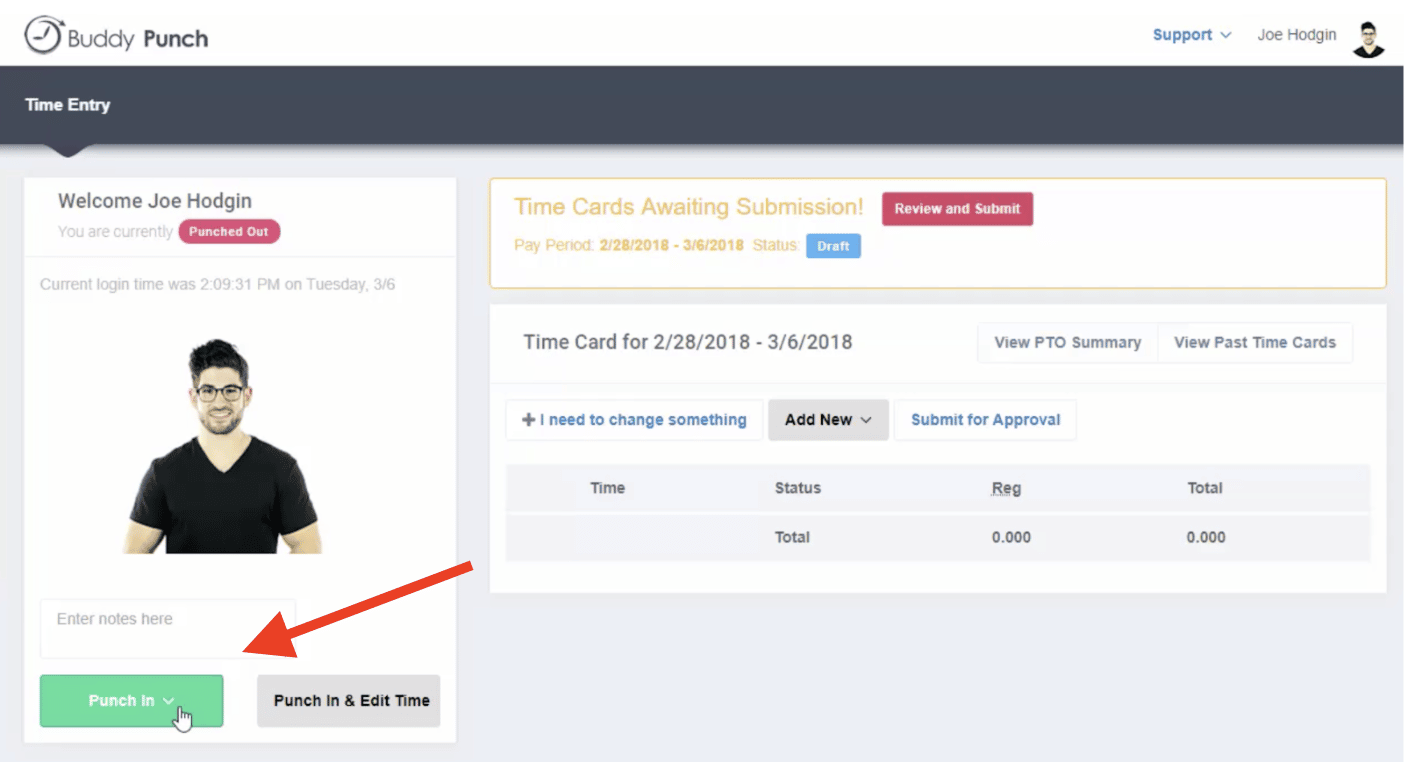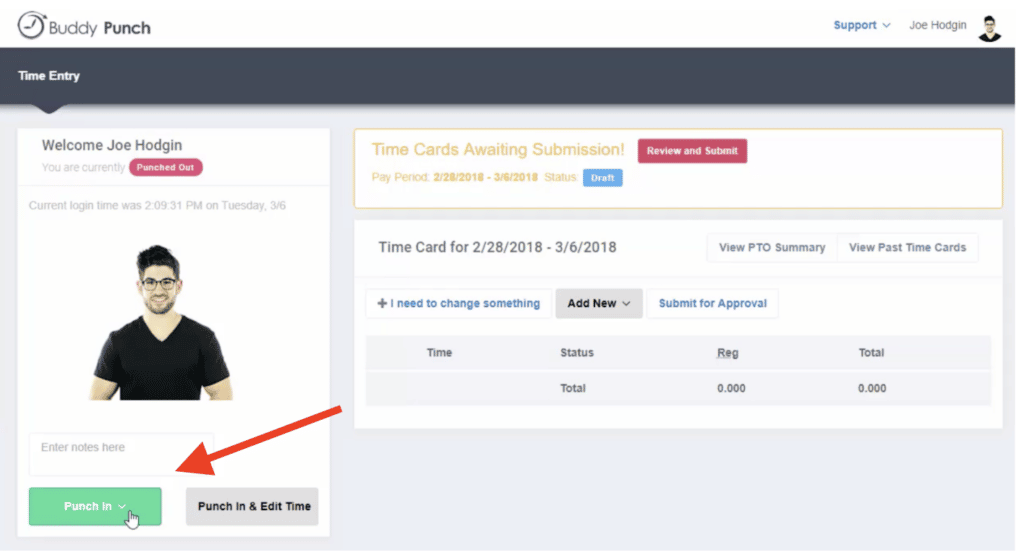 Your crew members can clock in for their shifts using a desktop computer, tablet, or smartphone. All these punches are tracked in our platform and are easy for your management team to edit if necessary, like someone forgetting to clock back in after lunch. You can quickly edit their time card to reflect actual hours worked, resulting in accurate payroll at the end of the pay period.
This automates much of the payroll process, as now you already have accurate and recorded payroll data.
Plus, Buddy Punch has advanced time clock features, such as:
And more (to increase employee accountability and ensure accurate time tracking)
More on these features in a moment.
But first, keep in mind that your salaried workers can also use Buddy Punch to receive their paycheck, track bonuses, commissions, time off balances, and more.
Automatically Calculate Payroll and Overtime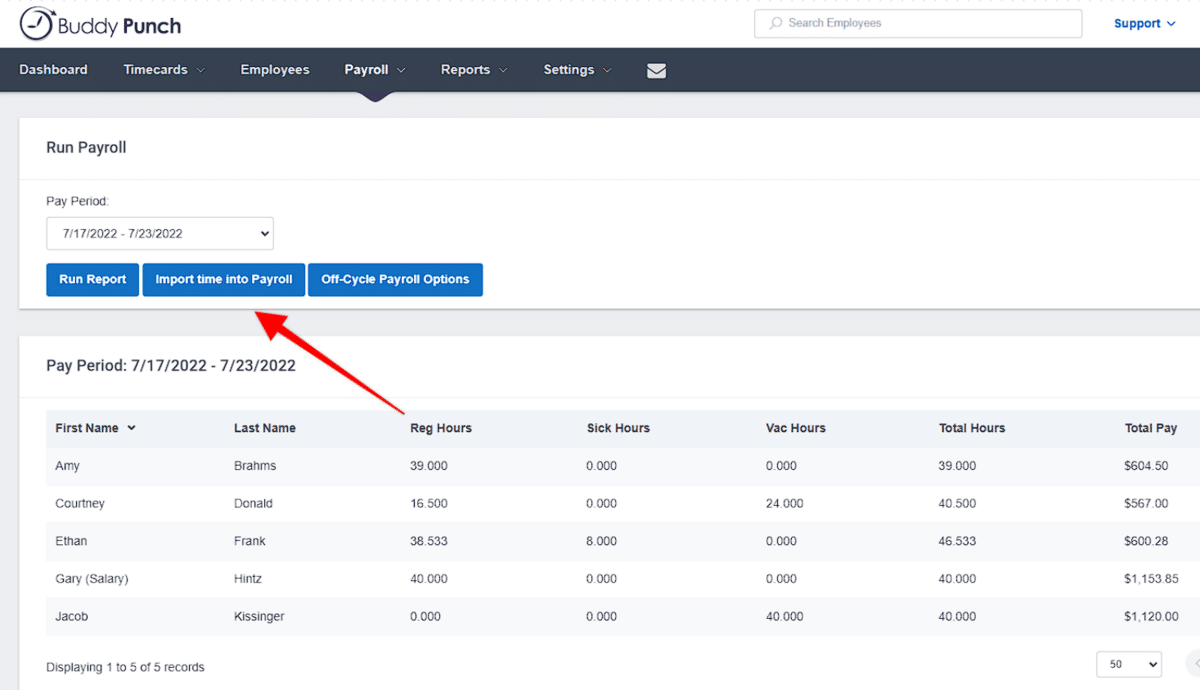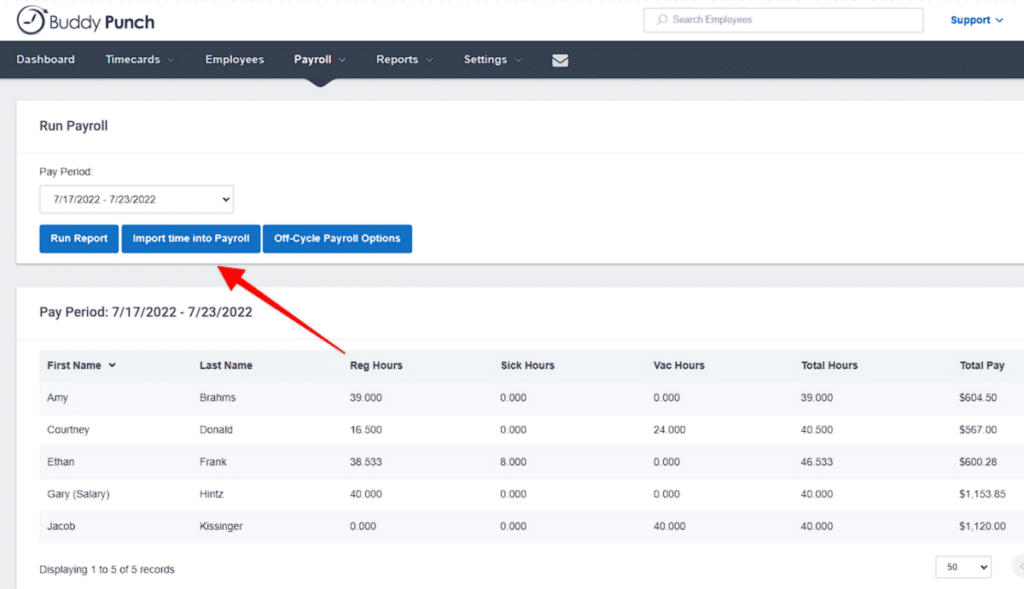 Buddy Punch automatically knows the prevailing wage each employee is owed (including overtime) based on their job codes (more on that below).
For example, you can set different job codes and rates for your seasonal workers versus your union team members. This ensures all team members are paid accurately and on time. Buddy Punch also handles multi-state tax registration and all local, state, and federal taxes.
Getting Your Crew Paid On Time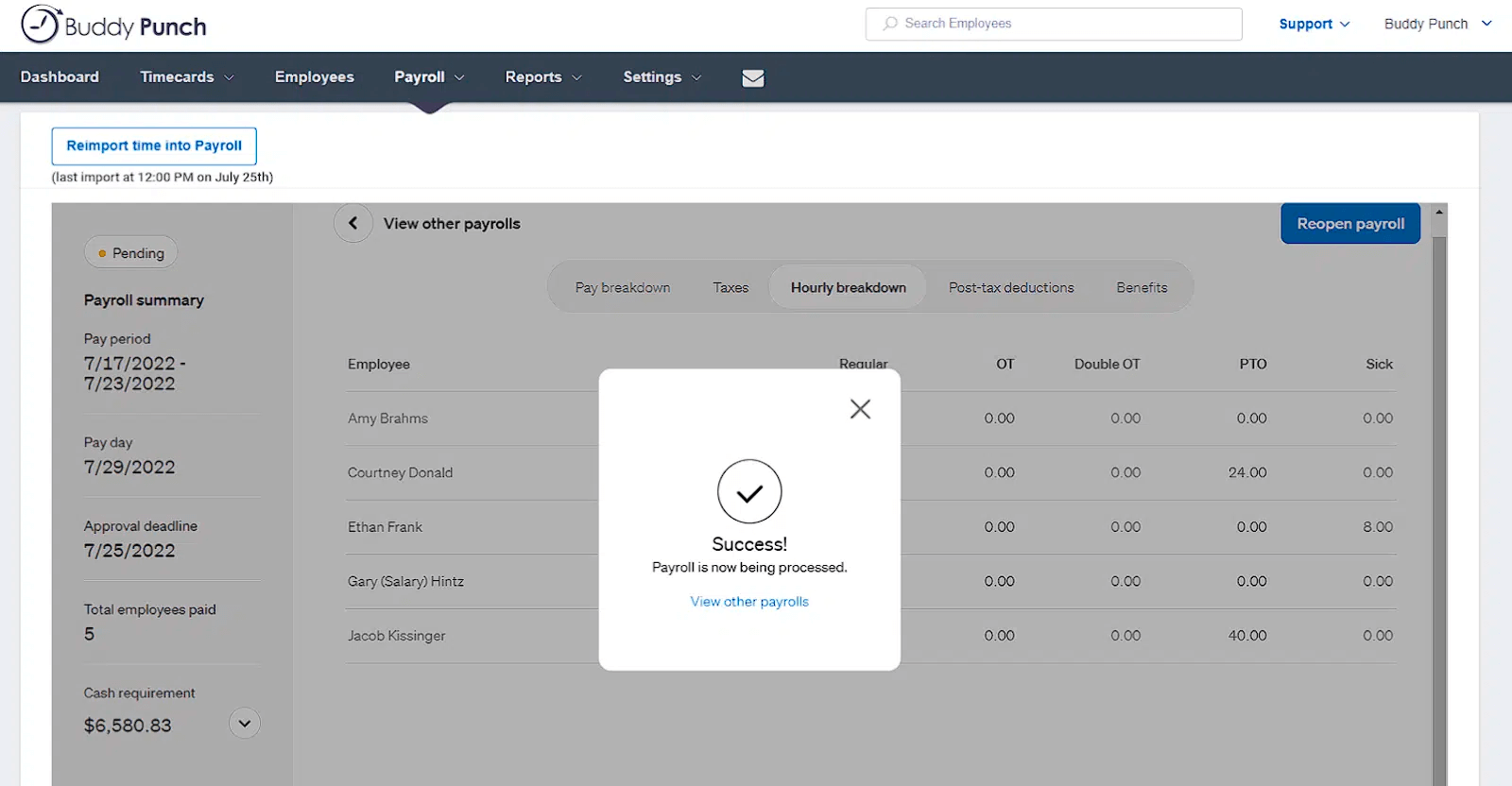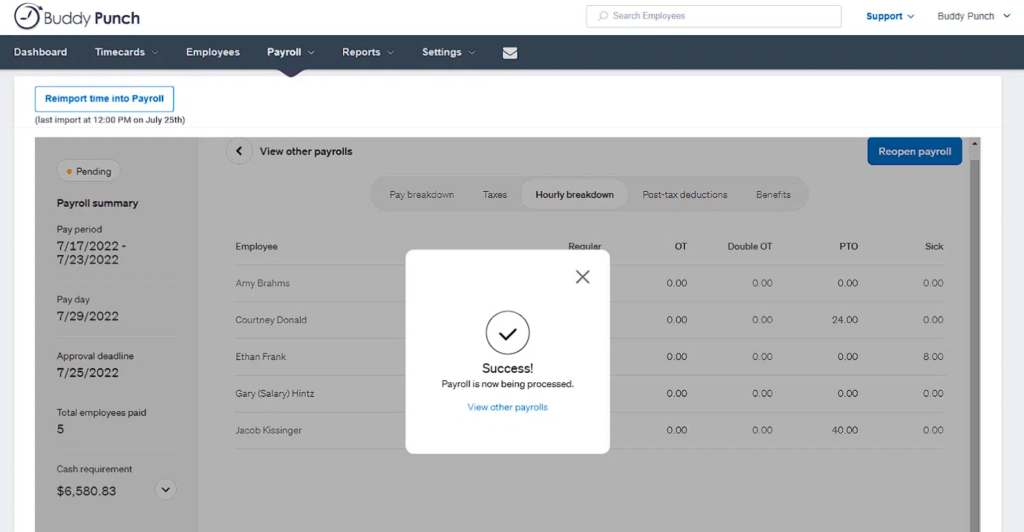 With our platform, you can pick between two-day and four-day payroll processing. You can even set up reminders to ensure payroll is submitted on time. Plus, your employees get a self-service login which they can use to set up direct deposit and pick their tax withholdings. You can also pay employees via check.
That's a very high-level overview of how Buddy Punch's payroll software works. For a more customized breakdown of how Buddy Punch can help your construction firm, schedule a one-on-one demo, or keep reading.
Buddy Punch Features That Ensure Accurate Payroll
Let's look deeper at Buddy Punches' advanced clocking features that guarantee accurate certified payroll reports.
Photos on Punch: Employees take a photo of themselves — either with their computer, tablet, or smartphone — and it gets uploaded when they clock in. Your management/HR team can review the submitted photos, guaranteeing that the right person is clocking in for their shift (while reducing time theft, such as buddy punching).
Geofencing: You can limit punches to a specific area, so no one can clock in for their shift unless they're within 100 feet of their workstation.
Punch Rounding: Punch rounding helps you accurately track when employees start or end their shifts/breaks. For example, you can set Buddy Punch to round punches up or down. So if someone punches in at 7:05 am, you can have it rounded down to 7:00 am; if someone punches in at 6:52 am, you can round it up to 7:00 am.
Text to Punch: If your crew is out in the field without a Wi-Fi connection, can set up SMS punches based on the phone number they're texting from, the body of the message, or both. You can even have the employee receive a text message back confirming that they are punched in or out.
Correcting Timecards with Buddy Punch
Mistakes in time punches, like forgetting to clock in after lunch, are inevitable. However, if left unaddressed, these errors can result in expensive payroll discrepancies, such as overpaying or underpaying employees. Managing time tracking and payroll separately would require constantly switching between two platforms to rectify these mistakes.
But with Buddy Punch, you can easily edit punches and re-submit payroll from the same dashboard.
Here's how simple it is to fix a timecard:
From your Buddy Punch dashboard, hover over "Timecards," then click "View All."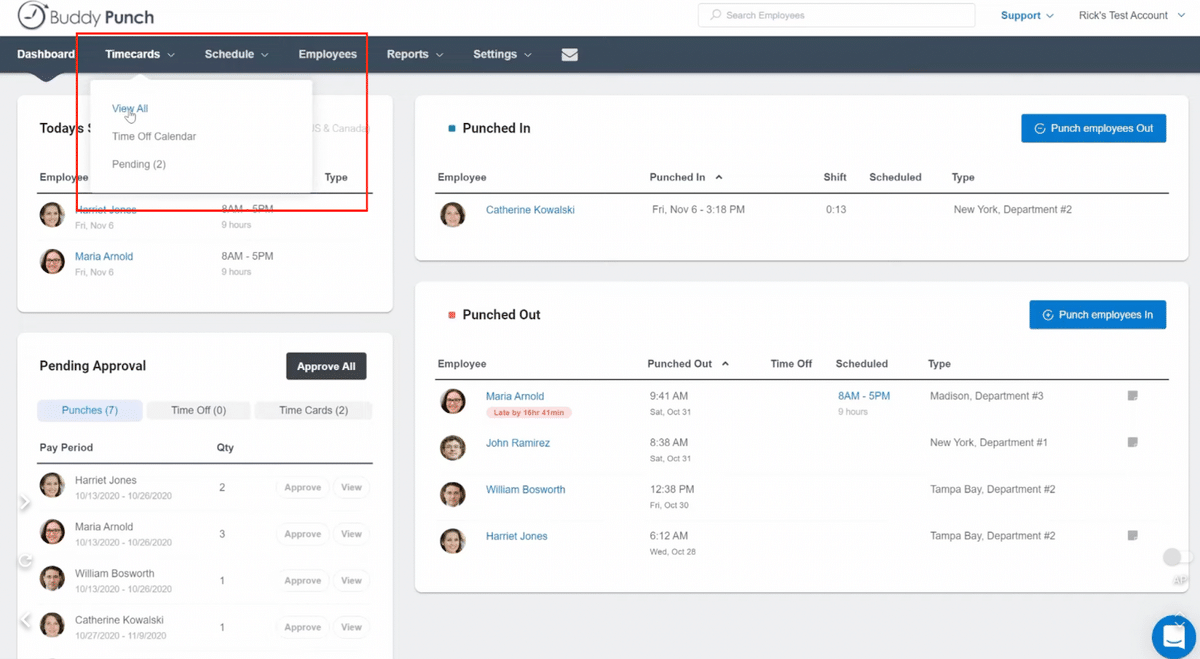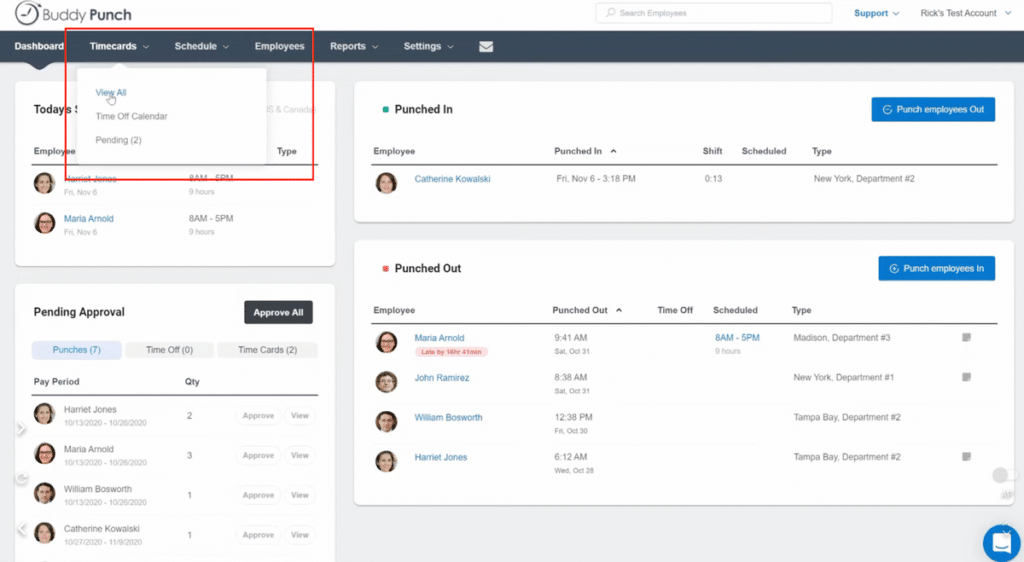 Then, click on the specific employee whose timesheet you want to edit.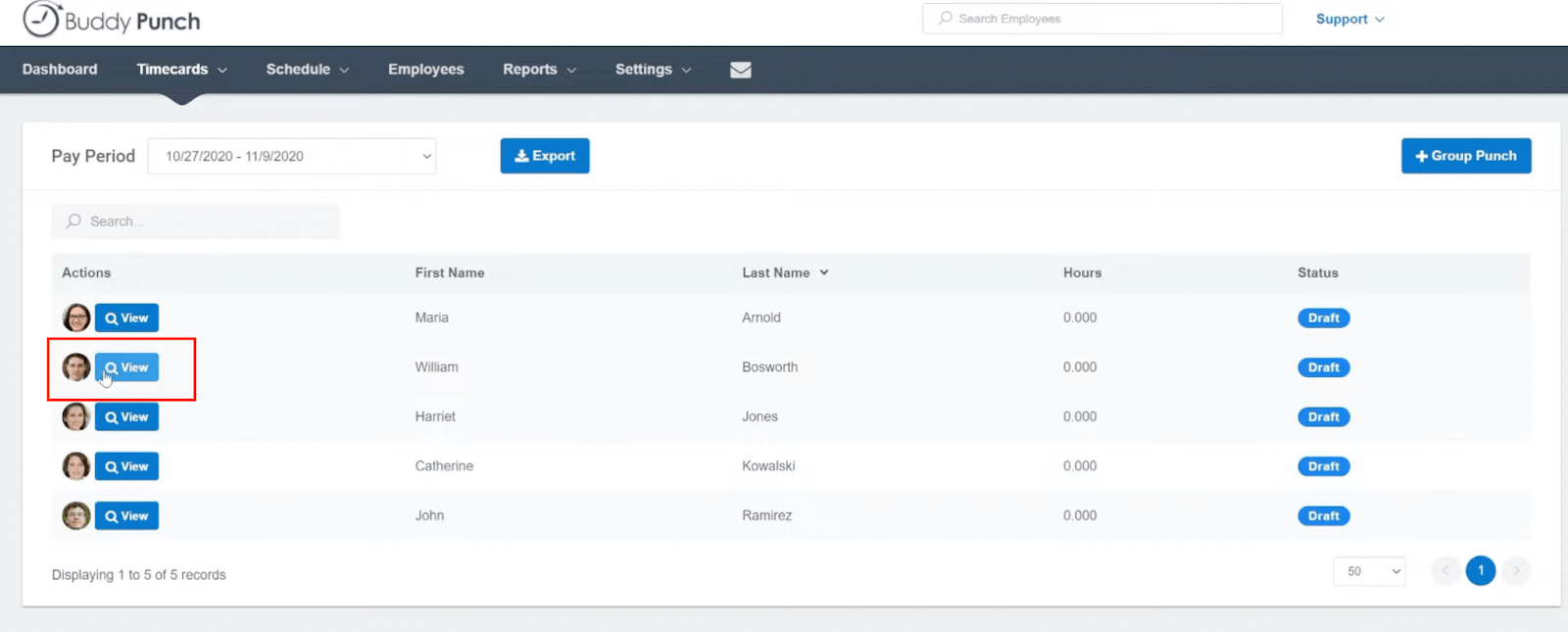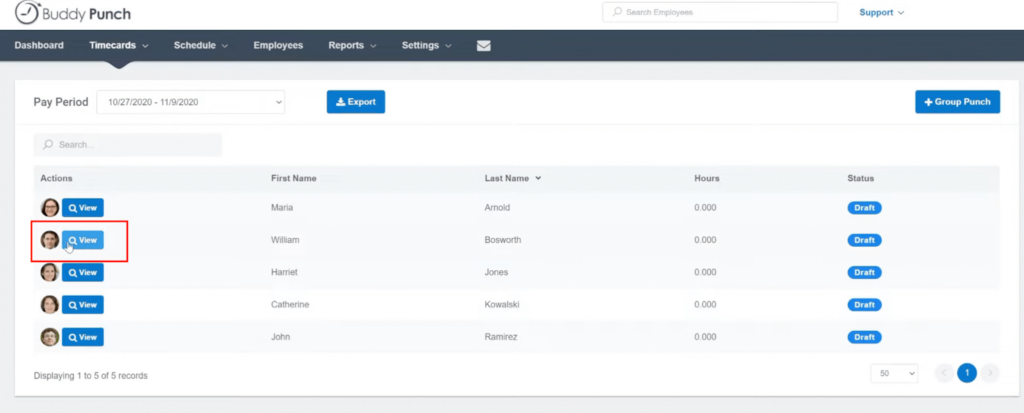 Once their timecard is pulled up, you can edit their punches, such as adding a punch they forgot to enter.


And that's it. Now you can run payroll with accurate time records.
Tracking PTO and Leave

Accurately tracking PTO and leave is essential to running payroll for a construction team. With Buddy Punch, your employees can request paid or unpaid time off via the mobile app (iOS and Android).
Additionally, you can customize your settings so that PTO requests need to be approved by a manager. Or you can have PTO requests get automatically approved, as long as your employee has enough PTO to use and they're not requesting any dates on the calendar that you've restricted.
How to Add Additional Earnings (Bonuses, Cash Tips, Severances, etc.) to Your Payroll
In addition to tracking salaries and hours worked, you can add additional earnings to your payroll, such as bonuses, reimbursements, and severances. This makes it easier for you to record your expenses and for your employees to record their earnings.
Here's an overview of how it works:
When running payroll, you can click "+ Additional Earnings" next to an employee's name.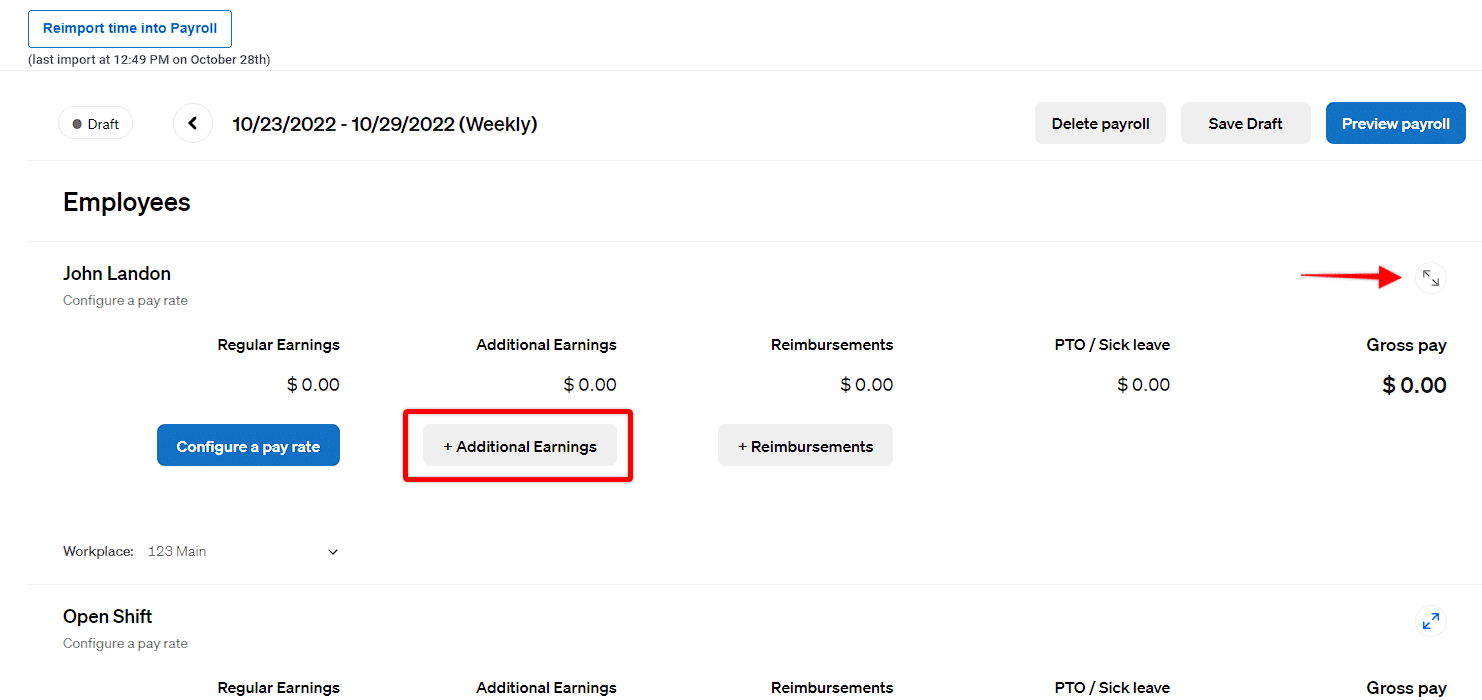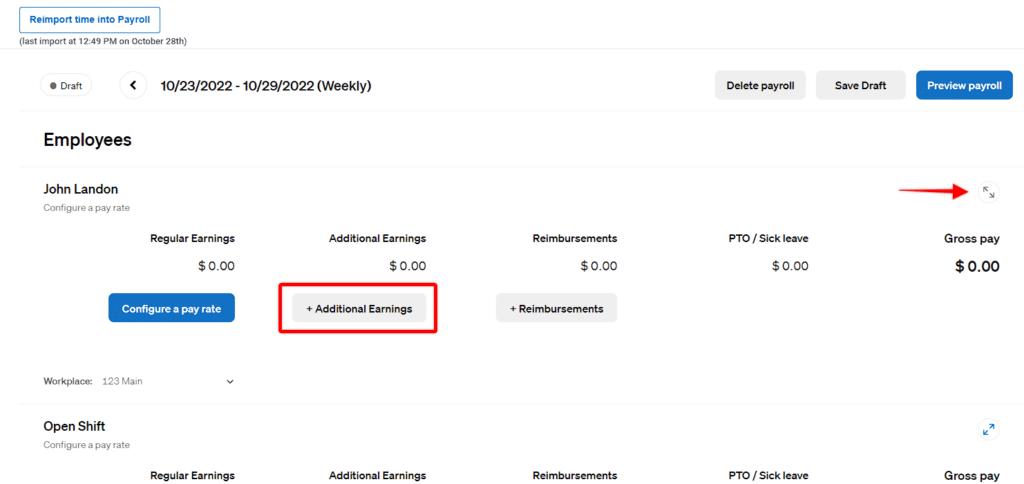 Then, you just input how much you want to add and categorize it (bonus, reimbursement, etc.). And that's it.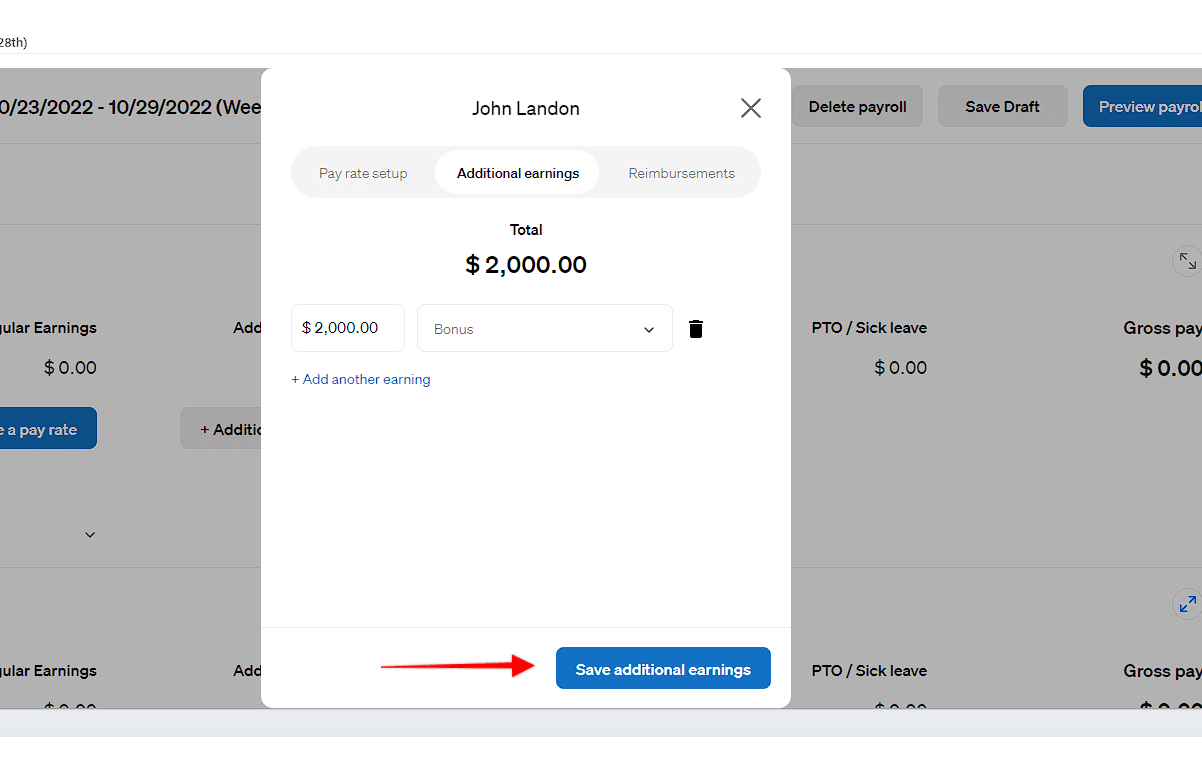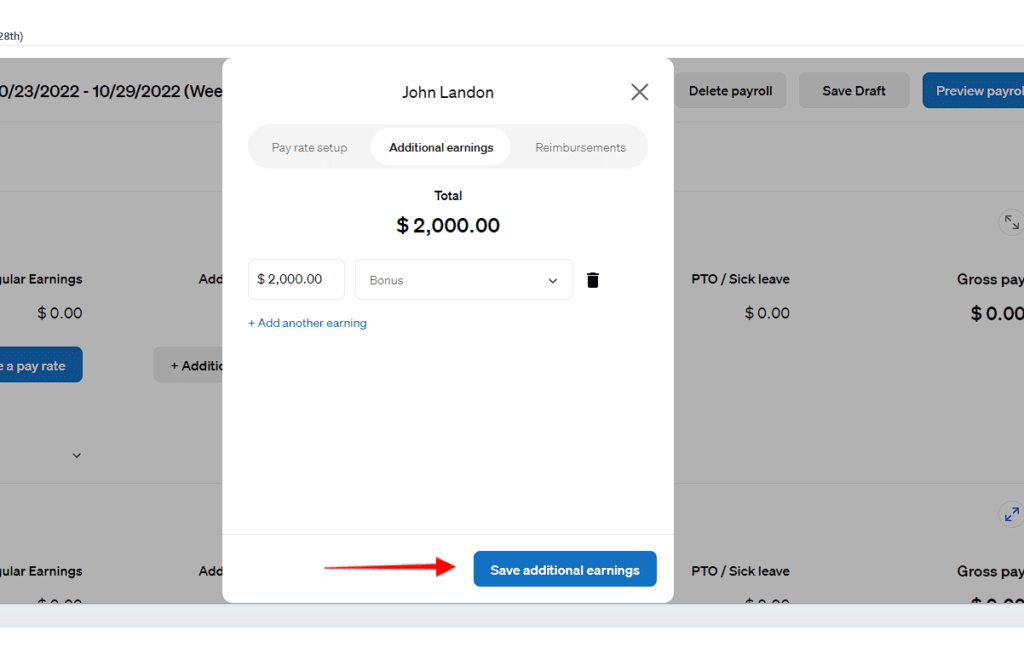 We've made the whole process as simple as possible.
In this article, we've focused on Buddy Punch's benefits as a construction payroll software, but that's just the beginning of what we offer.
Other key features include:
Scheduling: Easily create and distribute team schedules with a few clicks, ensuring your team knows when and where they should be in real-time.
Jobs codes and project management: Track how much time your employees spend working on a specific custom job throughout their workday. Employees who need to change custom codes during their shifts can easily punch into a different code. All time spent on a job can be viewed on each employee's time card and your certified payroll reports so you can understand the labor costs of each project.
Why Customers Love Buddy Punch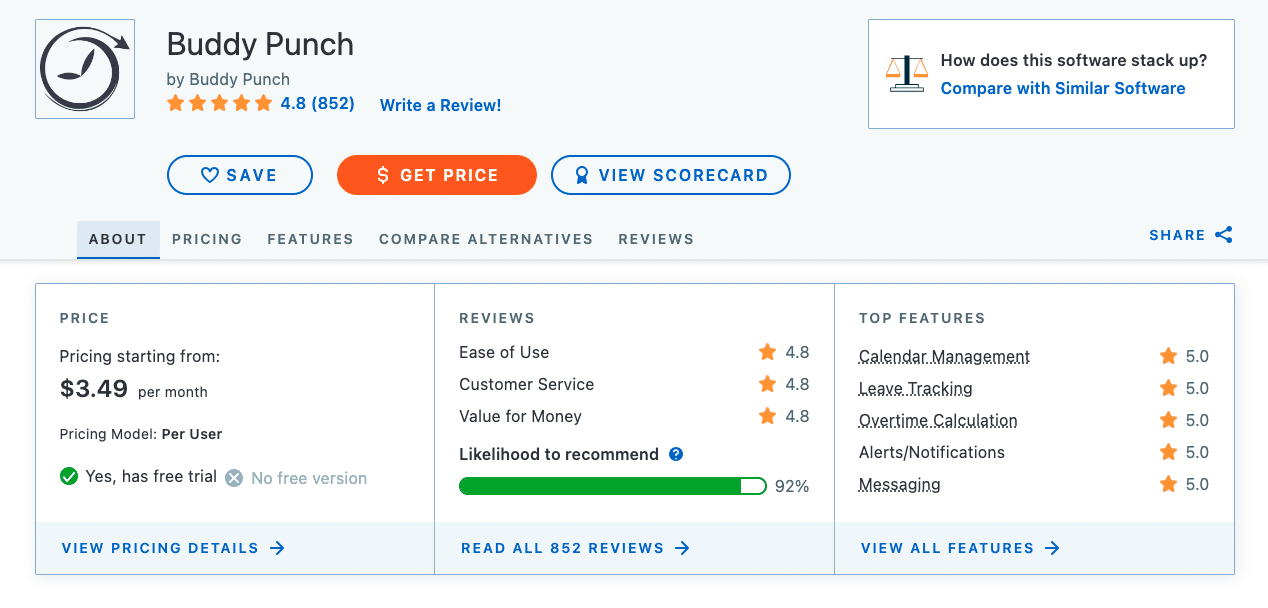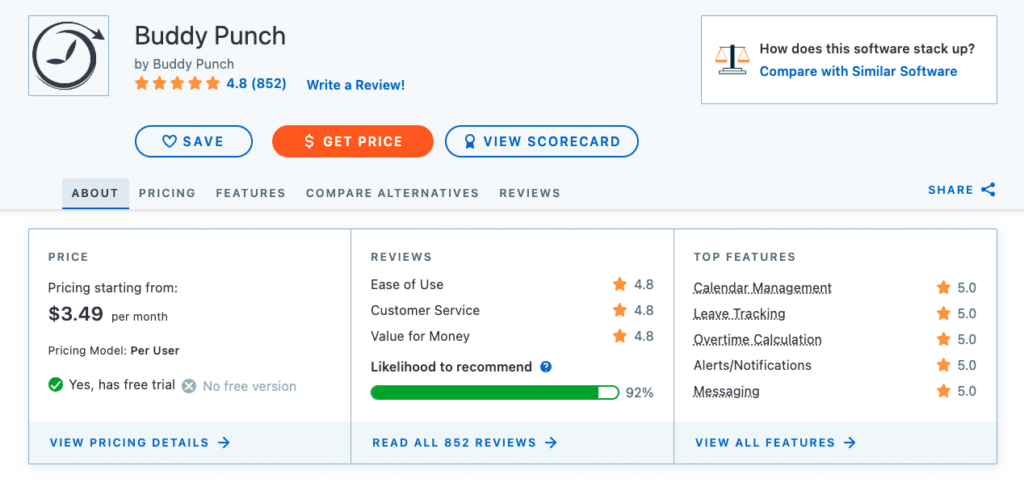 We think we've created the best construction payroll software and time-tracking system. But don't just take our word for it. As of writing, we have 4.8 out of 5 stars on Capterra with over 800 reviews. Here's a look at why our customers love our payroll system:
"Buddy Punch has made it easy for our practice since we expanded and now have staff in remote locations including staff that work from home. It's user-friendly and makes the supervisor's/manager's jobs easy when it comes to approving timecards! Payroll report is easy and it works with SurePayroll which is out payroll company."

Read the full review here.
"This is an easy product to use for management and employees. All aspects of payroll are at your fingertips. We handle many different projects and Buddy Punch makes it easy to track the hours we're using. Awesome product."

Read the full review here.
"Getting payroll done every week is super easy with the option to see all employees' hours in one sheet. Clocking in and out is easy and extremely quick, and editing the times are easy on the supervisor's end."

Read the full review here.
2. ADP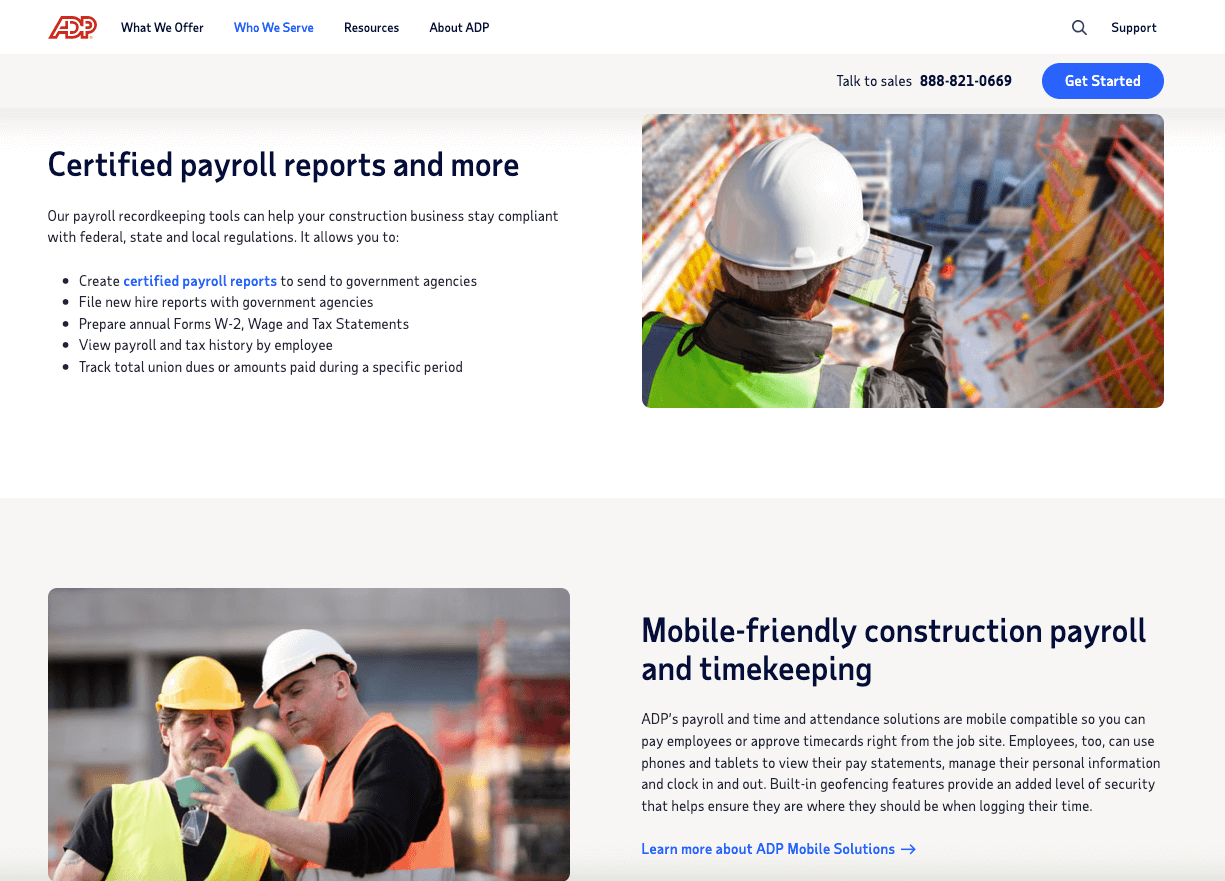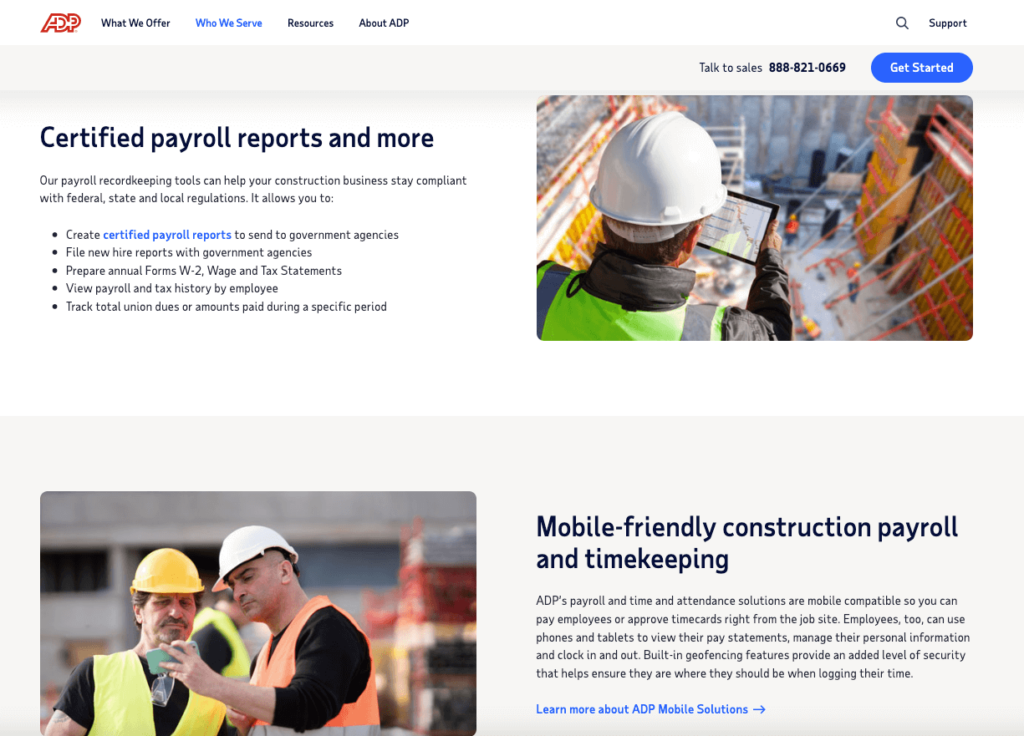 ADP is a full-service human resources system with plenty of features and integrations, including:
Filing new hire reports with government agencies
Tracking union dues
Availability via mobile app
Viewing employee W2 history for payroll taxes
As of writing, ADP has 4.4 out of 5 stars on Capterra with 6,000+ reviews.
3. Payroll4Construction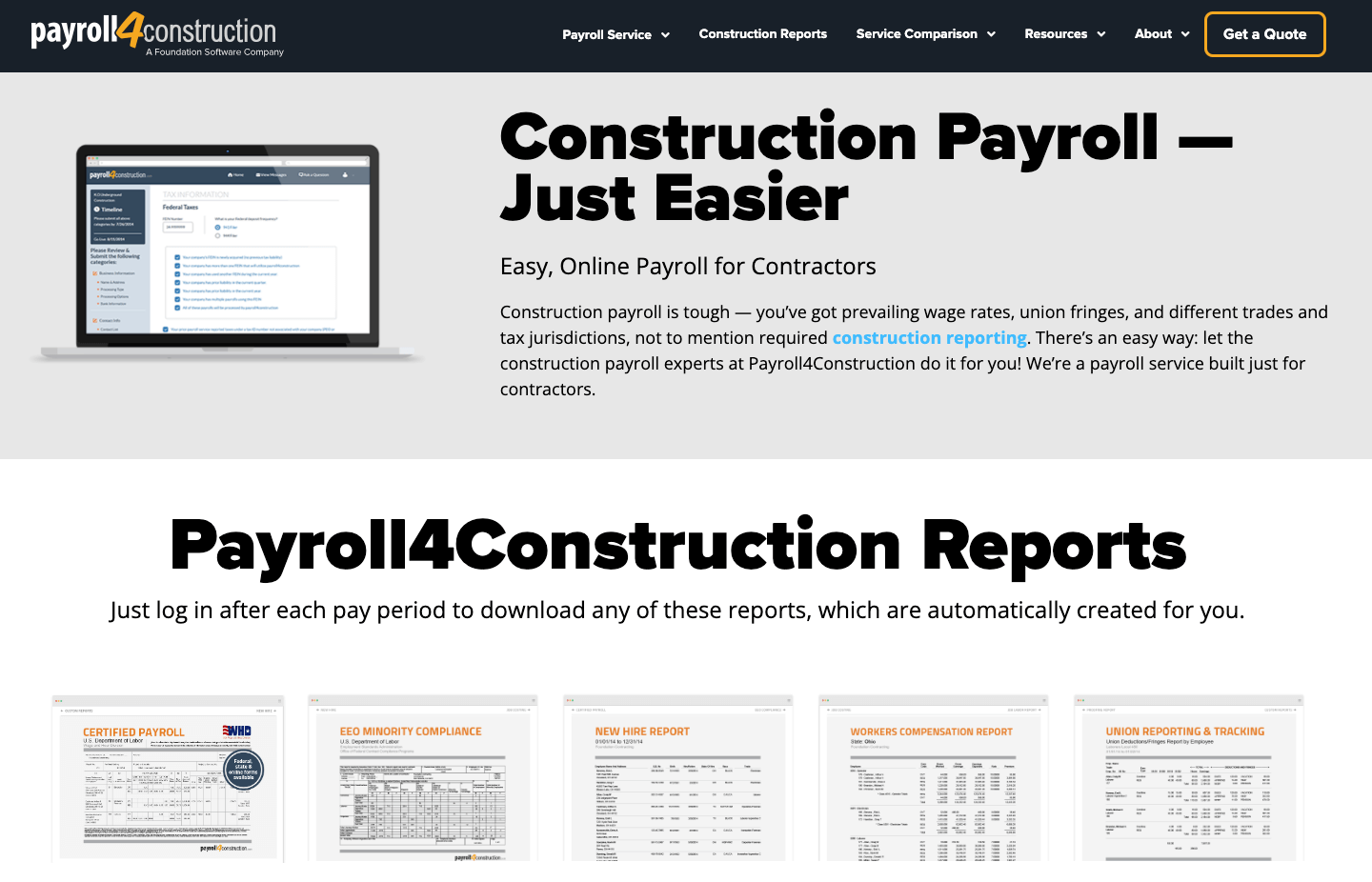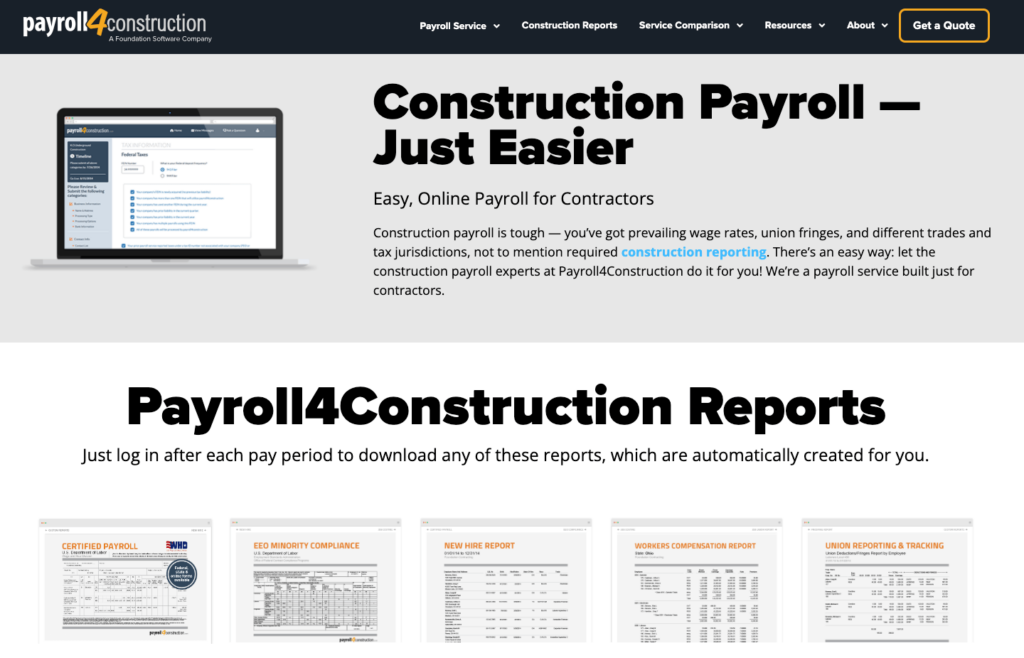 Payroll4Construction is a good option if you're just looking for a payroll solution that doesn't include time tracking or scheduling functionalities. Some benefits include:
Worker's compensation tracking
Handles fringes paid to approved plans
EEO minority compliance
Job costing reports
As of this writing, they currently don't have any reviews on Capterra.
4. eBacon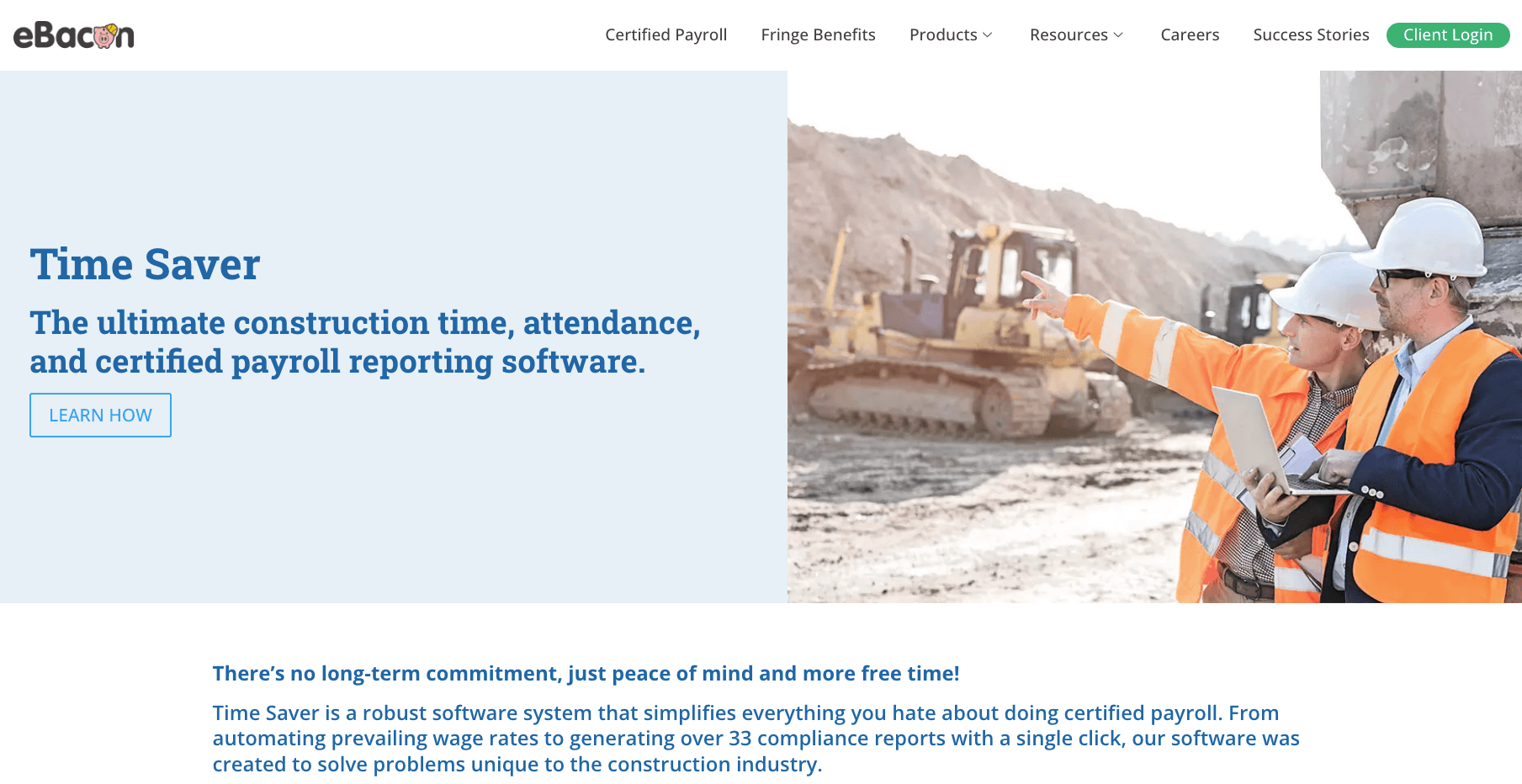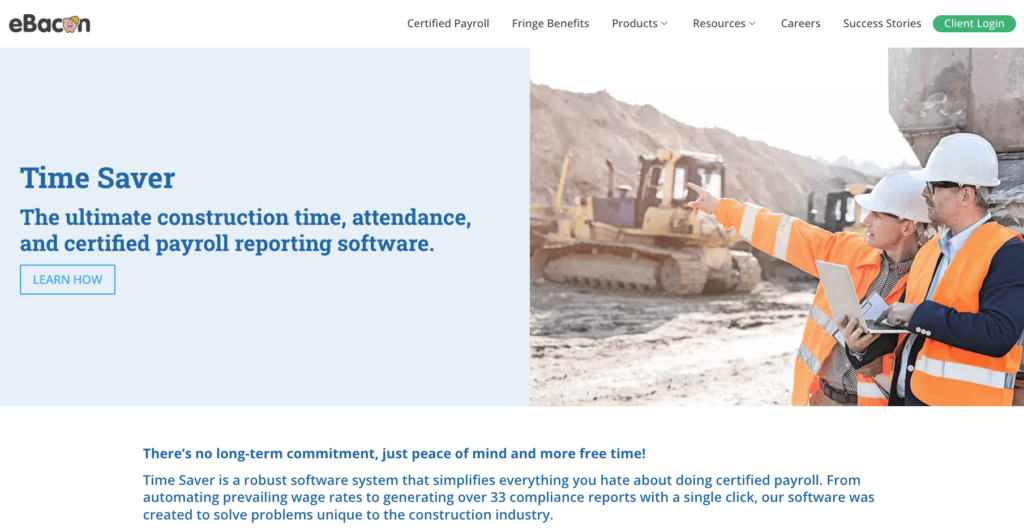 eBacon is another construction-specific accounting software. They offer payroll features such as:
Attendance tracking
Auto-assigned pay rates based on location or job task
Auto-restitution
Automated payroll
As of this writing, eBacon has 4.6 out of 5 stars on Capterra with 15+ reviews.
5. Foundation Software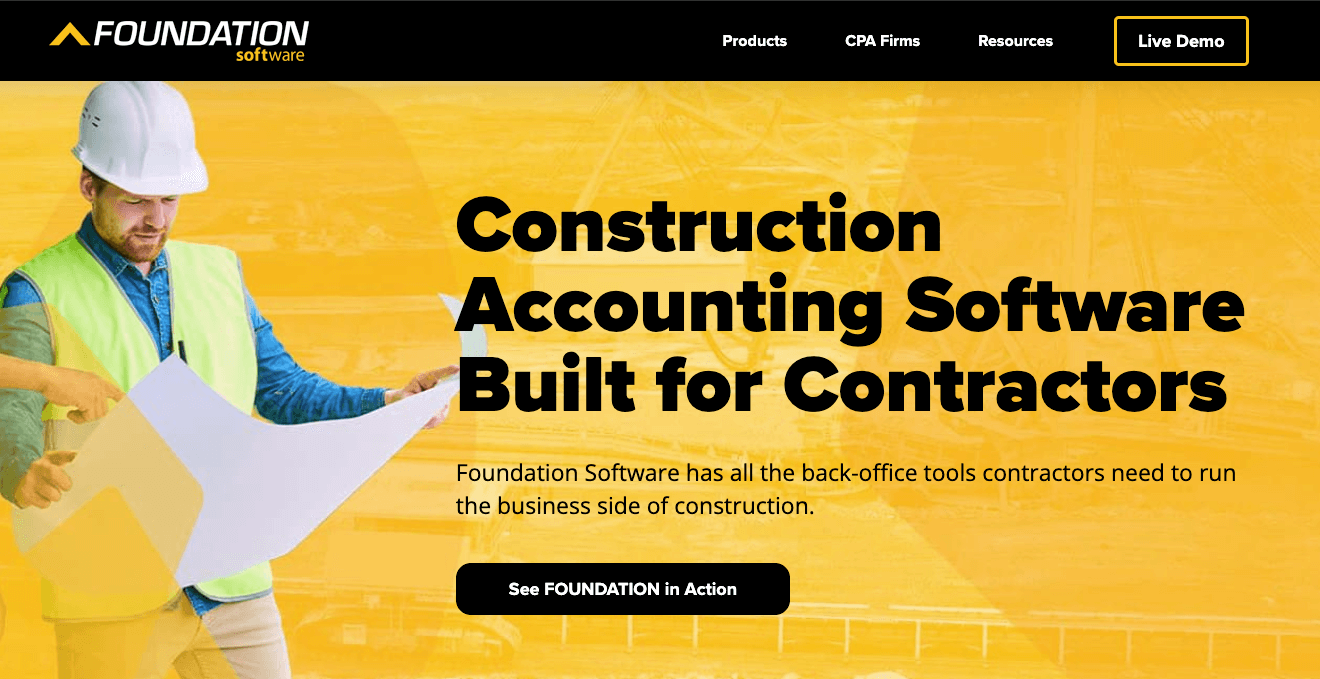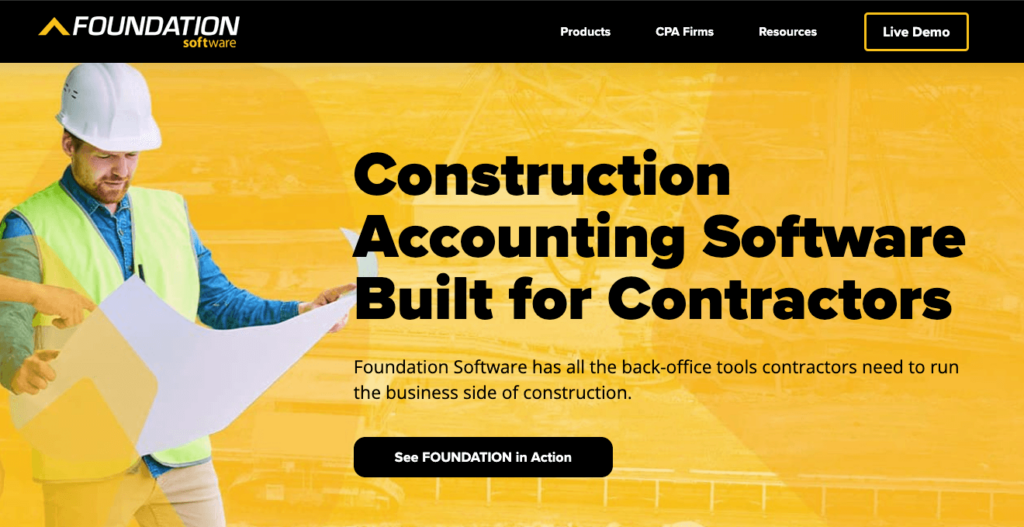 Foundation is another cloud-based software solution for construction teams. Some key features include:
Automated time card entry
Integrated health care options
Unit price billing and invoicing features
Document imaging
As of writing, Foundation has 4.2 out of 5 stars on Capterra with 150+ reviews.
6. QuickBooks Payroll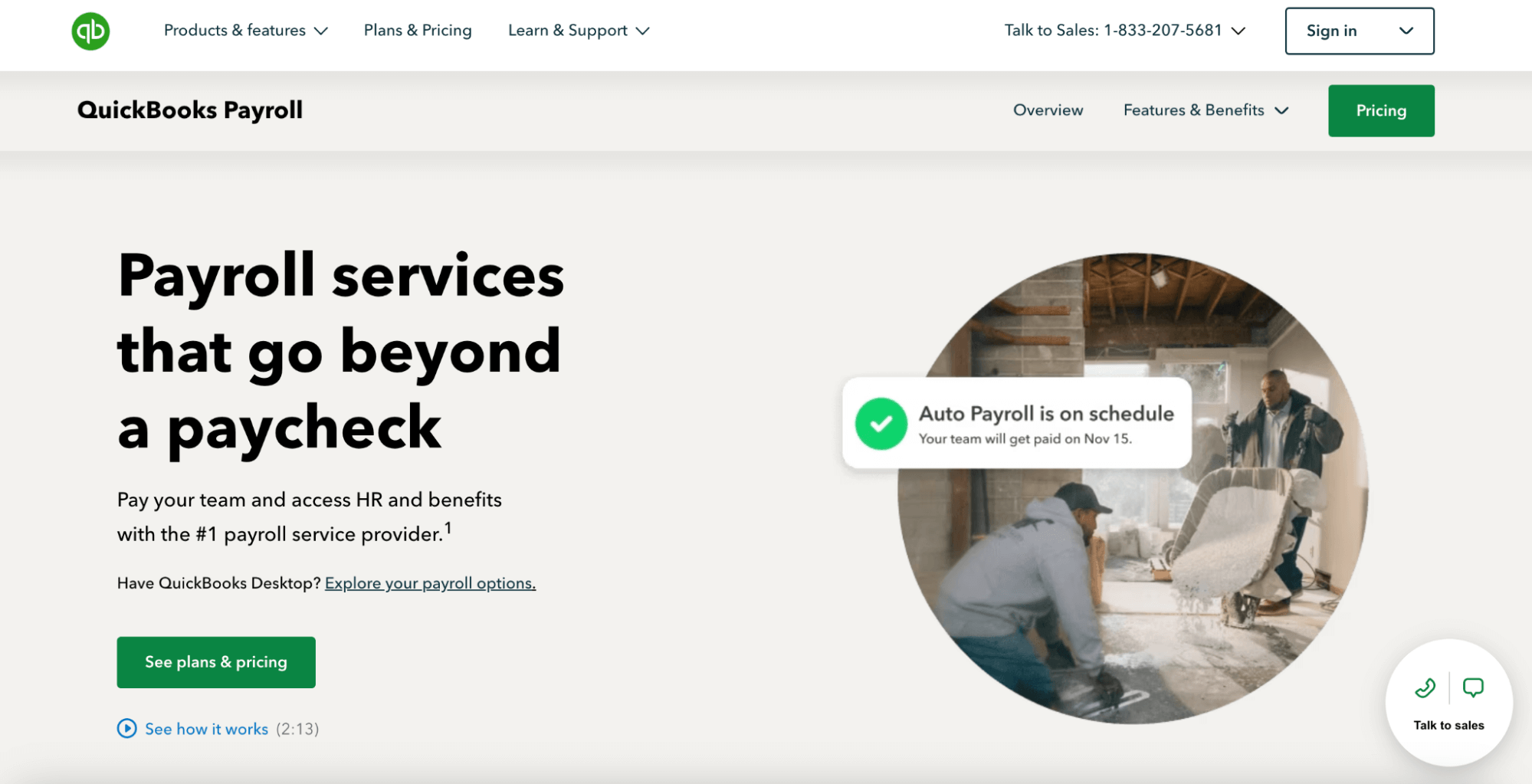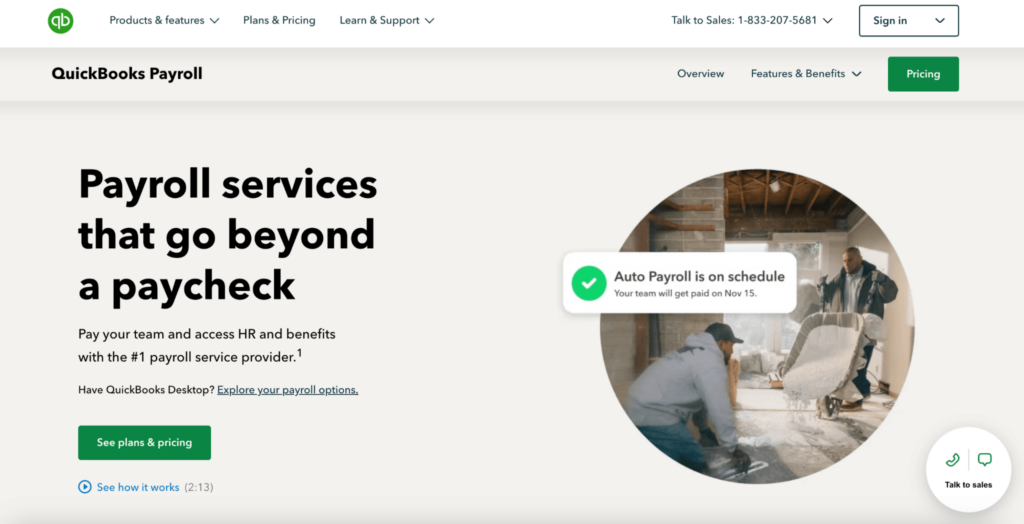 QuickBooks is a popular payroll management system that enables:
Calculate sales tax for tax filing season
Sending invoices
Tracking expenses
Time tracking
As of writing, QuickBooks Payroll has 4.5 out of 5 stars on Capterra with 800+ reviews.
Learn More About Buddy Punch
If you'd like to explore Buddy Punch in greater depth, we invite you to: