The Best Portable Time Clock for Construction: Mobile vs Rugged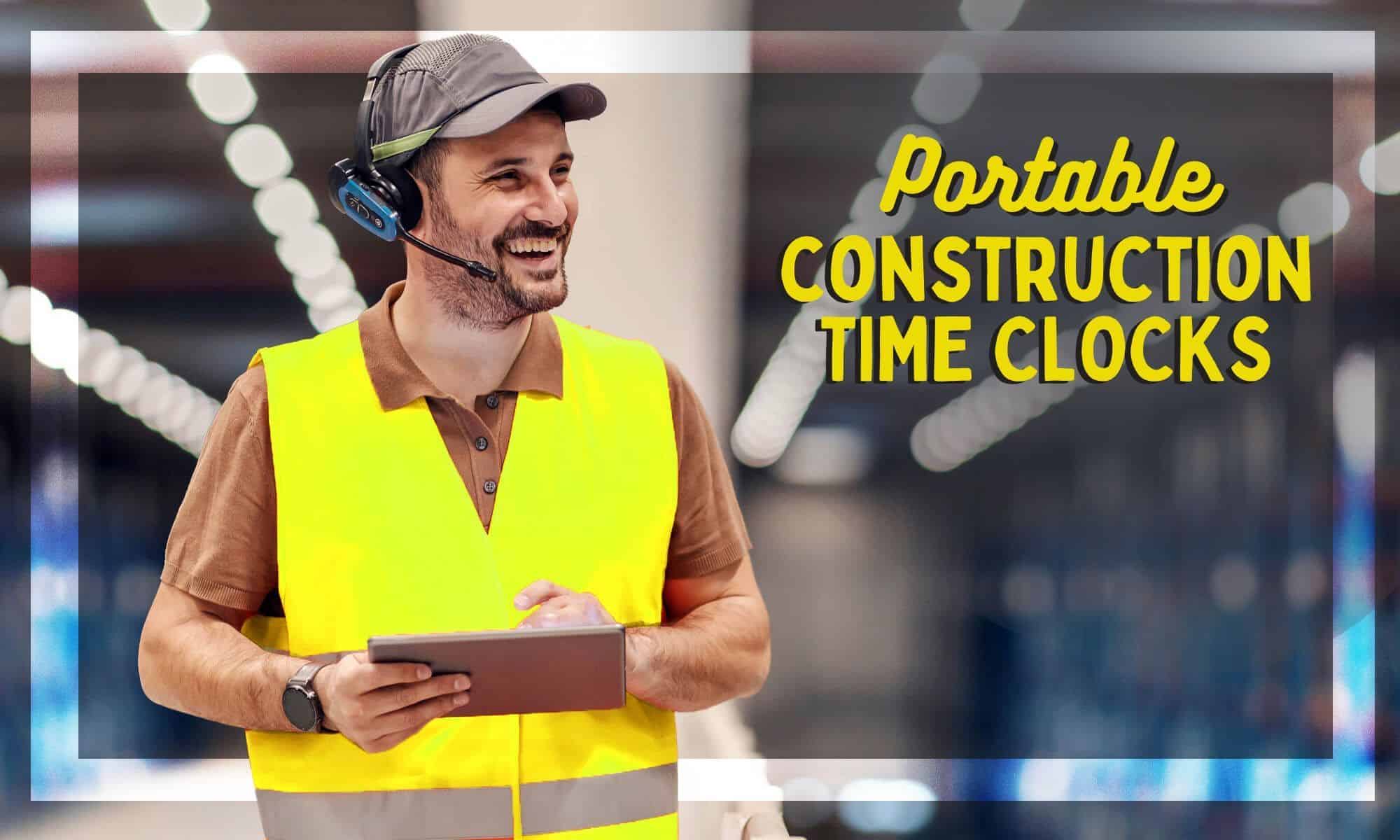 Coordinating construction crews across multiple sites makes time tracking complicated.
You need a time clock kiosk where your team can punch in and out. But, if you have multiple job sites, large job sites, or are changing work sites frequently, this is a big logistical pain. You want a time clock kiosk that's easily accessible. This often means getting more than one, but as we see below, that can get expensive and hard to manage.
Whatever time clock you use, you want to ensure that your team is reporting their hours accurately. This means avoiding issues like clocking in too early, clocking out too late, buddy punching (employees clocking each other in), and honest mistakes like forgetting to clock out. All these attendance tracking issues can snowball into costly payroll errors. You also want to make sure your crew can track their time even if they're working in a spot without any WiFi service.
You want to streamline your time tracking process. This means syncing up time tracking with your work schedule, your team's PTO, and payroll.
To help solve these issues above, construction companies can turn to two possible solutions.
Portable time clocks designed specifically for construction sites. There are several types of durable, rugged portable time clocks meant for construction sites (we cover 4 options below). These time clocks can come with plenty of good features, like pin codes for clocking in and out (to help mitigate time clock theft) and a long battery life (so they can stay out on site for up to a week). They can also store time tracking data that you can then sync later when you bring in your time clock from the construction site (great if you don't have WiFi service out on the job site).


Another option is using portable mobile time clocks like Buddy Punch. Instead of using a portable, physical time clock, you can use an app. Our software is an all-in-one web-based time clock and full-service payroll. You can use it on Mac or Windows computers, as well as on both Apple and Android devices. This means you can set up a designated time clock kiosk or let each construction crew member use their own device to clock in and out. Your team can access the app when they're connected to the internet, but even if they don't have internet service, they can still clock in and out by texting Buddy Punch.
In this post, we'll break down the pros and cons of mobile time clocks vs. physical time clocks, then take a closer look at options for your construction team.
Note: If you want to learn more about how your construction crew can use Buddy Punch to clock in and out (and get rid of the headaches of managing an old school time clock), sign up for a free 14-day trial or schedule a one-on-one demo.
Portable Time Clocks for Construction: Mobile vs. Physical
Physical, Rugged, Traditional Time Clocks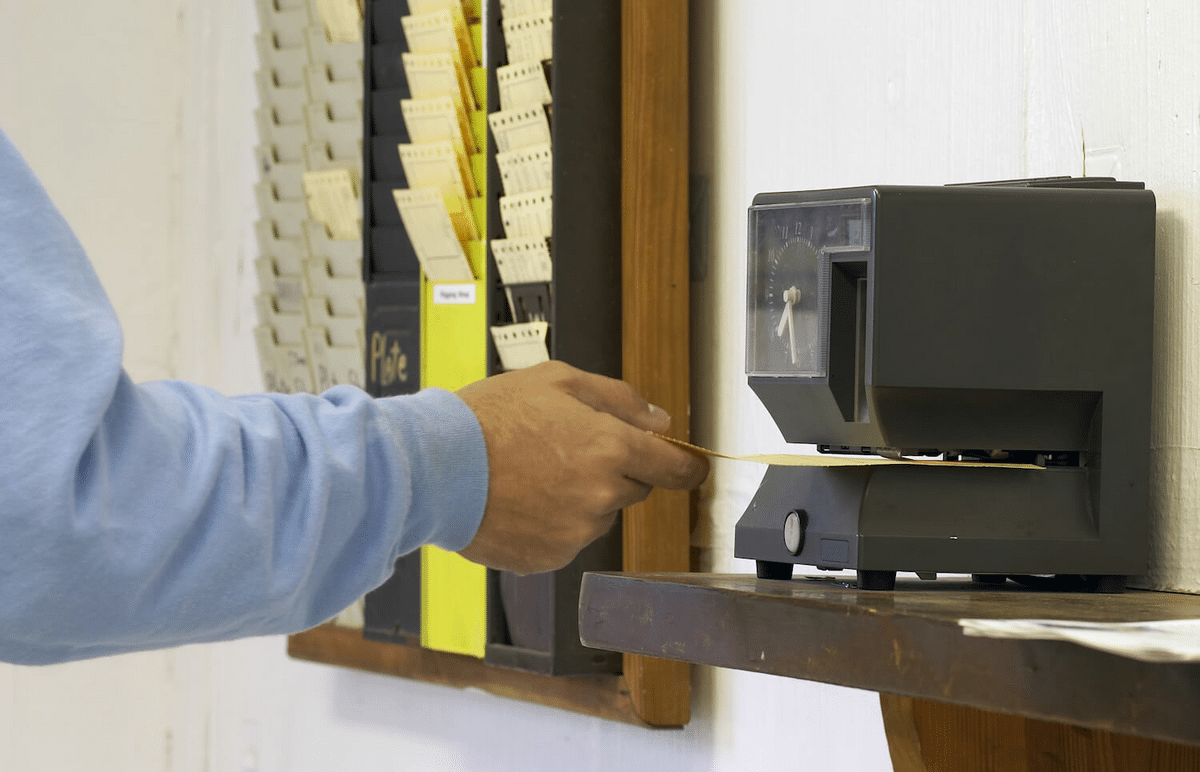 There are battery operated, heavy-duty time clocks that you can set up at your construction site. They're meant to be easily carried from one site to another, can be left outside, won't break if they fall or get knocked over, and can handle extreme temperatures (such as rain and high heats).
Some of the time clocks also offer advanced clock in and out features, like biometric time clocks that use fingerprint technology to make sure the right person is punching in for their shift.
If you need an ultra-durable time clock, one of the physical time clocks we cover below might be the best one for your crew. But there are some drawbacks to consider before making your final decision. For example:
These devices can cost hundreds of dollars each. This is costly and can add up, especially if you need more than one, which is common if you're dealing with a large construction site or have multiple sites to manage.
You need to manage them. You need to move them from job site to job site. If there's any issues (whether with the hardware or the electronics), you need to troubleshoot the issue yourself — unlike construction time clock apps with live customer support.
They don't help streamline your time tracking process. Most portable time clocks just track when someone clocks in and out. You then need to take that data and enter it into a time tracking tool, your time off management tool, and your payroll system. So while these time clocks let your team punch in and out, they don't really make your administrative tasks easier.
Mobile Portable Time Clock Systems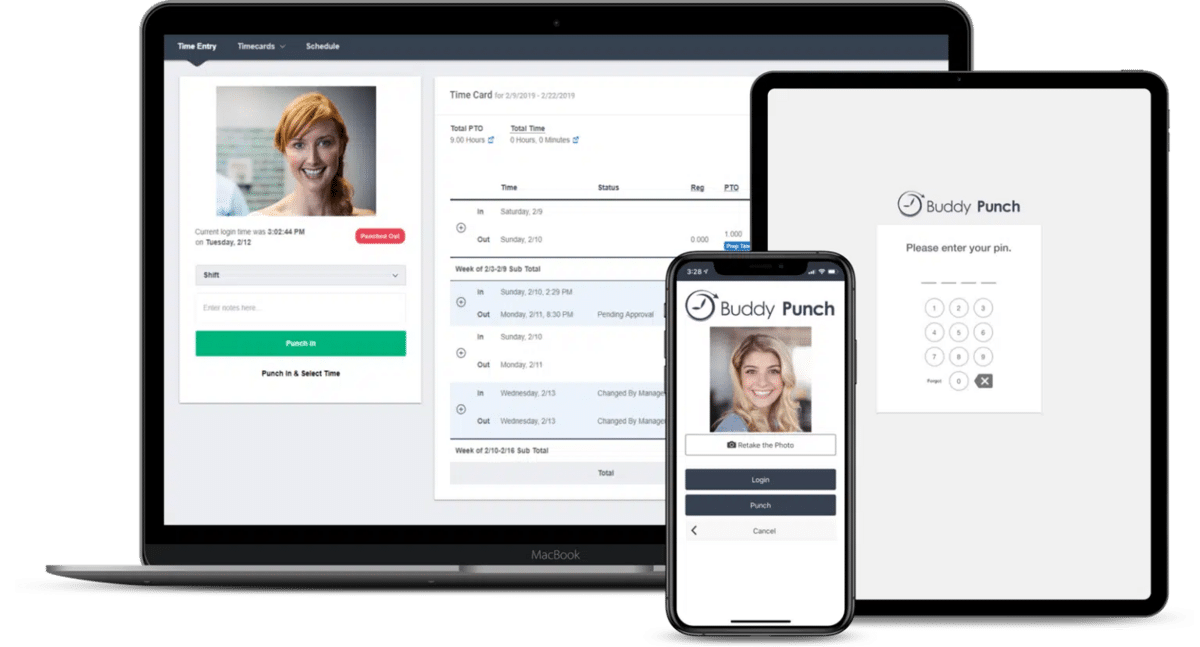 Mobile portable time clocks are time clocks your team can use on computers, tablets, and smartphones. They solve all the issues we outlined above.
You can set up one designated kiosk (like a computer or tablet at the construction site's office) or have your crew use their own devices for timekeeping. Some mobile time clocks even have features to circumvent lack of reliable WiFi or data, such as how Buddy Punch also allows employees to clock in and out via text message.
Advanced online time clocks come with advanced clock in and out features to practically guarantee employee accountability. For example, Buddy Punch has advanced features such as:
Photos on Punch, which takes advantage of smart devices' built-in webcams to verify the identity of workers when they clock in. A crew member will take a photo of themselves when they clock in and out and you can review these photos to make sure the right person is clocking in.
Geofencing. Alternatively, you can enable the geofencing option to verify workers' GPS coordinates match the worksite.
IP address lock. You can designate which IP address someone needs to clock in and out from.
Plus, when you use time clock software, you get an easy to navigate time tracking dashboard, where you can:
Quickly fix timecard errors. You can log into your Buddy Punch dashboard, pull anyone's timesheets, and fix mistakes in employee time (like if someone forgot to clock back in from lunch).
Coordinate efforts through built-in scheduling features. You can use Buddy Punch to write your crew's schedule — and then you can make sure your team is following the schedule as written. We offer features like drag-and-drop-scheduling, repeating shifts, employee availability, multiple location/job codes, and shift swapping. You can learn more in our guide on creating a work schedule (without bothering with an Excel template).
Streamline the payroll process through direct import of hours. For example, you can issue payroll directly from Buddy Punch. Your team can get paid via direct deposit or check.
But there are times when an online time clock may not be the right fit for your team. For example, if your construction site doesn't have WiFi or cell service, or if your team won't have access to their smartphones or a computer, then rugged time clocks might be the better option.
Now that you know which type of employee time clock is best for you, we will cover specific options in detail so you can make an informed choice. We'll start with using an online time clock as your portable construction time clock.
Buddy Punch: Best Portable Time Clock for Construction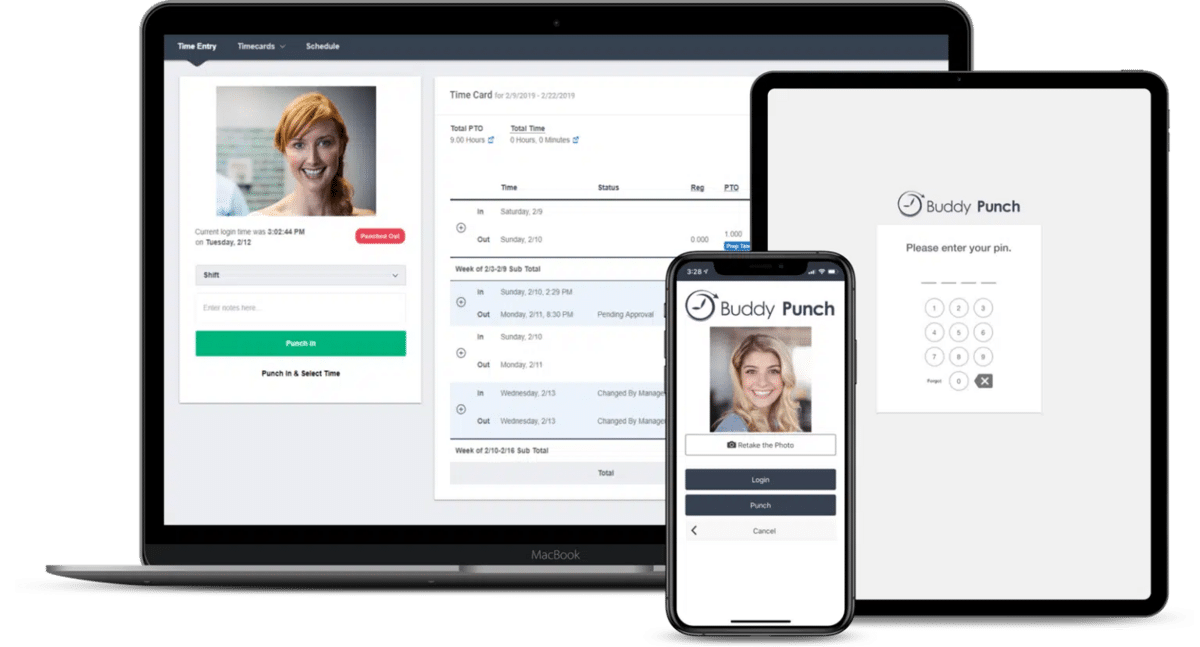 Buddy Punch is an online time clock accessible via mobile devices and computers. Rather than having to worry about transporting rugged time clocks and paperwork to and from each construction site, workers can clock in via their cell phones, tablets, or computers. You can also set up a dedicated terminal if you want to have everyone clocking in and out from the same device.
In addition to making it easy to track hours worked, supervisors can also benefit from the rest of Buddy Punch's features:
Accountability tools ensure accurate time reporting. Features like geofencing and IP address locking helps ensure workers are on-site when they report for duty. To prevent workers from clocking in for each other, enable features like Photos on Punch (which allows for facial recognition) or Text to Punch (which allows phone number verification). And automatic punch rounding and breaks makes it easier to ensure only hours worked are reported.
Our scheduling tool lets you coordinate multiple teams across locations with variable shifts. You can set up different departments and job codes with your schedule. Plus, you can set up calendar notifications (reminding someone to clock in and clock out) and a shift trading system.
A time off tracker: You can track when your crew takes paid time off and non-paid time off. Your team will input their time off requests directly into Buddy Punch and you can set up custom PTO accrual rules per employee.
Timecards can be imported directly into Buddy Punch Payroll. You can run payroll directly from Buddy Punch, so you don't need another platform to issue payment. Buddy Punch offers 2-day or 4-day processing, and can issue payment via direct deposit or check. You can also integrate Buddy Punch with your current payroll provider (such as Gusto, ADP, or QuickBooks).
If this sounds like the right time clock system for you, sign up for a 14-day trial or schedule a one-on-one demo to learn more. Otherwise, you can keep reading to learn about Buddy Punch's advanced time tracking features.
Accountable Attendance Tracking
Since Buddy Punch is compatible with devices ranging from Android to Apple, employees can easily log into the time clock system from their own devices. Team leads can also set up a virtual punch station by setting up a computer, tablet, or cell phone in kiosk mode. It also includes tools to verify accurate reporting, like:
Geofencing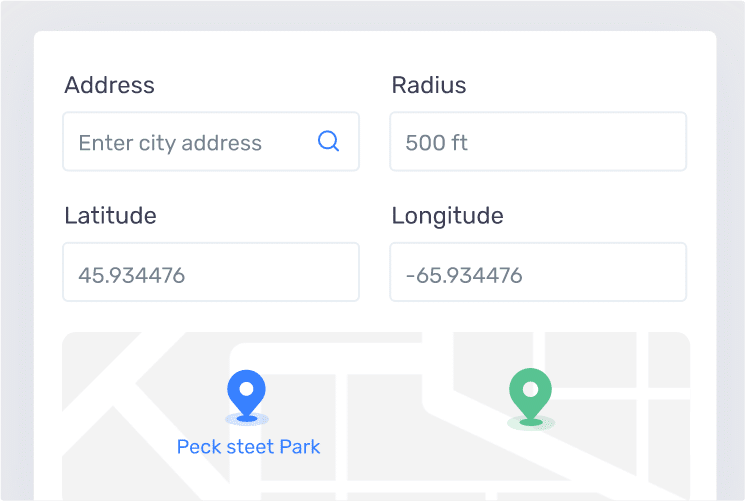 To ensure workers are clocking in on-site, you can upload the geographical coordinates of each construction site. Next, designate a radius workers must be within to clock in (for example, 500 feet).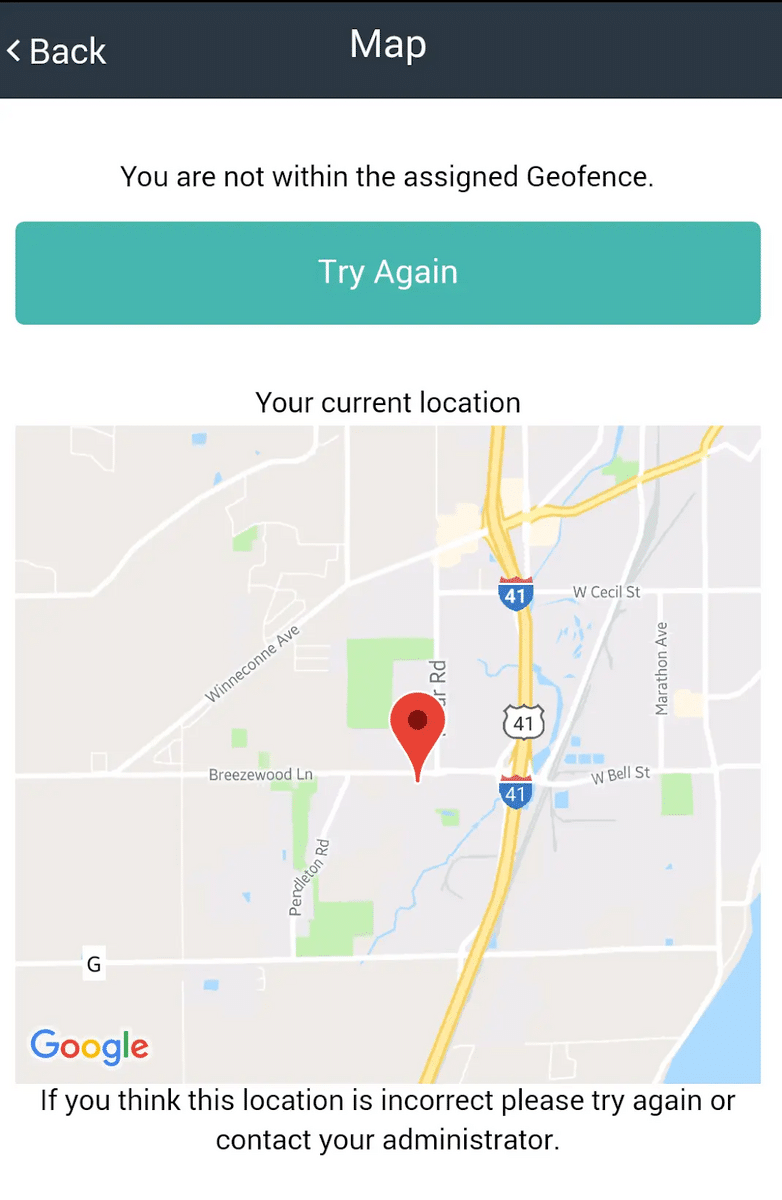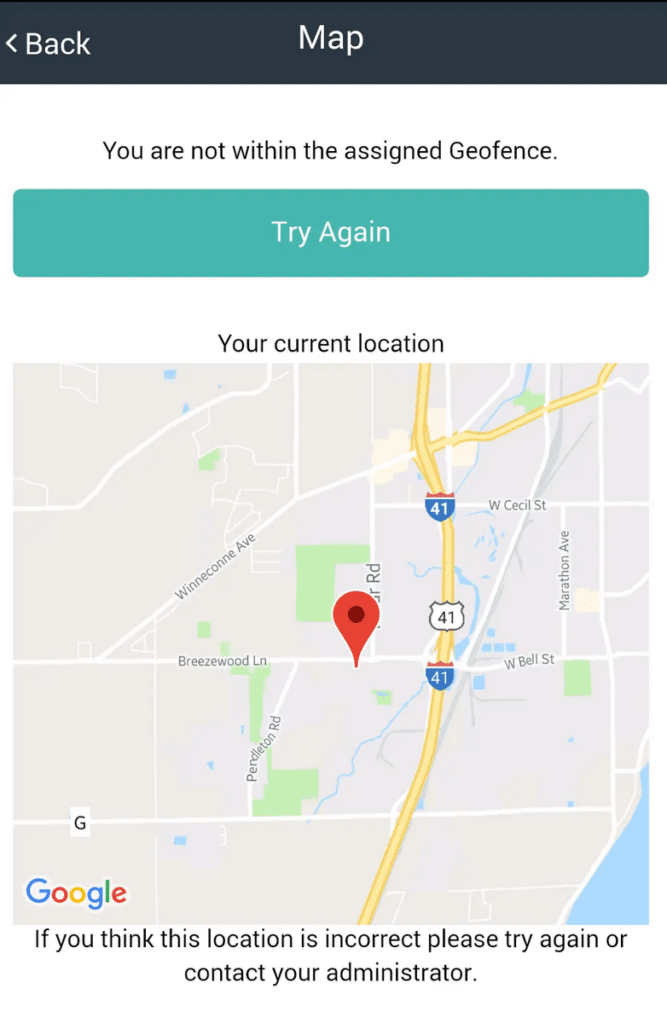 If workers try to log in from too far away, they'll receive an error message prompting them to get closer and try again.
IP Address Locking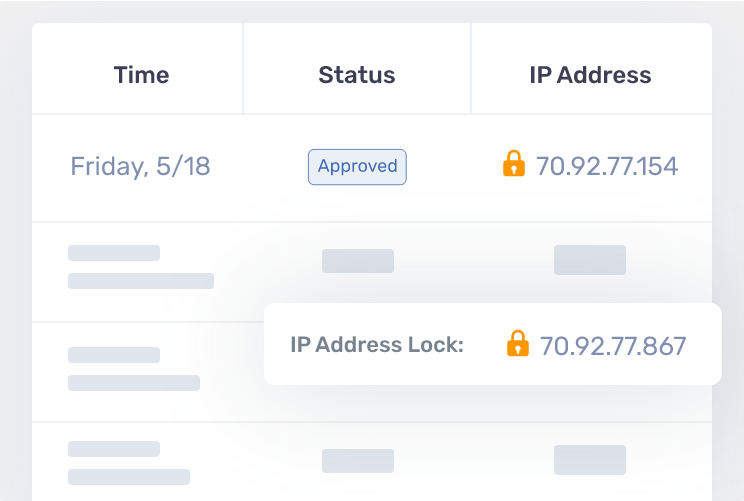 If you want to make sure employees are only logging in from company devices or WiFi, you can restrict the IP Address to on-site networks.
Photos on Punch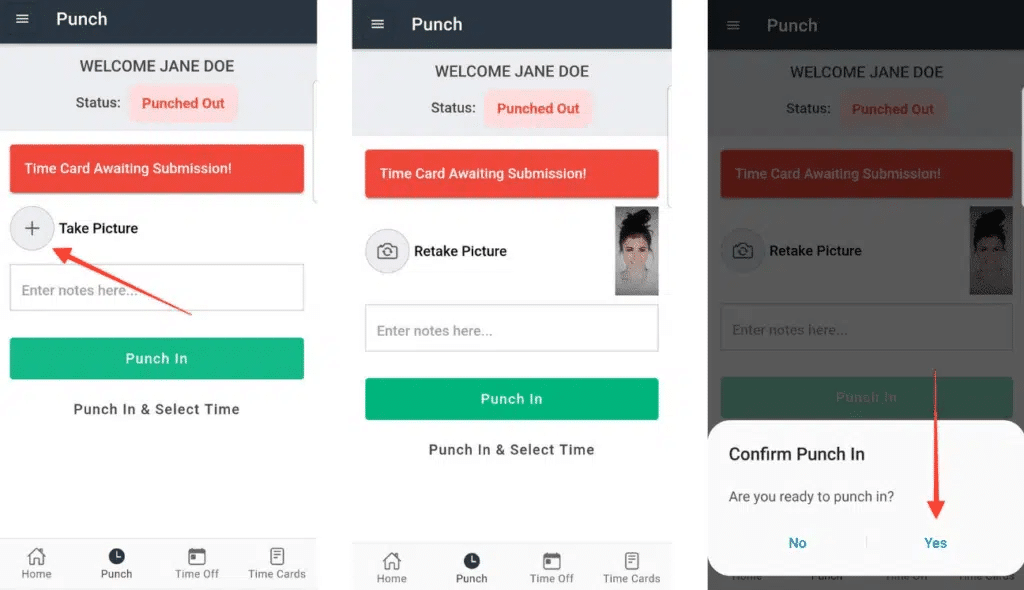 If you enable Photos on Punch, workers must take a picture of themselves when they clock in. This allows for facial verification, preventing buddy punching.
Learn more about facial recognition attendance systems.
If your construction site has unreliable WiFi or data coverage, the text to punch feature allows workers to clock in anyway.
Thanks to our integration with Zapier, employees can send a text from any device to clock in and out.
You can also set up automatic confirmation messages.
Another clock in and out feature you can set up is punch rounding. This helps save your business time in unplanned payroll.
For example, you can choose if and how reported time gets rounded (for instance, whether a clock in time of 7:07am gets rounded to 7:00 am).
Without punch rounding, your employees can add unplanned hours to their payroll. A few minutes here and there each day can turn into several hours of unplanned payroll.
Within Buddy Punch, you can set up breaks to be automatically factored out of hours worked. For instance, you can specify that workers get a 25-minute unpaid lunch break after working a certain number of hours. This removes the need for employees to clock in and out multiple times a day.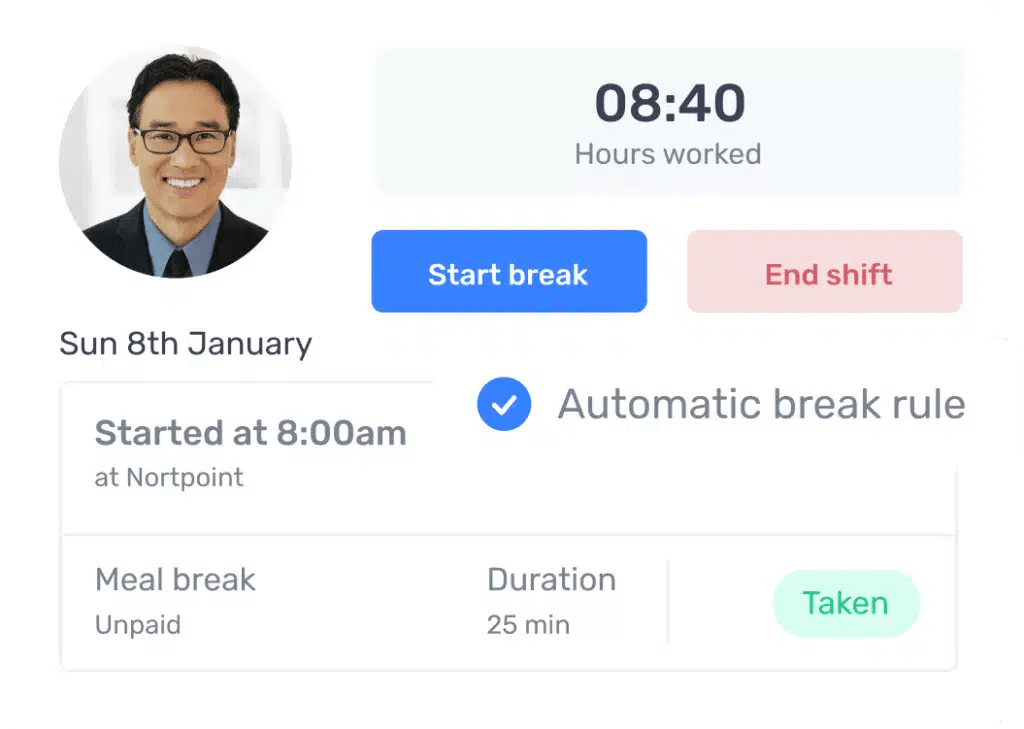 Everyone forgets things sometimes, and that includes clocking in and out. When this happens, Buddy Punch lets you easily fix the mistake. Once an employee has reported an error, navigate to their timecard.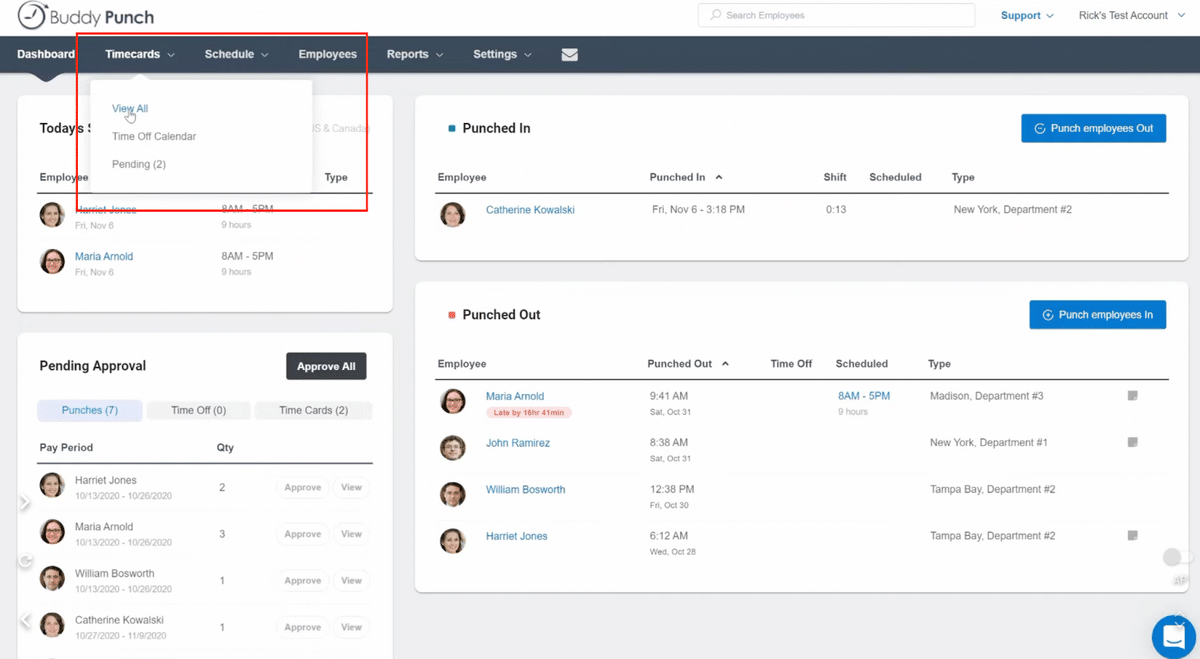 Next, simply adjust the hours to the correct value.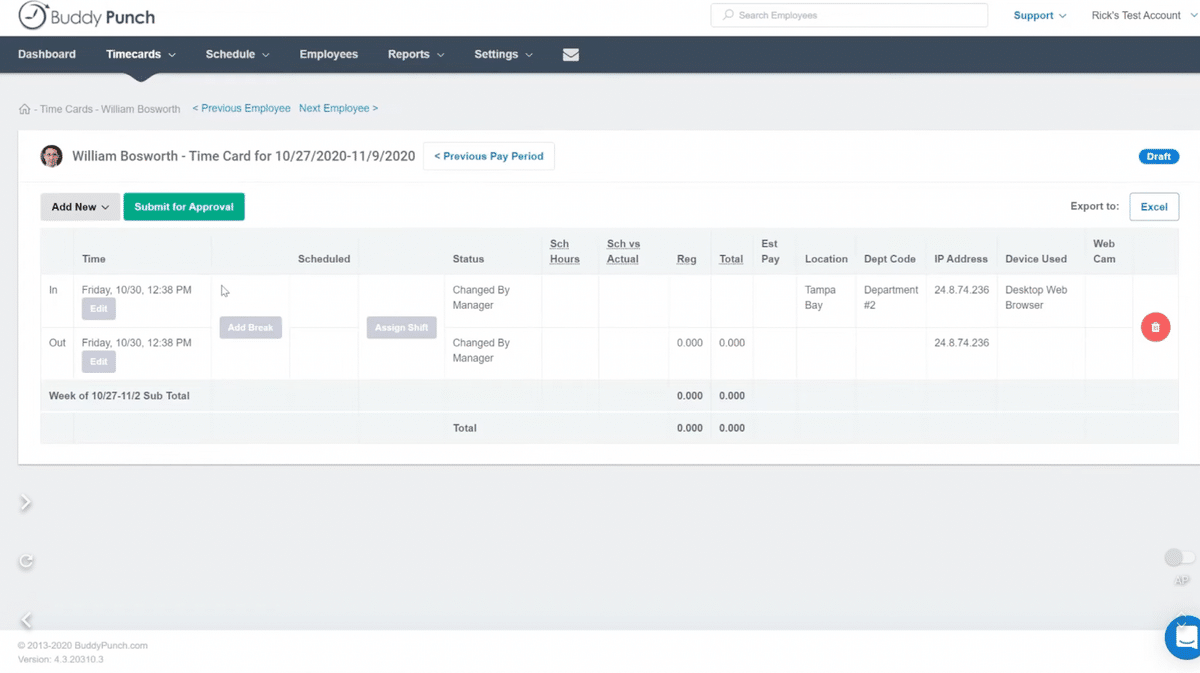 Scheduling Shifts
You can also use Buddy Punch to schedule shifts by location or employee. You can notify employees of shifts and changes, and scheduled employee hours are available via the app. The app even allows employees to trade and cover shifts (subject to admin approval).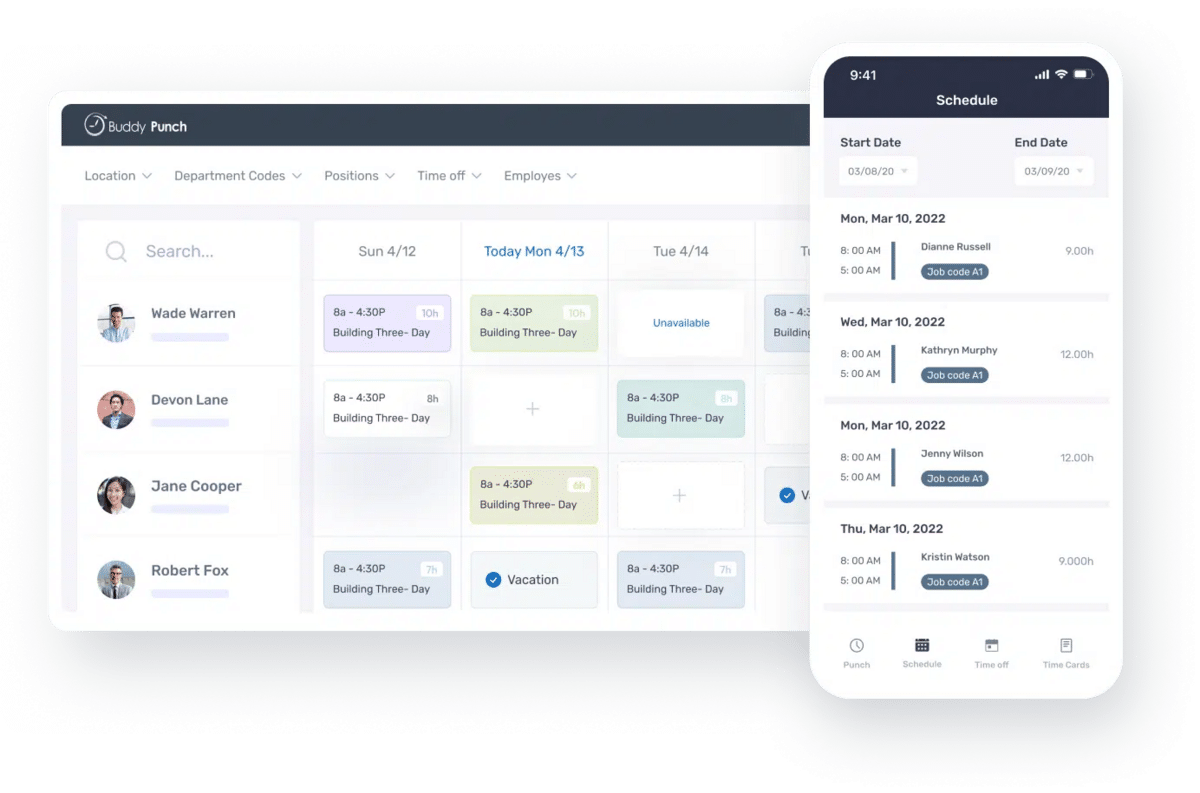 Shift swapping can be a big win for construction sites. Say someone from your crew can't make their early morning shift. They can take the initiative and offer the shift to another team member. If that member accepts, then the schedule is updated and your time records are kept up to date and accurate.
Run Seamless Payroll
If you're using a physical, portable time clock, you need to go out collect it and sync the tracked data with your current time tracking and payroll system.
Transporting or integrating timecards into a payroll system introduces inefficiency and potential inaccuracy.
As an all-in-one web-based platform, Buddy Punch streamlines the payroll process for your construction company.
Running Payroll with Buddy Punch
It's a simple button click to import timecards into the payroll menu. Our software automatically calculates pay based on work hours.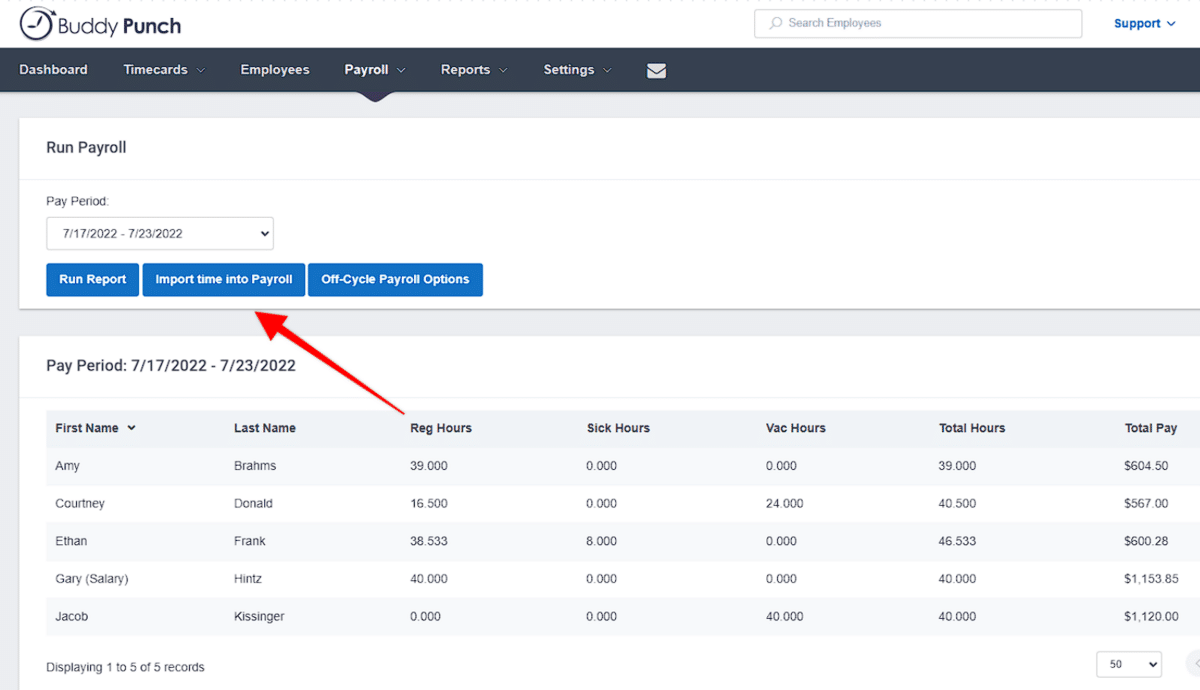 You can quickly review everyone's timecard, including total hours worked and their payout.
Paid Time Off/Accrual
Buddy Punch also adds in Paid Time Off (PTO). Employees can request PTO through their self-service portal, and admins can either manually approve requests or allow them to be automatically approved. Buddy Punch also allows you to customize the rate at which PTO accrues.

Learn more about Buddy Punch's PTO tracking software.
Taxes
Buddy Punch handles payroll taxes for your business, and also distributes both electronic and mail W-2 and 1099 forms that employers and contractors need to report their earnings at the local, state, and federal levels. This is great for a construction crew as you may have rotating employees, seasonal workers, extra staff hired for lager, one-time projects, etc. Now you can easily manage all of their relevant tax info and make sure your company is fully compliant.
These forms can be viewed in the "Documents" section of employee profiles: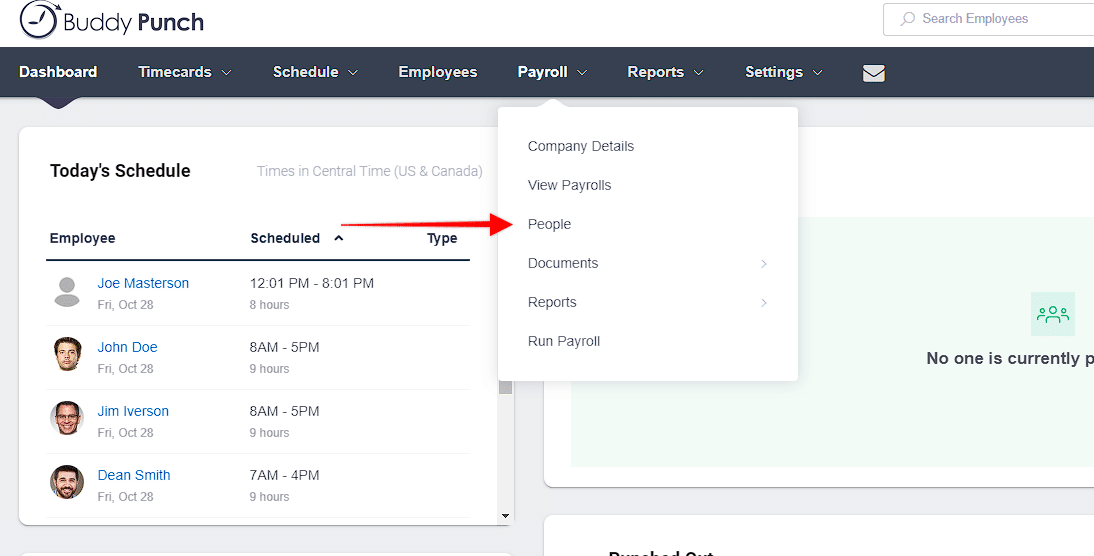 Once the payroll is submitted, employees get their money via the payment method indicated in their profile — usually direct deposit, but a check can be sent out if needed.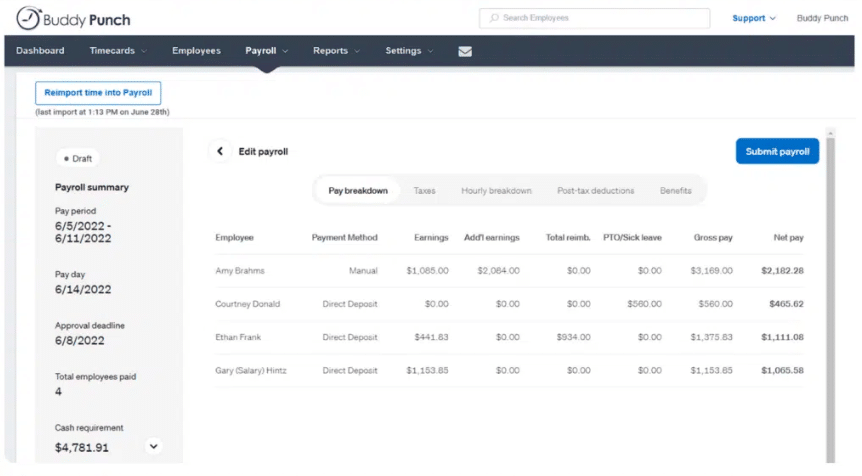 Learn more about running payroll for your small business.
What Construction Companies Like about Buddy Punch
Above, we looked at how Buddy Punch works as a fully mobile portable time clock for construction crews.
We looked at:
How your crew can track time accurately and efficiently.
How Buddy Punch makes it easy to write schedules and let your crew members swap shifts.
How you can edit a timecard in real time.
How Buddy Punch helps with time off tracking.
How you can run payroll from Buddy Punch.
Now let's look at what construction crews are saying about Buddy Punch.

As of this writing, Buddy Punch has a 4.8 star rating on Capterra with 800+ reviews.
Here's what people are saying about Buddy Punch:
"This is an easy product to use for management and employees. All aspects of payroll are at your fingertips. We handle many different projects and Buddy Punch makes it easy to track the hours we're using. Awesome product…."

Click here to read the full review.
"…So far, the Buddy Punch App has saved me time with the weekly payroll timecards… I like that the employees can clock in and out on their phones since we have construction sites where there isn't a mobile office. It also lets them select the job they are working for so we can have accurate billing. It is helpful for our laborers who are often on multiple projects throughout the day. As an administrator, I like that I can access it from my phone or desktop… It ha[s] a lot of features that a construction company needs."

Click here to read the full review.
"This program does exactly what I want it [to] do. I needed a simple time keeping app where I could customize things to suit each employee and I found it. They haven't had any issues minus forgetting to clock in or out but those are easy fixes. If I have any questions I just use the messaging center and someone is always quick to respond and they have always been able to solve the problem…"

Click here to read the full review.
"Employees can punch in wherever they are assigned. We can use a geofence if [the] employee [is] not punching in at the yard. Can see where they are when they punch in. Has prevented "stealing time". Perfect for our weekly payroll information…"

Click here to read the full review.
"Overall its a great app!!! I was able to easily navigate the app and desktop app. The guys were able to easily use it! It was much more efficient than the handwritten time sheets we have been using… This was so user friendly and easy to navigate. It is very affordable and breaks the individuals hours down to a report that I could merge with our payroll provider. Also you can put in the job address so the employee has to be on-site to clock in or out…"

Click here to read the full review.
"…Very inclusive of everything admin needs to address different scenarios "in the field". Mutiple customer reps were available via "Chat" to help with set up and answer questions. Rep was very knowledgeable and helped me with every single question and scenario I had trouble with. Now I am familiar with the site and can easily use all its functions. Using Buddy Punch has been fabulous thus far…"

Click here to read the full review.
Now, let's review rugged alternatives to Buddy Punch's online portable time clock.
Rugged Portable Time Clocks for Construction Sites
Hornet Rugged Time Clock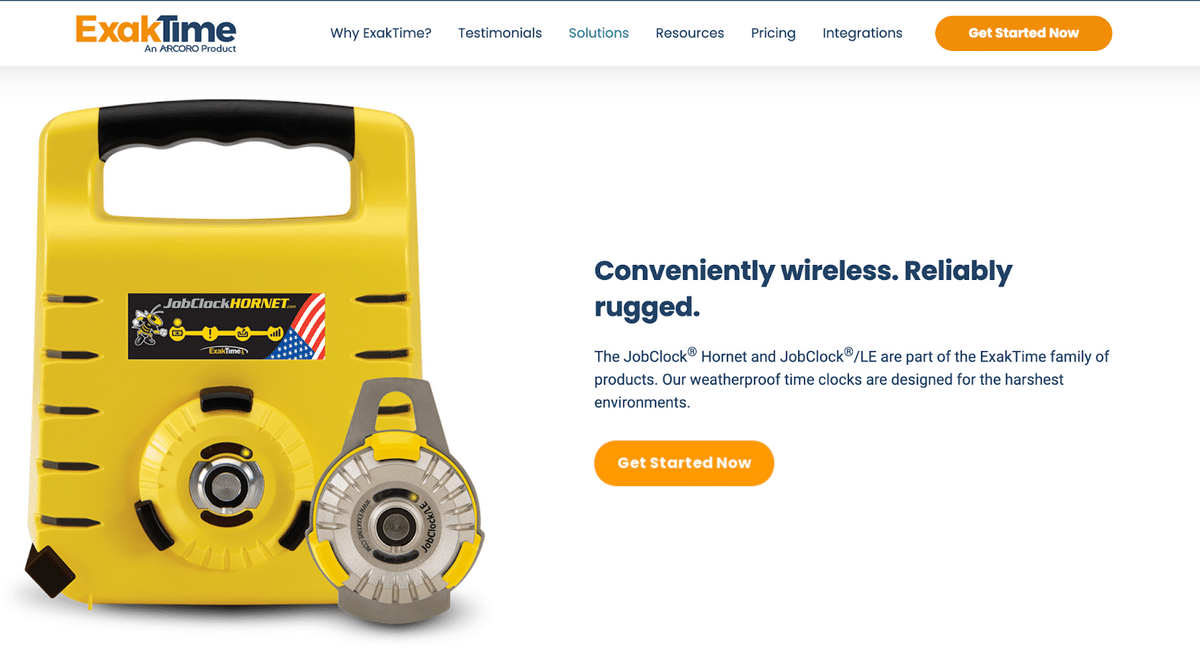 The JobClock® Hornet is a battery-operated portable time clock.
It can hold a charge for 21 days in temperatures ranging from -10 to 170 degrees Fahrenheit, making it a good option for all types of job sites.
Workers use color-coded key fobs to log in and out; if you have a data plan, their hours are either immediately uploaded to the cloud or stored until cell service is available.
Amano PIX-200 Electronic Time Recorder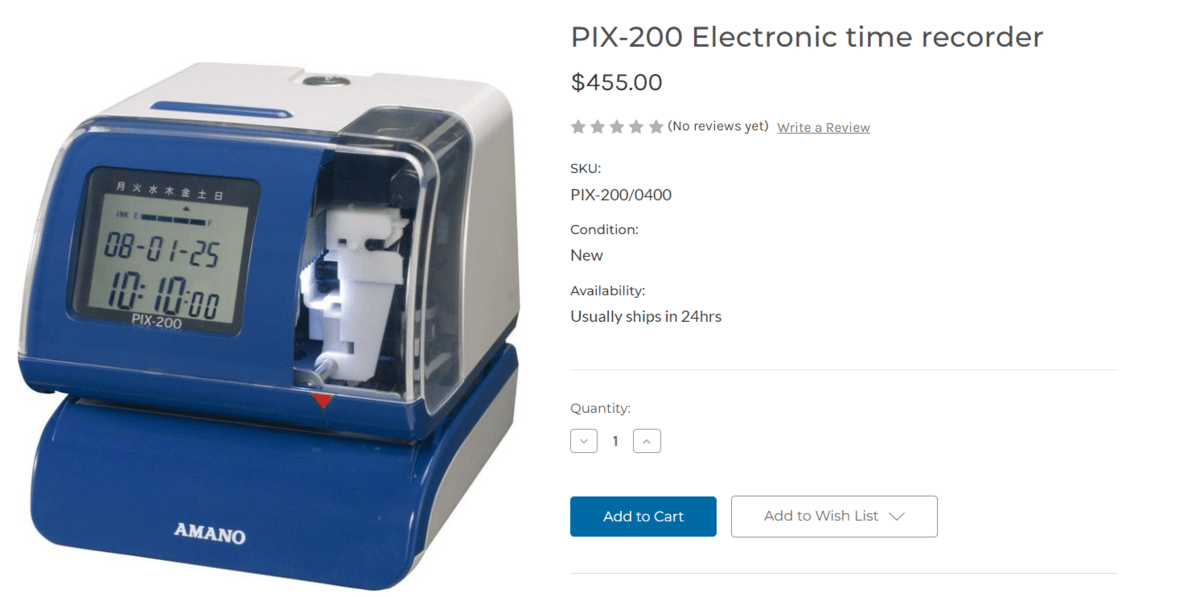 The electronic Amano PIX-200 time recorder is synchronized to the atomic clock.
Its time card stamps, enabled by a dot matrix printer, can be customized.
The memory retention feature protects memory and clock settings for up to three years without power.
TimePilot Tap System

The TimePilot Tap is pocket-sized for easy transport with an internal battery that lasts a year. It uses individually issued iButton fobs to keep workers from buddy punching.
Once it's connected via cable to a computer, the punch clock will either send the hours worked to a cloud database or to your server or PC.
Note: To get accurate time tracking data, you'll need to consistently connect the Tap system to your computer, which means bringing it in from the job site.
Pyramid 3700 Heavy Duty Time Clock & Document Stamp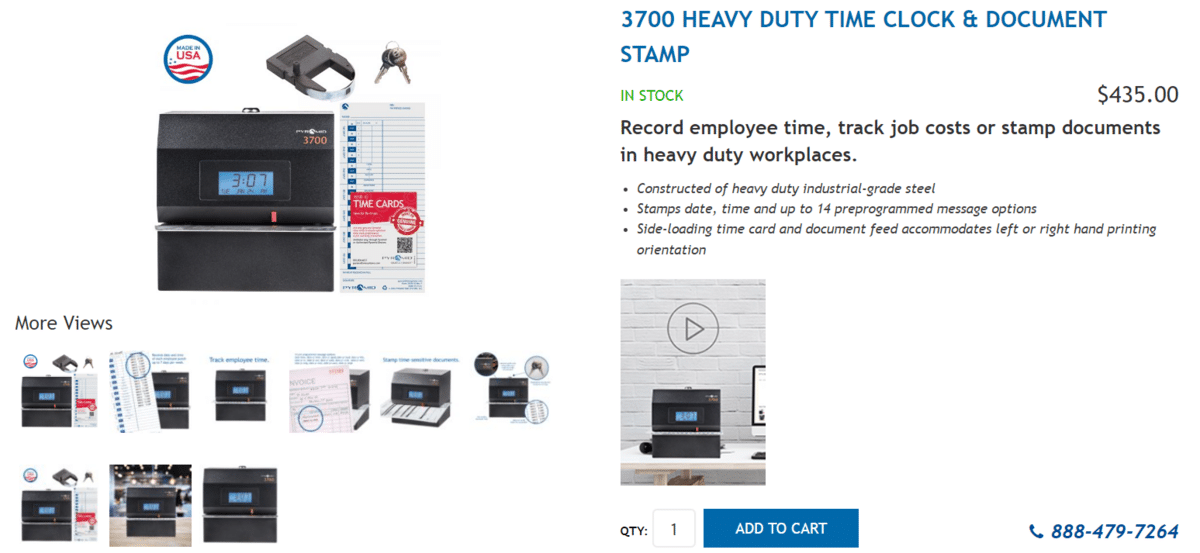 The Pyramid 3700 is made of industrial-grade steel. It has internal batteries that safeguard data for up to a week in the event of a power outage.
The adaptable side-loading printer has up to 14 message options.
You are dealing with stamped cards, so that means you're going to have to manage physical time cards.
Next Steps: Starting Your Buddy Punch Free Trial
Before you invest a sizeable upfront expense into buying however many portable time clocks you need, we recommend signing up for our free 14-day trial.
The free trial lets you see how you can:
Accurately and efficiently track your crew's hours.
Let your team clock in and out from their own devices (or a specific terminal).
Prevent time theft.
Write work schedules.
Manage time off (both PTO and non-PTO).
Run payroll from Buddy Punch or integrate your Buddy Punch account with your current payroll provider.
By trying Buddy Punch first, you can see if our more cost-effective (and all-in-one) solution will work for you, or if you truly need a rugged, physical portable time clock.
To learn more, you can: