Modern Time Clock (5 Options)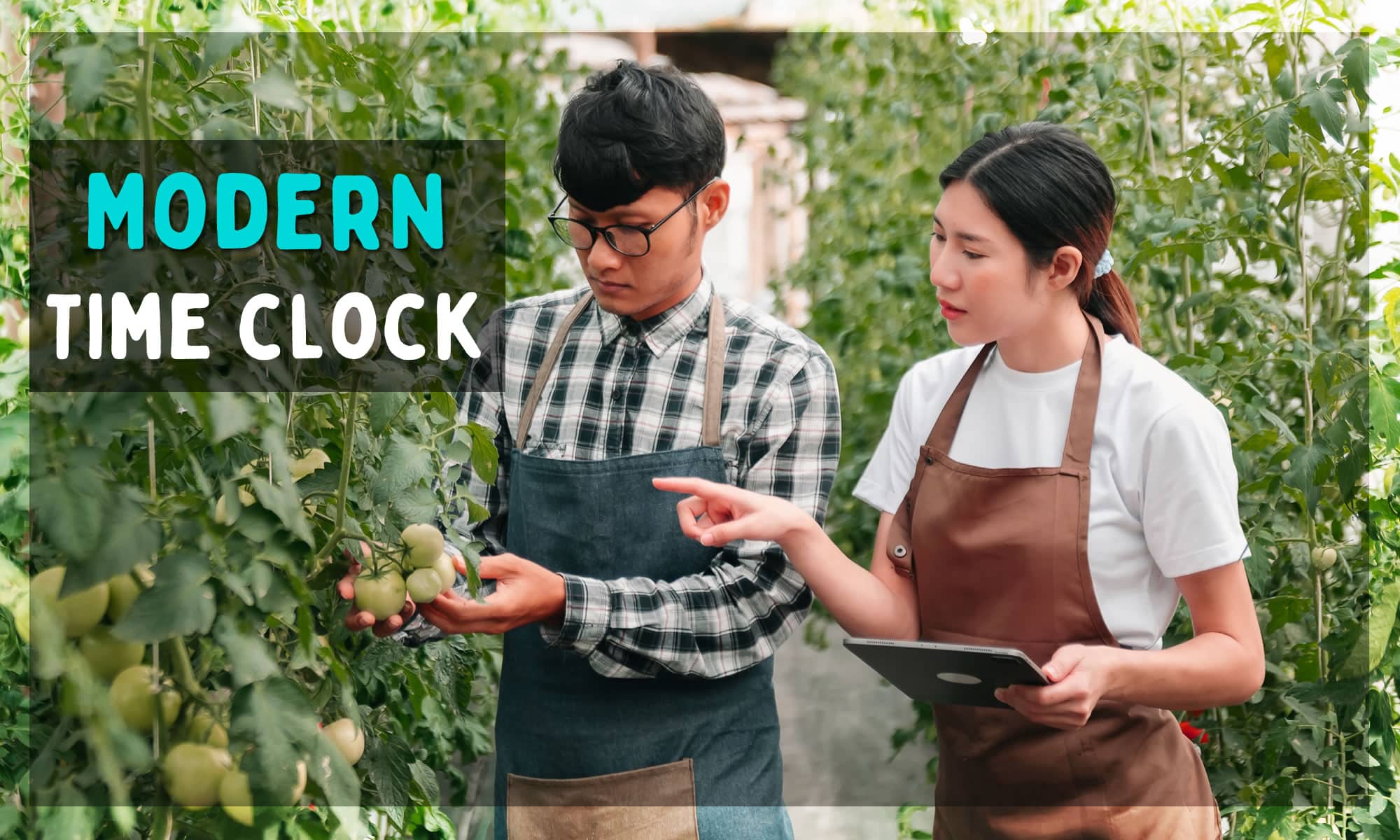 If you are searching for a modern time clock, you've come to the right place. In this guide, we will break down the best cloud-based time tracking solutions on the market. When it comes to finding the best digital time clock tools, it's important to have a solid understanding of the features offered by these solutions. We will break these down for you today.
Whether you are a small business owner or a team leader at a large organization, there is no shortage of effective time management solutions for you to embrace. To track employee hours efficiently and have confidence in your team data, you must find a time tracking tool that takes time theft seriously and makes it easy for employee time cards to get updated.
Modern Time Clock
1. Buddy Punch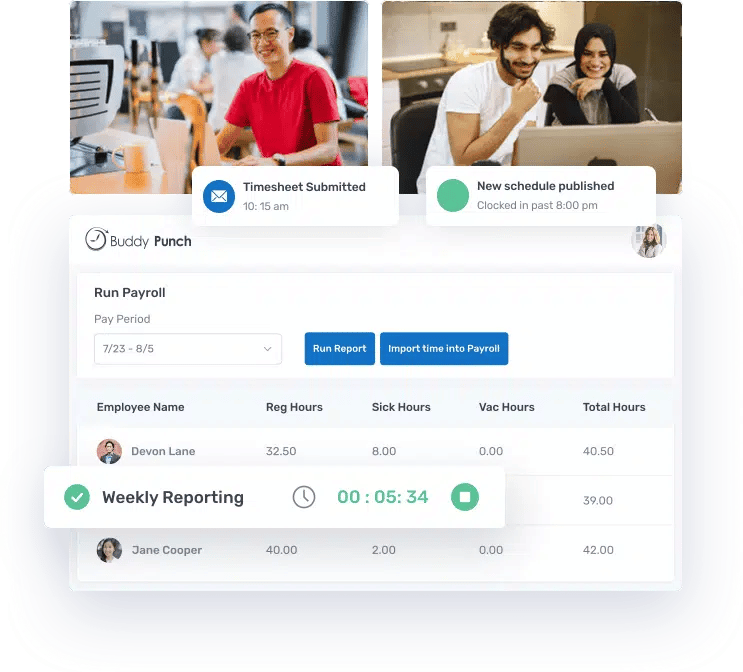 Buddy Punch's time and attendance software solution is well-equipped to meet the needs of your business. From collecting time records with ease to connecting with your existing payroll system, Buddy Punch has all you need to hit the ground running with time management. All punch card data is viewable in real-time – which offers a clear insight into attendance.
How Buddy Punch's Time Tracking Platform Works
When it comes to clocking in and out, Buddy Punch makes the entire process remarkably easy for all involved. Team members can clock in and out from any device. Whether they are viewing Buddy Punch on their mobile device, desktop, or tablet, they can still complete their time entries without any need for delay. This is ideal for leaders that need real-time updates.
Let's explore the most popular features on Buddy Punch's platform.
Enable Employees To Easily Make Time Off Requests
Like many time and attendance systems, Buddy Punch enables team members to easily make PTO and leave requests. Managers and leaders can then review these requests inside the platform and either approve or deny these. The whole process is seamless. Buddy Punch is designed to help managers and leaders can fast decisions without any delay.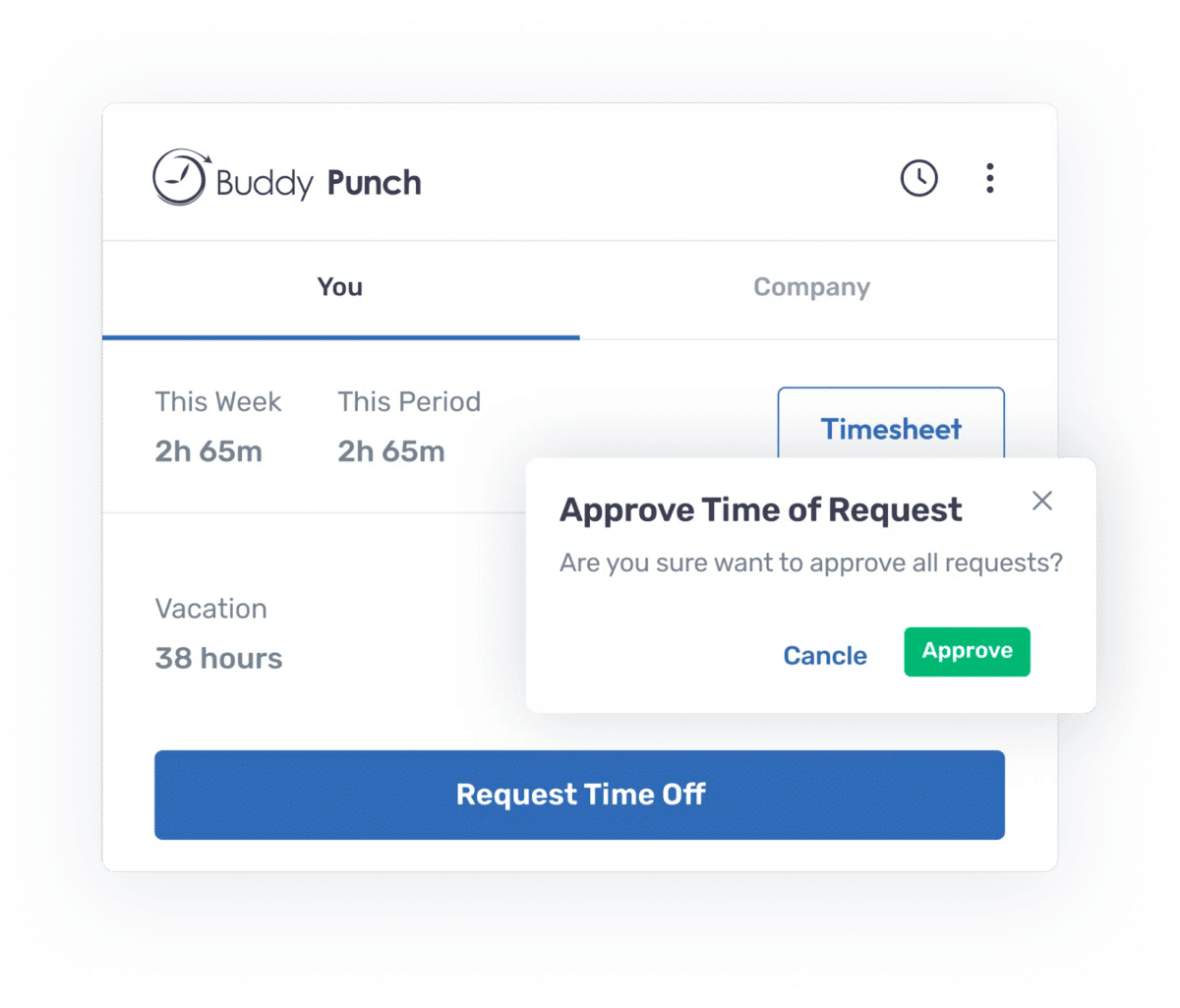 Keep A Close Eye On Employee Attendance Data
When it comes to monitoring employee performance and attendance, Buddy Punch's dashboard can provide you with a clear overview of when team members are clocking in and out. Having all of this information available at a glance can fill leaders with confidence and enable them to focus all their attention on meaningful leadership that moves the needle.
Use Geofencing To Restrict Where Teams Clock In/Out
Any modern time clock should have a geofencing feature that enables leaders to restrict where team members can clock in and out. You can set the geographical restrictions to specific locations, such as a job site. When team members arrive on-site and are ready to work, they can easily clock in. This adds an extra layer of security to your time tracking processes.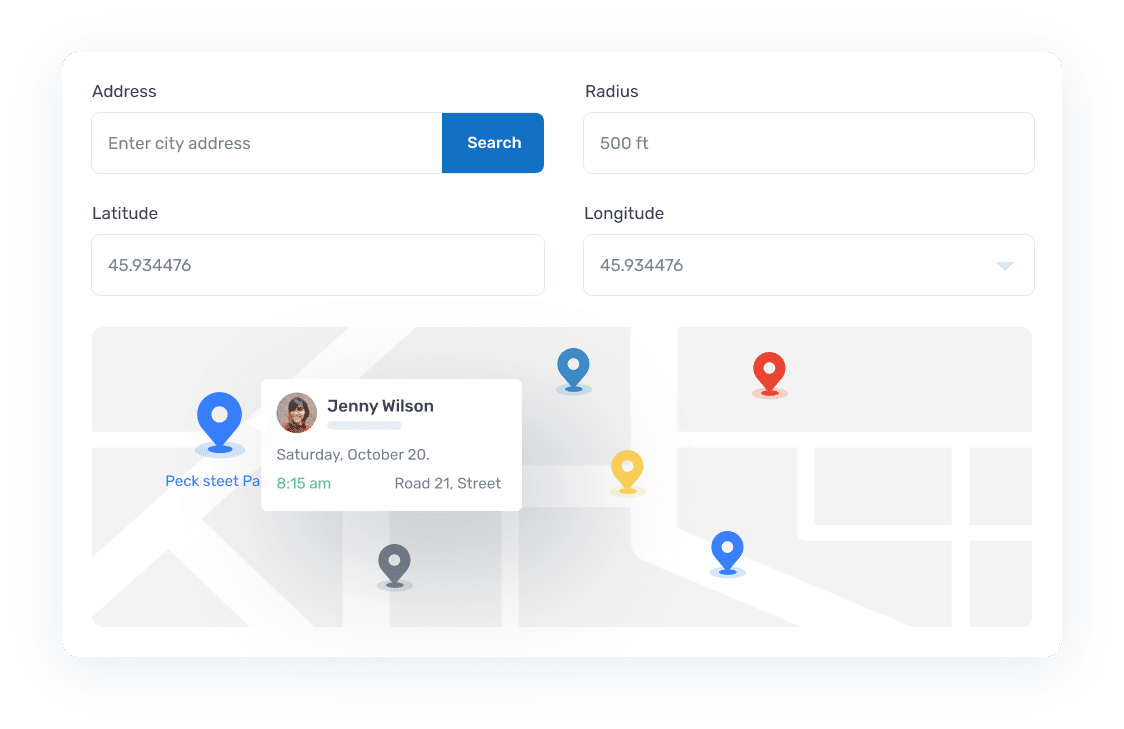 Monitor Overtime Hours Worked By Staff Members
Buddy Punch can automatically track overtime hours worked by employees – so you do not need to manually stay across this. When it comes to complying with labor laws, it's critical to have a system in place to monitor overtime hours. Fortunately, Buddy Punch is ready to provide team leaders with a robust system that accurately tracks overtime hours.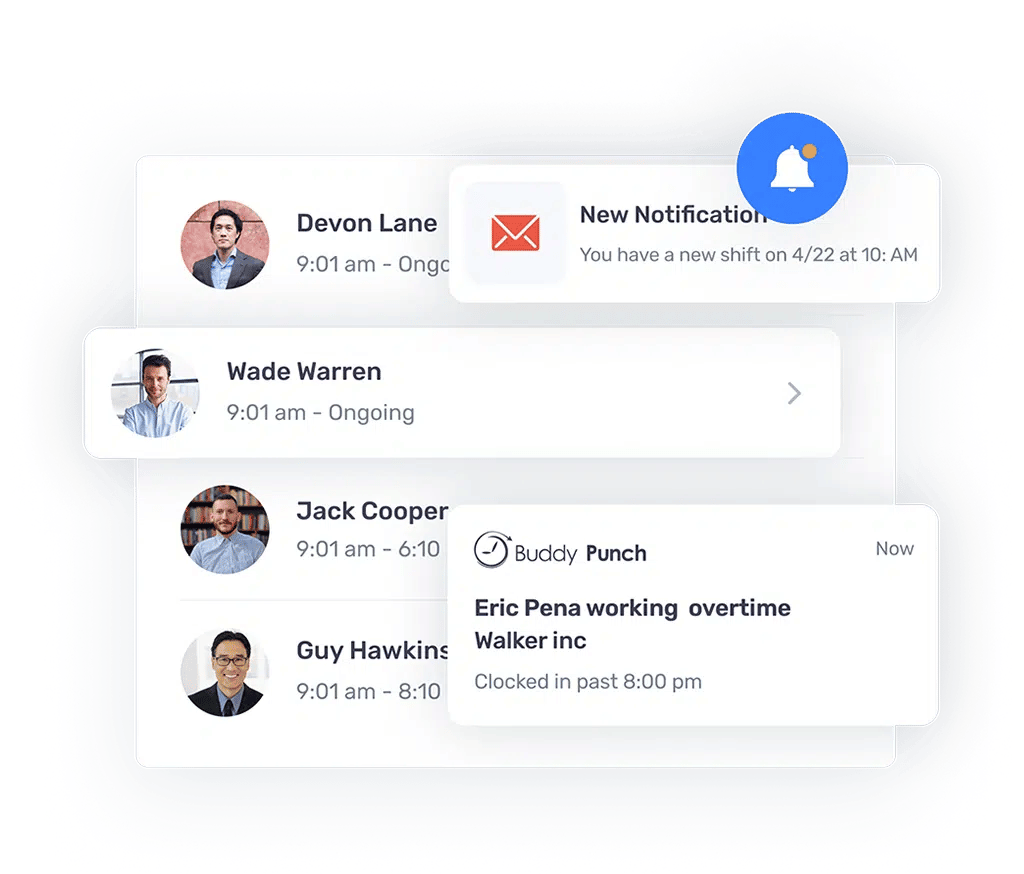 We always recommend reading through our "Knowledge Base" – which contains plenty of information on how you can unlock value from Buddy Punch.
Alternatively, our support team is always ready to answer your questions.
You can book a one-on-one personalized demo here.
Buddy Punch Is The Go-To Modern Time Clock
Here are just some of the features available with this time tracking software for logging employee work hours:
Buddy Punch's Online Reviews
Have you seen Buddy Punch's user reviews? As of the writing date, Buddy Punch has 4.8 out of 5 stars and 768 reviews on Capterra.

Below, we'll list just a few reviews that speak to Buddy Punch's ease of use and great customer support service. (Click here to explore the full list of reviews.)
As reviewers have noted, Buddy Punch provides team leaders and project managers with the necessary tools to streamline timekeeping and monitor labor costs:
"It's easy to clock in or clock out. The timesheet to keep track of your hours."

Click here to read the full review.
"This app allows employees to manage their time cards from a mobile device. In doing so, if an employee has to leave directly from their house to report to a site, the employee does not have to go by the office first. Employees can also edit their time cards from any mobile device."

Click here to read the full review.
"Cannot say enough about their support. Even if the product was not as amazing as it is, I would highly recommend Buddy Punch due to the unbelievable support!"

Click here to read the full review.
"The ease of this software helps me post schedules quickly. I have three businesses and staff that float between all. The color coding system helps me see what employee or department needs attention."

Click here to read the full review.
Try Buddy Punch for Free
If you feel that Buddy Punch might be the right fit for your business, sign up for a free trial. You can also book a one-on-one demo, or view a pre-recorded demo video.
2. Paymo
With a range of team scheduling and collaboration tools, Paymo is more than just a time tracker. This platform comes with the necessary features to help streamline productivity and keep everyone focused on the task at hand. If you are looking for a solution that can centralize collaboration and bring all employee data under one roof, Paymo may work for you.
Here are some of the best features Paymo has to offer:
At the time of writing, Paymo has a total of 439 reviews on Capterra, with an average of 4.7 out of 5 stars.
"I work with many clients and need a way of managing and tracking their support requests and project tasks amongst the team. Paymo allows this management through ease of use of adding a new client, setting up a project, assigning and scheduling tasks and creating reports for clients to view progress."

Click here to read the full review.
3. Timely
Timely provides you with all the necessary features to track time across your workforce with ease. If you are serious about time management and want to increase employee oversight, you need a solution like Timely in your corner. This platform also includes project and team planning tools that are designed to accelerate productivity and keep projects moving forward.
At the time of writing, Timely has a total of 209 reviews on Capterra, with an average of 4.7 out of 5 stars. Timely is loaded with a broad range of high-impact features:
"Timely is helpful software and I like it, it is functional and I highly recommend it."

Click here to read the full review.
4. QuickBooks Time
This time tracking solution is particularly popular among businesses that are already using QuickBooks' accounting software. QuickBooks Time is designed to ensure you can quickly collect timesheets and process payroll without delay. At the same time, managers and team leaders can easily navigate through time card reports for increased team oversight.
It's a great timesheet app for Android and iPhone, and at the time of writing, QuickBooks Time has 4.7 out of 5 stars and 6,011 reviews on Capterra.
QuickBooks Time (formerly TSheets) has features that include but are not limited to:
"I liked that it could be used on a mobile app or computer. We like that it tracks location of users within the app while on the clock. We like that it has geofences. We like that you can set up holidays and vacation and sick time."

Click here to read the full review.
5. TimeCamp
From timesheet approvals and attendance tracking to easy invoicing, TimeCamp is loaded with a mix of intuitive features. If you currently lack the necessary systems to bring order to time management in your organization, TimeCamp is potentially a good place to start. Like many time tracking platforms on the market, this solution contains a full range of useful tools.
At the time of writing, TimeCamp has a total of 572 reviews on Capterra, with an average of 4.7 out of 5 stars. TimeCamp offers a full range of practical features for teams:
"An attractive UI and simple customizable reports make Timecamp a good choice for time monitoring. You can view your daily productivity analysis, making it a useful productivity tracker as well."

Click here to read the full review.
Try Buddy Punch for Free
If you feel that Buddy Punch could be the right fit for your business, sign up for a free trial. You can also book a one-on-one demo, or view a pre-recorded demo video.
You May Also Like…