The 5 Best Apps for Construction Time Tracking (In-Depth Post)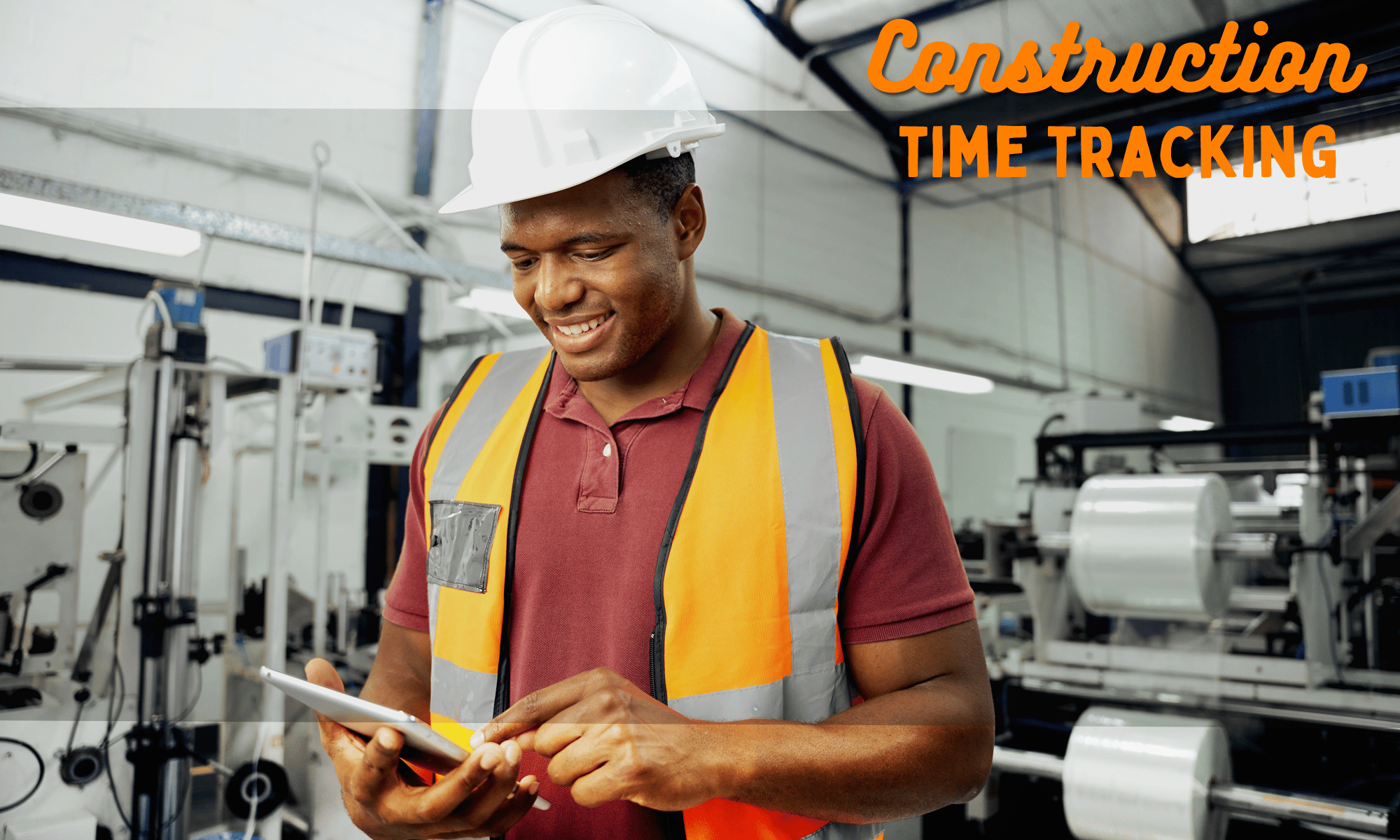 The hardest part of finding construction time tracking software is finding apps that navigate the vast diversity between team members. Individual traits like forgetfulness, tech-savviness, and even devices used (iOS, Android, Tablet, etc.) can drastically influence how effective team tracking can be. Ideally, a construction time clock should be simple, effective, and versatile enough to navigate through these issues.
And we managed to find 5 such apps.
In this article, we're going to detail what we've found to be the best construction timesheet apps available on the market. In our opinion, what makes these software options strong is a mix of maximizing employee accountability, focusing on simplicity in feature design and usage, and streamlining operations across construction businesses.
Construction Time Tracking Options:
When we were creating Buddy Punch, our goal was simple – to create a time tracking software that could work for business owners across any and every industry, whether they were office workers creating tech or out in the field in the construction industry.
We credit our success to our adherence to the accountability, simplicity, and streamlining principle that we mentioned earlier, which allowed us to offer business managers a wide range of features without ever getting too overwhelming.
These are useful functions such as GPS Tracking, Geofencing, Locations, Notifications, Customized Reports, Automatic Breaks, Job Costing, and Payroll Integrations, all of which enable managers to exercise more control over their employees without crossing over into micromanagement.
Next, let's dive into each of these features to get a better overview for how these functions can aid with tracking your construction workers.
Note: If you'd rather get a feel for our time tracking solution directly, you can sign up for Buddy Punch's 14-day trial, free of charge.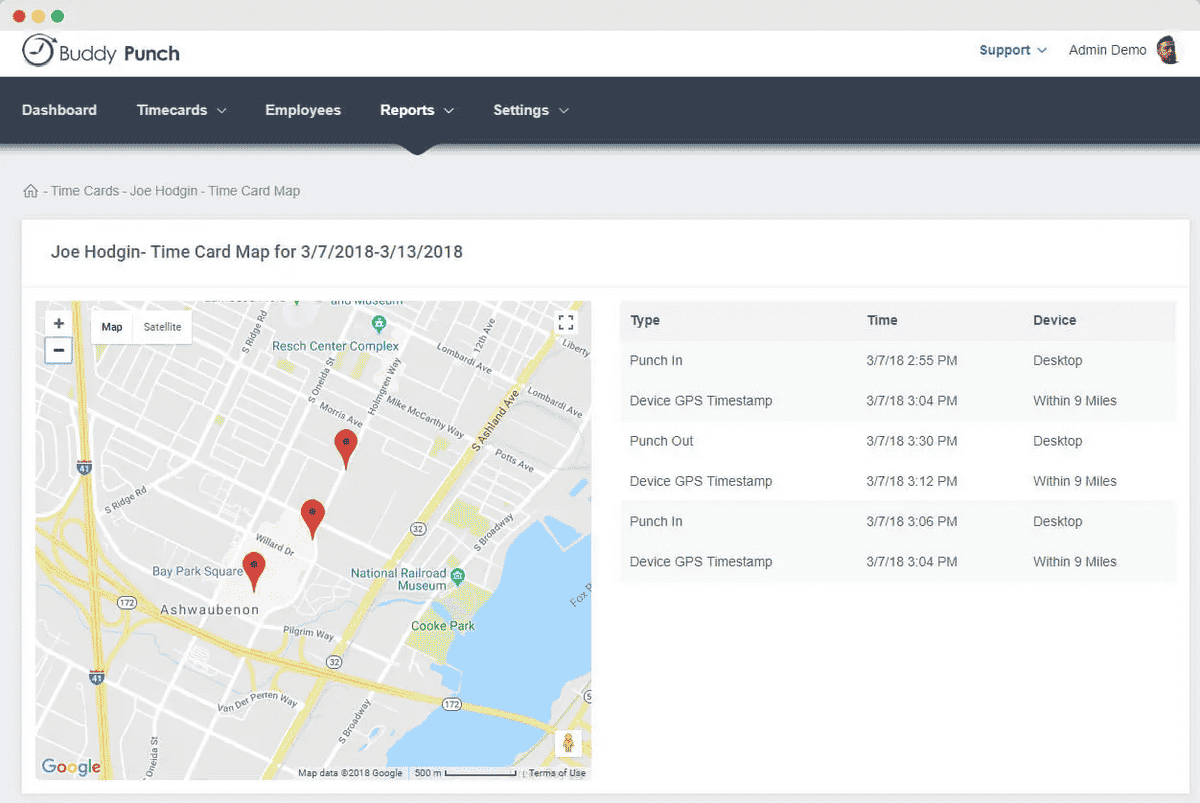 With Buddy Punch's GPS tracking, you can keep up with your employee locations while your crew are out on remote jobs. This helps ensure they're working at the right site at the right time, and you can view crew locations individually or altogether on an interactive map.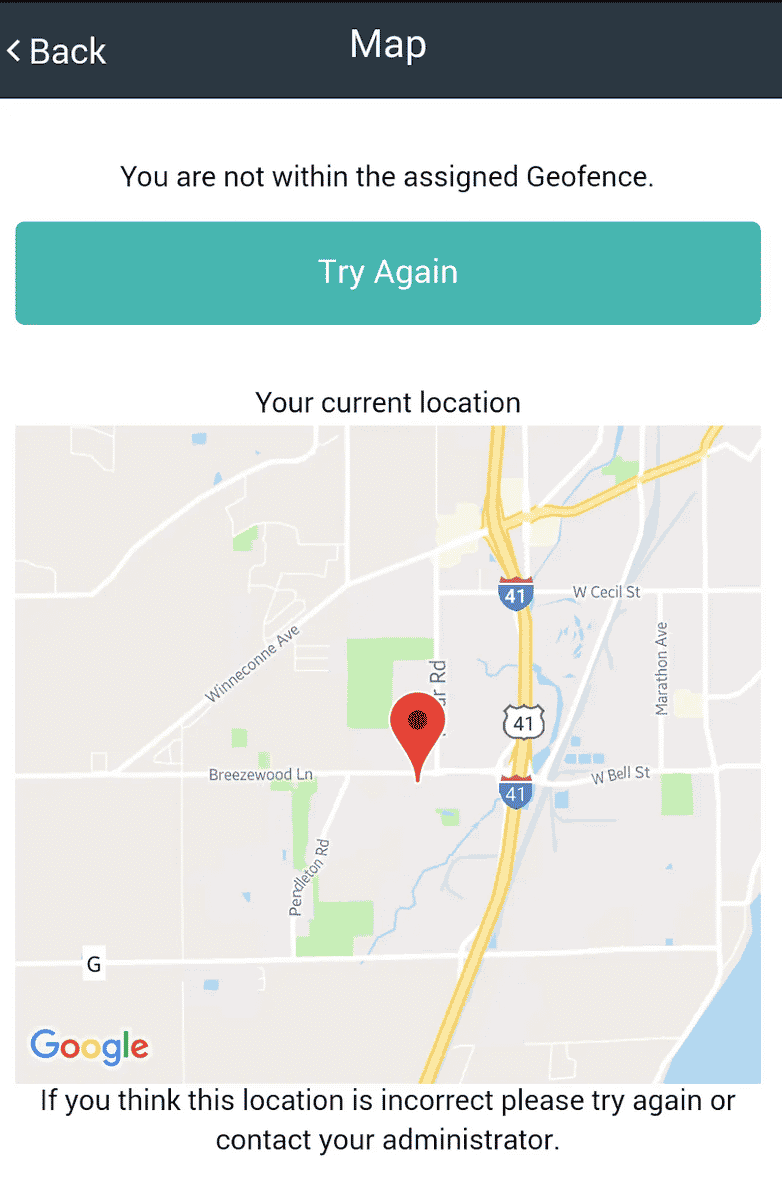 The Geofencing feature is a powerful option for crew time tracking. You can create a radius around a construction project location that will let employees clock in, but only when they're present in the designated area. If a crew member tries to clock in from outside of that location, they'll be sent an error notification.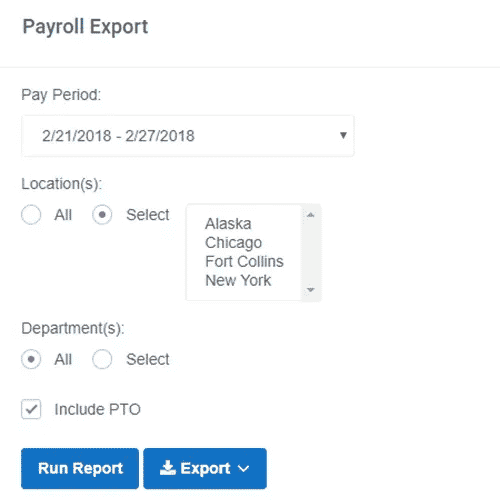 We believe that a good job site time tracker should offer versatile options for business owners. The Locations feature is a more simple version of the Geofencing function, allowing crew members to select their own locations every time they clock in. This can save you some time on creating Geofences, and allows you to foster more trust while time tracking your construction crew.

Buddy Punch has several built-in notifications for both the administrative side of our construction time tracking app, and for the crew member side. On the administrative side, you will receive alerts whenever your employees clock in, and additional alerts depending on which construction time tracking functions you enable. On the crew member side, your team will receive alerts when you do things like create and publish a new schedule for them to work on sites.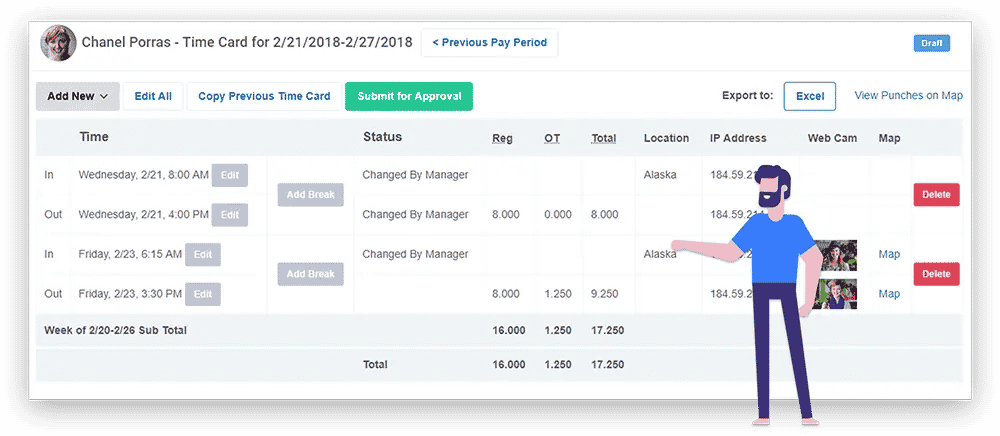 When it's time to review all the data collected while using Buddy Punch for tracking time worked in construction, you can count on our customizable reports to help you make informed decisions in your business. You can get a report including an employee hours summary, in/out activity, employee details, and more.

The Automatic Breaks feature can help ensure you have accurate jobsite time tracking even while your crews are out on jobs. With this, you can set a rule that will automate time deduction from employee time cards for breaks.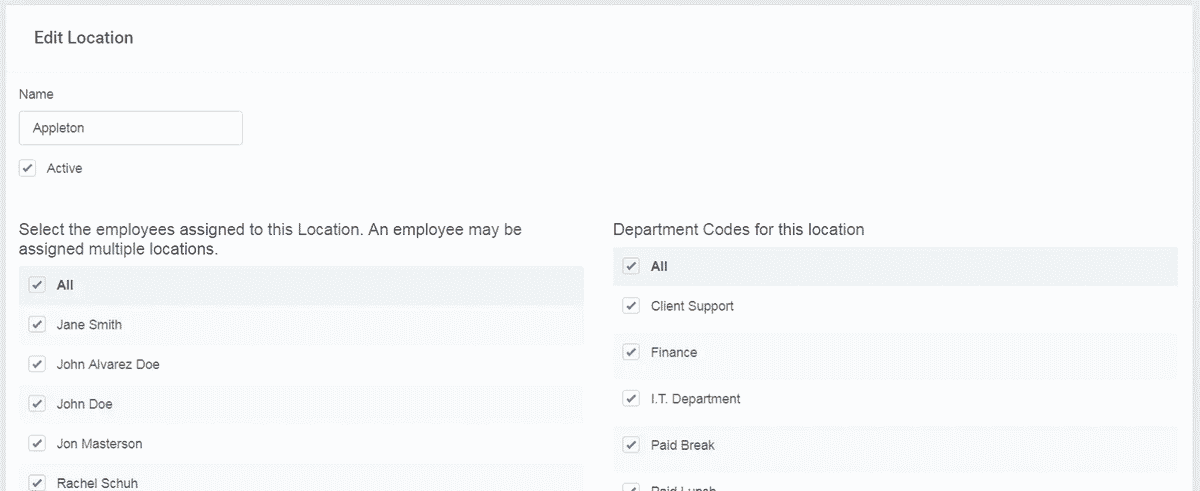 The Job Costing feature is vital for any construction employee tracker worth its salt. With this, you can get a precise overview of how much time each job is taking, and how much profit it ultimately generates. This sort of time data is key to optimizing your operations.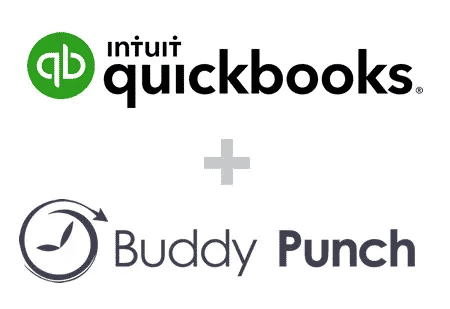 Once you've made use of Buddy Punch's other features throughout the week, you can send that accurate time data directly to the payroll processing software of your choice. Buddy Punch integrates with many popular choices including QuickBooks, Paychex, ADP, and more (view the full list here). When we said Buddy Punch streamlined operations, we meant improvement at every level of tracking and reporting.

Buddy Punch Offers Construction Companies Many Other Features
While we've primarily covered why Buddy Punch is a great construction time tracking software for tracking remote jobs, there's much more you can do. Consider other features such as:
It gets better. Buddy Punch also has a constantly updated blog with information for business owners, a help doc center that teaches users how to best utilize Buddy Punch, and a responsive customer support that's available via live chat to answer questions, or to guide you through a one-on-one personalized demo (which you can book by clicking here).
Buddy Punch's Online Reviews
As of this post's writing date, Buddy Punch has 4.8 out of 5 stars and 686 reviews on Capterra.

Below, we'll list just a few reviews from construction managers talking about their experience using Buddy Punch with their teams. (Click here to explore the full list of reviews.)
"I like that the employees can clock in and out on their phones since we have construction sites where there isn't a mobile office. It also lets them select the job they are working for so we can have accurate billing. It is helpful for our laborers who are often on multiple projects throughout the day. As an administrator, I like that I can access it from my phone or desktop. "

Click here to read the full review.
"We love the fact that we can simply step away from the old school "micro-managerial" format of chasing peoples hours down. The fact that it locates where and when the employee signs in/out is great for our management team from not only a time card perspective but also in determining where they are. We work in construction and have multiple sites in which our employees work. This tool provides me one location to see when they arrived and exactly where they are. "

Click here to read the full review.
"Easy to use, cost effective. We run it off of one computer in the shop and all of the techs punch in and out. My office opens up the software and all the hours are already listed. Works like a charm."

Click here to read the full review.
"Easy to use. Easy to set up users. No more worries about keeping track of remote crew hours across the country."

Click here to read the full review.
As several reviewers have noted, Buddy Punch is easy to use, flexible, and allows managers to exercise precise control over their crew without having to micromanage.

Try Buddy Punch for Free
If you feel that Buddy Punch might be the right construction time card app for your business, sign up for a free trial. You can also book a one-on-one demo, or view a pre-recorded demo video.
If you're looking for a time clock specifically designed for field crews, Raken might be up your alley. Some of its features include:
What makes it an effective contractor time tracking app is a focus on streamlining project management and improving employee communication. As of this post's writing date, Raken has a rating of 4.7 out of 5 stars on Capterra, based on 169 reviews.
"Pros: 1. Cloud based (no expensive servers, no storage limits) 2. Extremely easy to use 3. Allows Foremen/Superintendents to have very detailed field reports 4. Can share photos, recordings, weather, and reports with a link vs. large emails 5. Can track jobs by crews, employee, and cost codes 6. Easily document weather delays 7. Voice recording allows for a LOT of flexibility and complete detail 8. Phone, ipad, tablets or desktop are part of the accessibility with just a logon…" 

Click here to read the full review.
At the time of this post's writing, busybusy has a total of 323 reviews on Capterra (see here), with an average of 4.4 out of 5 stars. Some of its key features include:

"Pros: apps for phone and tablet export to some accounting software possibility to use cost codes track equipment time"

Click here to read the full review.
ClockShark is a construction employee time tracking app with features such as:
As of this article's writing date, ClockShark has a rating of 4.7 out of 5 possible stars, based on 1696 total reviews.
"Much more detail oriented and user friendly than similar products we've used. Also the detailed GPS tracking is an invaluable asset for time management for employees."

Click here to read the full review.
Jibble is a time tracking app for construction that includes features such as:
As of this post's writing date, Jibble has 332 reviews on Capterra, with an average rating of 4.8 out of 5 stars.
"It is exactly what we were looking for and have helped us have a much better grip on our staff hours and payroll. What we liked most is that you can load it on every staff members own mobile device and just set the location so that they have to clock in on the premises where they are suppose to be. A cool feature is also that it warns you when staff reaches overtime and you can just the schedule. In the long run this app will save you money."

Click here to read the full review.
Choosing The Best App for Tracking Construction Employee Time and Locations
As we've detailed above, there are a variety of apps that can fulfill all needs when it comes to monitoring employees at remote sites. The main question you need to ask is what features you need – as a software created for construction time tracking might not necessarily meet your needs better than a general one.
For example, look at Buddy Punch. While not specifically designed as a construction time tracking system, plenty of contractors and managers alike have found that its features have revolutionized how they handle their crews.
Try Buddy Punch for Free
If you feel that Buddy Punch could be the right construction time tracking app for your business, sign up for a 14-day free trial. You can also book a one-on-one demo, or view a pre-recorded demo video here.

You May Also Like…