4 Construction Biometric Time Clocks (In-Depth Look)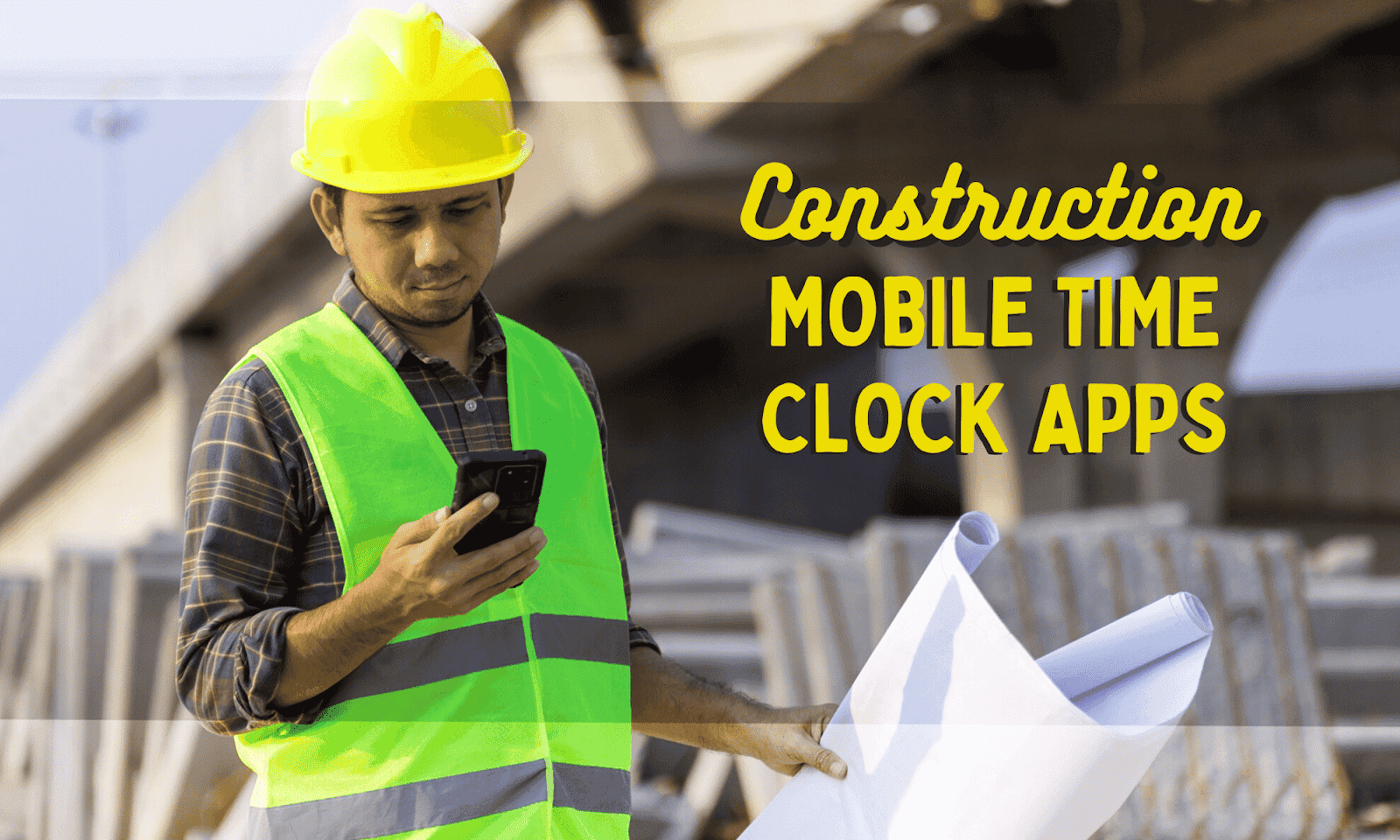 Many construction businesses have workers spread out over different job sites, working on varying projects. Manually tracking their hours is a hassle with two big concerns.
Keeping accurate time records and ensuring employee accountability. If you don't have a secure and reliable way for your team to clock in and out, you run the risk of time theft issues, like buddy punching. There are also more honest mistakes, like clocking in for the wrong shift, at the wrong job site, or even forgetting to clock in completely.
Time tracking issues become payroll issues. These time clock issues directly impact your payroll process. Little clock-in mistakes can lead to bigger payroll issues, where you're paying someone the wrong amount for the pay period.
The best biometric time clocks can solve these issues for your construction site. Biometric time clocks make sure your time-tracking records are accurate. They can do this with a fingerprint reader, facial recognition, or a photo taken in real-time. (The best time clocks will also have other advanced clock-in features such as Geofencing, Photos on Punch, GPS Tracking, etc.).

These time clocks also will also have payroll software or can easily integrate into your current payroll software with Payroll Provider Integrations and On-Demand Payroll Reports.
In this post, we'll discuss why our product, Buddy Punch, is the best mobile time clock software for construction companies by delving into our key features and user reviews. We'll also list four other mobile time tracking apps for construction, so you can make an informed decision.
Best Biometric Time Clocks for Construction
Brief High-Level Overview of How Our Mobile Time Clock App for Construction Works
In this section, we'll provide a high-level overview of how our platform works, and then we'll take a deep dive into Buddy Punch's features for employee accountability and payroll management.
Construction workers can use the Buddy Punch mobile app (available for iPhone and Android) to punch in and out. They can also do so through a tablet or computer.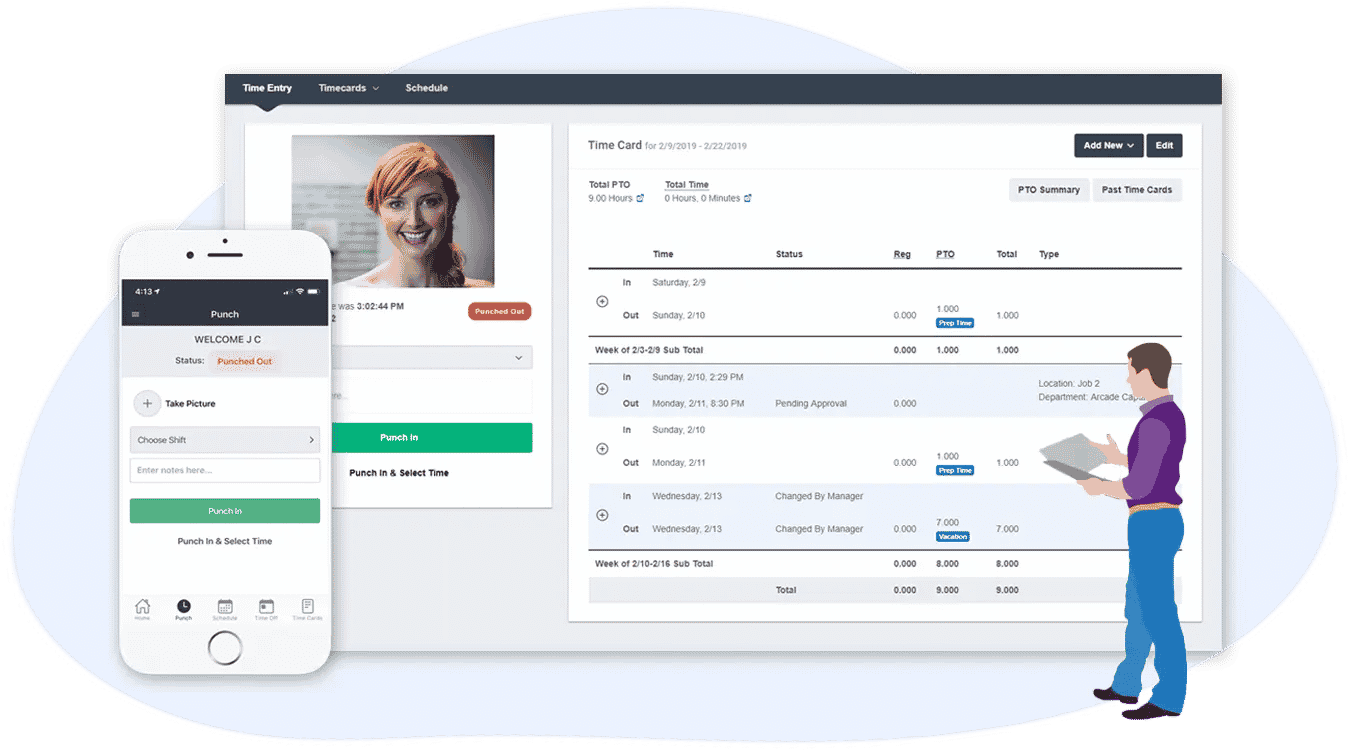 Our software automatically calculates employee hours, overtime, time off, and more. You can then export this information via Excel:

Keep Employees Honest via Geofencing, Photos on Punch, and More
Buddy Punch offers numerous features to increase employee accountability. Let's look at some key ones: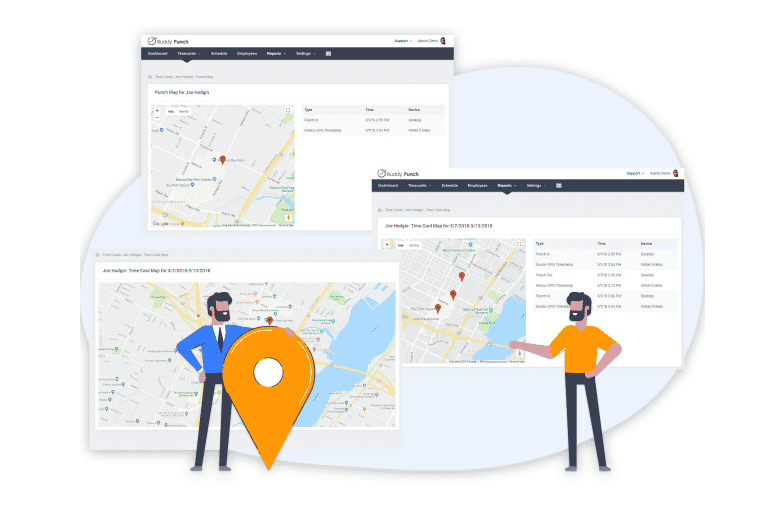 Geofencing lets you restrict punches to specific worksites.
So, for example, if your crew is working at Address 'A', you can limit employee punches to within 200 feet of that address. Any attempts to punch in/out from outside this radius will result in an error message.
Construction companies with crews working at multiple locations can set up multiple geofences.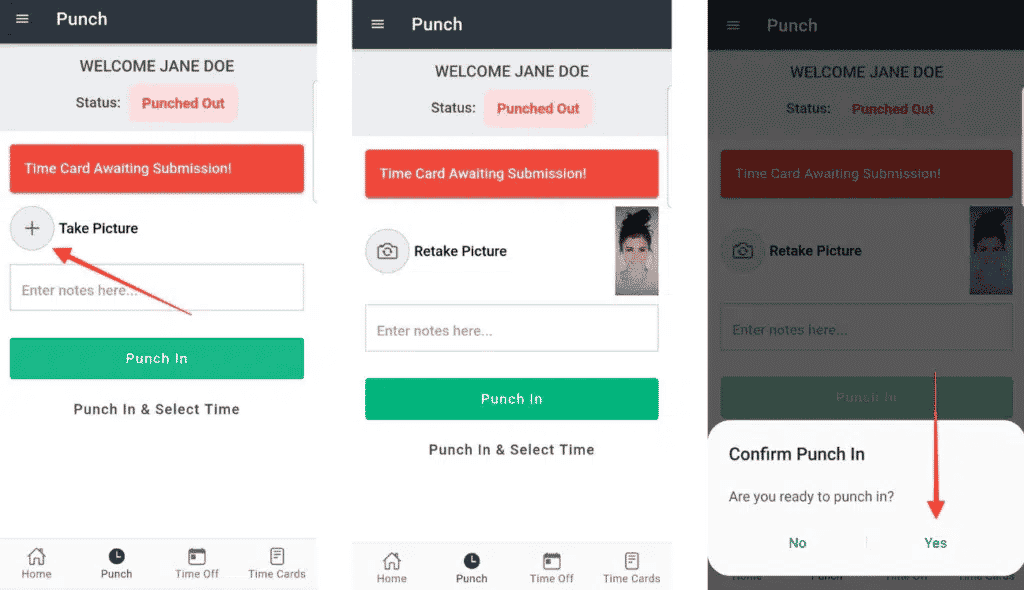 With Photos on Punch, every time an employee punches in or out, they take a photo of themselves via the Buddy Punch app (iOS or Android) or via a computer.
Administrators can view these images on their dashboard and verify that the correct employee punched in (rather than a friend or coworker). The pictures also help verify that crew members are working at the correct job site.
Buddy Punch Has Other Effective Accountability-Related Features, Including:
GPS Time Tracking: Doesn't restrict punches to a certain location, but still tracks where each employee is punching in and out from. (You can easily view the punch GPS coordinates via our dashboard.)
Facial Recognition Punching: Verify that the correct worker is punching in via live facial recognition using a webcam.
IP Address Locking: Restrict employee punches to a specific Wi-Fi network or device (e.g., an in-office tablet or computer).
Save Time on Payroll via Payroll Provider Integrations, Time Off Tracking, and More
Buddy Punch offers numerous features to save time on payroll. Let's look at some key ones:

As we've mentioned, Buddy Punch speeds up the payroll process by automatically calculating each employee's work hours, overtime, time off, and more. You can view this information and export it via Excel in a few clicks.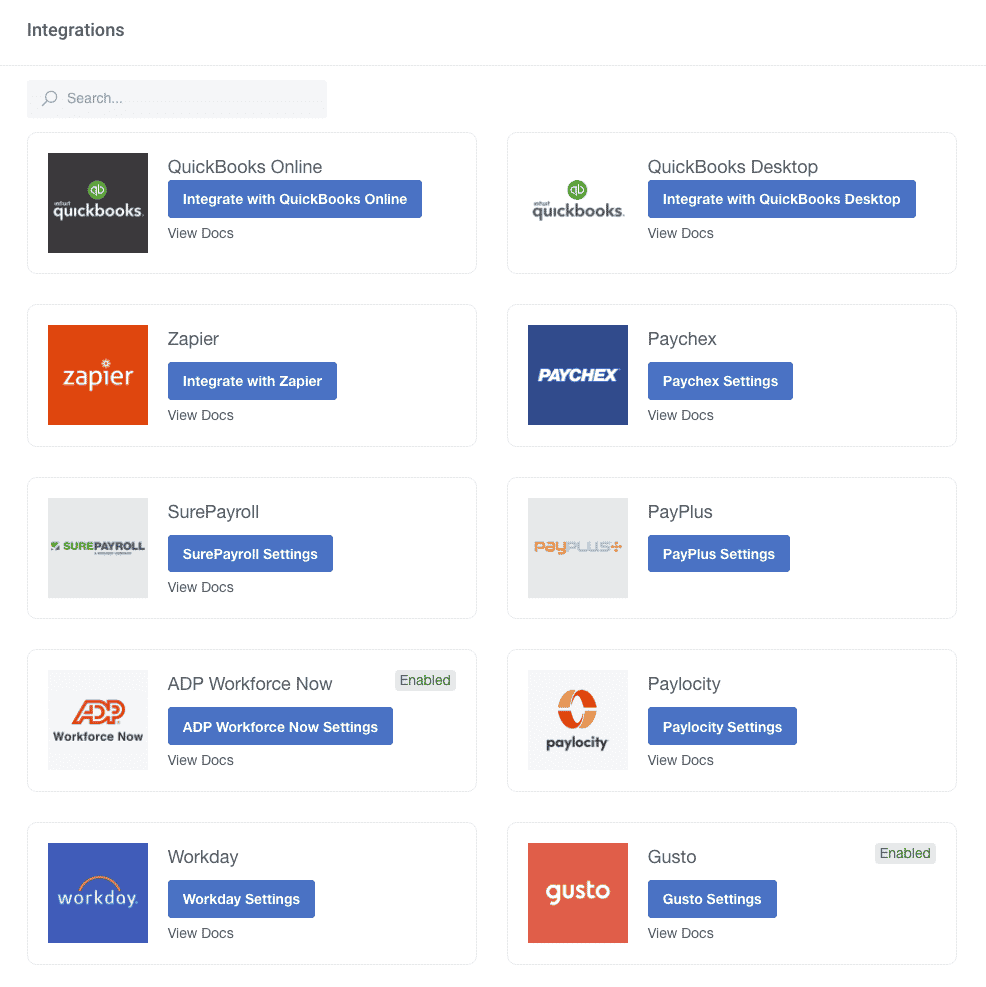 Buddy Punch integrates with most major payroll providers, so construction businesses can eliminate time spent on manual data transfer and prevent human error.
Our mobile time tracking software for construction integrates with QuickBooks, Gusto, ADP, Paychex, PayPlus, Paylocity, and more.
Click here to check out the complete list of payroll integrations.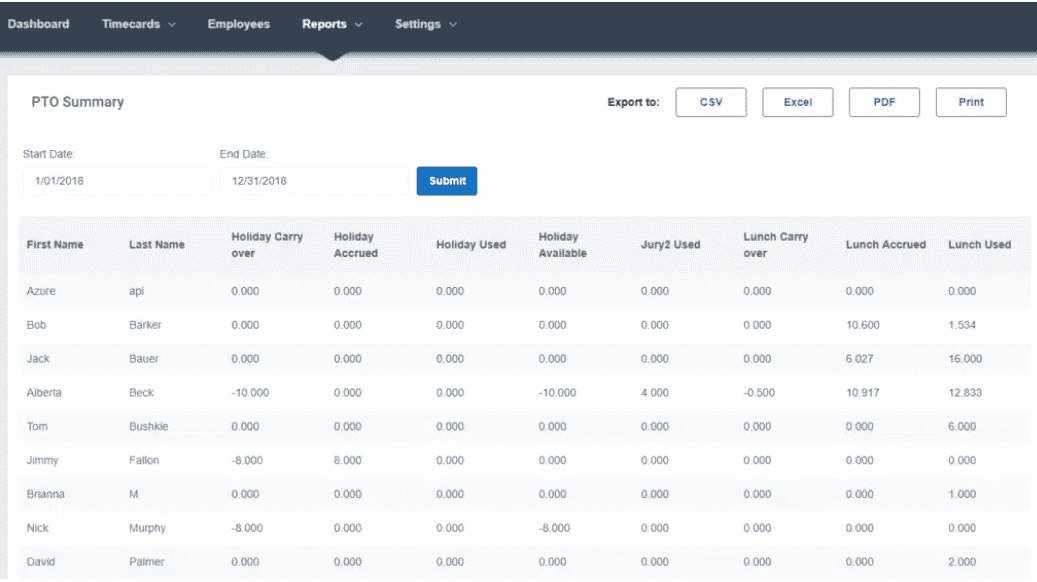 Buddy Punch offers numerous Time Off Tracking features. Employees can self submit time-off requests via our app. Managers and administrators can optionally get a notification to approve or deny the requests.
Buddy Punch also tracks each employee's paid and unpaid time off. In just a few clicks, you (and your employees) can pull up reports with all this information.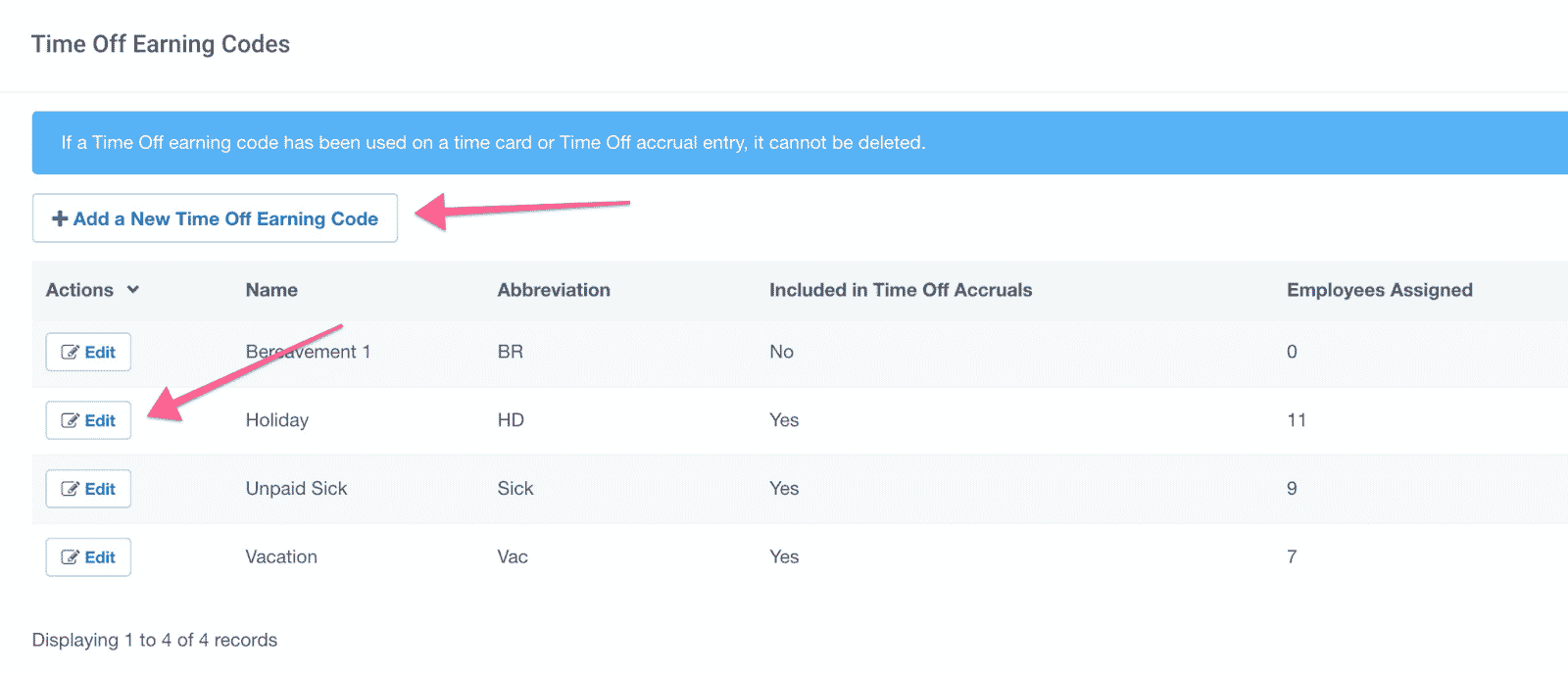 Buddy Punch lets you set up custom time off accrual rules for each employee. You can learn more about this feature here or by watching this YouTube video (one of many informative videos on our channel).
Buddy Punch Offers Many Other Features
The features mentioned above are only a small part of what our platform offers.
For example, Buddy Punch lets you easily create and edit employee schedules, automatically notify employees of shift changes, and so on.
See our article on the Best Construction Scheduling Software to explore our full scheduling capabilities.
Other features that Buddy Punch offers include, but aren't limited to:
Note that if you have any questions about Buddy Punch's functionality (or anything else), you can always reach out to our customer support team via live chat.
Online Reviews on Capterra
Buddy Punch is currently a top performer on Capterra, garnering a 4.8/5 rating with 671 reviews at the time of writing.

Here are a few reviews highlighting Buddy Punch's ease of use for mobile time tracking:
"Simple interface for mobile punches. My employees had no trouble instantly using and understanding the various permissions they had."

Click here to read the full review.
"Overall it's a great app!!! I was able to easily navigate the app and desktop app. The guys were able to easily use it! It was much more efficient than the handwritten time sheets we have been using… This was so user friendly and easy to navigate. It is very affordable and breaks each individual's hours down to a report that I could merge with our payroll provider. Also you can put in the job address so the employee has to be on-site to clock-in or out.. .I also LOVED how they weren't pushy and have given us time to think it over without bugging us everyday like the other options have."

Click here to read the full review.
"Very easy for employees and administrators alike to track time and edit if necessary. Provides accountability for our employees with the location settings such as GPS/Geofence. Provides a variety of reports that are helpful. Provides our employees with mobility—we can send them to any job site, and they have the ability to punch in/out."

Click here to read the full review.
Get Started with Buddy Punch for Free
Discover everything Buddy Punch has to offer by browsing our website and:
ClockShark offers a great deal of features and functionality, some of which include:
It's a leading mobile time clock software for construction. As of this writing date, it has 1639 reviews and 4.7 stars on Capterra.
"I love the ease of logging into ClockShark from anywhere and being able to track time in real time. The GPS feature is great for being able to adjust time from job to job if a missed punch happens. It is a great tool for job costing per employee, and has easy features that anyone can master."

Click here to read the full review.
Connecteam offers a great deal of features and functionality, some of which include:
It's one of the best mobile time tracking construction apps. As of this writing date, it has 145 reviews and 4.8 stars on Capterra.
"I love the ease of implementation. The software automatically sent invites to the users to download the app. The form creator gives so many options to use forms already created or to create one of your own. The forms are simple and can be signed from a mobile phone. Signatures are critical for documentation of training, write ups, injury reports etc…"

Click here to read the full review.
Note: The video above is for a different time clock by AMG, but gives you an idea of how you can use their biometric time clock and time tracking software.
The AMG Rugged Time Clock is different from the other time clocks on our list in that it's a physical and portable time clock.
It's biometric because it offers a fingerprint scanner to track time worked and attendance.
Like many rugged time clocks designed for construction workers, the AMG Time Clock is:
Waterproof
Dustproof
Shockproof
Plus, it's an on-premise time clock, so it doesn't need to be connected to a network to track data. Though you do need to bring the time clock in from the job site and connect to a network to transmit data.

At the time of this writing, there are no available online third-party reviews about this time clock.
Get Started with Buddy Punch for Free
Discover everything Buddy Punch has to offer by browsing our website and:
You May Also Like…