Time Card Tracker App (5 Options)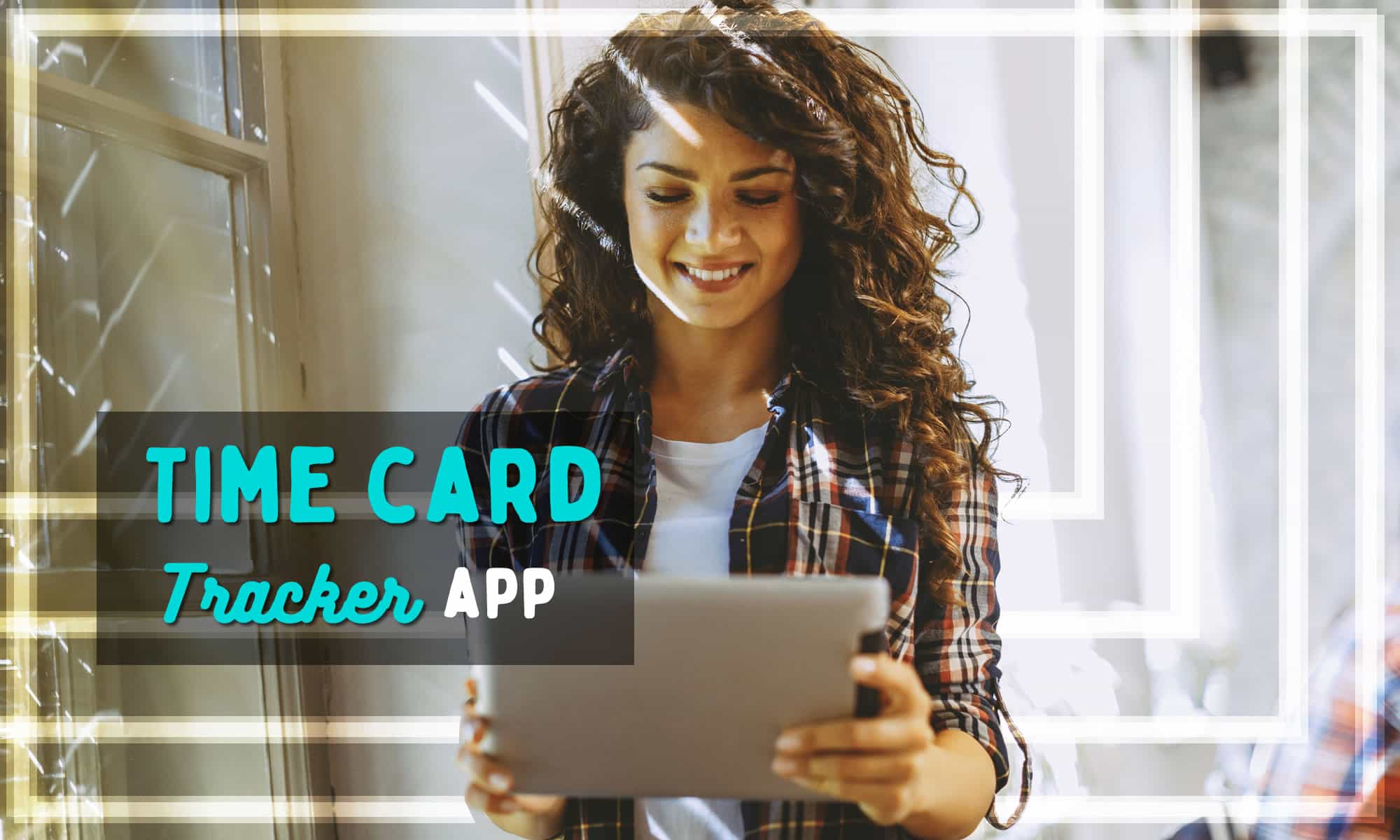 Do you need a time card tracker app to provide you with seamless access to employee attendance and performance data? You've come to the right place. In this guide, we will break down the best time card tracker applications for you to choose from. There is no shortage of effective time tracking platforms on the market that are equipped to meet your needs.
No matter the size of your workforce, you can use an online time clock system to track team productivity and hold individuals accountable. With real-time data at your fingertips, leaders can begin to start making informed leadership decisions and manage team members confidently. This is essential to creating an efficient work environment that supports productivity.
You should choose a time management system that offers effective employee monitoring, GPS location tracking, task and project management tools, along with timesheet fraud detection. Let's dive straight into exploring the five best time card tracker platforms at your disposal.
Online Time Card Tracker App
1. Buddy Punch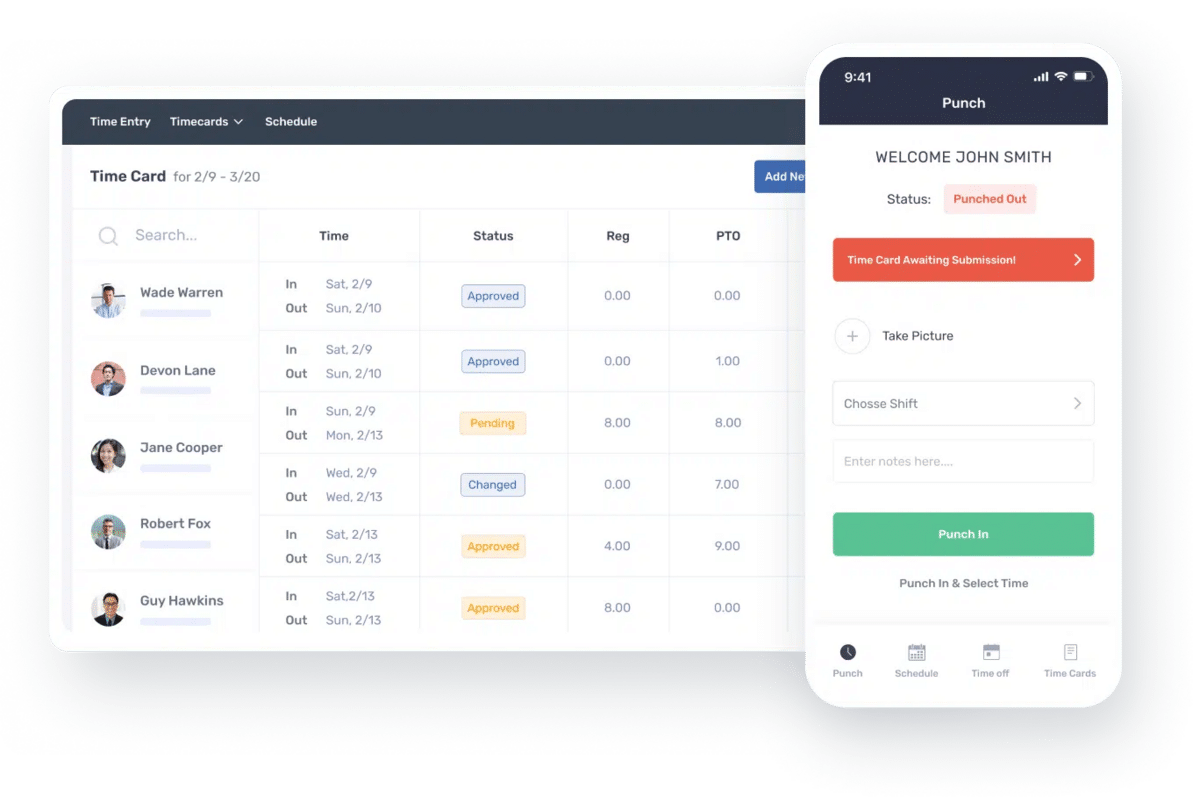 Buddy Punch is an automated employee time tracking solution that includes biometric verification, GPS location tracking, and flexible timesheet reporting tools. This platform allows employees to clock in and out using their mobile or desktop while managers can access time cards from anywhere with internet access. The best bit? It's easily scalable.
How Buddy Punch's Time Tracking Platform Works
Team members can simply clock in and out using either the desktop or mobile app for Buddy Punch. This time tracking software makes it easy for team members to complete time entries and allows managers to track time swiftly. If you are serious about getting to grips with time management at your workplace, you need a solution like Buddy Punch in your corner.
Let's dive into just a few of Buddy Punch's best features.
Accelerate Payroll With Faster Timesheet Entries
Buddy Punch helps team members quickly enter timesheet data and get paid faster. This means you can get an accurate reflection of your labor costs in real-time. With everything tracked in one secure place, you can rest assured that your finance team will never miss a payroll deadline again and managers will have the necessary data to monitor employee attendance in real-time.
Easily Send Payroll Data to Your Preferred Processor
Buddy Punch integrates with the top payroll providers on the market, including QuickBooks and Xero. When it comes to streamlining the payroll data collection process, all you need to do is connect your preferred payroll processor and export timesheet data directly into their system.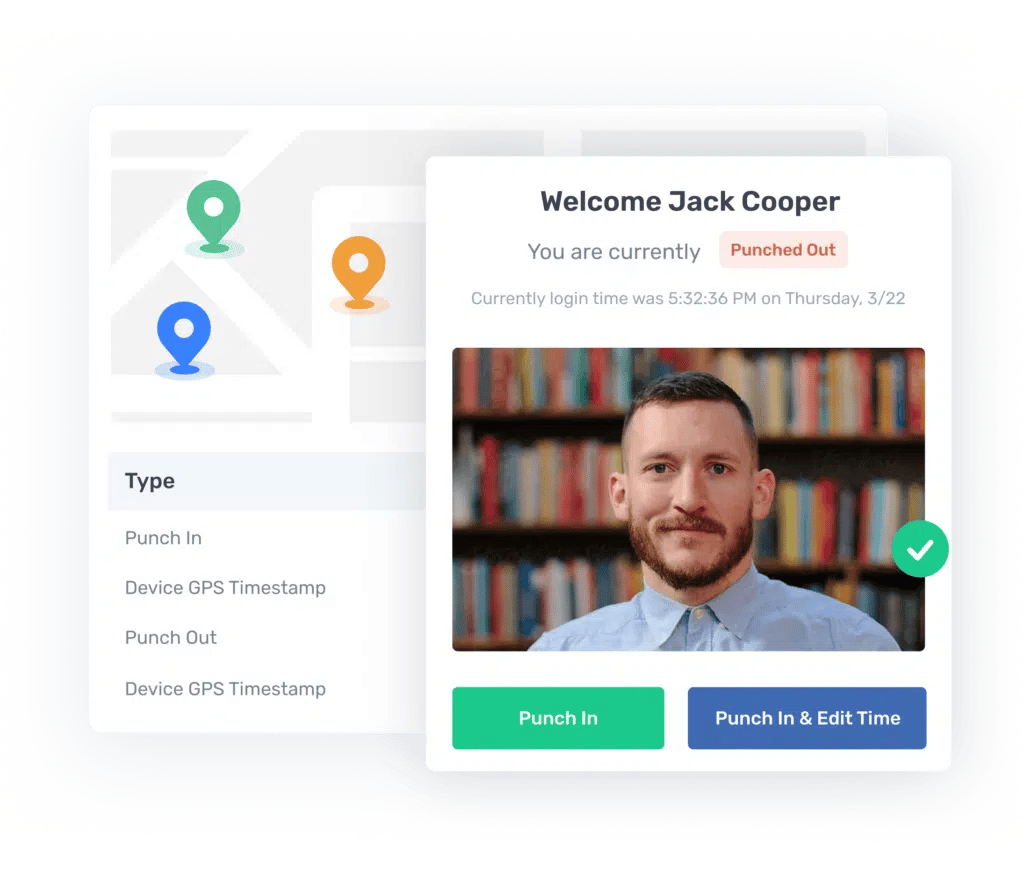 Avoid The Risk Of Human Error With Automated Tracking
There is no shortage of potential employee management issues that can arise when tracking time manually. This is where Buddy Punch comes in handy. Once you start to eliminate manual timesheet entry, team leaders and senior managers can begin to have confidence in the data presented on timesheets and make informed leadership decisions based on this data.
Monitor Employee Activity With A Single Dashboard
If you want to monitor employee activity with ease and make sure all team members are doing their jobs correctly and meeting their responsibilities, an effective time management solution is essential. This allows you to pinpoint areas where team members are potentially having difficulty – so you can take corrective measures to steer things in the right direction.
Upon getting started with this time tracking platform, we always recommend browsing through our "Knowledge Base" to learn more about how you can unlock the potential benefits of Buddy Punch. If you have any further questions, you can always reach out to our support team.
You can book a one-on-one personalized demo here.
Buddy Punch Is An Effective Time Card Tracker App
Here are just some of the features available across the desktop and mobile app:
Buddy Punch's Online Reviews
Have you seen Buddy Punch's user reviews? As of the writing date, Buddy Punch has 4.8 out of 5 stars and 766 reviews on Capterra.

Below, we'll list just a few reviews that speak to Buddy Punch's ease of use and great customer support service. (Click here to explore the full list of reviews.)
As reviewers have noted, Buddy Punch provides team leaders and project managers with the necessary tools to track time cards with ease:
"The ease of this software helps me post schedules quickly. I have three businesses and staff that float between all. The color coding system helps me see what employee or department needs attention."

Click here to read the full review.
"I like the ease of use and flexibility of Buddy Punch. You can add features you want and don't have to be bogged down with what you don't want to use. Some sites have way too much. I wanted simple!"

Click here to read the full review.
"Cannot say enough about their support. Even if the product was not as amazing as it is, I would highly recommend Buddy Punch due to the unbelievable support!"

Click here to read the full review.
"Buddy Punch is easy to use and even easier to understand as a user. Time track makes sense, and edits are made easy to submit."

Click here to read the full review.
Try Buddy Punch for Free
If you feel that Buddy Punch might be the right fit for your business, sign up for a free trial. You can also book a one-on-one demo, or view a pre-recorded demo video.
2. Paymo
As a time tracking app, Paymo comes with a range of useful features to help leaders keep track of both employees and freelancers. You can use GPS tracking and geofencing to monitor the locations of workers and ensure workers receive instant notifications for task and project reminders. Paymo is customizable to meet the unique needs of your business.
Here are some of the best features Paymo has to offer:
At the time of writing, Paymo has a total of 439 reviews on Capterra, with an average of 4.7 out of 5 stars.
"It is important to note that Paymo isn't idle in enhancing its software. Not only that, but new features are thoughtful and integrated seamlessly with the tool. I appreciate this because I have used other software that seem to have their priorities mixed up when releasing enhancements; adding things that don't move the needle ahead of things that do."

Click here to read the full review.
3. QuickBooks Time
QuickBooks Time enables leaders and managers to track employee hours using a range of intuitive tools and features. Whether you need to accelerate your payroll processing or keep a closer eye on timesheet entries, QuickBooks Time is equipped with the necessary functionalities to support your efforts. You can even use the platform for staff scheduling and messaging.
It's a great timesheet app for Android and iPhone, and at the time of writing, QuickBooks Time has 4.7 out of 5 stars and 6,005 reviews on Capterra.
QuickBooks Time (formerly TSheets) has features that include but are not limited to:
"All along, it was excellent and productive. However, due to the significant expense we paid, we decided against continuing it. I rate it with five stars. My firm benefits greatly from their customer service, employee GPS tracking, mobile time input, and ease of use for both employees and admin personnel."

Click here to read the full review.
4. Hubstaff
Hubstaff enables employees to clock in and clock out with complete ease. You can use this time tracking system to monitor employee locations and ensure everyone is accurately logging time worked. You can use Hubstaff's automated payroll and invoicing tools to make your finance team's life easier and make sure that team members are always paid on time.
As of the writing date, Hubstaff has 4.6 out of 5 stars and 1,319 reviews on Capterra. Hubstaff offers a range of functionalities, some of which include:
"Very happy I moved from Time Doctor to Hubstaff. Huge improvements on all areas and a satisfying product to use. The experience is so good that I find myself wanting to stay with Hubstaff regardless of whether my need for time tracking reduces."

Click here to read the full review.
5. Insightful
Insightful does what it says on the tin. It's a useful time tracking system that offers a broad range of insights into employee attendance and performance. If you want to gain a solid understanding of how your team is operating, Insightful can play a pivotal role in delivering real-time updates for managers and leaders. When it comes to team monitoring, Insightful is an effective tool.
At the time of writing, Insightful has a total of 80 reviews on Capterra, with an average of 4.7 out of 5 stars. Insightful lives up to its name by offering several useful features:
"My experience with Insightful is very pleasant. Their support team is responsive and I'm comfortable about the idea of using Insightful more when our business grows more."

Click here to read the full review.
Try Buddy Punch for Free
If you feel that Buddy Punch could be the right fit for your business, sign up for a free trial. You can also book a one-on-one demo, or view a pre-recorded demo video.
You May Also Like…