Employee Punch Clock (Best Digital Tools For 2023)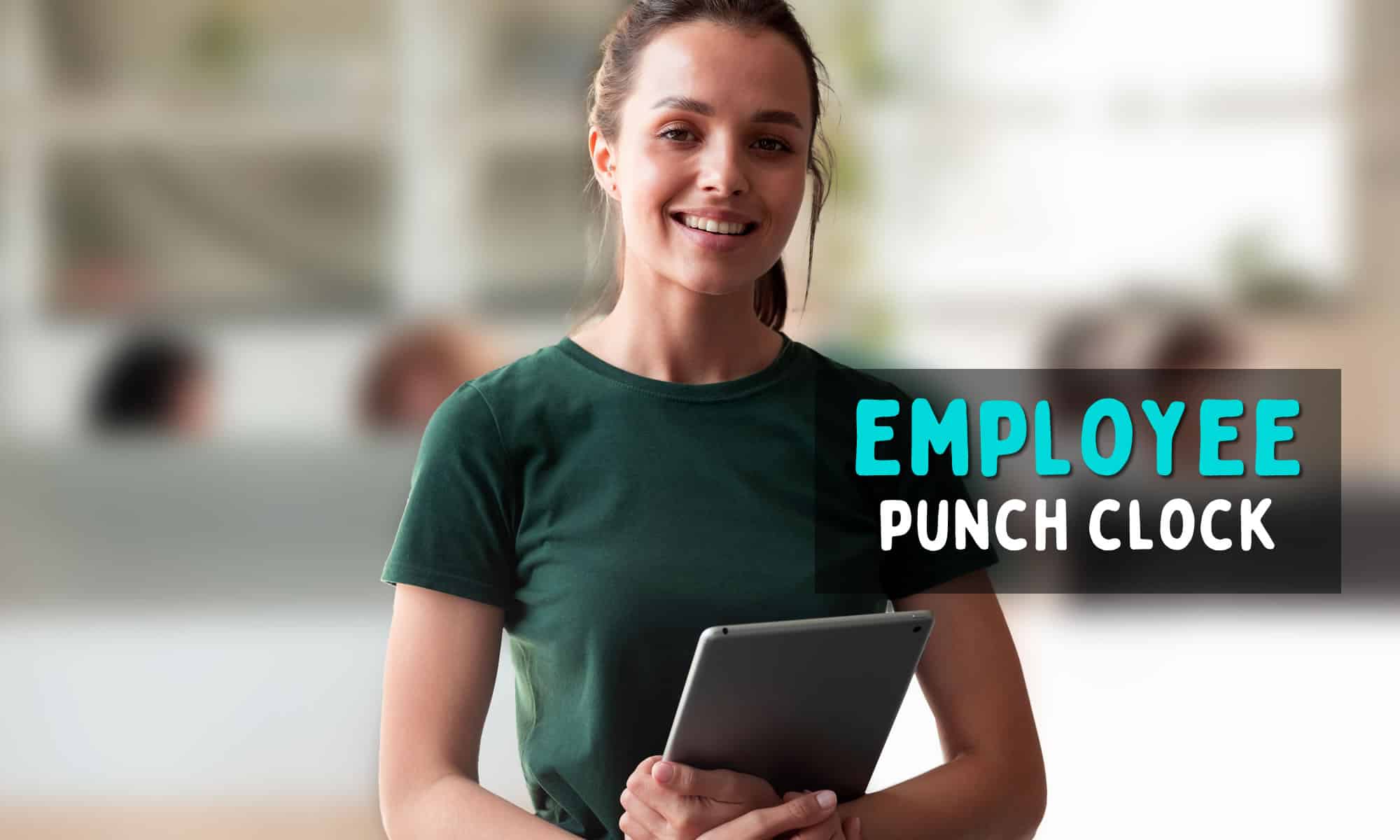 Straight off the bat, here are a few key benefits of using a digital employee punch clock:
Use a digital time clock to streamline the clock-in/clock-out process for all employees.
Utilize an employee time clock platform to centralize all employee attendance data.
Leverage biometric time clock features like facial recognition to prevent time theft.
Integrate your payroll system and feed it all employee data from your online time clock.
Track Employee Hours With A Digital Time Clock
The best web-based time clock solutions make it easy for you to centralize all employee data and bring everything under one roof. For business owners, this makes tracking employee time and attendance data for any pay period a breeze. The employee work data from each punch card can get seamlessly fed into your go-to accounting software for payroll processing.
Enable Teams To Clock In From Different Locations
With the right time clock system in your corner, you can monitor employee performance and attendance from a distance and gain crucial insights from real-time data. An effective time clock software solution will do all the heavy lifting for you. Team members can clock in and out from any location – and you can use geofencing to restrict where employees can punch in from.
All Workforce Management Tools In One Place
Whether you are a small business or a large organization, an effective time clock app and time recorder can make all the difference to your operations. From monitoring labor costs to receiving instant notifications on PTO requests, digital time systems can make employee management simple. These platforms extend far beyond timekeeping. They are all-encompassing.
Best Digital Time Card Machine Platforms (3 Options)
1. Buddy Punch
Buddy Punch is a time tracking platform that's available as both a web-based platform and a mobile app. Here are just a few of the key features offered by the platform:
Provide flexible punch-in options, including the use of facial recognition and QR codes.
Manage PTO and leave requests with Buddy Punch's built-in calendar.
Streamline payroll and budgeting by integrating your go-to accounting apps.
With Buddy Punch in your corner, employee time tracking has never been easier. You can use Buddy Punch's GPS tracking features to see exactly where employees are clocking in and out from. Each employee can use either a desktop, tablet, or mobile device (including iOS and Android) to complete time entries. Managers can also use any device to track time entries.
Buddy Punch's Online Reviews
Buddy Punch's user reviews highlight the potential benefits of this platform. As of the writing date, Buddy Punch has 4.8 out of 5 stars and 789 reviews on Capterra.

Below, we'll list just a few reviews that speak to Buddy Punch's ease of use and great customer support service. (Click here to explore the full list of reviews.)
As reviewers have noted, Buddy Punch provides team leaders and project managers with the necessary tools for accurate time tracking and employee location tracking:
"I love how quickly you can log in to the Buddy Punch site and just simply hit the "Clock In" button. The program is incredibly easy to use and required no training at all, which I really appreciated especially since I'm just a very part-time employee who only uses it once a week."

Click here to read the full review.
"The overall experience using Buddy Punch within our business has been positive and we are glad that we chose it as a software. We would recommend businesses try it as it is also reasonable to any business in terms of its cost."

Click here to read the full review.
"We mainly use Buddy Punch for the time clock feature and use the GPS feature to track where our employees clock in and out since they do so at a remote site. The feature is accurate and is easy to use on our employees' phones. If there are any issues it is easy for the administrator to log in and correct them."

Click here to read the full review.
Try Buddy Punch for Free
If you feel that Buddy Punch might be the right fit for your business, sign up for a free trial. You can also book a one-on-one demo, or view a pre-recorded demo video.
2. Hubstaff
Hubstaff is well-equipped to meet your time tracking needs. If you are looking for a solution that makes it easy for employees to log their work hours, Hubstaff is a potential option for you. This time tracking platform brings plenty to the table. From employee scheduling tools to automated payroll and invoicing, you can leverage the possibilities of Hubstaff to accelerate workflows.
As of the writing date, Hubstaff has 4.6 out of 5 stars and 1,368 reviews on Capterra. Hubstaff offers a range of functionalities, some of which include:

"My team really appreciated the intuitive user interface and easy-to-understand features of this software. We found it very helpful in streamlining our workflow and making tasks easier to complete. Additionally, we liked that the software was highly customizable, allowing us to tailor it according to our specific needs."

Click here to read the full review.
3. QuickBooks Time
Many people often confuse QuickBooks Time with the popular accounting platform. In reality, these are two separate solutions. You can integrate QuickBooks Time with your accounting platform of choice and seamlessly feed timesheet data into your accounting software for payroll processing. The whole process is made remarkably straightforward with QuickBooks Time.
It's an excellent timesheet app for Android and iPhone, and at the time of writing, QuickBooks Time has 4.7 out of 5 stars and 6,237 reviews on Capterra.
QuickBooks Time (formerly TSheets) has features that include but are not limited to:
"The tool was used explicitly for clocking time in and time out for shift-based work. The tool has the capability to generate reports on weekly/biweekly/monthly levels. The tool is easy to install/use and could be easily clocked by any member with ease."

Click here to read the full review.
Try Buddy Punch for Free
If you feel that Buddy Punch could be the right fit for your business, sign up for a free trial. You can also book a one-on-one demo, or view a pre-recorded demo video.
You May Also Like…