QuickBooks PTO Tracking: Making the Most of the Software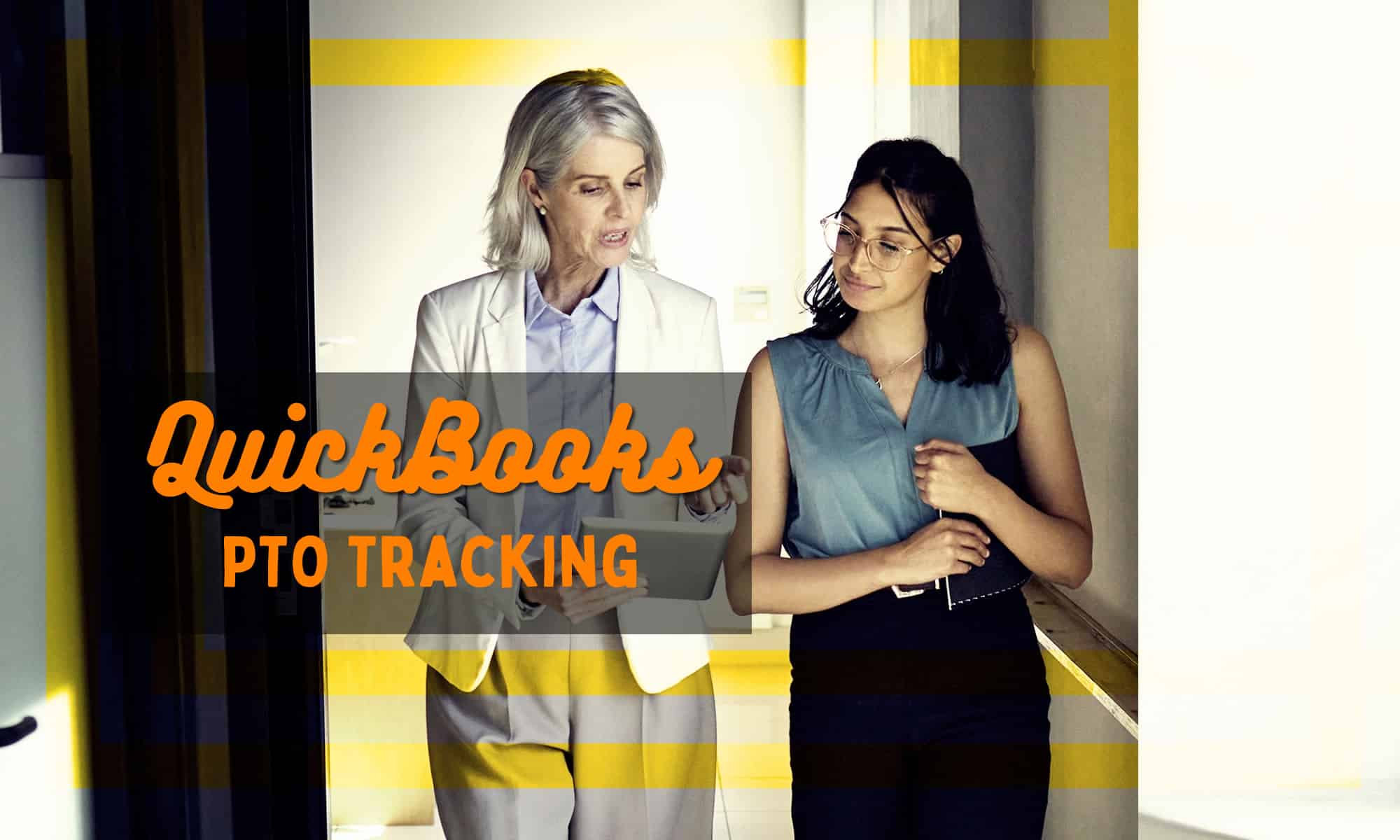 PTO Tracking is how business owners remain competitive in an increasingly shifting job market. Highly skilled workers, more conscious of their worth than ever in the wake of the pandemic, have come to value how PTO policies are handled. They want to be able to recharge when fatigued, take time off to improve their work-life balance (and work with an employer that understands the value of these breaks), and to have time to see to family emergencies should they arise.
But it's not just the employee who benefits from paid time off tracking. Business owners also benefit when they track time data for sick/vacation time. Especially when you make use of digital PTO Trackers, it becomes easier to handle employee hours to ensure accuracy and timely payments, and you can turn all that data into information to make a stronger time-off policy as you continue to grow your business.
So today, we're going to be covering all aspects of PTO Tracking, especially when it comes to one particularly popular software – QuickBooks Time. But we're not going to stick to just QuickBooks. We'll also talk about 5 other Time Trackers that integrate with QuickBooks, enabling business owners to expand their options and make use of other powerful features while keeping their favorite software in use.
QuickBooks PTO Tracking Table of Contents
Why Track PTO at All?
We touched on this a little above, but tracking PTO effectively is something that's becoming less and less of an option and more mandatory for any business meaning to thrive in the current work environment.
High-talent workers have become more demanding and discerning when it comes to the companies they work with, hence the rise of the "Great Resignation." While some business owners have balked at the challenges and perceived costs of catering to these workers, we believe that savvy business owners can manage these expectations in a way that's mutually beneficial for all involved.
Hence PTO Tracking. Being able to monitor paid time off helps you get a better understanding of how many days off you can afford to offer new employees after a certain number of hours working. Furthermore, you can also track trends in your current workforce to see who's the most productive, and why. Can you learn from their style, and incubate their mindset into the rest of your team?
Manual PTO Trackers vs Digital PTO Tracking
In our minds, this is a long-settled argument. While we understand why business owners stick to manual time tracking (largely due to familiarity), these methods are simply not optimal in the current employment landscape. You lose time, money, and even accuracy relying on manual methods, and can see immediate benefits to adapting a more modern method of tracking employee paid time off.
And don't even get us started on how software beats out spreadsheets and templates. While Excel or Google Sheets templates can be simple and effective for bookkeeping, not only do PTO Trackers handle this better by calculating values automatically – they also add even more benefits. Features like GPS Tracking, Geofencing, Webcam Photos and more can be considered helpful bonuses when you embrace time tracking software.
Why Not Rely on QuickBooks Alone for PTO Tracking?
It's worth mentioning that QuickBooks is a versatile tool – QuickBooks Online, QuickBooks Desktop, there are plenty of offshoots to the program with various functions, including the capacity to track paid time off. But there are reasons to set your sights elsewhere.
For one, there's the old saying to "not put too many eggs in one basket." If you only use one tool for all of your employee management needs, you might find yourself hobbled if anything happens to the main servers at Intuit. For example, here's the DownDetector report page for QuickBooks as of this post's writing:

There are also simple usability issues to consider. Using QuickBooks Time tracking may come easily for you, but how about your employees? Are there difficulties that seem to arise repeatedly, moments of friction between different functions of the app (maybe your team struggles with QuickBooks Payroll or the QuickBooks Time Mobile App seems buggy on Android, for example). When you look at your overall company preferences, can you say with certainty that QuickBooks has streamlined how every team member works?
Lastly – there are financial considerations to take into account. QuickBooks is sold on a monthly payment plan that gets more expensive the more features you're making use of. If you were able to find a PTO tracker that provided similar functions at a low price, you could make use of it, choose a cheaper plan for QuickBooks, and proceed to manage your business with the best of both worlds.
Now – let's dive into the 5 Best PTO Trackers that Integrate with QuickBooks.
Kicking off our list of PTO Tracking tools that work with QuickBooks, we have our very own Buddy Punch. When we first created this software back in 2013, we wanted to address the issues we were facing while operating three companies: namely getting a handle on payroll and ensuring that employee hour data was accurate by the end of each pay period.
We drew on our experiences as well as those of our clients, and realized that if we wanted to make an accounting software that could handle paid time off, it was mandatory for us to include features such as PTO Management, PTO Accruals, Overtime Calculations, Payroll Reports on Demand, and Payroll Integrations.
Next let's dive into each of these features to examine how exactly they'll have a positive impact on your PTO Tracking.
Note: If you'd rather get a hands-on feel for how Buddy Punch operates, you can start a 14-day free trial of the software by clicking here.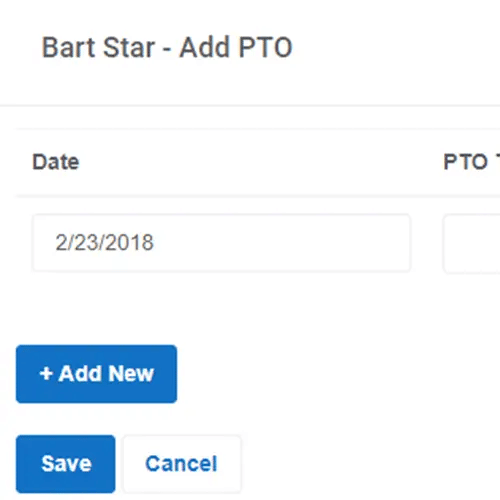 Buddy Punch's PTO Management lets you track a variety of PTO Types, even completely custom ones that you can create at will. Additionally, whenever your employees put in a leave request, administrators and managers will receive a notification. Whether you approve or deny said request, your team members will receive a notification with your decision, allowing them to focus on work until they're notified of an update.
But it gets better. You can also enable a self-service approach to PTO through Buddy Punch. With this enabled, employees will be automatically approved for any time off they request. This feature is great for fostering trust with your team members, and lets you devote your time and resources to other aspects of your business.

If your workforce runs on PTO Accruals, Buddy Punch can help you create custom rules for when and how PTO accrues, depending on who's working. Any Accrual rules you create will take effect at the end of each pay period and can be deleted at any time (though any time already accrued will not be deleted). It's never been easier to simultaneously track and manage the accrual of PTO for all your employees.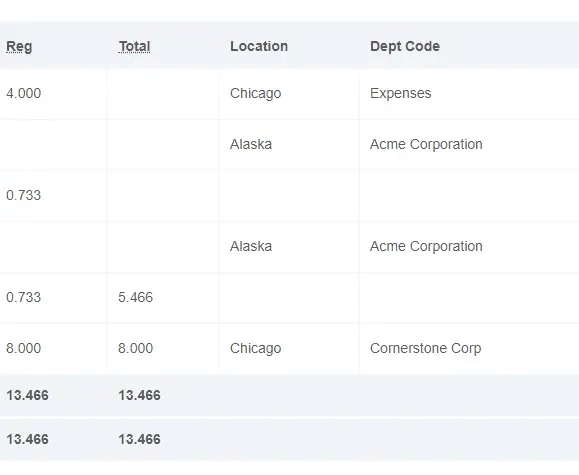 Buddy Punch lets you choose from more than a dozen different overtime types to determine how overtime pay is meant to be calculated. If you're missing a type of overtime you need for your business, you can always reach out to have us add it in. This feature calculates regular, overtime, and double overtime automatically.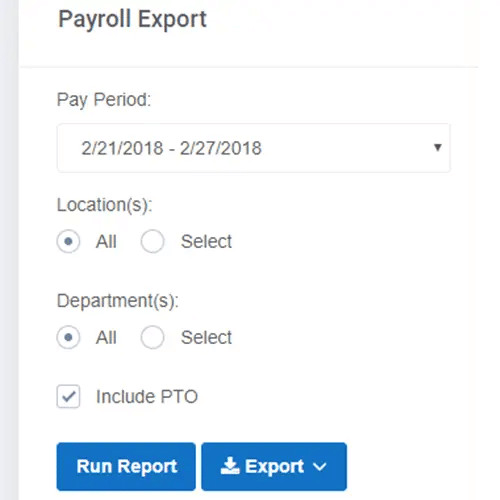 Buddy Punch offers numerous customizable reports, including a Payroll Report which you can export on demand. This provides a detailed viewer of employee names, employee hours, overtime, locations, and departments. You can even cycle through prior pay periods.
Lastly, Buddy Punch helps you transfer all this accurate data from when employees clock in over to your favorite Payroll Provider Software. Yes, that means QuickBooks Online – but it doesn't only mean QuickBooks Online. Other big names we integrate with include Zapier, ADP, Paychex, and more. View the full list of Buddy Punch's integrations by clicking here.

Buddy Punch Takes Business Management to the Next Level
It's worth noting that while Buddy Punch offers plenty as a PTO tracking tool, this software isn't only a PTO Tracker. We developed this tool to revolutionize workforce management, and achieved this through other in-app functions such as:
And even then, we have yet to address the out-of-app benefits to using Buddy Punch:
You get access to our help doc center, which contains many useful articles on how to best utilize Buddy Punch and navigate the web dashboard
You'll be more inclined to check out our blog section, which is consistently updated with information that helps improve modern business management (through tips, new laws, strategies, and more).
Your every question or whim will be answered by our responsive customer support team, which is always around to answer questions via live chat.
Buddy Punch functions as both as web app and a native app, meaning that you can use it on any device (Desktop, iOS, Android, Tablet, etc.). You can book a one-on-one personalized demo by clicking here.
Buddy Punch's Online Reviews
As of the writing date, Buddy Punch has 4.8 out of 5 stars and 699 reviews on Capterra.

Below, we'll list just a few reviews that speak to Buddy Punch's impact as a PTO tracking tool. (Click here to explore the full list of reviews.)
"Overall: I LOVE that I can clock in from a remote location via the app on my phone. Soooo convenient!!! Such a game changer for sure, especially with my sporadic work schedule and location.
Pros: The ability to Edit in "real time" is very useful. I can adjust my hours/PTO entry on the go. This helps me stay organized and within my weekly hourly allocation of 40 hours/week."

Click here to read the full review.
"Pros: Buddy Punch is easy to use and user friendly for all ages, I clock in and out using buddy punch daily. I can go back and change my time if need, it shows when you have PTO, the exact time you clock in and out down to the second. I can clock in from my phone, laptop or desktop! Very convenient"

Click here to read the full review.
"Overall: We use Buddy Punch as a time clock for daily in/out and breaks. We use the PTO accrual system and PTO tracker. Buddy Punch is easy to use and easy to figure out. Customer service is responsive. The few times I've needed help (very rare) they were super responsive and made sure my problem was completely solved. Staff loves the mobile app. It makes punching in/out easy so staff can punch in as they enter the building because inevitably they will be waylaid with questions before they even get to their computer."

Click here to read the full review.
"Pros: I really like that it tracks and accrues PTO & holiday hours. I don't have to ask anyone what my PTO balance is! I think its smart to be able to add a schedule if you happen to work the same amount of hours each day – much easier to add. I also like that I can add a comment or note of some sort, if needed."

Click here to read the full review.
As these reviewers all noted, Buddy Punch is easy to use, effective as a Paid Time Off tracking tool, and comes with a responsive support team that helps with any issue.

Try Buddy Punch for Free
If you feel that Buddy Punch might be the right PTO Tracker to pair with QuickBooks, sign up for a 14-day trial here. You can also book a one-on-one demo with our team, or view a pre-recorded demo video here.
When I Work is another time tracking tool with PTO functions that integrates directly with QuickBooks. Some of its features include but are not limited to:
Similarly to Buddy Punch, When I Work also has a useful blog with informative articles (such as this piece on How to Calculate Vacation Pay for Hourly Employees). As of this post's writing date, When I Work has 4.5 out of 5 stars and 952 reviews on Capterra.
"I am able to update time clocked hours on the fly, check everyone's schedule and separate out my own, I can even handle time off requests. I haven't ever attempted to schedule through the app, although knowing how intuitive everything is through their online site, I would venture to guess it would be a piece of cake. "

Click here to read the full review.
Clockify is a popular time tracking tool because it has a free plan that's fairly generous (working for unlimited users and unlimited projects, though it does lock some features behind paid plans). Some of its complete functions include:
At the time of this post's writing, Clockify has a total of 4242 reviews on Capterra with an average of 4.7 out of 5 stars.
"It's got excellent time tracking, leave tracking and budget management that rival even the biggest names in the industry. It's also extremely competitive in pricing and offers a very generous free usage tier."

Click here to read the full review.
ClickTime is a time tracking and PTO software that prides itself in helping users bill clients accurately. Some of its key features include:
At the time of writing, ClickTime has a total of 202 reviews on Capterra (see here), with an average of 4.6 out of 5 stars.
"ClickTime is intuitive to use and set up. We use the following modules: time tracking, expense reporting, time off management and resource planning. The mobile app makes mileage, expenses and receipts a breeze to track paperlessly. Time tracking, time off management and resource planning empower our account managers to use our clients' dollars wisely and our team members to manage their time appropriately."

Click here to read the full review.
5. TimeCamp
TimeCamp is another time tracker that integrates directly with QuickBooks, and has a total of 561 reviews on Capterra with an average of 4.7 out of 5 stars (as of this post's writing). Some of its key features include but are ot limited to:
"It's time tracking capabilities are broken down into numerous categories, allowing you to track work against projects, billable and non-billable work, non-project work… all the details that make up a timesheet, including time off, etc. It does not stop there. You can set up a process for approvals, to ensure that the time entered is properly audited."

Click here to read the full review.
Choosing the Best PTO Tracker to Integrate with QuickBooks
While we were able to narrow down the many options of PTO tracking tools that work with QuickBooks to some of our favorites, we want to stress that there is no one solution that will work for everyone. Instead, you're going to have to look at your workforce, your needs, and your budget to help determine how combining one of these tools with QuickBooks will produce the best results for your business.
For example, if you're on a budget you might naturally gravitate towards Clockify, especially if you can make use of its limited free plan and still keep QuickBooks on the side. If you especially value in-app team messaging, When I Work might be the preferred tool you choose.
But if you ultimately want is a tool that can take over almost anything you might be relying on QuickBooks for – from paid time off to general time tracking, allowing you to switch to the cheaper QuickBooks plan simply to run your payroll, and including with an attentive customer support that can address any and all of your concerns – then you really can't go wrong with Buddy Punch.
Try Buddy Punch for Free
If you feel that Buddy Punch could be the right PTO Tracker for your business to pair with QuickBooks, sign up for a 14-day free trial. You can also book a one-on-one demo, or view a pre-recorded demo video.

You May Also Like…