5 Options of Time Tracking Software Mac (Comparison Post)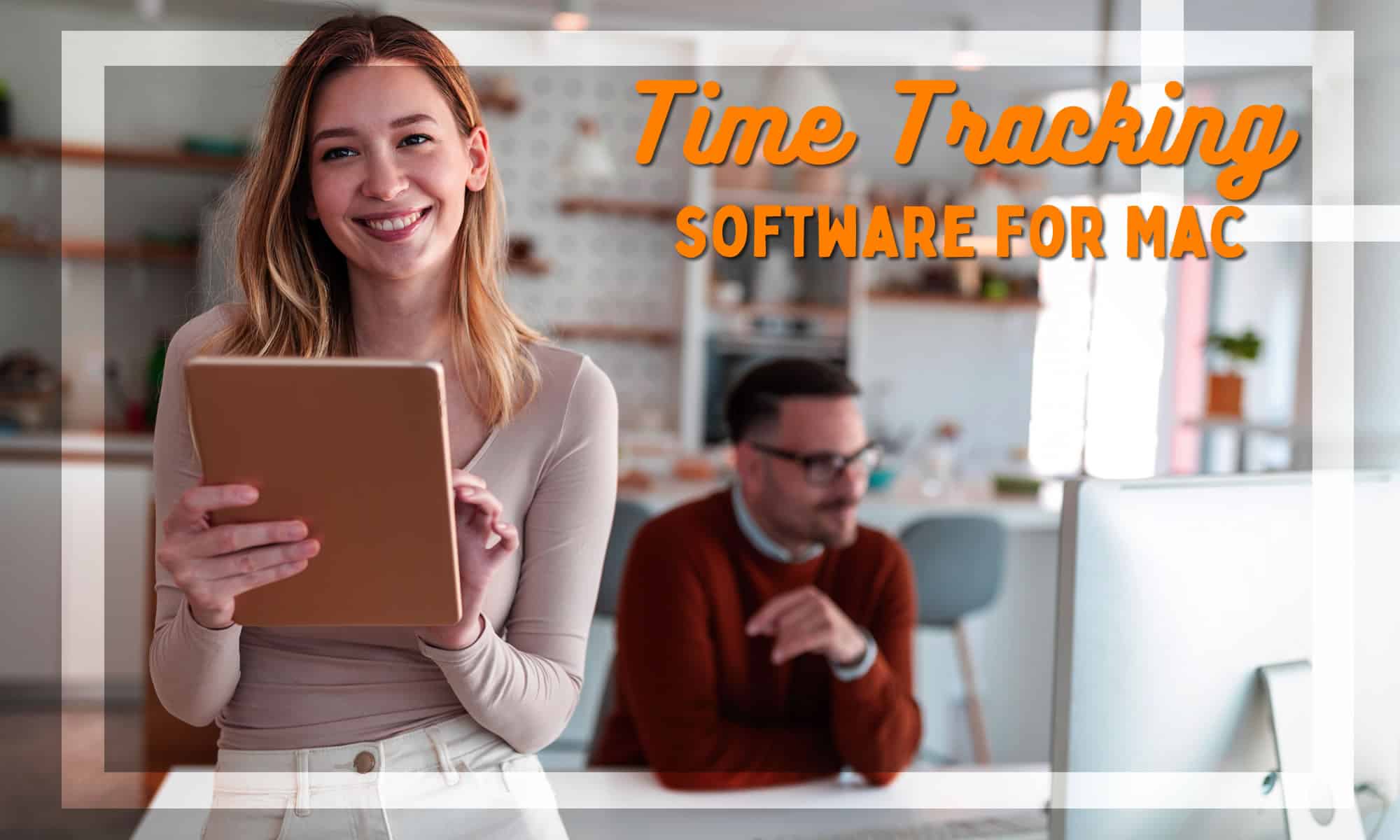 Business owners, employees, and freelancers alike all face similar issues when it comes to time management: focused or not, it's all too easy to get distracted, overestimate your productivity in the moment, or drastically miscalculate your idle time. Most business owners recognize these problems in their team and thus turn to automatic time tracking tools to bring a degree of transparency and accountability – but it's important to note that in some cases, this can backfire.
When it comes to time tracking software, there's more to consider than just whether or not it can capture accurate time.
For optimal results in improving your team management, software should be intuitive enough that any team member can use them without disrupting their day or being confused. Additionally, while advanced features are nice, business owners will have to carefully weigh which functions are worth enabling versus superficial ones less likely to have a positive impact on the bottom line.
This counts doubly so for Mac Apps. Microsoft has a bigger share of the computing market, which means software compatible for Apple devices is rarer. It takes a little more searching and filtering to find Mac time trackers.
Hence why we're using this post to list our top 5 picks of the best time tracking apps for Mac and iPhone devices. Hopefully, with this, you'll be able to find one that works for your business.
Time Tracking Software Mac Options
Starting off our list of MacOS Time Trackers, we have our very own Buddy Punch.
When we first began to develop Buddy Punch, it came after years of struggling to manage time and run payroll for 20 employees across three business locations. We had issues not only with the different operating systems our team members were used to (ranging from iOS to Windows and Linux), but also with the entire process of capturing time entries and transferring them to payroll.
In our almost 10-year journey since then, we learned to focus on three critical aspects in order to ensure the best results for business owners using our software:
Employee Accountability. The ultimate goal was to teach employees how to better account for their time while on the clock to maximize productivity. Through Buddy Punch's features such as GPS Tracking, Geofencing, and Job Codes, managers are always in control – even when dealing with remote workers.
Design Simplicity. We wanted to make our user interface and features as simple to understand as possible, so Buddy Punch could be as flexible as needed. With features such as One-Button Clock Ins, Notifications, and Punch Rounding, anybody can make use of Buddy Punch regardless of what device they're on (Mac, iPhone, iPad, etc.)
Payroll Streamlining. Accurate timesheets are great, but what about the tedious process of transferring that data over? We decided to ensure that payroll was made as easy as possible through Payroll Integrations, Payroll Reports on Demand, and Overtime Calculations.
Next, let's go into how each of these features will help with your Mac time tracking.
Note: If you'd rather get a hands-on feel for Buddy Punch, you can start a 14-day trial by signing up here.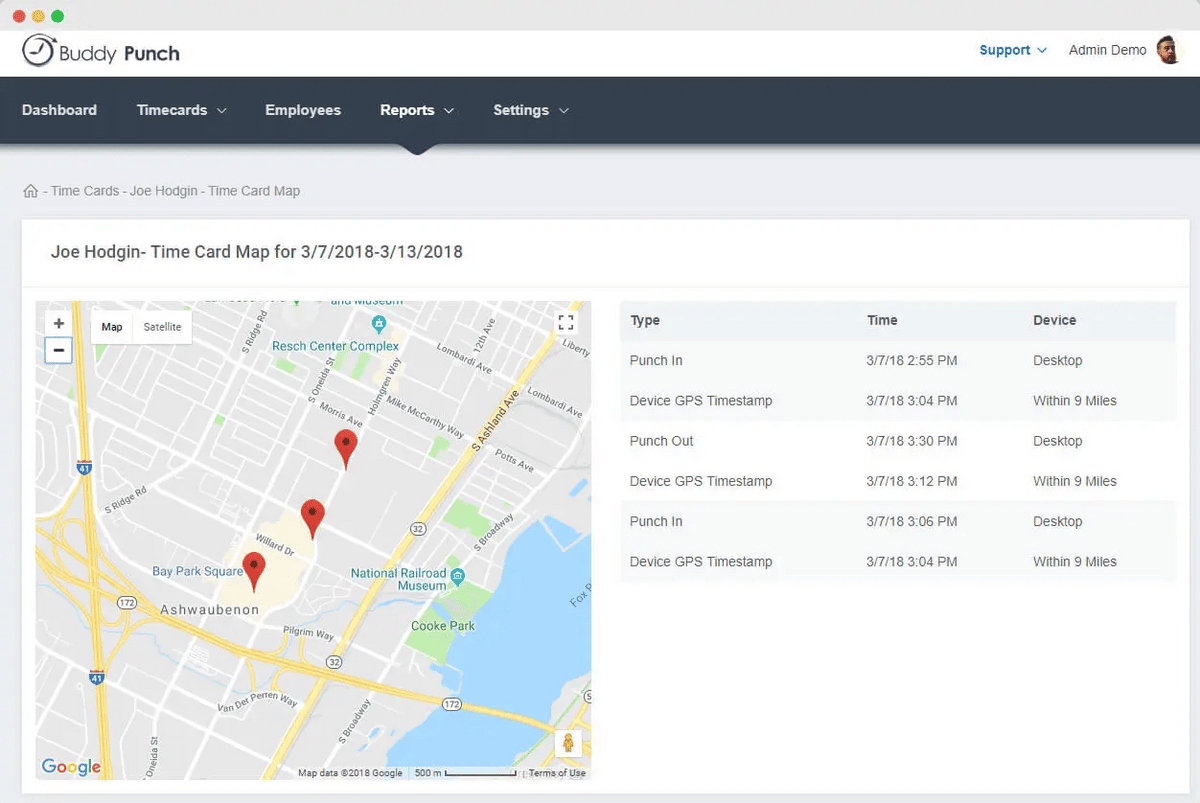 Buddy Punch's GPS Tracking is the perfect function to make sure your remote workers are staying on top of their work. This feature lets managers track where employees are on when they're offsite. When a team member clocks in, their GPS location is marked on an interactive map. You can view those GPS clock-ins individually or all together to get a visual overview of your team members' locations.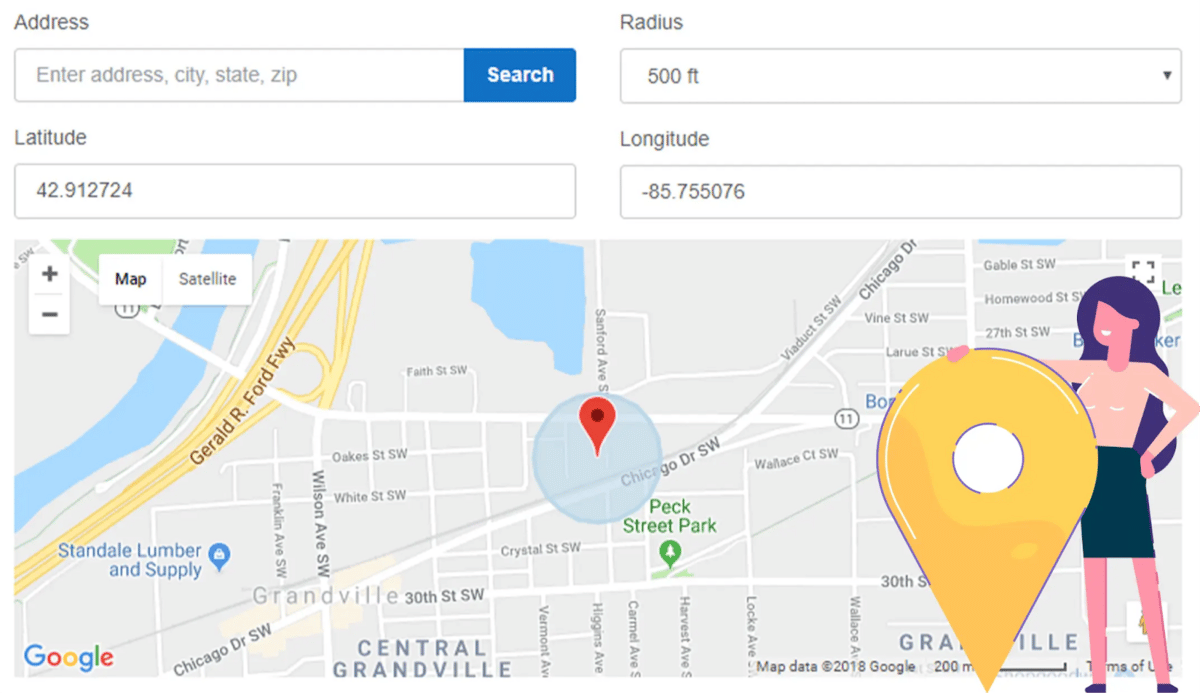 Buddy Punch's Geofencing feature is a set-and-forget feature that can improve employee accountability without your constant oversight. With this, you can create a radius (called a Geofence) on an interactive map. When team members are detected within that Geofence, they'll be able to clock in. If they attempt to record time while outside a Geofence, they'll receive an error notification and be denied.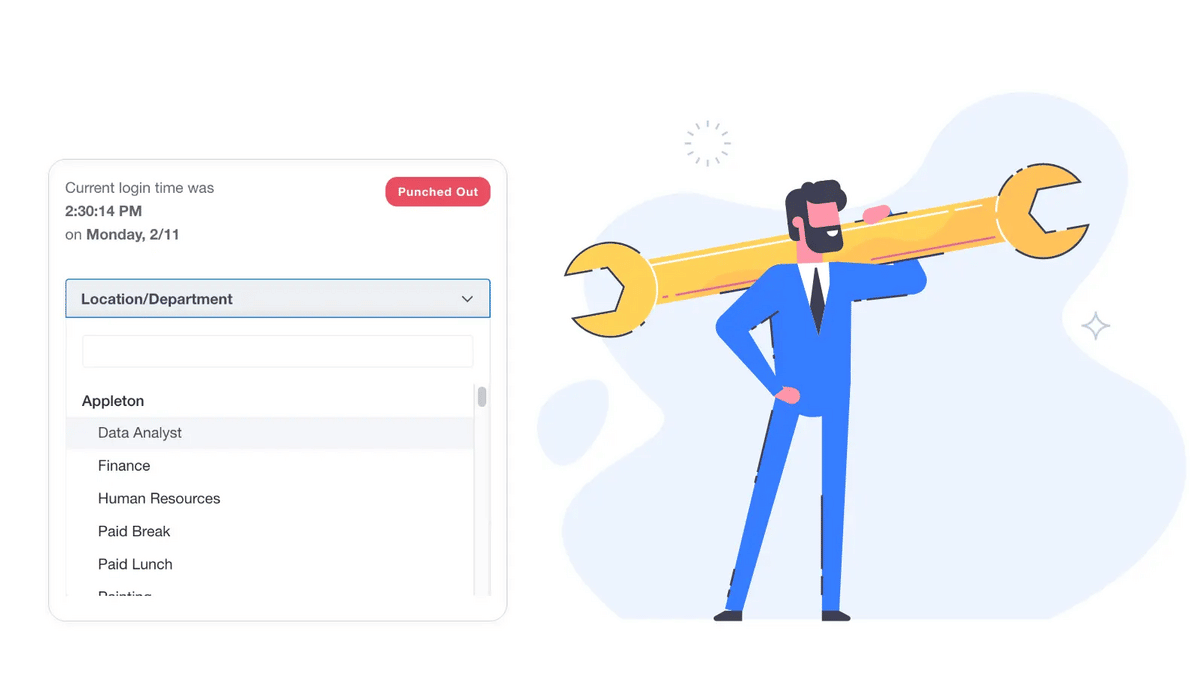 The Job Codes features, also known as Department Codes or Project Codes, lets your employees track how much time they spend on specific jobs or working for specific companies throughout the workday. If they're working on multiple tasks throughout the day, they can easily switch custom codes. This feature makes it easy for business owners to understand where most of their team's effort goes, and how profitable certain tasks are.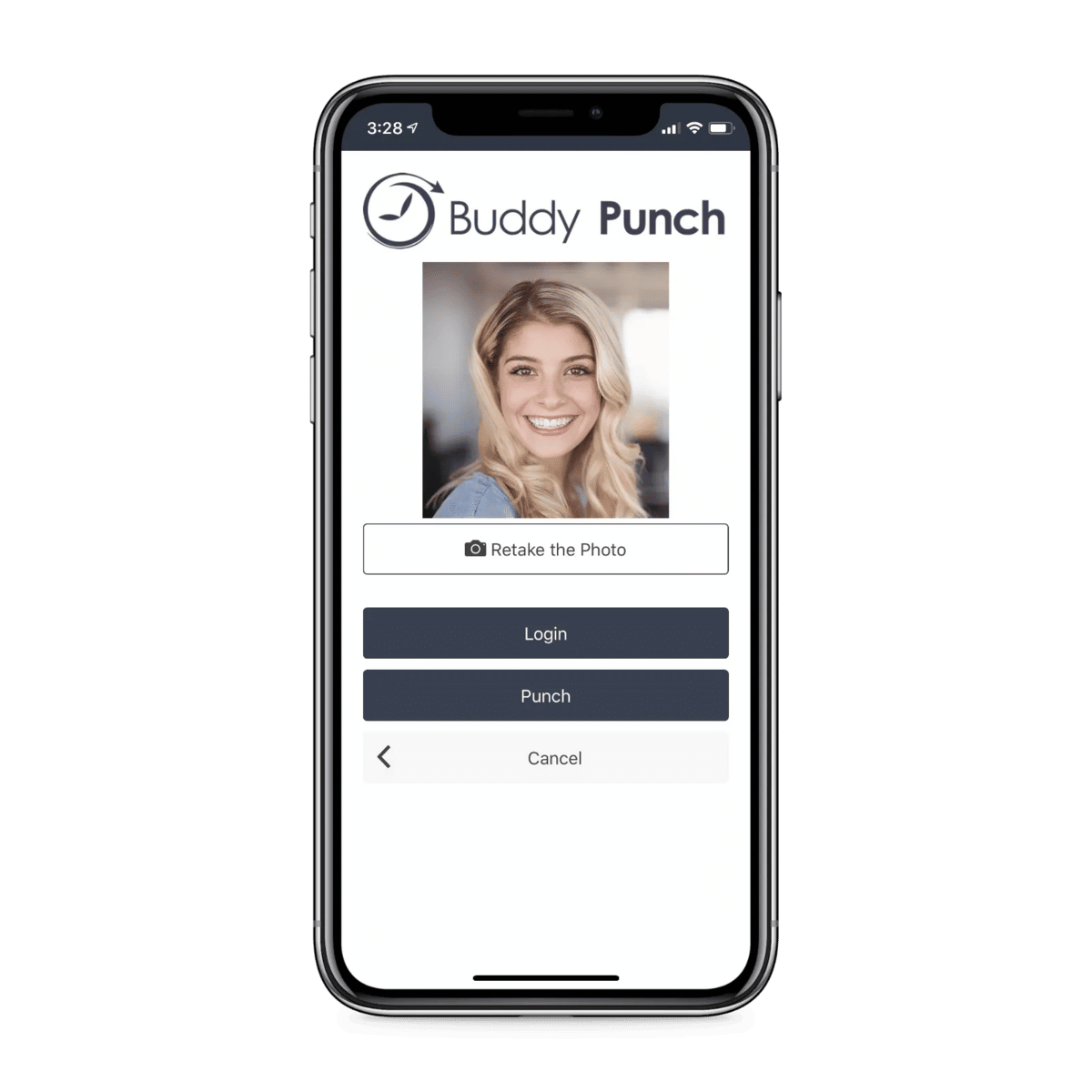 It was important for us to make Buddy Punch a simple time tracker with plenty of features that business owners could enable or disable at will, depending on what was most important on a case-by-case basis. But in case all you want is a working time tracker, Buddy Punch can be that – no more, no less. This is part of the reason Buddy Punch works so well on all devices – Mac, iOS, even Android.

The built-in notifications feature brings simplicity to your workday (as well as your employees). Employees receive notifications for punch change emails, time card approval status changes, PTO changes, and when they're approaching overtime. Managers and Administrators receive alerts for punch change emails, notifications on punch ins and outs, time card approval status changes, PTO requests, and alerts for team members approaching overtime. This feature will let entire teams focus on their work, secure in the knowledge that if something needs their attention, they'll be notified.
Each type of notification can be enabled or disabled.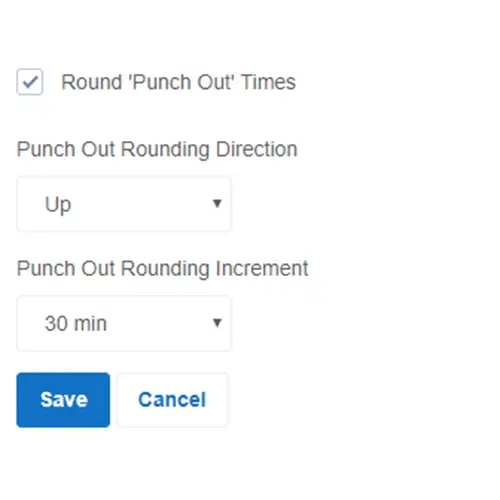 The Punch Rounding feature lets you round punches automatically to ensure accuracy. You can round punches up, down, or to the nearest predetermined interval from 2 minutes to 30 minutes. This feature is most relevant to companies that have a large number of people clocking in through the same device, such as if you set up Buddy Punch as a terminal or kiosk.

Buddy Punch integrates directly with many of the most popular payroll software, making it easy for you to handle your billable hours, invoicing, and payments. Some of the most popular names we work with include Zapier, QuickBooks, ADP, and more – click here to view the comprehensive list.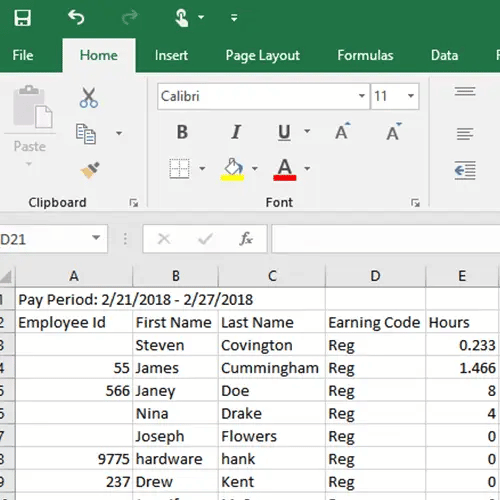 Buddy Punch has numerous reporting options for business owners to review the data collected on their employees and their productivity. The Payroll Reports feature includes your employees' names, hours, overtime, locations, and department. You can also go through previous pay periods, which can show you trends and direction over time. This information can be exported into Excel CSV or Adobe PDF format – which is just another way that digital time tracking beats out manual time tracking.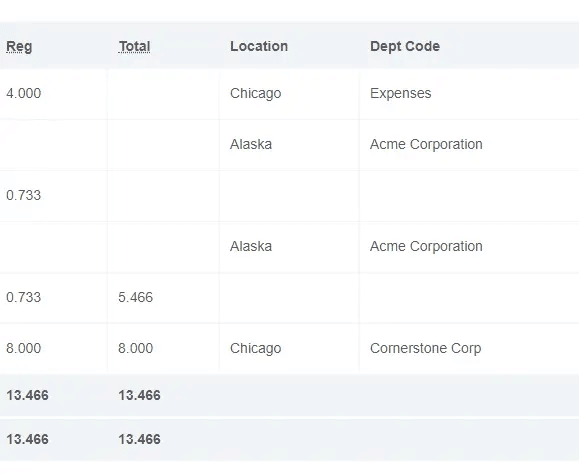 If you want to ensure you're accurately calculating the hourly rates of your employees, the OT Calculations feature can help you manage those pesky and expensive overtime hours. Choose from a dozen different built-in overtime types or reach out to us to have us add in a specific version you need.

Buddy Punch Is More Than Just a Time Tracker
It's important to note that we've only touched on a select few features that Buddy Punch has. Consider what you'd be able to accomplish with other options such as:
And there's out-of-app benefits to consider as well:
We have a Blog Section that is constantly updated with new information on business management.
Our Help Doc center has articles that detail how to get the most out of Buddy Punch usage.
Our Customer Support is always available to answer questions via live chat.
Speaking of our customer support, they can also guide you through a one-on-one personalized demo of Buddy Punch if you're ready to dive even further. Book your guided demo here.
Buddy Punch's Online Reviews
As of the writing date, Buddy Punch has 4.8 out of 5 stars and 697 reviews on Capterra.

Below, we'll list just a few reviews that speak to how Buddy Punch performs on Apple devices. (Click here to explore the full list of reviews.)
" I appreciate that new releases are well-tested before they are launched and free of bugs – the BuddyPunch team does a great job of maintaining the integrity of the application while continuing to add more value to the software frequently. We have had consistent experiences on the web version as well as iOS and Android apps for the life of our subscription."

Click here to read the full review.
"The functions are straight-forward and self -explanatory for what you need to accomplish. I use it exclusively with the iPhone app, so I can punch in or out if I'm out of the plant on company business."

Click here to read the full review.
"iPad compatibility is nice. The browser based admin panel is comprehensive and offers a good dashboard. The iPhone app for admins is very handy too. Zapier integration is a nice feature"

Click here to read the full review.
"Excellent! The product works well on iPads and PCs. It seems to be very low maintenance and the staff are great to work with when I have questions.

Click here to read the full review.
As these reviewers noted, Buddy Punch was intuitive to use and came with a supportive staff.

Try Buddy Punch for Free
If you feel that Buddy Punch might be the time tracking app for mac your business needs, you can sign up for a free trial. You can also book a one-on-one demo, or view a pre-recorded demo video.
Harvest is an easy to use time tracker that comes with a variety of features including:
Harvest also includes an extremely limited free plan if you're working with a very small team. As of this post's writing, Harvest has a rating of 4.6 out of 5, with 501 reviews on Capterra (see here).
"From day one it was intuitive and easy to use. It's a time tracking tool, so it really doesn't need to be complicated. The creators have managed to perfectly combine functionality and a straightforward interface with enough features to also make it versatile for various types of businesses and projects."

(See the full review here.)
Clockify is a popular time tracking option because it works great as a free time tracking solution, but also offers a robust paid plan. As of this post's writing, Clockify has 4238 reviews and 4.7 out of 5 stars on Capterra.
Some of Clockify's features include:
Additionally, Clockify boasts being able to track time on Macs even if users are offline.
"Clockify plays a vital role in tracking our activities. Knowing what gets done, when, and for what project allows us to identify the tasks and resources we need to allocate. The product has a very generous free tier, and it is relatively easy to implement with some basic introduction. "

(Click here to read the full review).
Hubstaff is a time tracking software that emphasizes better time allotment for business owners. It achieves this through features such as:
Like Buddy Punch, you can try Hubstaff through their 14-day free trial, no credit card required. As of the writing date, Hubstaff has 4.6 out of 5 stars and 1276 reviews on Capterra.
"The thing I like most about Hubstaff is the fact that I can handle all of my HR needs on one software. It keeps track of my employee timesheets, invoices, expenses, client information, project tasks/details/development, and more."

Click here to read the full review.
Timeular is a time tracking application for mac that promotes a more rewarding work-life. It achieves this through features such as:
Timeular has 237 reviews and 4.5 out of 5 stars (as of this post's writing) on Capterra.
"Overall, it's a really lovely and intuitive timetracking tool. I initially used it at my office job so I could report on how much of my time was being spent for various products and departments. As a freelancer/independent contractor, it's a fantastic way to see exactly how much time is being spent on tasks and clients. Great for billing and adjusting pricing."

Click here to read the full review.
Finding the Best Time Tracking App for Mac
Even though we managed to narrow down the many options in the app store to a select few MacOS time trackers, there's still some work to be done to figure out which ones will work best for your business. Our advice is to take a close look at the features offered and overall goal of the developers before you commit.
For example, if your business makes heavy use of Slack during office hours, you might find that Harvest's integration is perfect for you. If you're working on a budget and don't mind having features locked away, Clockify is a great free option for Mac time tracking.
But, if what you ultimately want is a flexible time tracking tool that's easy for your team members to use, has plenty of powerful features that can be enabled or disabled at will, and a customer support team that's ready to support you as you grow – then you really can't go wrong with Buddy Punch.
Try Buddy Punch for Free
If you feel that Buddy Punch could be time tracking software for Macs you need, you can sign up for a free trial here. You can also book a one-on-one demo, or view a pre-recorded demo video.

You May Also Like…