7 Best Payroll Software for Contractors in 2023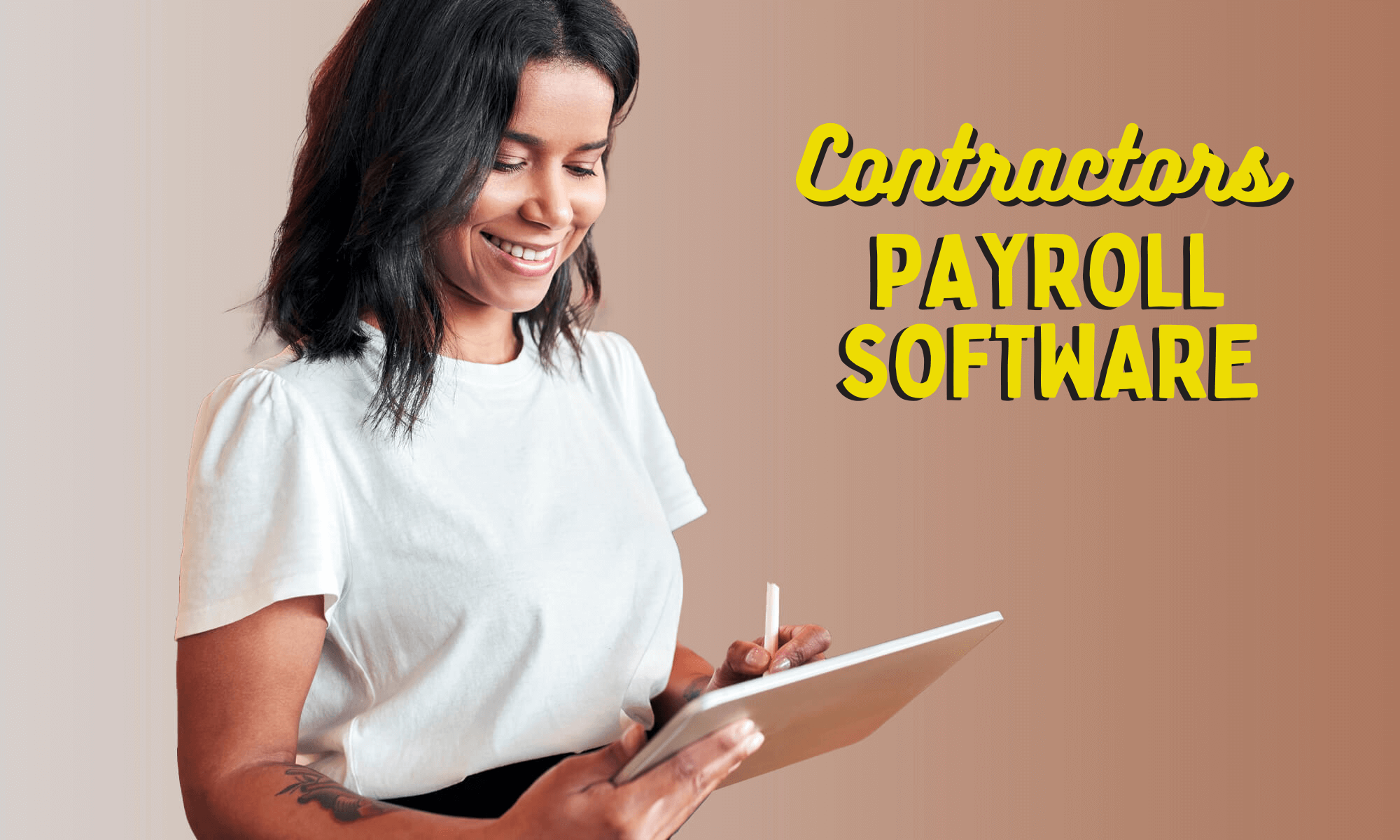 When searching for the best payroll software for contractors working with your business, here are some of the things to keep in mind:
Payment flexibility: You want to be able to pay contractors through various payment methods, such as direct deposit or check.
Accurate time tracking: You want a way to keep an accurate track of contractor hours, ensuring that you only pay for the time worked. Plus, you want a way to customize how much each contractor is paid or to add additional earnings (like per diem, overtime, or a bonus) to a contractor's timesheet.
Tax compliance: The software should be able to calculate and deduct payroll taxes accurately, including federal, state, and local taxes, to ensure compliance. You don't want any concerns or potential errors when it comes to tax compliance.
Contractor management: You want an easy way to manage contractor information, including contact details, payment history, and tax information.
Contractor self-servicing: You want payroll software that makes it easy for your contractors to log into their profile, check out paystubs, change withholdings, request any time off, etc.
Customer support: Finally, look for payroll software that has a good track record of customer support — whether by phone or email support or extensive online help resources and video tutorials. Payroll — paying your team accurately and on time — is critical to any business, and you want to make sure any questions you have get addressed in a timely manner.
In this post, we look at 7 different payroll software for contractors, starting with our own software, Buddy Punch.
Best Payroll Software for Contractors
Buddy Punch works so well as a payroll software for contractors because:
You can use Buddy Punch to track time worked, PTO, and payroll from one dashboard. Your contractors can also set up direct deposit through a service portal, so you're not responsible for handling everyone's bank account info and tax withholding info.
Let's take a high-level overview of how Buddy Punch works:
#1. Your team of contractors uses Buddy Punch to log their time.
Buddy Punch is a web-based time-tracking system, so your contractors can access Buddy Punch from their smartphones, tablets, and computers. This makes it perfect for full-time contractors or independent contractors and everything in between.
From the Buddy Punch app, your contractors can clock in and out, request PTO, set up their direct deposit information, and view their pay stubs.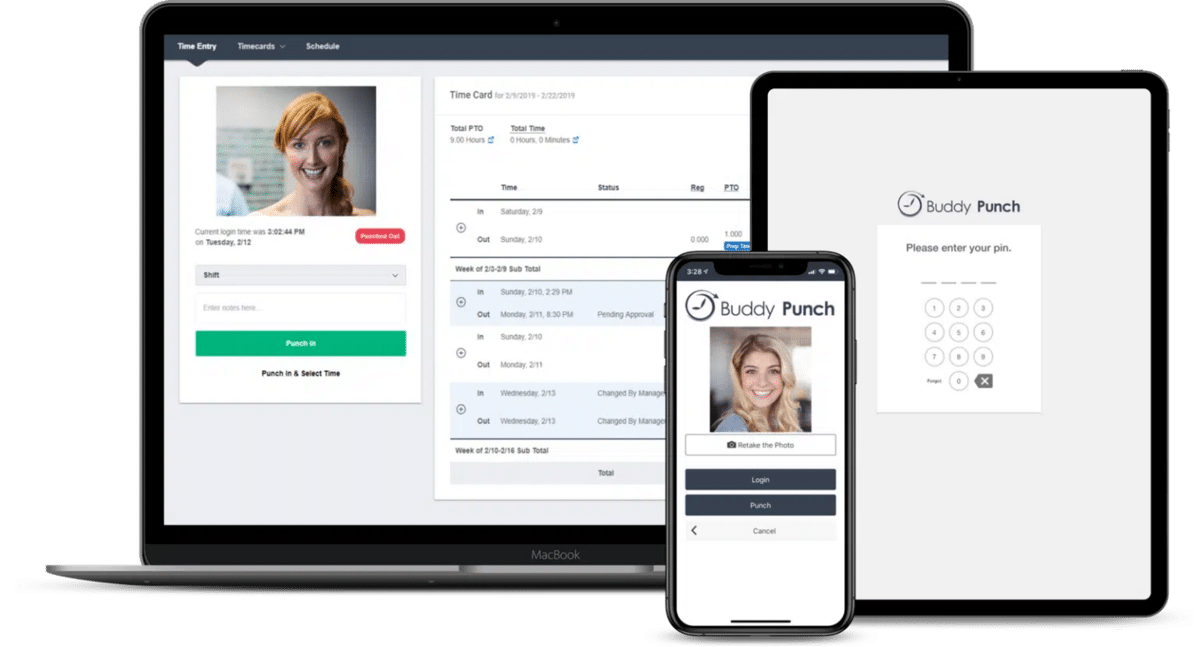 Plus, Buddy Punch offers advanced clock in and out features, such as IP address locking, geofencing, and biometric facial recognition software, which all work to make sure your contractors are tracking their time accurately and honestly. (FYI: We'll cover these advanced clock in features in detail below.)

#2. All tracked time can be easily imported into Buddy Punch payroll.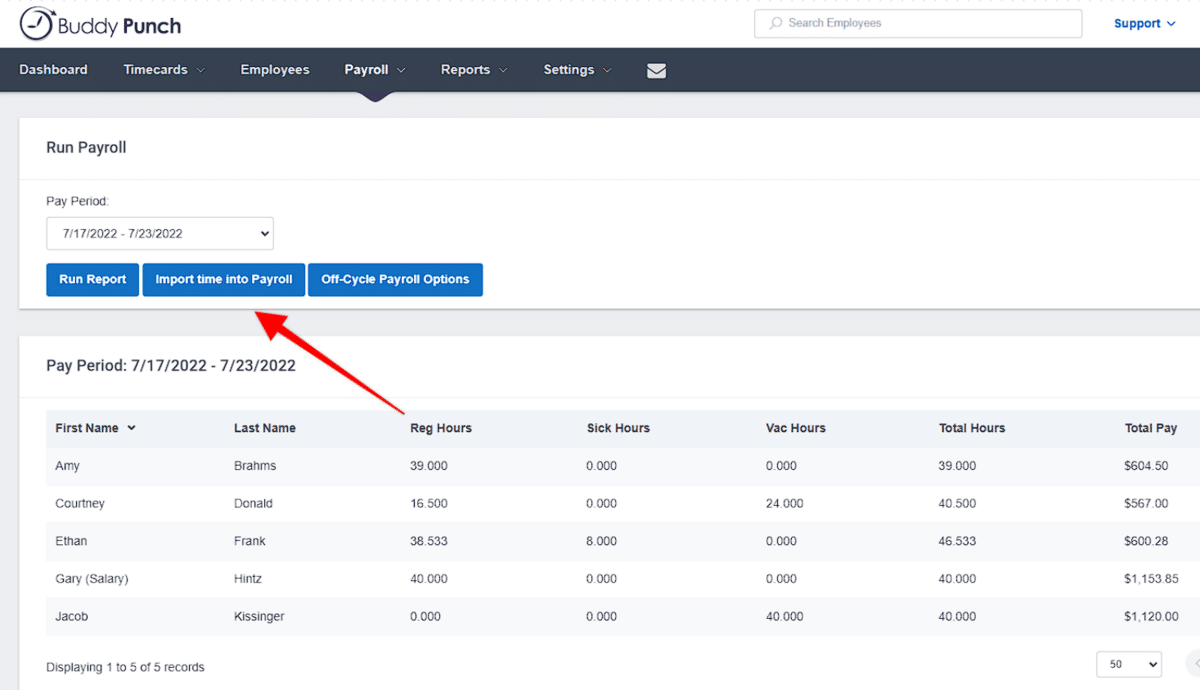 This makes it easy to see a summary of what you're paying. You can also see any time tracking errors and fix any mis-punches, such as adding someone's shift that they forgot to log. You can also add additional earnings to a contractor's pay, such as holidays, bonuses, per diem, etc.
#3. When payroll is ready, you simply run it from Buddy Punch.
Your team has already filled out their direct deposit information through a self-service portal, so you don't need to worry about getting all that info on file. (You can also pay via check.) Buddy Punch factors in all local, state, and federal tax withholdings.
And that's a very high-level overview of how you can use Buddy Punch as payroll software for your contractors.
If you want to see how Buddy Punch would work for your specific company, sign up for a free trial or schedule a one-on-one demo.
Keep reading to learn more about specific Buddy Punch features.
Here's How You Can Quickly and Easily Fix a Timecard Error
With a contractor workforce, they may be clocking in at various times, from different locations, and from multiple devices like a smartphone, tablet, or desktop. Buddy Punch easily tracks all of this, and your admin team can edit time and expenses if necessary.
For example, if a contractor forgets to clock back in after their lunch break, you can quickly edit their time card for accurate payroll during each pay period.
If you were using separate tools for time tracking and payroll, you'd need to switch between two platforms to reconcile these mistakes.
But with Buddy Punch, you can make changes to any contractor's timecard and re-submit payroll from the same dashboard.
From the Buddy Punch dashboard, hover over "Timecards" → "View All".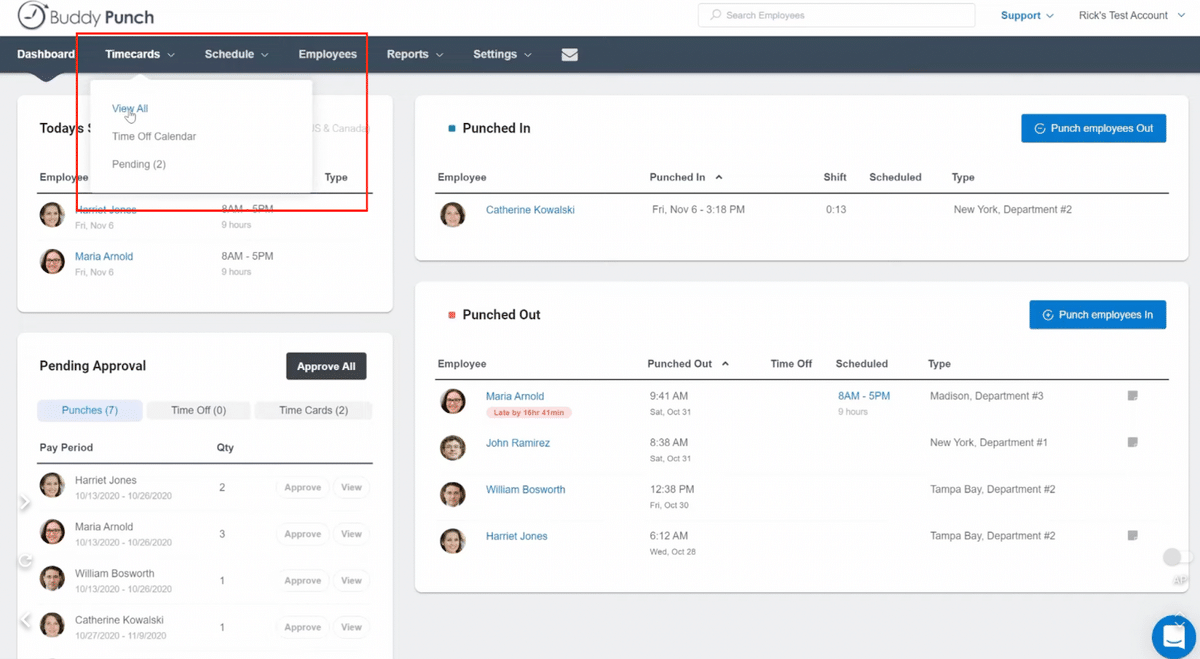 Then, click on the specific employee whose timesheet you want to edit.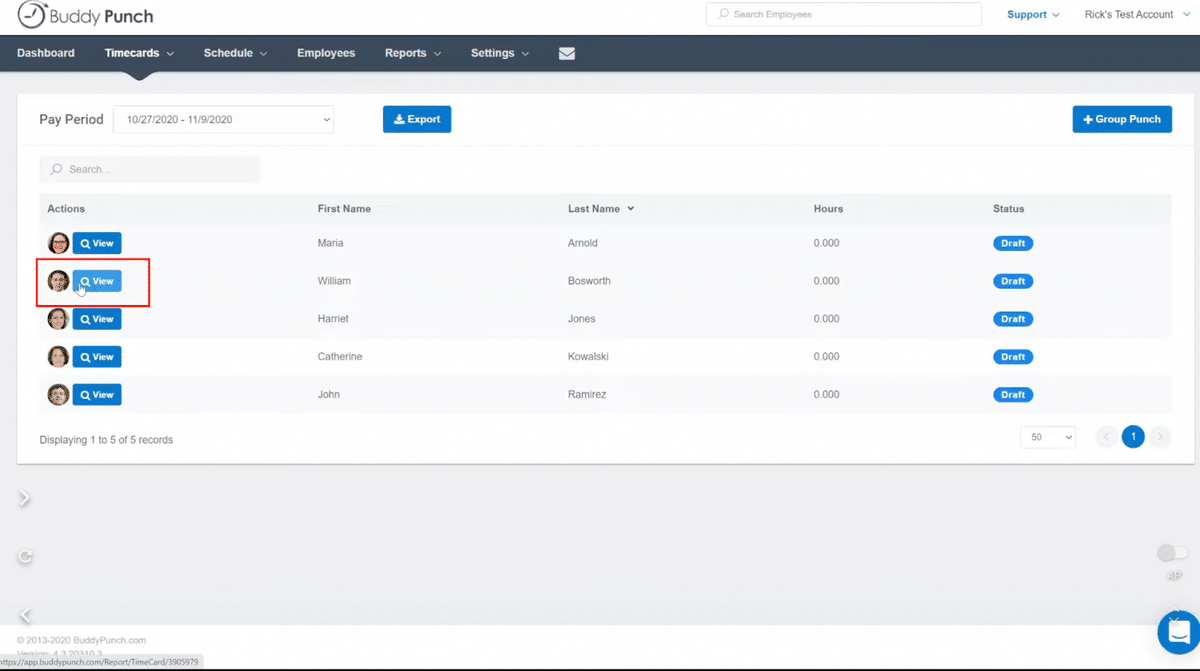 Select their timecard and edit their punches, such as adding a punch they forgot to enter.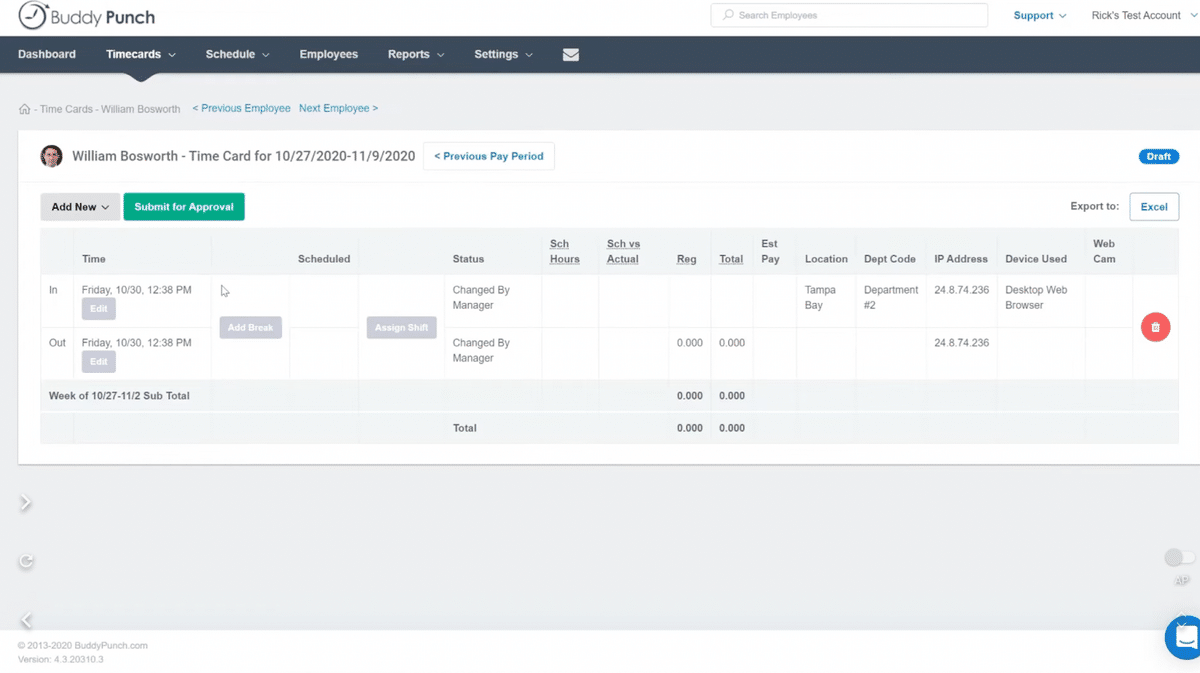 That's it!
Keep Accurate Time Records with Advanced Time Tracking Features
As we mentioned above, Buddy Punch has advanced time clock features that help you prevent time theft, buddy punching, or just simple honest mistakes.
IP locking: Employees can only clock in and out using a designated WiFi.
Punch rounding: Punch rounding helps you accurately track when employees start or end their shifts. For example, if someone punches in at 7:05 a.m., you can have it rounded down to 7:00 a.m.; if someone punches in at 6:52 a.m., you can round it up to 7:00 a.m.
GPS restrictions: You can limit punches to a specific location, so no one can clock in for their shift unless they're within 100 feet of their workstation.
Photos on punch: ​​Employees can take a picture of themselves with their computer, tablet, or smartphone, which gets uploaded when they clock in. Your management team can review the submitted photos, ensuring the right person is clocking in for their shift. This helps deter time theft, such as buddy punching.
These features ensure contractor accountability and accurate time tracking. You can also use Buddy Punch to track reimbursements, non-hourly regular employees (i.e., salary employees), bonuses, commissions, severance, PTO, and more.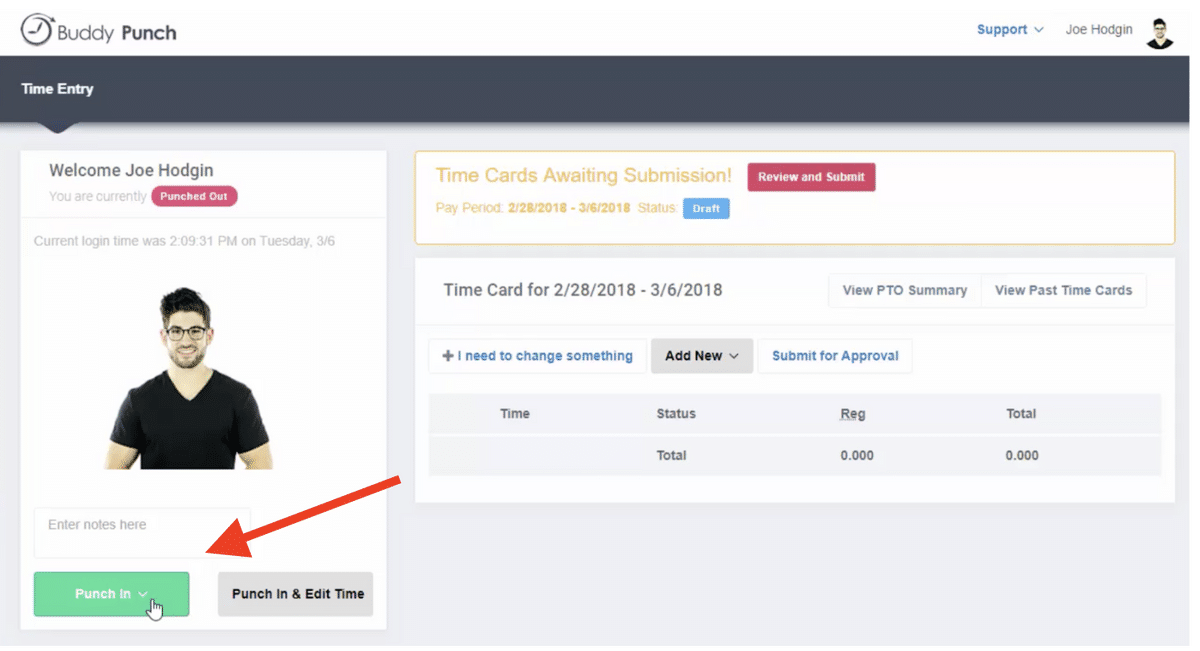 Automatic Payroll Calculations
Buddy Punch automatically calculates contractor payroll based on time worked, PTO, and other expenses. Buddy Punch uses its time-tracking system to ensure your contractors are paid correctly. Buddy Punch also handles multi-state tax registration and all local, state, and federal taxes.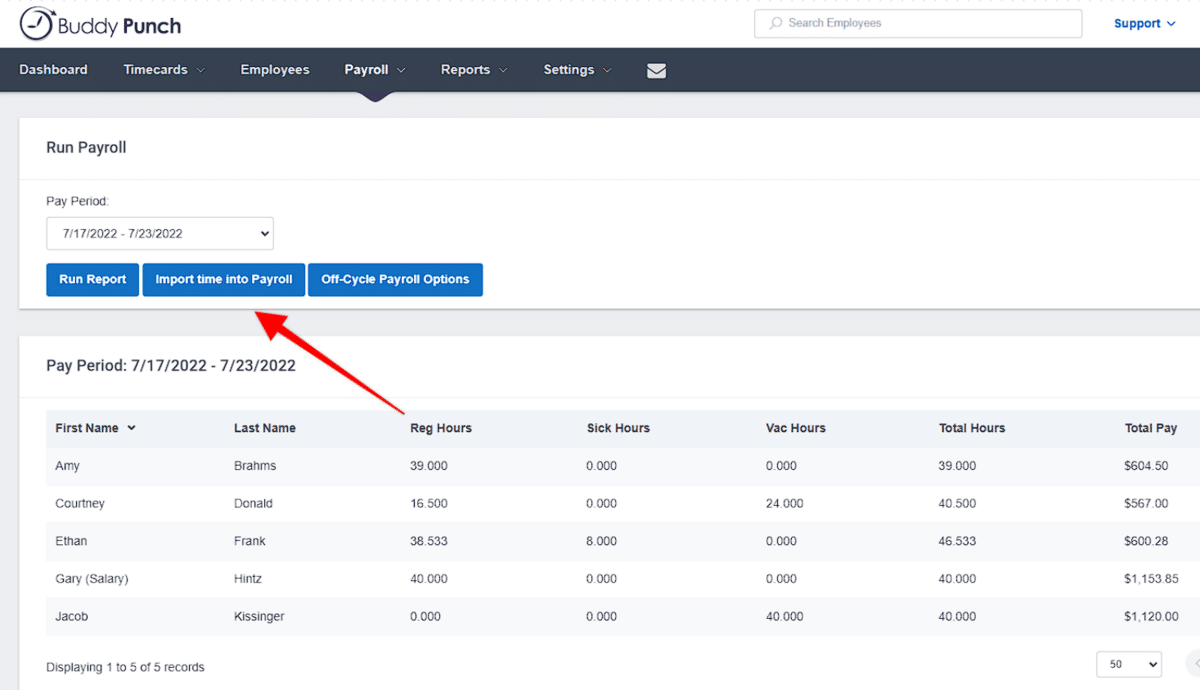 Timely Direct Deposits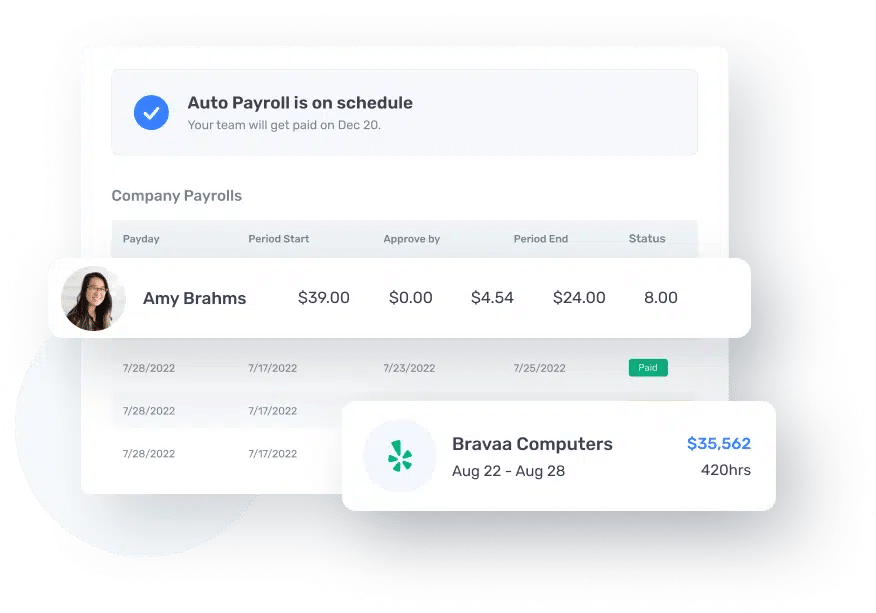 You want your team to get their paychecks on time. With Buddy Punch, you can choose two-day or four-day processing. You can even set up a reminder to submit payroll on time or automate your payroll process by setting up "Auto-Pay".
Your contractors also get a self-service login which they can use to set up a direct deposit and pick their tax withholdings. You can also pay employees via check.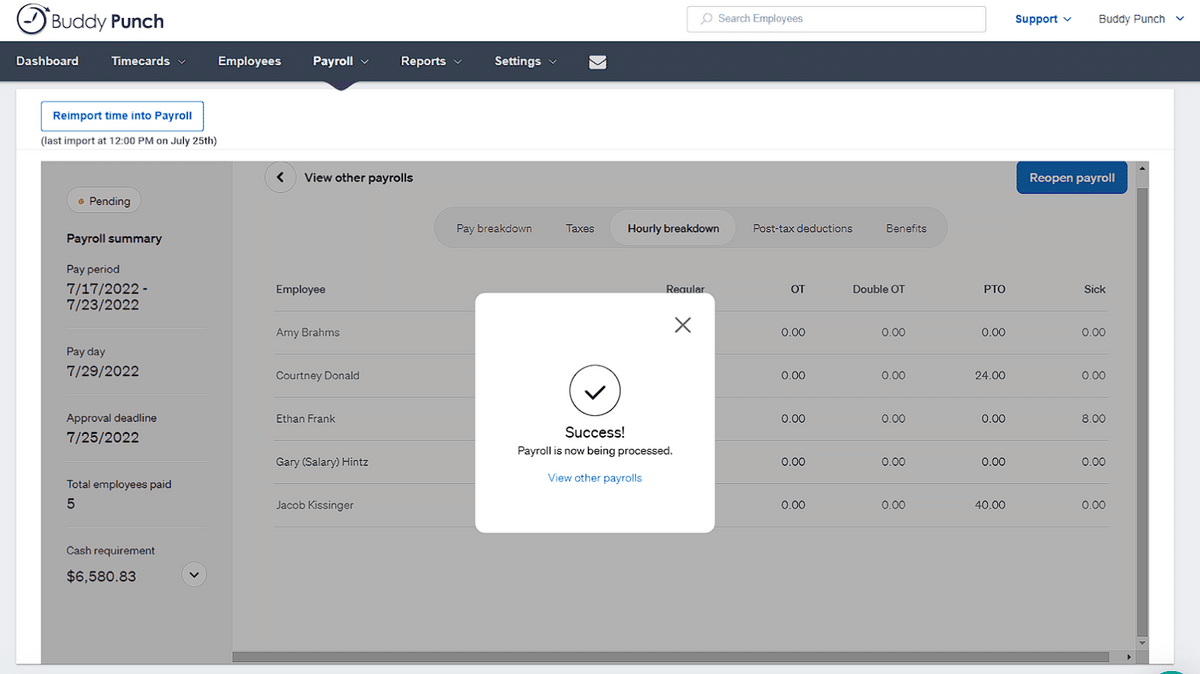 Managing Contractor Information in Buddy Punch
Buddy Punch offers a centralized dashboard where you can manage contractor information, including contact details, pay rates, and payment history. Setting up and editing contractor information is easy — here's how:
Start under the "Payroll" tab, then click "People".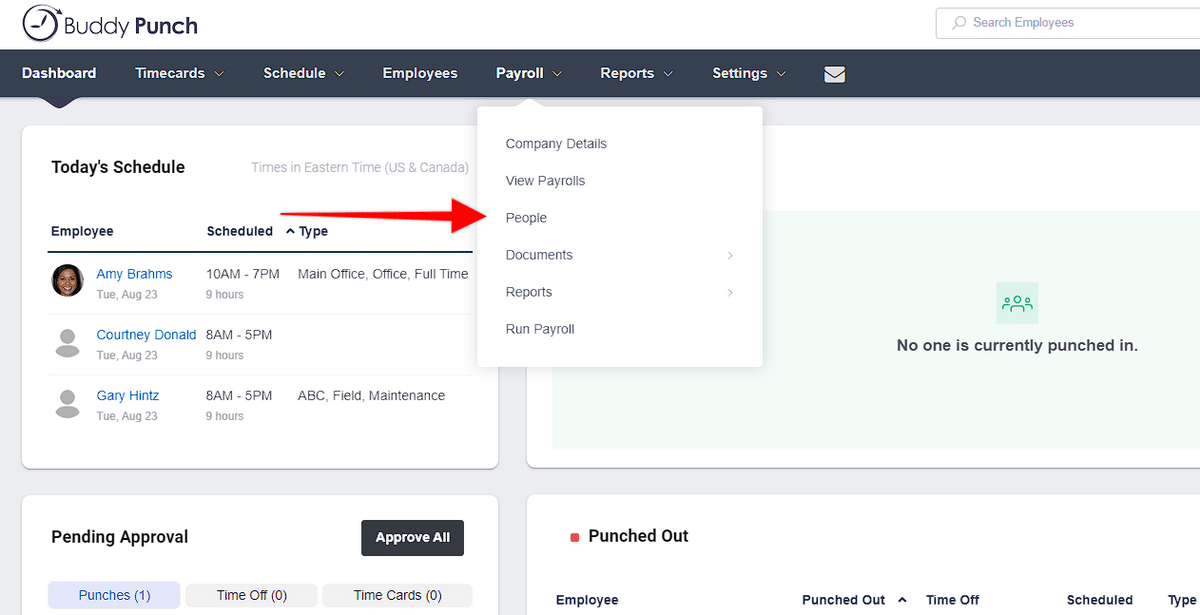 Click the "Create Payroll Profile" button beside the contractor's name.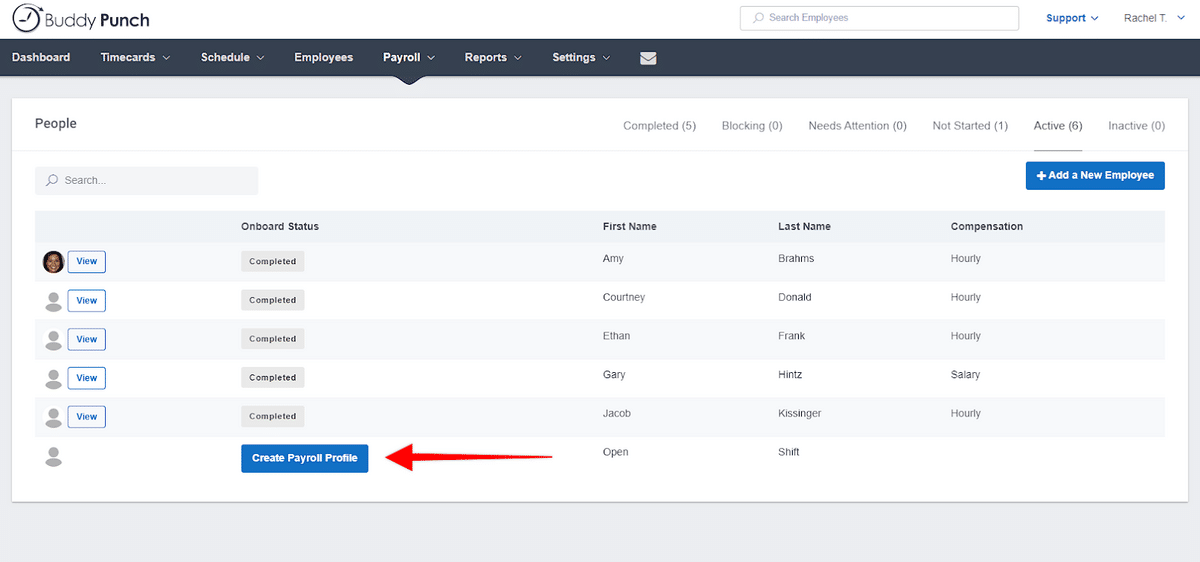 Next, enter the contractor's hire date, birth date, pay type, and address. If some of this information is already in the employee's time-tracking profile, it will be auto-populated here: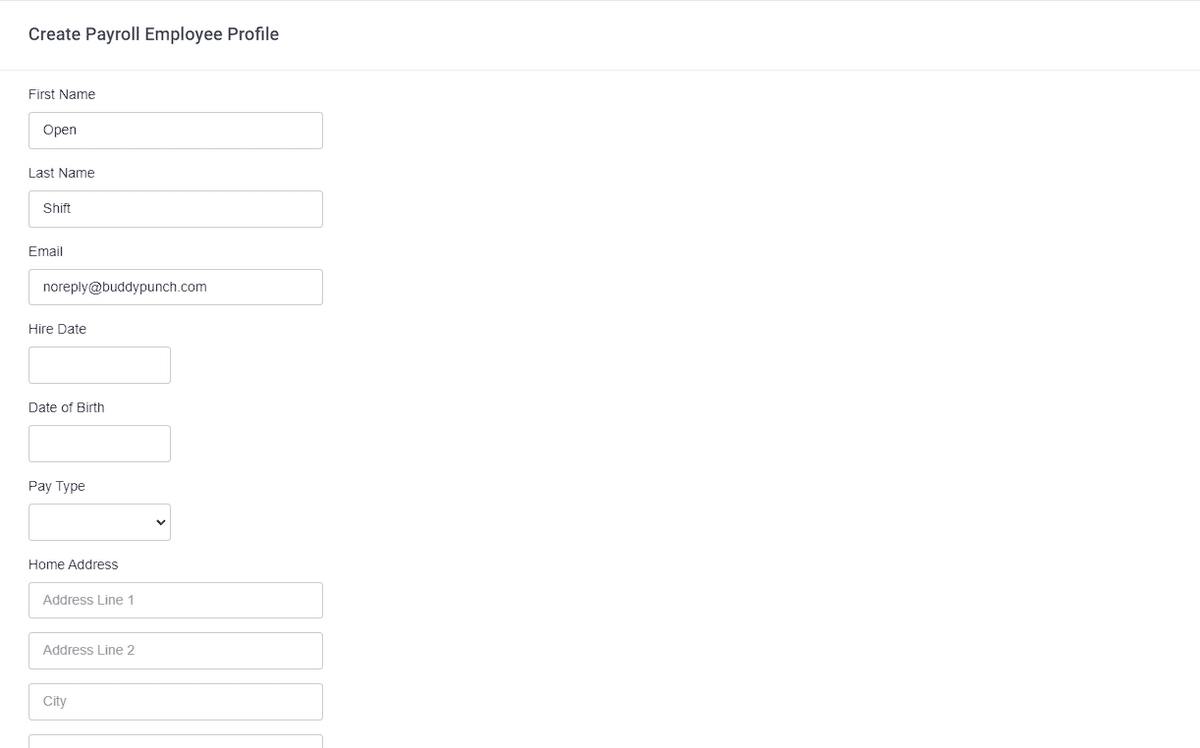 You or your management team can finish the remaining onboarding process by entering tax information and banking details via the Finish Setup link, or you can choose the "Send Onboarding Email" button and have the contractor do the onboarding:
Your contractors can also log in directly to their account and choose "Payroll Setup" to finish their onboarding process: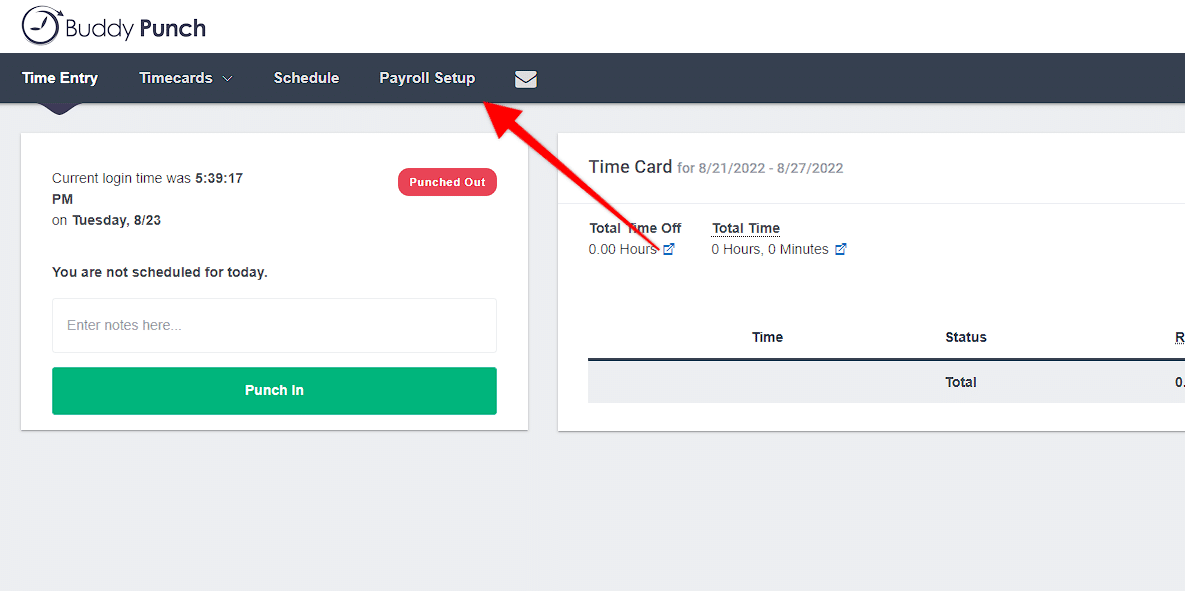 Tax Management for Contractors
When paying a contractor $600 or more during the tax year, you must report the payments on a 1099 form and send a copy to the contractor and the IRS. The contractor uses the information on the 1099-misc form to report their income when filing their tax return.
The information reported on the 1099 form includes the contractor's name, address, taxpayer identification number (TIN), and total payments made to the contractor during the tax year. Contractors should receive a copy of their 1099 form by January 31 of the following year.
Buddy Punch handles the electronic and mail distribution of the 1099 forms for your contractors and W-2s for your full-time employees. This includes multi-state tax registration in all 50 states and federal and local taxes.
Here's how you can access your contractors' 1099 forms:
Log in to your account and click "Payroll" from the top navigation, then "People".
Click "View" next to the name of the contractor whose documents you want to view: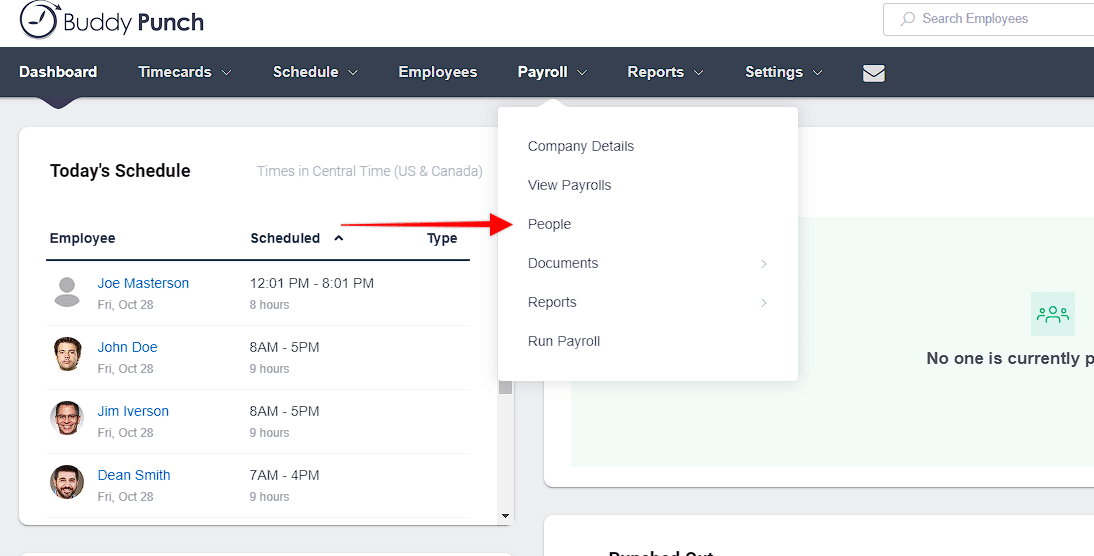 You will then want to click "Documents" from the left-hand side, and then once at the Document section, you can click "Download" next to any available document: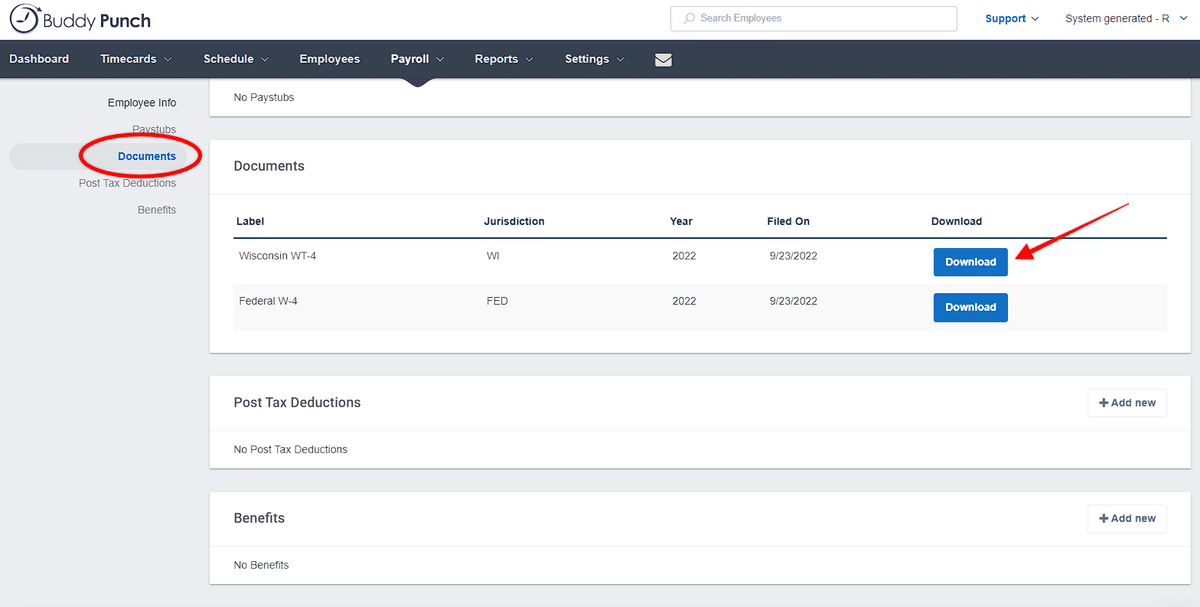 Contractors can also easily view and download their tax documents from their profile by clicking on the "Tax Documents" section: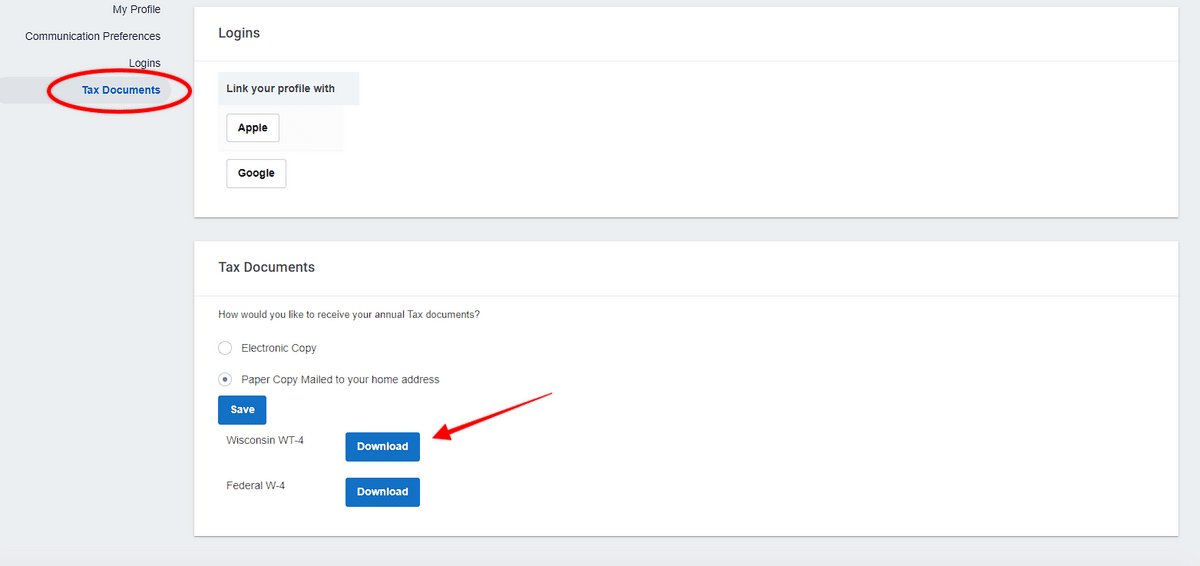 Managers and admins can also add post-tax deductions, like child support or wage garnishments, directly from a contractors payroll profile: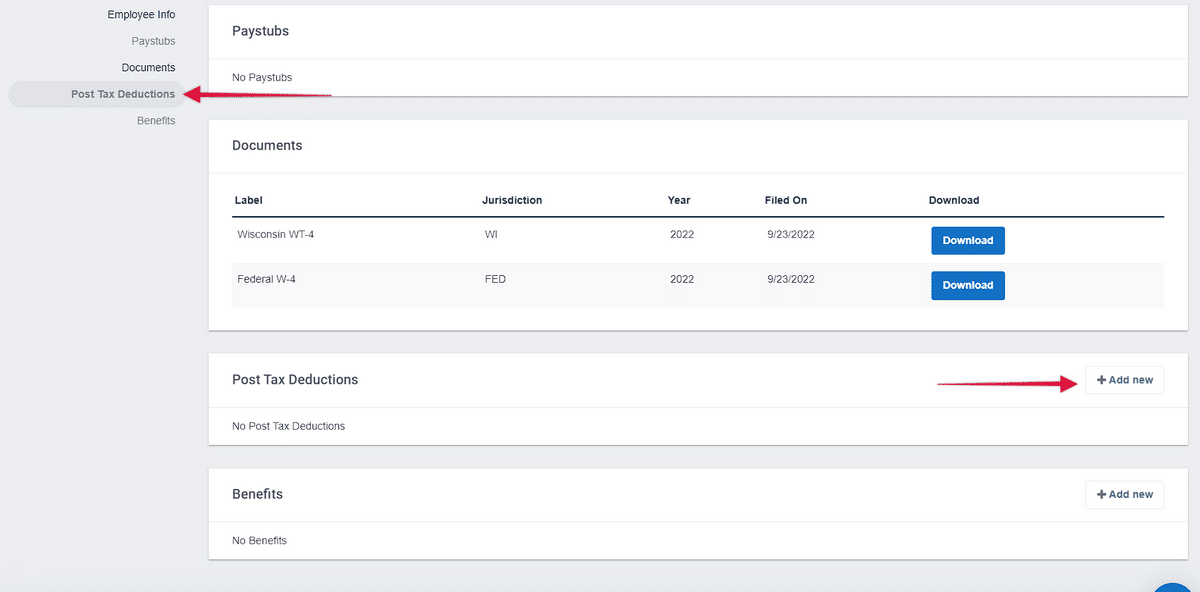 Integrations with Your Current Payroll Software
We know switching payroll solutions is a big deal, and not something your business can do on a whim. Legally, you can only have one payroll provider — and you want it to be the right one.
Sometimes a company will sign up for Buddy Punch to use its time tracking features (such as our web-based time clock and PTO tracker) but will want to wait a bit before switching over their payroll process to Buddy Punch.

In these cases, you can easily integrate Buddy Punch with your current payroll provider. We have ready-made integrations for software such as:
QuickBooks
JustWorks
SurePayroll
ADP
Paychex
Gusto
If you have a payroll provider or process that we don't integrate with you, you can easily export payroll reports from Buddy Punch as a .csv file.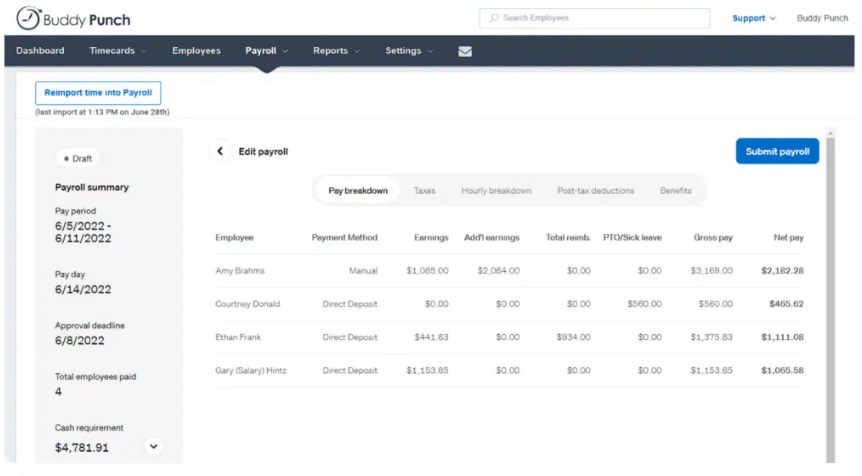 Customer Support for Payroll Software for Contractors
Buddy Punch is designed to be intuitive and easy to use.
Here some Capterra reviews (a popular software review platform) that highlight this benefit:
"Most folks pick up on it right away. The system is intuitive and those who do have difficulty only need a quick tutorial and they are good to go."

Click here to read the full review.
"Minimal training for end users (employees or managers). The back end (admin) features are just as simple and intuitive. We wanted a product that was simple to use, cost friendly and allowed us to customize — all of these areas were met. Very impressed!"

Click here to read the full review.
But when you have questions or need some support help, we won't leave you hanging. Buddy Punch offers excellent customer support, including email and chat support and a comprehensive help center with video tutorials.
Here are some more reviews that highlight our customer service:
"The area I am most impressed with is with their support — they respond quickly, accurately and offer real solutions."

Click here to read the full review.
"The team is responsive, and eager to assist. Any questions we've had, whether using the free trial, or after we signed up as a customer, have been answered quickly".

Click here to read the full review.
"Their team is knowledgeable about my organization and the way that we use the platform — I have received many helpful suggestions to how we can best leverage the Buddy Punch platform in our sometimes complicated organizational structure. We have had very few issues, but have always received immediate resolutions when anything has come up."

Click here to read the full review.
On our help center, you can find numerous topics such as:
Account management
Buddy Punch features
Time off
Scheduling
User management
Payroll
Reports
Integrations
To learn more about how you can use Buddy Punch for your payroll, sign up for a free 14-day trial or schedule a one-on-one demo.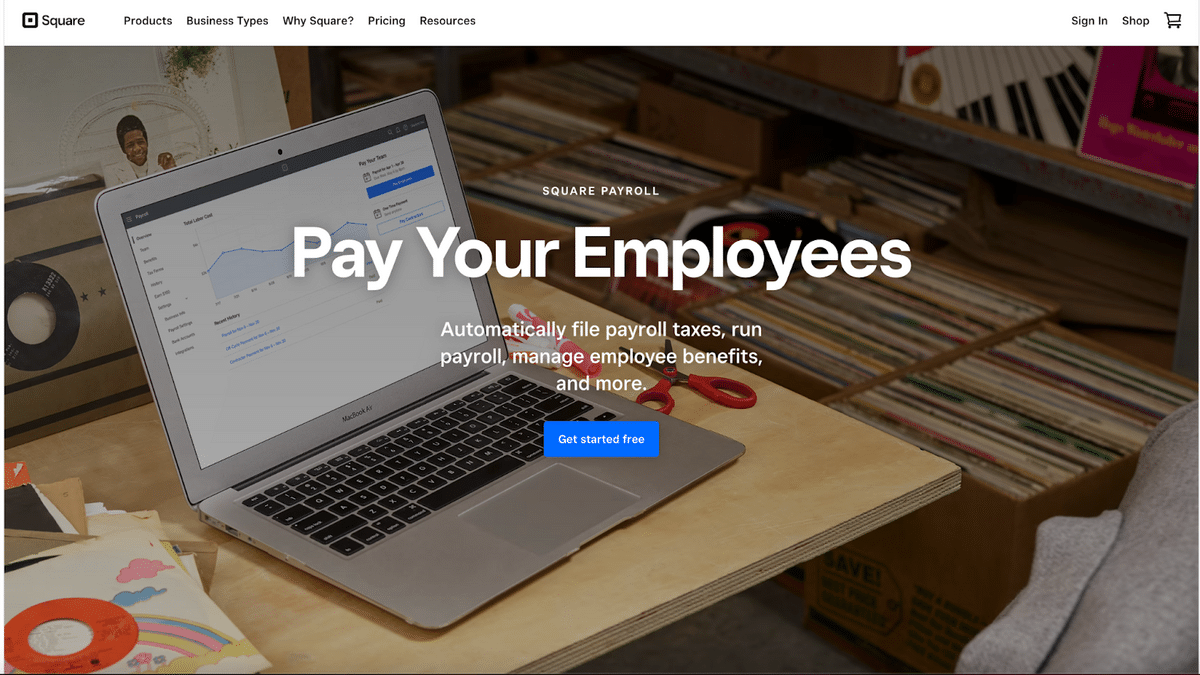 Square Payroll is an online payroll system with various options such as:
Integration with Square POS
Tax filings
Tip tracking
Currently, Square Payroll has 4.7 stars on Capterra with 500+ reviews.
"Overall it is a very useful and easy-to-use platform, it helps to speed up administrative processes that should be secure and error-free. It streamlines payroll and vacation pay and helps keep compliance under control. The support is fast and responsive."

Click here to read the full review.
For more information about Square, check out this video: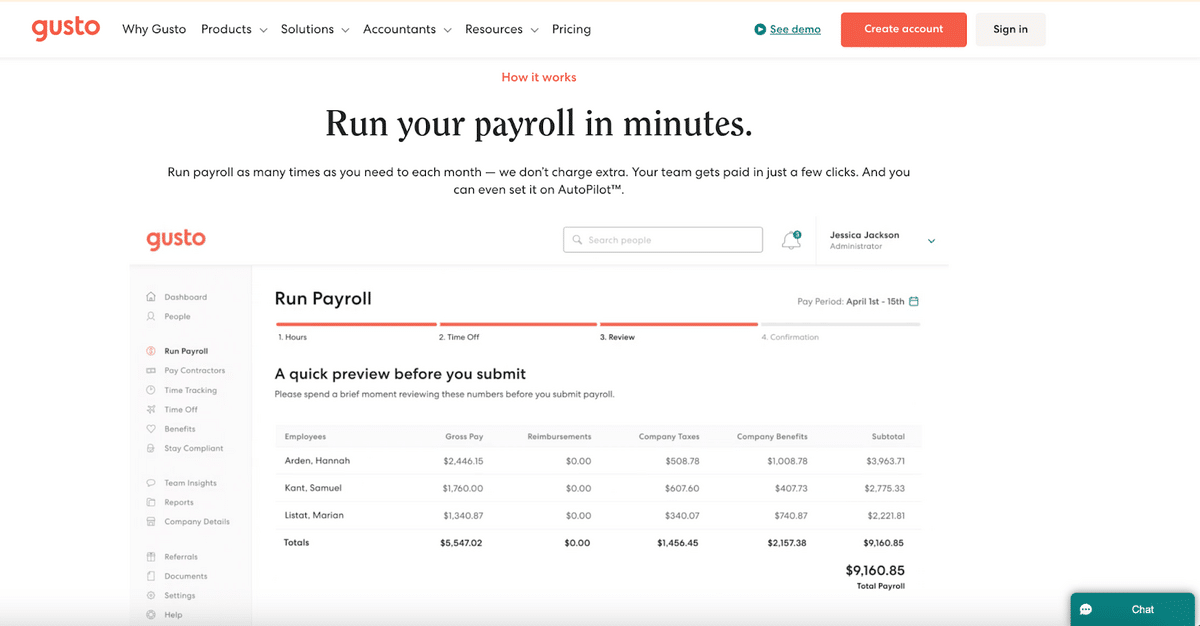 Gusto is payroll software with several features including:
Gusto currently has 4.6 stars on Capterra with 3,700+ reviews.
"Customer support is great. This is a good company. They aren't the cheapest. And they aren't the most expensive. I think the extra cost is worth it to ensure compliance."

Click here to read the full review.
For more information on Gusto, watch this: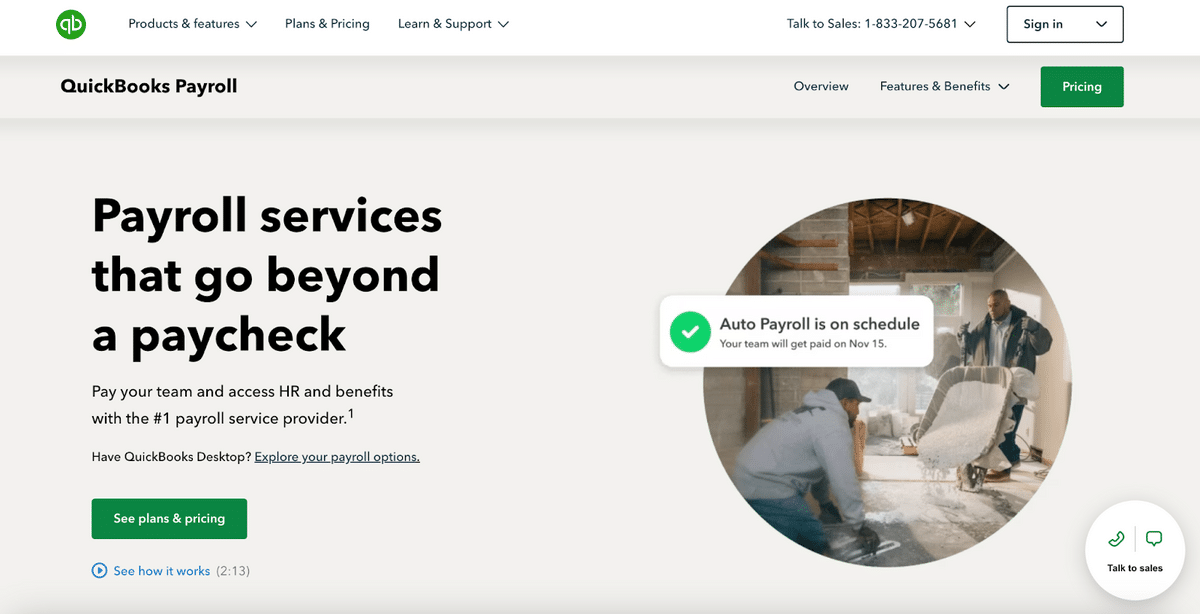 QuickBooks is another payroll system. Check out some of the features, which include:
At the time of writing, QuickBooks Payroll has 4.5 stars on Capterra with 700+ reviews.
"Overall it's a strong product with all the features most people will need for their business. I used it for 2 restaurants and was very pleased with it. It's great to have all your finances in a single place."

Click here to read the full review.
For more information on QuickBooks Payroll, watch this video: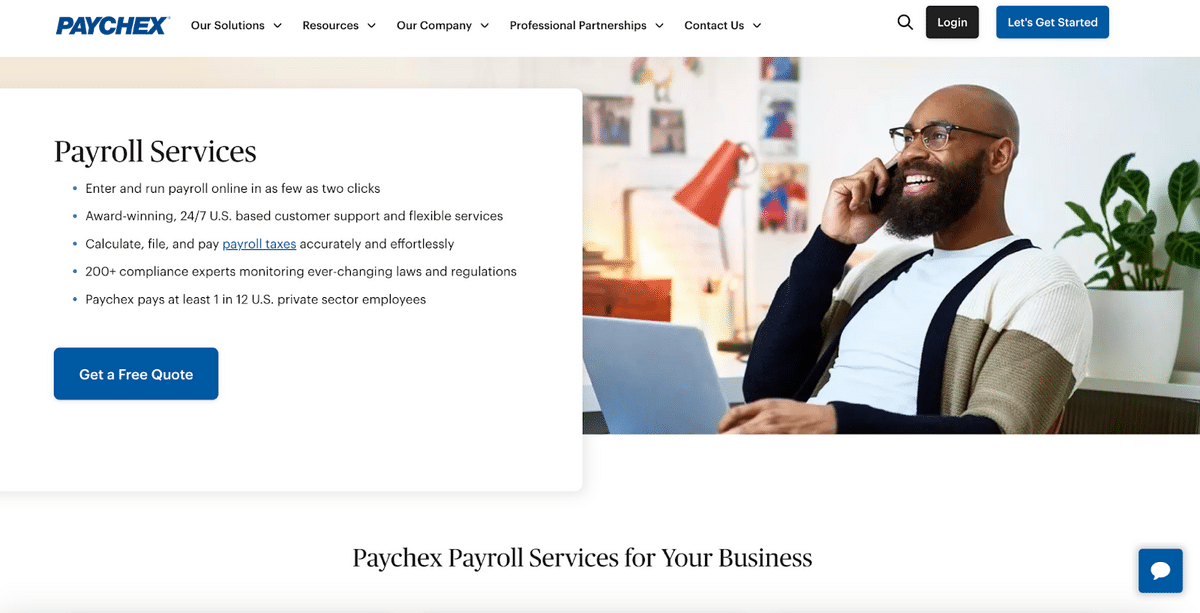 Paychex's payroll software has several features for businesses, such as:
24/7 U.S.-based customer support
Tax compliance support
Paychex currently has 4.1 stars on Capterra with 1,000+ reviews.
"The admin dashboard is full of useful information and it's impossible to miss any updates or notifications. Our less technically-inclined staff members have no trouble navigating the user dashboard."

Read the full review here.
For more information, check out this video.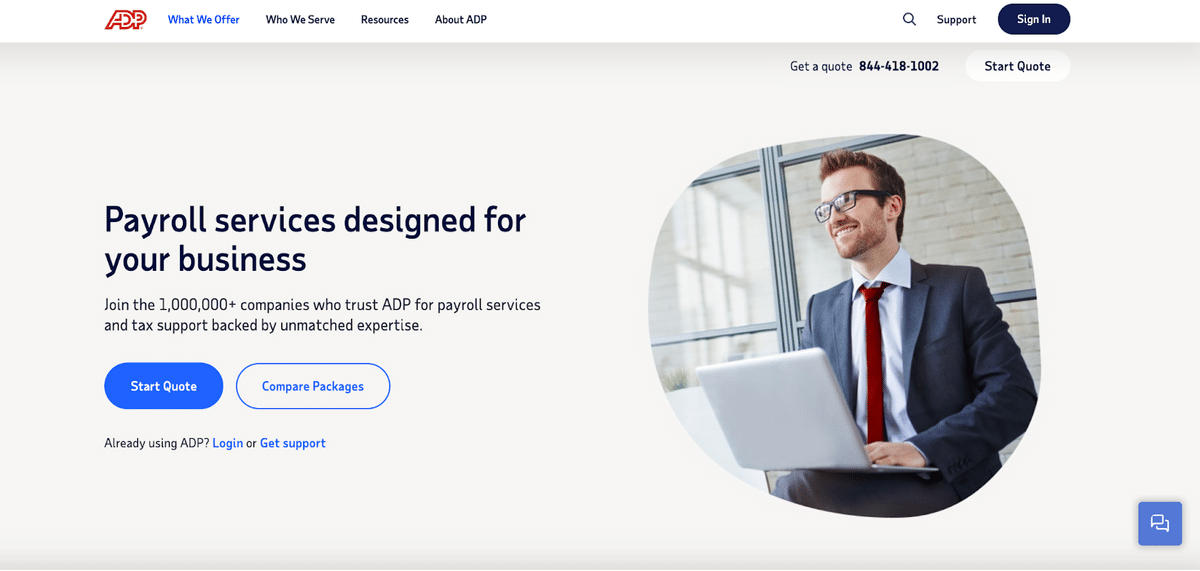 ADP payroll and accounting software offers benefits, including but not limited to:
Easy-to-use self-service app for employees
Payroll taxes are calculated and paid on your behalf
Simple integration with time-tracking and HR
ADP currently has 4.4 stars on Capterra with 6,000+ reviews.
"Comprehensive HR management solution that provides reliable and efficient payroll processing, customizable features, and excellent customer support. While it may be challenging for some users to navigate its reporting features and may not be cost-effective for smaller businesses, it is a solid choice for larger companies seeking a comprehensive HR management software."

Click here to read the full review.
This brief video explains how ADP payroll works: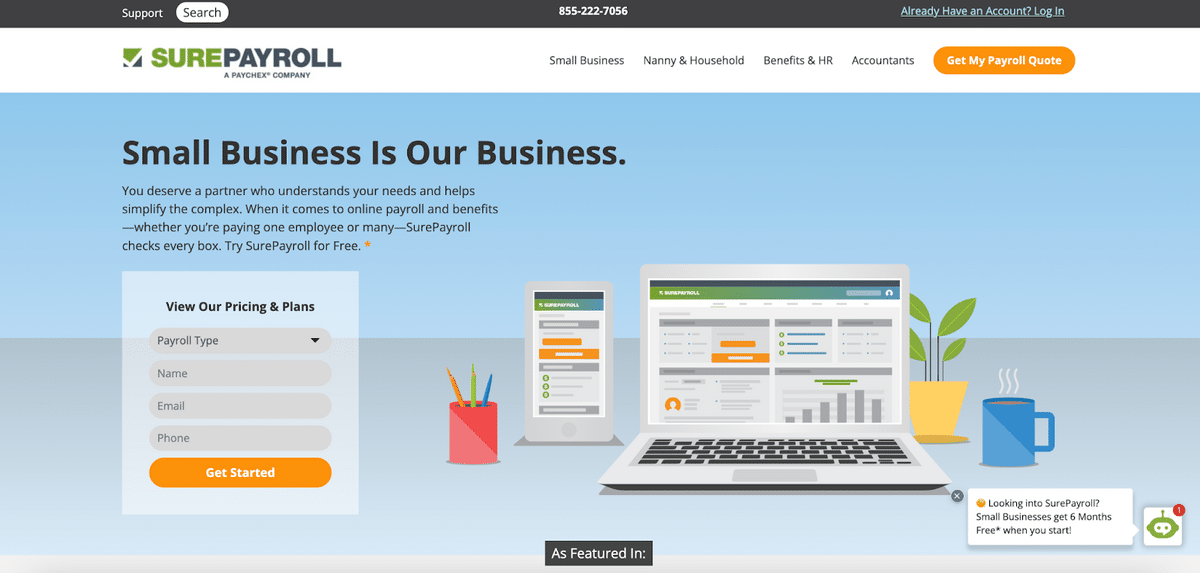 SurePayroll, which is owned by Paychex, is another payroll tool that is designed for small businesses. Here are a few of their payroll services:
As of this writing, SurePayroll has 4.1 stars on Capterra with 2,000+ reviews.
"Love that we can provide every employee with their own login access to view history, and print copies of checks and W-2s. Frees p a lot of time by allowing them to perform this critical task."

Click here to read the full review.
For more info about SurePayroll, watch this video:
Next Steps
If you want to learn more about using Buddy Punch as your payroll software for contractors, you can:
For more articles about payroll management, check out: