Top 5 Online Time Clock for Payroll Service (Comparison Post)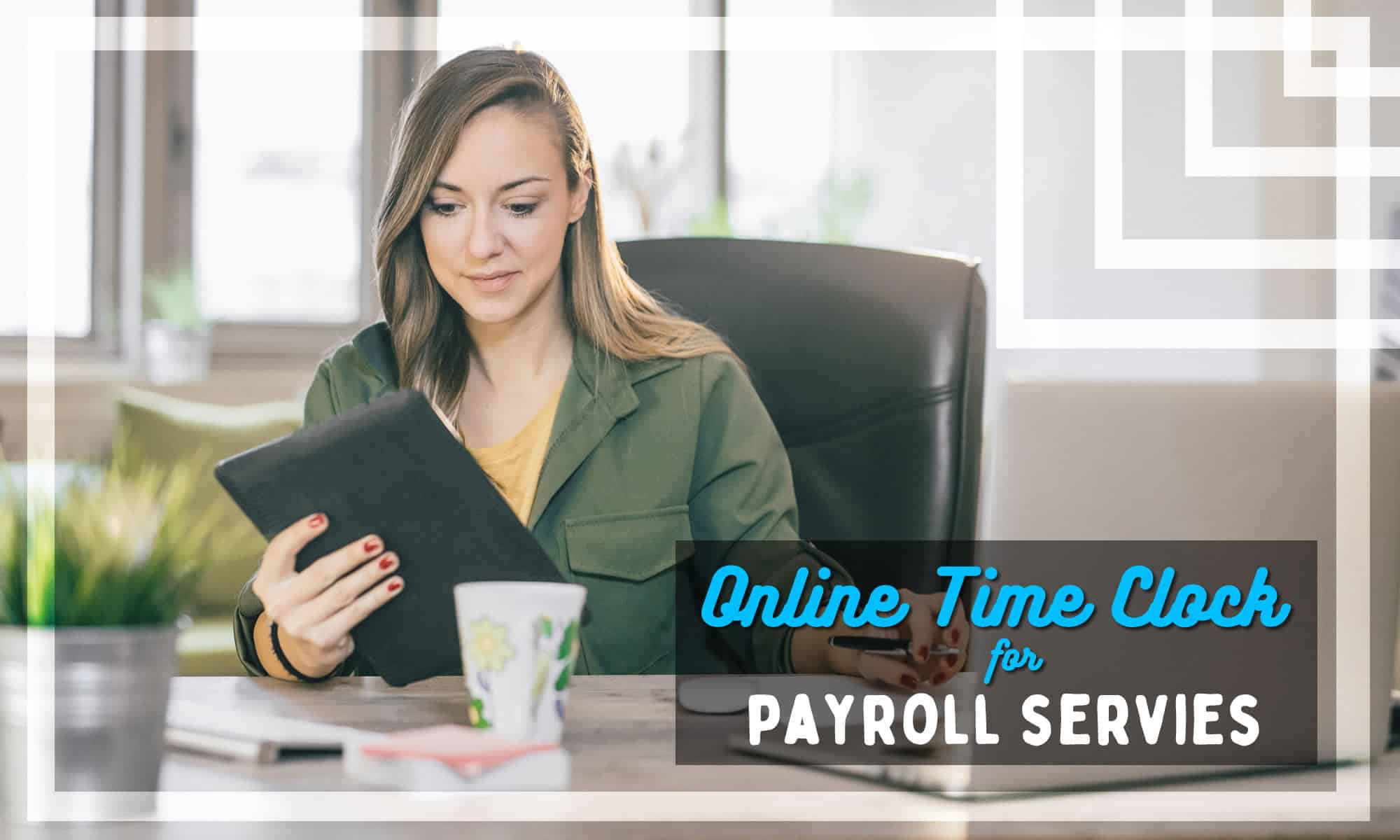 Payroll can be a pain. Staying FLSA (Fair Labor Standards Act) compliant requires accurate accumulation and processing of employee time data each pay period in order to ensure your team members are paid on time and in full. The process, especially when handled manually, costs time and effort – but not going through it can open you up to lawsuits.
There's a solution that lets business owners save time and money by speeding up how payroll reports are handled: Time Clock Systems. While there are hundreds of time clock solutions on the market, all built with a focus on different functions (stopping time theft, keeping track of employee time, giving team members self-service options, etc.), what we're going to highlight today are the tools that specifically work to make payroll easier.
Hopefully, by the end of this list you'll have found an employee time clock software to help you get through payroll calculations.
Online Time Clock for Payroll Service Options
When we first designed Buddy Punch, payroll was one of the main things we wanted to tackle in a more efficient manner than what we were seeing with other time clocks on the market.
That's why, in addition to including a Built-In Payroll System and Payroll Integrations, we also included other helpful features to track employee hours such as Paid Time Off Management, GPS Tracking, Customizable Reports, Notifications, and Job Codes. While these are only a fraction of the total features Buddy Punch has to offer, they provide a good overview of how using our software in your workforce management will ensure that all employee data gathered is accurate before you take it through our streamlined payroll processing options.
Now, let's dive further into each of these mentioned features to help demonstrate their value to business owners.
Note: If you'd rather just see these features in action, you can start a 14-day free trial of Buddy Punch by clicking here.
Buddy Punch's Payroll Specific Features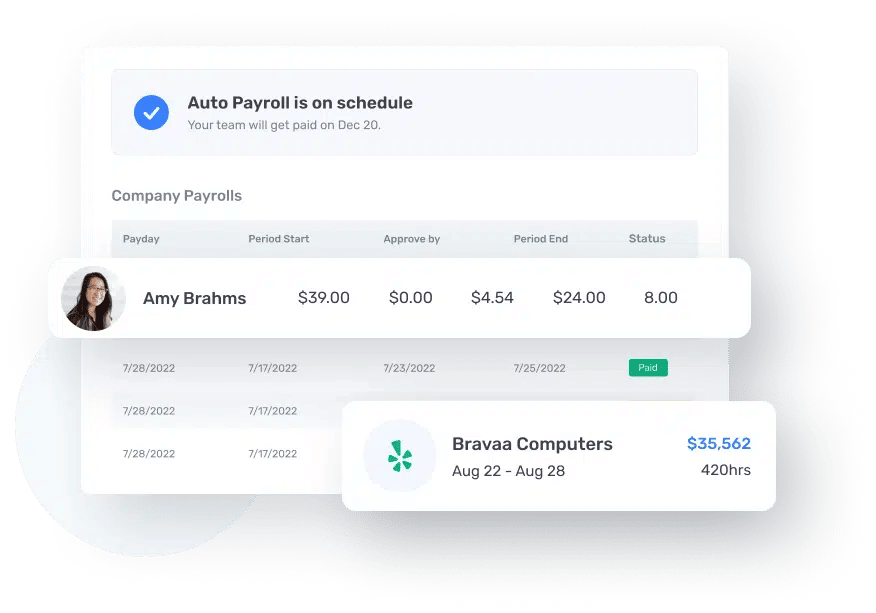 When we said we built Buddy Punch with a mind towards improving Payroll, we weren't kidding. Streamlined Payroll was one of the three main attributes we wanted out of a time clock software, along with design simplicity and effective employee accountability tools. With Buddy Punch's Built-In Payroll System – which you can add on to any of Buddy Punch's paid plans – you can drastically overhaul the entire process.
This tool:
Lets you easily manage your payroll from anywhere at any time with automatic payroll tax filings and payments
Makes use of the accurate data Buddy Punch's other features are gathering to ensure your business is running efficiently
Saves time, reduces errors, and runs payroll in just a few steps.
Buddy Punch's built-in payroll comes with unlimited payroll runs, integrated timesheets, printable checks, and more. Click here to learn more about why this feature is worth every cent to streamline your payroll process.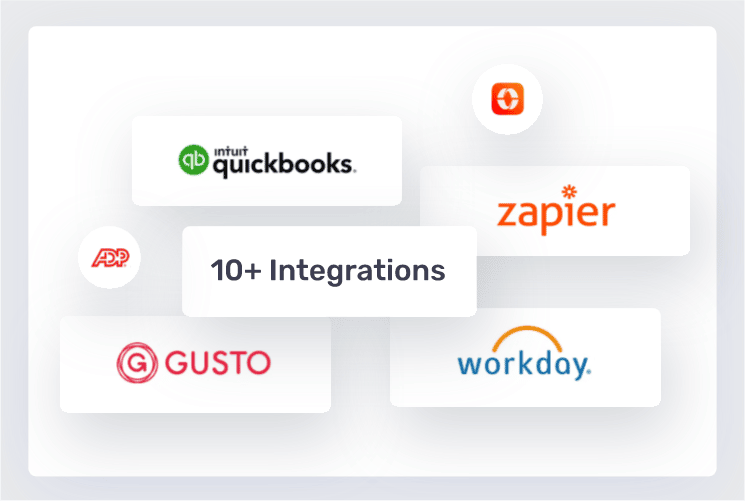 If you're not taken in by Buddy Punch's comprehensive Payroll System, or are just attached to your current Payroll System, you might want to check out Buddy Punch's Integrations. Buddy Punch integrates directly with many of the most popular Payroll Systems on the market – names like ADP, Zapier, Paychex, and more (click here to view the full list).
When it comes to QuickBooks especially, Buddy Punch also integrates with QuickBooks Online (to sync employee information and time on demand) as well as QuickBooks Desktop (allowing you to connect your accounts).
Buddy Punch's Payroll Aiding Features (Accurate Time & Attendance Tracking)
Running payroll effectively is great, but how about the data that goes into it? Buddy Punch is the sort of attendance software that contains many checks to ensure that your employees' time is accurately recorded at every step.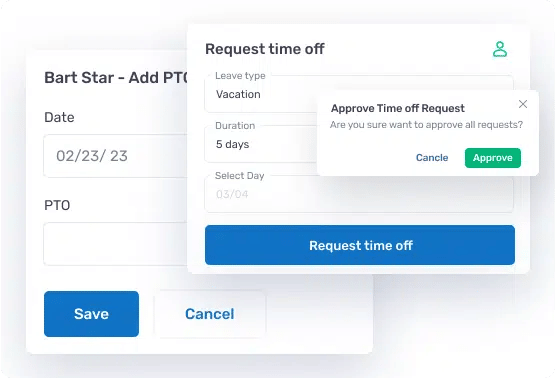 Use Buddy Punch's PTO Management to completely overhaul how you handle your employees' paid leave. In addition to having the most common types of leave already integrated (Holiday, Sick, Vacation, etc.) Buddy Punch lets you create custom PTO types at will.
And it gets better. You can enable a self-service approach to PTO, meaning your employees' time off requests will be automatically approved without requiring your oversight. Spend less time with sick leave, more time optimizing other aspects of your business.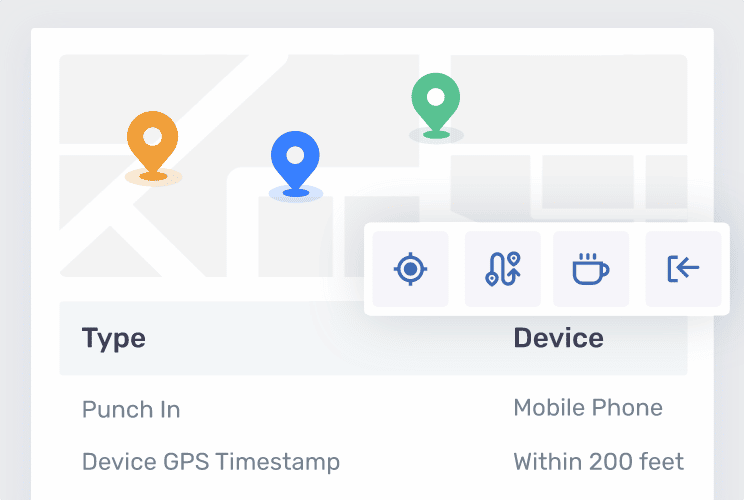 In a post-pandemic world, business owners quickly realized how potent remote working is – and how difficult it is to monitor. Buddy Punch's GPS Tracking lets you keep track of your offsite employees by creating a pin on an interactive map when they clock in. This map will show you where your entire team is (onsite or offsite) when you view it from your homebase.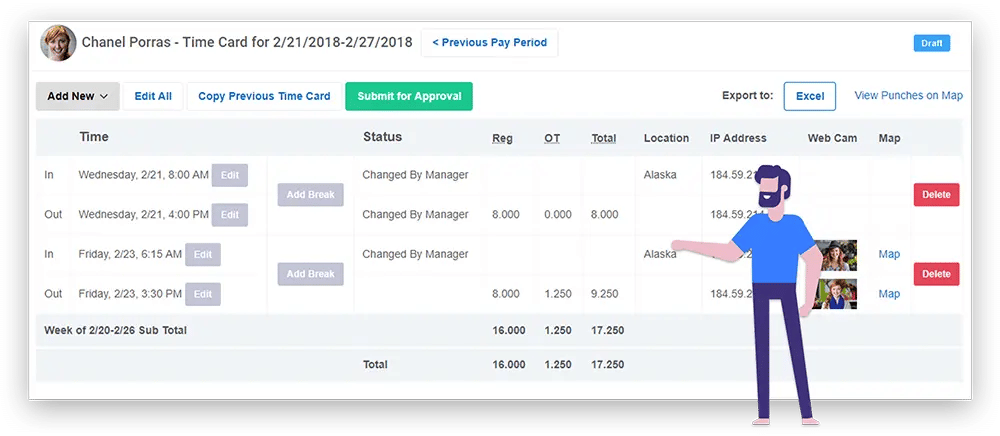 Buddy Punch's accurate data gathering can be a powerful tool to make use of outside of our software. With the customizable reports feature, you can generate breakdowns of factors in your business such as Payroll Exports, Hours Summaries, PTO Summaries and more. Use these reports to make informed decisions about your operations, ensure payroll accuracy, and optimize your profitability.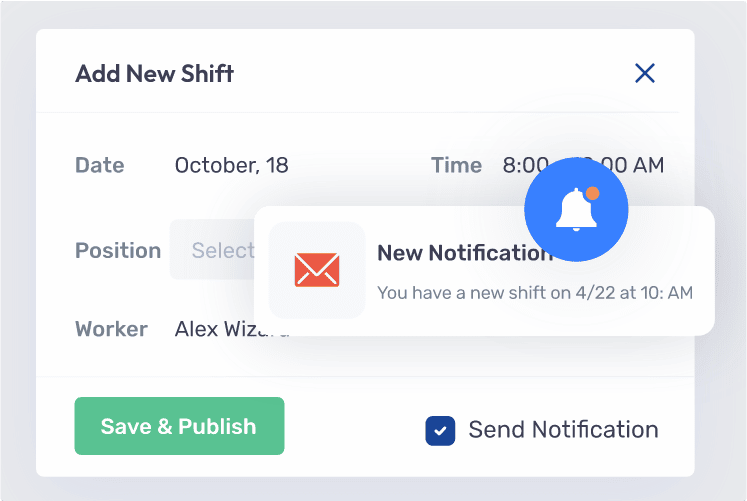 While some business owners may doubt the effectiveness of notifications if their employees aren't forgetful, this feature can have a potent, indirect impact on how productive your employees are. With it active, they'll get in the groove of understanding when Buddy Punch sends them alerts (for things such as punch changes, time card approval status changes, PTO changes, approaching overtime, and more.)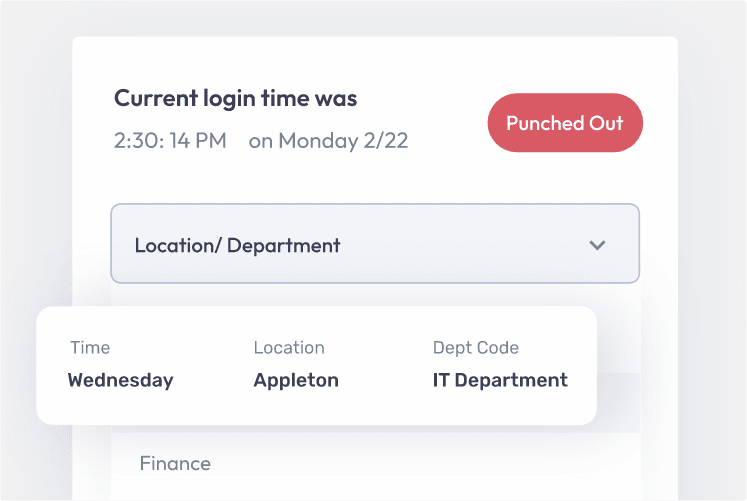 Buddy Punch's Job Codes feature gives you a greater degree of transparency, allowing you to make informed decisions based on your labor costs. With this, you can create a job code for various tasks in your business, and your employees will be able to clock into these codes as they work (and swap between them throughout their shifts).

Buddy Punch Does More Than Payroll
Though we've chosen to highlight just a few of Buddy Punch's features, it's worth noting there's a lot more for business owners to make use of:
There's also some out-of-app usage you get with Buddy Punch:
Our Blog Section is consistently updated with new tips and strategies to improve your workforce management.
The Help Doc Center contains videos and articles that will guide you on making the most out of Buddy Punch.
Our Customer Support Desk will let you chat with our team directly to answer any questions you may have.
Buddy Punch works on any device with an internet connection, including mobile devices (iOS and Android smartphones), Tablets, and Desktop. You can book a one-on-one personalized demo here.
Buddy Punch's Online Reviews
As of the writing date, Buddy Punch has 4.8 out of 5 stars and 739 reviews on Capterra.

Below, we'll list some reviews that speak to Buddy Punch's ease of use and impact on workforce management. (Click here to explore the full list of reviews.)
"I like that you can clock-in and out from your mobile device. Perfect when you are not at the office but working from another location. I also like that you can identify different departments since I have to clock hours for two separate programs."

Click here to read the full review.
"BP has been extremely accessible for customer service and have been open to suggestions for improvements/additional services. They have steadily grown over the last several years, offering more and more helpful services and integration with other programs. BP was also extremely accommodating during Covid shutdowns, allowing us to freeze our account in good faith that we would pick up where we left off as soon as we were able."

Click here to read the full review.
"I had used other more expensive systems at previous employers and Buddy Punch has be more than sufficient for our size of business. It is easy to run the reports- PTO, location of services, and the geofence. My favorite time in option was the facial recognition- the main problem with it was if someone had a beard and then shaved it or got a major change in hair styles we had to take their picture again."

Click here to read the full review.
"The thing I like most about the software is the geographical location requirement. Every time you punch in/out it shows your employer your location. Making time clock fraud one less worry as a business owner and the employee more responsible about time maintenance because you cannot get paid if you are not physically at work."

Click here to read the full review.
As several reviewers have noted, Buddy Punch is a time tracking software that's intuitive and easy to use for both employers and employees and comes with a helpful support team.

Try Buddy Punch for Free
If you feel that Buddy Punch might be the time tracking solution with payroll capabilities you've been looking for, sign up for a free trial. You can also book a one-on-one demo, or view a pre-recorded demo video.
ZoomShift is a fairly popular work schedule maker with features including:
As of this writing, ZoomShift has garnered a total of 94 reviews and 4.5 out of 5 stars on Capterra.
"For me it's quick and easy to set up a complex schedule of staff (They have varying skill) that collaboratively work with each other throughout our client/patient experience. Just when you have everyone where you want them something comes up. Problem solving is quick. "

Click here to read the full review.
Connecteam offers various features and functionality, including (but not limited to):
As of this post's writing date, Connecteam has 4.8 out of 5 stars and 205 reviews on Capterra.
"The support has been amazing. I had a live one on one with a rep that went over features that were applicable to MY business, not just a general introduction that wasn't pertinent."

Click here to read the full review.
Clockify is an extremely popular time tracking app, likely due to its forgiving free plan (though many of its more powerful features are locked behind payment). Some of those features include:
At the time of writing, Clockify has a total of 4301 reviews on Capterra with an average of 4.7 out of 5 stars.
"What is there NOT to like about this software? It was very easy to set up. It is simple to use. I have a small accounting firm and needed to track time spent per client per employee. This software does it simply and effectively. I love the "tags" as well."

Click here to read the full review.
Hubstaff offers various features and functionality, some of which include:
As of the writing date, Hubstaff has 4.6 out of 5 stars and 1292 reviews on Capterra.
"Hubstaff has been our preferred platform to track all of our employee hours and tasks for a very long time, and we are extremely happy with the results in helping us organize our work flow and management. We have been able to realize the ease in a long standing promise of transparency to our customers by sending frequent, detailed reports on the hours of developers on client projects."

Click here to read the full review.
Choosing The Best Time Clock Based For Payroll Services
Now that we've managed to narrow down your total options to some of the most effective time tracking apps out there, you're going to want to choose one that can run payroll smoothly, as well as come with other features you'd like for workforce management. After all, why not get the most out of your subscription?
For example, if you want to be able to single-out employees for productivity monitoring, you might like Hubstaff. If you're working with a budget and don't mind severely limited features, maybe Clockify will prove right for you.
Otherwise, if all you want is an effective time management tool that will keep your employees on task, streamline and automate aspects of payroll, and come with a helpful support team that you can contact via live chat – then you really can't go wrong with Buddy Punch.
Try Buddy Punch for Free
If you feel that Buddy Punch could time clock + payroll service combination you've been looking for, sign up for a free trial. You can also book a one-on-one demo, or view a pre-recorded demo video.
You May Also Like…