Online Time Clock For Ski Resort (3 Options)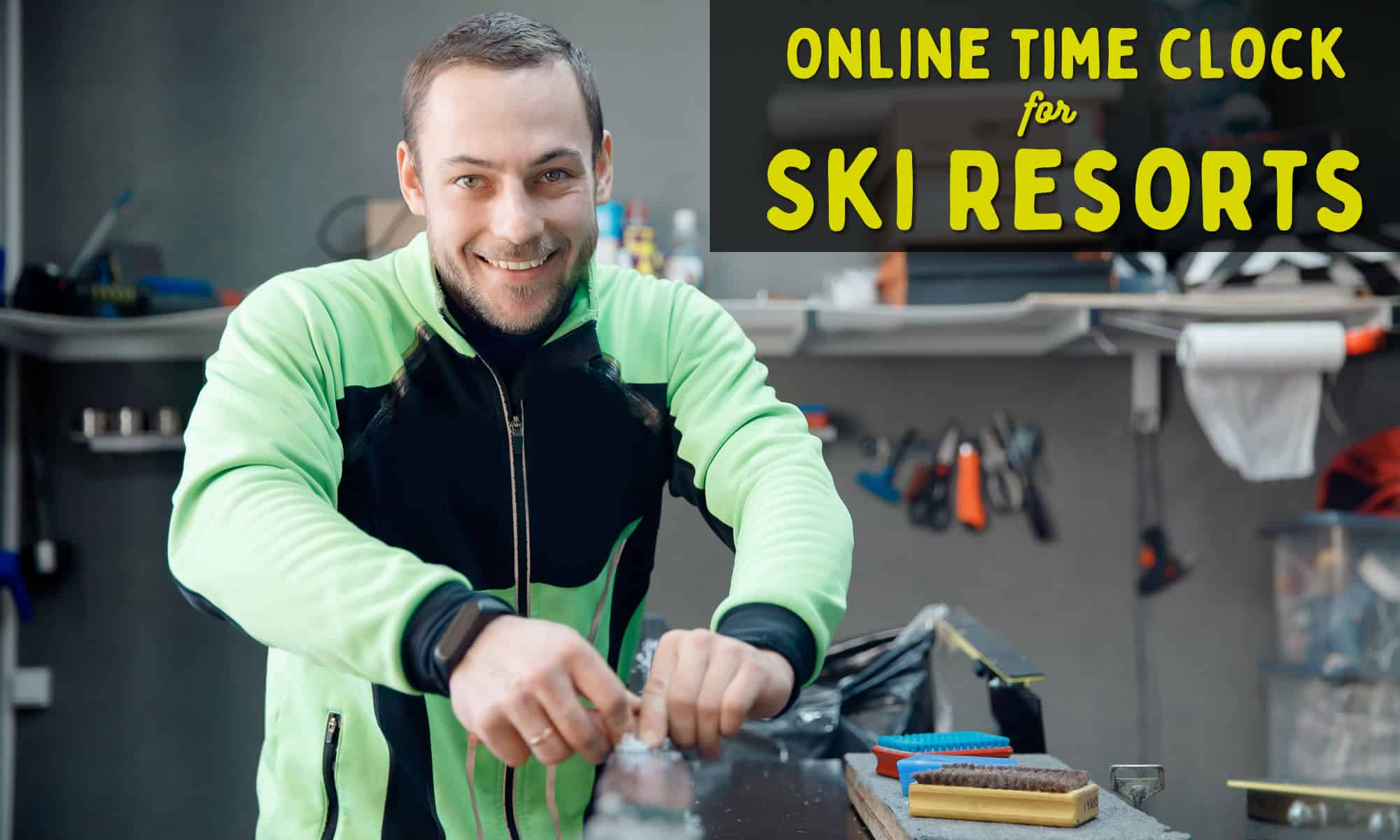 The best online time clock for ski resorts will offer the following benefits:
Enable employees to seamlessly complete time entries.
Provide teams with the flexibility to clock in and out from mobile devices.
Track employee whereabouts on the ski resort with GPS location tracking.
Manage PTO requests from team members through a single dashboard.
With access to an effective time management solution, you can effectively oversee ski resort teams and centralize all employee data.
When it comes to tracking employee attendance and making sure all team members at your ski resort are in the right place at the right time, you need a time tracking platform in your corner.
If you are looking for a way to consolidate your employee data and stay across employee attendance in real-time, there is no shortage of time tracking platforms that can help.
When it comes to operating ski resorts, time management is paramount.
From tracking lift tickets and season passes, ensuring timely availability of rentals, to monitoring skier traffic on chairlifts, every aspect requires meticulous observation.
Picture this: It's the opening day at Breckenridge or perhaps Park City, and the first wave of eager skiers and snowboard enthusiasts are lining up, checking the snow report on webcams and pondering which trail map to follow.
Ensuring that employees are equipped with the tools to manage this influx, especially during the winter season, becomes essential.
4 Key Benefits Of An Online Time Clock For Ski Resorts
The best online time clock for ski resorts will cater to these specific needs:
Enable Seamless Time Entries
Whether it's an employee at the ticket window selling day passes, or someone responsible for snowmaking at night skiing sessions, clocking in should be hassle-free.
Flexibility Across Devices
With the increasing trend of buying online, even for lift tickets or epic passes, ski resorts need a platform where teams can clock in and out on-the-go, perhaps right after they pick up rental equipment.
GPS Location Tracking
As skiers whizz down from terrain parks and employees facilitate snowboard lessons, knowing the whereabouts of team members becomes crucial, especially in vast areas like the "ski and ride" sections.
Manage PTO Through A Dashboard
Whether it's a last-day getaway for an employee or their first time asking for a break, all such requests need to be streamlined.
Online Time Clock For Ski Resort
1. Buddy Punch
How Buddy Punch's Time Clock Platform Works
Buddy Punch is intuitively designed for ease.
Employees can clock in and out with a simple click. Our dedication has been to refine this process for optimal time tracking efficiency.
The easier employees can log their hours, the more promptly they'll do it.
With Buddy Punch, leaders are always updated with the most recent timesheet data.
Let's explore the benefits of integrating Buddy Punch into your existing workflow.
Set Instant Alerts For Employee Actions Inside The Platform
If you need to quickly know whether a skiing instructor has turned up to the resort ready to lead their class, you can look at Buddy Punch's dashboard and get an immediate answer.
The best bit? You can set instant alerts when employees take specific actions inside the platform.
Buddy Punch's dashboard displays real-time employee data, giving team leaders and managers at your ski resort all the information they need to stay across employee performance and productivity.
No matter where team leaders and managers are located, they can use Buddy Punch to gain a real-time picture of workforce activity.
Monitor Team Whereabouts With GPS Tracking
Buddy Punch comes equipped with a GPS tracking feature.
Team leaders and project managers can monitor the locations where employees clock in and out.
This tool is indispensable for those managing remote or hybrid teams, ensuring transparency and accountability.
With Buddy Punch, leaders always have clarity on team members' locations.
Combat Timesheet Fraud With A Range Of Tools
Buddy Punch introduces a face recognition feature, requiring employees to capture a photo of themselves using their device.
This tool is pivotal in minimizing timesheet fraud and bolstering transparency throughout the organization.
By urging team members to clock in and out with their photos, an extra layer of security is established.
Curious about how Buddy Punch can benefit your ski resort?
It's a snow-brainer for your business! See what we did there?
Anyway, you can explore our "Knowledge Base" to discover everything Buddy Punch has to offer your workforce.
Should you have any specific questions, don't hesitate to reach out to our team directly.
You can book a one-on-one personalized demo here.
Buddy Punch Makes Time Entries Easy For Employees At Your Ski Resort
Here are just some of the features available to Buddy Punch users:
Buddy Punch's Online Reviews
Buddy Punch's user reviews highlight the immense benefits of this platform. As of the writing date, Buddy Punch has 4.8 out of 5 stars and 872 reviews on Capterra.
Below, we'll list just a few reviews that speak to Buddy Punch's ease of use and great customer support service. (Click here to explore the full list of reviews.)
As reviewers have noted, Buddy Punch provides team leaders and project managers with the necessary tools to streamline timekeeping and monitor labor costs:
"It's easy to clock in or clock out. The timesheet to keep track of your hours."
Click here to read the full review.
"I can punch on my phone (which I do mostly). Easy to make corrections wherever I am. Also simple to use on the computer as well."
Click here to read the full review.
"I like the ease of use and flexibility of Buddy Punch. You can add features you want and don't have to be bogged down with what you don't want to use. Some sites have way too much. I wanted simple!"
Click here to read the full review.
"Cannot say enough about their support. Even if the product was not as amazing as it is, I would highly recommend Buddy Punch due to the unbelievable support!"
Click here to read the full review.
Try Buddy Punch for Free
If you feel that Buddy Punch might be the right fit for your business, sign up for a free trial. You can also book a one-on-one demo, or view a pre-recorded demo video.
2. QuickBooks Time
QuickBooks Time offers an efficient clock punching solution, effortlessly integrating with your preferred payroll provider.
While it naturally pairs with QuickBooks' own accounting software, it can also smoothly connect with various third-party solutions.
If QuickBooks is already your accounting choice, this could be an ideal fit.
It's a great timesheet app for Android and iPhone, and at the time of writing, QuickBooks Time has 4.7 out of 5 stars and 6,510 reviews on Capterra.
QuickBooks Time (formerly TSheets) has features that include but are not limited to:
"I loved the way that it was not difficult to make proposition and solicitation, as well as charging over recommendations into solicitation. It likewise made it simple for me to add credit card payments."
Click here to read the full review.
3. TimeCamp
With a focus on effortless time tracking, TimeCamp ensures swift report generation and consistent oversight of employee progress at your ski resort.
It provides business owners and team leaders in your organization with all the essential tools to simplify work hours tracking.
At the time of writing, TimeCamp has a total of 588 reviews on Capterra, with an average of 4.7 out of 5 stars. TimeCamp offers a full range of practical features for teams:
"Integrating TimeCamp with my business took a few minutes in the beginning. I had to update keywords over a few days to make it a perfect custom fit. Every time I have a new client, I add new keywords – the whole process takes less than a minute."
Click here to read the full review.
Try Buddy Punch for Free
If you feel that Buddy Punch could be the right fit for your business, sign up for a free trial. You can also book a one-on-one demo, or view a pre-recorded demo video.
You May Also Like…