Online Time Clock for Funeral Home Options (5 Best)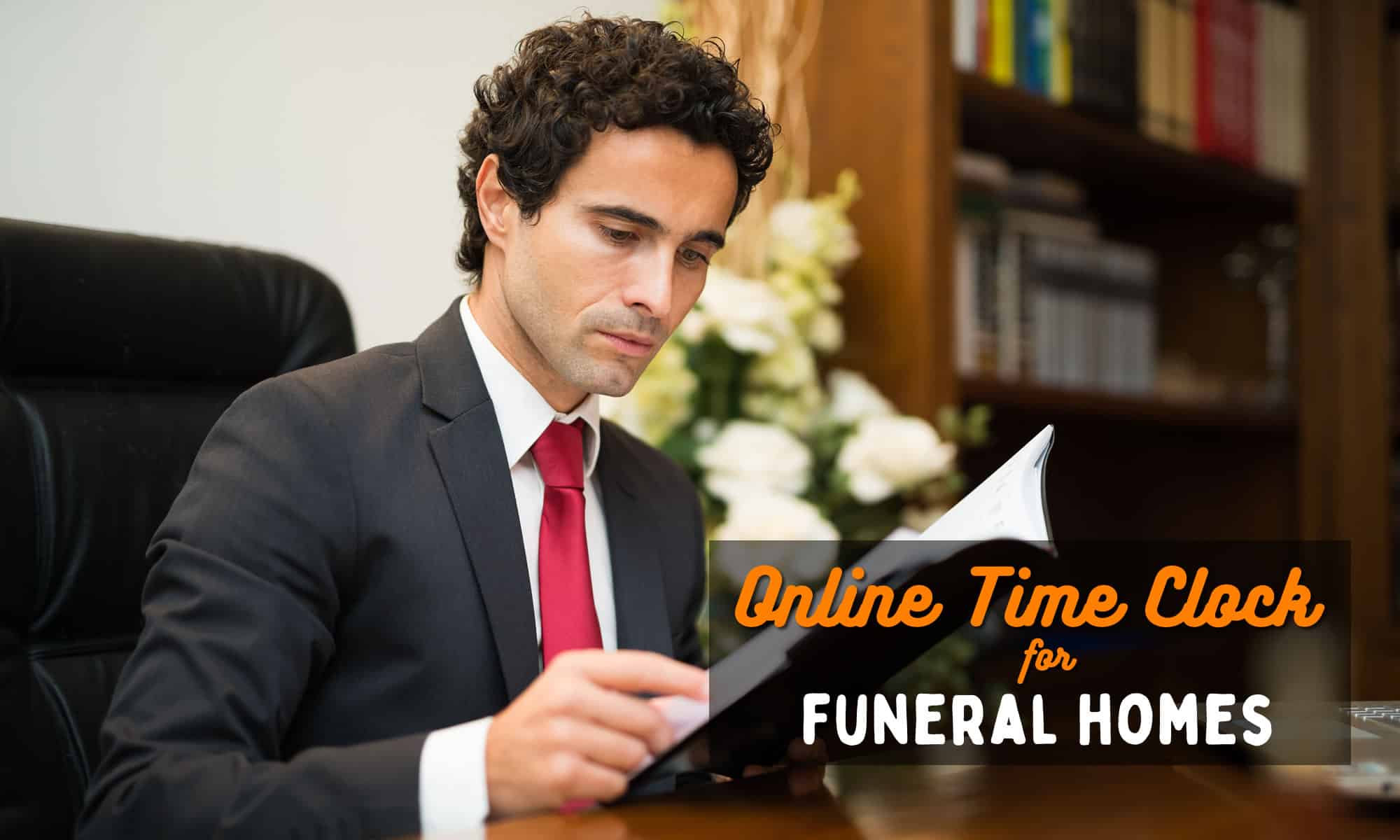 More than most other businesses, workers in the funeral service industry must be able to make the most of their time on the clock to ensure that family members are consoled and made comfortable in their time of need. This can be a problem when they have to juggle this task, which will vary wildly depending on individuals and how they felt about their lost loved one, against completing other burial services (arranging floral offerings and lights, offering cremation services, issuing and maintaining funeral equipment, etc.)
If you want to ensure that your employees are effectively dividing their time between giving condolences and providing grief support to get clients through this difficult time, while also not failing to provide the other memorial services that your business relies on, then time clock software is the solution for you.
However, it's important to note that not all time tracking options were created equally. Some are so overloaded with features that it'll be difficult for your employees to make use of them while seeing to any immediate needs that arise. Others are complicated enough that it'll take pre-planning and training for your team to get used to using them.
What we've done is curated a list of 5 time clocks that could be used in funeral homes without any great difficulty for your employees, so they can stay on task without being distracted by fiddling around with software. We've created this list based on features offered, client testimonials, and ease of use. Hopefully, by the end of it you'll have found a time clock that works great for funeral directors.
Online Time Clock for Funeral Home Options
Starting off our list is our very own software, which we developed as we realized that we had become too reliant on manual methods of time tracking and were losing productivity and profitability by not upgrading to digital methods of promoting employee accountability.
With features like Job Codes, Managers Delegation, Notifications, Overtime Calculations, PTO Management, Customizable Reports, Android & iOS Native Apps, Punch Rounding and more Buddy Punch is a time clock funeral homes can benefit from.
Let's prove that, by exploring deeper into how exactly each of these functions can help your business.
Note, if you'd rather try out Buddy Punch yourself, you can start a 14-day free trial by clicking here.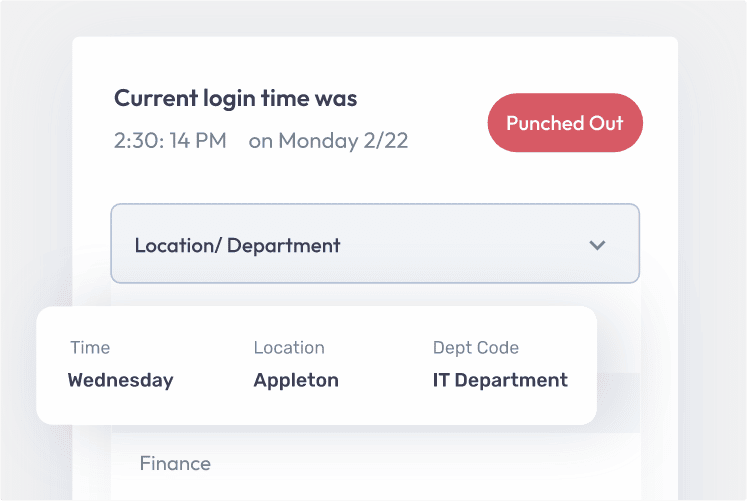 The Job Codes feature is great for getting more transparency on the inner workings of your business. With this, employees will clock into individual tasks and can swap between them as they get work done (such as having a code for sending invites to Celebrations of Life, a code for updating obituary notifications, and a code for setting times for public visitation – if allowed at all.)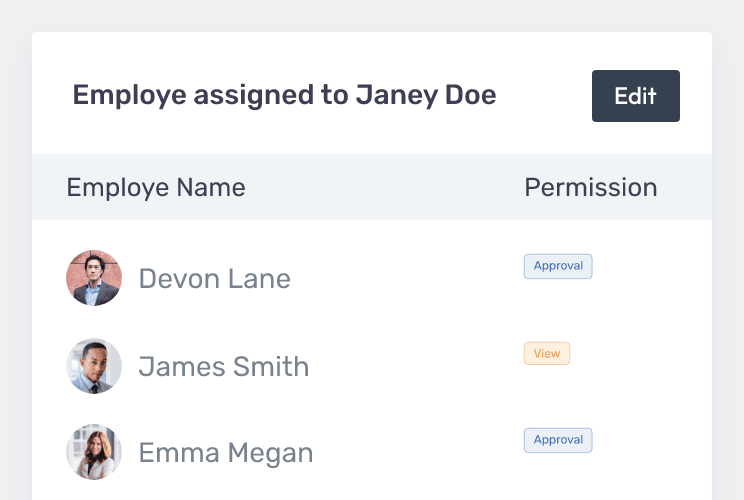 Whether or not you actually have managers at your funeral home (maybe it's more of a family business that doesn't make such distinctions) you can use Buddy Punch to elevate some of your employees over the others, which allows them to take over certain tasks. There are two powers you can grant through this: "View" and "Approval".
With "View", your managers will be able to see other employee timesheets to see what they're spending their time on (Seeing to customers, looking up that rival funeral home on Peck St, Muskegon, Michigan, etc.) With "Approval", Managers will be able to completely edit an employee's information and work hours.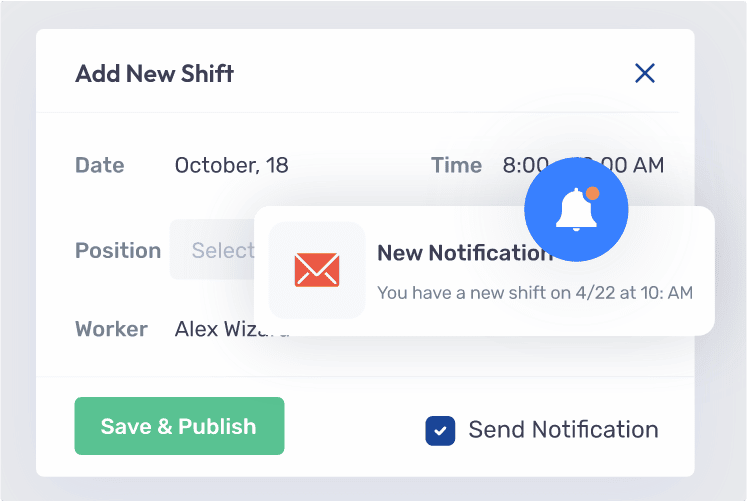 Buddy Punch offers many built-in notifications that help both you and your administrators as well as your employees stay on task. It's much easier to focus on work when you know that anything important is happening (such as punch changes, time card approval status changes, PTO changes, approaching overtime, and more).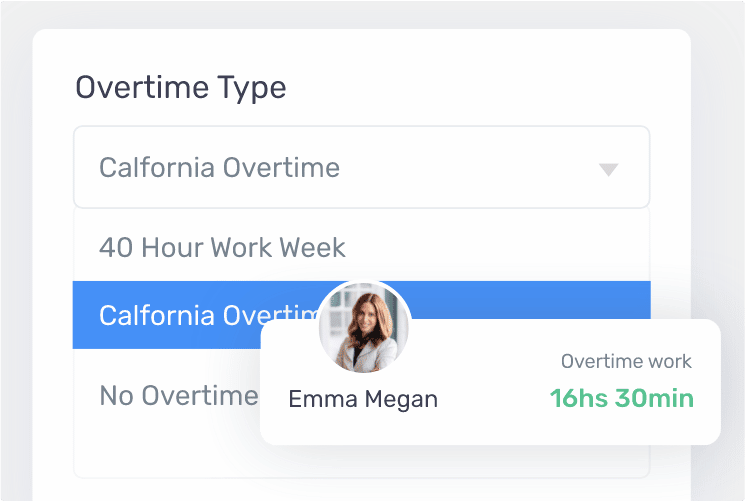 You can select from more than a dozen different overtime types to determine how your overtime pay is calculated. If you need a different type of overtime added for your funeral home employees, don't hesitate to reach out to us and we'll get it added ASAP. This feature completely manages calculations for regular, overtime, and double overtime for you.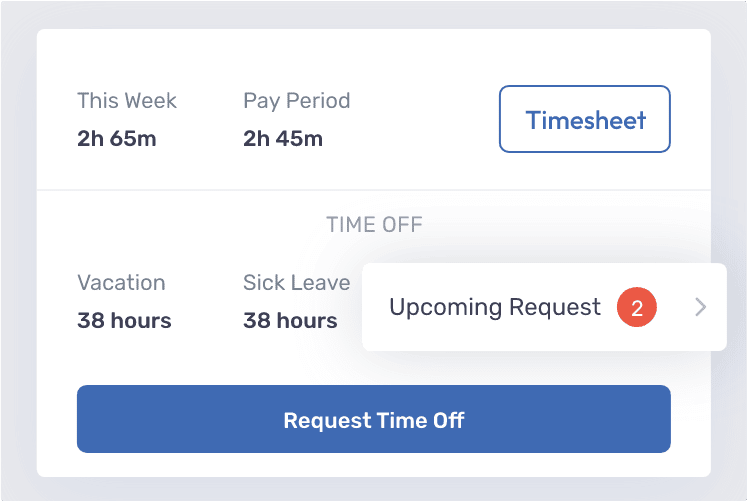 Buddy Punch's Paid Time Off Management has the most common types of leave (sick time, vacation days, holiday leave, etc.) but also lets you create custom PTO types at will.
And it gets even better. You can enable a self-service approach to PTO through Buddy Punch. With this option turned on, your employees will be automatically approved any time off they request without you having to manually approve or deny it. Spend less time managing sick time, more time procuring coffins or optimizing costs so you can provide more affordable funeral services.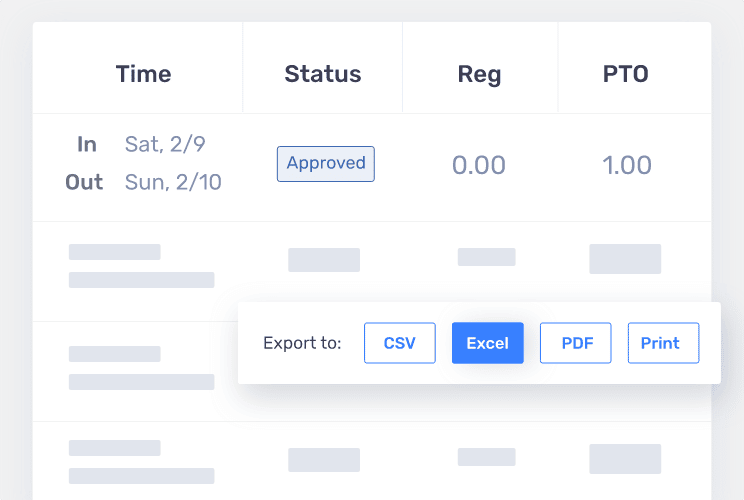 Buddy Punch can generate numerous customizable reports to meet your various needs for data, analysis, and making informed decisions for the good of your funeral home. Payroll Exports, Hours Summaries, Employees details and more, you can export these reports as Excel CSVs or Adobe PDFs depending on your preferences.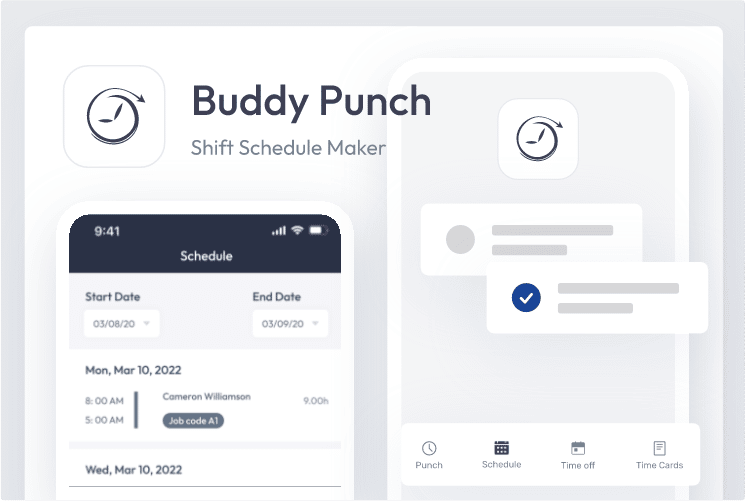 Buddy Punch isn't tied to any desktop or website – we've created smartphone apps for iOS and Android, which means your employees can access all of Buddy Punch's features on their phones. Buddy Punch works on all devices so long as you have an internet connection.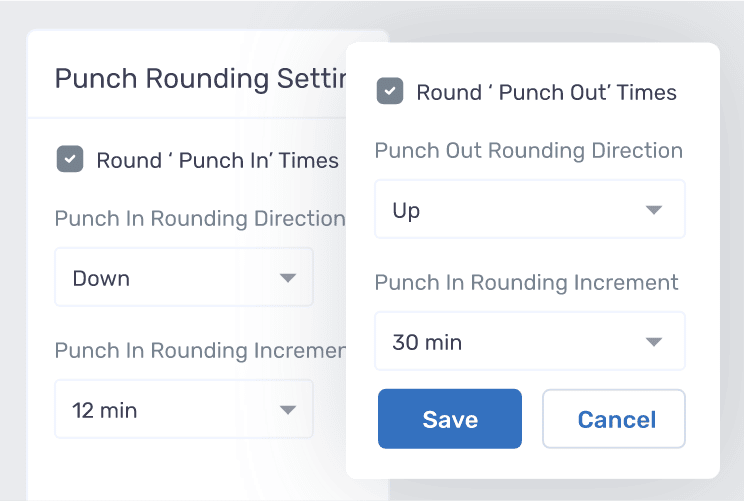 Buddy Punch's Punch Rounding allows your funeral employees' punches to be automatically rounded up, down, or to the nearest interval (anywhere form 2 minutes to 30 minutes). This is an excellent feature to make use of if you've set up Buddy Punch as a kiosk.
Buddy Punch Has More to Offer Funeral Home Owners
So far, we've only touched on a few select features that come with our program. Consider how others could benefit your business, such as:
We also have a help doc center with useful articles and videos on how to utilize Buddy Punch, a blog section that's updated with software comparisons and strategies for workforce management, and a support desk where you can get in touch with our team to answers questions via live chat.
Buddy Punch's Online Reviews
As of this post's writing date, Buddy Punch has 4.8 out of 5 stars and 724 reviews on Capterra.

Let's dive into some specific reviews to see what users have to say about Buddy Punch's impact on their business operations. (Click here to explore the full list of reviews.)
"The ability to control what employees are able todo like adding time that was forgotten some employees require an approval so i am able to confirm they're where bouts prior to approval. Its very easy for me to go in and add or fix employees time. "

Click here to read the full review.
"It has a very simple interface, easy to punch in and out as well as check timecards. I think both the desktop version and the smartphone version were well-designed. It doesn't try to do too much and make things complicated, since the main purpose is just to clock in and out, and it efficiently allows the user to do exactly that."

Click here to read the full review.
"Turns out its preetttyyy gooood. Was looking for an app that helped manage employee punching in/out for small businesses and did a bunch of trials before finding BuddyPunch. The other apps that I found were often not what I was looking for or did not have a focus on employee punch-in/outs. "

Click here to read the full review.
"This was so user friendly and easy to navigate. It is very affordable and breaks the individuals hours down to a report that I could merge with our payroll provider. Also you can put in the job address so the employee has to be on-site to clock-in or out."

Click here to read the full review.
As these reviewers noted, Buddy Punch is simple yet empowering for both employers and employees.

Try Buddy Punch for Free
If you feel that Buddy Punch might be the right fit for your funeral home, sign up for a 14-day free trial. You can also book a one-on-one demo, or view a pre-recorded demo video.
OnTheClock is a time tracking software that caters to small businesses, providing features such as:
As of the writing date, OnTheClock has 4.7 out of 5 stars and 516 reviews on Capterra.
"It provides many different ways of keeping track of employees. Its user friendly for our employees, and does not required a highly skills in computer. It provides accurate information at the time of keeping control of overtime, vacation hours, sick and personal tme. It will let you know who is in, and out at any time of the day."

Click here to read the full review.
Sling is a time tracker that makes scheduling your funeral home workers easy with features including:
Sling has a rating of 4.6 out of 5, based on 114 reviews (see here on Capterra).
"Very easy to use, lots of view options and adjustments, fairly clean interface, amazing features for free. Amazing that you can drag and drop, use keyboard shortcuts to copy shifts. UI is fairly full featured! Mobile apps are great, notifications are amazing."

(See the full review here.)
ZoomShift is a work schedule maker with features such as:
As of this post's writing, ZoomShift has 94 reviews and 4.5 out of 5 stars on Capterra.
"When we went from one employee to three, I was looking for an easy and scalable tool that would continue to work for us as we grew. Zoomshift offers exactly what we needed! My favorite features are the Google Calendar integration option, the ability to set shift preferences, and the ease of time off requests. This has been a huge timesaver for me."

Click here to read the full review.
Connecteam is an all-in-one solution for managing your employees, that comes with features including (but not limited to):
As of the writing date, Connecteam has 4.8 out of 5 stars and 204 reviews on Capterra.
"It's simple enough that it's not overwhelming in the way some platforms like Zoho can be, especially if you are a business owner who is setting it up yourself, but there are still enough options to allow you to do almost anything with it– and they're adding new features almost weekly. By far, however, I've been most impressed with their IT support."

Click here to read the full review.
Choosing The Best Online Time Clock for Funeral Homes
Though we narrowed down the list of potential time clocks from infinite to 5, funeral home owners will still have to do some vetting to select a software that works best for their purposes from this list. Thankfully, taking a close look at the features and mission of the developers can help.
For example, if you're a fan of using checklists and forms to keep employees organized, Connecteam has that option built in. If you want to use in-app communication to connect with your employees and let your team message each other, Sling has such a feature.
Otherwise, if all you're looking for is a powerful time clock software for funeral homes that will let you enable or disable strong features at will (in some cases on a per-employee basis), an easy to use design that means your team can start using it immediately, and a helpful customer support team to help with any issues, you might want to give Buddy Punch another look.
Try Buddy Punch for Free
If you feel that Buddy Punch could be the right fit for your funeral home business, sign up for a free trial. You can also book a one-on-one demo, or view a pre-recorded demo video.
You May Also Like…