Online Time Clock For Fitness Centers (5 Options)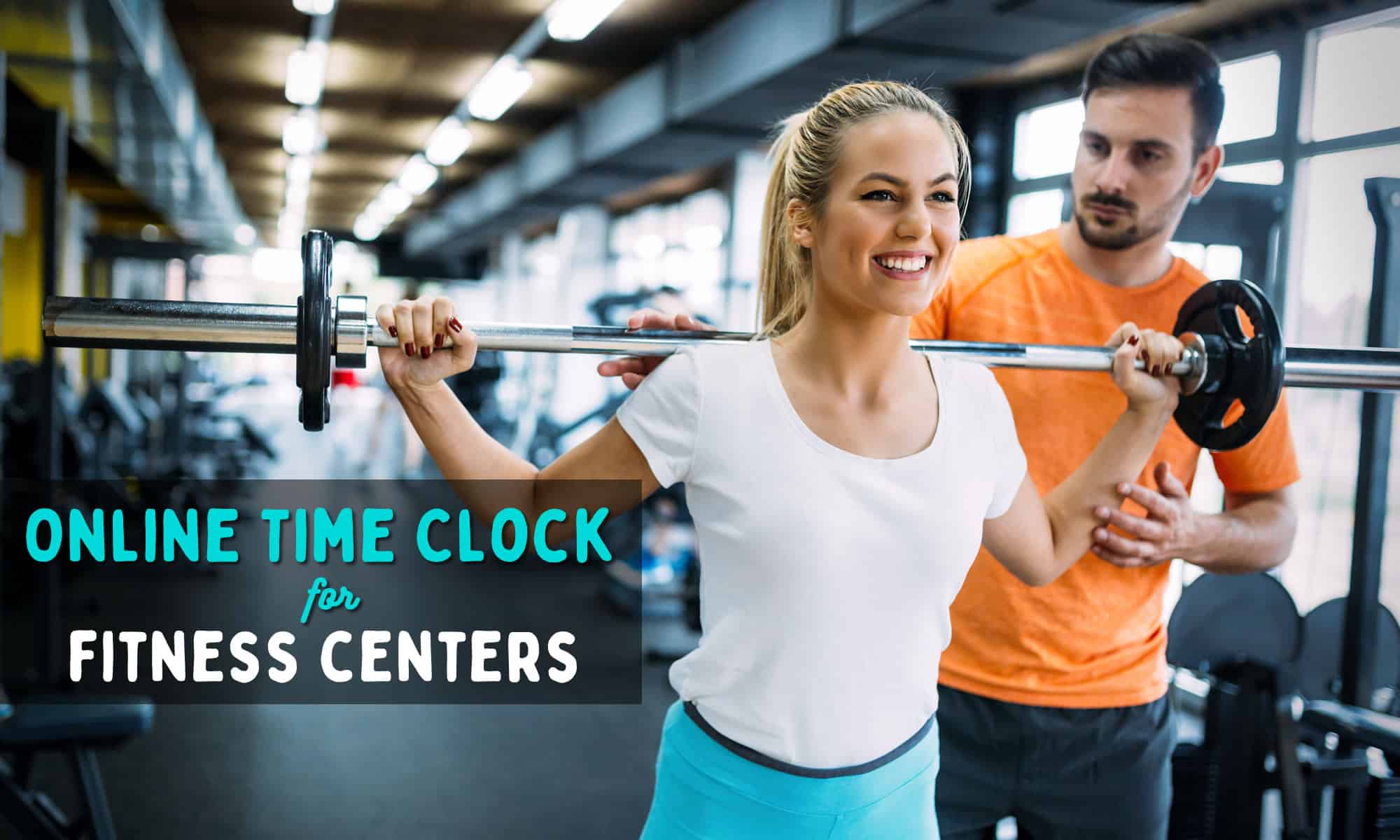 Are you looking for an online time clock system that supports the needs of fitness centers? We are ready to provide you with an overview of five different time tracking tools for you to consider. Each time tracking solution offers a full range of useful features for fitness centers and gyms. If you want to improve time management across your workforce, these systems are the answer.
A fitness center manager should look for the following key features in a time tracking tool:
Broad employee monitoring capabilities
GPS location tracking solutions
Task and project management solutions
Timesheet fraud detection
These are just some of the features you should expect from an effective time tracking solution.
Online Time Clock For Fitness Centers
1. Buddy Punch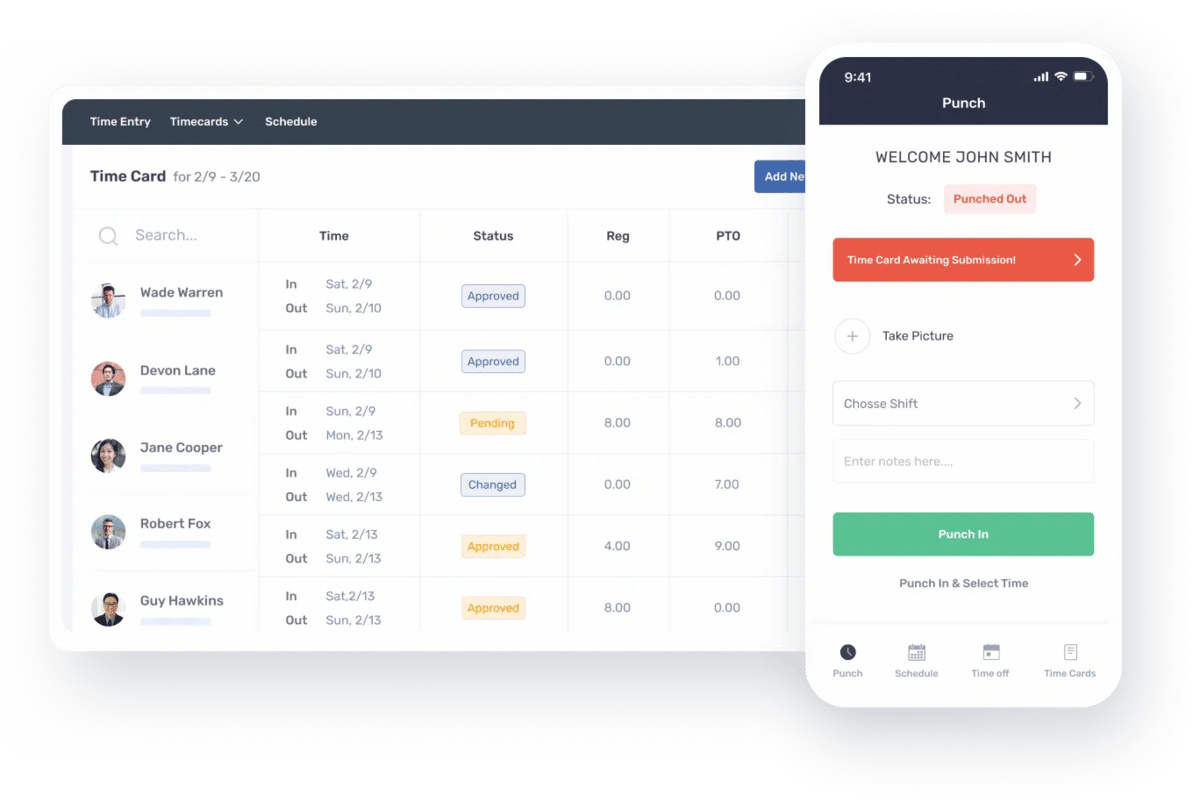 Buddy Punch's easy-to-use time tracking system is designed to ensure that your fitness center or gym stays on track even during the busiest periods. This cloud-based solution offers features such as GPS tracking, mobile app access, and detailed reporting capabilities. You can integrate Buddy Punch with several of the most popular accounting software programs available today.
How Buddy Punch's Time Tracking Software Works
Employees at your fitness center can clock in and out with ease using Buddy Punch. The platform even enables team members to complete time entries from mobile devices. If your team needs access to a solution that's capable of accelerating the time tracking process, you should get your hands on Buddy Punch and take the platform for a test drive.
Let's dive deeper into the immense capabilities of Buddy Punch.
Guarantee Fitness & Gym Employees Receive Their Paycheck Promptly
When it comes to making sure your fitness or gym staff are paid accurately and on time, Buddy Punch ensures you have a range of useful tools at your disposal. The time tracking system generates detailed reports that show the number of hours worked by each employee. This helps make sure that you are paying your employees correctly and avoid any costly payroll mistakes.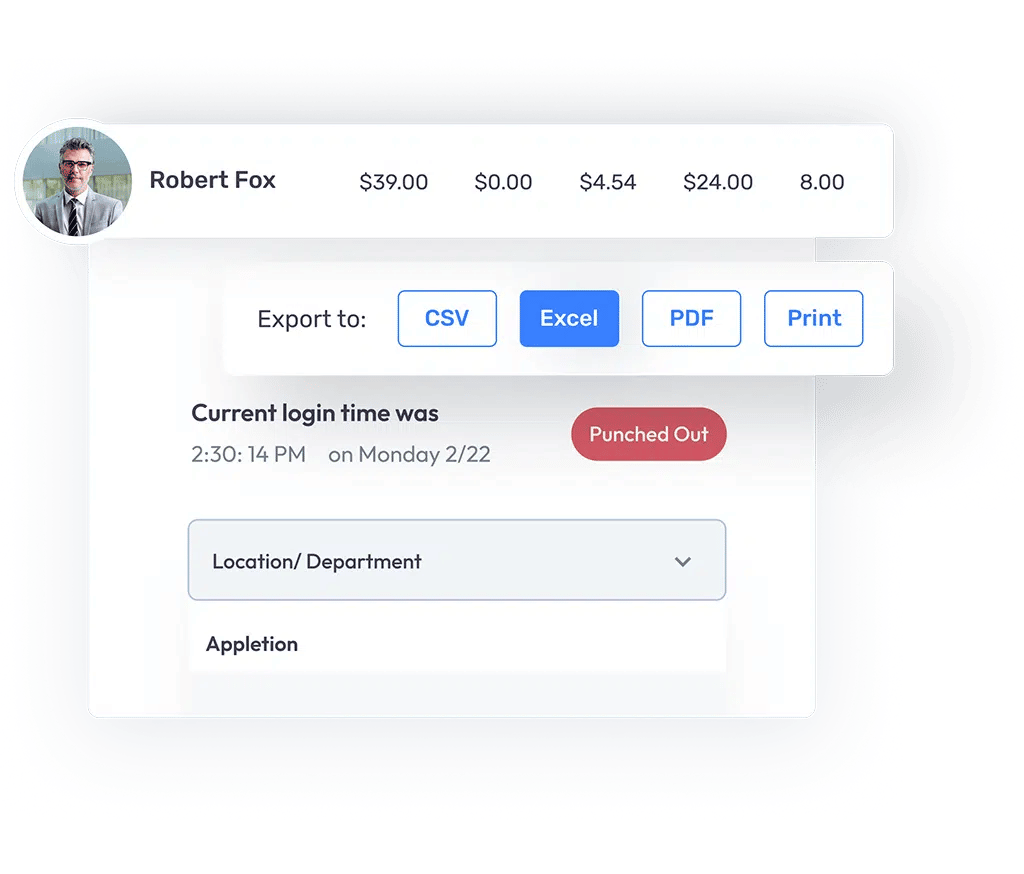 Feed Data To Your Go-To Payroll Processor
Unexpected payroll delays can negatively impact your fitness center's operations and even affect employee morale. Fortunately, Buddy Punch offers seamless integration with popular accounting software like QuickBooks Online and Xero – enabling you to feed data from the platform directly into your payroll processor, so everyone receives their paychecks on time.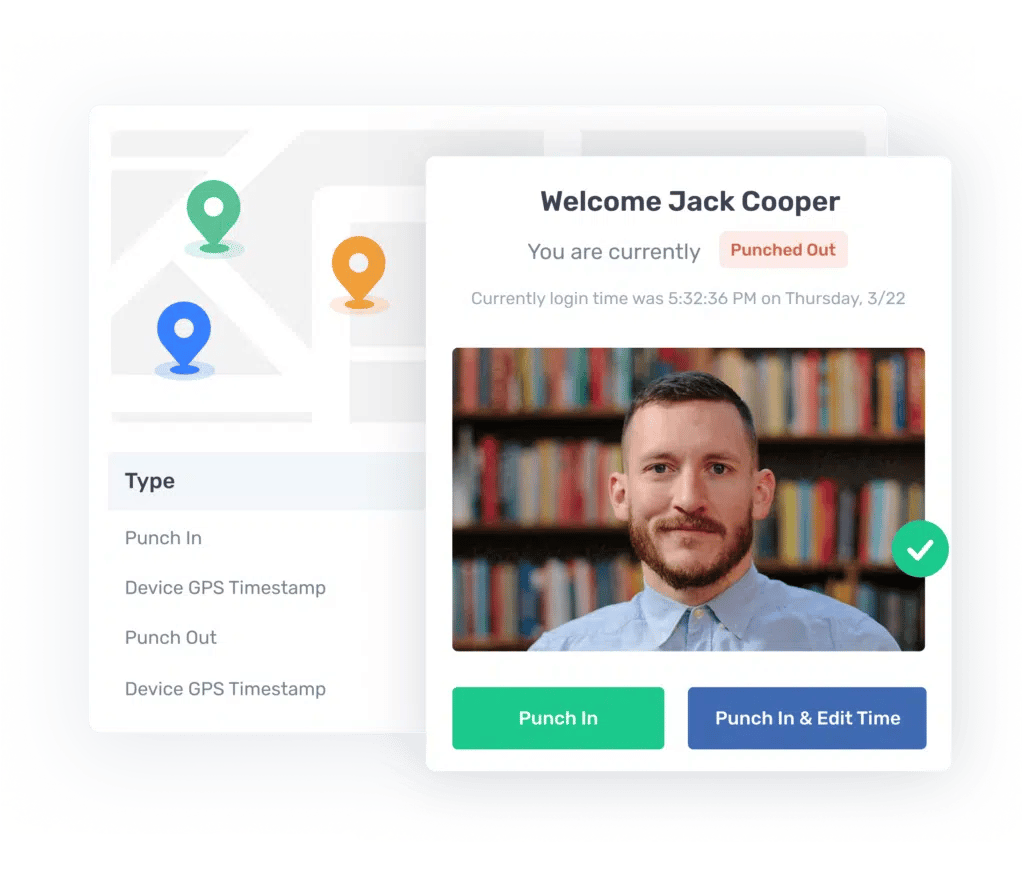 Eliminate Stressful Team Management Issues
Nobody wants to deal with the stresses of team management at a fitness center or gym. With Buddy Punch, you can easily keep track of employee time and attendance. The GPS location feature allows you to verify that employees are clocking in and out from where they claim. This feature also helps ensure you have accurate records of when they start and finish their shifts. You can also use employee scheduling capabilities to easily manage team workloads.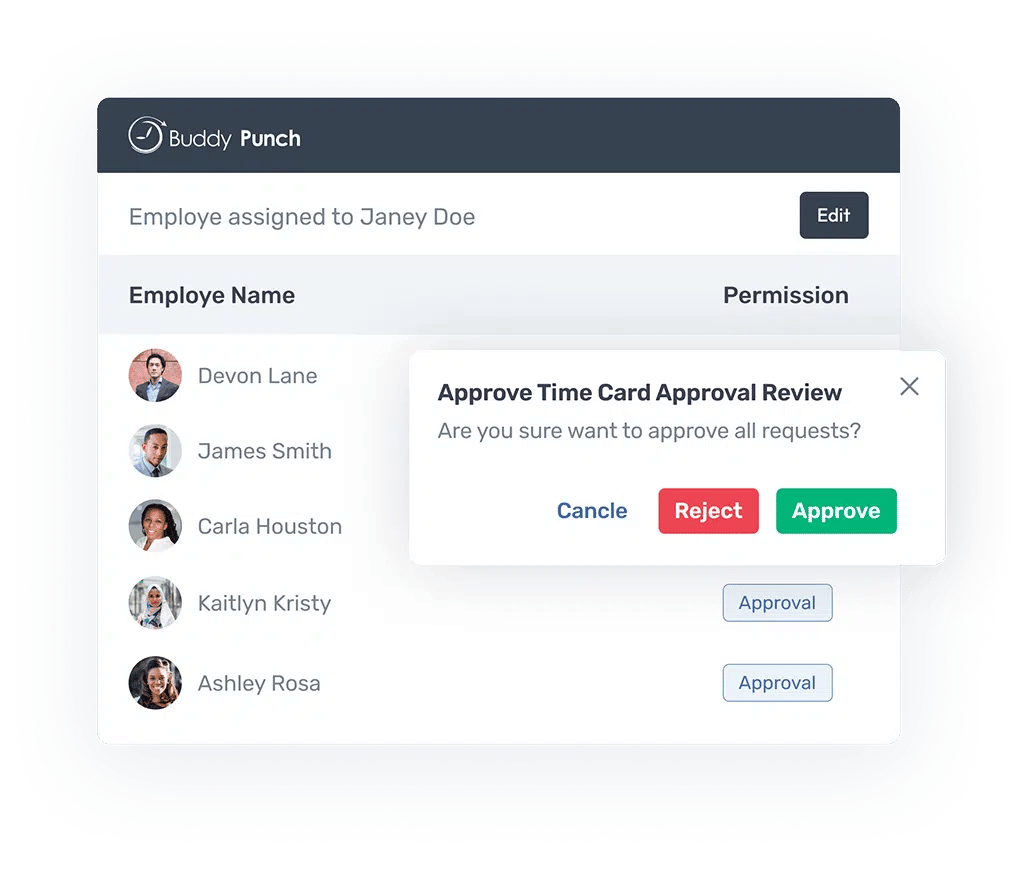 Maximize Gym & Fitness Team Performance
Ineffective team management at your gym or fitness center can cause many issues that could impact team performance. With Buddy Punch, you can monitor employee activity and ensure that everyone is doing their work properly. This will enable you to identify any areas where employees are struggling and take appropriate action to resolve any problems.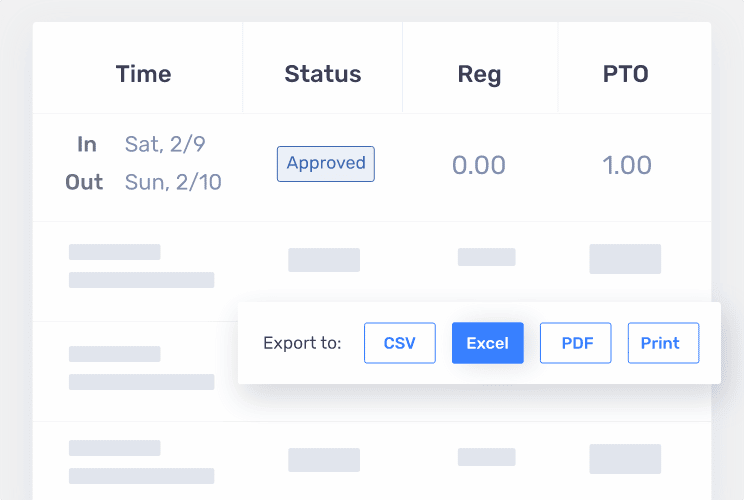 Upon signing up for Buddy Punch's time tracking platform, we recommend taking a quick browse through our "Knowledge Base" – which includes plenty of information on how you can unlock maximum value from Buddy Punch and hit the ground running.
If you have any further questions, you can always reach out to us directly at any time.
You can book a one-on-one personalized demo here.
Buddy Punch Is Well-Suited To Fitness Centers & Gyms
Here are just some of the features available across the desktop and mobile app:
Buddy Punch's Online Reviews
The user reviews are outstanding! As of the writing date, Buddy Punch has 4.8 out of 5 stars and 766 reviews on Capterra.

Below, we'll list just a few reviews that speak to Buddy Punch's ease of use and great customer support service. (Click here to explore the full list of reviews.)
As reviewers have noted, Buddy Punch provides team leaders and project managers with the necessary tools to promote team accountability:
"Cannot say enough about their support. Even if the product was not as amazing as it is, I would highly recommend Buddy Punch due to the unbelievable support!"

Click here to read the full review.
"Buddy Punch is easy to use and even easier to understand as a user. Time track makes sense, and edits are made easy to submit."

Click here to read the full review.
"The ease of this software helps me post schedules quickly. I have three businesses and staff that float between all. The color coding system helps me see what employee or department needs attention."

Click here to read the full review.
"I like the ease of use and flexibility of Buddy Punch. You can add features you want and don't have to be bogged down with what you don't want to use. Some sites have way too much. I wanted simple!"

Click here to read the full review.
Try Buddy Punch for Free
If you feel that Buddy Punch might be the right fit for your business, sign up for a free trial. You can also book a one-on-one demo, or view a pre-recorded demo video.
2. When I Work
When I Work is a popular time tracking platform that provides fitness centers and gym teams with the necessary features to fast-track workforce timesheet collections and streamline payroll processing. If you can harness the potential of this platform, you will inevitably accelerate team productivity and enable team members to stay focused on the tasks that matter at the center.
At the time of writing, When I Work has a total of 989 reviews on Capterra, with an average of 4.5 out of 5 stars. When I Work comes with a range of useful functionalities:
"When I Work allows me to schedule shifts faster, track my own time easier, and communicate when I'm on the clock to my supervisor and other colleagues. I particularly like that this app saves us time on scheduling and improves productivity & accountability amongst our coworkers."

Click here to read the full review.
3. QuickBooks Time
QuickBooks Time is packed with the necessary tools and features required to support gyms and fitness centers in their efforts to streamline payroll processing. Whether you are a duty manager, team leader, or general manager, QuickBooks Time will support you in collecting accurate timesheet data from all employees as they clock in and out each day.
It's a great timesheet app for Android and iPhone, and at the time of writing, QuickBooks Time has 4.7 out of 5 stars and 5,986 reviews on Capterra.
QuickBooks Time (formerly TSheets) has features that include but are not limited to:
"Its easy, accessible, user friendly, educational and transparent. You get your information quickly. All reportsare available quickly. It is complete for small business. I introduced several persons to QuickBooks who found it informative and interesting."

Click here to read the full review.
4. Hubstaff
Hubstaff is another useful time tracking system that can successfully meet the needs of fitness centers and gyms. The platform includes a range of useful features, including automated payroll and invoices. You can also use GPS location tracking to see where your employees are clocking in from. This is ideal if you have multiple fitness centers or gyms in the local area.
As of the writing date, Hubstaff has 4.6 out of 5 stars and 1,319 reviews on Capterra. Hubstaff offers a range of functionalities, some of which include:
"Hubstaff is great software for the time tracking. I am just a user but when comparing it to other time- tracking software I've used in the past, Hubstaff is less complicated and easy to handle/manage, especially when it comes to adjusting time. It can be intimating at first, but using it on a daily basis proved to be easy."

Click here to read the full review.
5. Insightful
As a cloud-based time tracking system, Insightful can help centralize all employee attendance and performance data. With everything in one place, you can make informed decisions on how to manage the team at your fitness center. From automatic time mapping to employee monitoring, Insightful fires on all cylinders as a platform for team management.
At the time of writing, Insightful has a total of 79 reviews on Capterra, with an average of 4.7 out of 5 stars. Insightful lives up to its name by offering several useful features:
"We got standardized metrics for all our time spent on projects and we can analyze costs of projects compared with revenue per project. A while ago we were calculating all this on our own, but it wasn't that precise and we stopped doing it since it was time-consuming, but now we have it all out of the box."

Click here to read the full review.
Try Buddy Punch for Free
If you feel that Buddy Punch could be the right fit for your business, sign up for a free trial. You can also book a one-on-one demo, or view a pre-recorded demo video.
You May Also Like…