Payroll Tracker App (3 Options)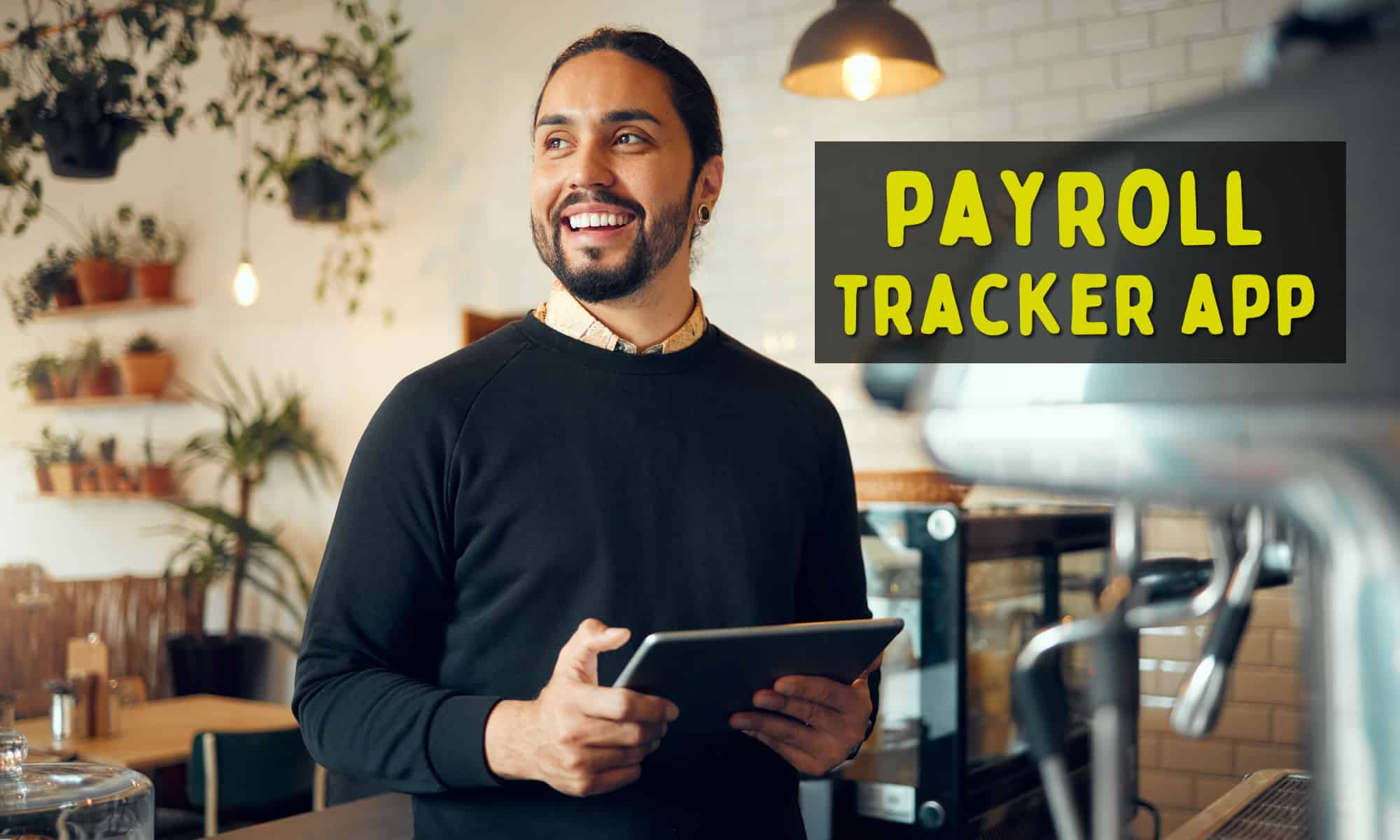 What is the best payroll tracker app on the market? You should consider Buddy Punch.
Here are the key benefits of Buddy Punch's platform for small business owners:
Buddy Punch offers an integrated solution, making it easy to abandon cumbersome software integrations.
With this platform, businesses can fully automate and simplify their payroll process.
While Buddy Punch is the ideal solution for those in search of a payroll tracker app that's available on iOS and Android, other payroll applications also exist.
However, the comprehensive features and benefits of Buddy Punch make it stand out.
Best Payroll Tracker App
1. Buddy Punch
Buddy Punch's full-service payroll system can track the following:
Group Life Term
Reimbursements
Non-Hourly Regular
Paycheck Tips
Bonuses
Commissions
Cash Tips
Severance
Buddy Punch's intuitive time tracking software simplifies how you record work hours and billable time across your workforce.
With just a few clicks, our desktop app – compatible with both Mac and Windows – allows freelancers and employees on teams to clock in and out, capturing accurate time entries.
Buddy Punch stands out with a range of time tracking features, making it a comprehensive time tracking solution.
Numerous key features, integrated directly into this employee time tracking app, ensure a transparent workflow.
Here are just a few pivotal features that our users love:
GPS location and geofencing features provide real-time data on where employees clock out or begin their work time.
The hours tracker offers a holistic view of both employee hours and billable hours.
Facial recognition enhances the authenticity of employee timesheets.
Screenshots and manual time options support freelancers by offering detailed proof of work.
PTO management tools streamline leave tracking, ensuring no time theft occurs.
Detailed time reports can be exported as CSV or Excel, offering flexibility in how you analyze data.
Buddy Punch is adaptable, offering customizable templates for varied business needs, ensuring it's more than just a time clock app.
With unlimited users, this platform is perfect for both individual freelancers and larger teams. Our mobile devices support means employees can log their time entries on the go.
For those seeking comparisons, resources on our website delve deep into how Buddy Punch measures up against competitors like Hubstaff or Clockify.
How Buddy Punch's Payroll Platform Works
Buddy Punch, with its advanced tracking systems, provides an edge when it comes to time management.
It not only helps businesses track time effectively but ensures accuracy in time off calculations, with prompt notifications to alert stakeholders.
The platform's detailed insights on labor costs against hourly rates can be invaluable for businesses keen on gauging profitability.
The platform collates employee data to facilitate quick, effective, and accurate decision-making.
It offers a comprehensive overview, from time card entries to GPS tracking for workers on the go, especially those stationed at different job sites.
Say "Goodbye" To HR Support With Self-Setup
The self-setup feature ensures that Buddy Punch integrates smoothly with platforms like QuickBooks Time, thus eliminating the typical 3-7 day setup time.
Functioning like an employee portal, Buddy Punch enhances the team management experience.
Employees can use the portal to not only view their pay stubs, W2s, or 1099 forms but also to access their time tracking tool logs.
Automate Requests With In-Built HR Tools
Give your team increased autonomy, with more control over hours, time off requests, and access to detailed reports.
This shift minimizes the dependency on HR, fostering a more efficient system.
Whether you're analyzing profitability based on labor costs or keeping tabs on hourly rates, Buddy Punch's in-built HR tools are equipped to handle all.
When It Comes To Payroll, Buddy Punch Meets Business Needs
Whether you are a small business or a large organization, Buddy Punch's comprehensive team management tools are designed to meet your needs.
Not only does the platform offer time-tracking capabilities but the added advantage of GPS tracking ensures you always have a real-time update on your team, especially if employees are scattered across multiple job sites.
The supporting mobile app adds to the convenience offered by the platform, giving team members the flexibility to clock in and out as per their convenience, anytime, anywhere.
We recommend taking the time to browse through the useful resources on our website.
These are designed to help you unlock plenty of value from the platform.
Discover how Buddy Punch can revolutionize your timekeeping and employee productivity.
You can book a one-on-one personalized demo here.
Buddy Punch Is The Best Payroll Tracker App
Here are some links to useful information on some of Buddy Punch's most popular features:
Buddy Punch's Online Reviews
The user reviews are glowing! As of the writing date, Buddy Punch has 4.8 out of 5 stars and 865 reviews on Capterra.
Below, we'll list just a few reviews that speak to Buddy Punch's ease of use and great customer support service. (Click here to explore the full list of reviews.)
"Cannot say enough about their support. Even if the product was not as amazing as it is, I would highly recommend Buddy Punch due to the unbelievable support!"
Click here to read the full review.
"Buddy punch was super easy to set up, once the employees are added to the system. Week to week operations are a breeze."
Click here to read the full review.
"Customer service is exceptional and quick. Admin is very easy and user friendly."
Click here to read the full review.
"It is user-friendly. I am new to the company and new to using Buddy Punch and it was easy to use as a beginner. I have never encountered any problems with it as well."
Click here to read the full review.
Try Buddy Punch for Free
If you feel that Buddy Punch might be the right fit for your business, sign up for a free trial. You can also book a one-on-one demo, or view a pre-recorded demo video.
2. TimeCamp
TimeCamp stands as a comprehensive time tracking and payroll platform.
It is equipped with features that range from invoicing to progress monitoring.
The platform not only offers insights into the time employees dedicate to specific tasks but also provides essential tools for workforce management.
Whether it's approving timesheets or monitoring attendance, TimeCamp encompasses everything needed for effective control and oversight.
At the time of writing, TimeCamp has a total of 587 reviews on Capterra, with an average of 4.7 out of 5 stars. TimeCamp comes packed with a range of useful features:
"As an office manager, it's very easy to teach our employees how to use TimeCamp and it's also very easy to export the timesheets into an Excel file. Overall a very easy and flexible tool to work with."
Click here to read the full review.
3. When I Work
Designed specifically for small to medium-sized businesses, When I Work is a cloud-based management software.
Competitively priced and with easy onboarding, this platform streamlines payroll management.
Employees can quickly log their time and submit entries for immediate payroll processing.
The efficiency of the payroll services is something that HR managers particularly value.
At the time of writing, When I Work has a total of 1,038 reviews on Capterra, with an average of 4.5 out of 5 stars. When I Work comes with a range of useful functionalities:
"Overall, When I Work is a great time tracking solution. It works well, and the report outputs are easy to work with when running payroll. The only thing that could improve is that the sync feature would work with Quickbooks simple start and essentials. Currently the sync function only works with QuickBooks plus and above, and not all my clients have a plus level subscription, adding manual entry for payroll."
Click here to read the full review.
Try Buddy Punch for Free
If you feel that Buddy Punch could be the right fit for your business, sign up for a free trial. You can also book a one-on-one demo, or view a pre-recorded demo video.
You May Also Like…