Rounding Time for Payroll (Rules and Methods)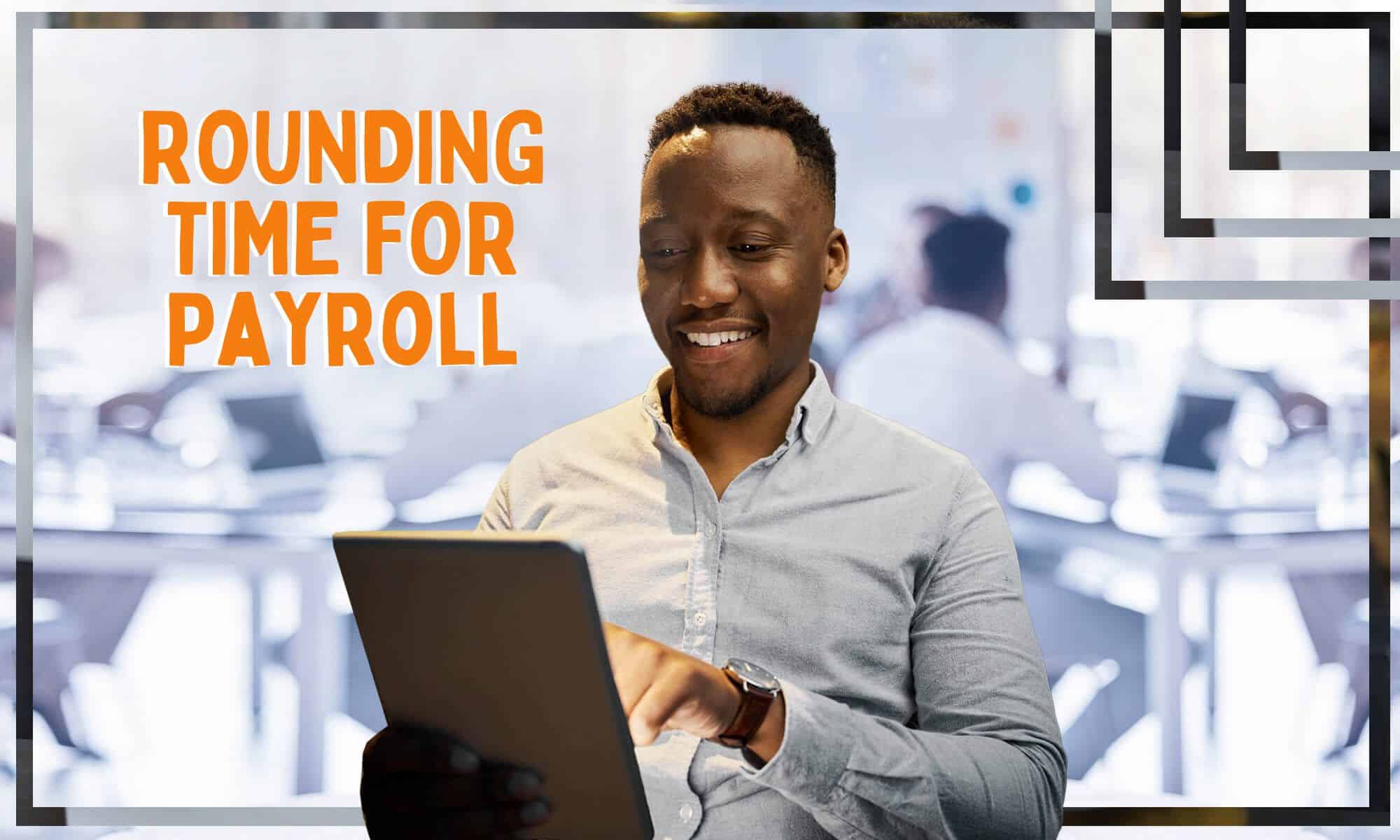 When it comes to rounding time for payroll — and overall tracking employee time and running payroll calculations — you have two broad options to choose from:
1. Manually Tracking Employees' Timesheets
This involves physical timecards or spreadsheets. With this method, you need to round time for each employee manually. This is simply a pain and can lead to costly payroll mistakes.
Plus, if you're manually rounding time, you're likely also dealing with these issues:
Inefficient payroll processes. Recording accurate work times without software (such as in a spreadsheet or using paper timecards) is time-consuming and tedious. Plus, relying on manual processes adversely affects scalability and growth.
Inaccurate record keeping: You need to double check and triple check your payroll records, and even then you could still make keystroke errors.
Lack of accountability: You may have no way to reduce time theft, like employees claiming they clocked in earlier than they did to get overtime pay. Or you may run into these common human errors: forgetting to clock in, forgetting to clock out from lunch, forgetting to clock back in from lunch, forgetting to punch out at the end of a shift.
Lack of compliance with the Department of Labor and Fair Labor Standards Act (FLSA). There are specific rules that need to be followed when rounding time for payroll. The Fair Labor Standards Act outlines federal guidelines for managing and rounding time for your employees, but some states may have additional requirements that must be met. Do not consider this post a final authority on punch rounding labor laws for your specific business.
2. Using Payroll Software
Using a software solution is a great way to automate time clock rounding. For example, software makes it easy to round employee hours by predetermined increments, like to the nearest quarter hour. Software can also improve your entire time tracking and payroll process.
We think the best way to round time for payroll is with software.
To show you why, we take a close look at Buddy Punch, our comprehensive time tracking and payroll software — with a customizable Punch Rounding feature.
In this post, we'll cover:
How our time tracking software can automatically round time for you (and how you can customize the features based on your business needs).
The benefits of using payroll and time tracking software to replace manual methods.
Tips for rounding payroll, including covering some legal guidelines surrounding time rounding that you need to be aware of.
Rounding Time for Payroll with Software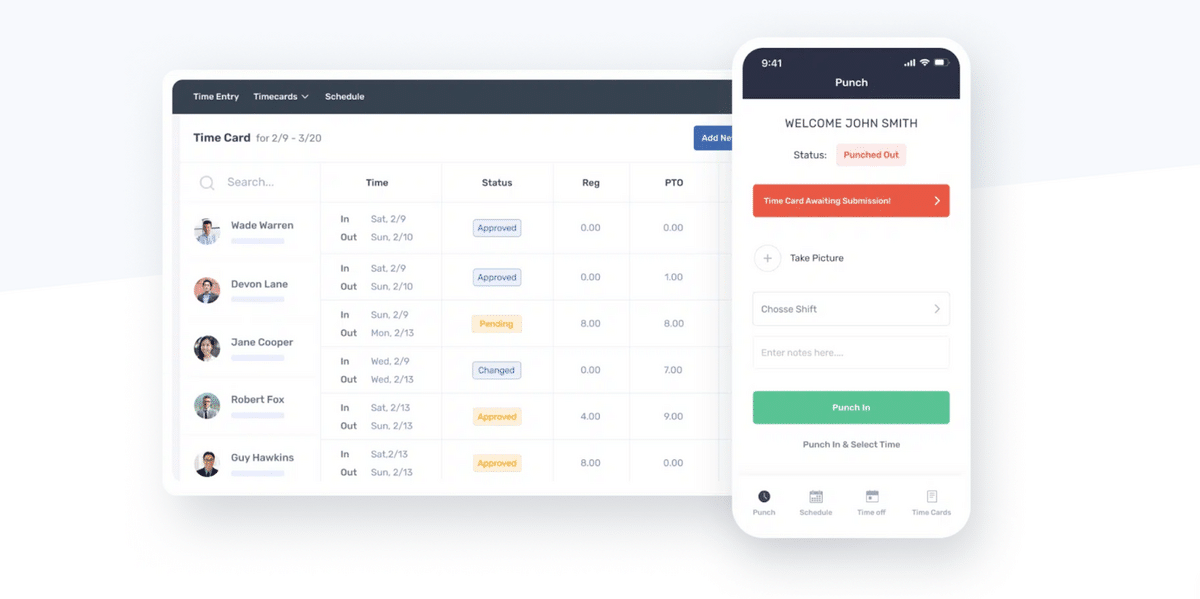 Any mistake related to payroll timekeeping can lead to significant time and frustration spent fixing those mistakes, costly legal issues, and unhappy employees. This includes rounding time for payroll, which is adjusting time tracked by a specific increment to make your payroll records more accurate to your schedule or someone's time worked.
With our time tracking and payroll software, you won't have to worry about manually rounding time, tediously correcting timesheets, or your employees reporting inaccurate time.
Here's how Buddy Punch makes time clock rounding for payroll easy and seamless:
First, Buddy Punch is an online time clock that your employees can use from the Buddy Punch app (which works on smartphones, tablets, and computers; including iOS and Android devices).
Below, we look at advanced clock in and out app features we offer to help ensure employee accountability.
Second, our Punch Rounding feature allows you to automatically round up, down, or to the nearest interval you select, ranging from 2 to 30 minutes.
This feature is helpful when many employees punch in at the same time on the same device or if you want to prevent employees from punching in before their shift begins or out after it ends.
Here's how you can easily set up punch rounding with Buddy Punch:
1. To set up punch rounding by time, click 'Settings' and then 'Punch Rounding'.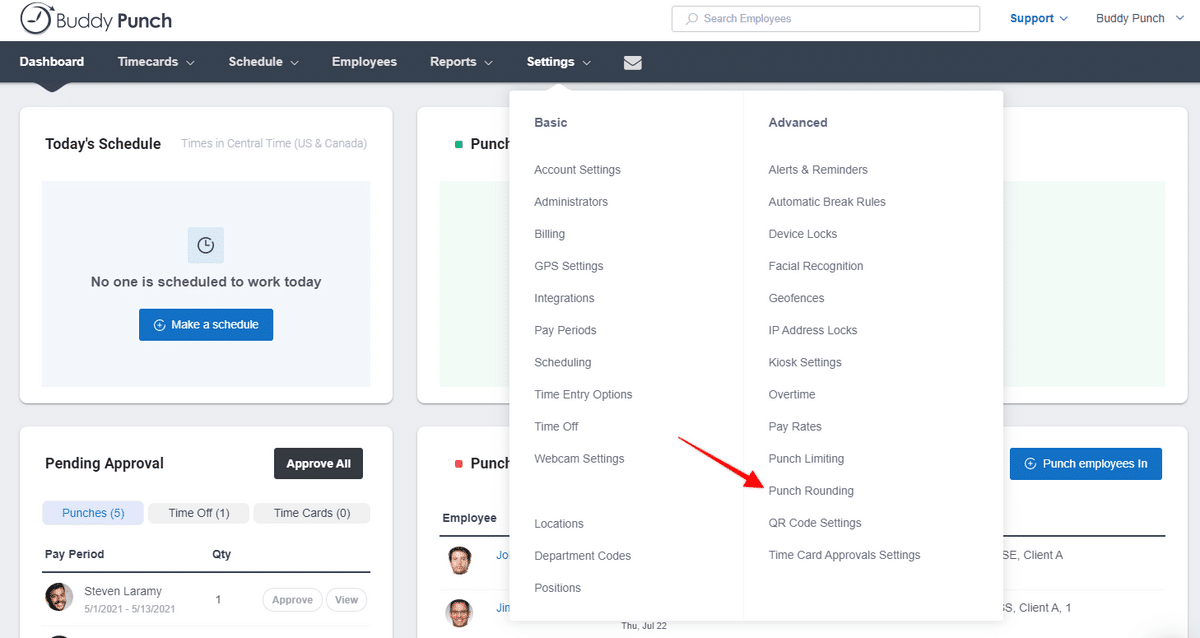 2. Click '+ Add a New Punch Rounding Rule' on the punch rounding page.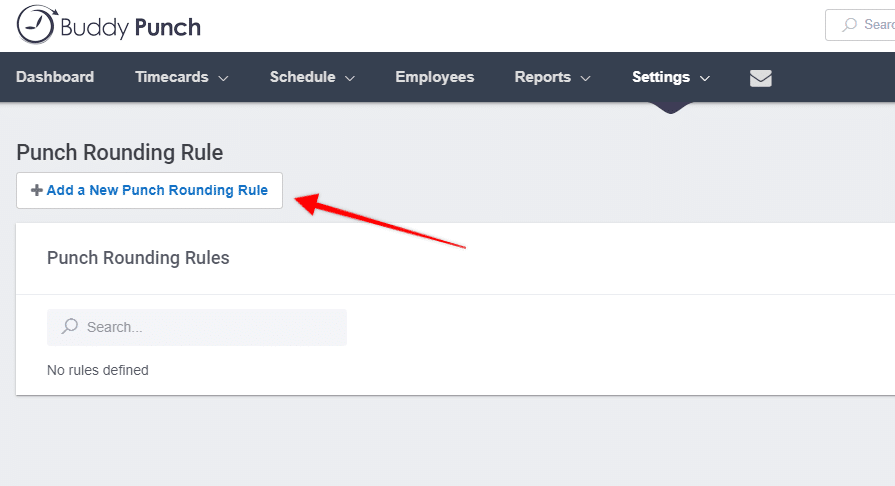 3. To have punches rounded based on time, choose the 'By Time' option. If you don't want a punch in or out to round, select the 'Do Not Round' option. You can then specify if punches will round:
Up.
Down.
To the nearest increment chosen.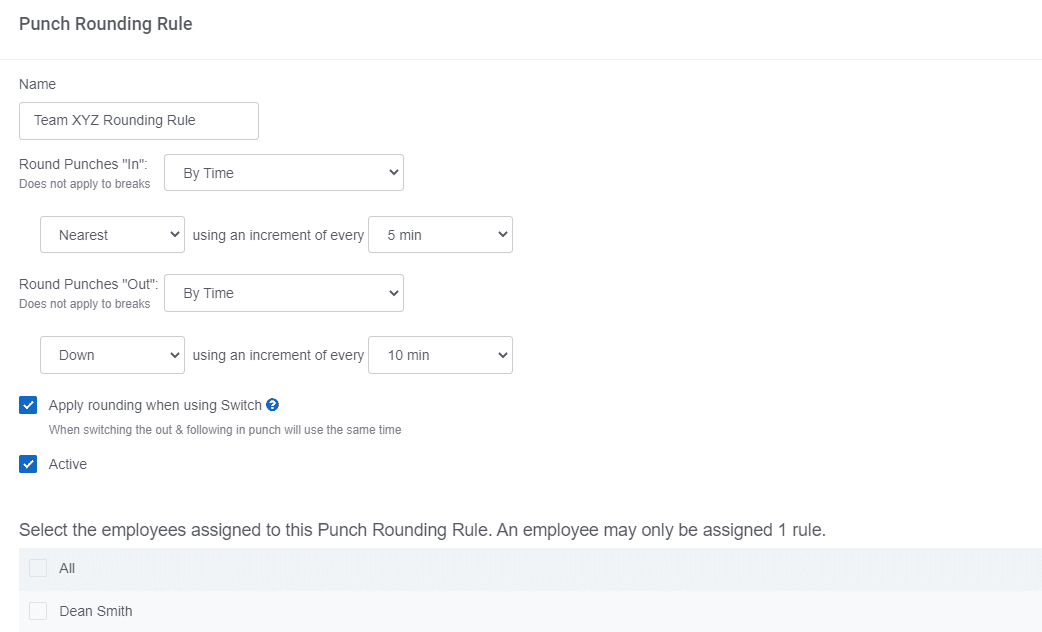 4. If you want punches to round when an employee uses the 'Switch' option (which means an employee has changed location or job code throughout their shift), check the box next to 'Apply rounding when using Switch'.
5. Assign the appropriate employees and click 'Save' once done.
And that's it! Buddy Punch takes any guesswork out of rounding time for payroll. Our software allows you to:
Give employees a grace period: Utilizing the punch rounding feature can offer your employees an appropriate grace period, preventing them from being penalized for waiting in line or being just a few minutes late.
Prevent time theft: Some employees will likely punch in before their scheduled shift or punch out after their shift ends. Although it seems like just a few minutes here and there, it can add up to a significant expense overtime and when averaged across the entire team.
Plus, software saves you considerable time by eliminating the need for manual adjustments for workers who have to wait in line. As a result, your company can save money.
Run Accurate Payroll from Buddy Punch
When you use Buddy Punch, you get 3 options that help you streamline and improve your entire payroll process.
Option #1: Run Payroll Directly from Buddy Punch
Buddy Punch is an all-in-one payroll software.
You can use Buddy Punch to handle tax withholdings for you and your team. You can choose between 2-day and 4-day processing, get unlimited payroll runs, and can issue pay via direct deposit or check.
When it's time to run payroll, you can import the time period you want to issue payment for. You can easily review the pay records, including hours worked and the pay rate.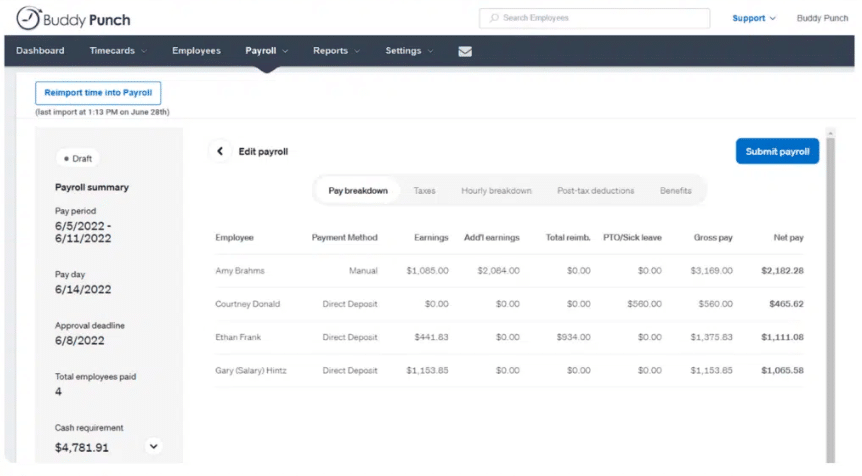 You can also customize someone's pay, such as adding additional earnings to their check (which is perfect for issuing commissions, bonuses, reimbursements).
You can also set up auto-payroll, so your payroll automatically runs when it's supposed to and no one on your team ever misses their pay.
Option #2: Integrate Buddy Punch with Your Payroll Software
You can integrate Buddy Punch's time clock, time tracking, and time off features into your current payroll software.
We have ready to go integrations for popular platforms such as ADP, Gusto, QuickBooks, and Paychex.
Option #3: Export Payroll Reports
If we don't have an integration with your current payroll software, you can export a payroll report out of Buddy Punch, in various file formats.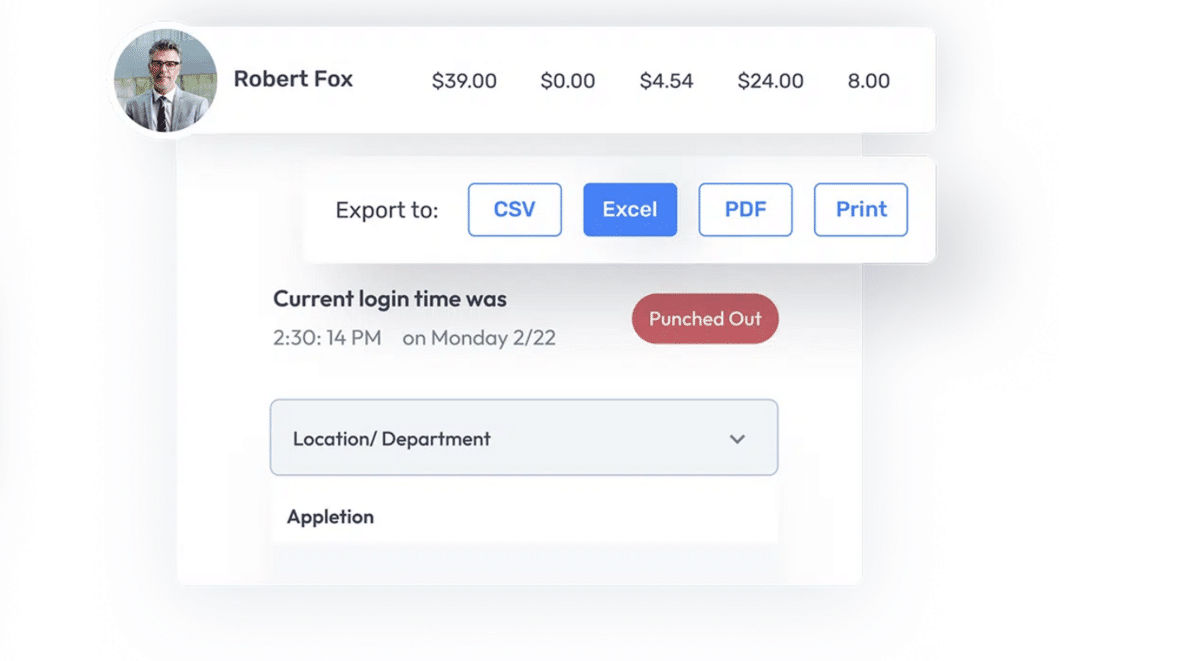 Other Helpful Time Tracking Features
Buddy Punch offers more than time rounding features. Here are some other payroll and time tracking features that can help accurately track hours for everyone on your team.
Keep Time Tracking Records Accurate (and Employees Honest)

Buddy Punch is an easy to use and accessible online time clock. It's also customizable. Employees can clock into work from their smartphone, or you can designate one specific time clock station (like a company tablet or computer).
Here are some of the features we offer that help keep your time tracking records accurate (and your employees honest):
Geofencing — Control where your employees can clock in from. You can set up a geofenced area around your job site, and set it so employees can only clock in when they're within a certain radius (such as 500 feet). This helps make sure that your employees are actually at the right location before they start tracking time worked.
IP Address Lock — You can set it up so employees need to clock in when connected to the work WiFi or only clock in from a designated computer, tablet, or even a phone.
Photos on Punch — You can have employees take a photo of themselves every time they punch in and out. You can later review these photos to make sure that no one is buddy punching (clocking in for someone else).
Prevent Unplanned Overtime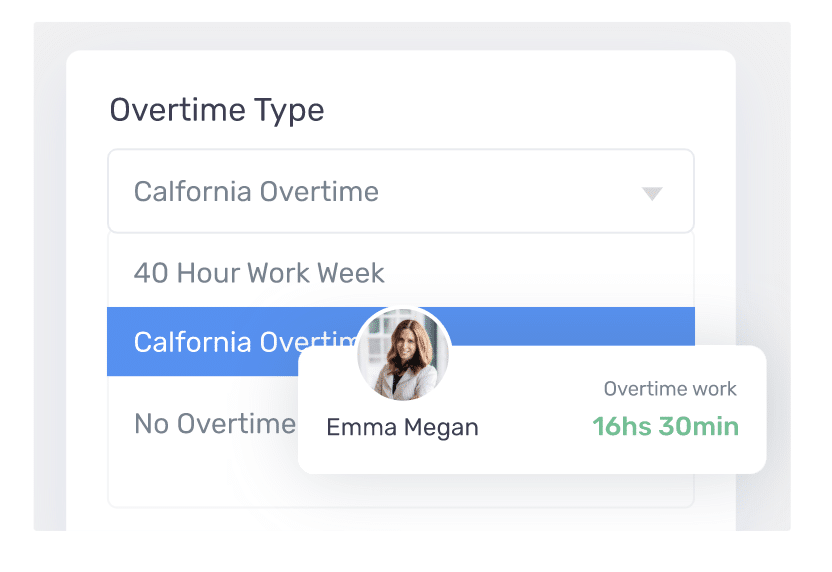 We give real-time insights into your employees' work hours. You can set up emails or mobile notifications when an employee is nearing their maximum for the day or week so you can adjust your schedule accordingly.
Choose from over a dozen overtime types to ensure your OT Calculations are done correctly.
These overtime types include:
40-hour Work Weeks.
California Overtime.
No Overtime.
44-Hour Work Weeks.
38-Hour Work Weeks.
Custom rules can also be created as needed.
Easily Create, Update, and Distribute Schedules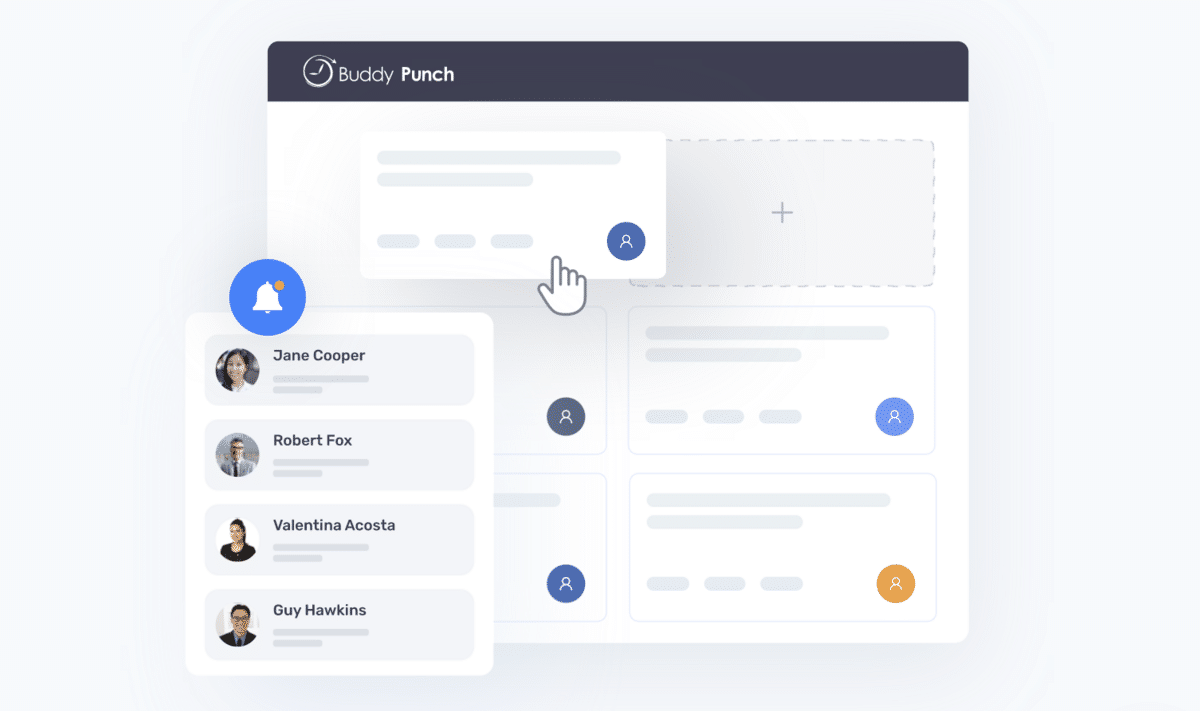 Our drag-and-drop functionality lets you easily create schedules and notify your team of upcoming shifts or changes. If something unexpected comes up, you can easily track time or swap shifts within a few clicks.
Streamline Time Off Tracking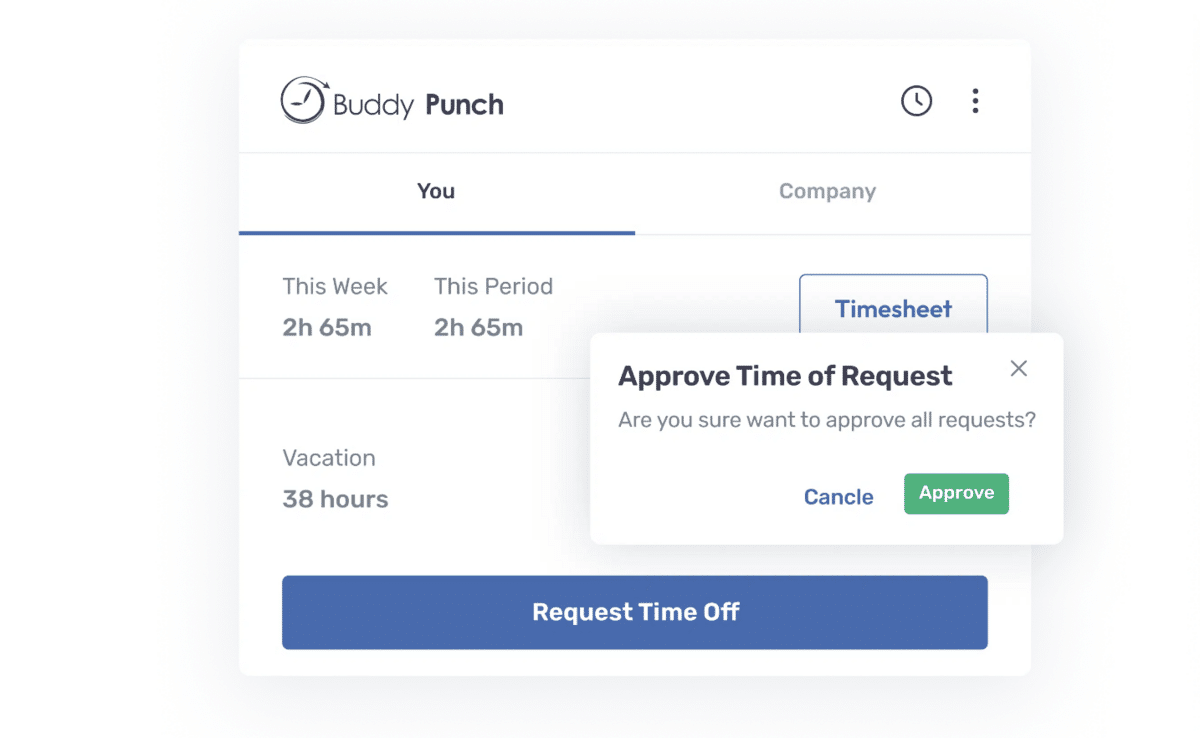 Easily track time off requests with our built-in calendar that allows employees to book or request time off. We support paid and unpaid time off.
Easily Manage Workflows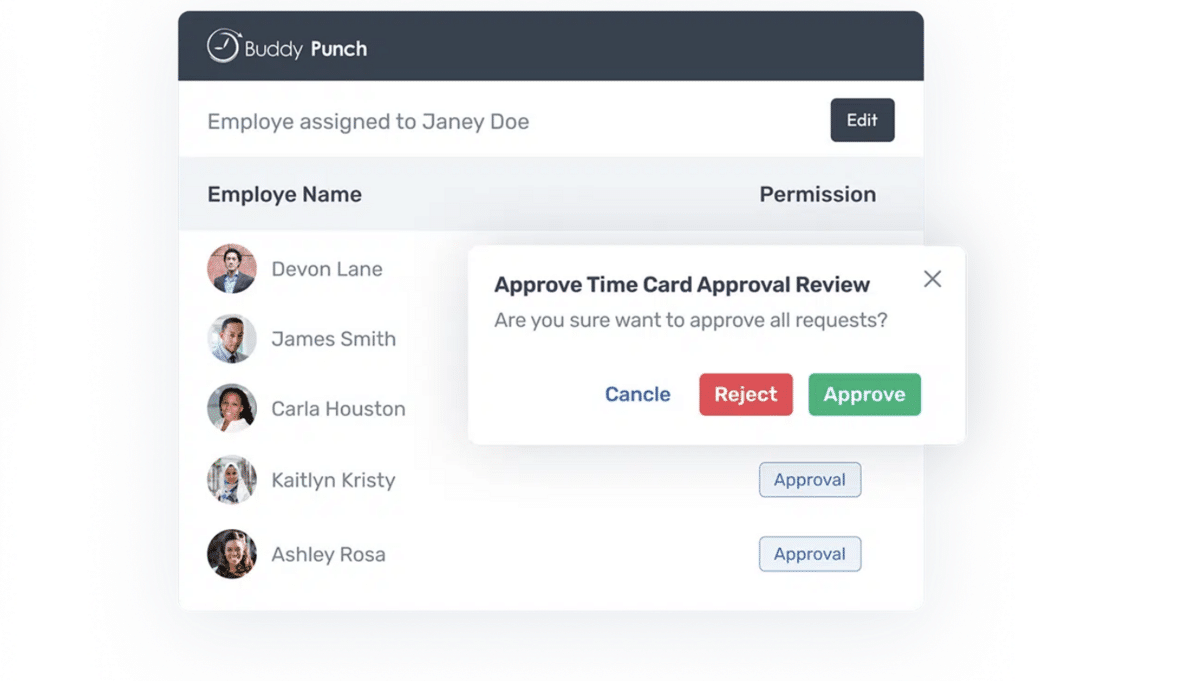 Managers can be assigned multiple employees and get notifications on punches, timecards that need approval, and any custom email and mobile app alerts.
Track Employee Breaks
If you want to accurately account for your employees' breaks, our automatic breaks feature can achieve that. Just specify how many hours your employees need to work before the rule triggers and how long their break should be. Our system will automatically deduct that time from the employees' punch clock.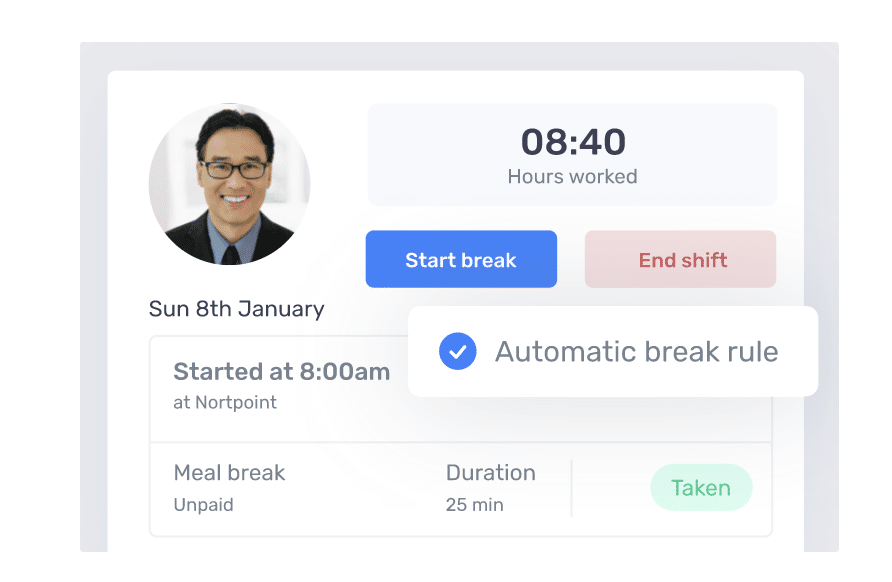 What Customers Love about Buddy Punch

To look at what customers say about Buddy Punch, we checked out Capterra, a third-party review site. Buddy Punch has over 800 reviews, with an average star rating of 4.8/5. You can read all the reviews here.
Here are a few select reviews about using Buddy Punch for time tracking and payroll.
"Buddy Punch has made it easy for our practice since we expanded and now have staff in remote locations, including staff that works from home. It's user-friendly and makes the supervisors'/managers' jobs easy when it comes to approving timecards!"

Read the full review here.
"This is an easy product to use for management and employees. All aspects of payroll are at your fingertips. We handle many different projects, and Buddy Punch makes it easy to track the hours we're using. Awesome product."

Read the full review here.
"Excellent! The product works well on iPads and PCs. It seems to be very low maintenance and the staff are great to work with when I have questions."

Read the full review here.
"This software is a great alternative to paper records, especially for a small company that has hourly employees. If I knew someone starting their own business, or someone who has their own business, I would recommend this product."

Read the full review here.
Tips for Rounding Payroll (and Staying Fully Compliant)
Usually, the most an employer can round up or down on a timecard is in 15-minute increments. Many companies follow the 7-minute rule to comply with this regulation. Meaning you use minute 7 as a guide for rounding. For example:
If an employee clocks in between 9:01 to 9:07, you should round down to 9:00 on the timesheet.


If an employee clocked in between 9:08 and 9:14, you would round up to 9:15.


You continue this guideline in increments of 15 (e.g., a clock in at 9:35 would be rounded down to 9:30).
Additional Rounding Guidelines
While the 7-minute rule is popular, there are other rounding guidelines you can follow, such as:
6-minute rounding: You would round up or down increments of 6. So, between minutes :04 to :09, round to :06; for minutes :10 to :15, round to :12, etc.


5-minute rounding: Round up or down in increments of :05, so :02 is rounded down to :00 while :03 is rounded up to :05, and so on.
Be Fair & Neutral
In addition to following rounding guidelines, federal law states that an employer cannot use time rounding to withhold money for legally worked hours. Time rounding must be impartial and benefit both the employer and the employee.
For example, you can round an employee's clock in time in their favor while rounding the clock out in the business's favor.
The fair and neutral rule also applies to unpaid meal breaks. For example, If you round up an unpaid meal break, this could lead to a lawsuit.
Be Consistent
To comply with fair labor regulations, your time rounding method should be applied to all eligible employees every single time for every pay period. For example, if you follow the 7-minute rounding rule, ensure that it applies to all of your employees for every day worked.
Be Transparent
Always be transparent and communicate your time rounding policy with employees. Being open about the policy and why you have it in place can help minimize workplace grievances that can lead to lawsuits.
For more information on how Buddy Punch can help your business, check out our: